Cruise Day 1 Part 2
5/31/14 - 5/31/14
Antonio laid around for a little bit while we waited for the lifeboat drill to start.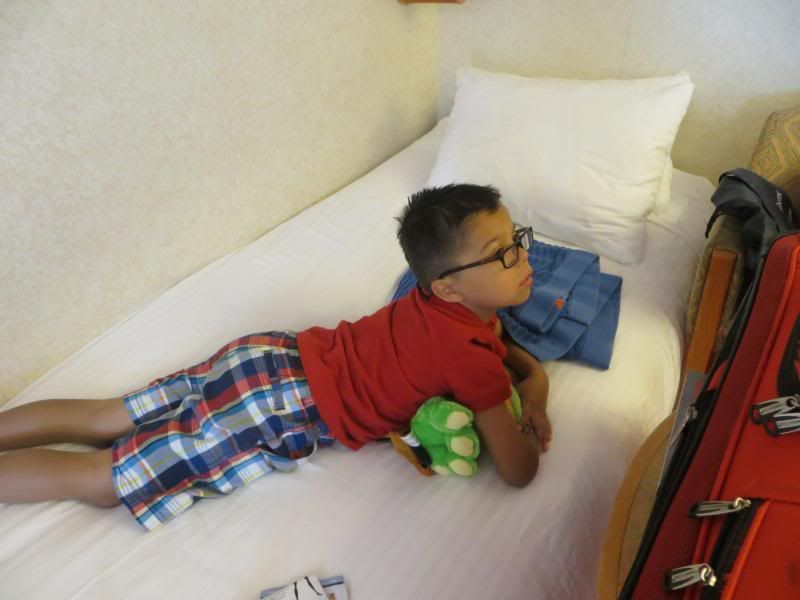 Then we headed down to our spot. Last cruise we got to sit in the theatre. No luck this time. We were outside and it sucked! It started out not too bad.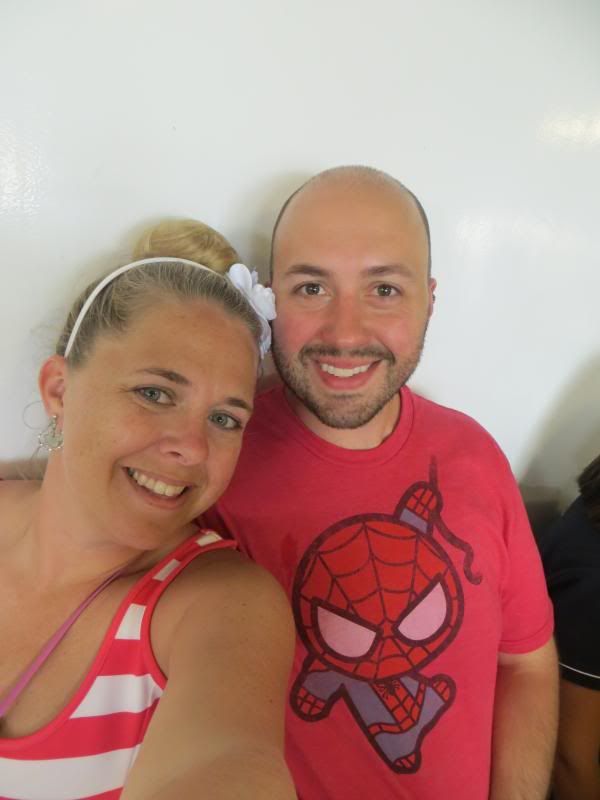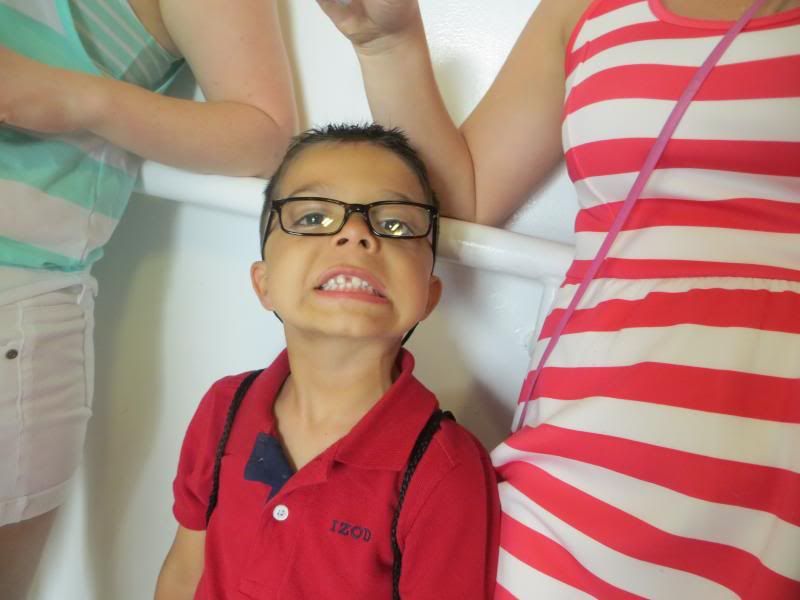 They came by and gave Antonio is muster station band.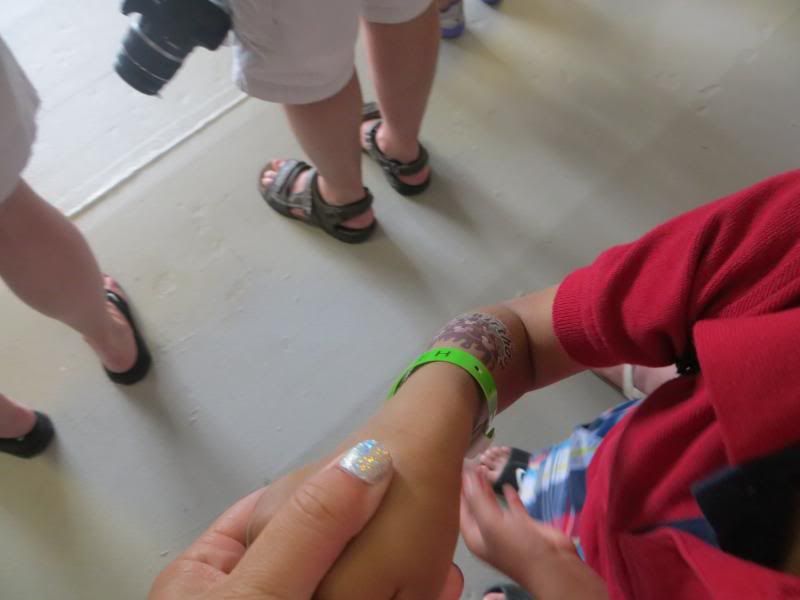 Then he sat down because it was taking forever.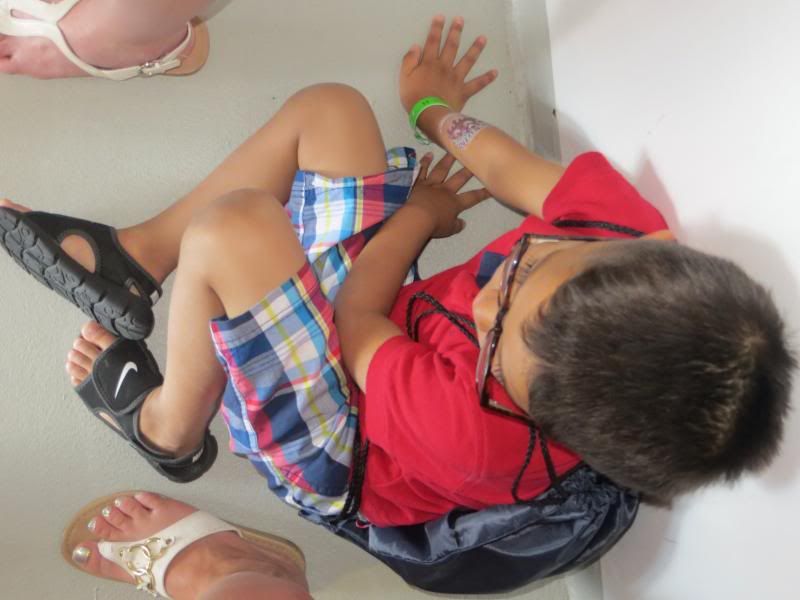 The workers were not okay with him sitting though. I had to keep making him stand up. Then they offered for me to take him inside a lounge. Poor Q! I left him out there and Antonio and I went in to sit down. Antonio fell asleep on my lap while we waited for the drill to end.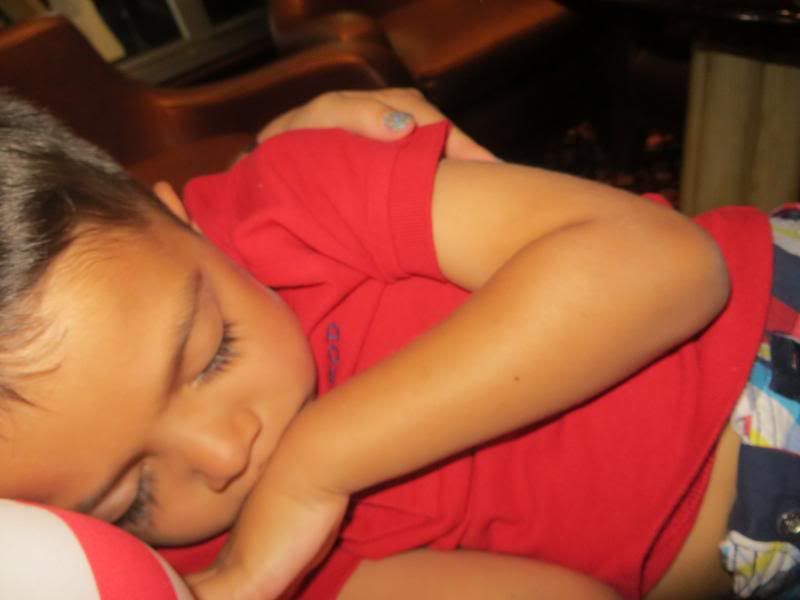 It certainly came in handy later in the week knowing where these elephant tusks were! It was on a scavenger hunt!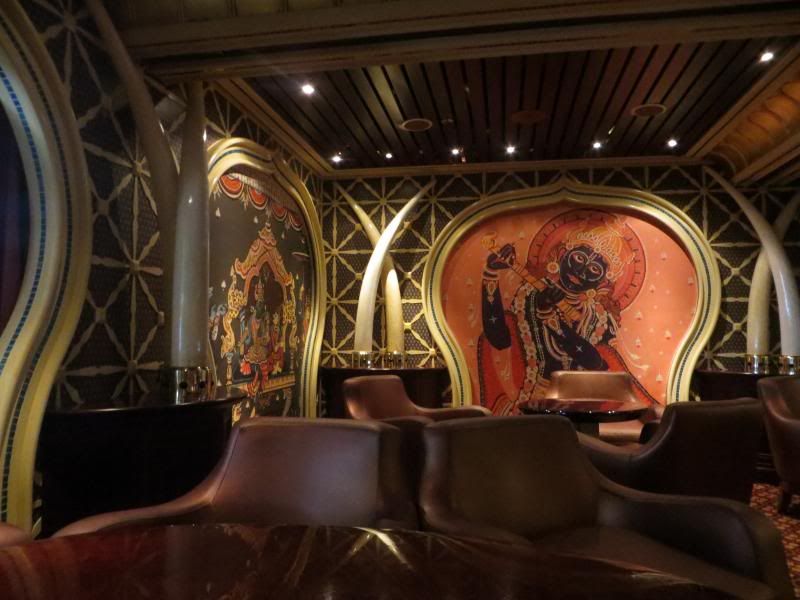 After the drill ended we went back up to the room. Antonio and I went to the kids club orientation. I'm not sure what Quentin did while we were gone. The orientation was quick and easy. Parents of kids that are 5 and under are able to get a cell phone that works on the ship. This came in so handy on the last cruise, I was glad to be able to get one again.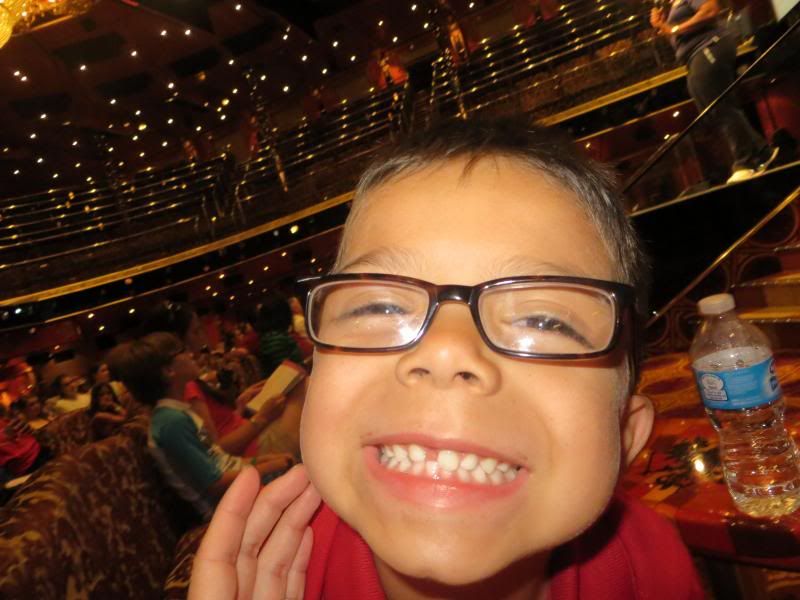 After the orientation, we headed back up to hang out on the balcony and get ready for dinner. We wanted to watch the sailaway from our balcony too!
Grandpa's binoculars came in very handy!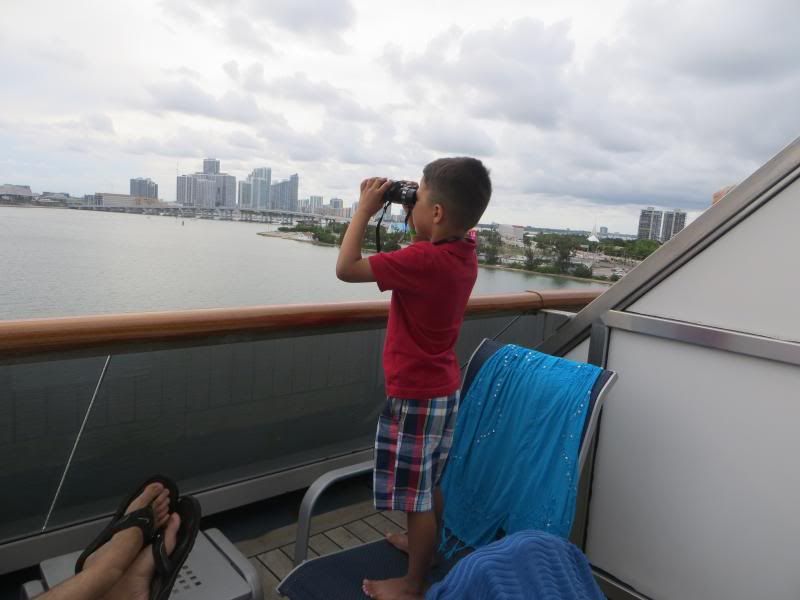 We love our balcony!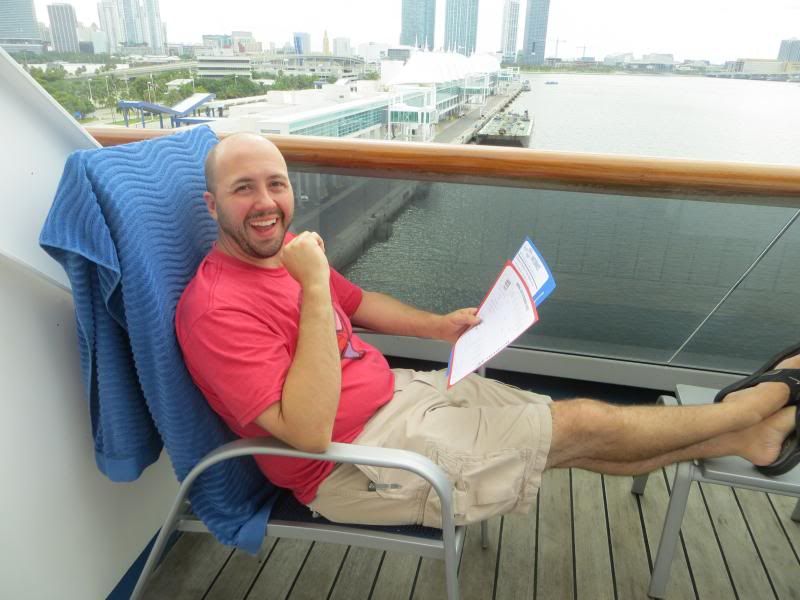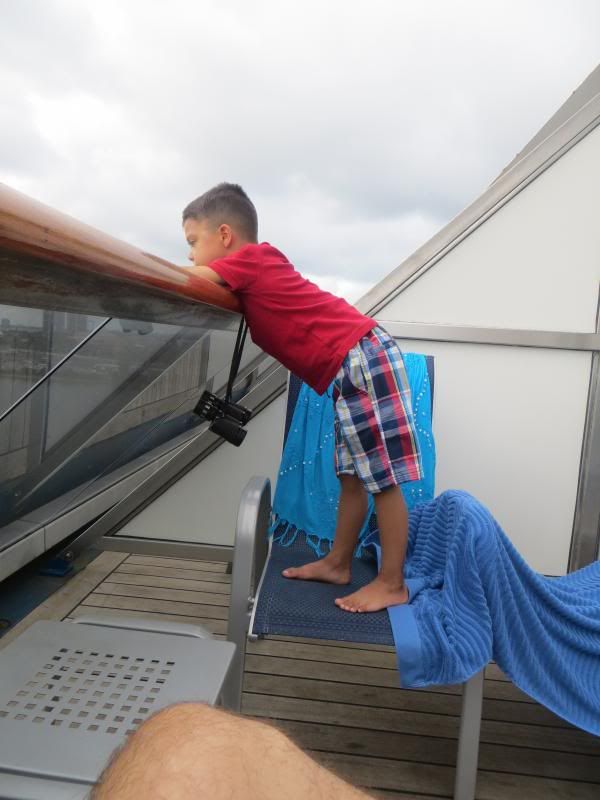 Antonio was hungry, so I ordered him room service to eat while we got ready for dinner. Room service is free on cruises! Another reason cruising rocks! He had grilled cheese, fruit, cookies, and milk.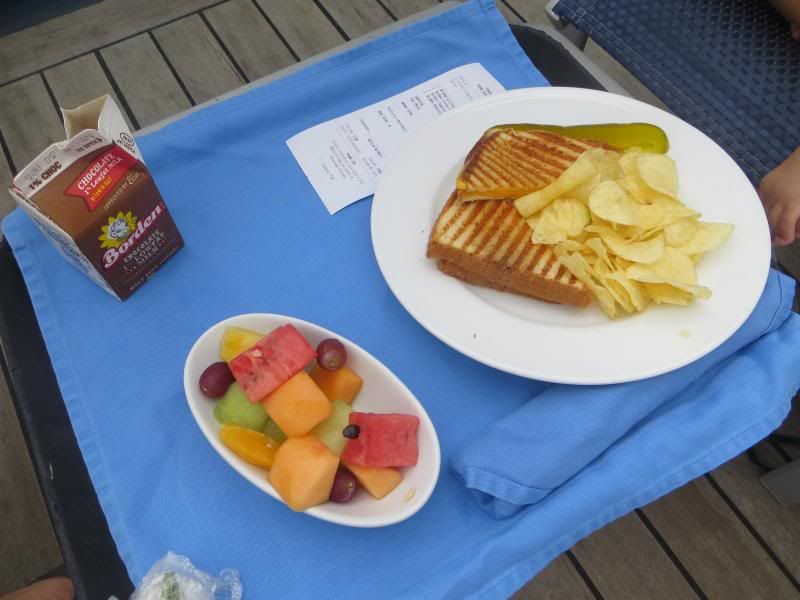 The water doesn't look that pretty yet. You can see here how easily you can see the other balconies. Aft balconies are awesome except for privacy.
Bye bye Miami!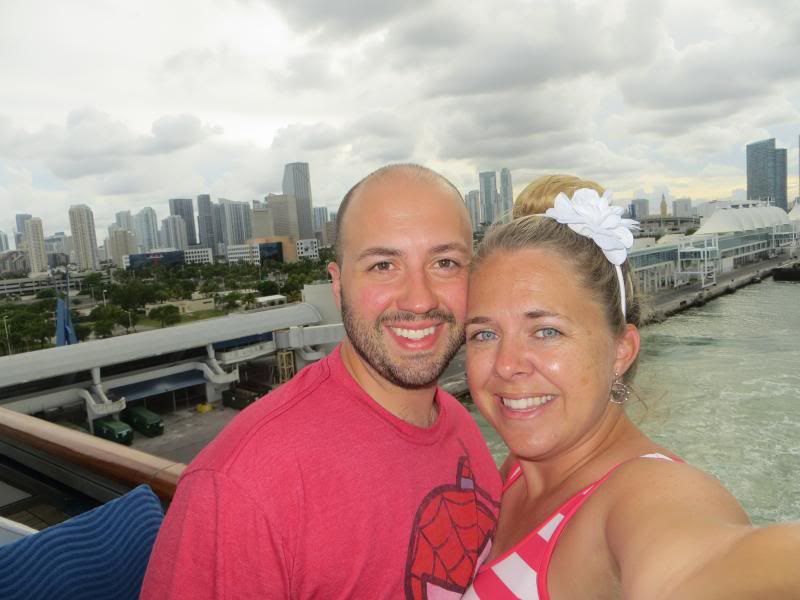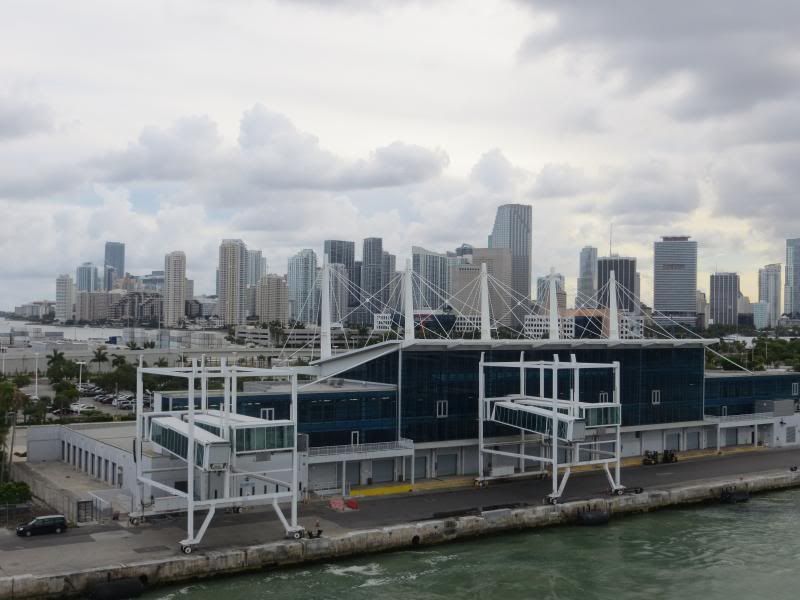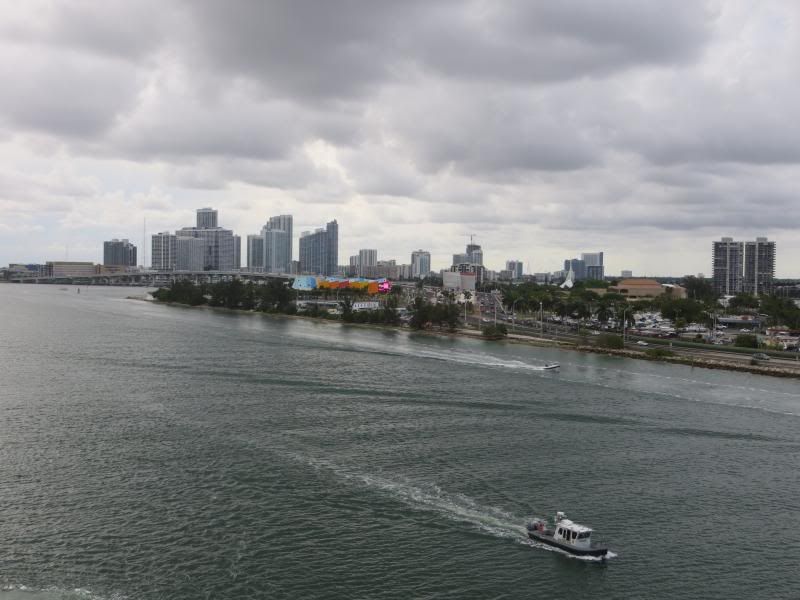 Police boat leading us out of the bay.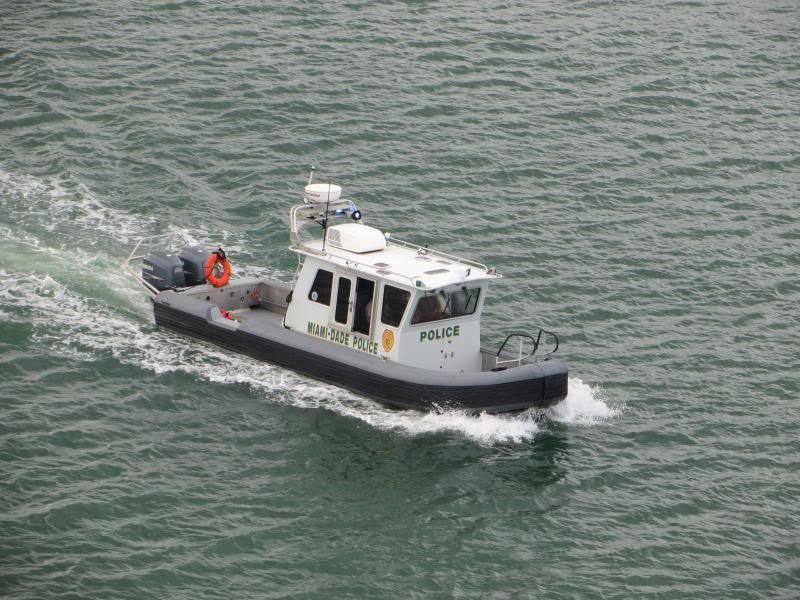 Lots of sailboats.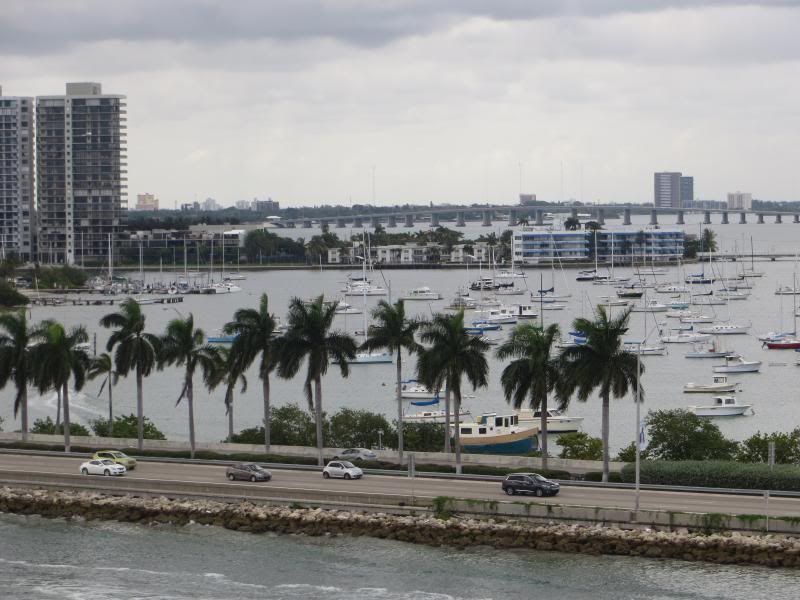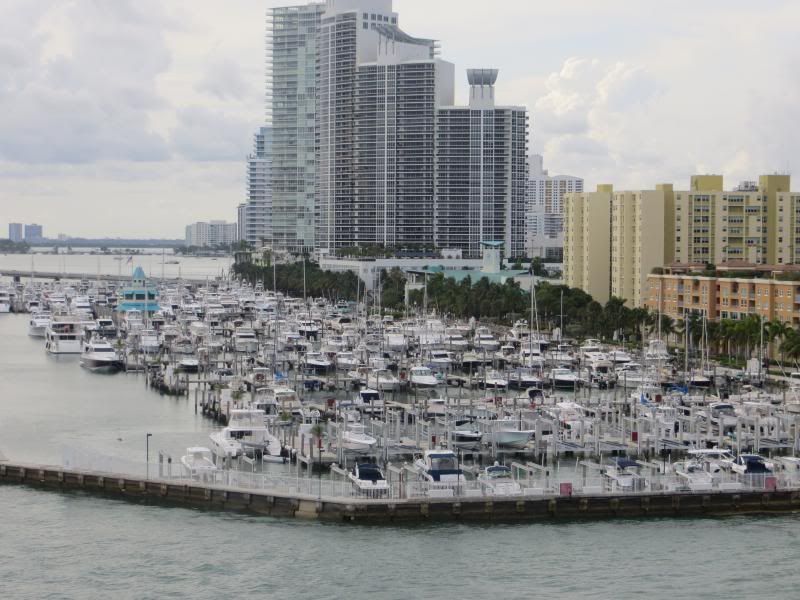 I wondered what it would be like to be on this tiny boat right behind a huge cruise ship!
Watching us sail away!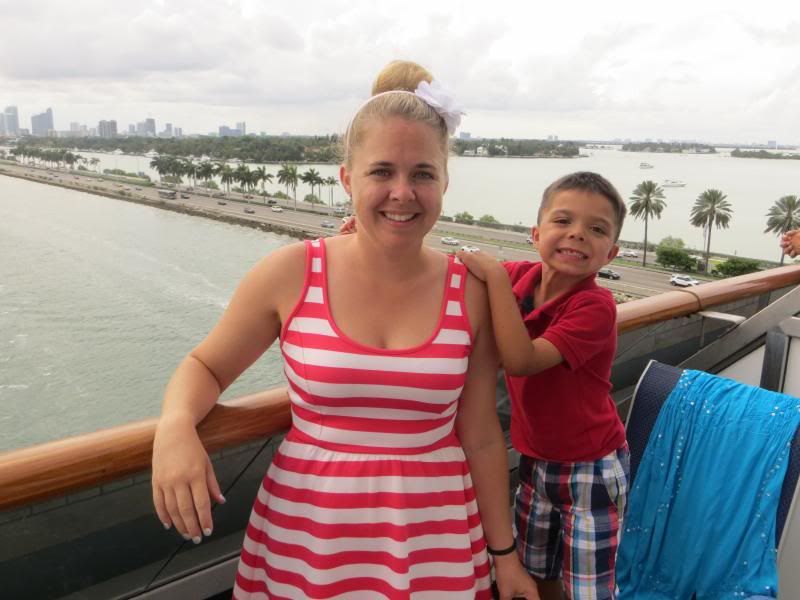 These cars were headed out to an island. We still had service so Q looked it up and it's some type of rich island for rich people!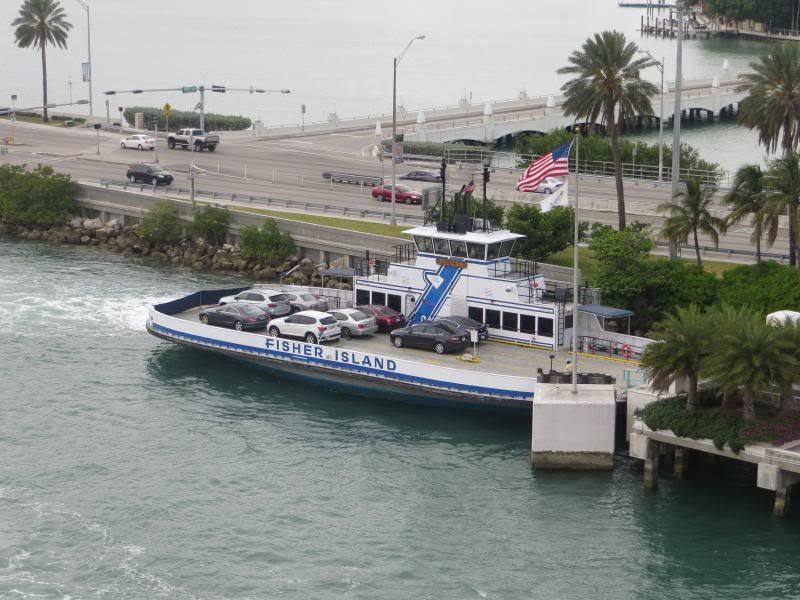 Here's the richy rich island.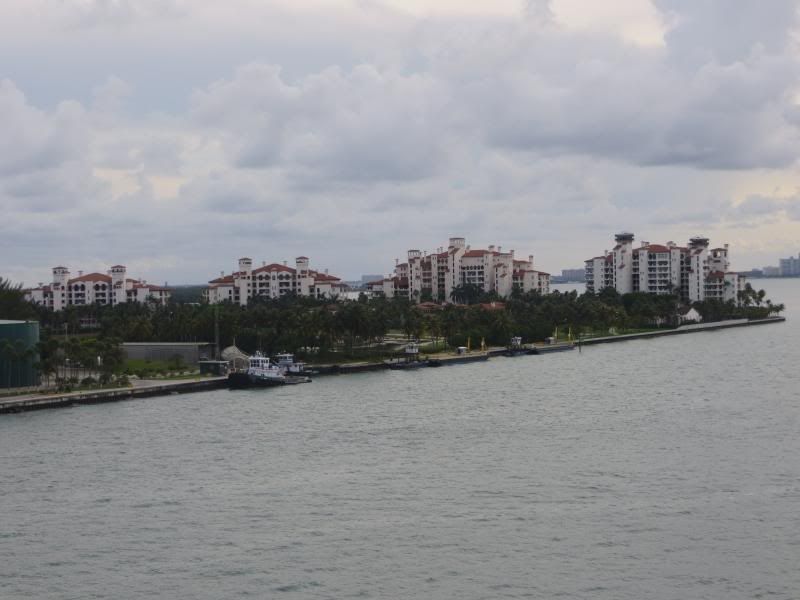 Checking it all out!
Getting farther away!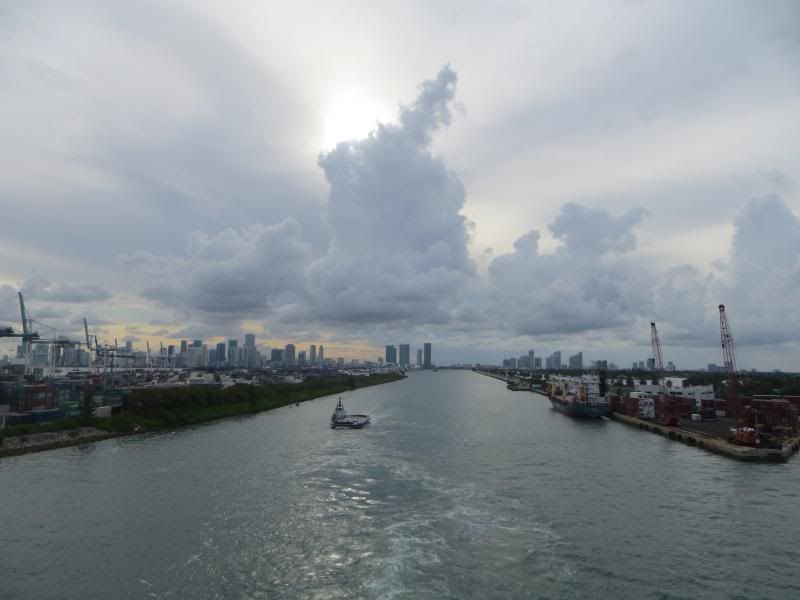 Dredging the canal.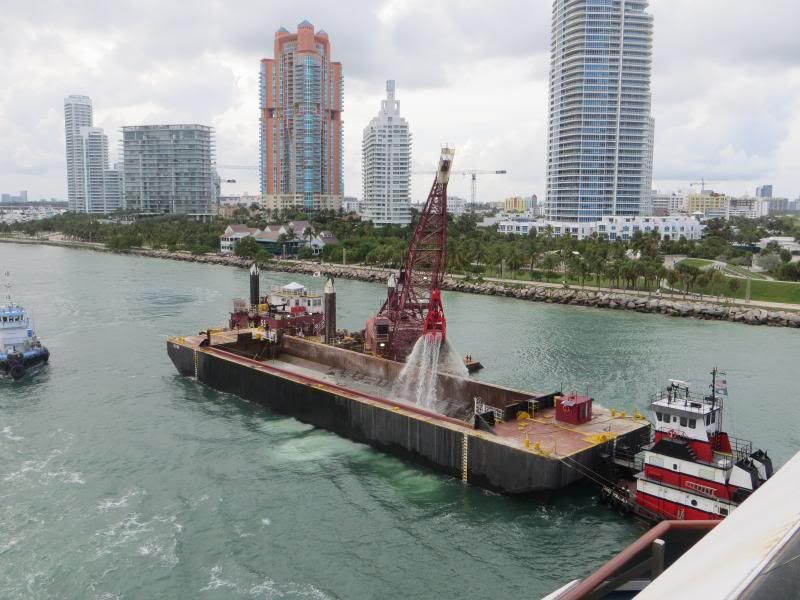 Miami Beach!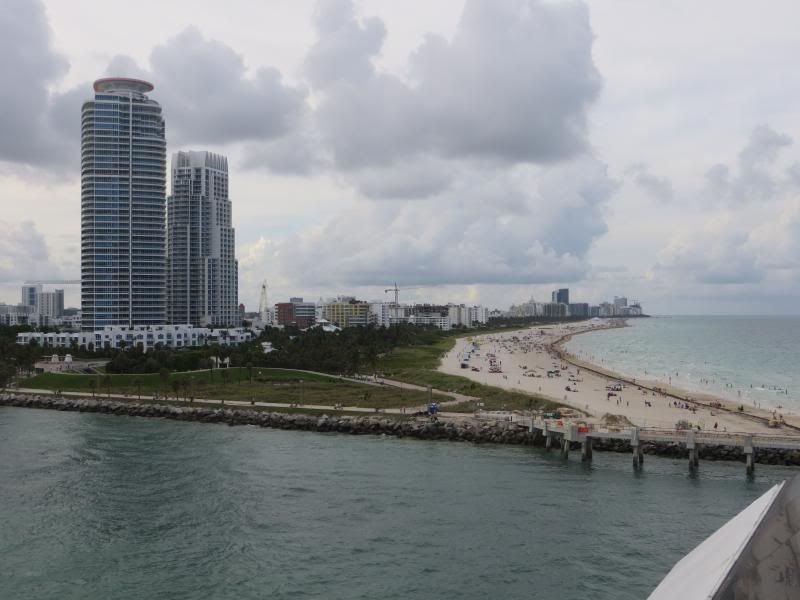 See you in a week Miami!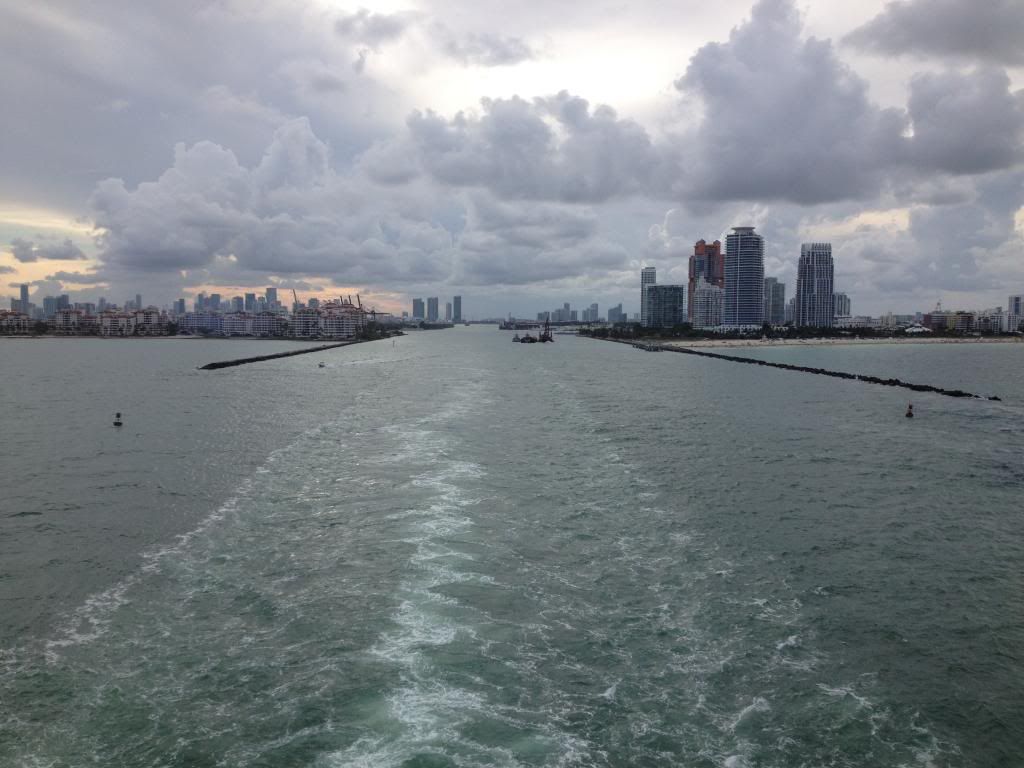 The water is getting prettier!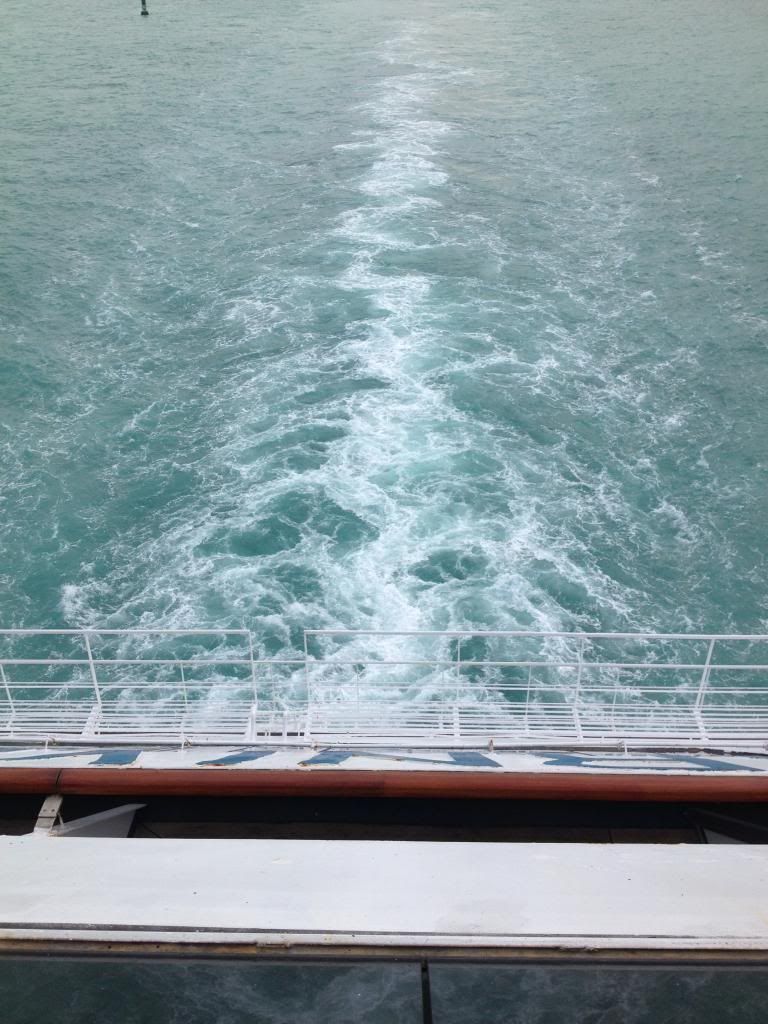 Ready to go to dinner! Check out that gorgeous water!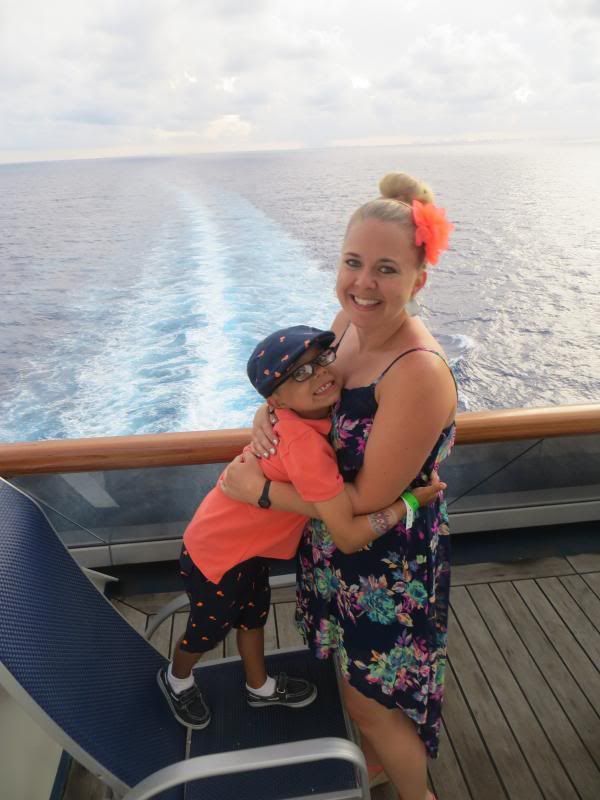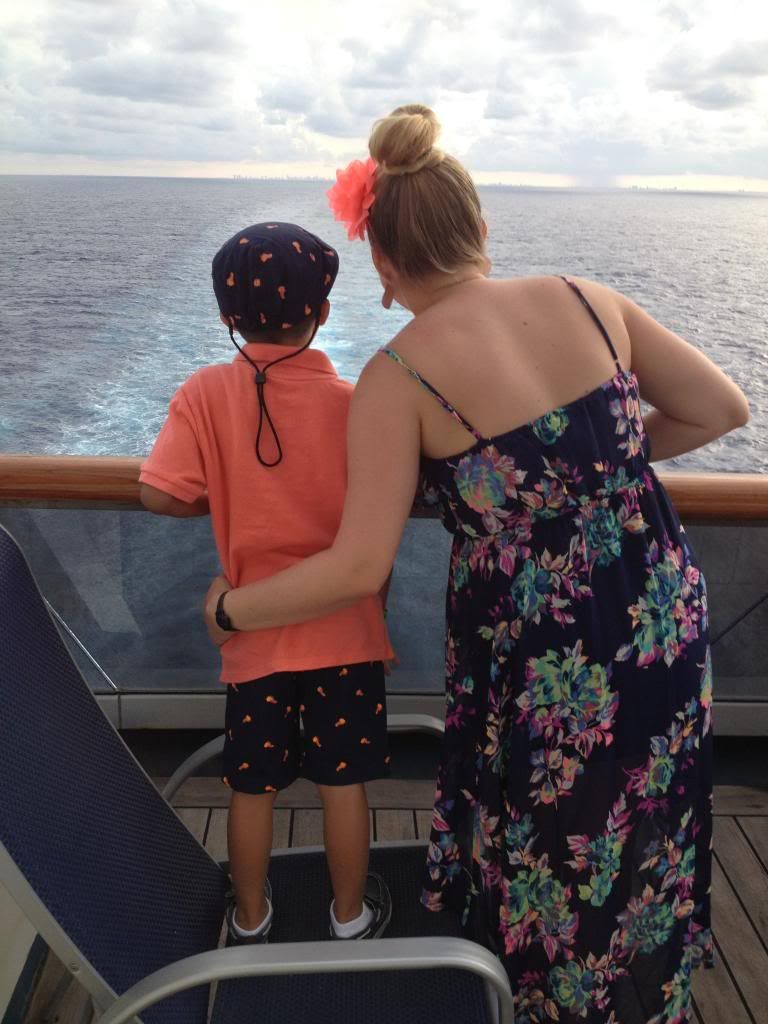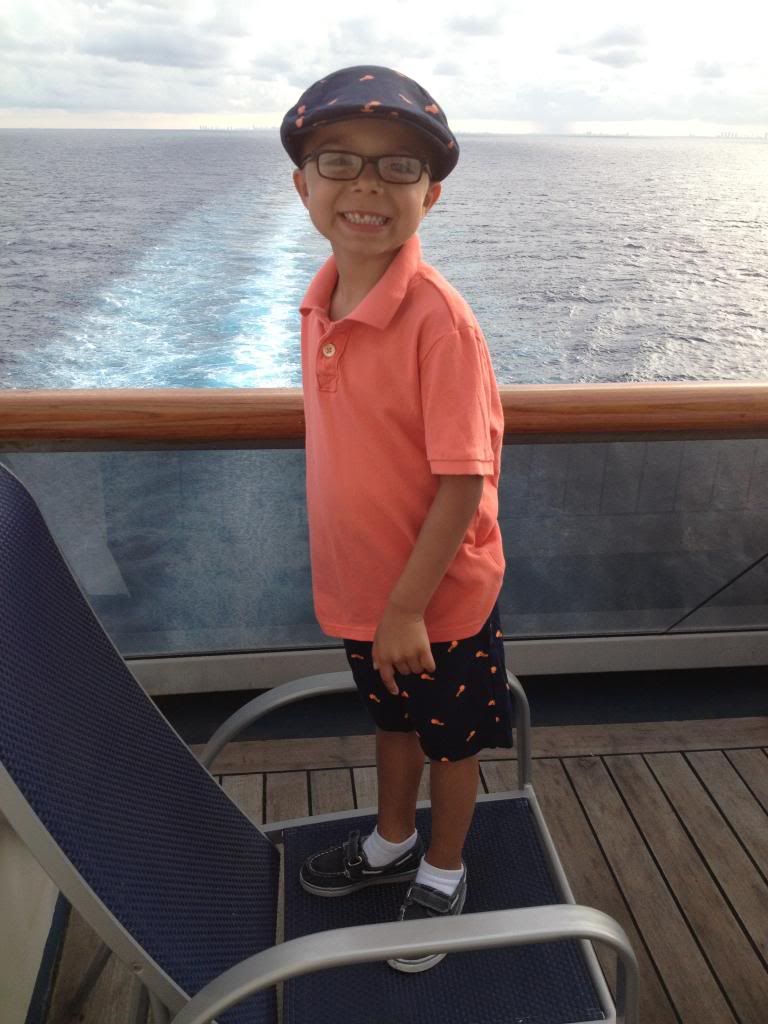 We had a table by a window our first night. We were on My Time Dining. This means you can go to dinner anytime from 5:30-9:30. We prefer this because we are never sure when we will be hungry.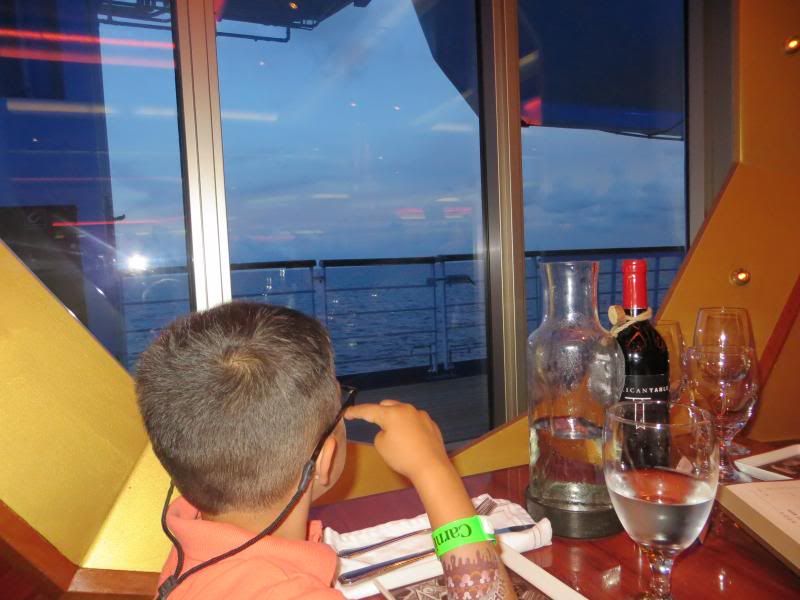 The bread may be my favorite part of dinner.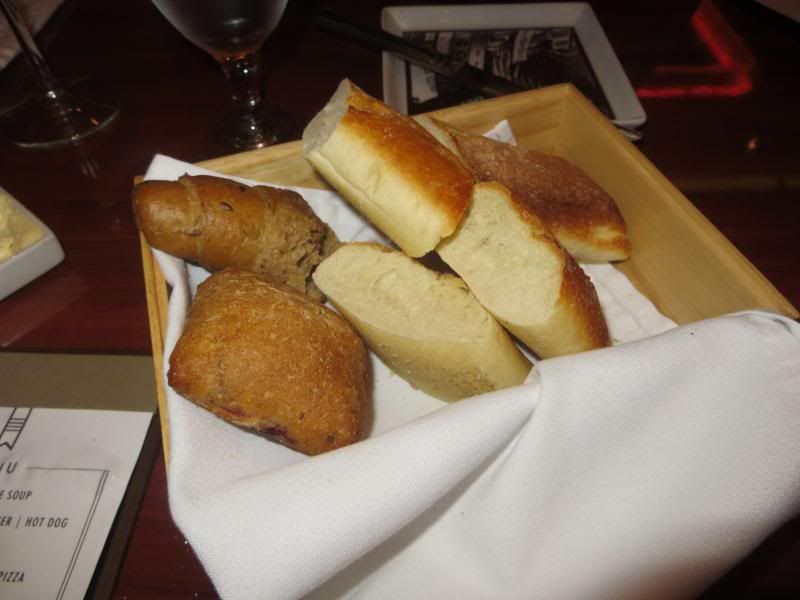 Quentin bought us a wine package. It came with tickets to get bottles of wine.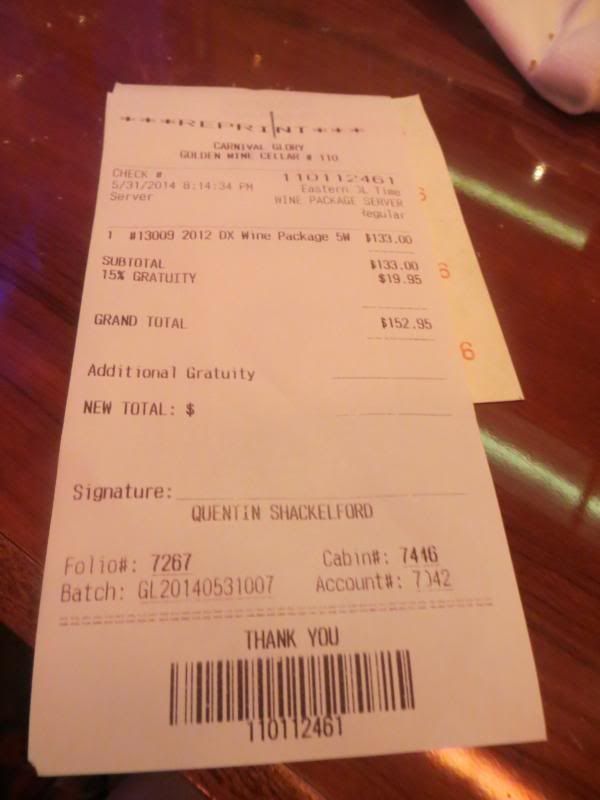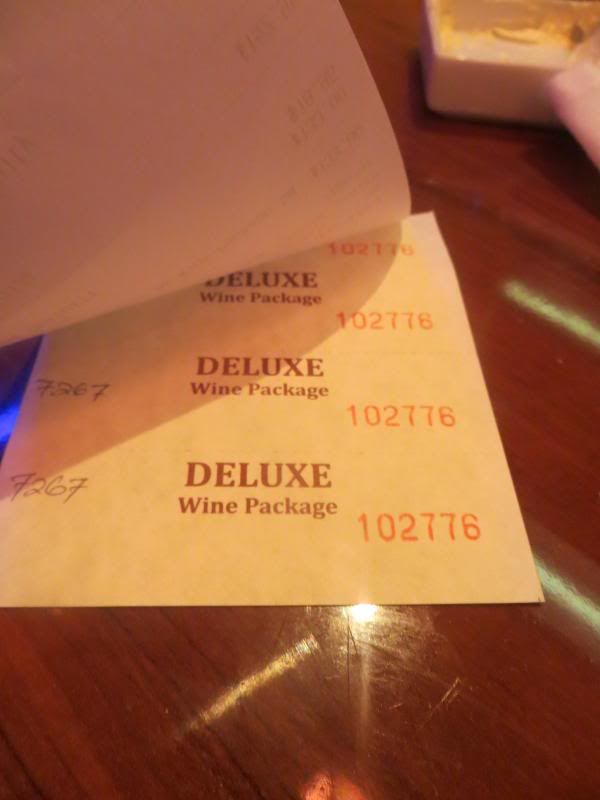 We had grand plans of Antonio eating with Camp Carnival most nights so we could enjoy an adult dinner. That didn't happen. Luckily his Nintendo DS kept him entertained.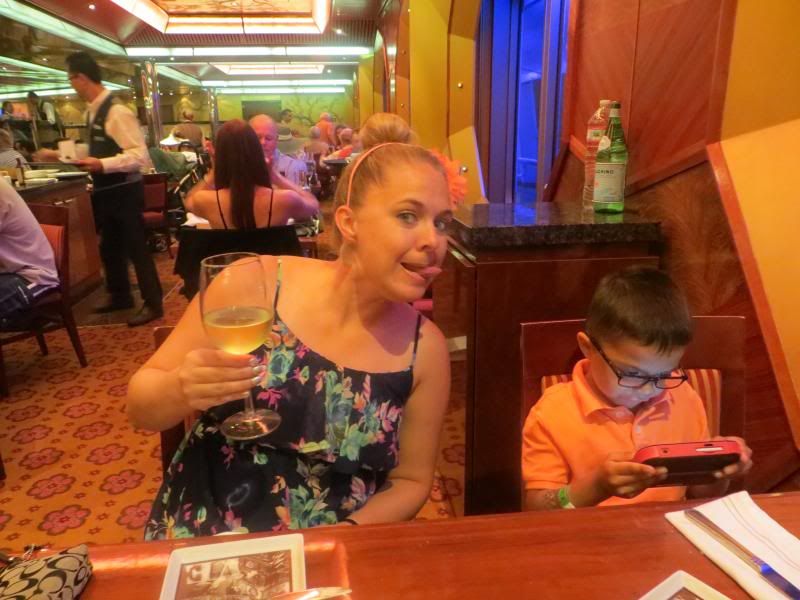 Cheers!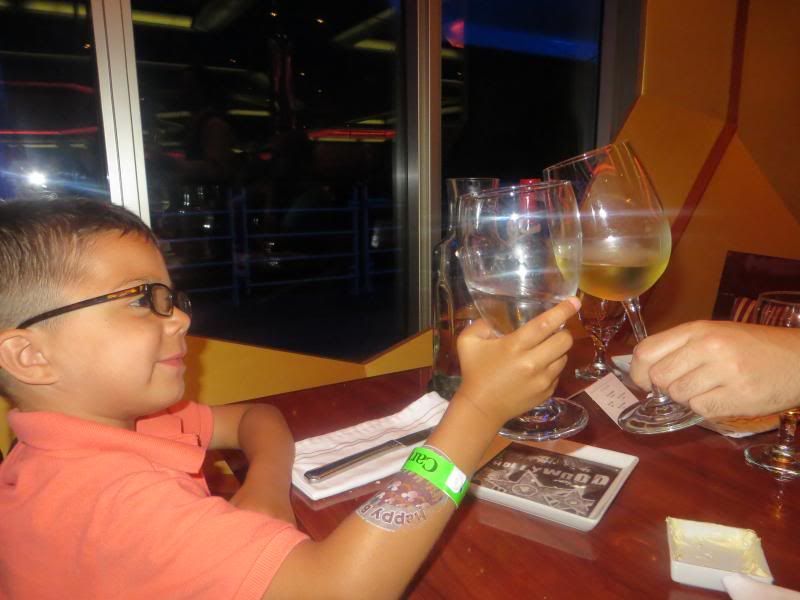 Chicken nuggets was Antonio's daily meal. Way to branch out son!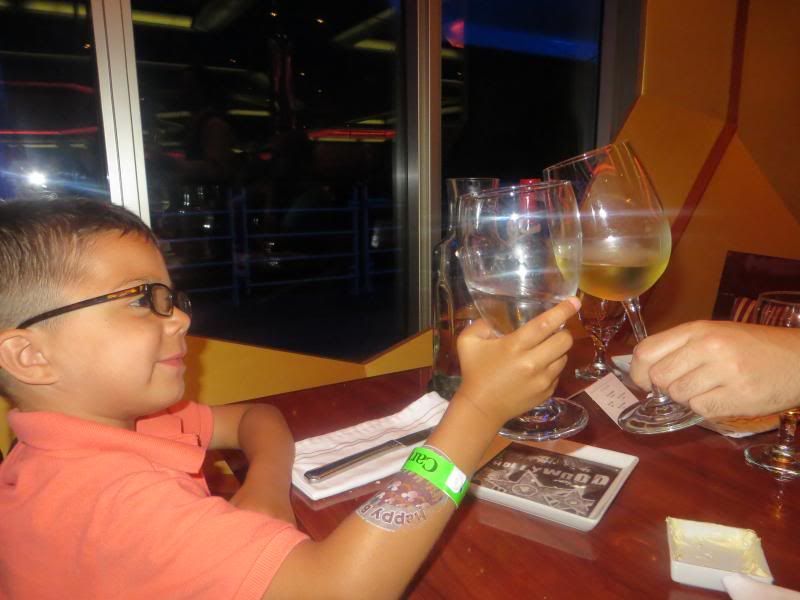 He would get fruit for his appetizer. They serve the kids food all at once which is nice.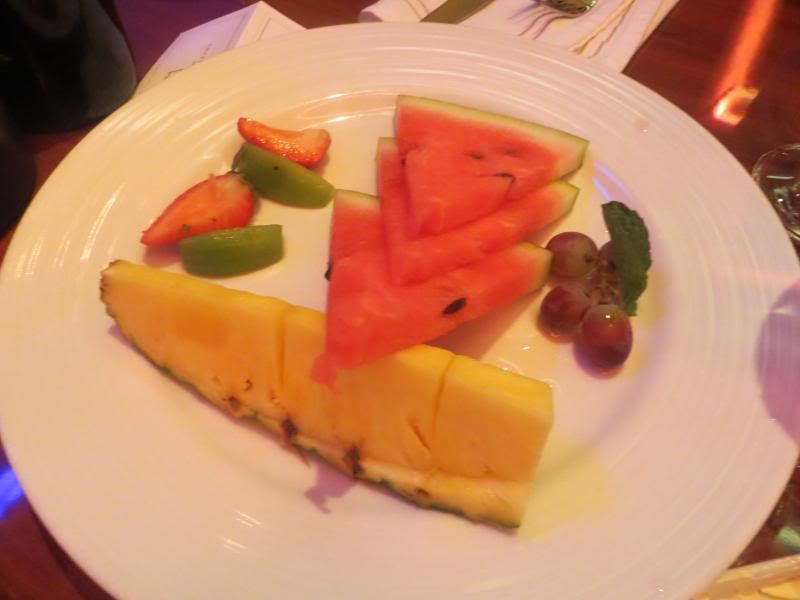 Quentin had onion soup for his appetizer.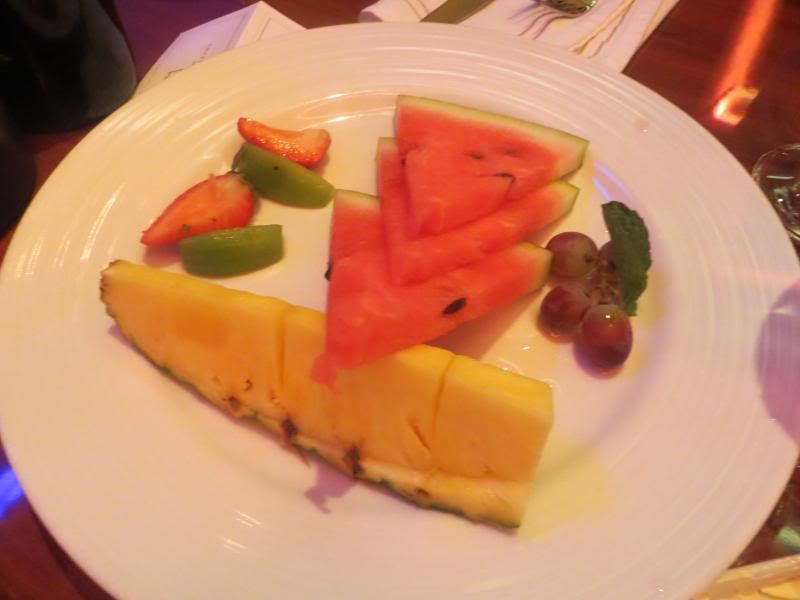 I had the Port of Call selection. On the new American Table Menu on certain Carnival ships there are different foods based on which port you are in. Today I had ham croquetas and empanadas with black bean salsa.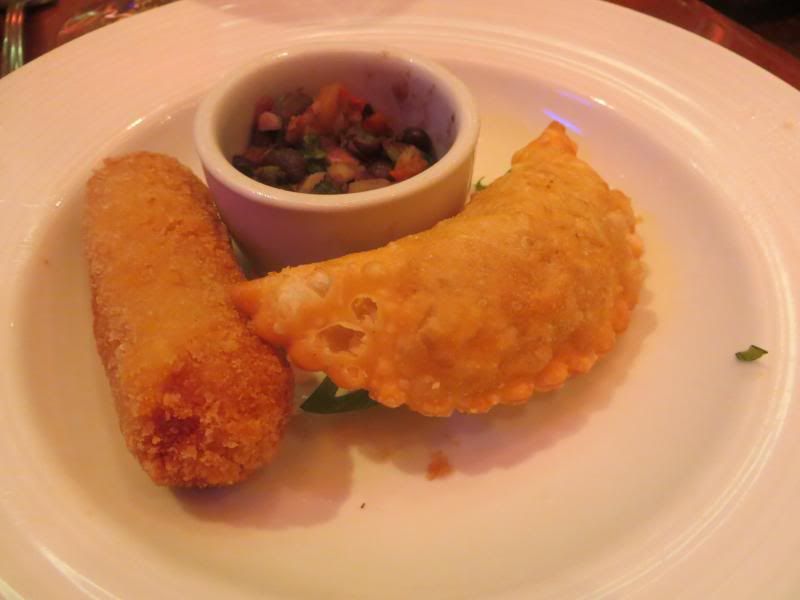 I always have to have the ceasar too. I love Carnival's ceasar salad.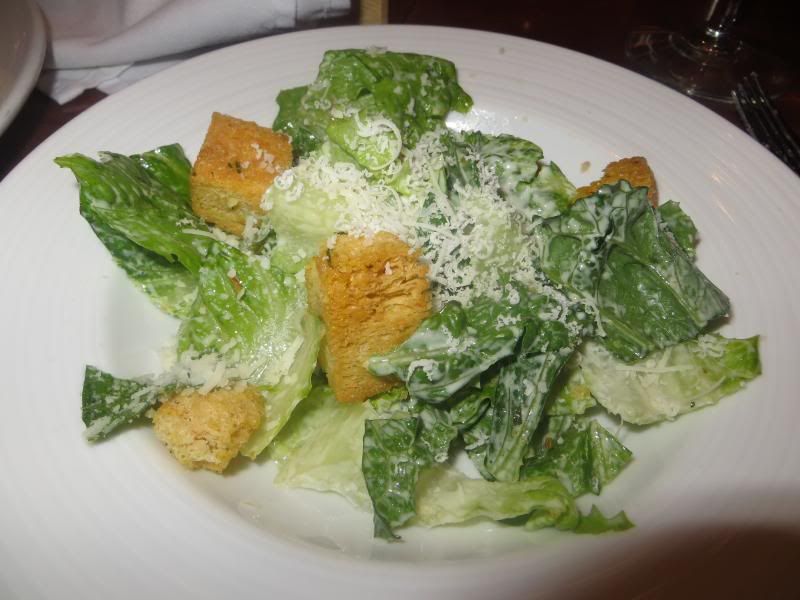 My main course was also the Port of Call selection. Grilled Mahi Mahi with coconut rice and fresh pineapple and red pepper salsa.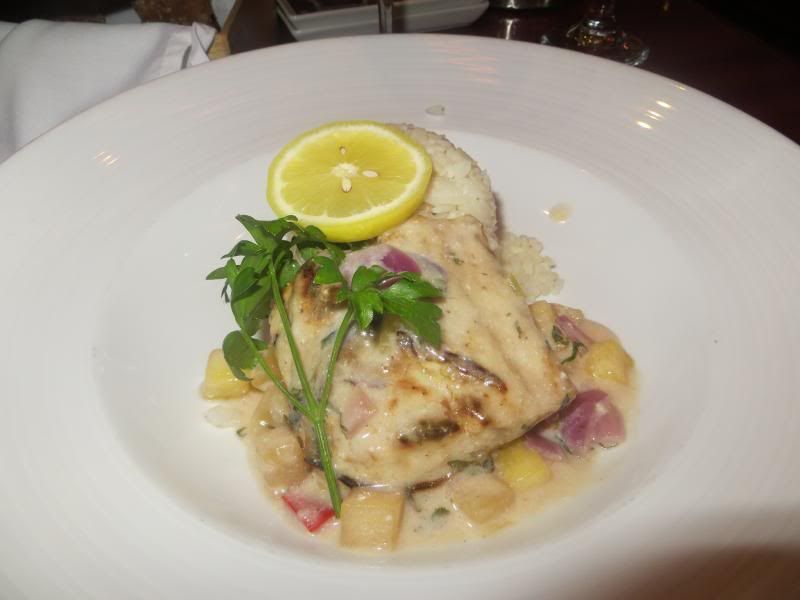 Quentin had BBQ Braised Beef Brisket.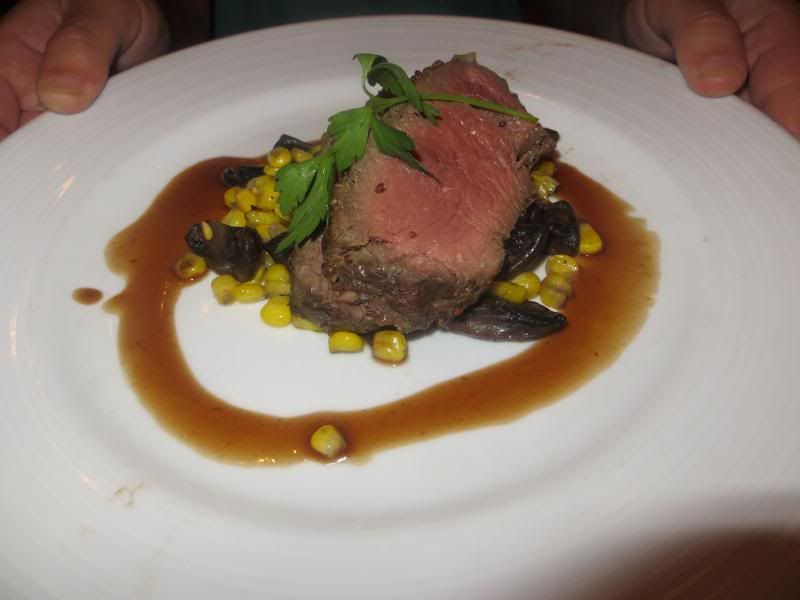 We shared a side of bacon mac n cheese and veggies.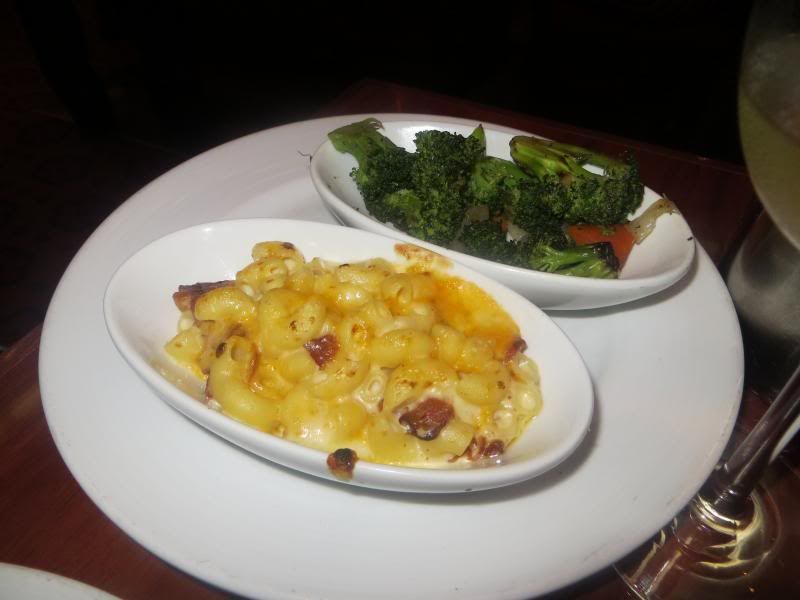 For dessert Quentin had nutella tiramisu and warm date and fig pudding. I don't like most of the desserts on Carnival ships so I had nothing.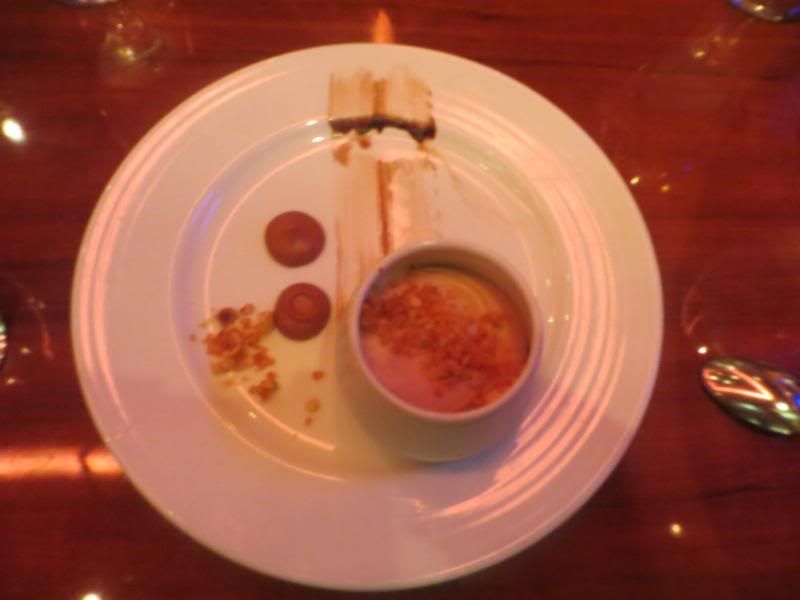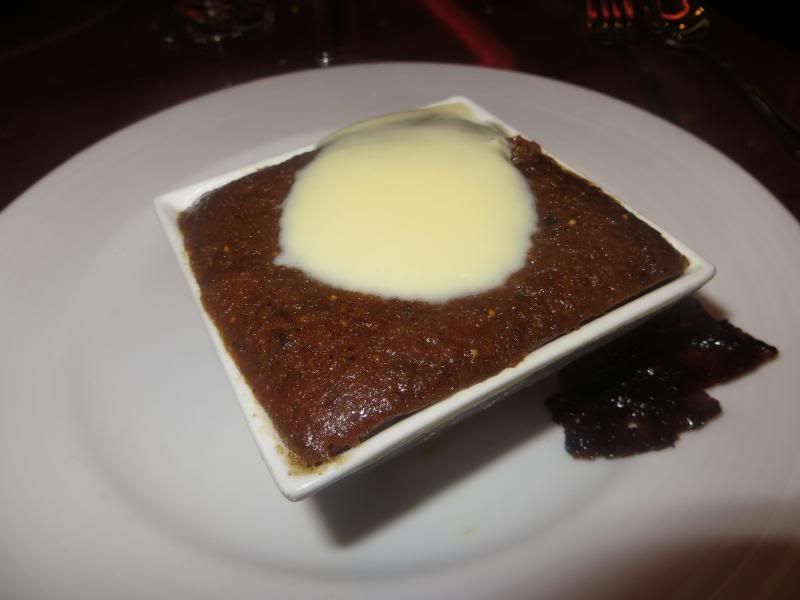 Antonio had a banana split.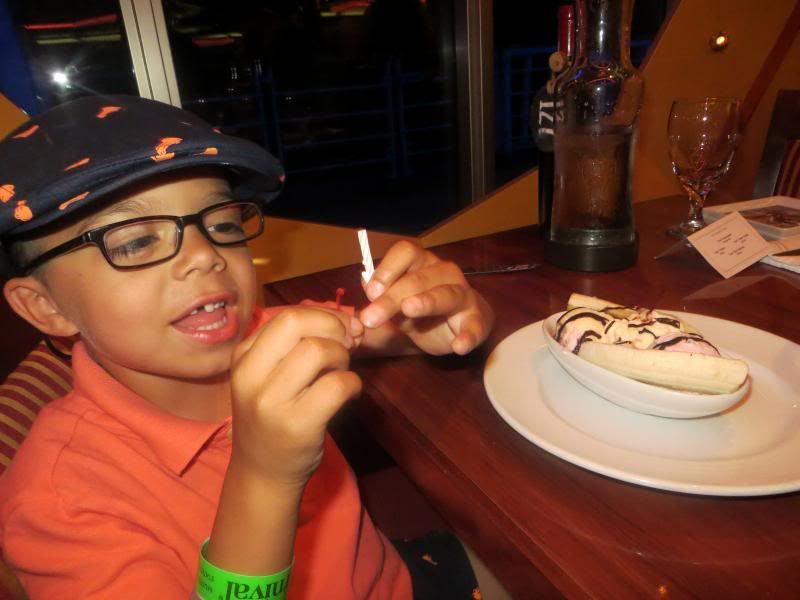 After dinner, I took Antonio up to Camp Carnival to check it out and it happened to be Beary Cuddly time. This is where you can make a Carnival brand Build a Bear. He chose to make a duck and named it Fluffy Duck.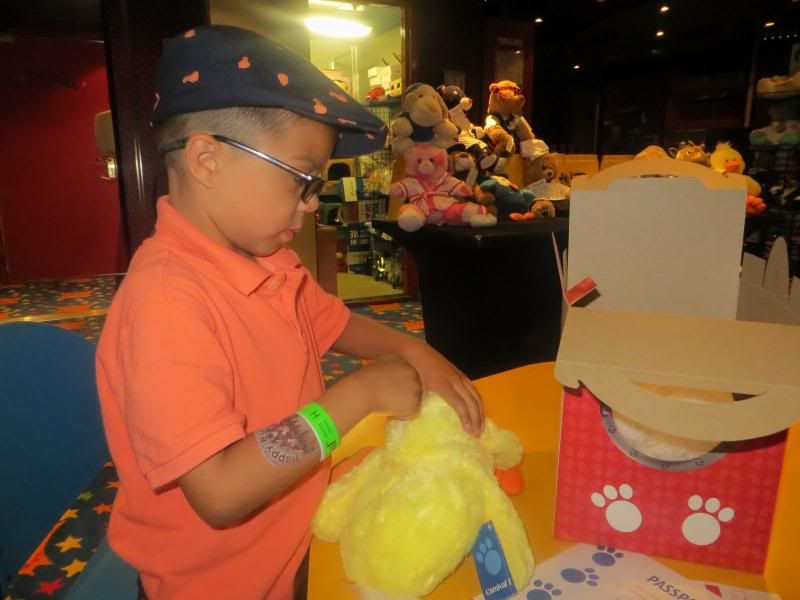 This Camp Carnival area was much nicer than Carnival Sunshine. It was much bigger. Still no Disney ship, but it was nice.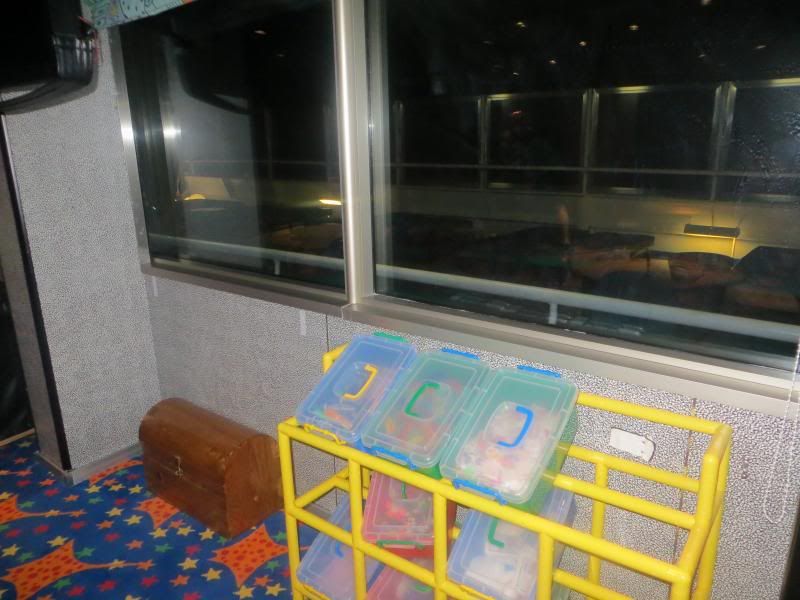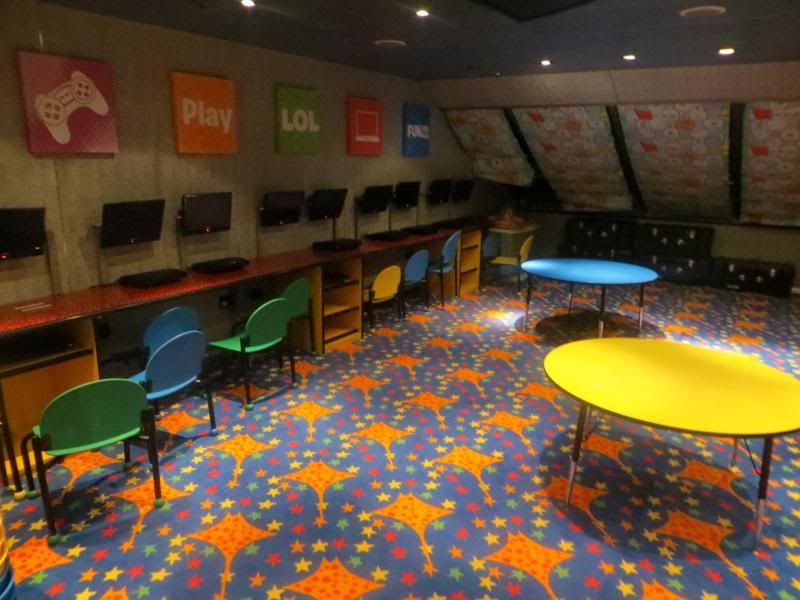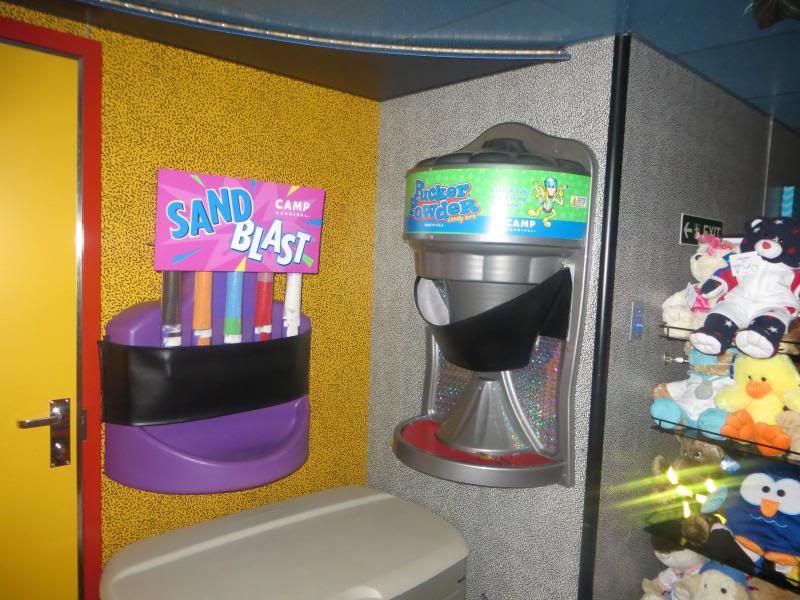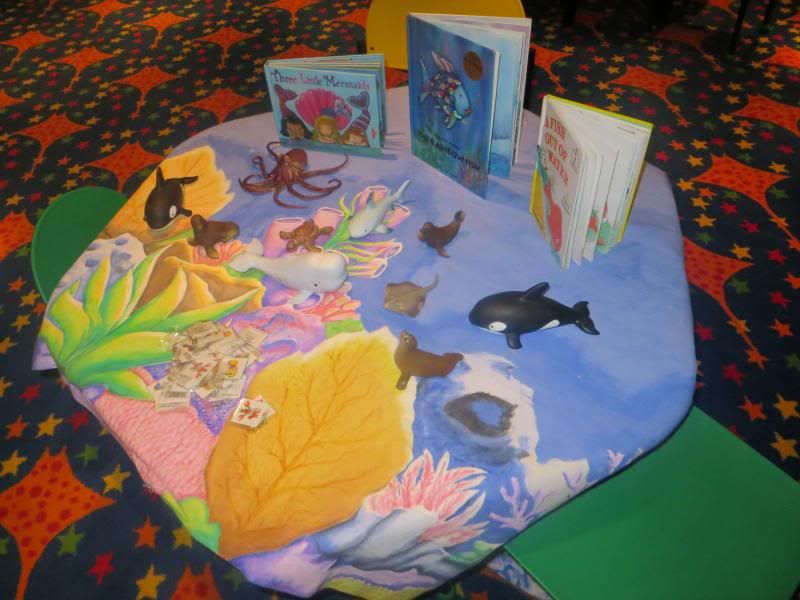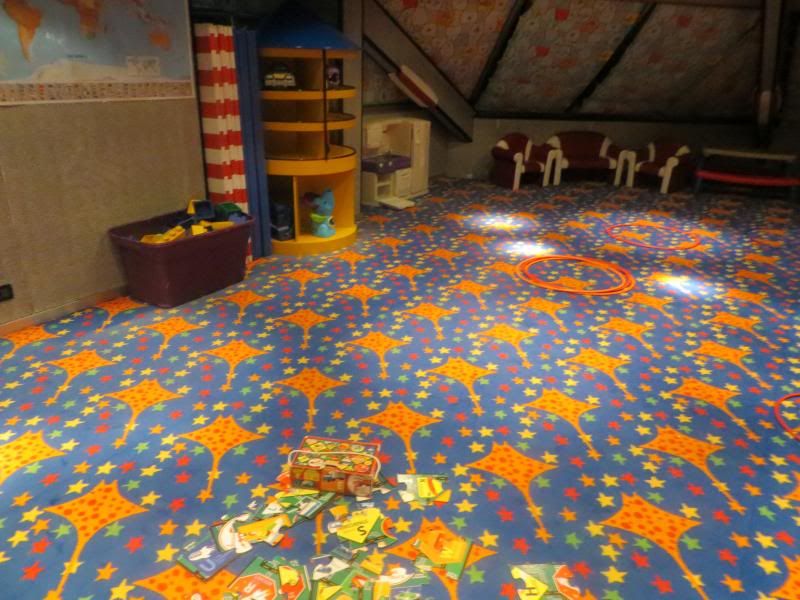 After Beary Cuddly it was time for Camp Carnival Night Owls. This is a program that starts at 10 and ends either at 1 am or 3 am depending on the ship. It costs extra. I left Antonio much to his disappointment. He has fun while at Camp Carnival, but getting him to go is awful.
While Antonio was at Camp, I went to the Welcome Aboard show with Quentin. I loved our cruise director, Dr. E! He was hilarious! The show was great!!! The guy and kid he picked were such characters! There was an older man behind me just cracking up laughing. It really was that funny though!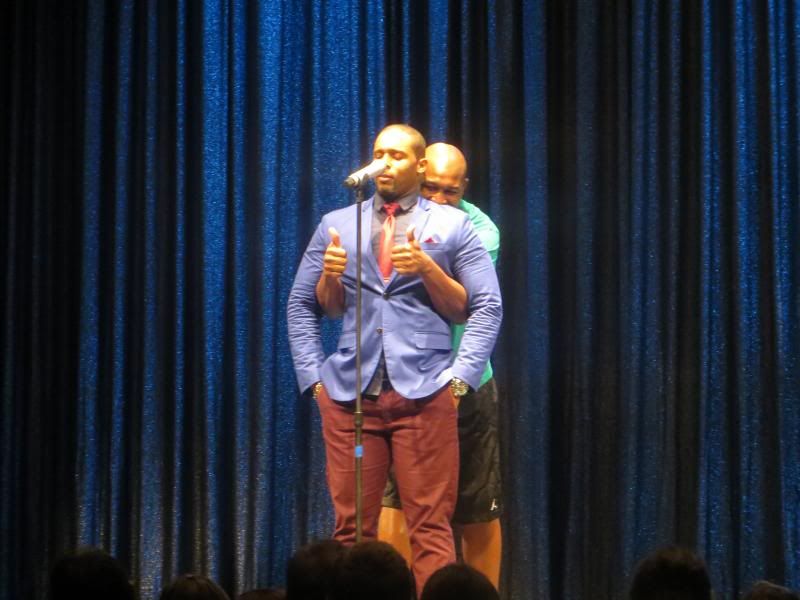 After the show we went to the bar. I stopped for a picture on this neat chair.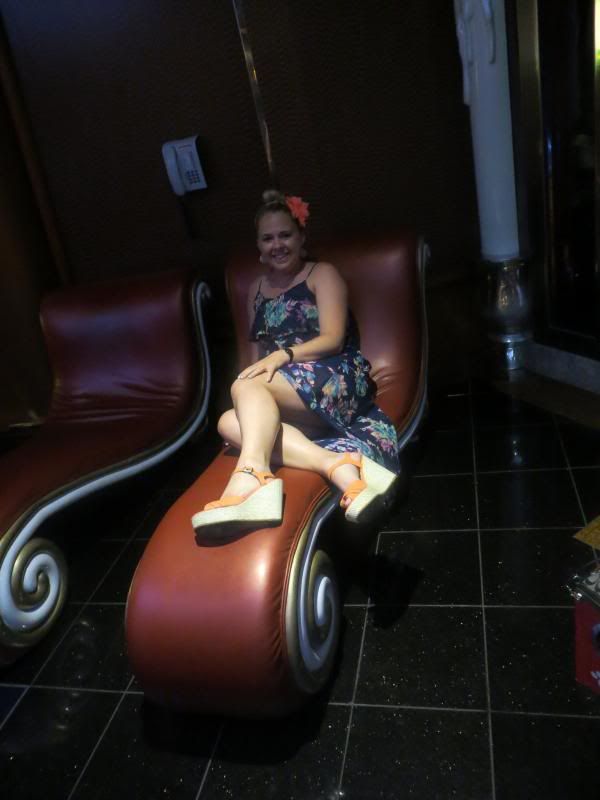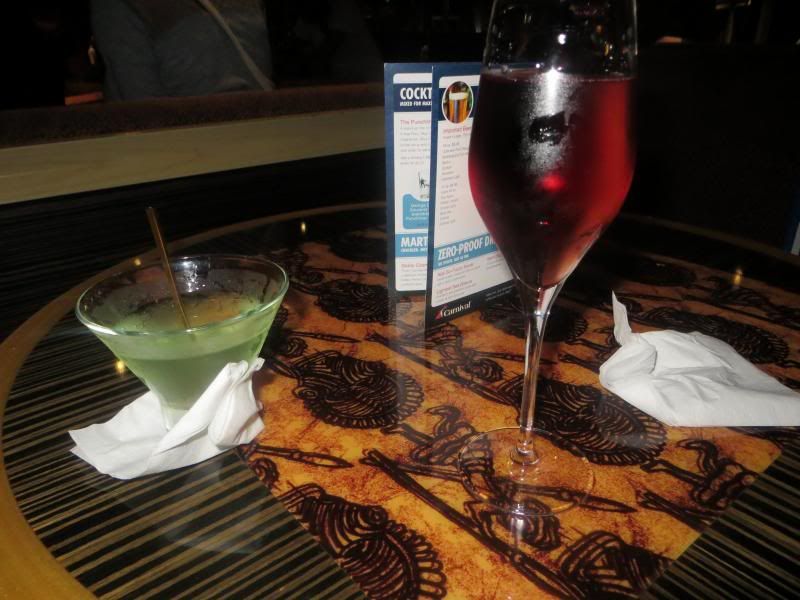 Then we went to the comedy show.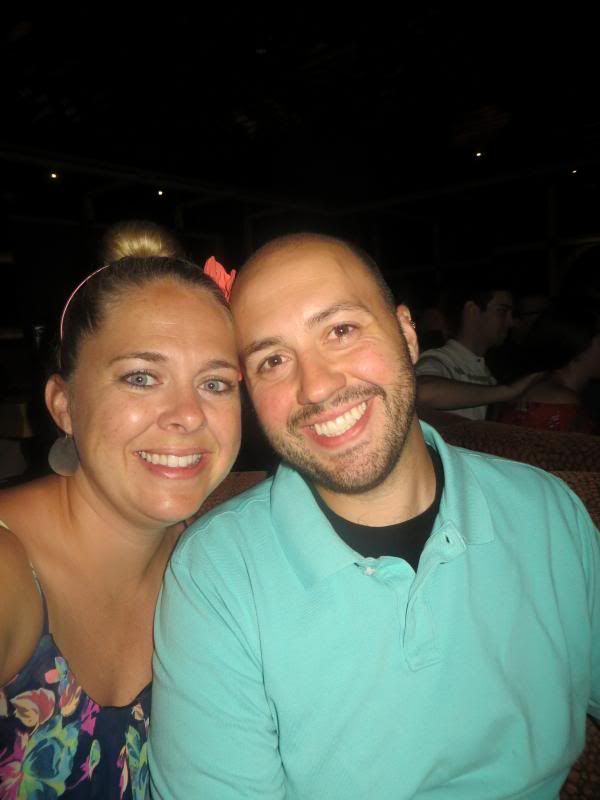 After the comedy show, we picked up Antonio and went back to the room. Antonio was excited to see the "towel baby!"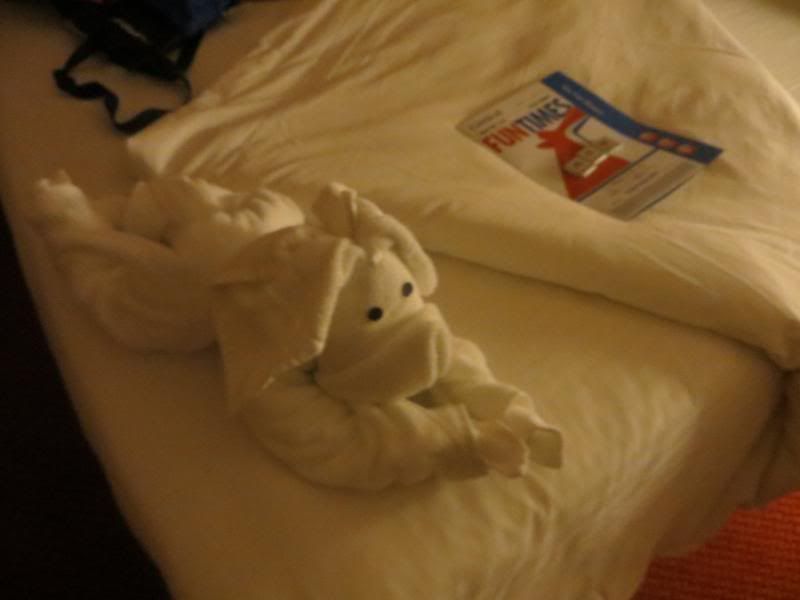 I love reading the fun times each night. We were hardcore this trip. We even brought a highlighter to highlight activities we wanted to do.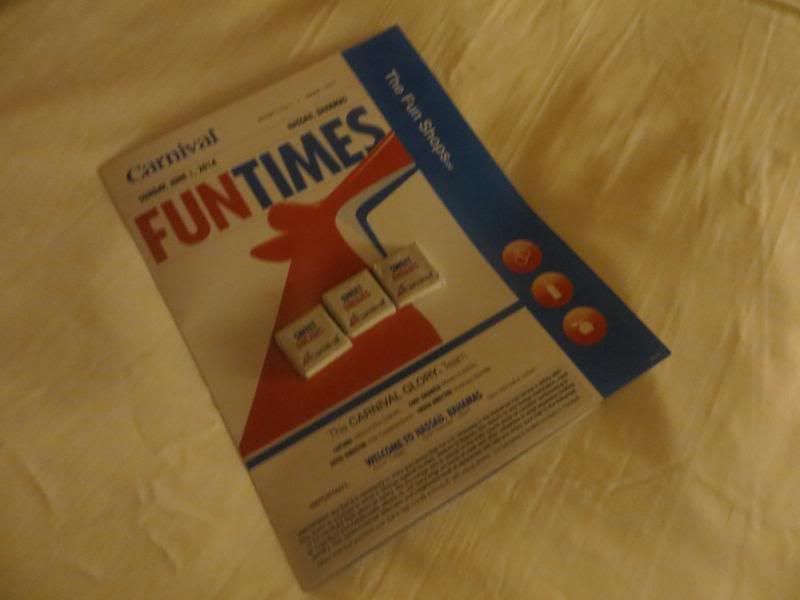 Antonio passed right out!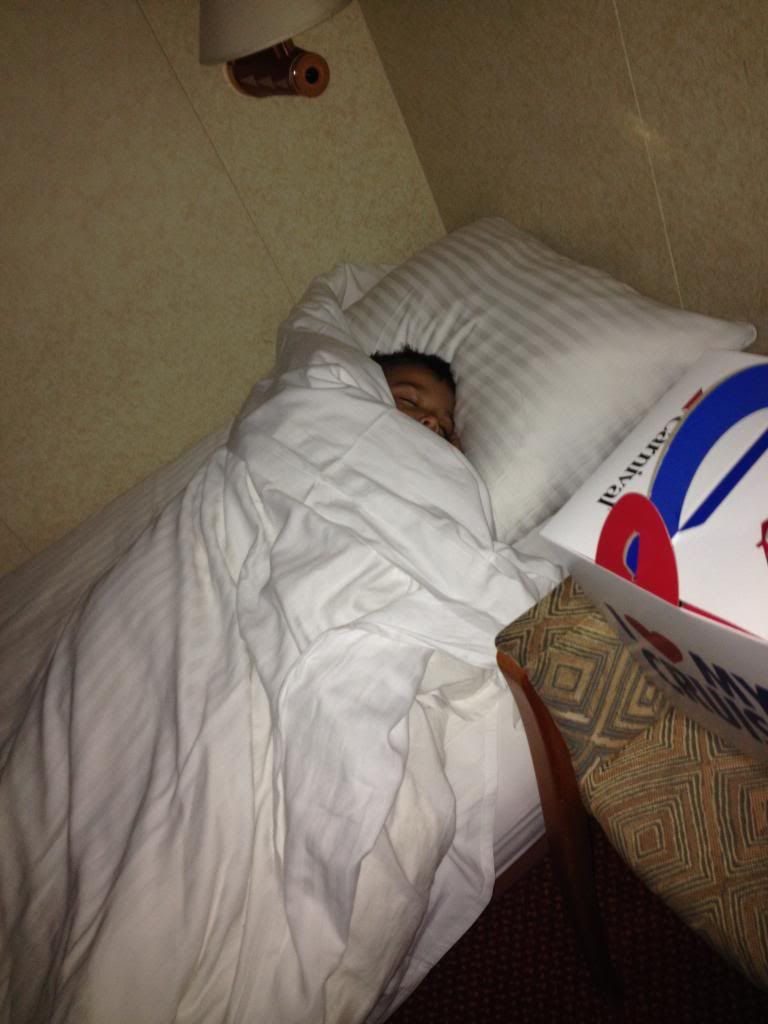 Coming up….Nassau!
Posted by MarathonMama629 16:32