Cruise Day 1
5/31/14 - 5/31/14
We got up at 5:30 AM to start getting ready for the drive to Miami. It sure would have been nice if it was leaving from Port Canaveral, but the price was definitely right for the cruise leaving out of Miami!
Antonio was up and ready to cruise!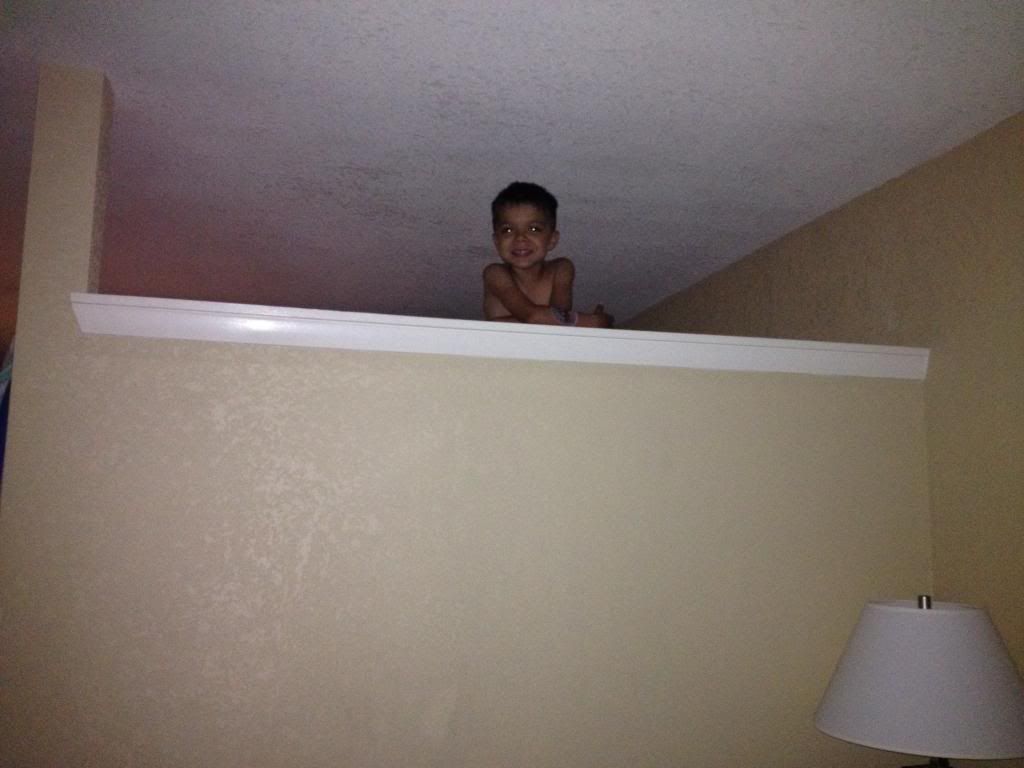 I was wanting to leave by 7, but we didn't quite get out of there on time. Quentin wanted to eat the leftover Giordanos for breakfast so we took it down to the food court area and found a microwave. Finally, we got going!
The drive down was uneventful, except for the horrendous tolls! At one point we paid a toll that was $15.40! I think overall we paid like $20 in tolls.
We stopped at a rest area and Antonio's happy face was on green so he got a prize!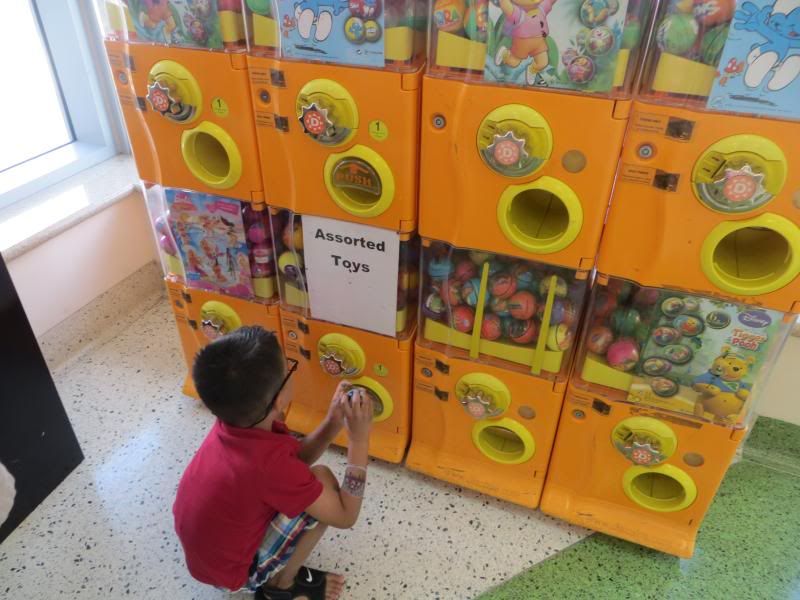 Getting closer!
Woo hoo!!!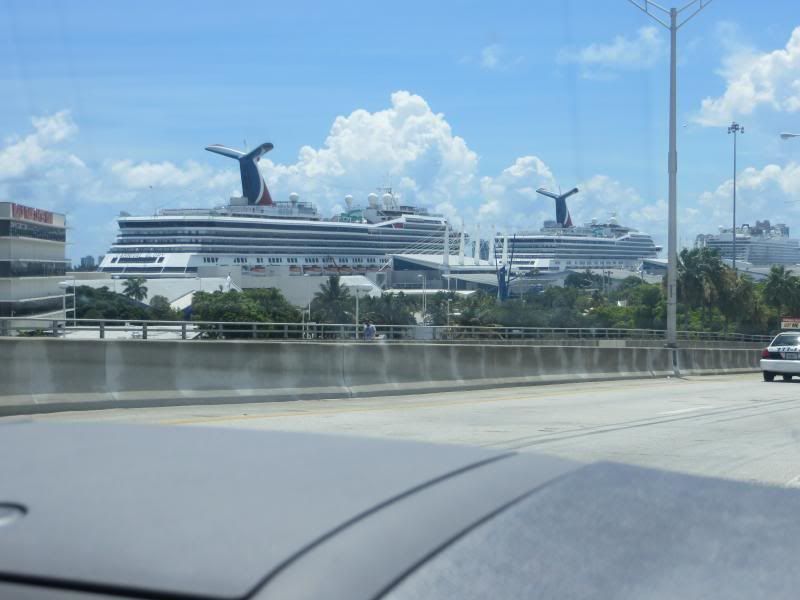 We drove all the way to where the ships were hoping to find a liquor store right by the boats. No go. We had to turn back around to find a place to buy our wine. On Carnival you can carry on one bottle of wine per adult. You can also carry on bottled water and soda. We took all the rest of the waters we had from Disney. I think it was like 12 bottles.
A few pics of Miami. There was a lot of singing of "Welcome to Miami, Bienvenidos a Miami" a la Will Smith.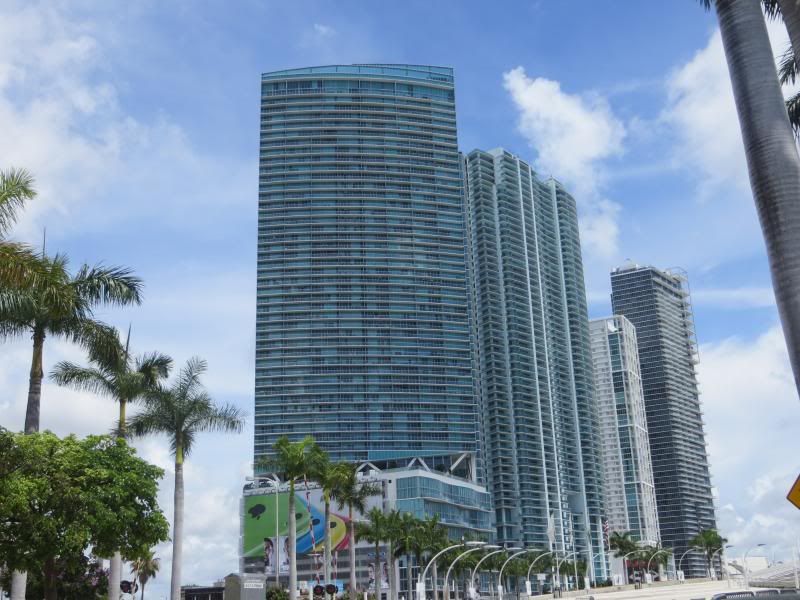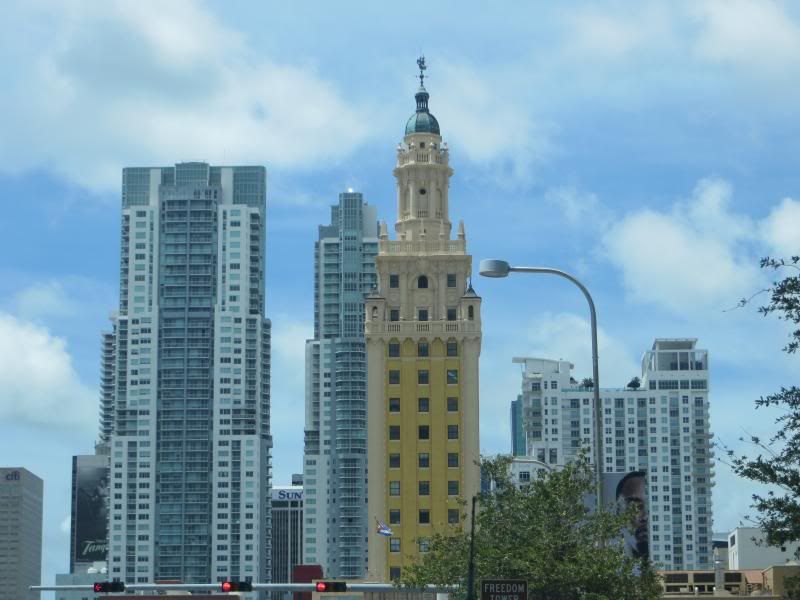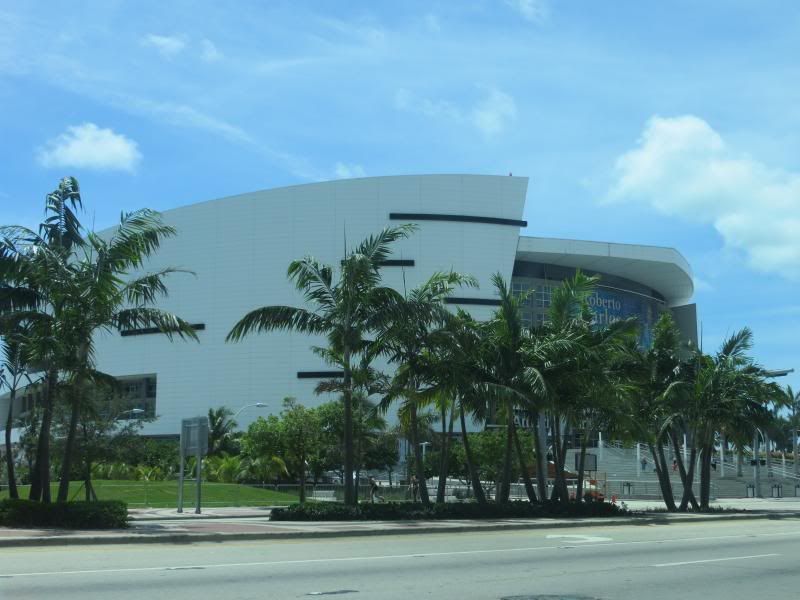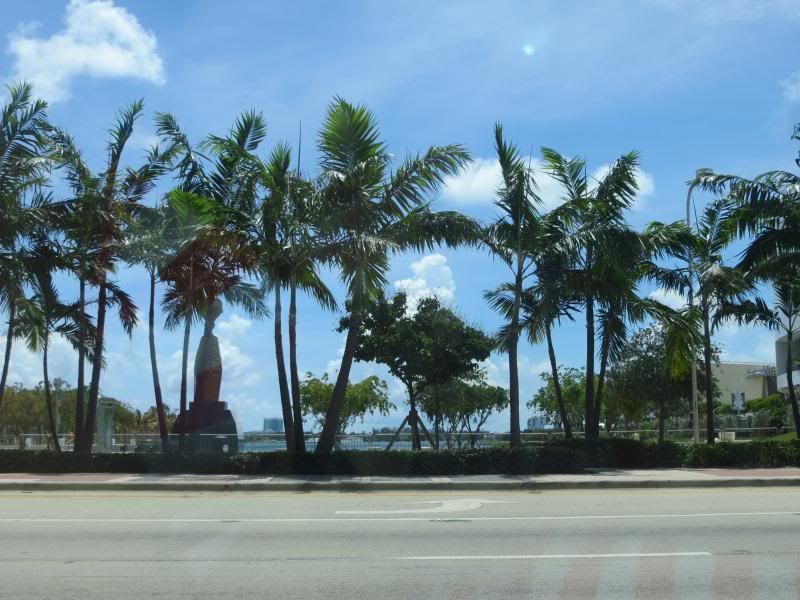 Found a place to buy wine!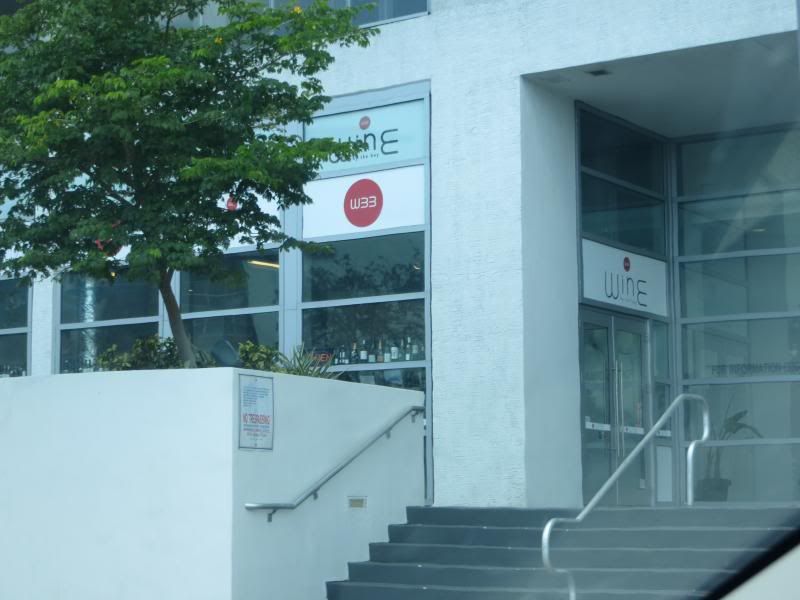 With wine in hand we went back to the port. Prior to the trip I had searched for a cheaper place to park the car than at the actual port. Unfortunately all of the other places had pretty terrible reviews. They said there were homeless people around the cars or reports of break ins. We decided we would just eat the crazy expensive port parking cost so that we would have peace of mind. Quentin dropped us off up front by the porters. This part is always stressful to me. They want to just start grabbing your luggage the second it is out of your car. I want a moment to get everything together and make sure we have it all. Luckily, we didn't forget anything. Quentin went and parked the car and met us by the entrance.
Peekaboo!
They had water and lemonade outside which was really nice.
Loved these signs!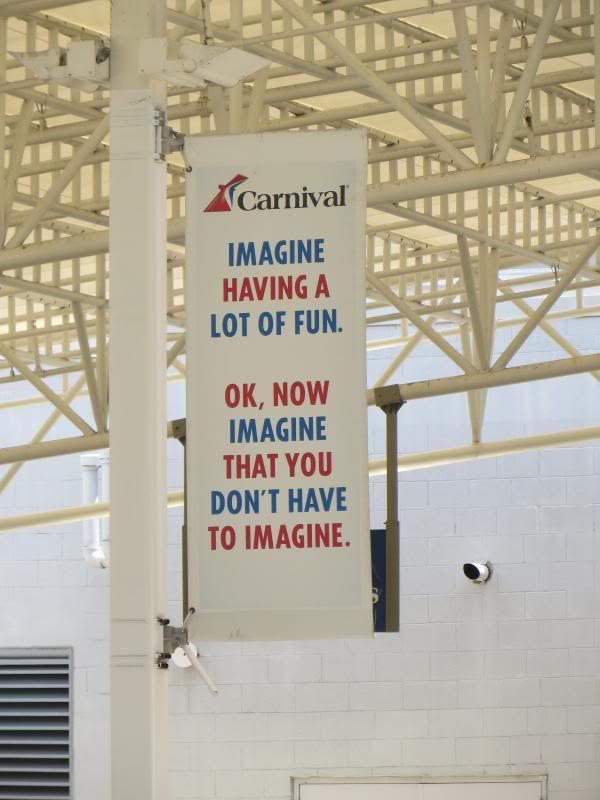 Antonio's stroller was packed down with carry on things that we needed. He kept getting up and the whole stroller would flip over and spill everything! He was killing me! I had to make some threats against his life to get him to stay seated! We didn't take a stroller on the last cruise, but we decided to bring one this time since we were planning to do a lot of walking in each port. I was really glad we brought it.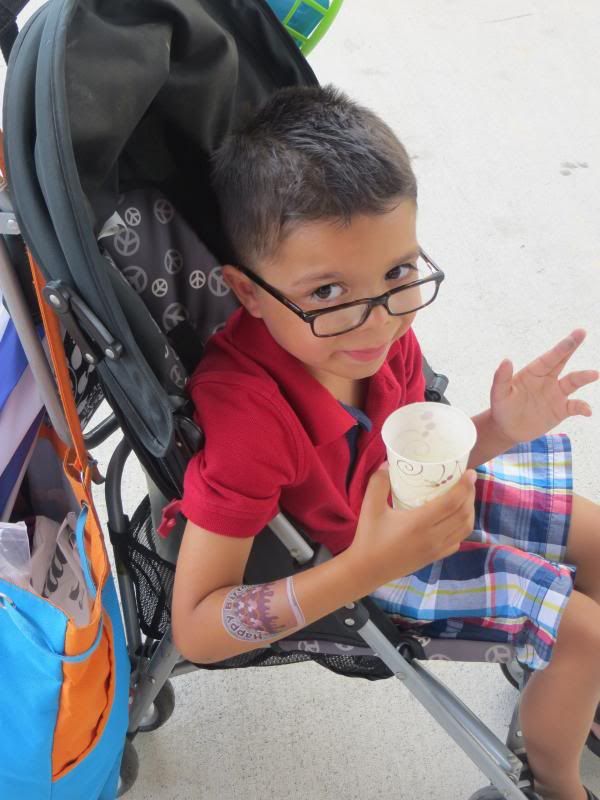 We were through check in and security in no time flat. I think from the time we got to the port to the time we were in our room was about 1 hour.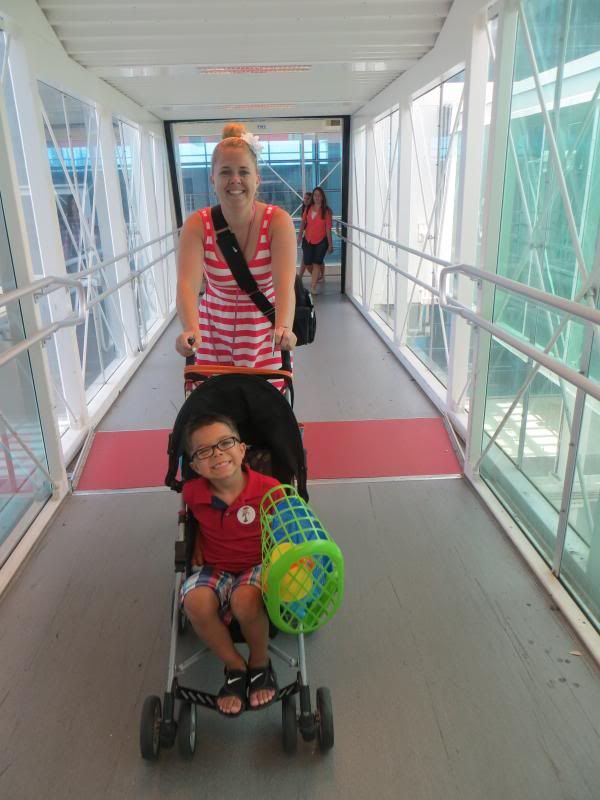 Our room was ready as soon as we got on! Well, it wasn't exactly ready because the room stewards were still doing some tidying, but they let us go on in.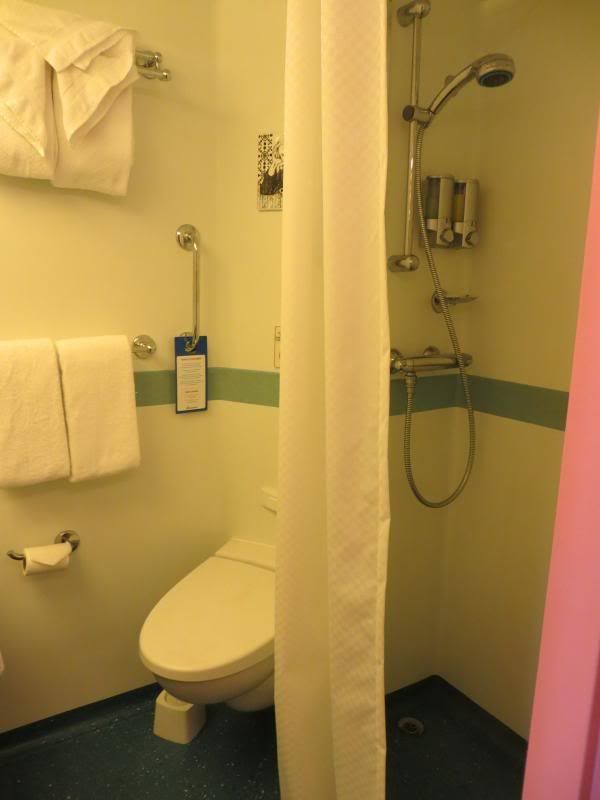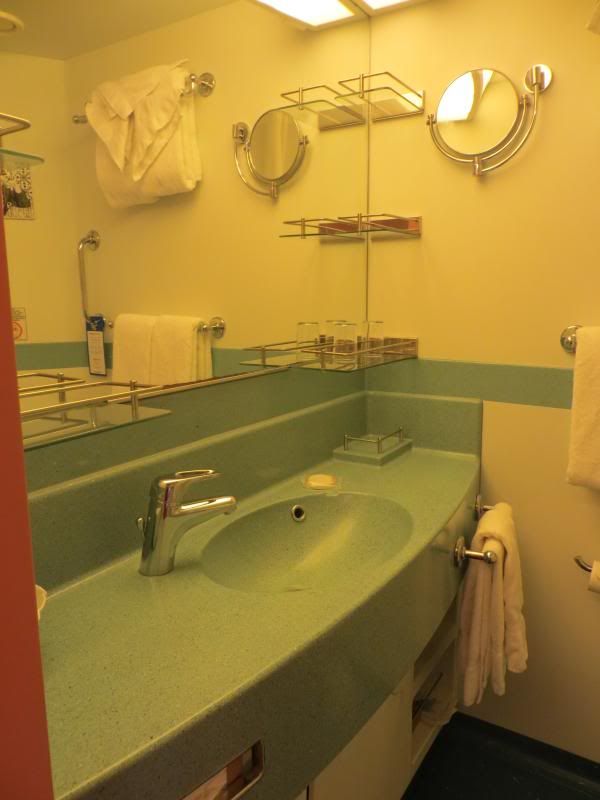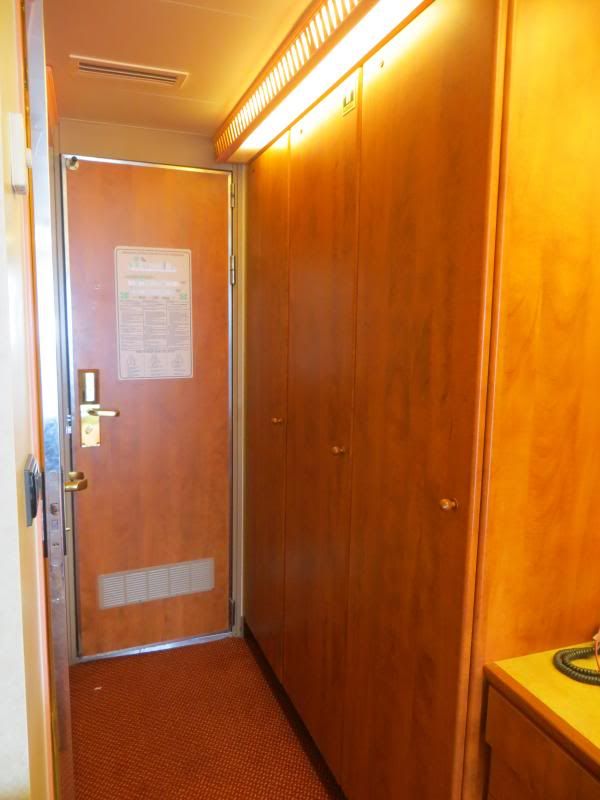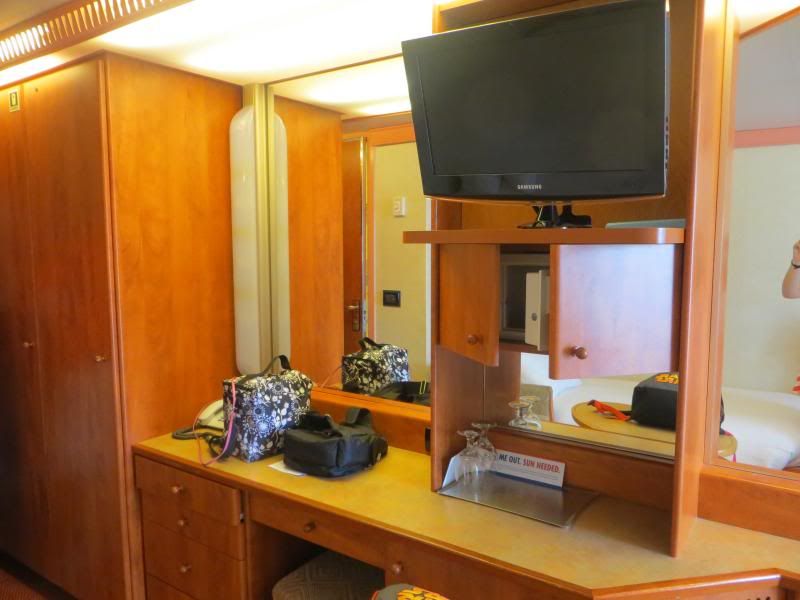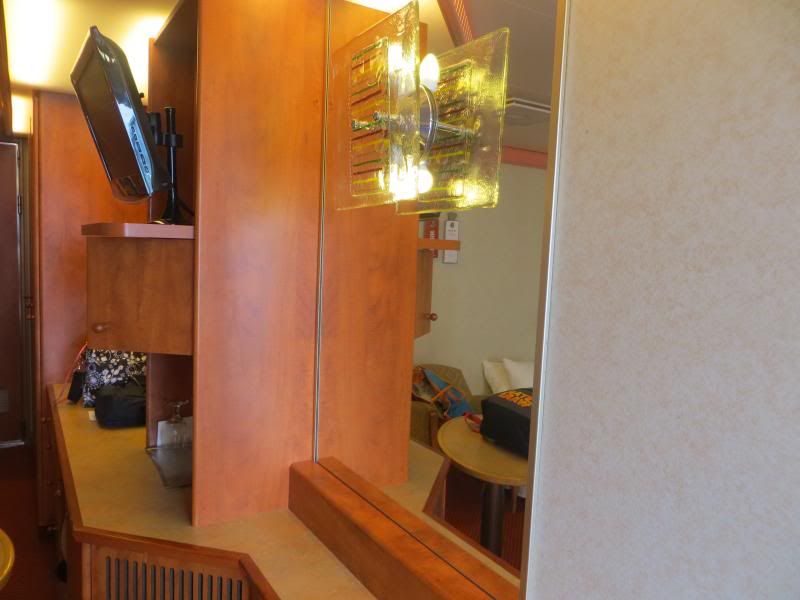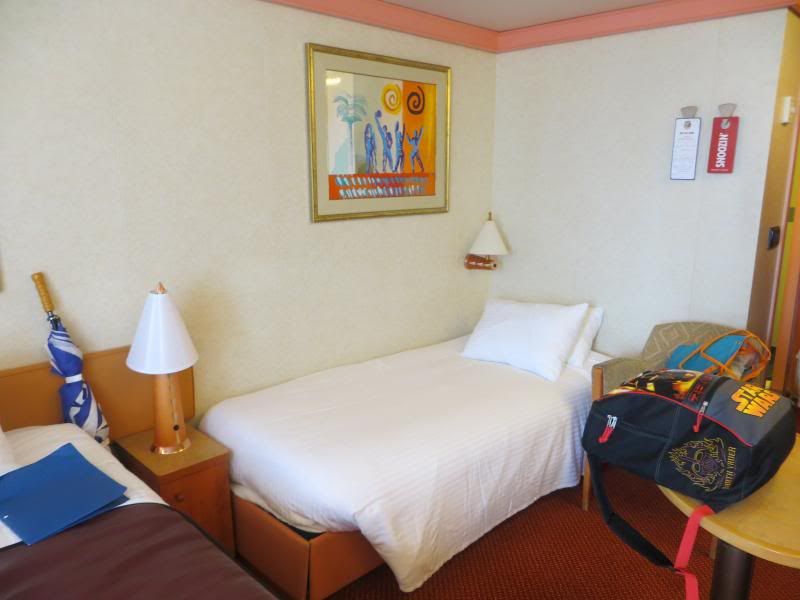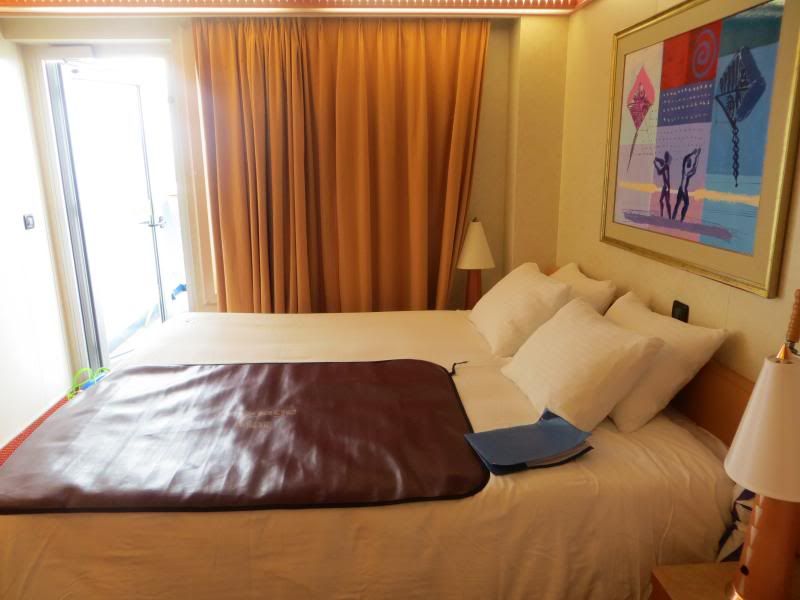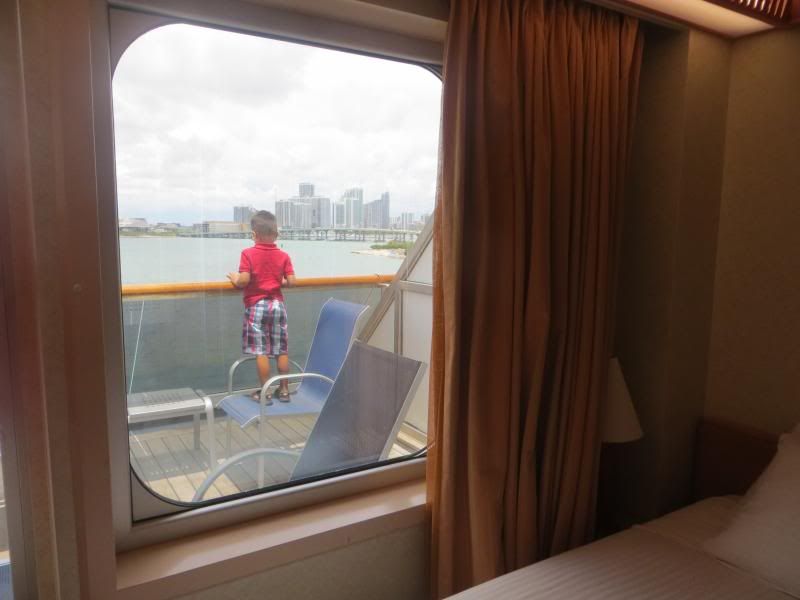 I love love loved our aft balcony! An aft balcony is on the very back of the ship and is extended so it is much larger than a regular balcony. The only drawback is that it's not very private because of the way it is shaped. You can see right on to the balconies next to you and below. The balconies above can see right down on to yours as well.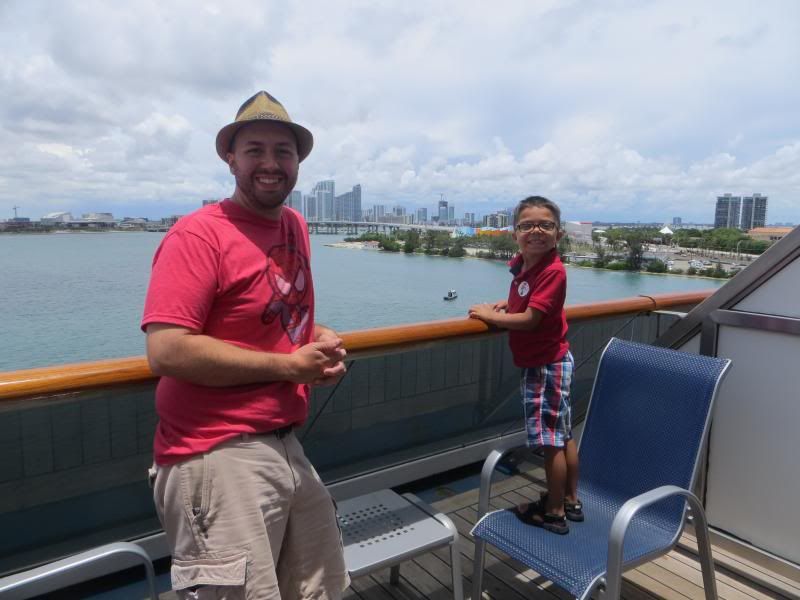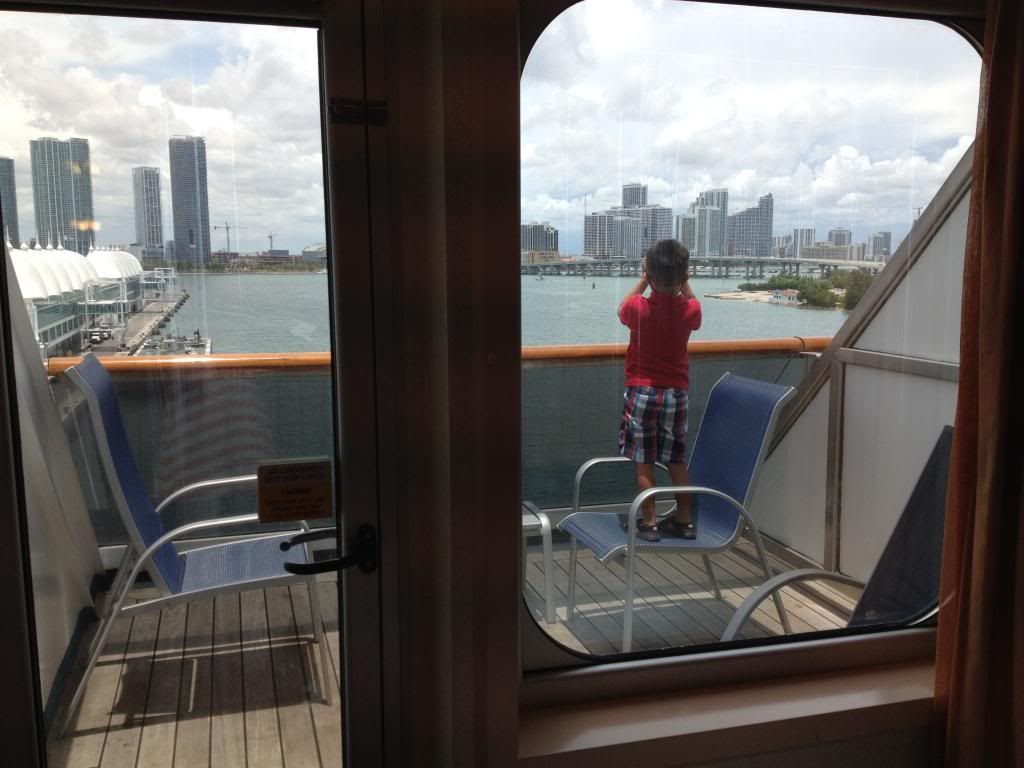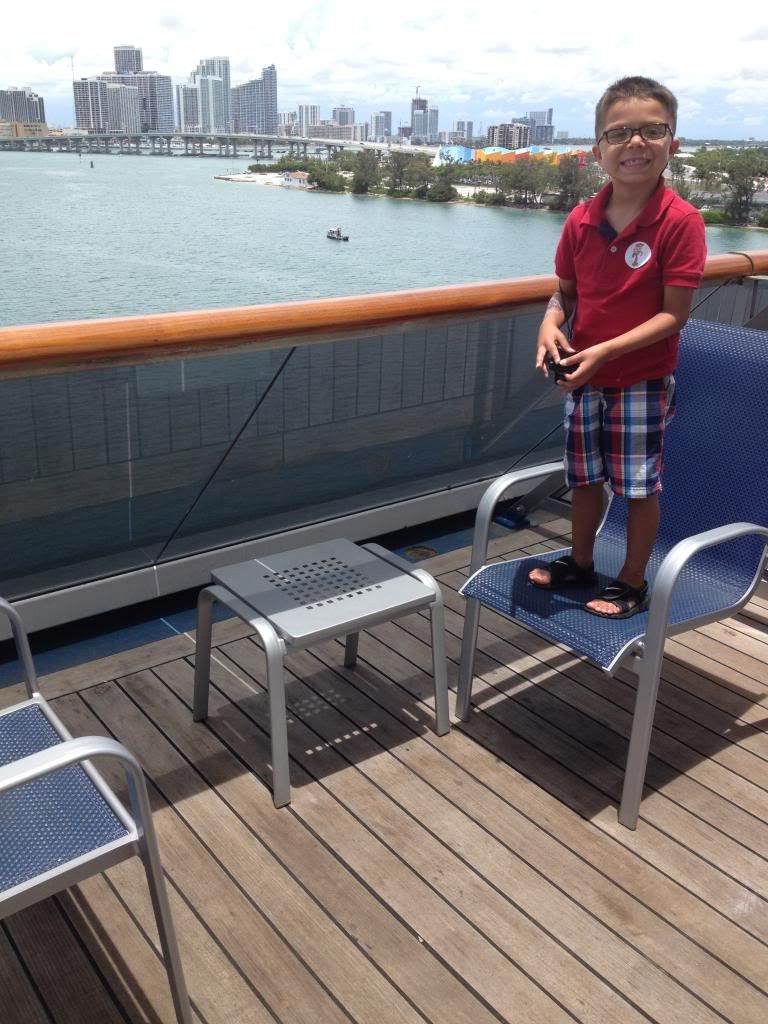 I loved the our balcony not only had two chairs and a table, but also a lounger!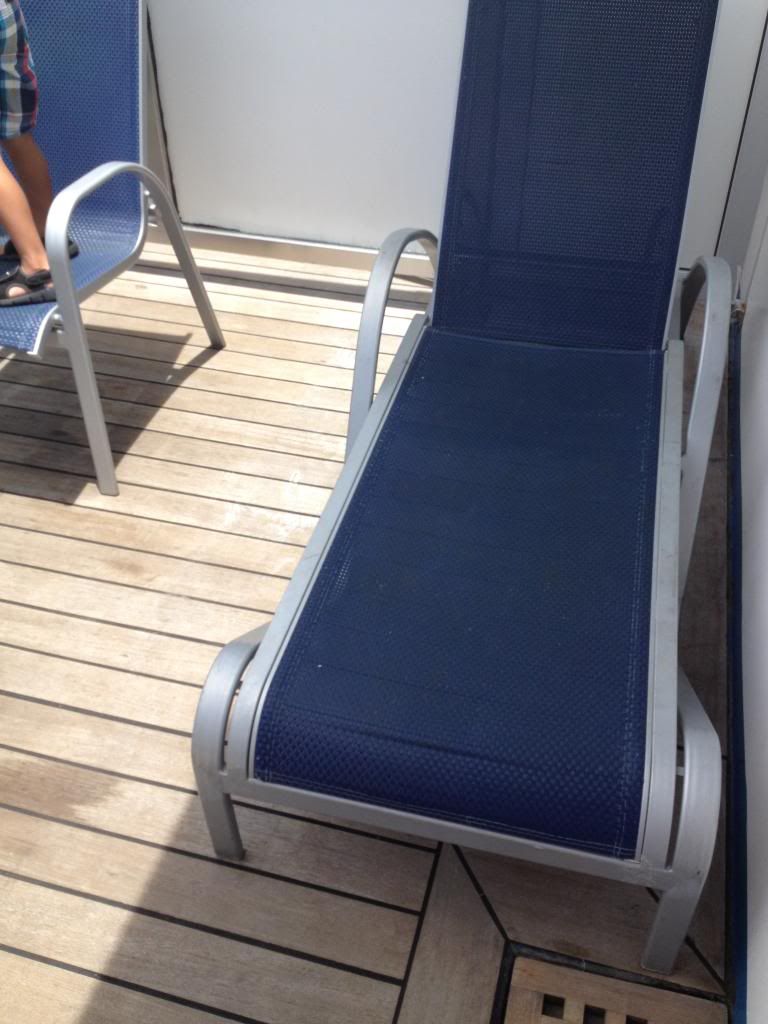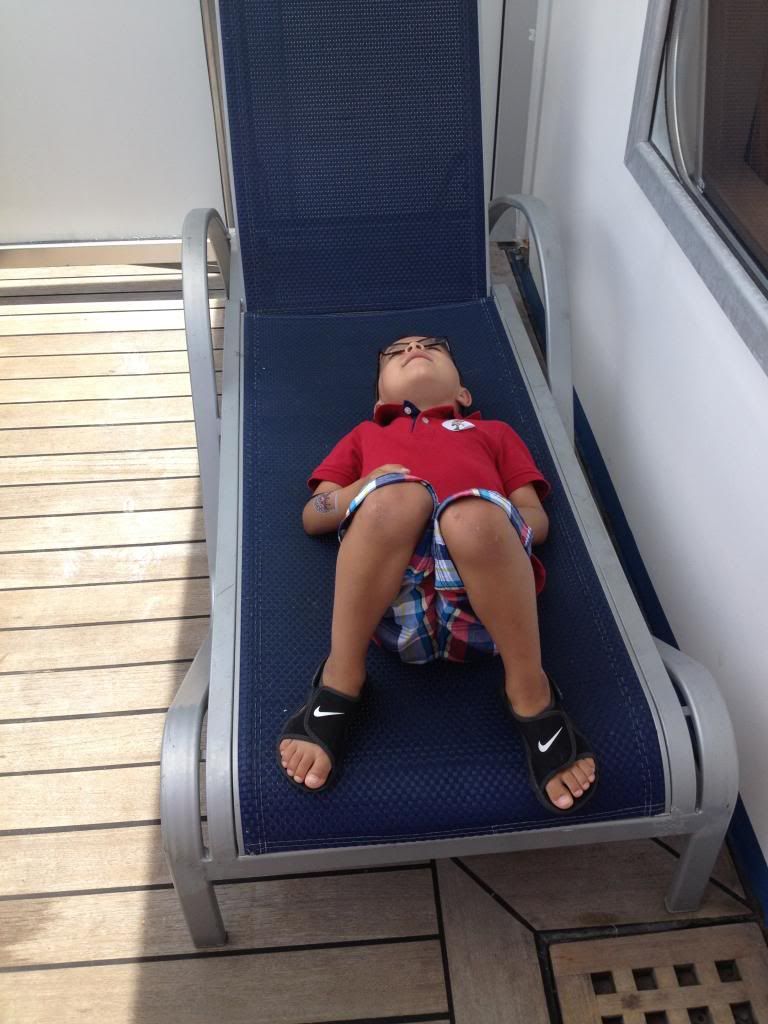 Antonio is learning from his Mama to go around and take pics when you first get in the room. Here are some of his pictures. He cracks me up!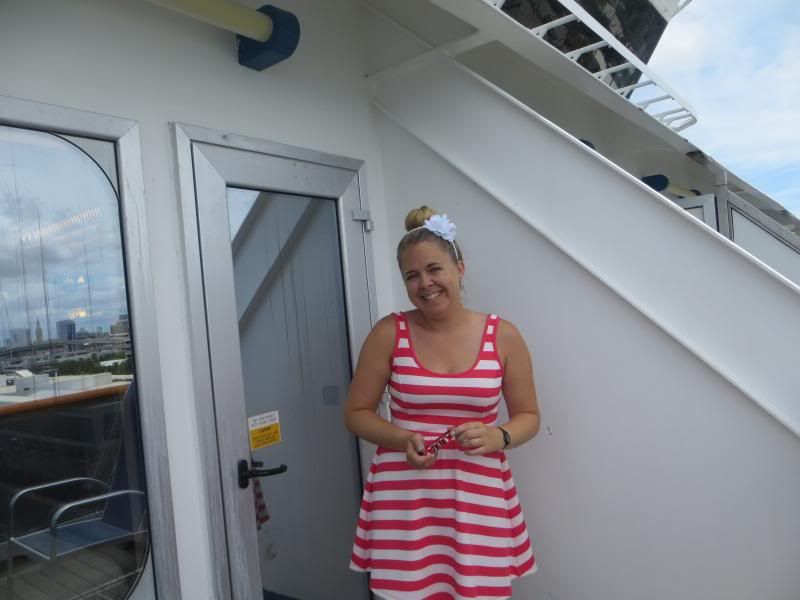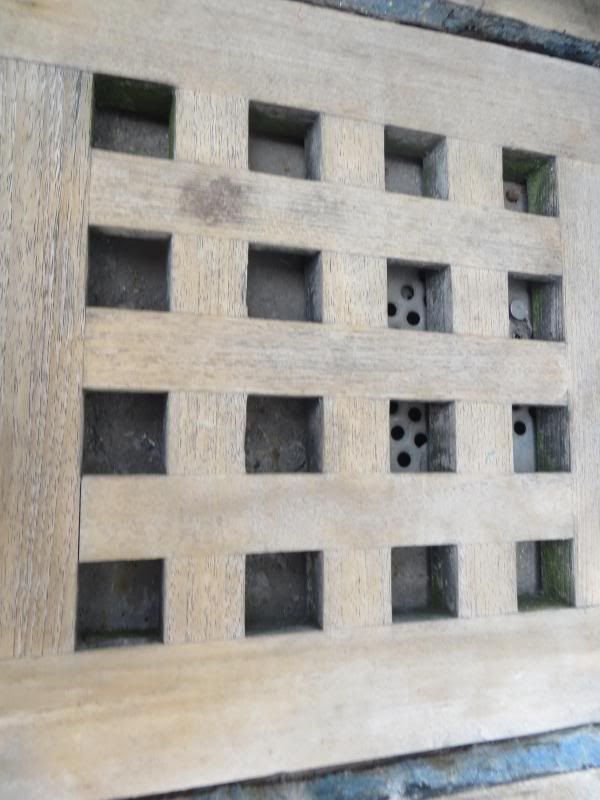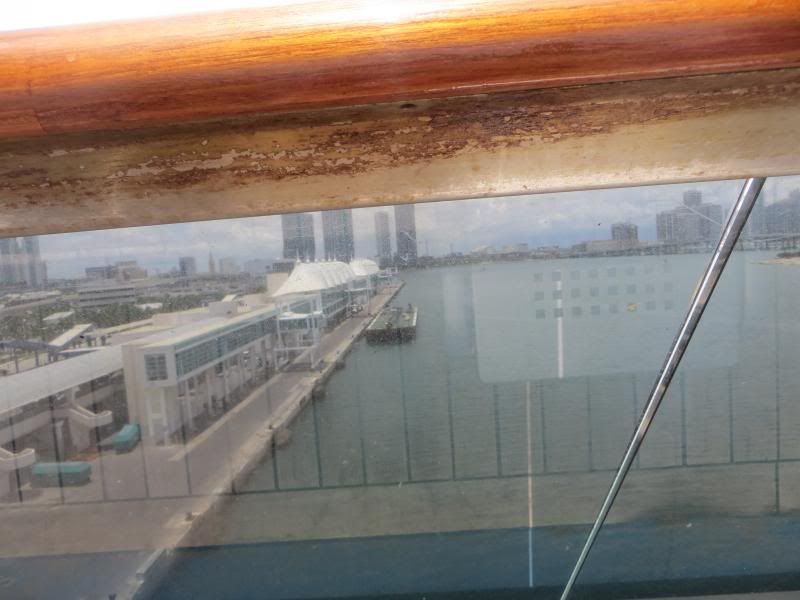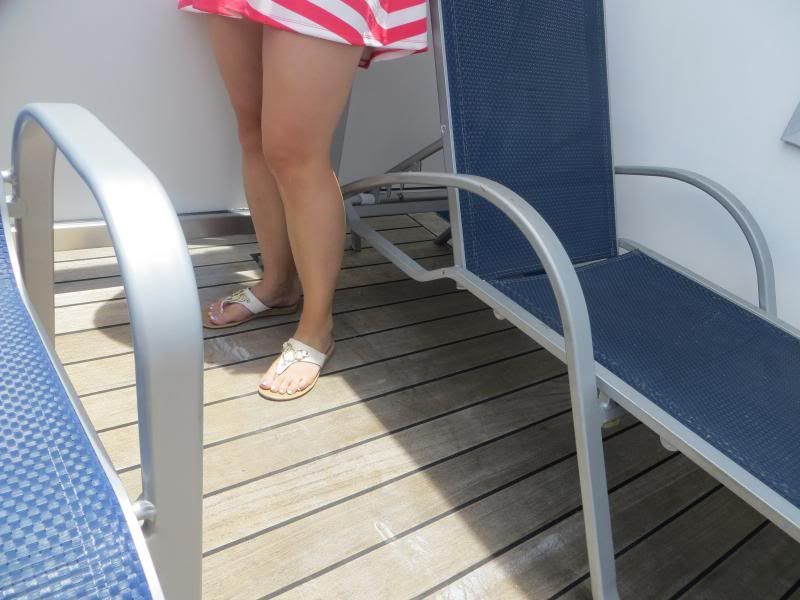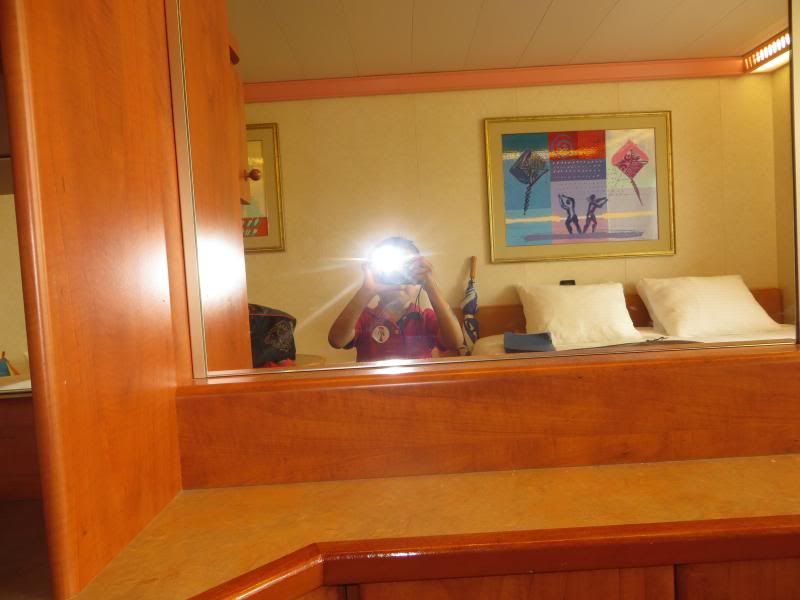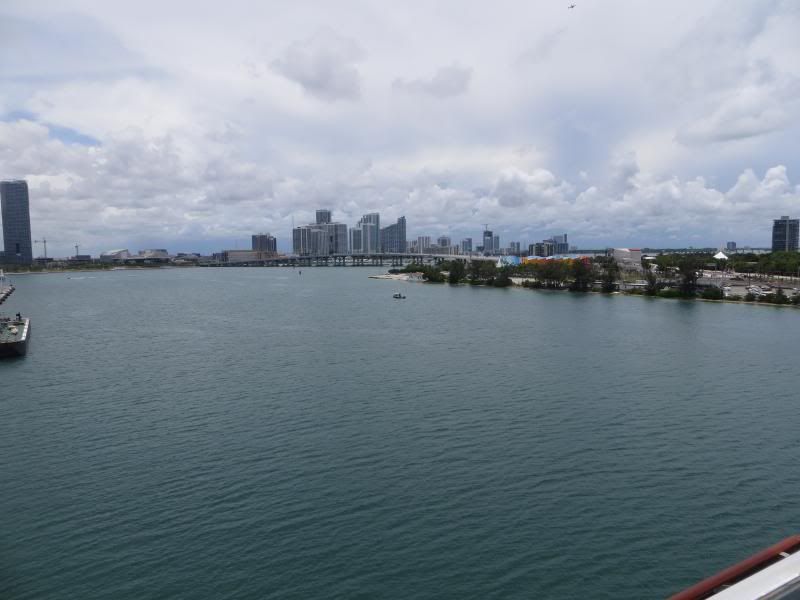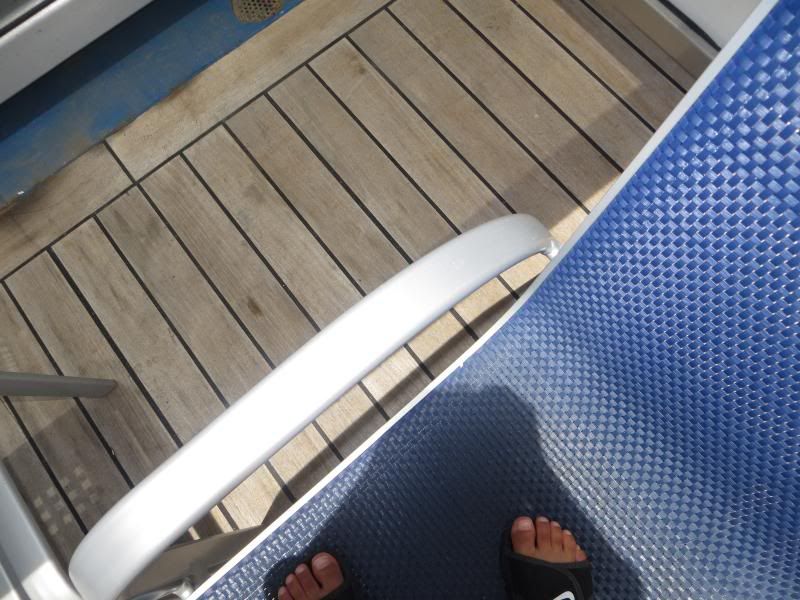 After exploring our room, we decided to get out of there and let the room stewards finish up. We went to have lunch. We had read online about the fish and chips place that was located upstairs from the buffet. It was not crowded at all up there. That was about the only good thing about it. We didn't like the food at all.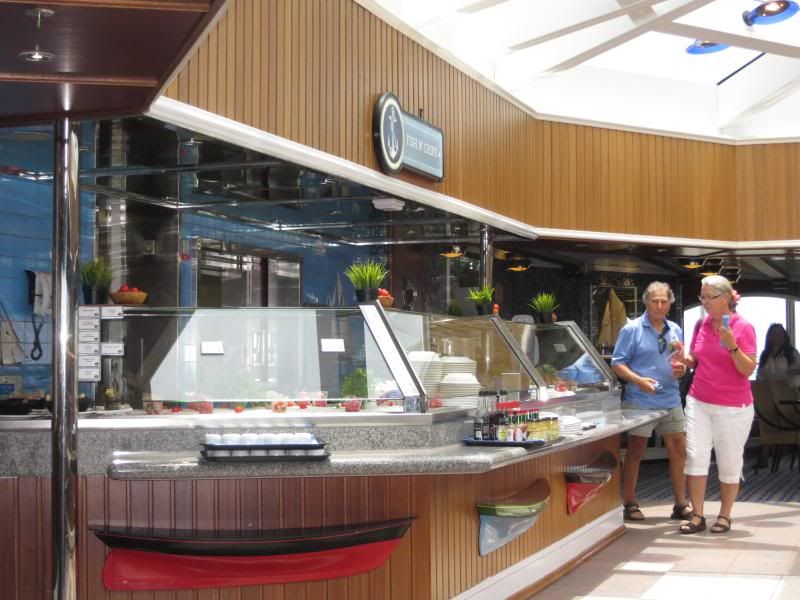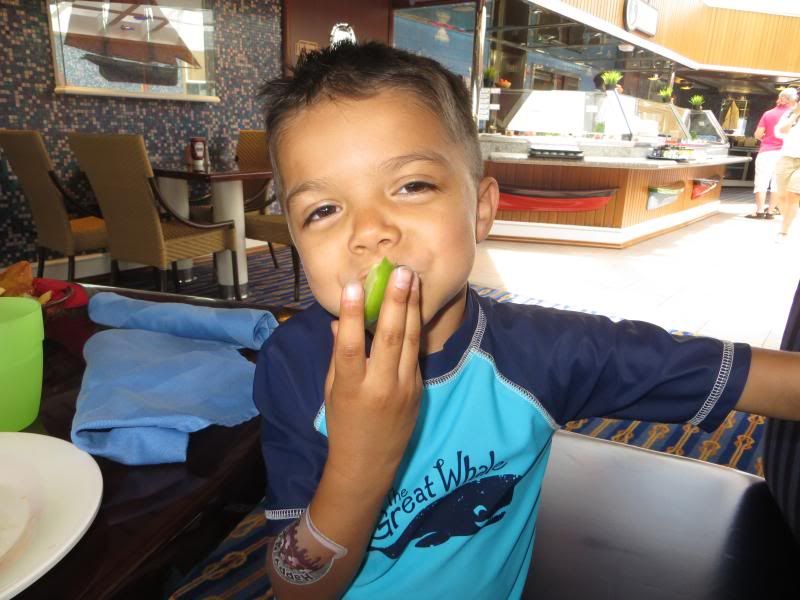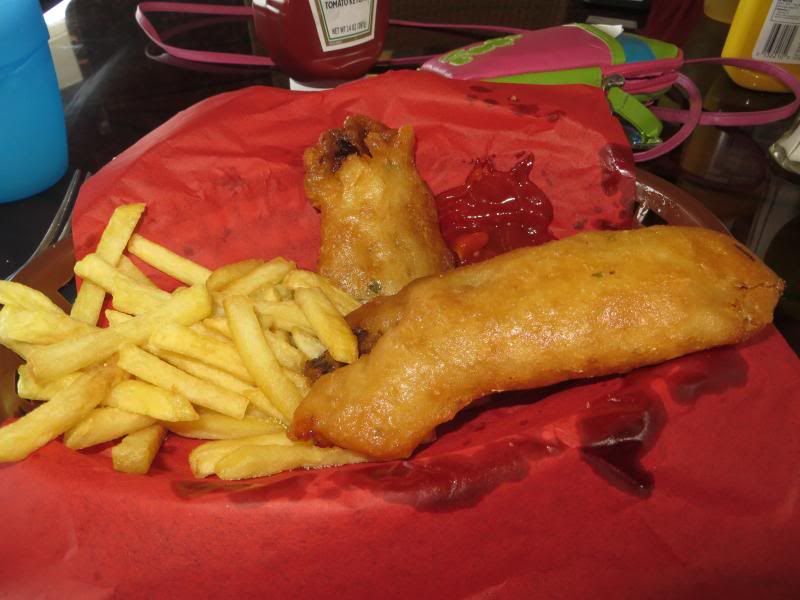 Antonio was excited to be back to a cruise and have his meat and cheese cubes for lunch! He ate this pretty much every day on our spring break cruise.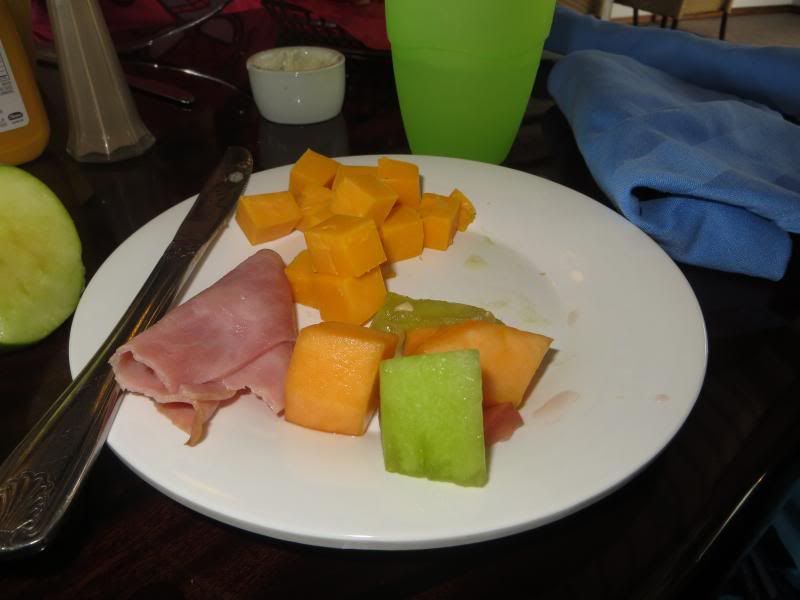 After we ate we went back to the room to change in to swimsuits. We had carried on everything we would need to swim. That way we could go right away and not have to wait for our luggage to be delivered.
When we got back to our room, the room steward had finished up and our returning cruiser gifts were there! I got my pin for becoming a Golf VIFP member!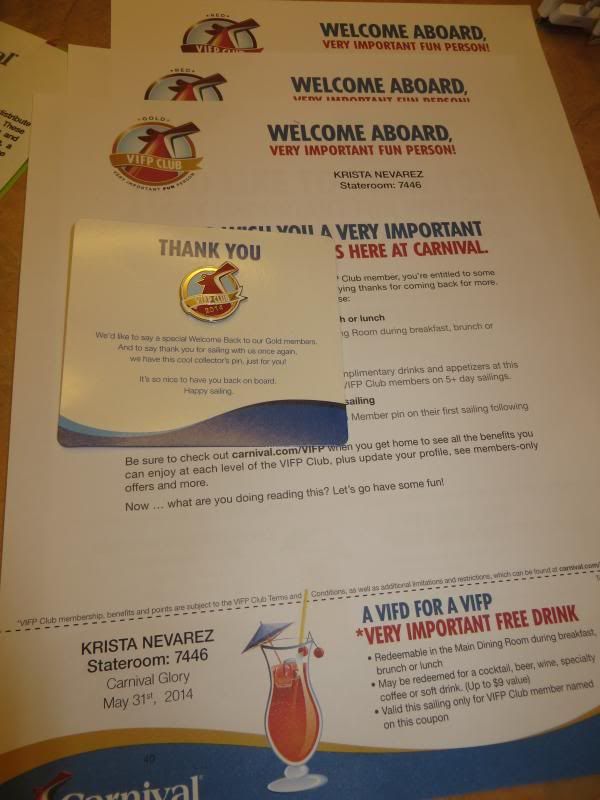 The room was also decorated for Antonio's birthday!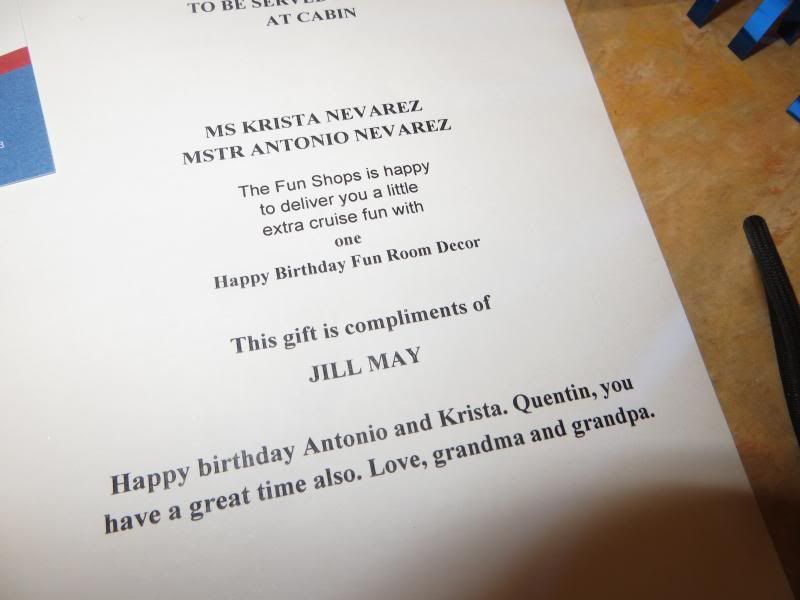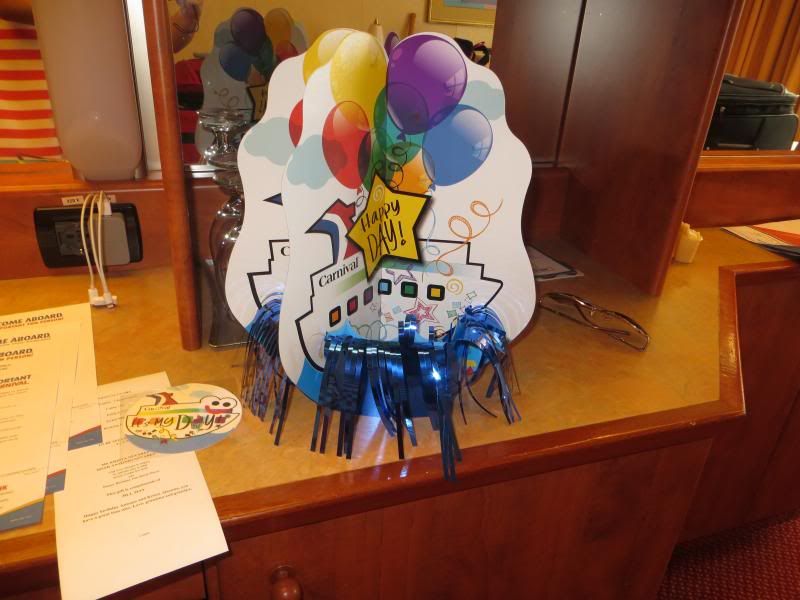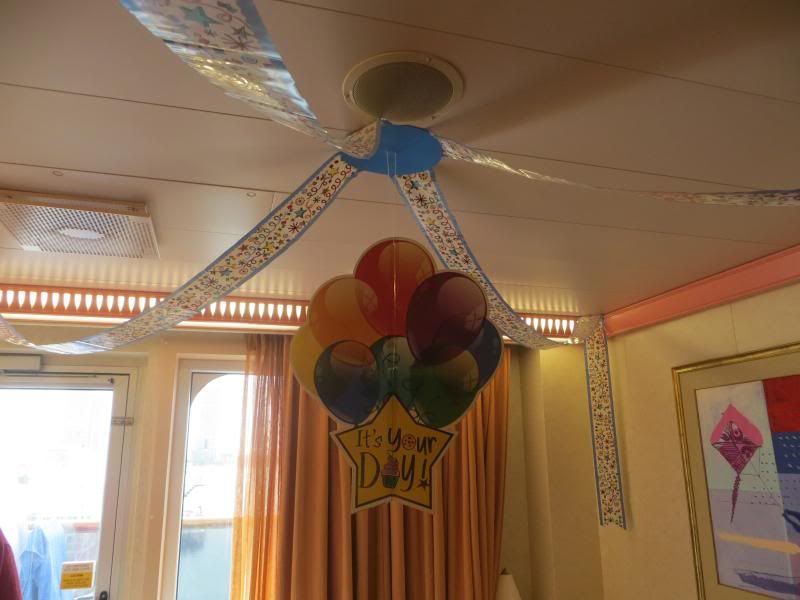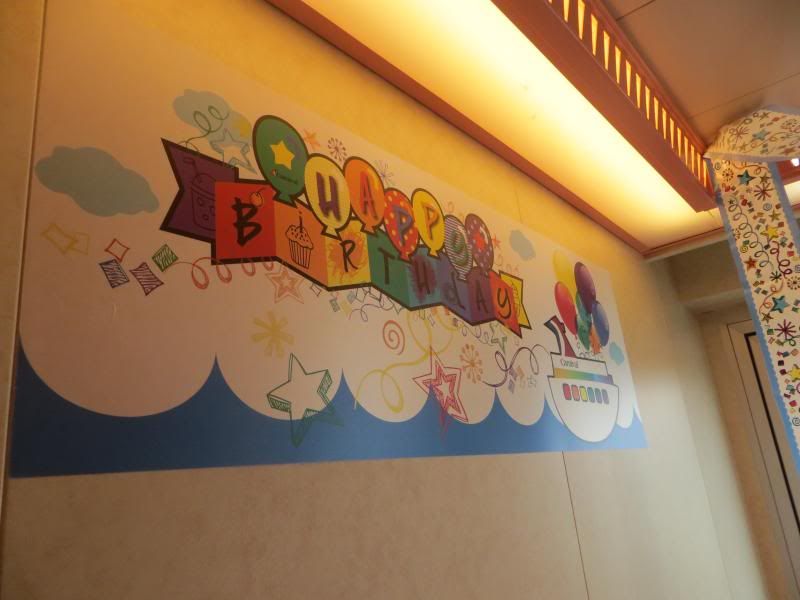 This thing was a badge that would stick to your shirt multiple times. Very cool!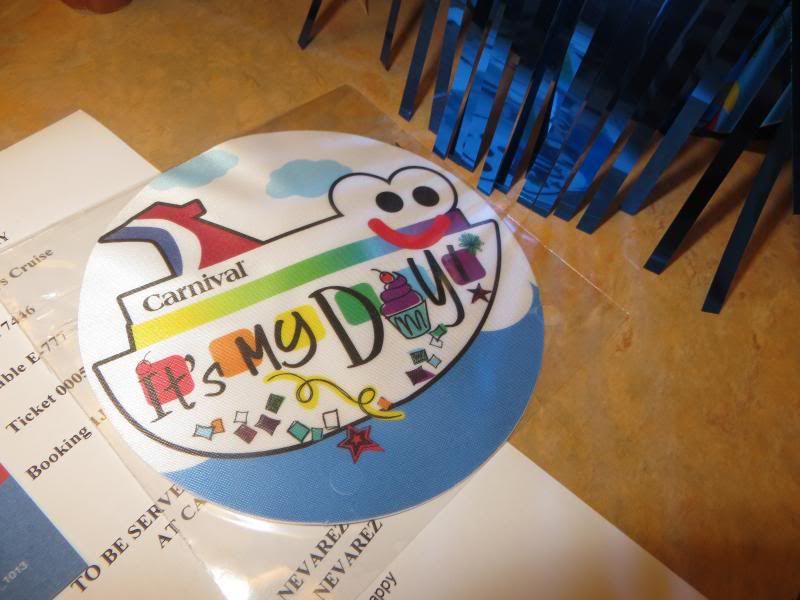 Then it was off to the pool!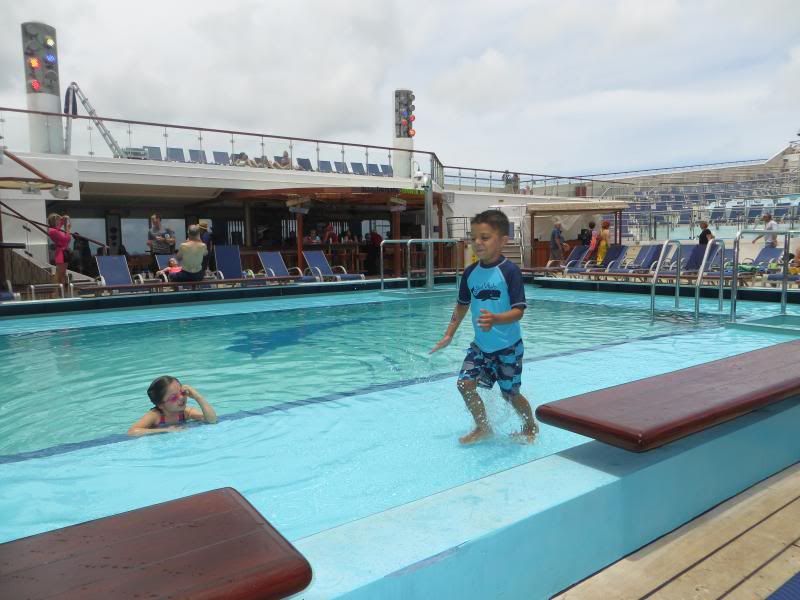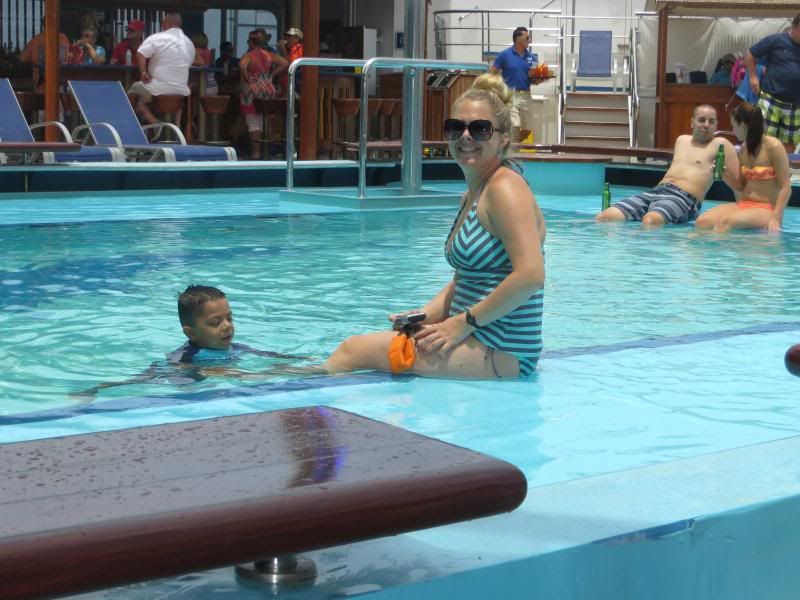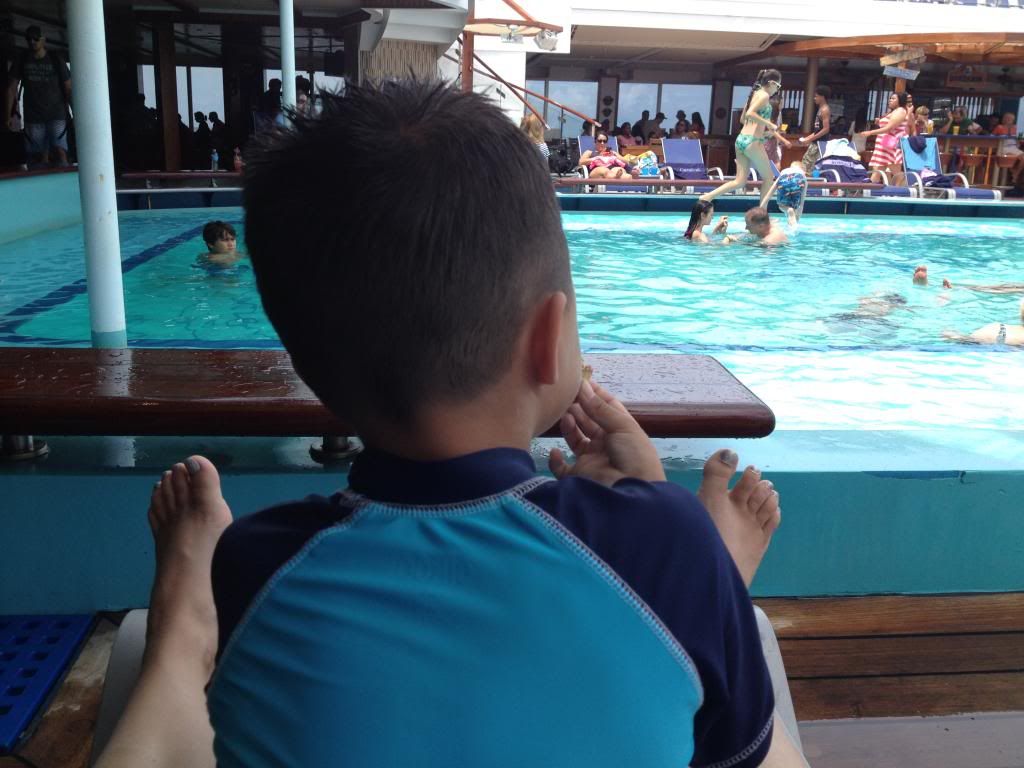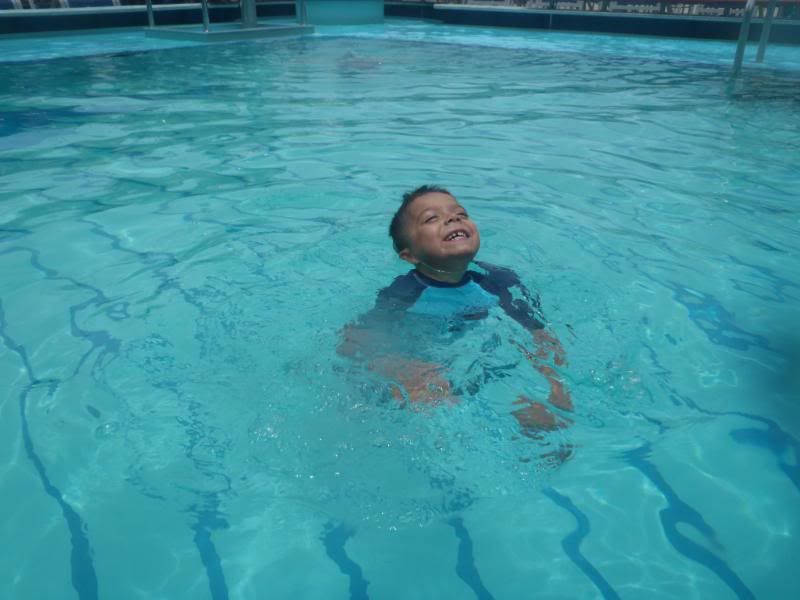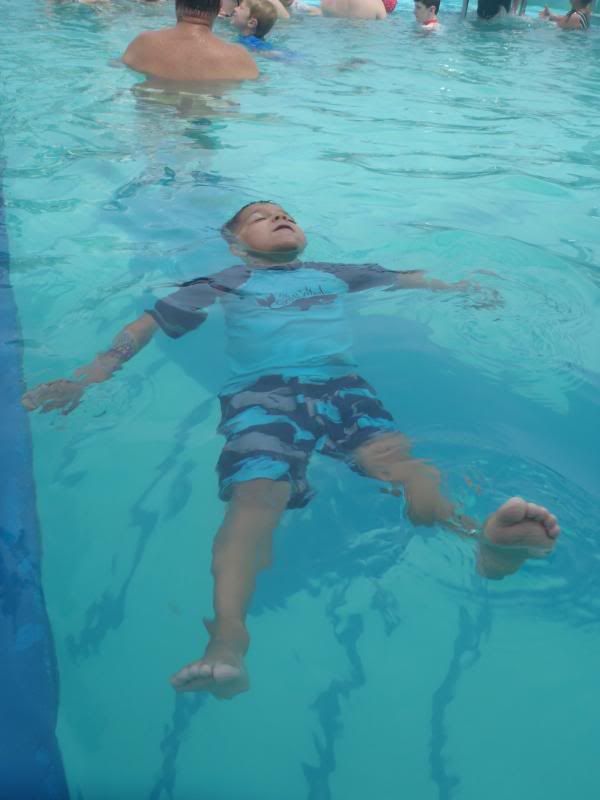 I felt like I was the children's activity director while at the pool. I was throwing Antonio the floaty thing from my underwater camera and all the other kids were playing too. It was a lot of fun.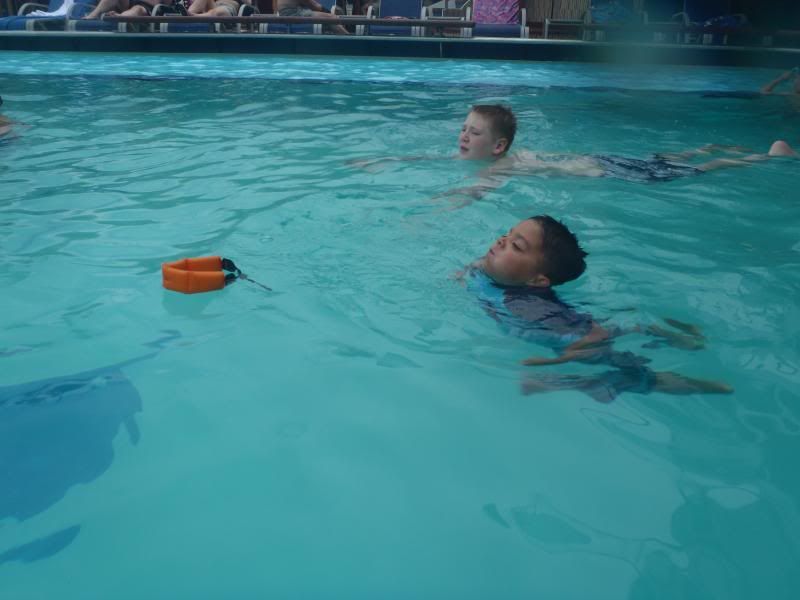 One of the kids Antonio met while playing with my camera floaty was this boy.
They asked if they could go to the hot tub and I went with them.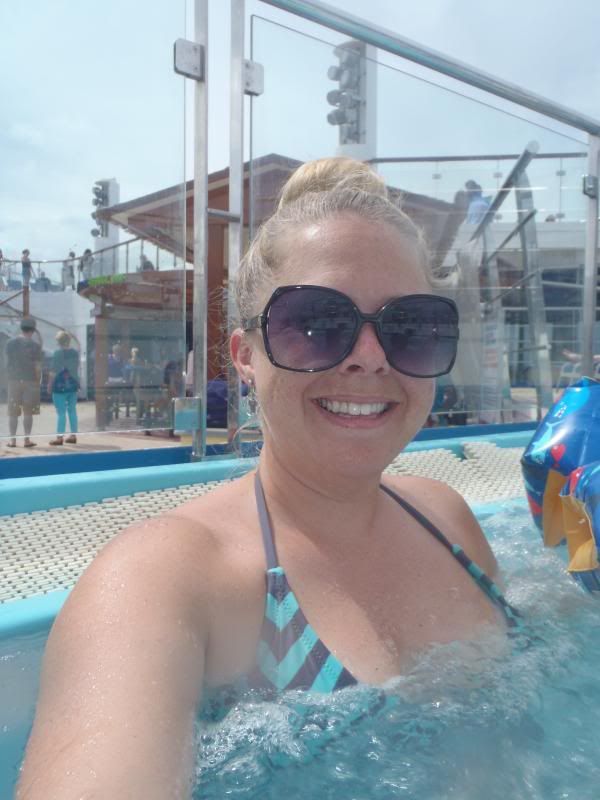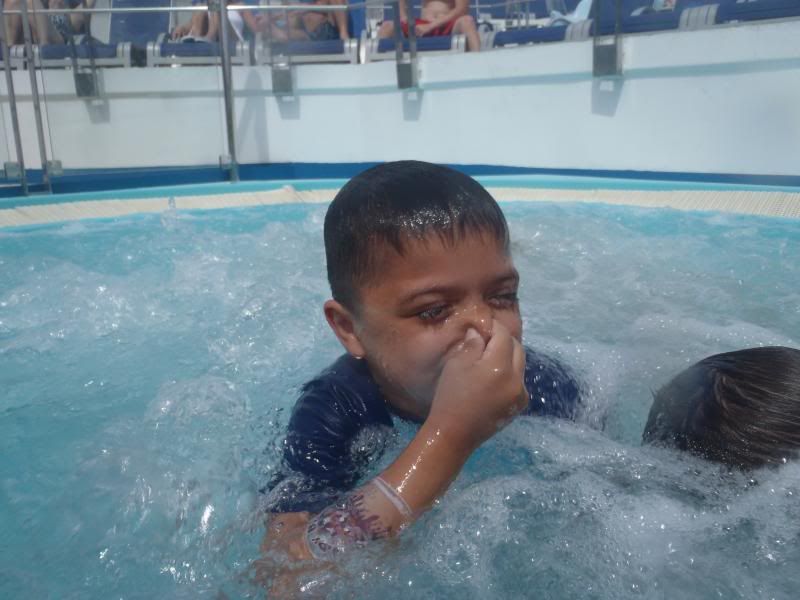 Those two were having so much fun together! I got out and talked to his mom and she was super nice. They turned out to be super awesome cruise peeps! Naomi and Jason and their son Noah made our cruise so much more fun!
We knew it would be time for the lifeboat drill soon, so we went back to the room to change.
Posted by MarathonMama629 09:02