Star Wars Weekends!
5/30/14 - 5/30/14
We got up bright and early to head to Hollywood Studios. Today would be the highlight of Quentin's trip….Star Wars Weekends! I had read online that Hollywood Studios unofficially opens its gates around 30 minutes before the advertised park opening, so I wanted to get there an hour early.
I really missed having my Dad and his super handy handicap placard because as early as we were we still had to park pretty far away. Far enough that we took the tram to the entrance. Antonio loves riding the "train."
I thought Quentin was working on business, but he was texting me the parking lot name and row that we were in. Smart man!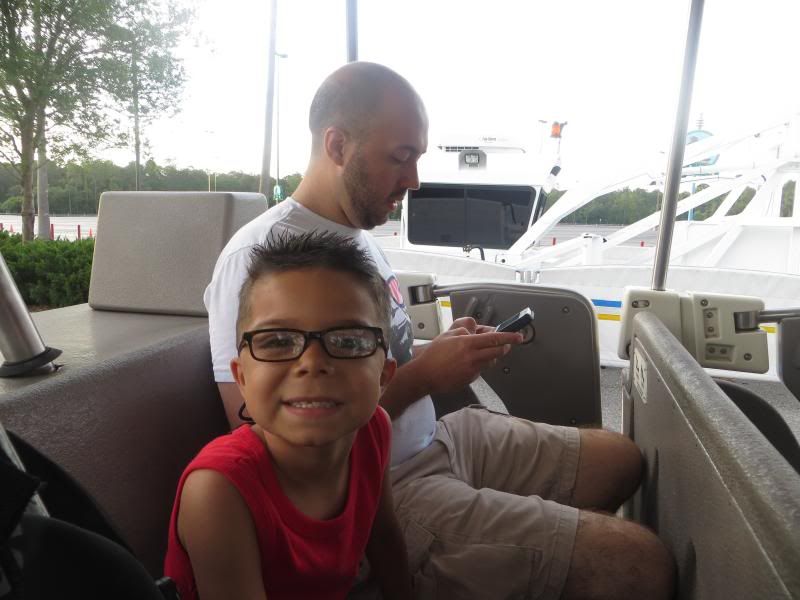 We found our way to the front of a turnstile. I'll never understand why people just pick a long line and get in. If you look around, there is probably a turnstile with no line! Like clockwork, they let us through the gates 30 minutes early. This is where things went wrong!
I scanned my magic band, which worked just fine at Blizzard Beach yesterday, but it wouldn't recognize my fingerprint scan. I tried again. No luck. They called a cast member over to check it out. The whole process seemed to me that it was taking about an hour, in reality it was probably 4 or 5 minutes for them to reset it, but probably four or five hundred people got in front of us because of it. When we finally got that issue resolved, we headed up the street to where they had a blockade for the Star Wars opening show!
Star Wars time!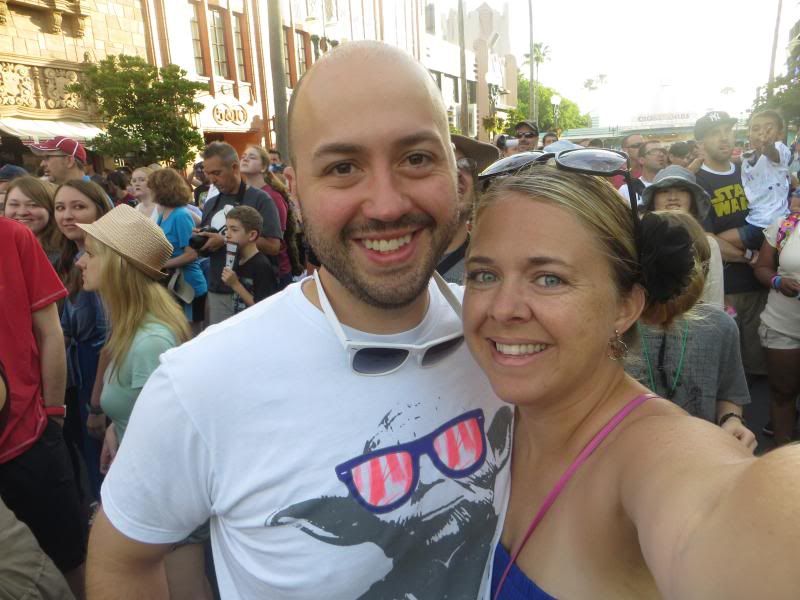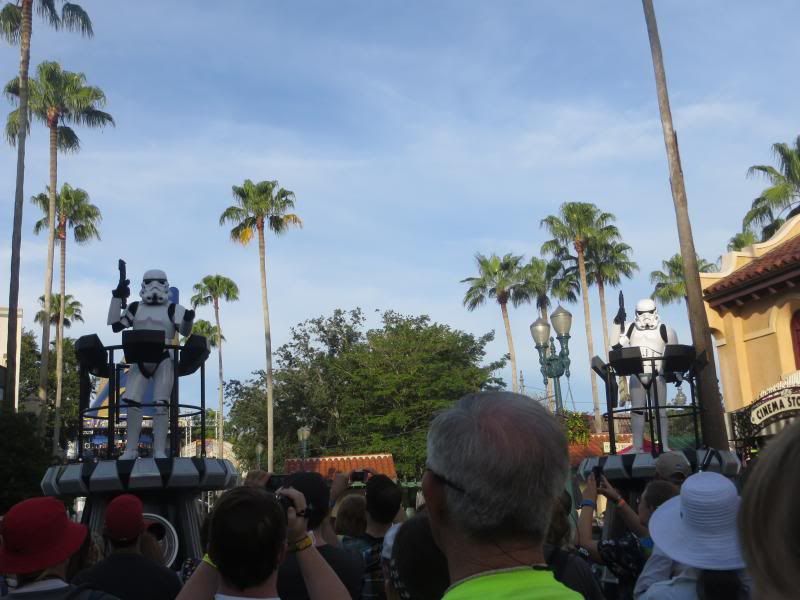 Antonio couldn't see, so I put him on my shoulders. He is definitely getting heavier each year!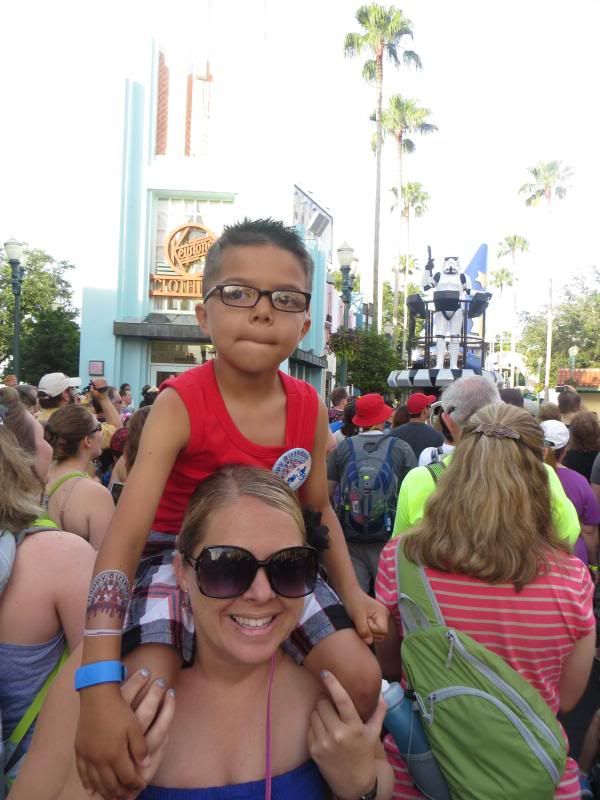 Quentin was so excited! Star Wars Weekend has been on his bucket list. I'd never even seen Star Wars till we met!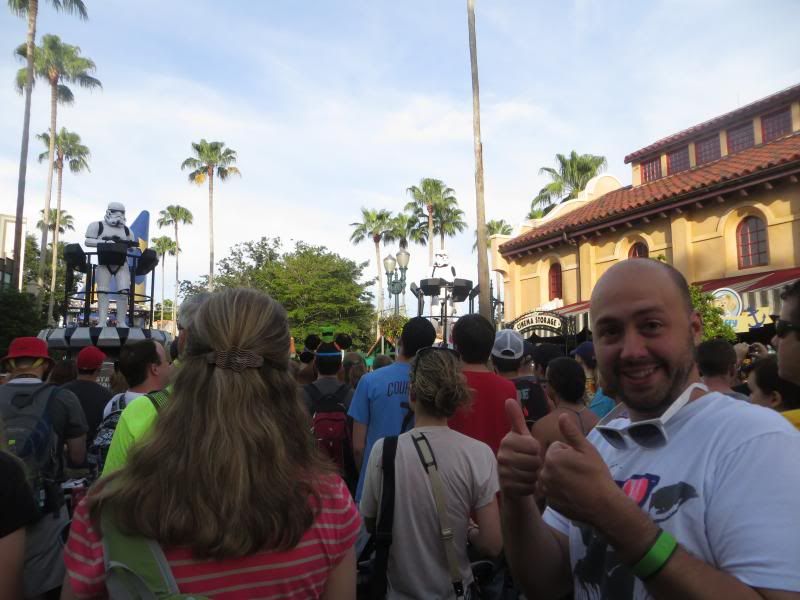 After the show, we did the Toy Story stampede! We got there with the front of the crowd despite being held up due to the magic band. Now that there are no regular fastpasses, I knew we had to get there first thing. I was unable to get a Fastpass+ before the trip.
Look at those lashes!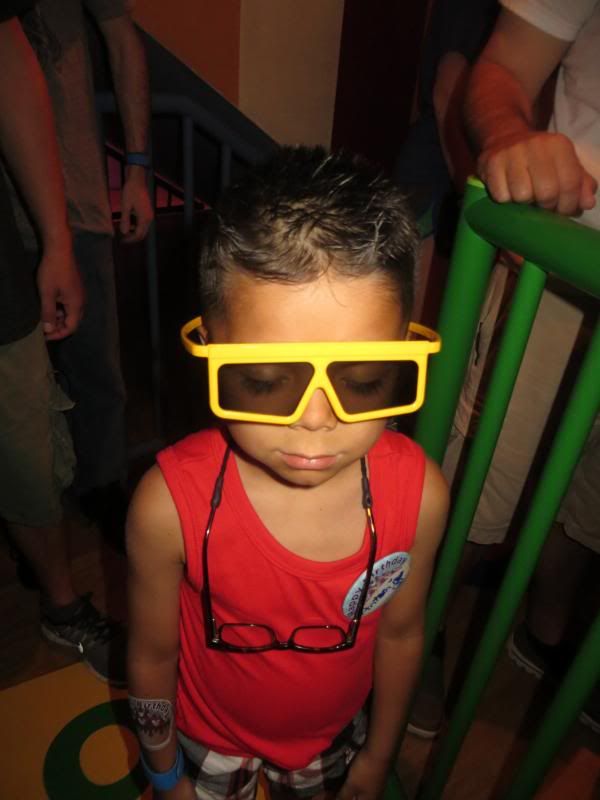 Mommy wins!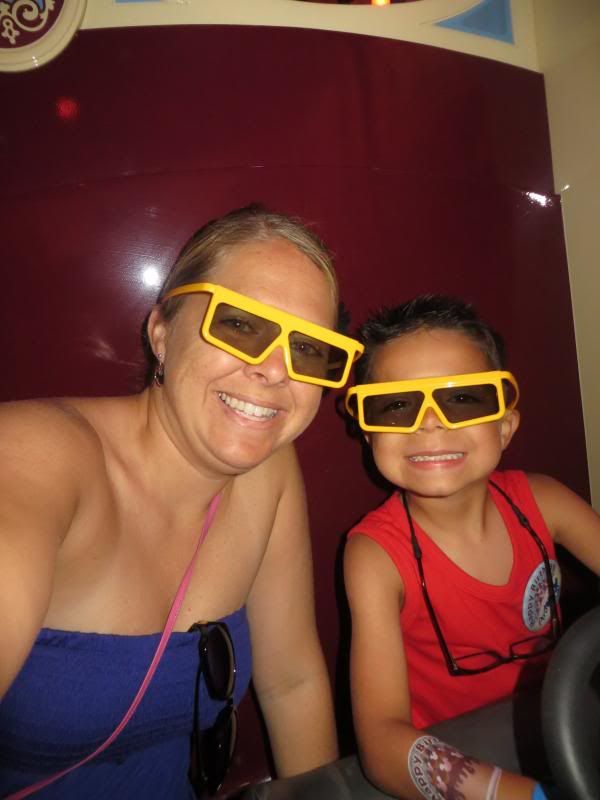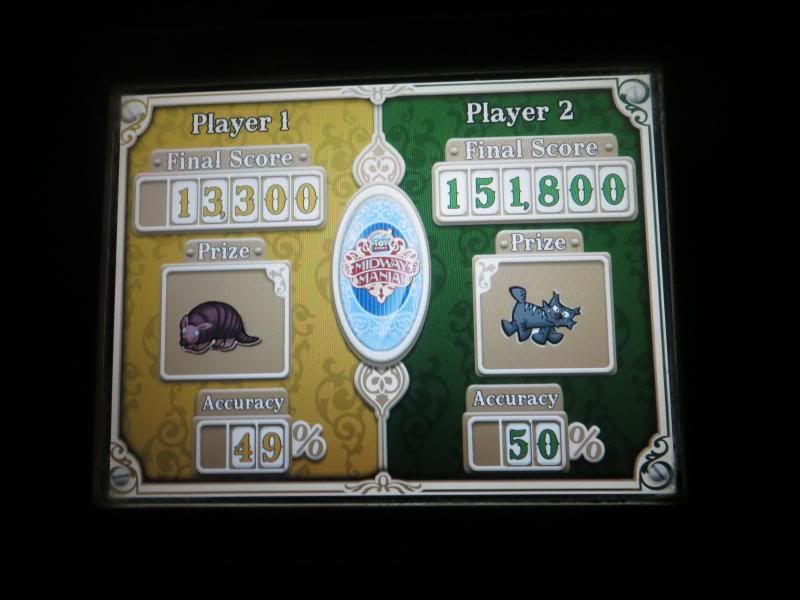 After Toy Story I thought Antonio would like to meet Buzz Lightyear and Woody, but he wasn't interested. Instead we headed over to Darth's Mall. Kid tip: No strollers allowed in there.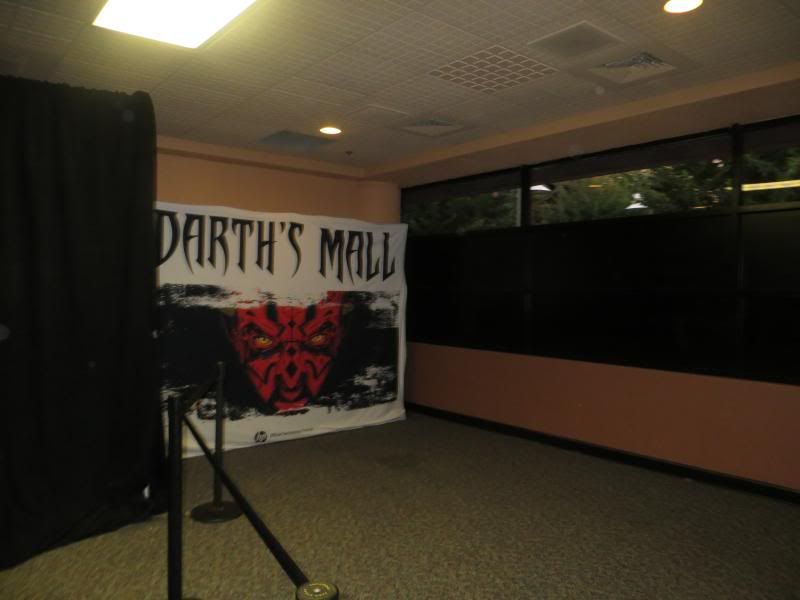 I spotted this cute hidden Mickey on the way in!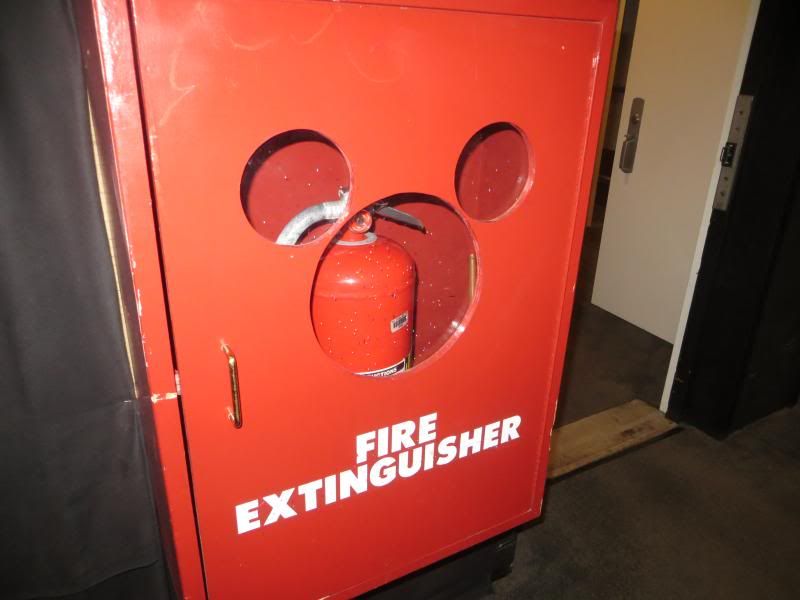 We sent Quentin to look around at the Star Wars Weekend merchandise while Antonio and I got in line for Jedi Mickey and Leia Minnie. Unfortunately, they left right as we got to the front of the line! Oh well, we got Darth Goofy and Stromtrooper Donald instead.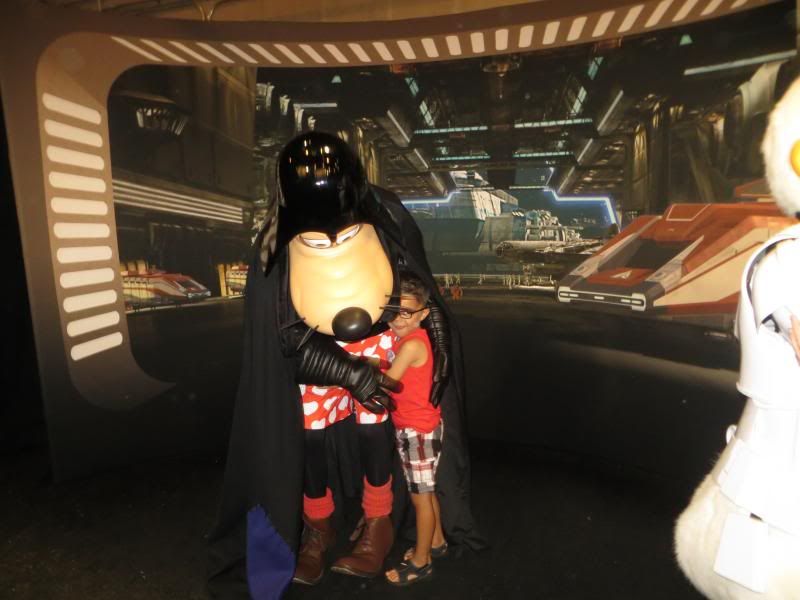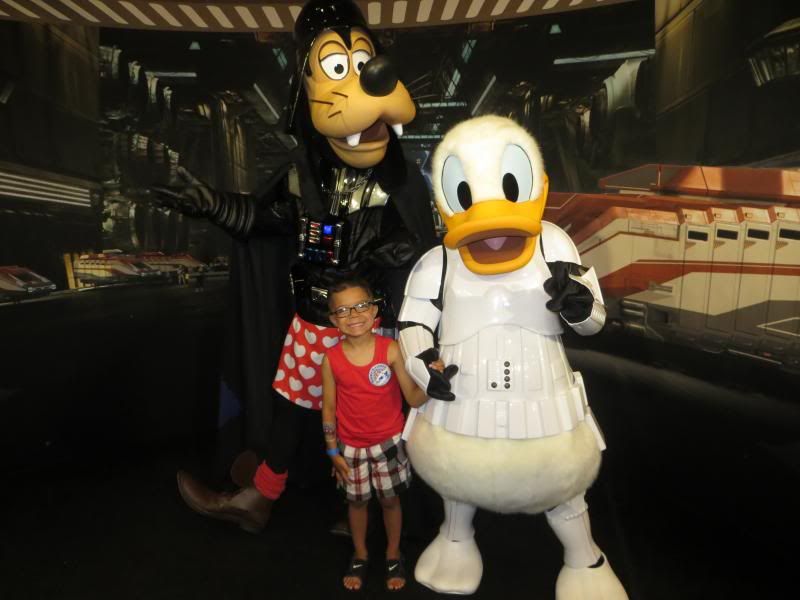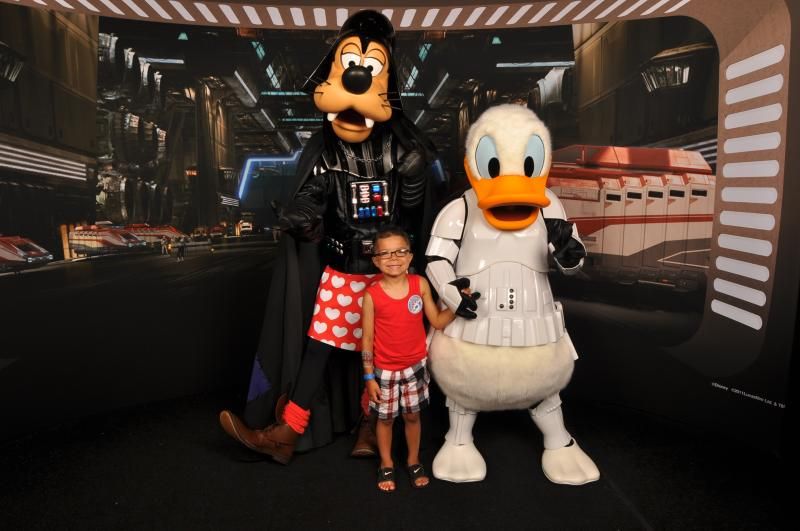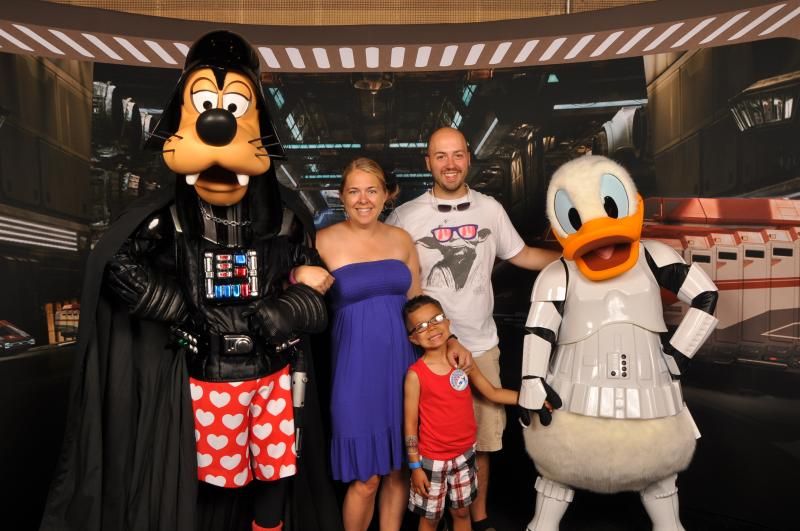 We all looked around a bit more. Luckily Quentin didn't find anything he couldn't live without. He needed to save his money for the cruise!
Lego Darth Vader!
You could buy drinks over here and Antonio wanted one so bad. They were too expensive for my taste, even if they come in a cool cup! This robot thing moved too.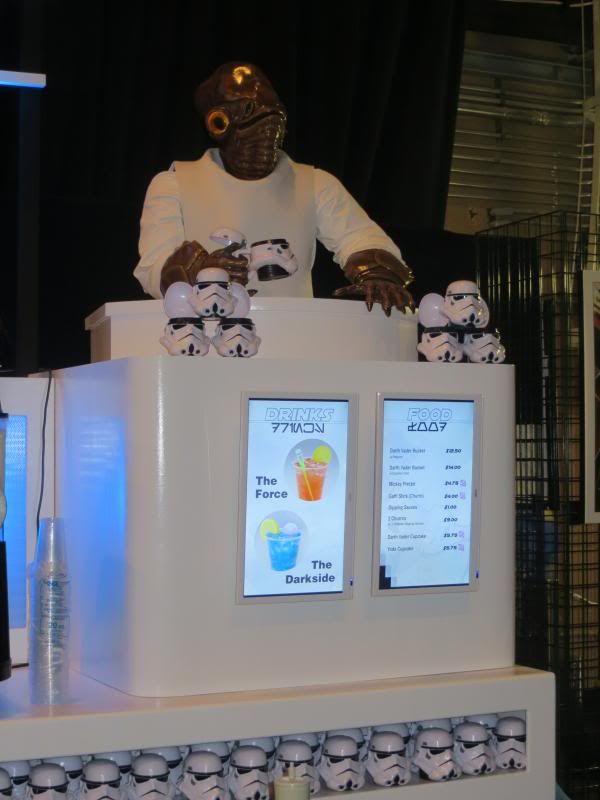 My mom would have had to have a cupcake if she was there!
Darth Mickey Quentin using the force.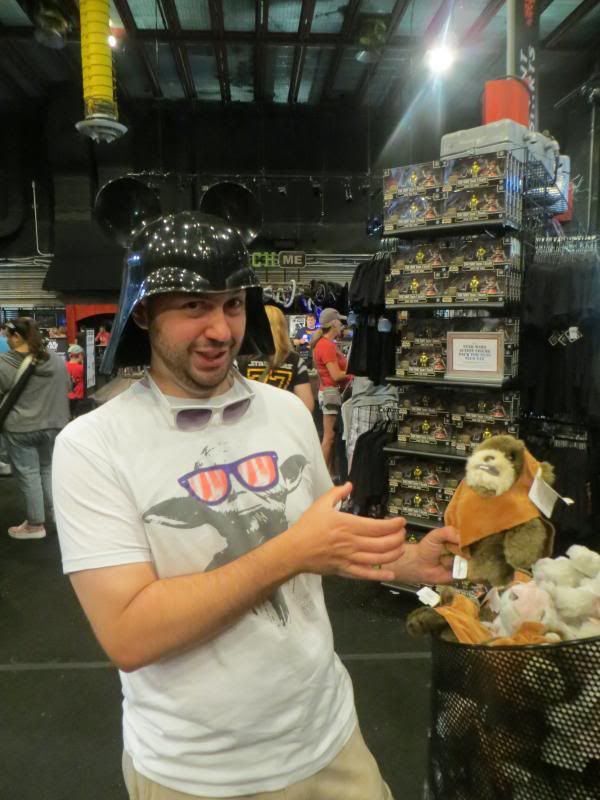 Darth Mickey Antonio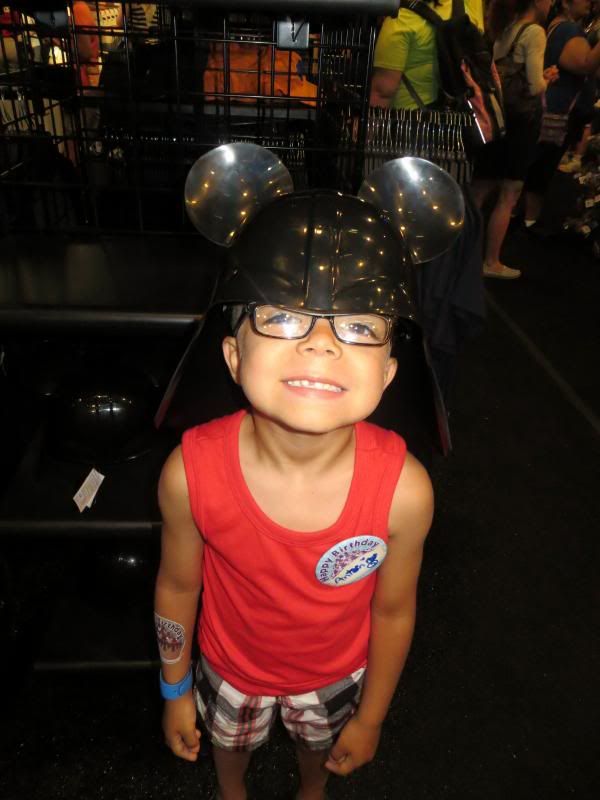 Slave Krista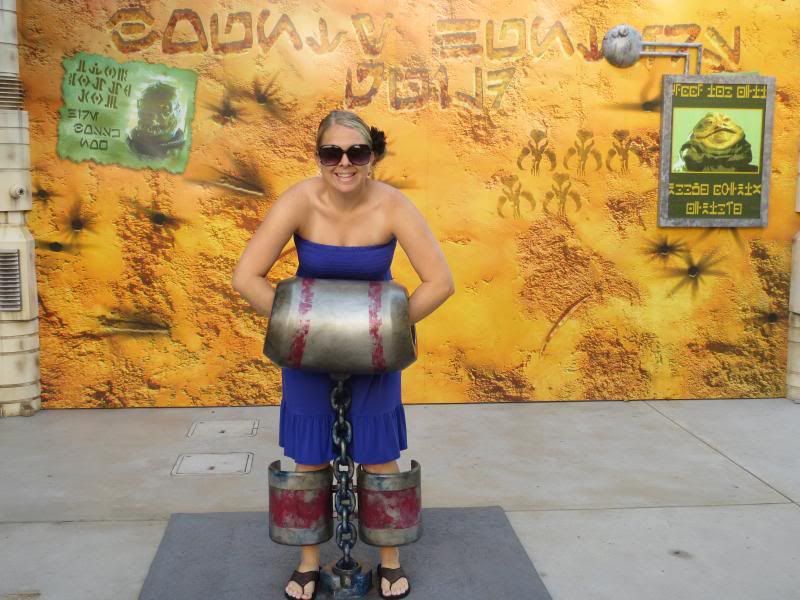 We didn't have a real specific game plan for today other than riding Toy Story and seeing the Star Wars parade so we wandered around a bit.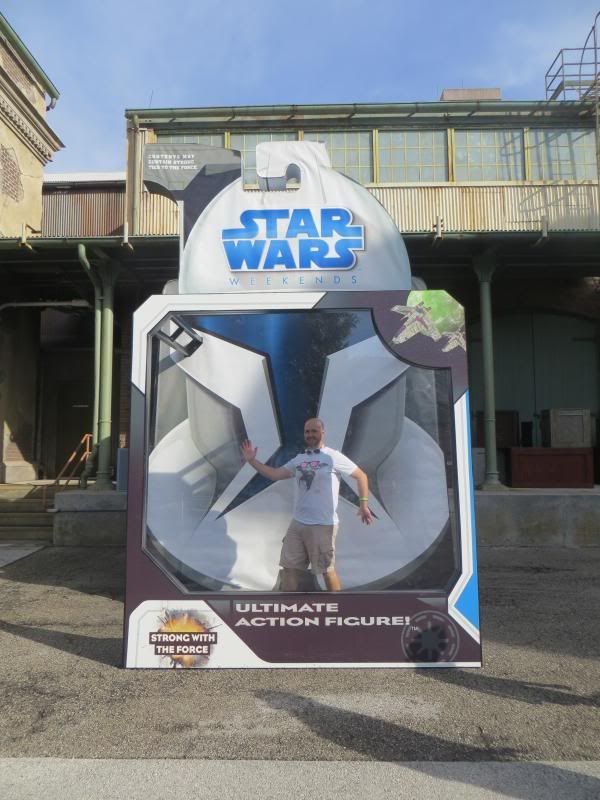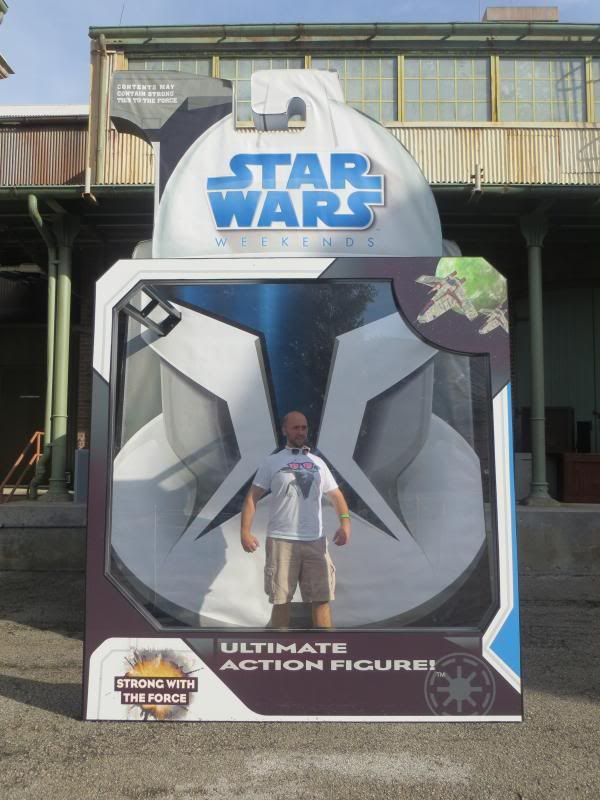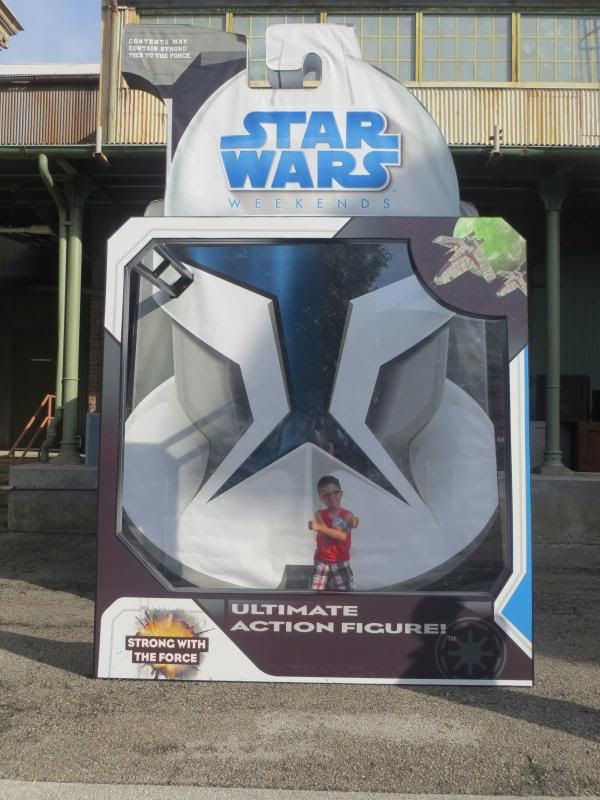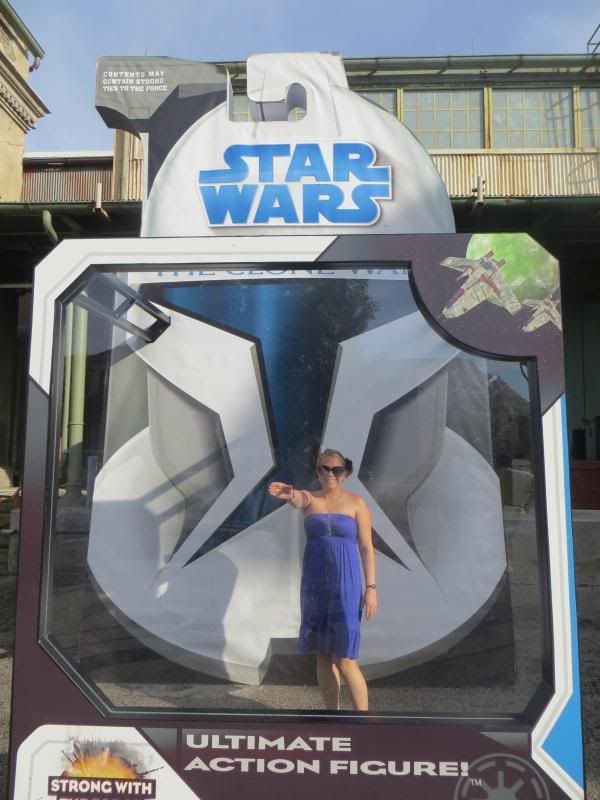 Quentin really wanted to go on the backlot tour. I really didn't want to waste good morning park touring time on it. It had been closed the last time he was there, so I figured we better just go. As a recovering park touring nazi it was hard for me to let the plans go.
Tool Time! I loved Home Improvement as a kid!
I hope he's happy! Grains of sand Quentin, grains of sand! (TGM people will get that!)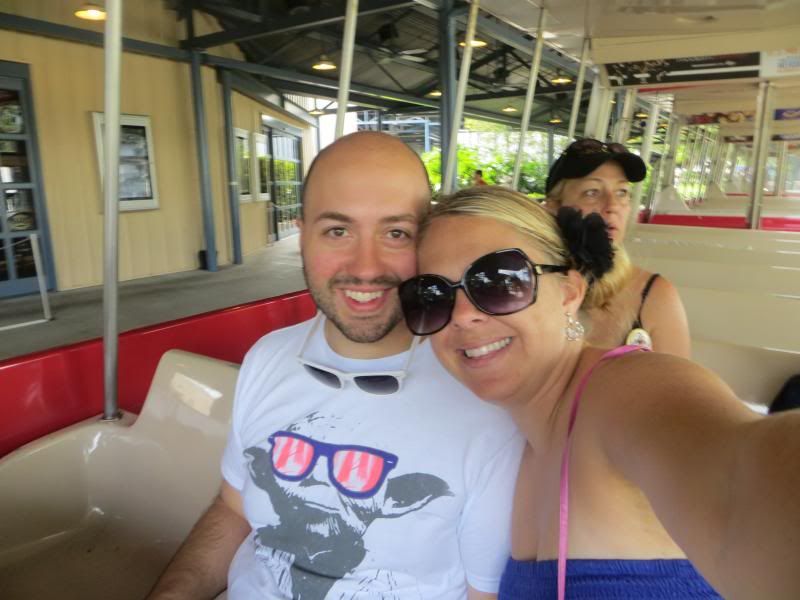 Some sights from the ride…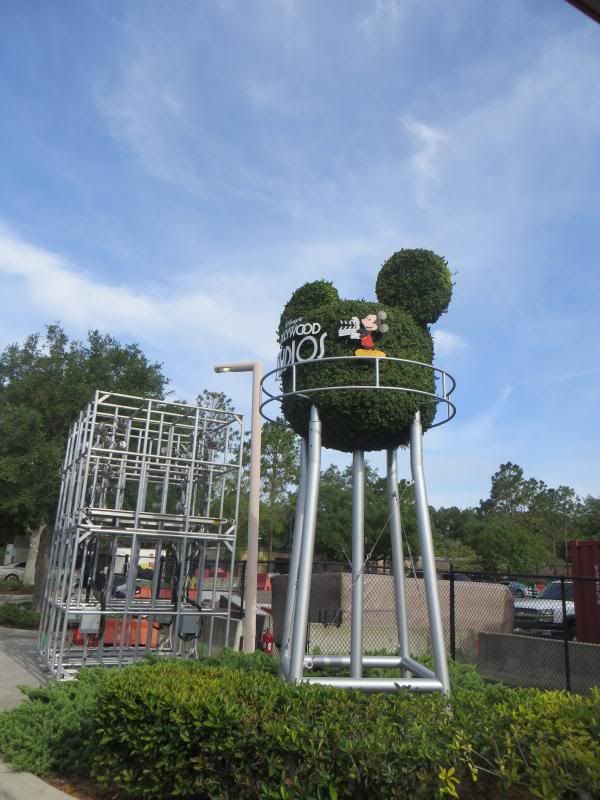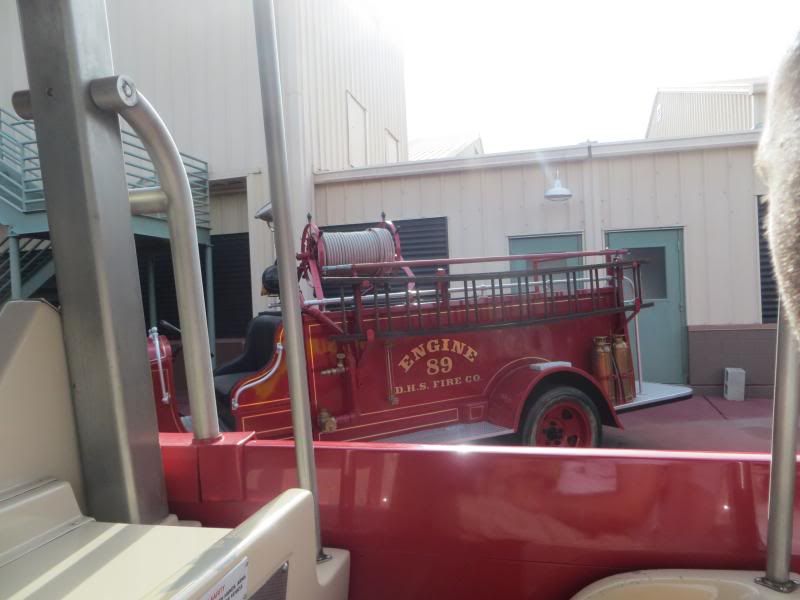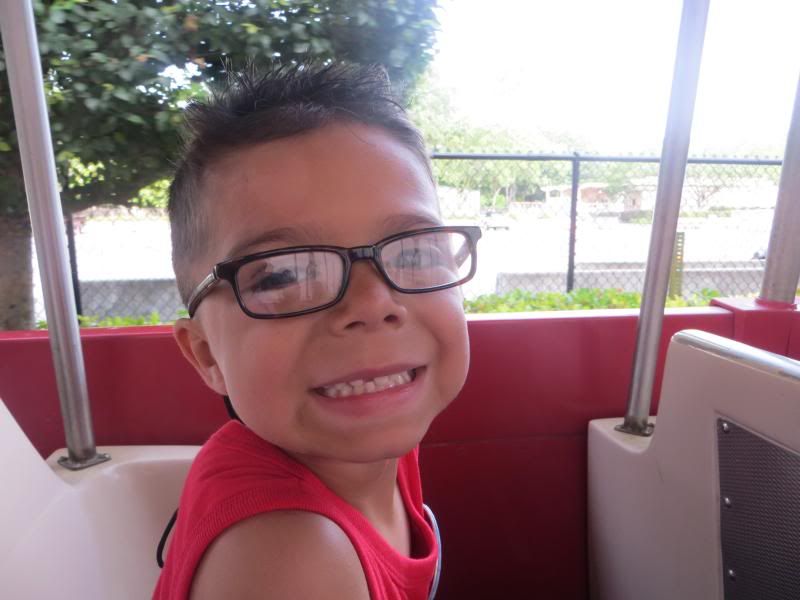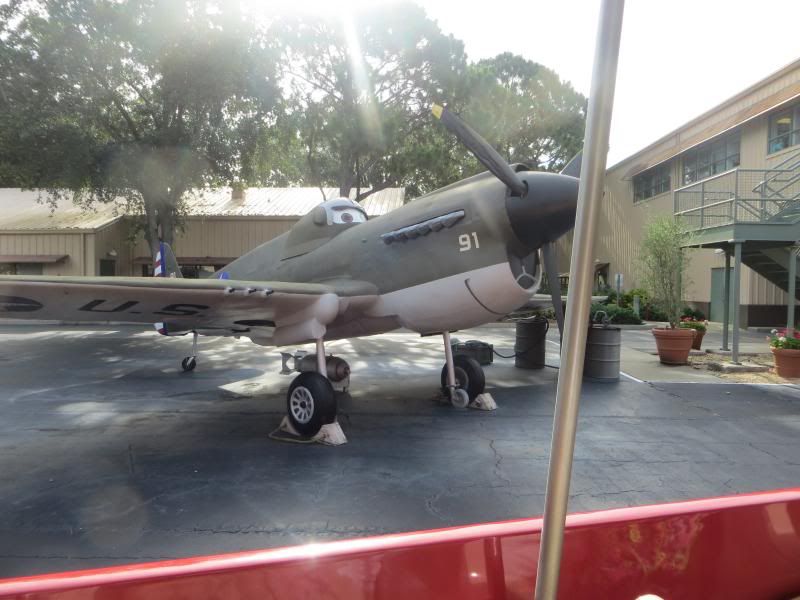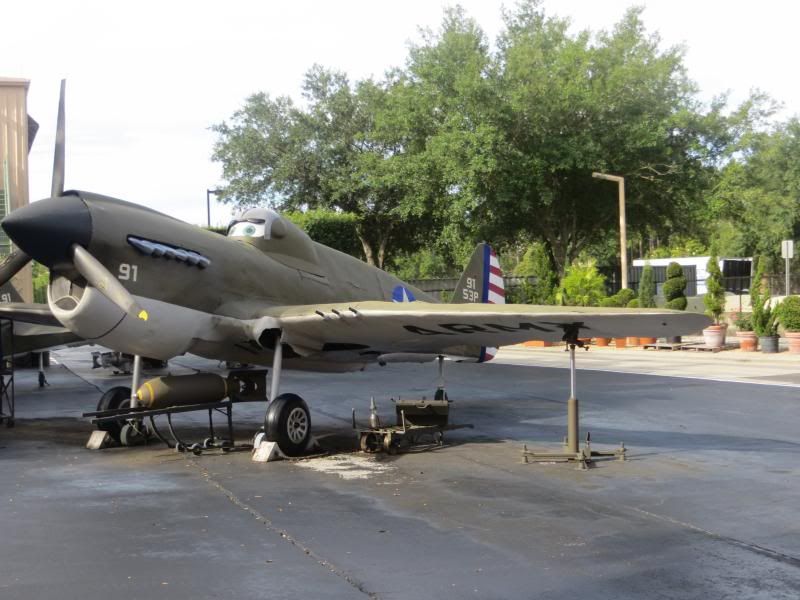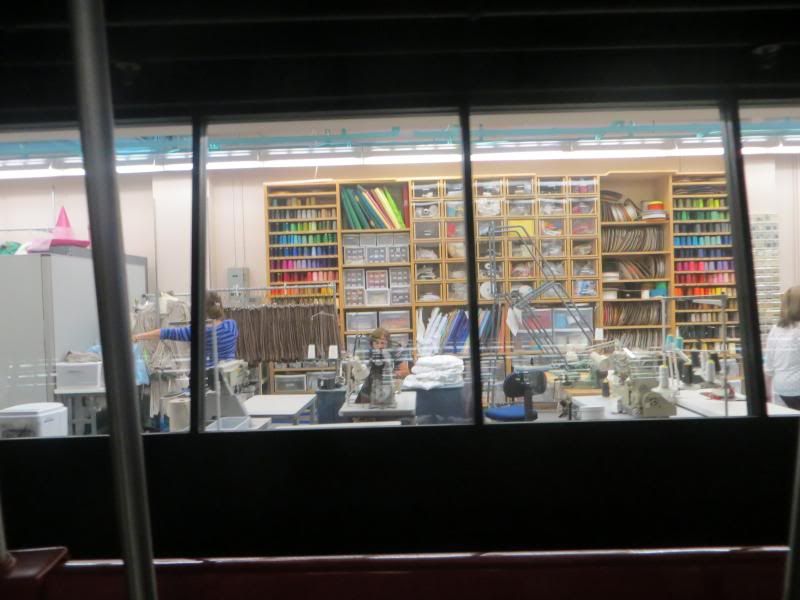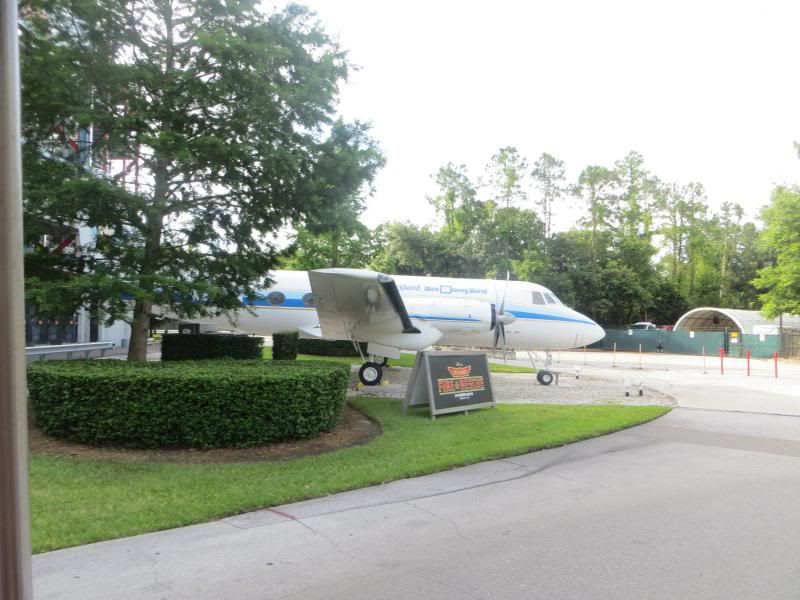 Time for the big show!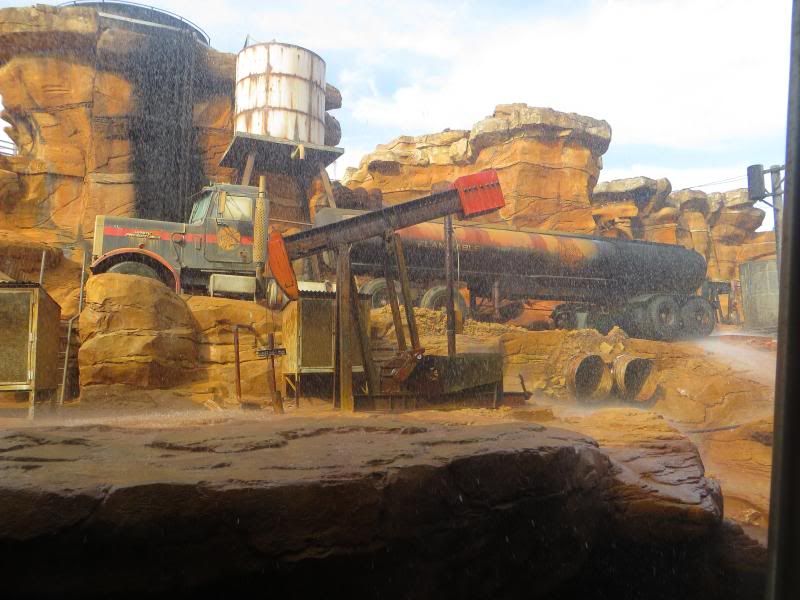 I think Quentin said these are Star Wars thingies. Like my technical terms?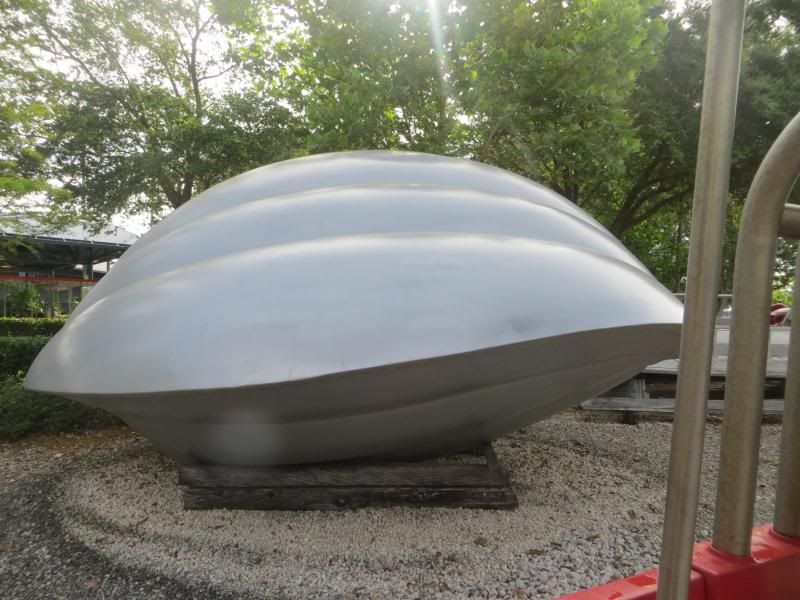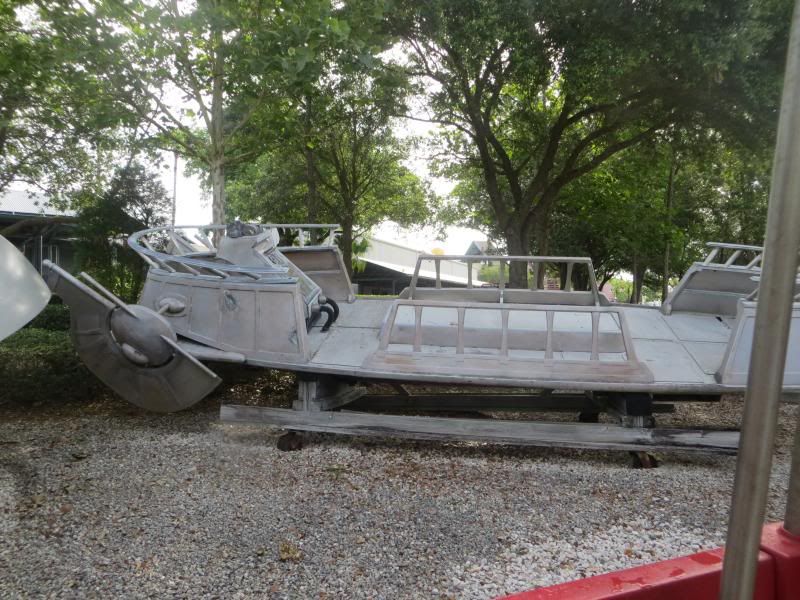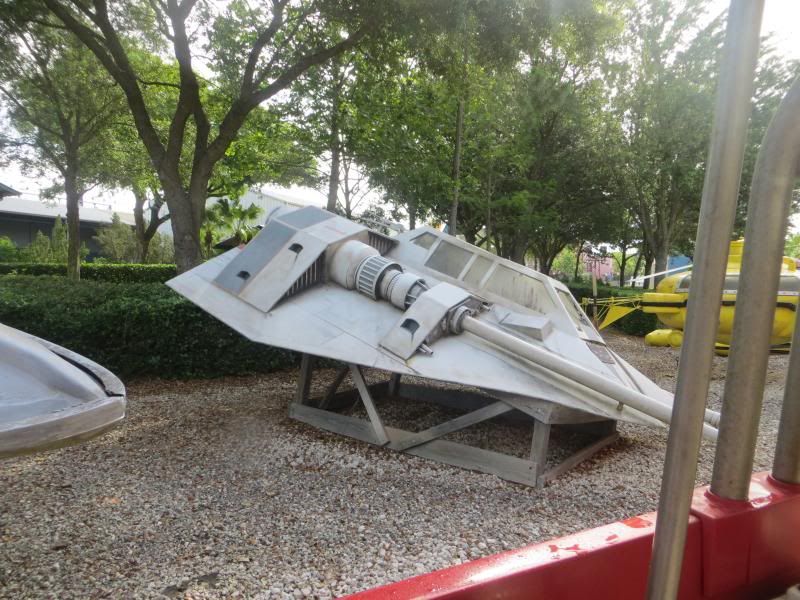 Antonio pointed out this Frozen sign on the other side of a car way ahead of us! The kid is obsessed with Elsa! I don't even know how he saw this. It was even upside down from his view!
After the ride, a CM sang Antonio happy birthday backwards! Anyone who has been to Disney should know that trick. Then we looked around the museum area a bit.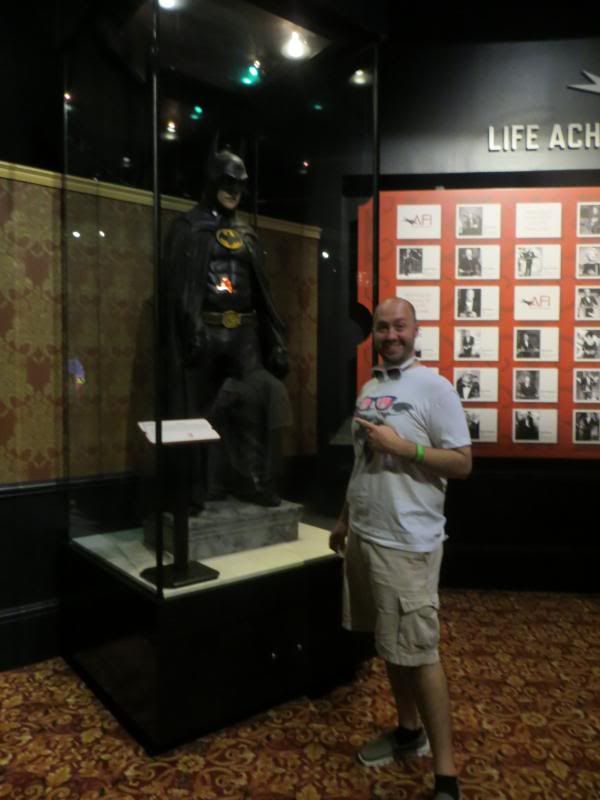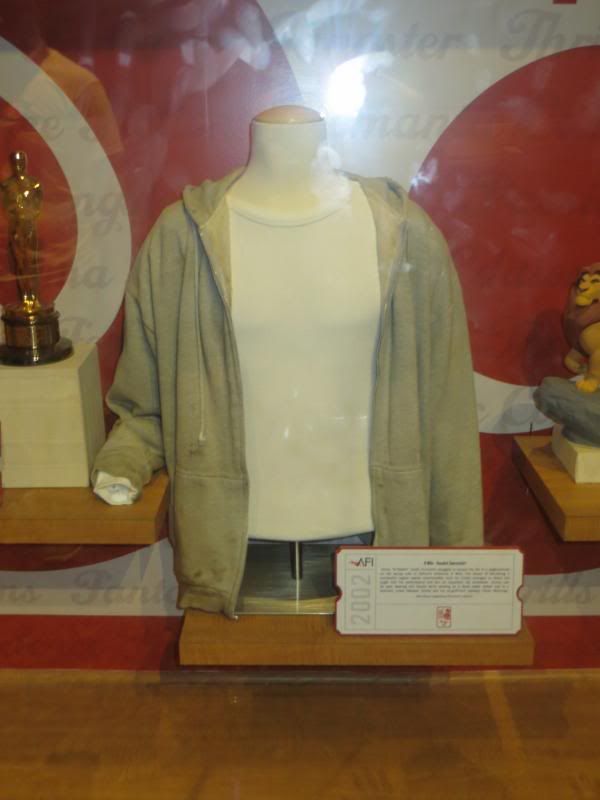 We had some time to kill before our FP+ was ready for Star Tours.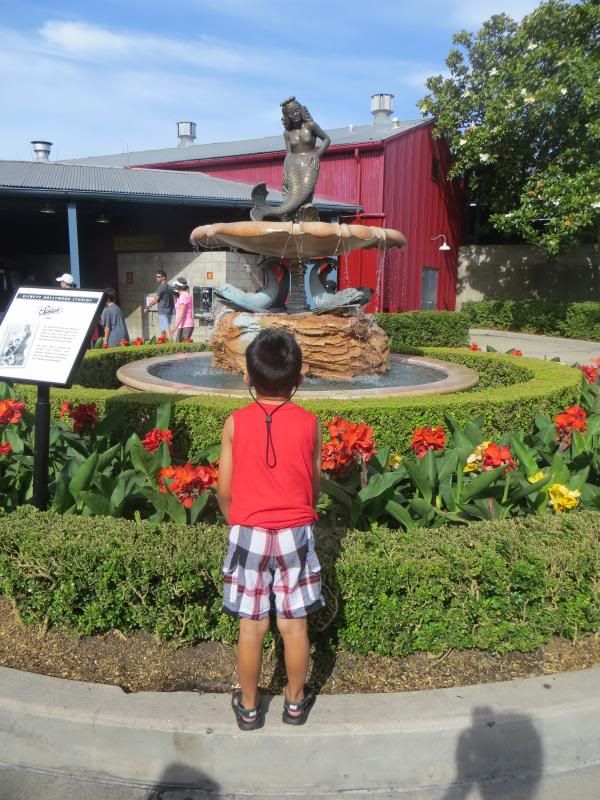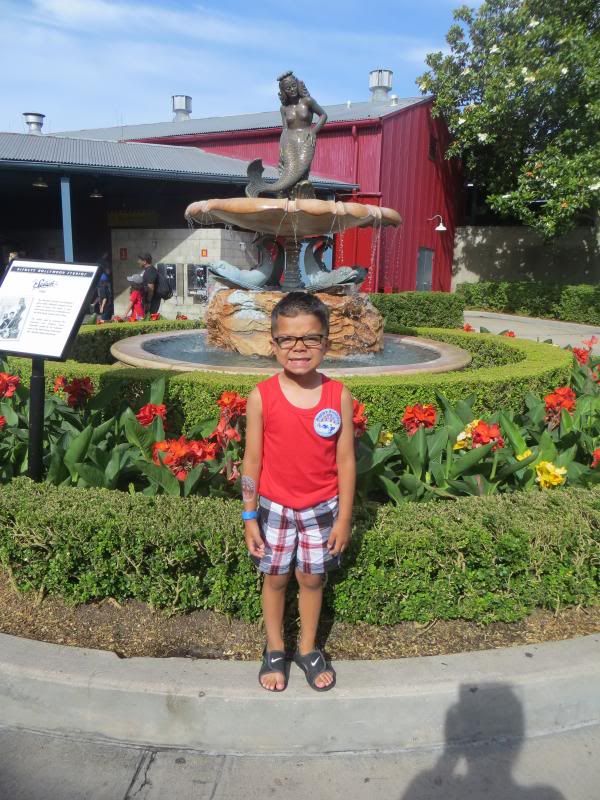 Star Tours was our first ever FP+. You scan your magic band as you enter and the little Mickey head turns green. Worked out great and the wait was practically nothing.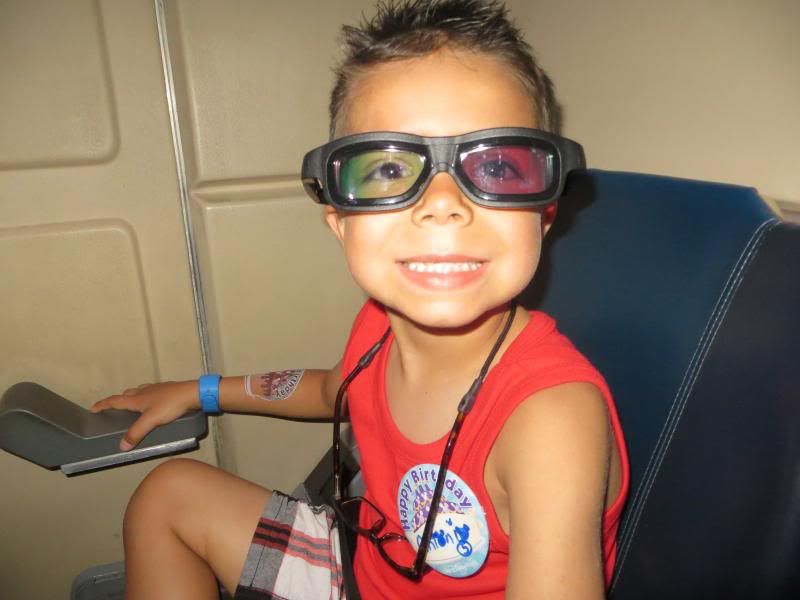 Quentin was very excited for the Star Wars parade, so we headed over to get seats about an hour early. On the way over we saw a bit of a show going on at the Sorcerer's hat.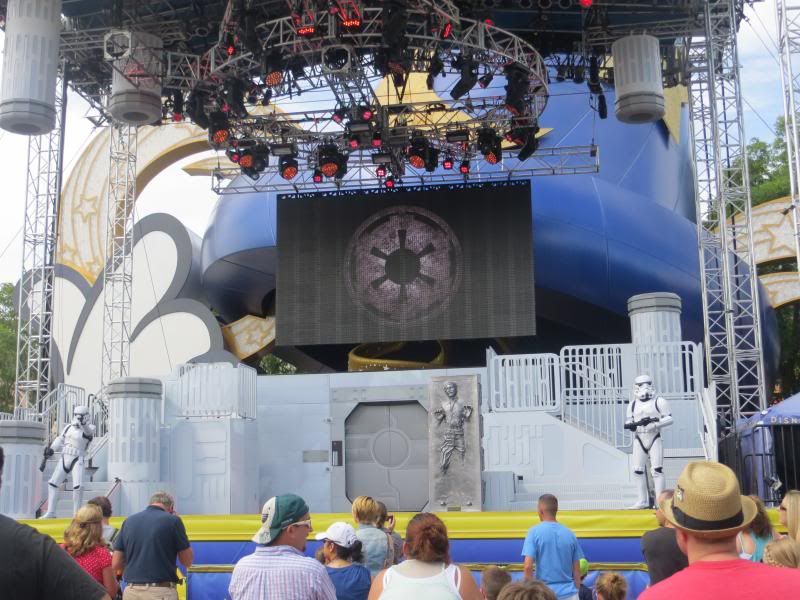 Quentin found a spot in a relatively shady area and decided he would hold the spot while we went and looked around. He met a nice girl who was in the Disney College Program and passed the time talking to her.
I took Antonio to a store and bought him a Star Wars gun, then we went to the Art of Animation building.
He stood by ready to protect us while we waited in line to meet Minnie Mouse.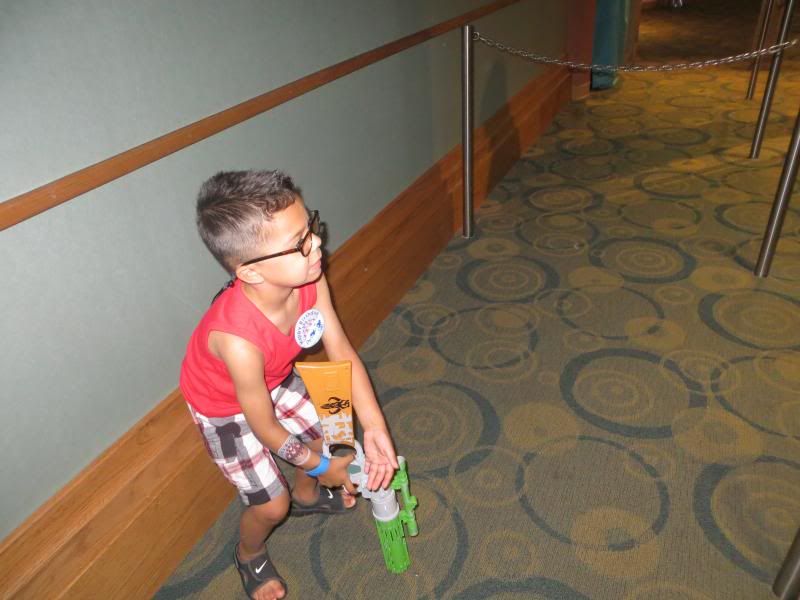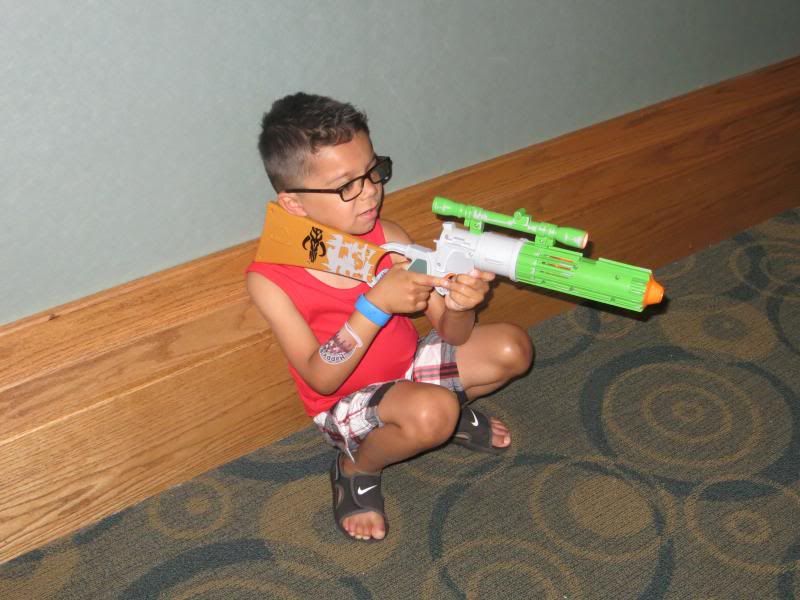 Cute sign I saw while in line.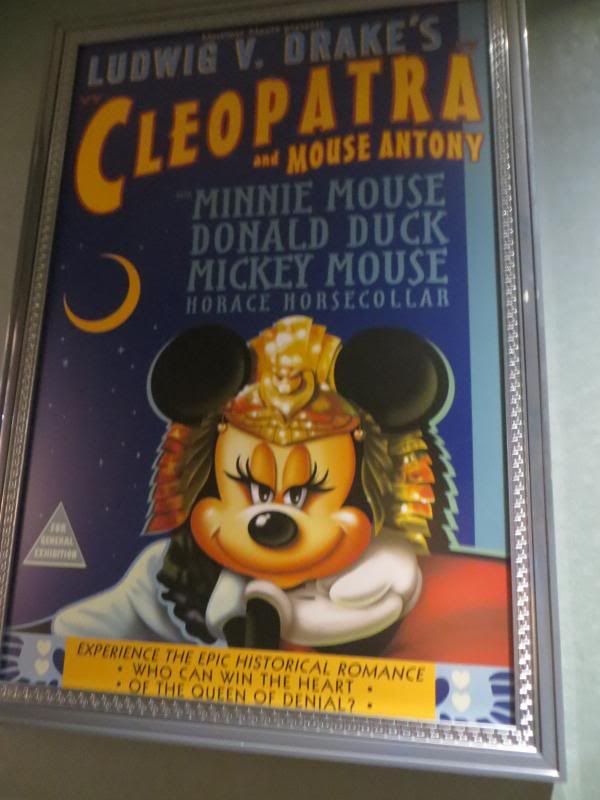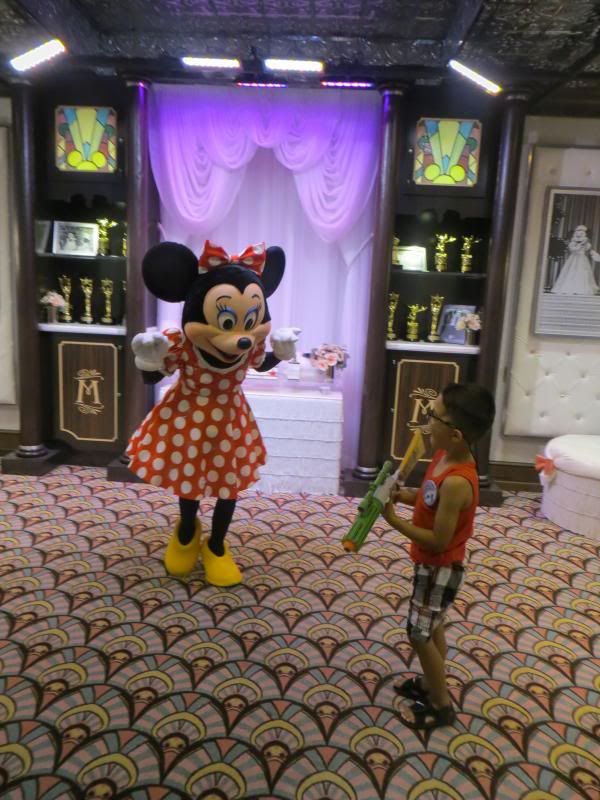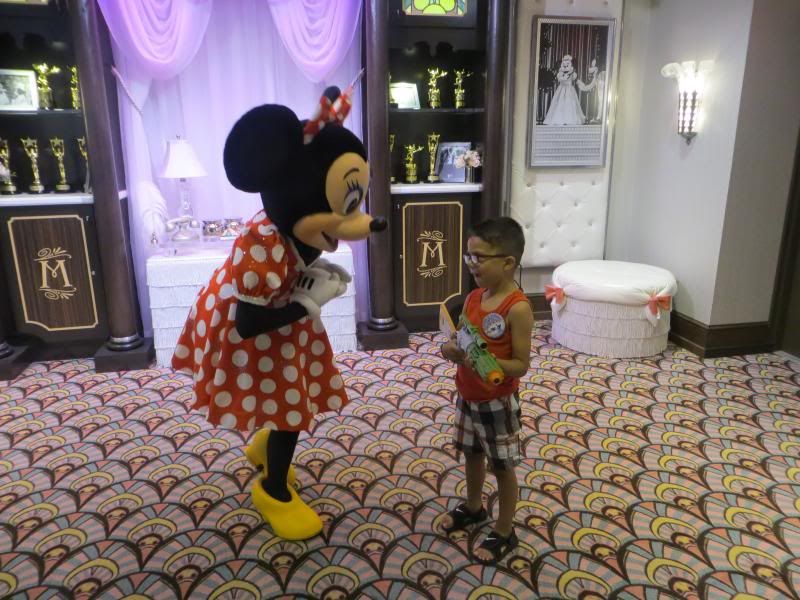 The photopass photographers got some great shots!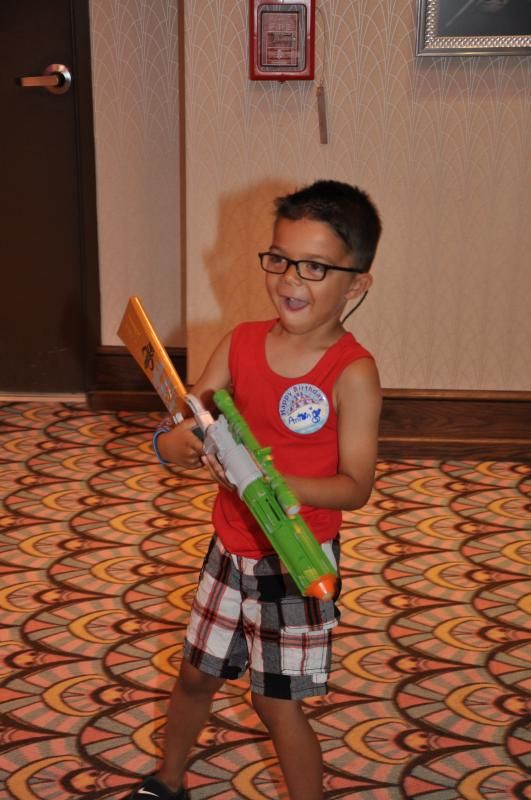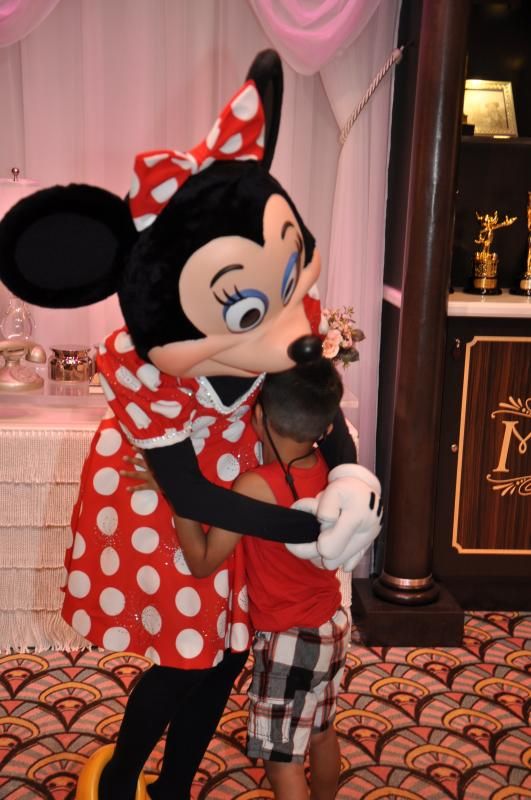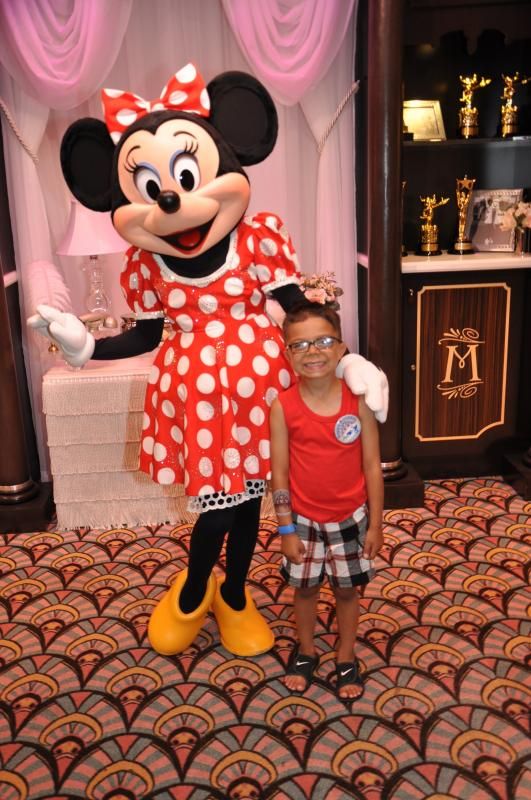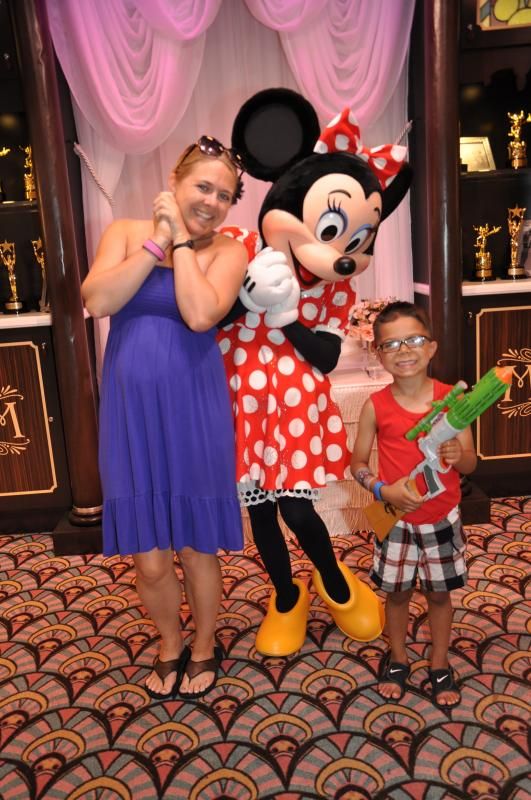 Next, we got in line for Wreck It Ralph. I love the theme in the waiting area.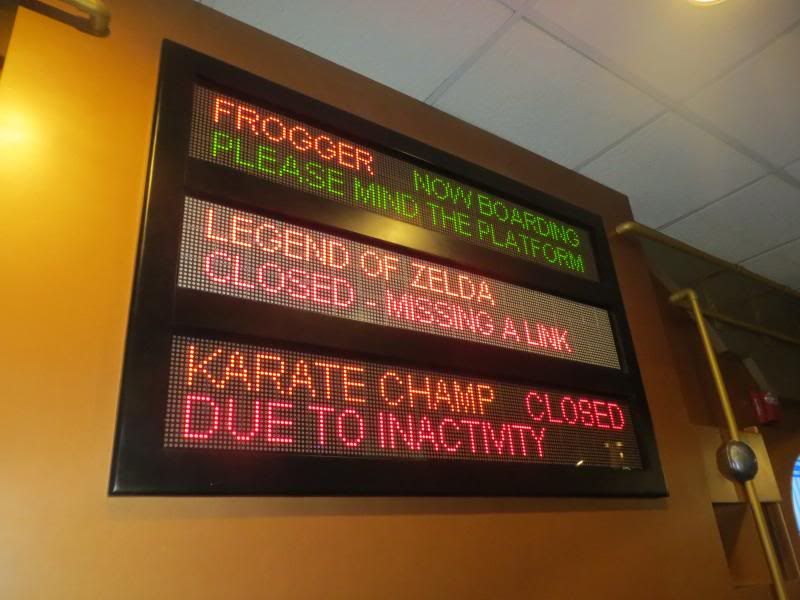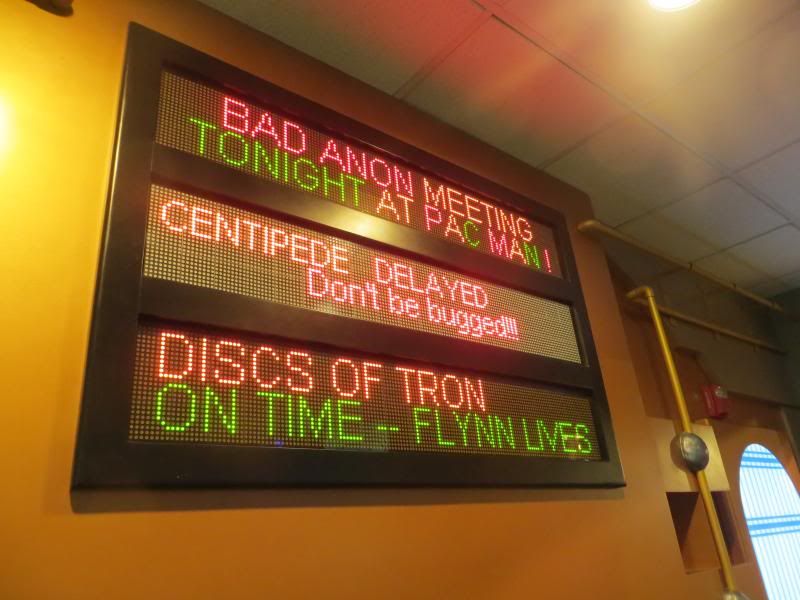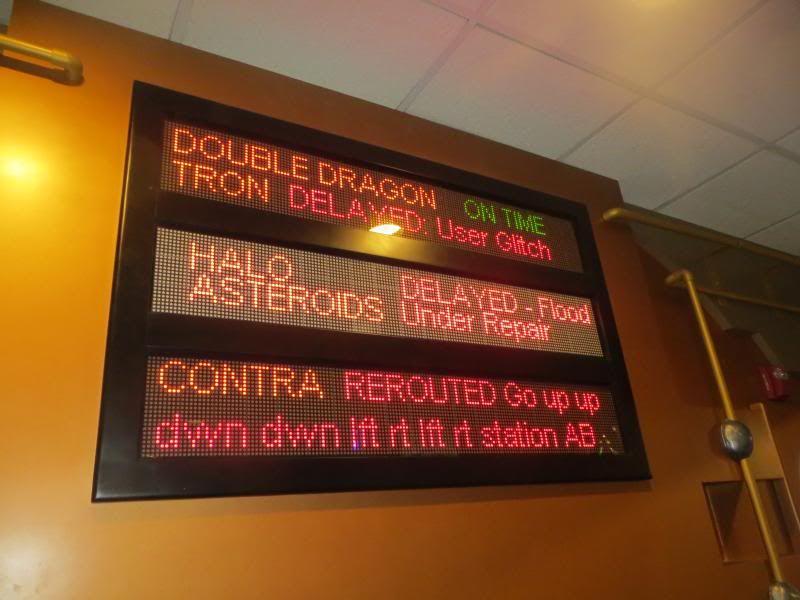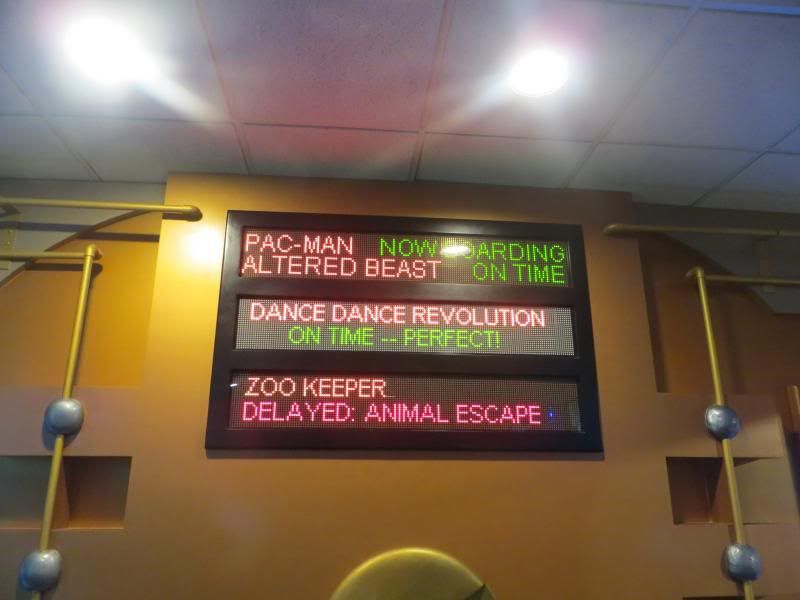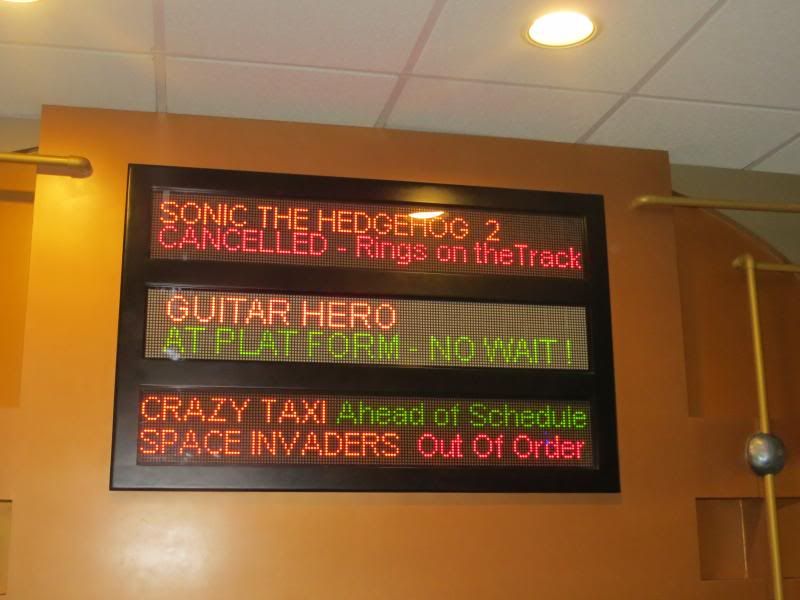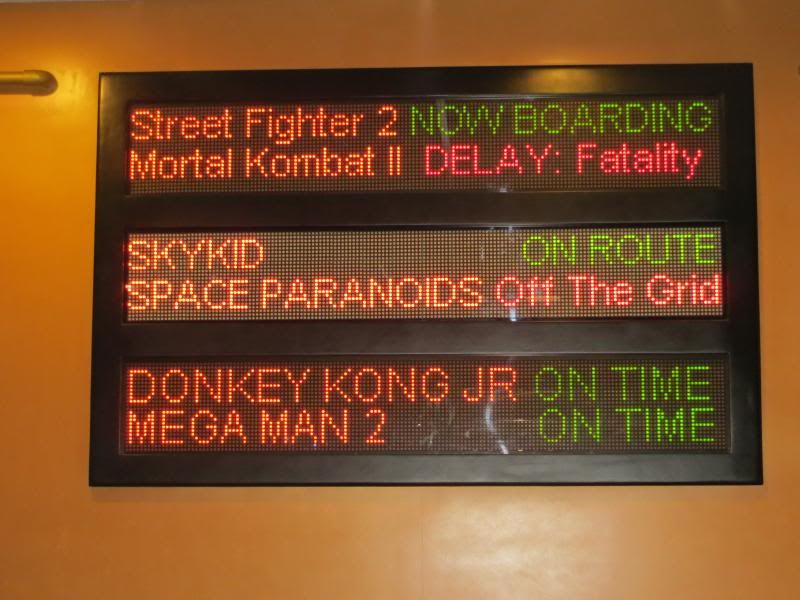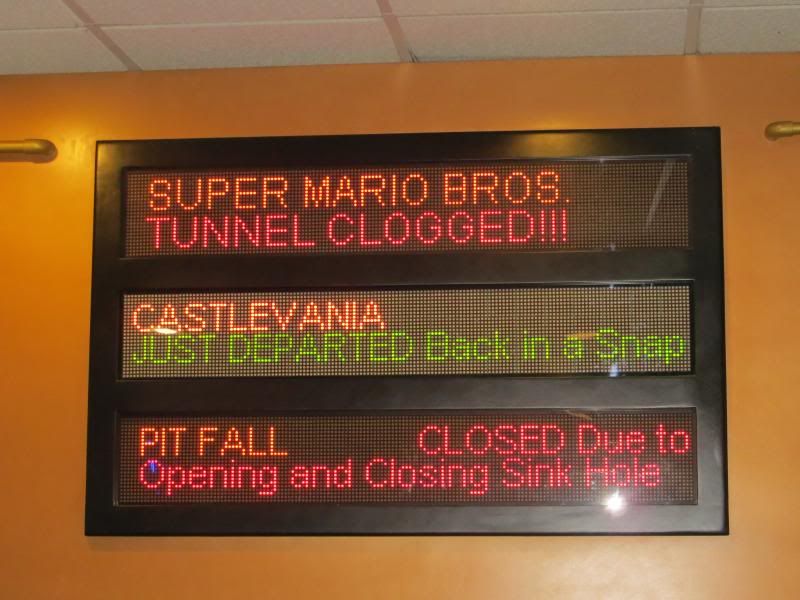 They have their hands up because of Antonio's gun.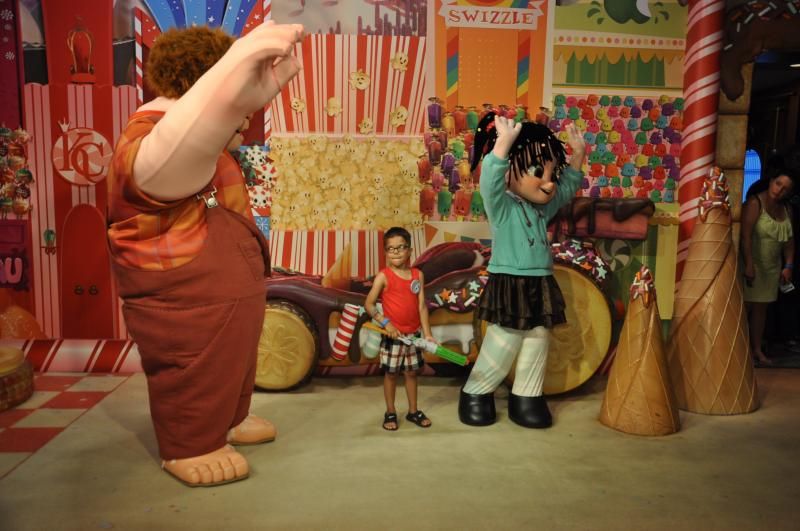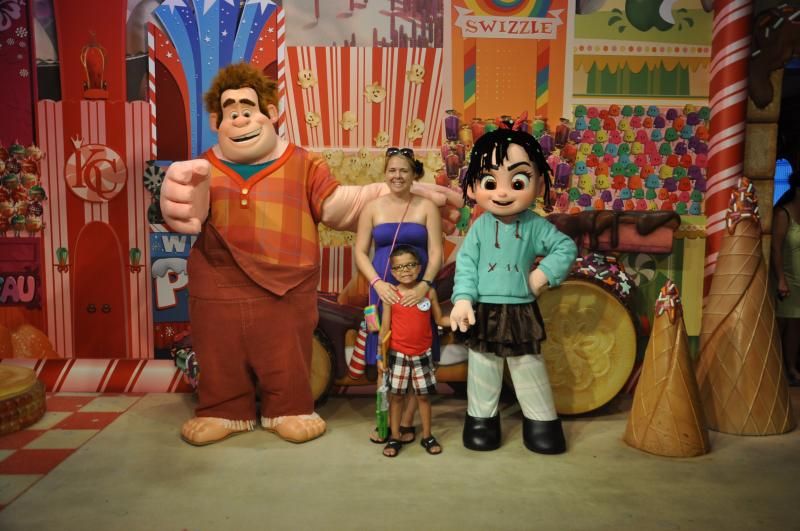 Sorcerer Mickey was about to arrive so we got in line for that next. Antonio calls him "Magic Mickey."
Silly boy in line.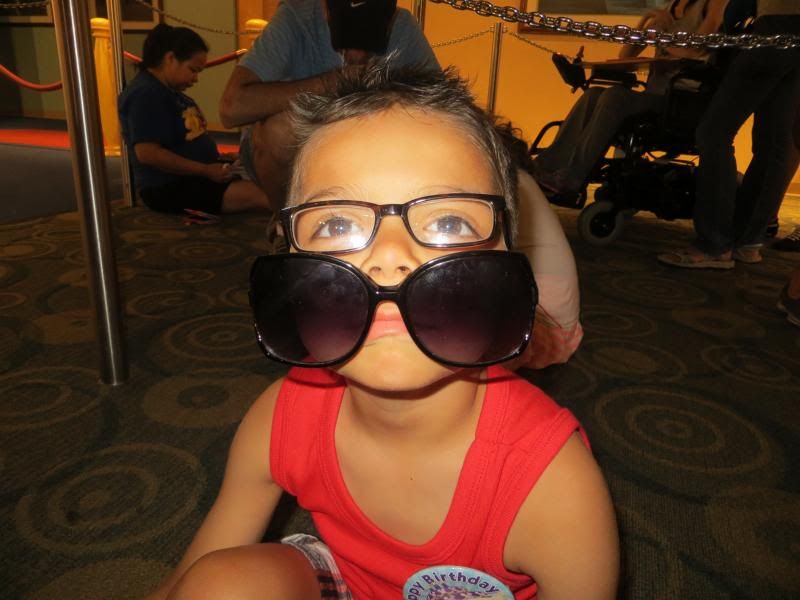 Magic Mickey!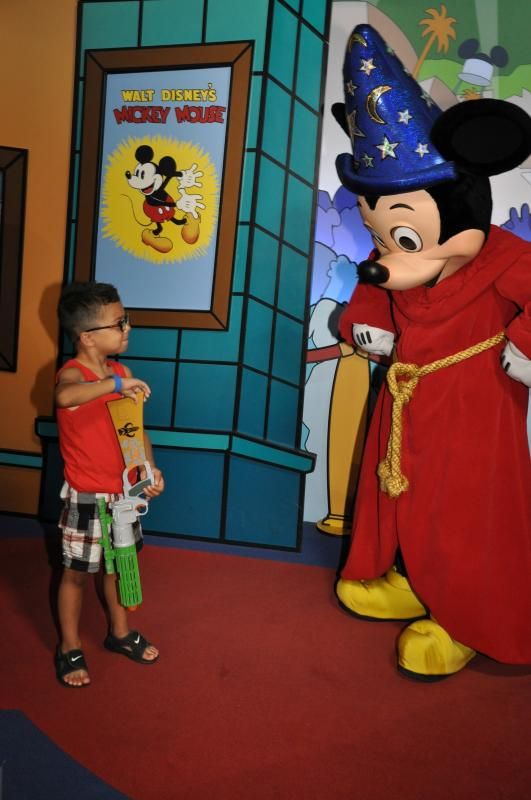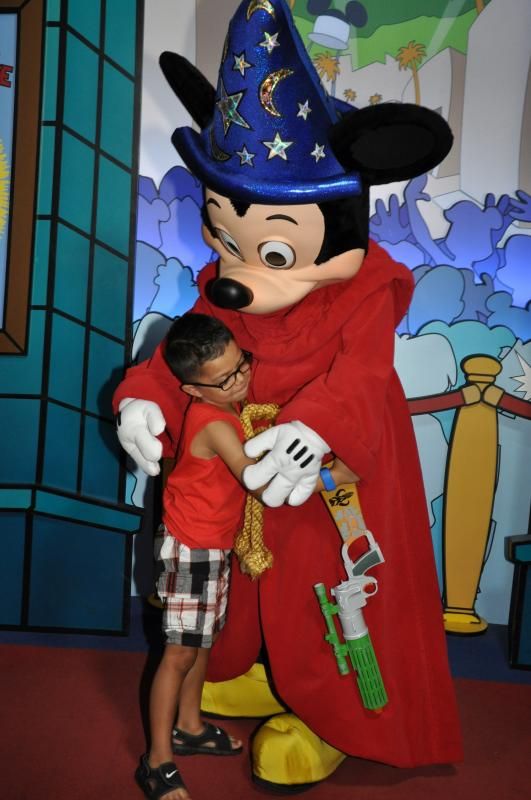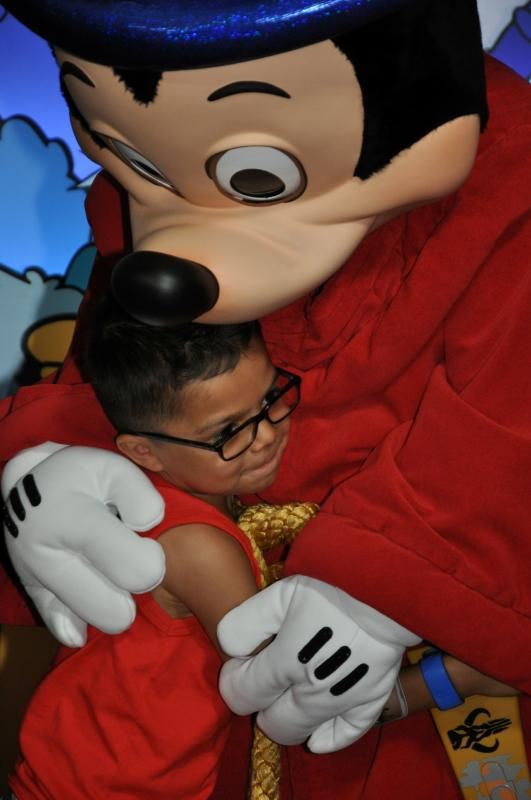 Talking to Antonio about being 5 years old. Poor Mickey only has 4 fingers!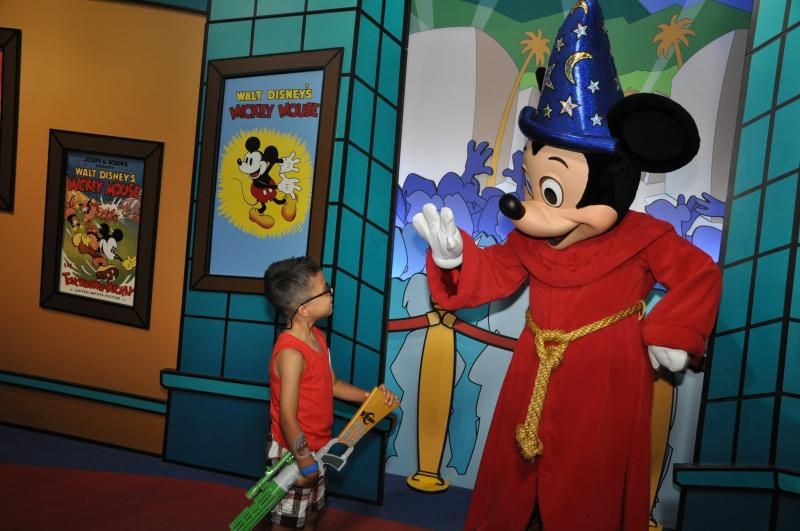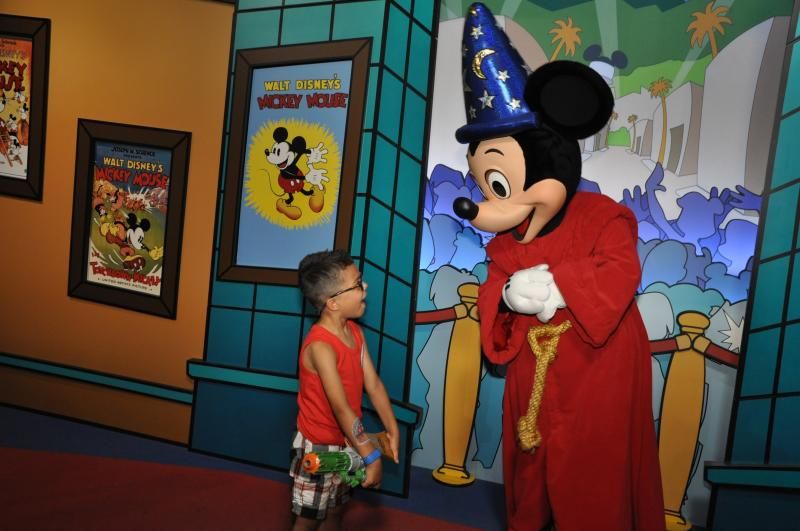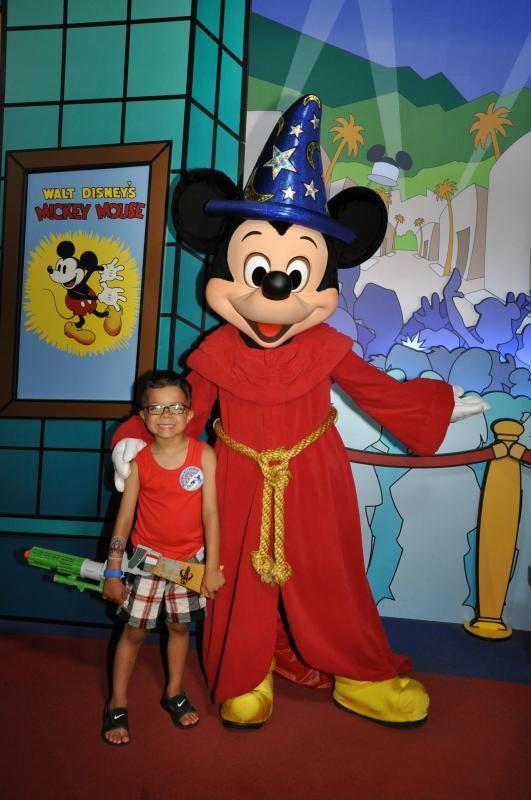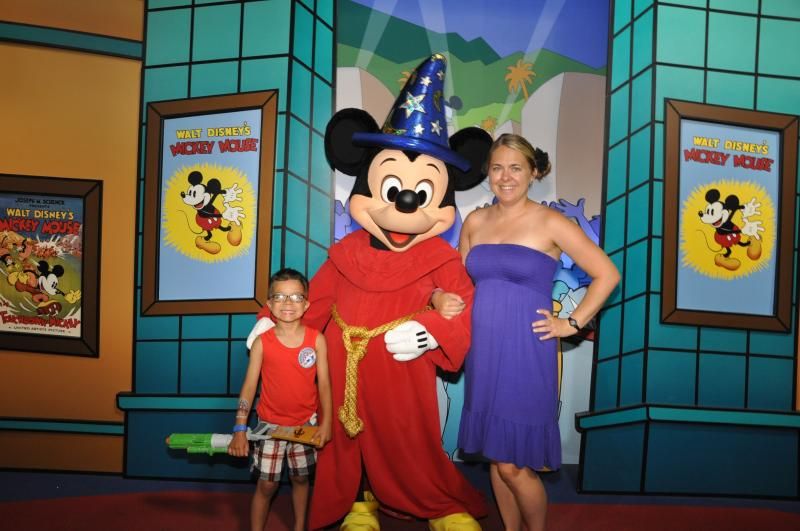 Then we played with the coloring machines a bit.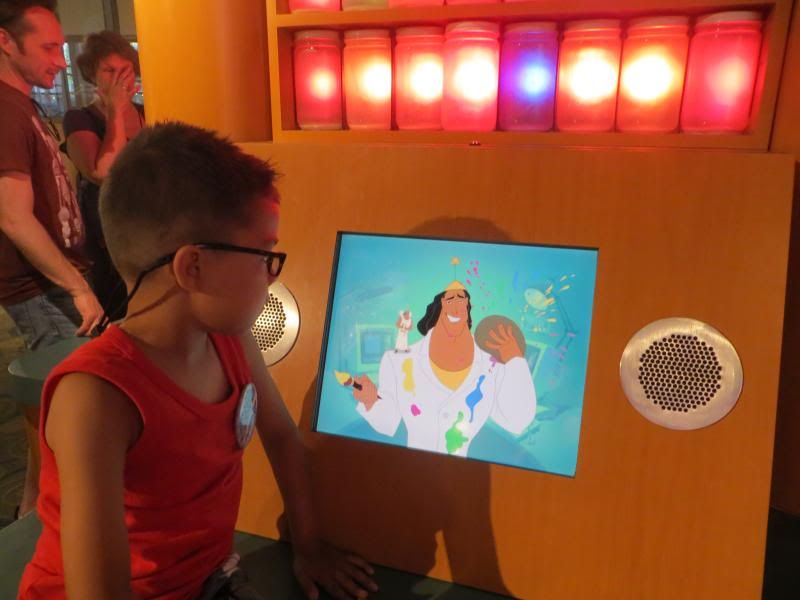 We decided we better head back over to Quentin before we miss the parade, but first a photopass pic!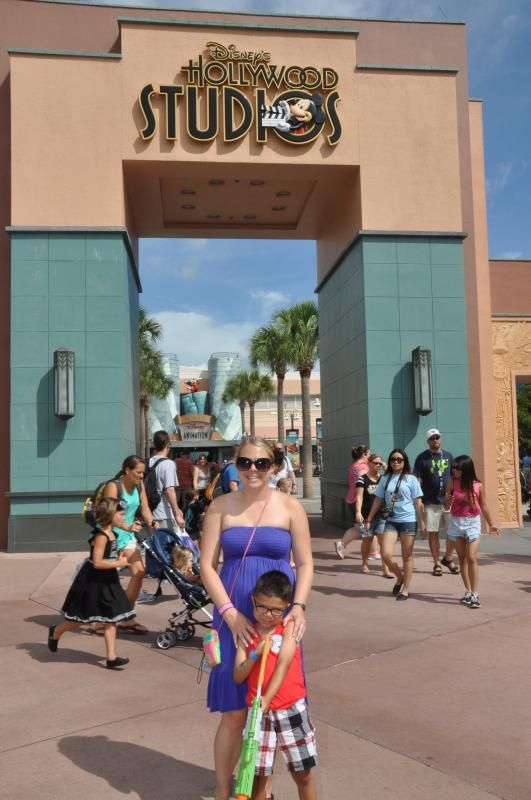 We picked up a Darth Vader popcorn bucket on our way to the parade. I was glad Quentin had saved us seats because it was a madhouse at this point! We even saw some people get in an argument over some space across the street.
Parade time!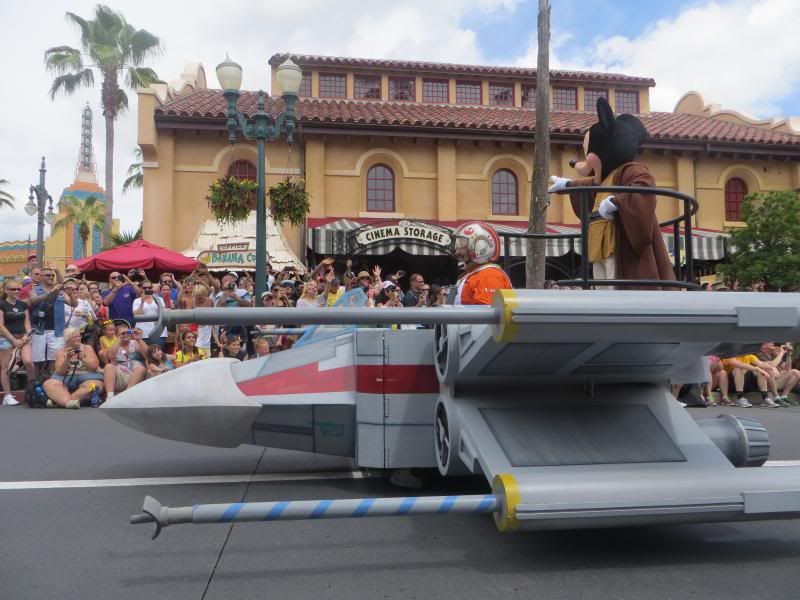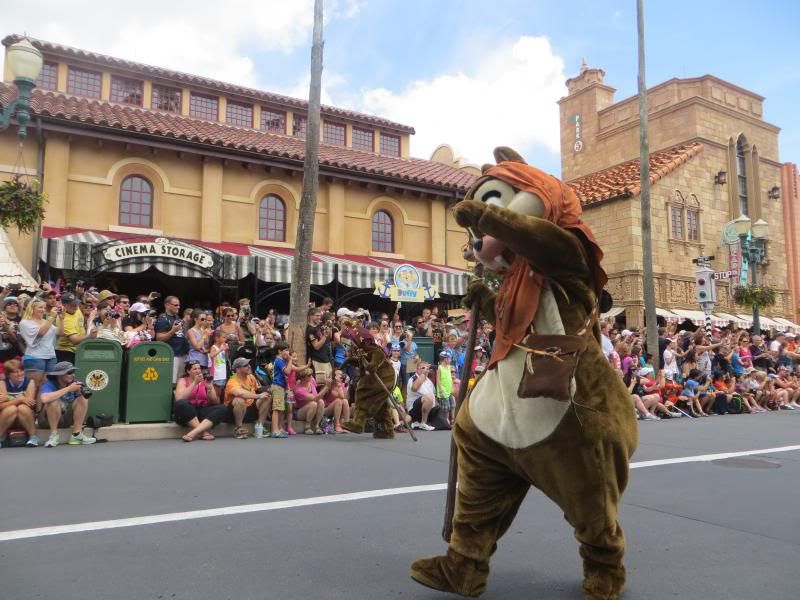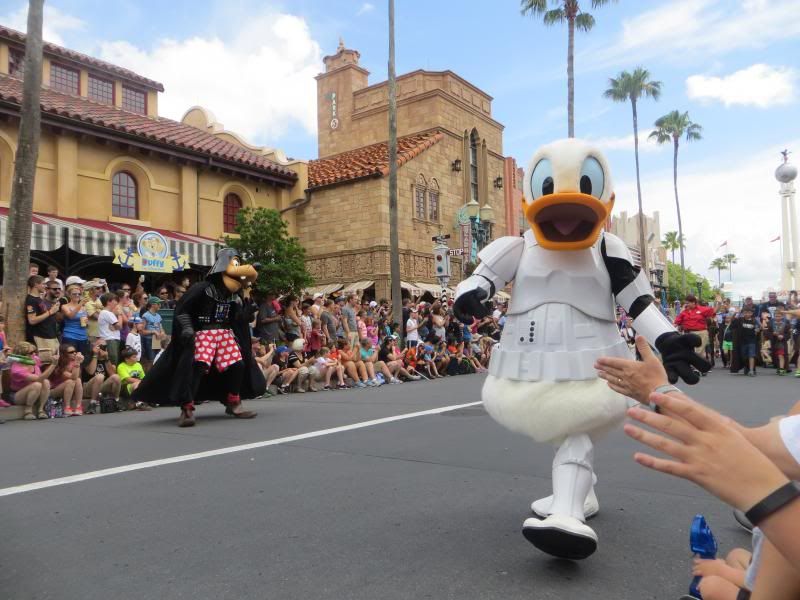 You can sign up in the morning to have your kid walk in the parade as a Jedi in Training. Antonio wasn't interested in that or in the Jedi Training Academy.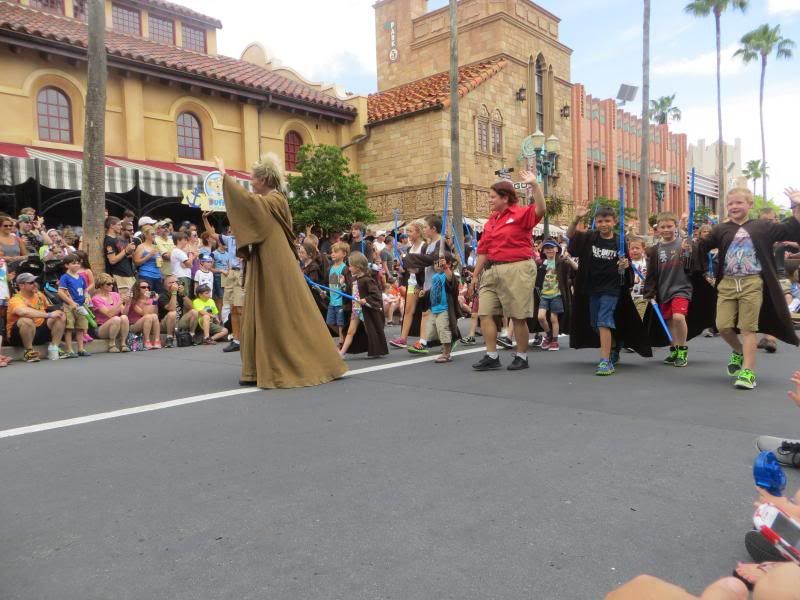 There are tons of Star Wars fans that walk in the parade. Quentin was in nerd heaven! LOL!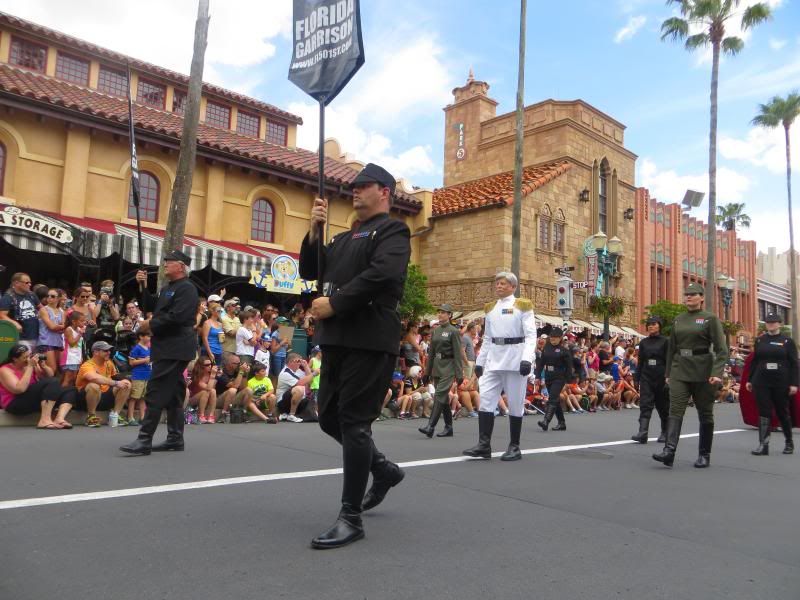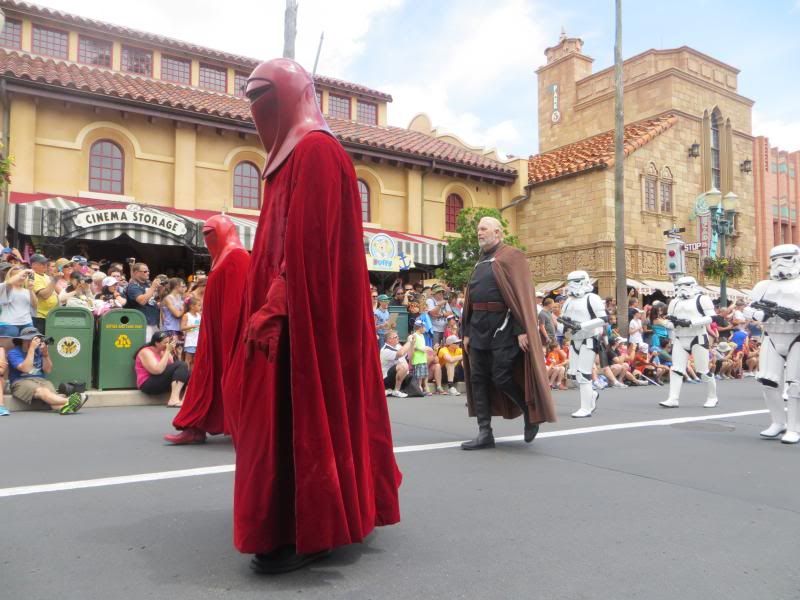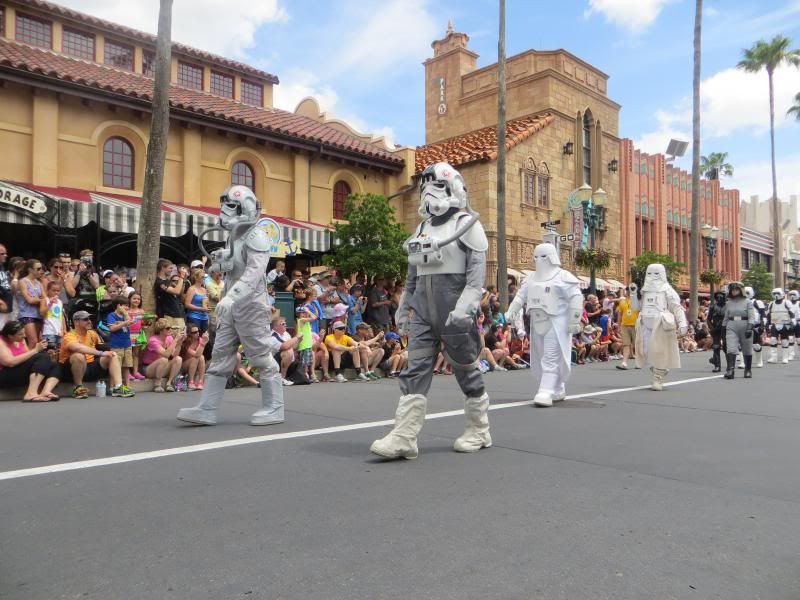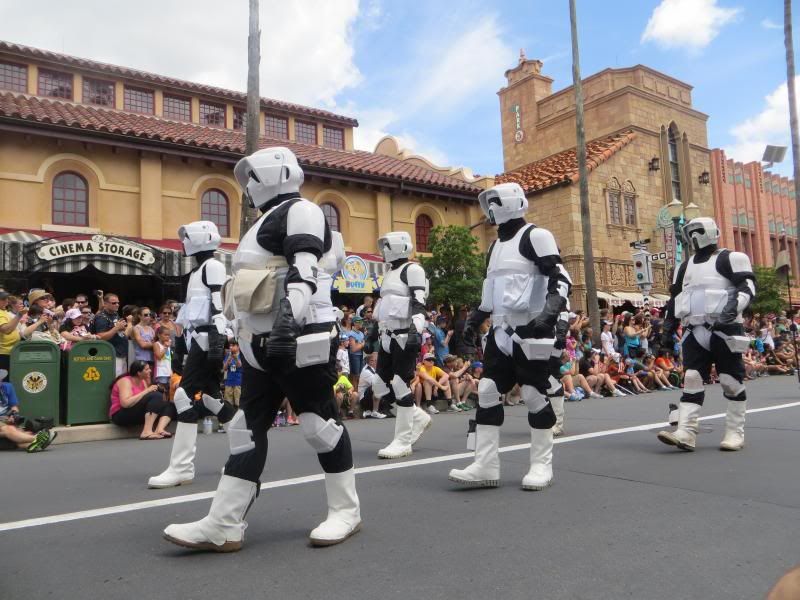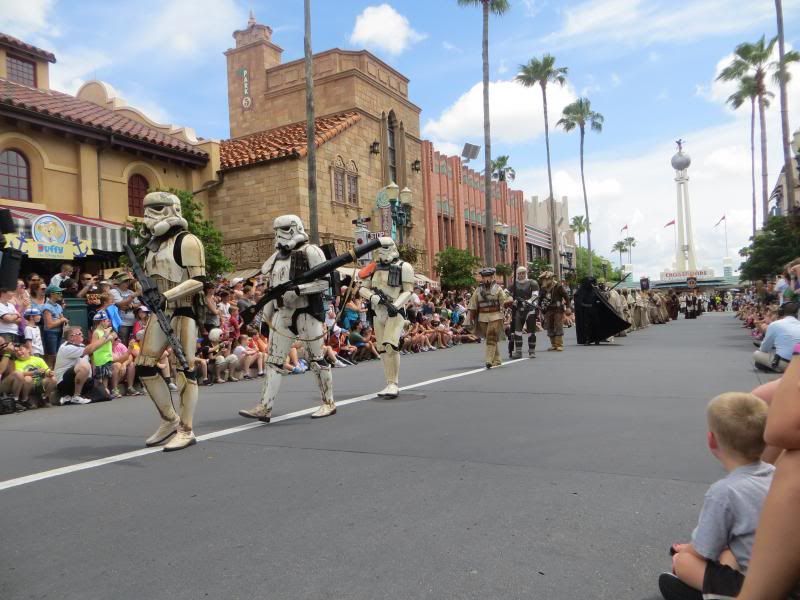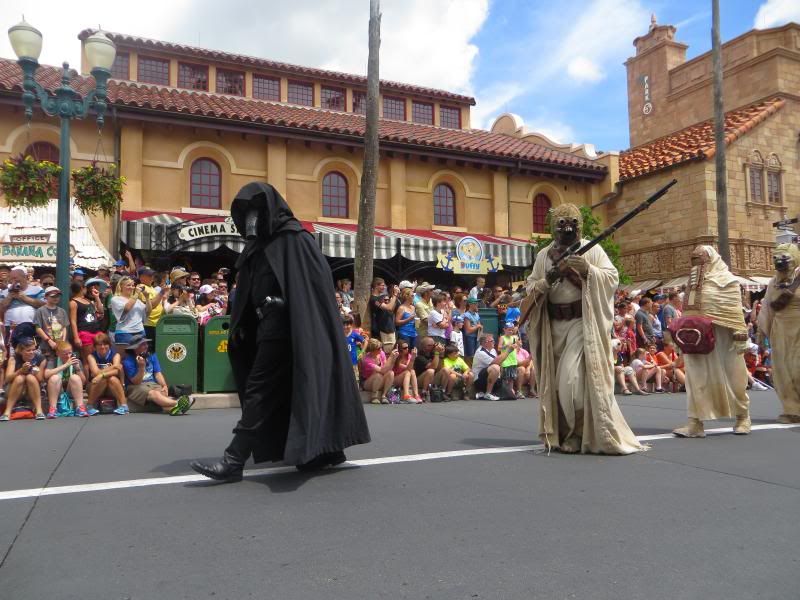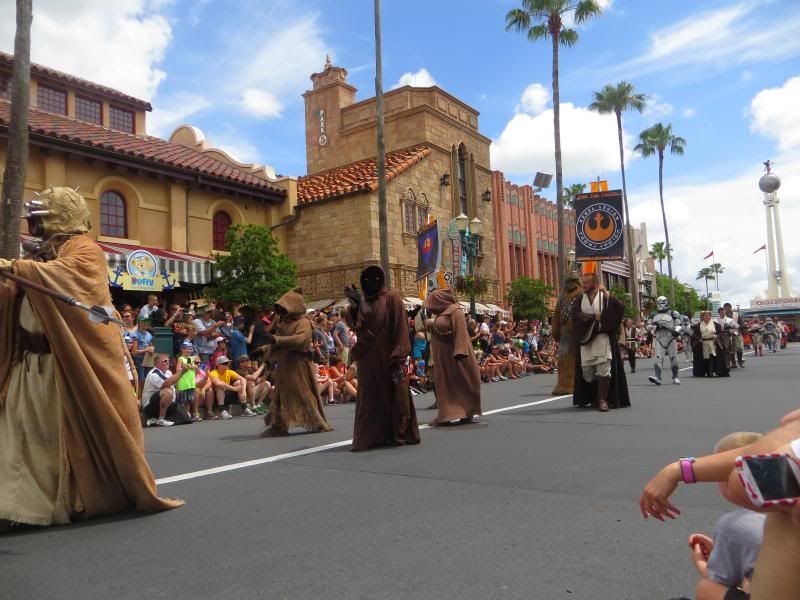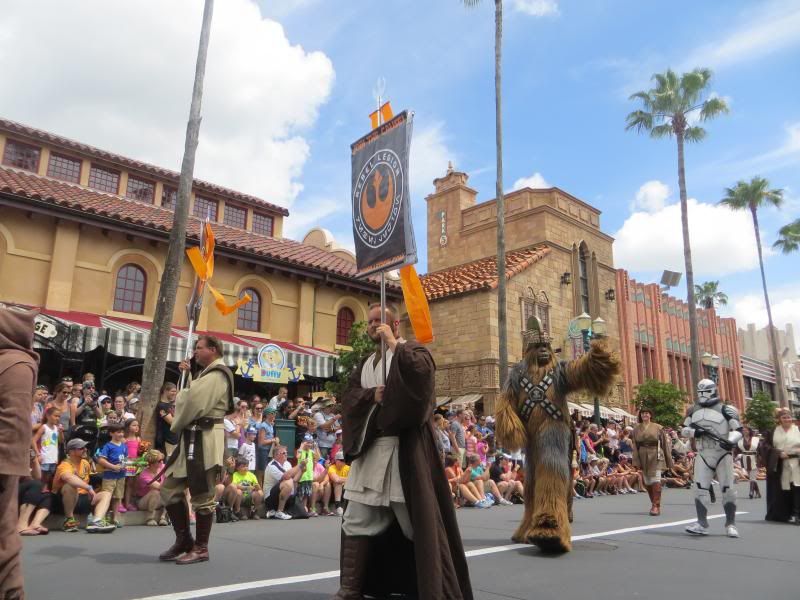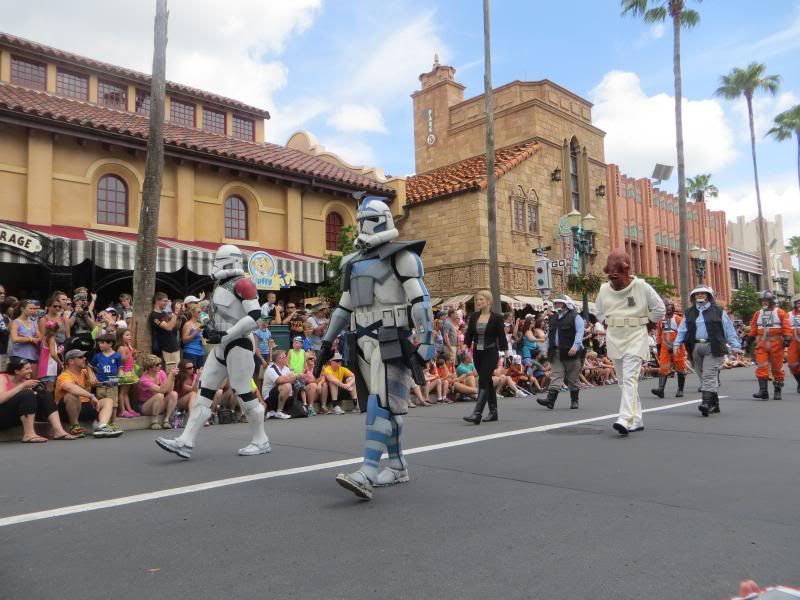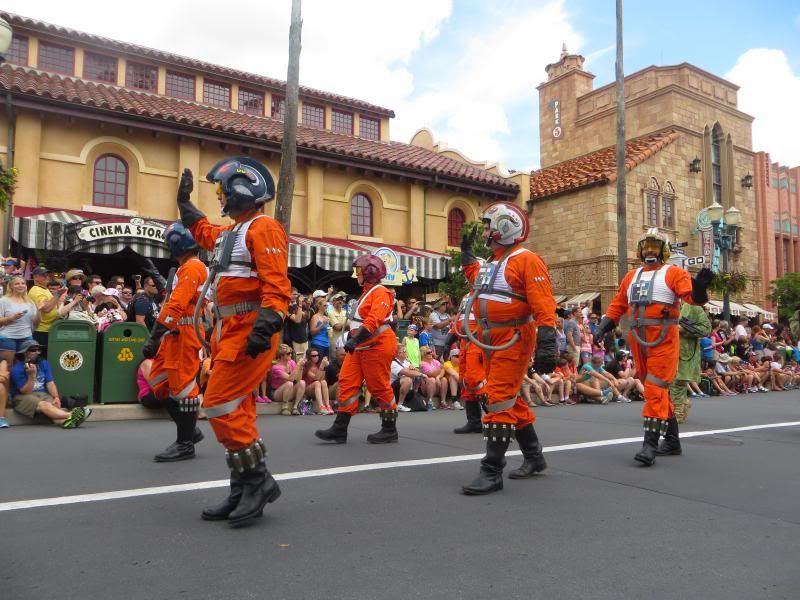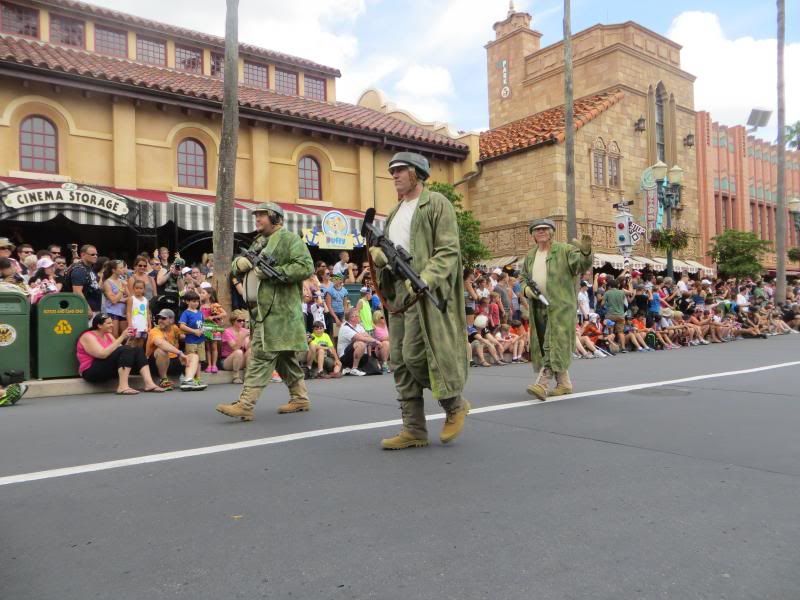 I love Ewoks!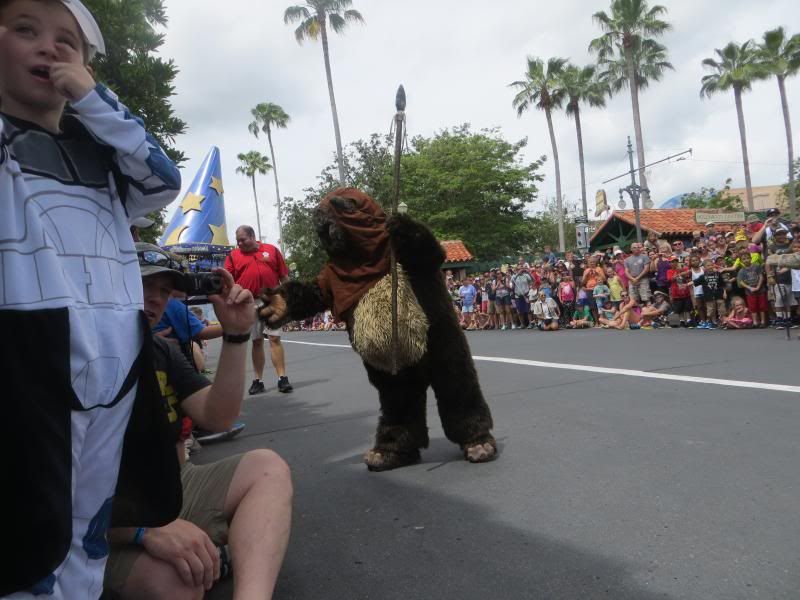 Back to Disney performers.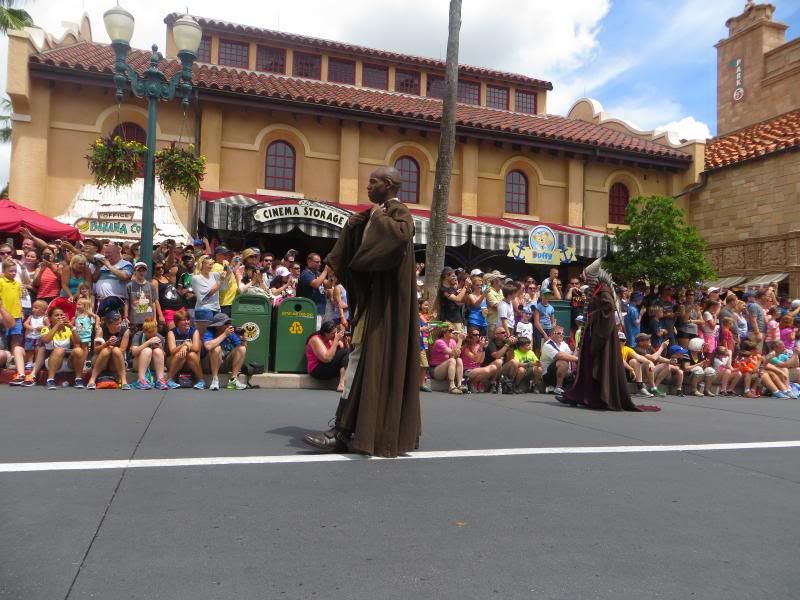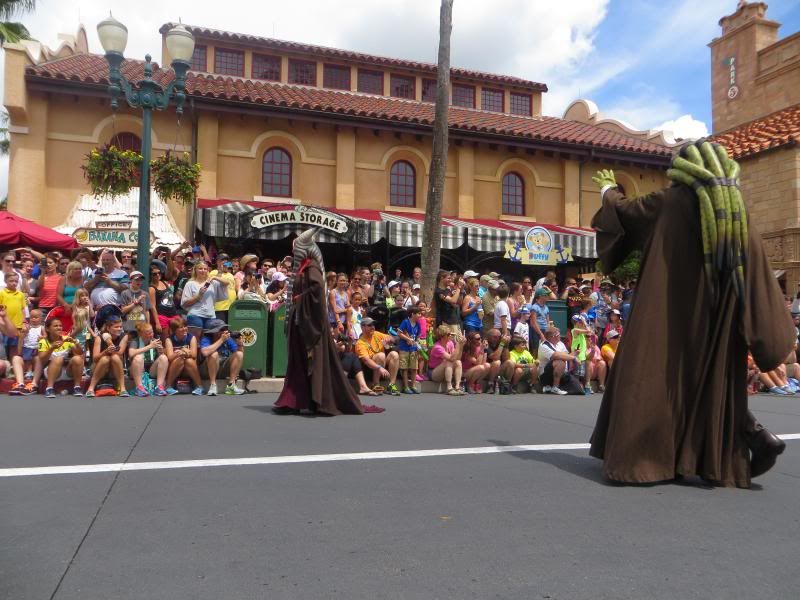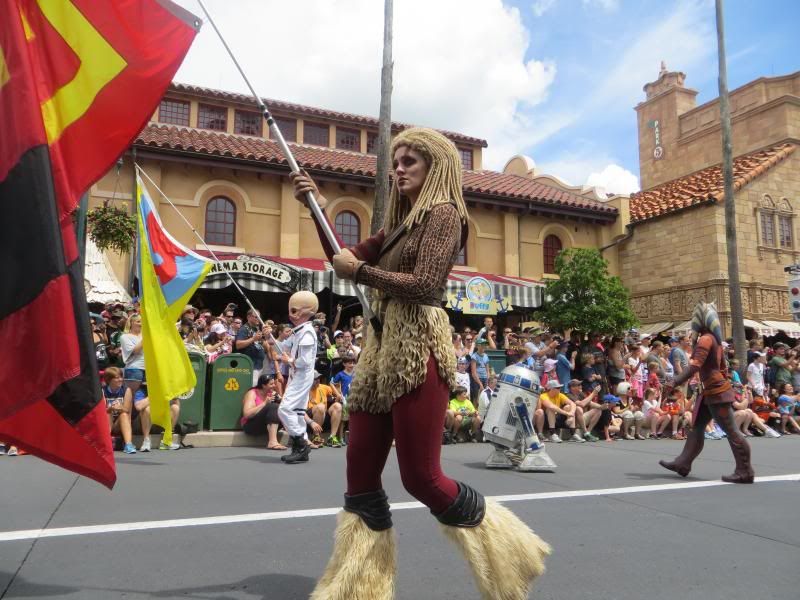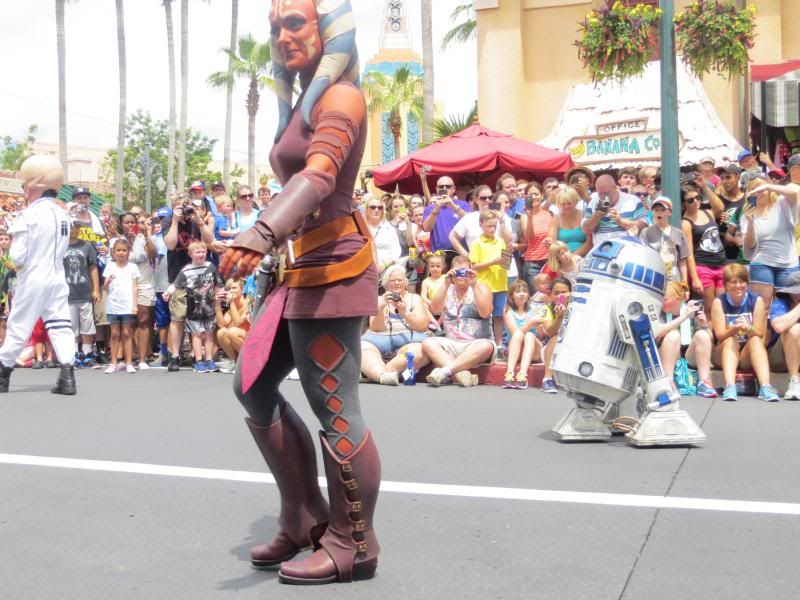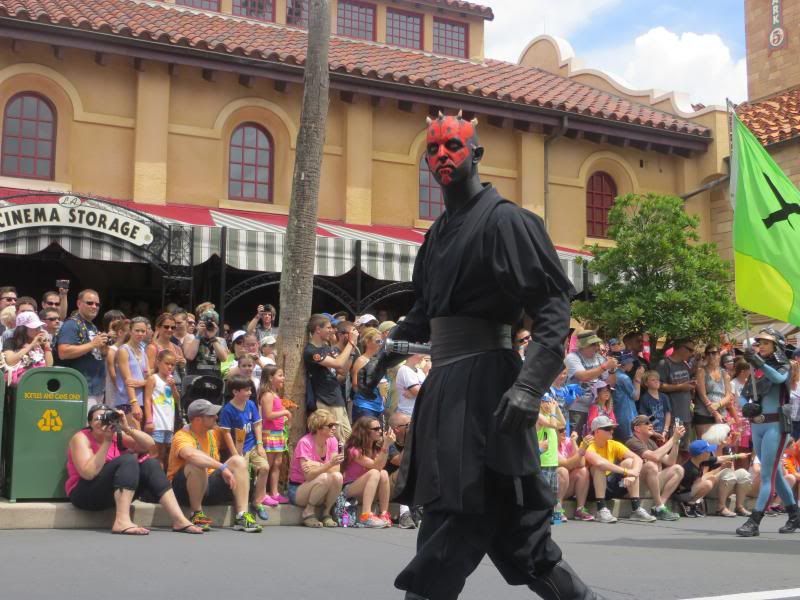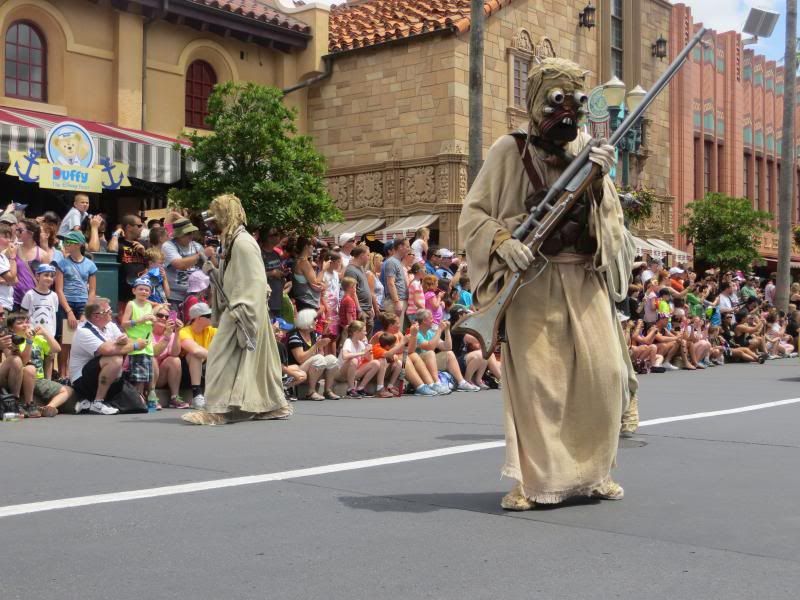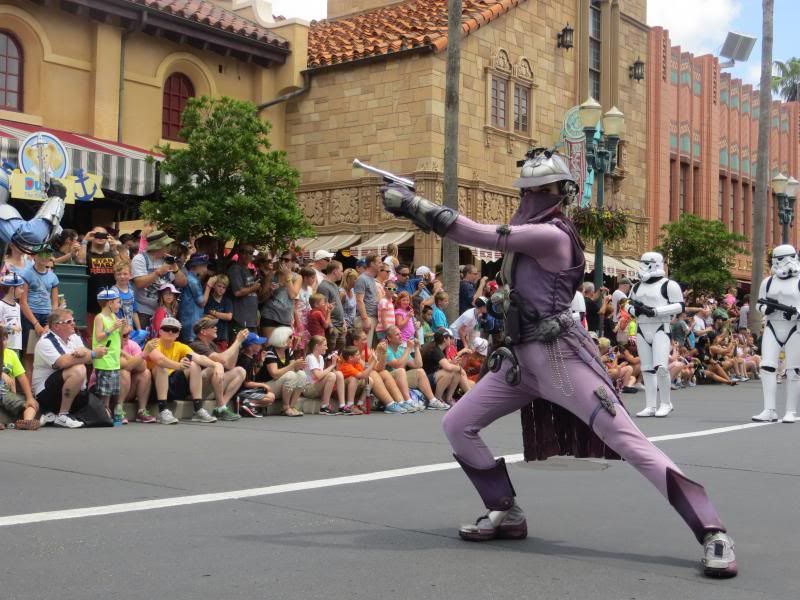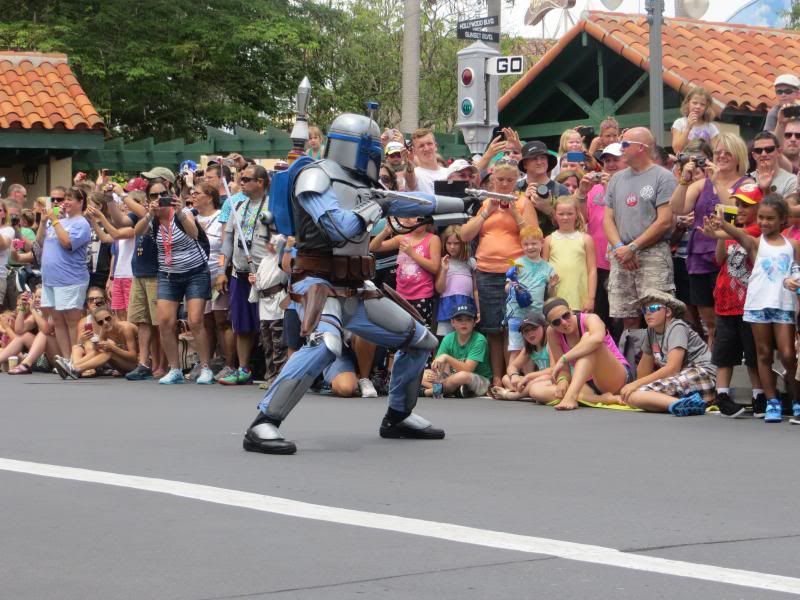 There are also some stars in the parade. Several were voice actors from the Clone Wars series. Some were actual Star Wars actors.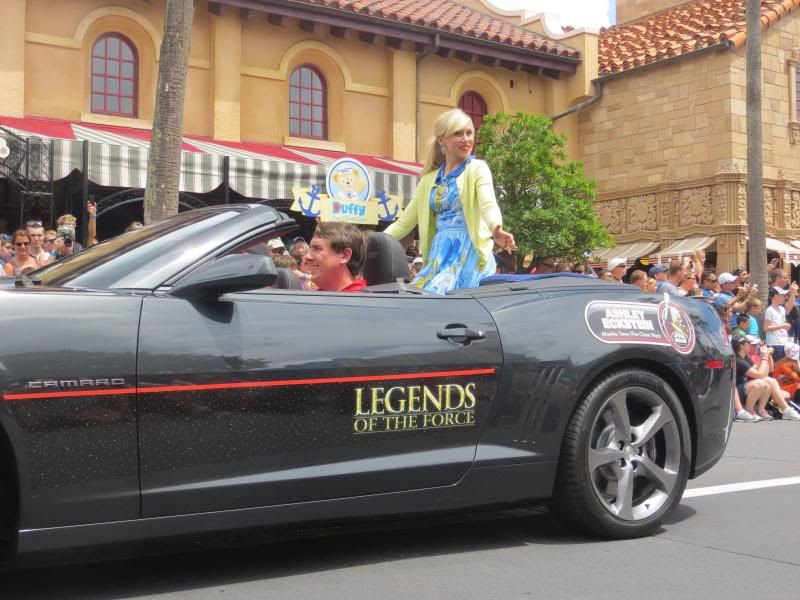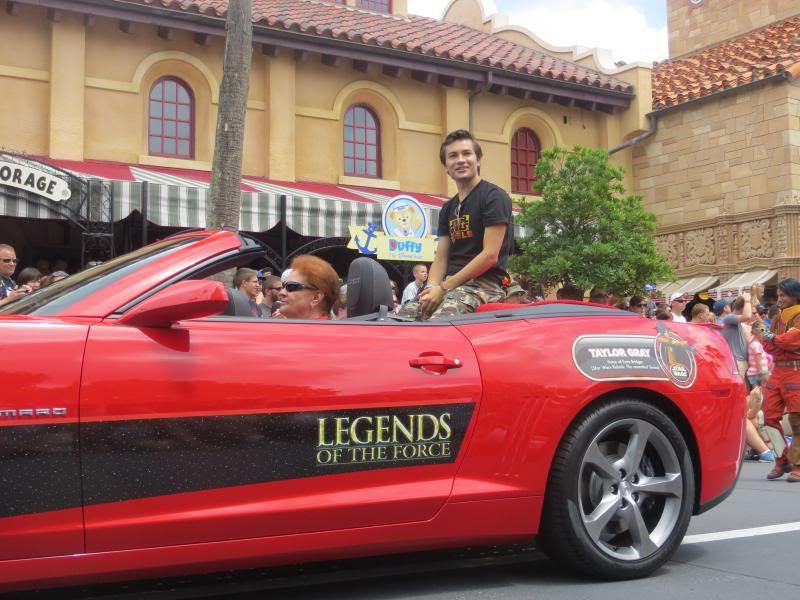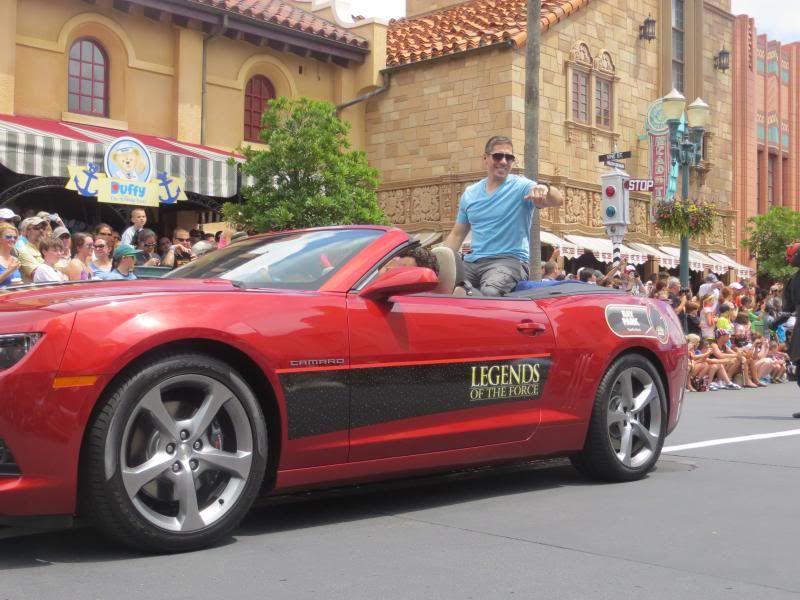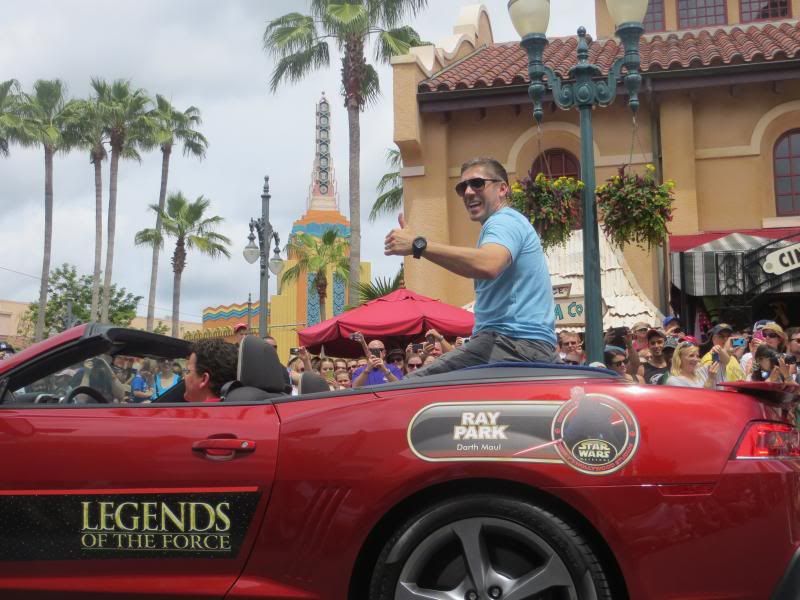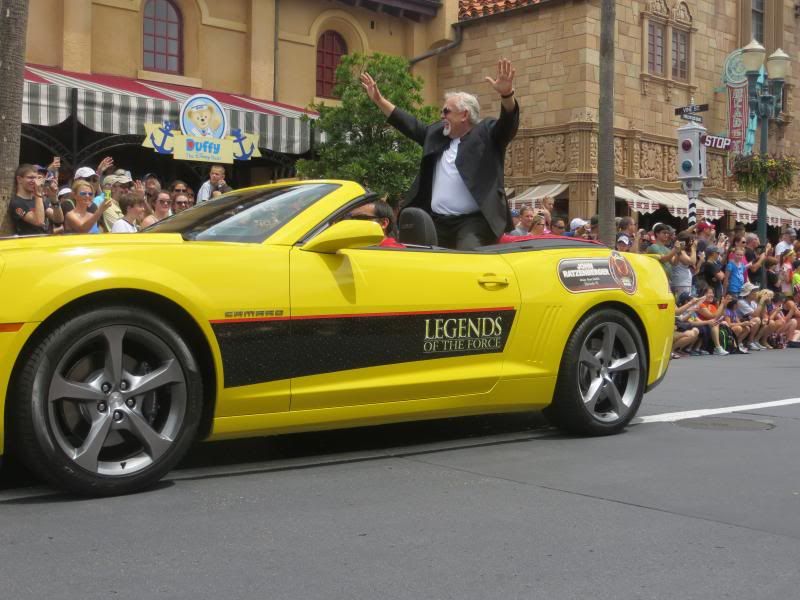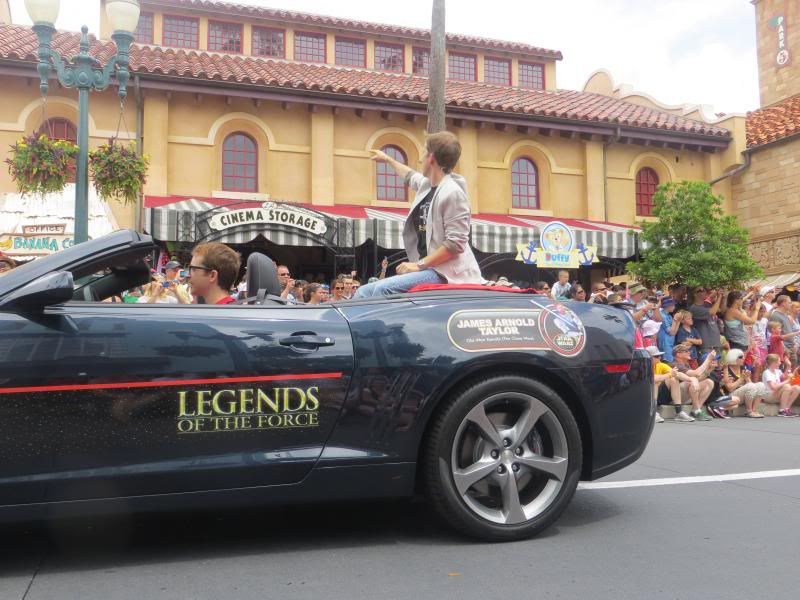 Bringing up the end!
Before the parade we had stopped by Sci-Fi Dine in Theater to check on availability for their special Star Wars meal. They had space, but we were afraid it would cut in to our parade watching time, so we passed. We had time to do one more thing before lunch and Quentin wanted to do Indiana Jones so off we went. I thought it was pretty much just as boring as usual, however Quentin enjoyed it. Afterwards, I was ready for some lunch and a nap! It was hot! We discussed Quentin staying and enjoying the Star Wars stuff and Antonio and I leaving to eat lunch and nap. Quentin decided to leave for lunch and then we would drop him back off while we went back to the hotel.
Of course we got a few photopass pics on our way out, starring the Darth Vader popcorn bucket and Antonio's lightsaber keychain!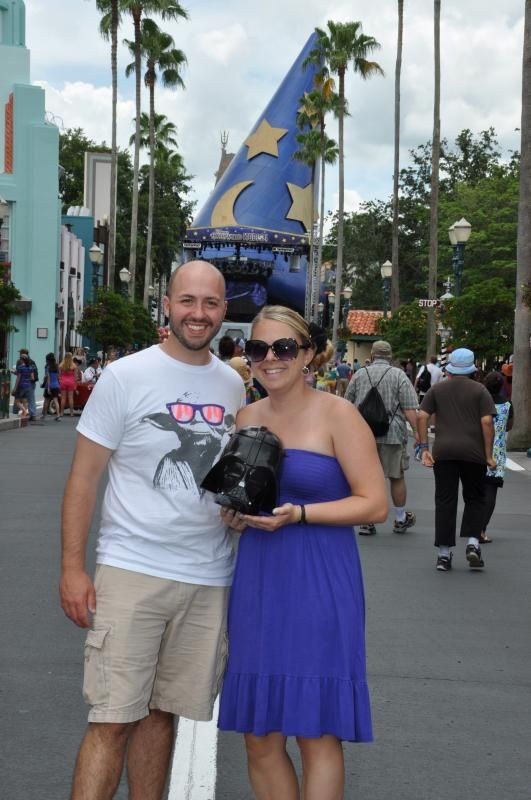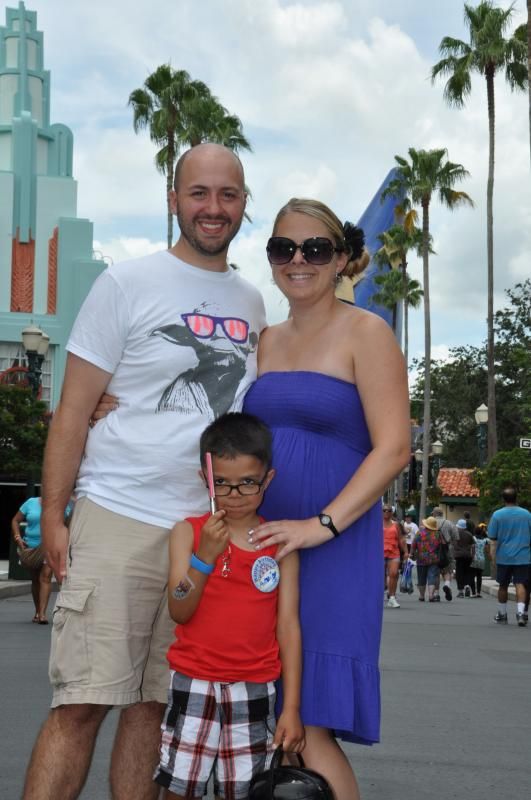 We went to my favorite off property restaurant, Chevy's!
Antonio had the chicken strips.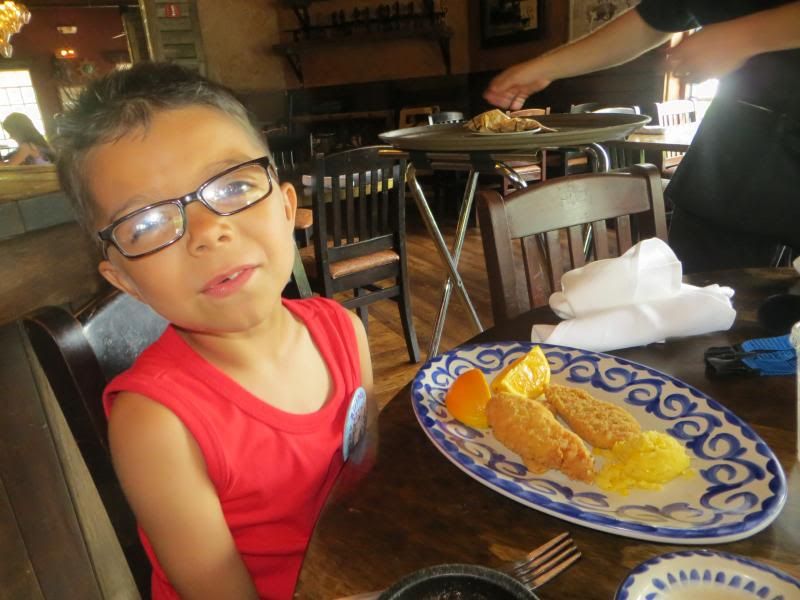 Quentin and I shared fajitas.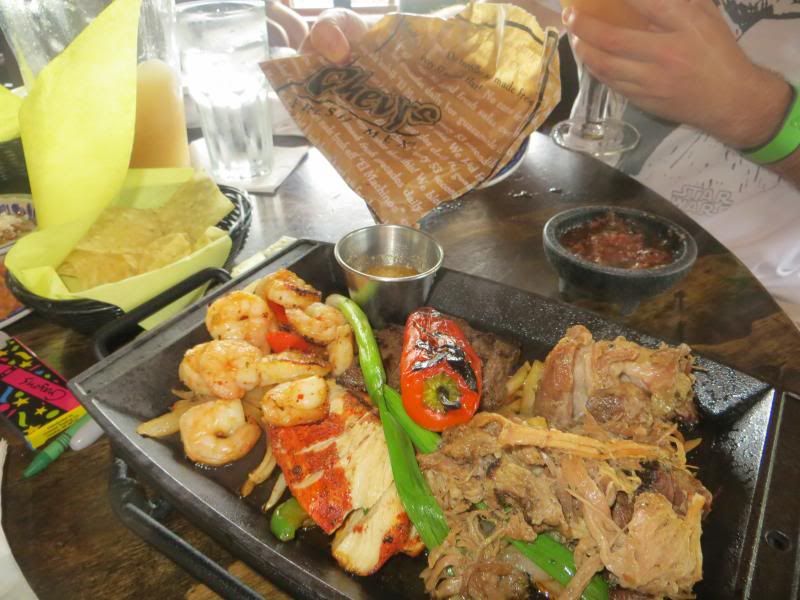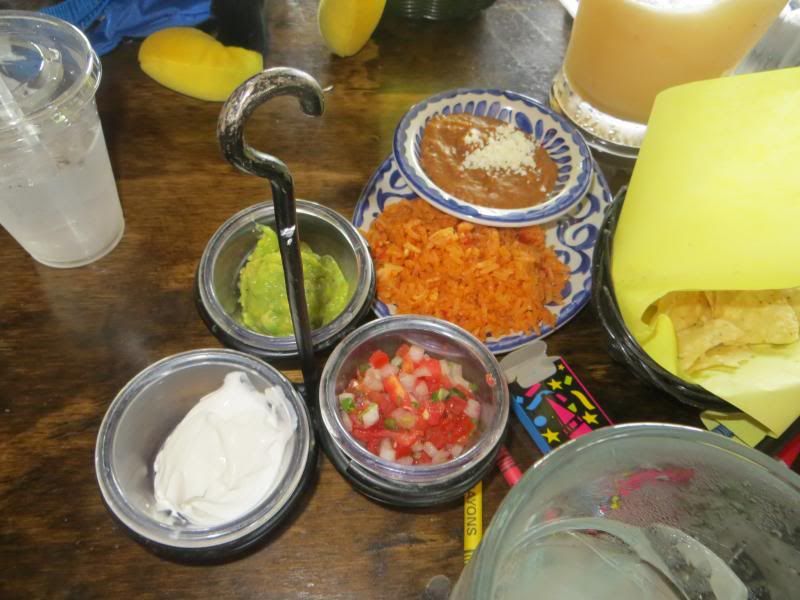 And a pitcher of mango margaritas!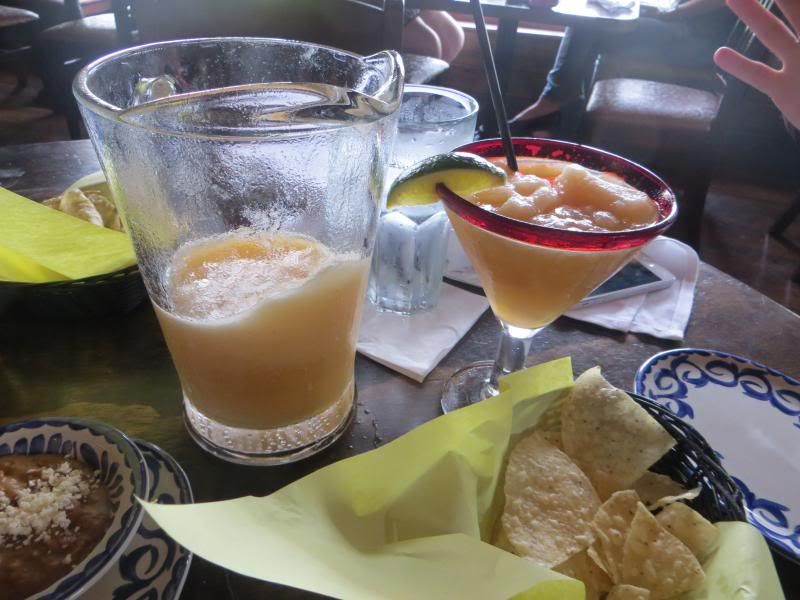 The kids meal comes with an ice cream cone.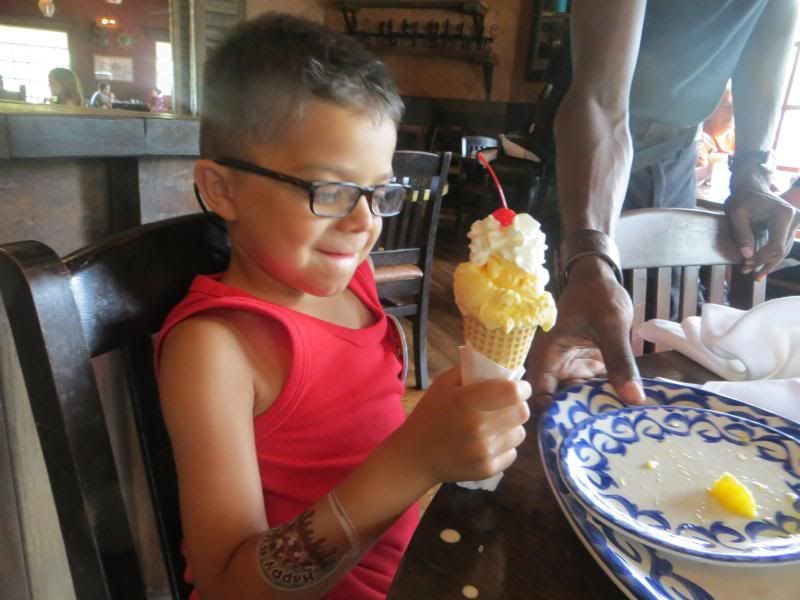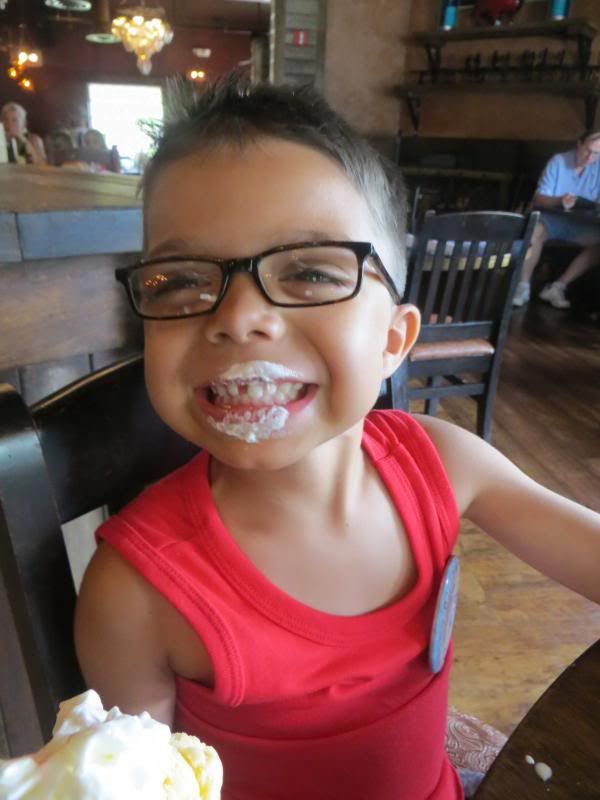 Q and I got fried ice cream to share.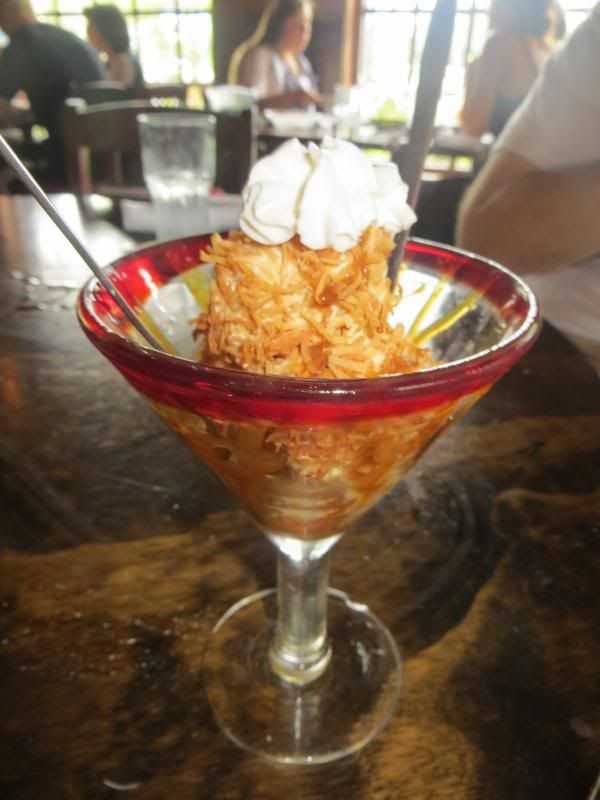 Overall, I was disappointed. They had changed the menu and it was much more expensive. There was no longer a lunch menu. I'll go back, but won't make it a priority like I used to.
After sweating all morning and a pitcher of margaritas, Quentin decided to join us at the hotel for a nap. He was worried about missing Star Wars weekend festivities, but I told him that if he was planning to for us to have a future together, he needed to know one thing…we will always be back to Disney World!
I got a few pics of our hotel when we went back for our break.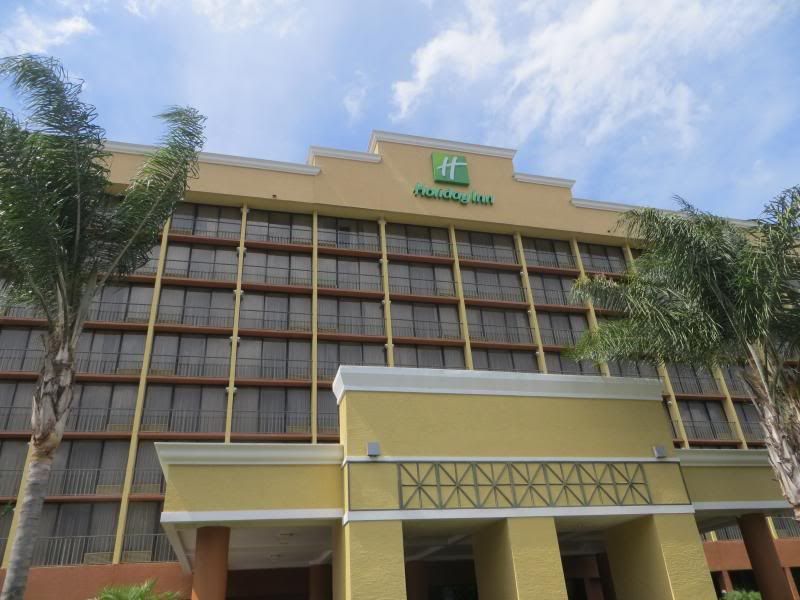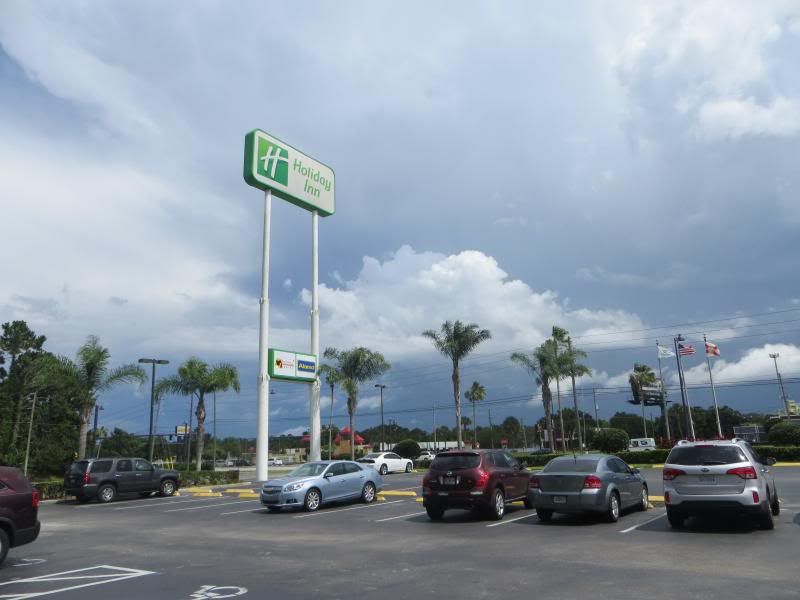 After a nice cool nap, we headed back to Hollywood Studios. First up was Muppetvision 3D. Such a cute show!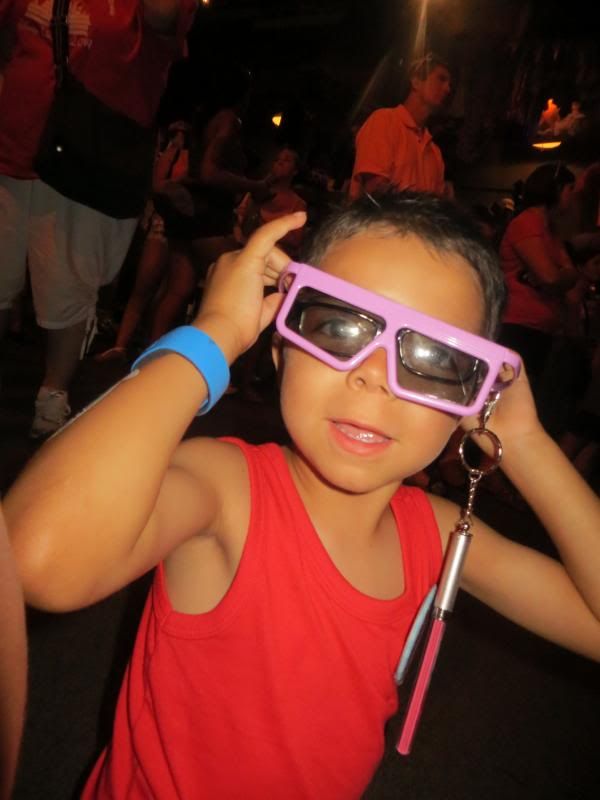 I had made Quentin a FP+ reservation for Rock N Roller Coaster and Tower of Terror. He went off to do those, while Antonio and I wandered around. We ran in to some Star Wars characters. The interesting thing was, they don't do official meet and greets. There was no line or order to it at all. They just kind of went around staring at people in a spooky way! It was so fun!
If you were lucky you could get an autograph.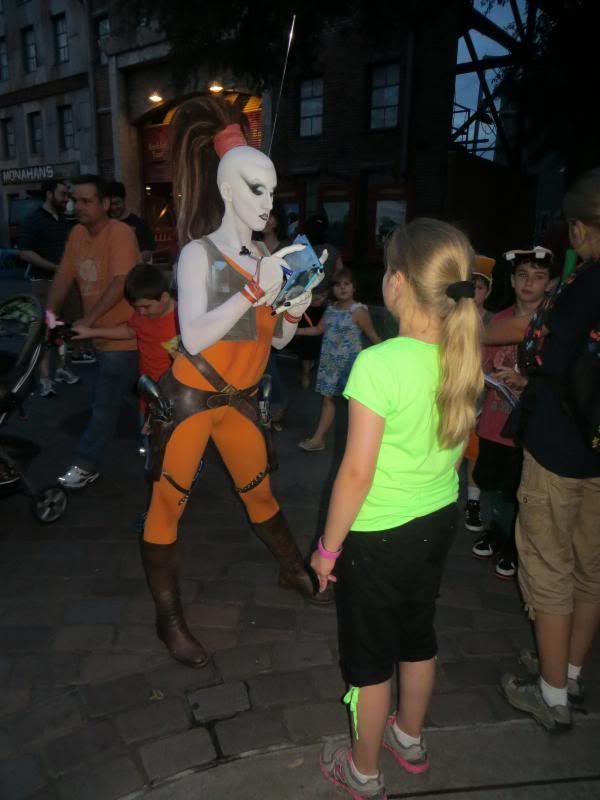 I got her to stop for a selfie!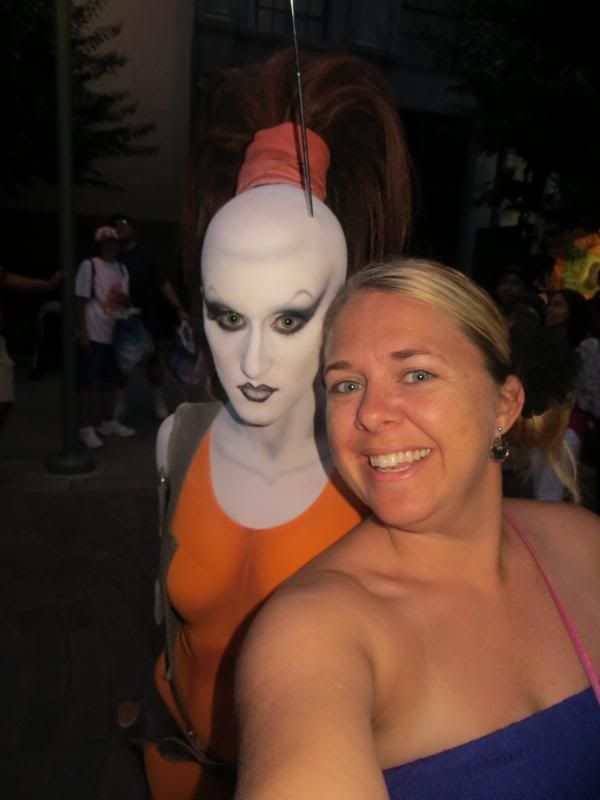 This girl stopped to talk to Antonio. She asked him if he was going to be part of the Dark Side. When he said no, she said "Too bad" and walked off.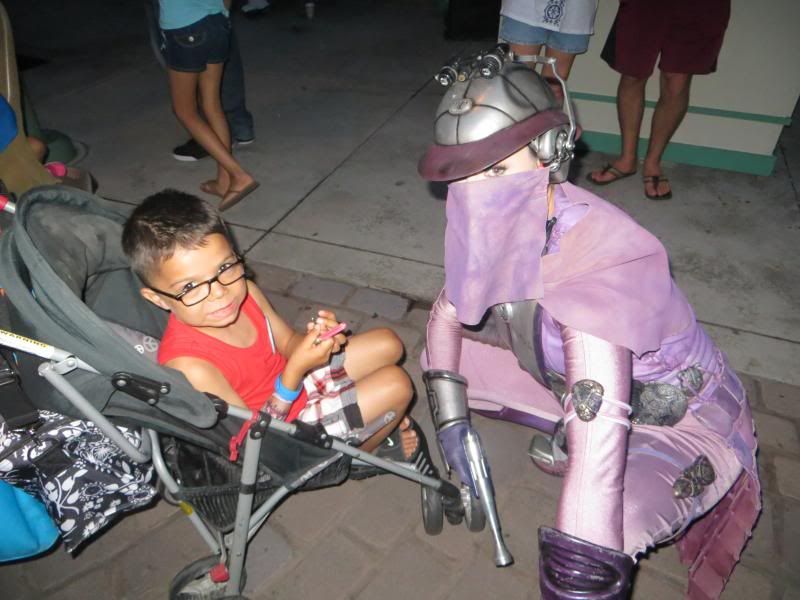 Antonio and I also went to Voyage of the Little Mermaid. He loved the bubbles. Afterwards, I got him all fixed up with the glow bracelets Tinkerbell brought him. Kid tip: Buy little toys from Dollar Tree and if the kiddos are good, "Tinkerbell" leaves presents in the hotel room!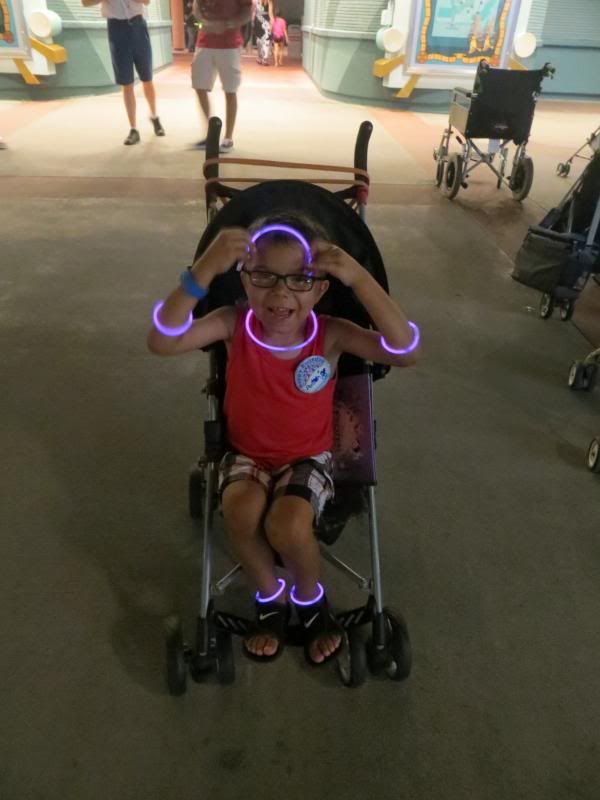 Quentin got done with his thrill rides and we all got a spot to watch the Star Wars fireworks. They were amazing!!!
Then we headed over to Fantasmic. Another thing that FP+ has messed up. Although we were there early, we weren't allowed in. All the FP+ people got to enter first. Then to make it even worse they had stroller parking in a really stupid place! The line for non FP+ guests was to the right in kind of a corralled area. The stroller parking was to the left, way to the front of that line. So we took our stroller all the way up, then they told us to go back to the end of the line. However, now a ton of people were in that line, and we would have to get behind everyone who we were ahead of. Nice planning Disney! Luckily another family was over there and we told the CM we weren't happy. He undid the rope and let us all in towards the front of the line. I hope they figure out a better system for this.
When the herd of non FP+ users gets to go in, you only get to sit in the section on the far right. The rest if for FP+ apparently. We decided to take the seats in the very front row because I wanted to try to get some good pictures. I still didn't get very good pics though!
Of course Antonio had to have a light up toy.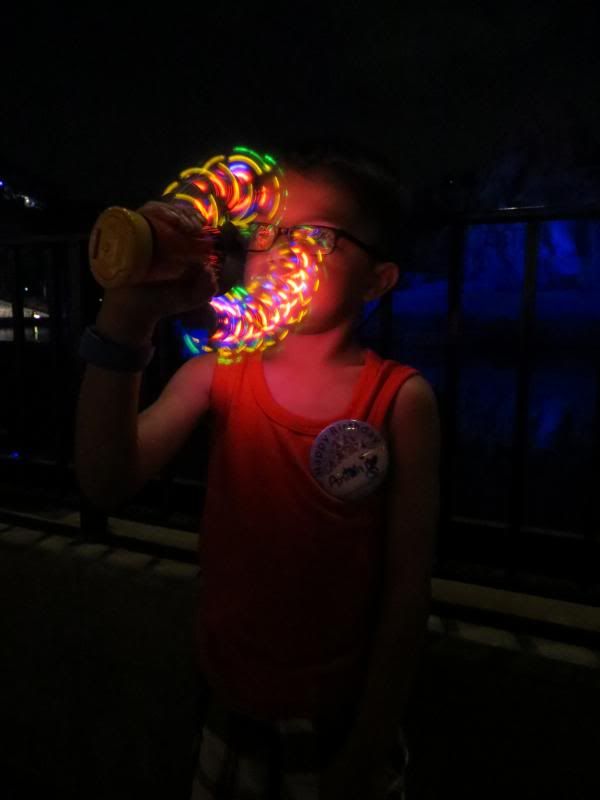 A few pics from our close seats.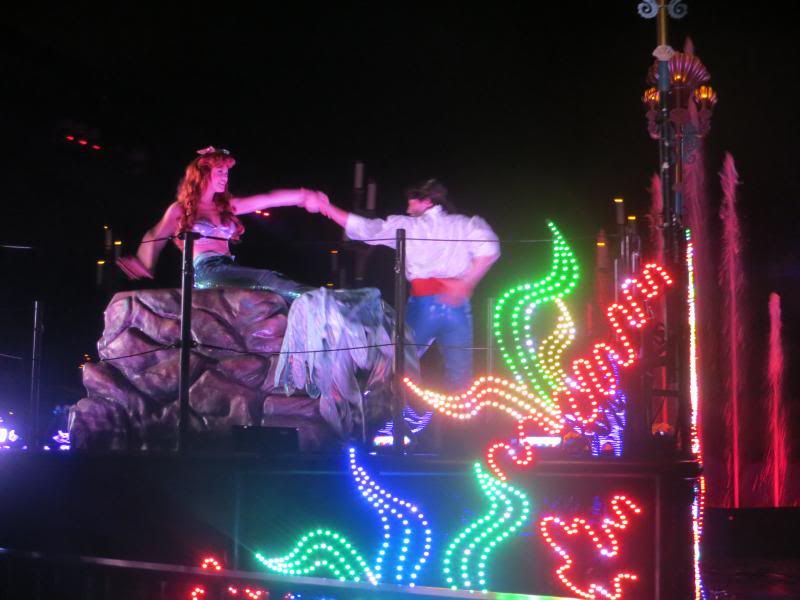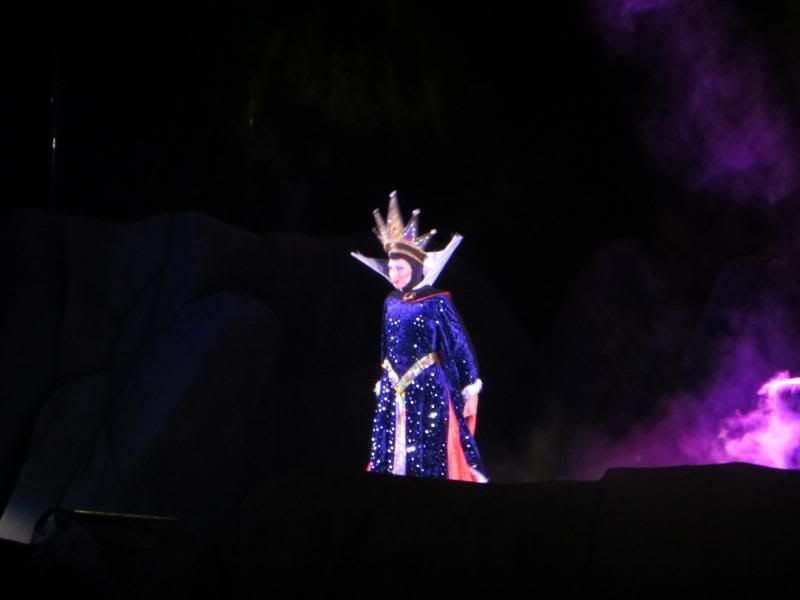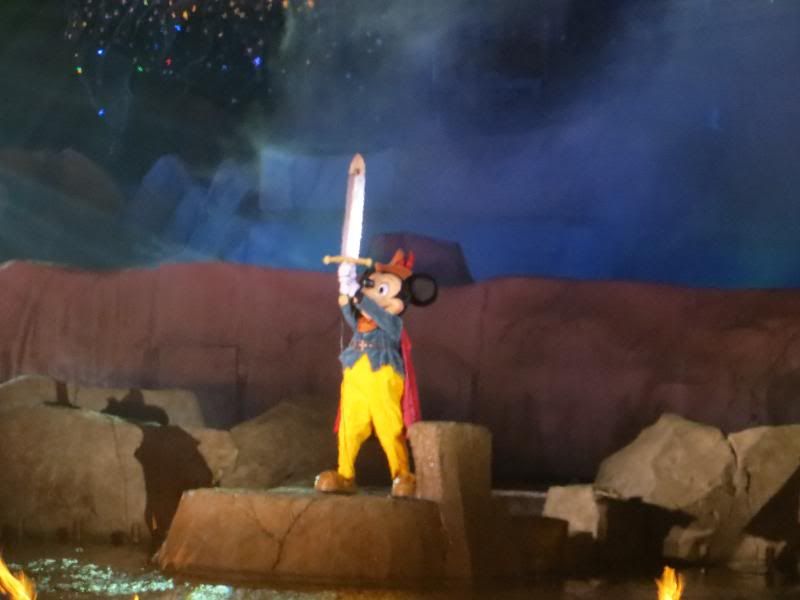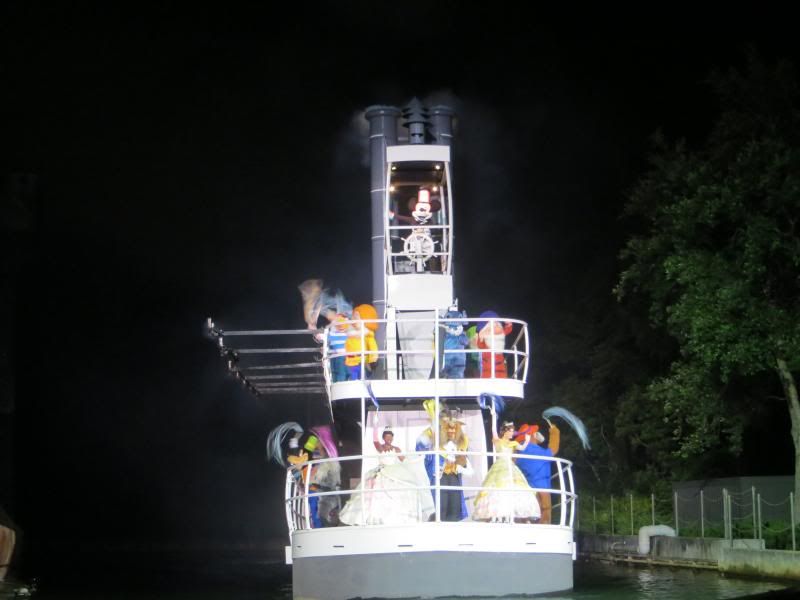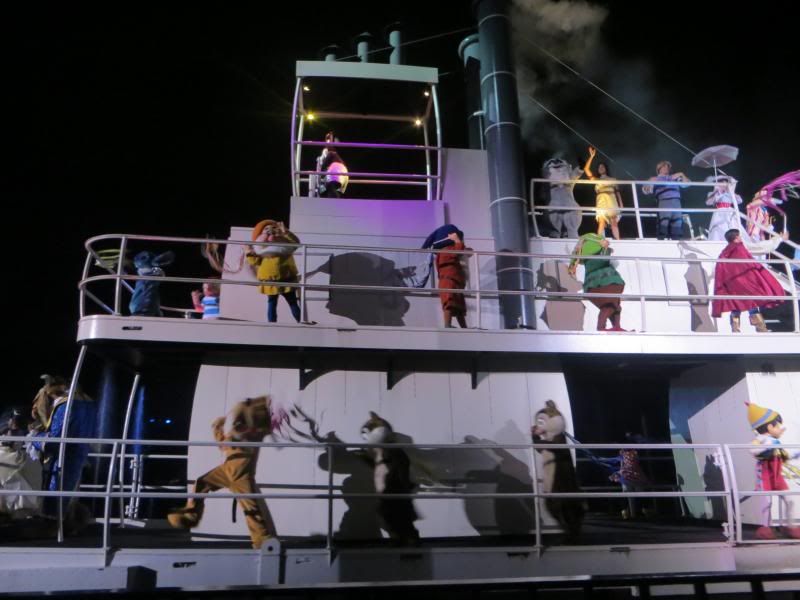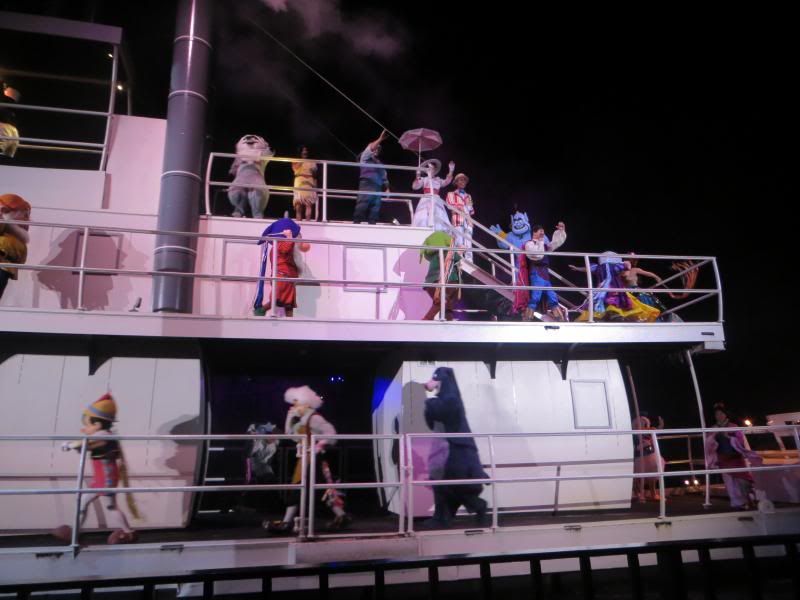 After the show we left the park with the masses. I hate being in these giant crowds! I'm afraid Antonio will get trampled. We were able to find the stroller pretty easily and that was nice.
Right by the entrance was a Cast Member painting with water. Can you tell what he's making?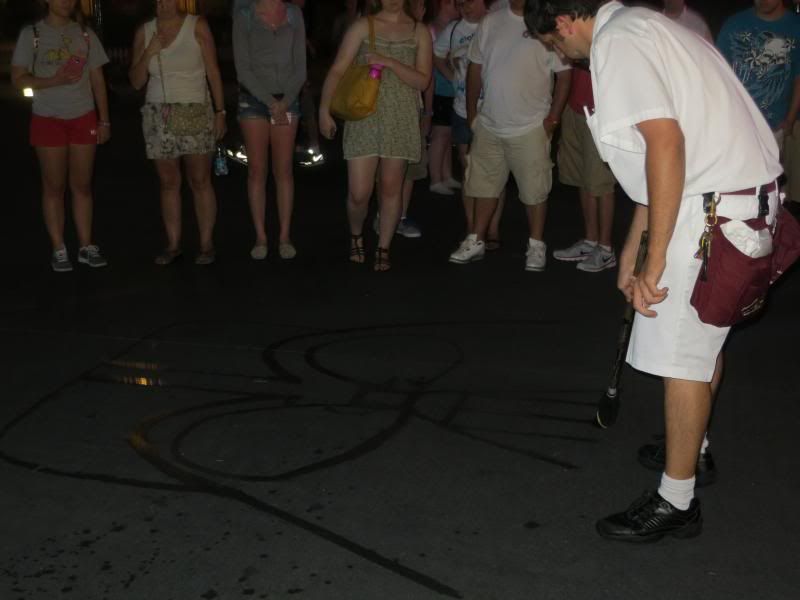 When we got back to the room, I stayed up doing some packing. We had to hit the road for Miami in the morning! It was cruise time!
Posted by MarathonMama629 11:01