Day 8
7/13/15 - 7/13/15
Day Eight July 13
Although, I know he had to be tired, Antonio didn't sleep too late. We got up and ready to go to California Adventure. We stopped in the lobby and got some hot chocolate (all they had for free was that and coffee, no breakfast. Boooooooo!). Antonio bought himself some jewels out of a gumball machine. He's very in to jewels right now.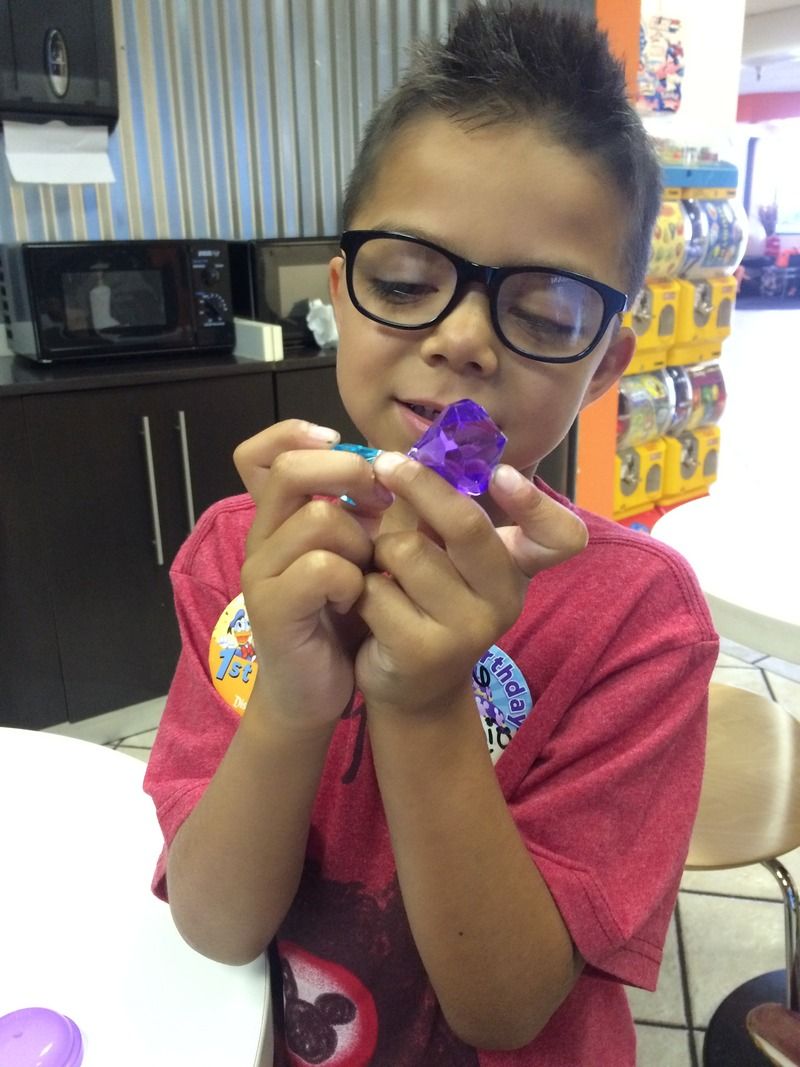 We stopped by the car and put sunscreen on, replaced the ice in the cooler, grabbed some bottled waters, and headed on our way.
Quentin forgot how I tour parks and thought we were going to go to Downtown Disney first and get Starbucks. I don't think so buddy! He went to the one in the park, while the kids and I met Dale and Minnie. I grabbed fastpasses to meet Anna and Elsa while they waited in line for Minnie. I made it back just as they got to the front of the line.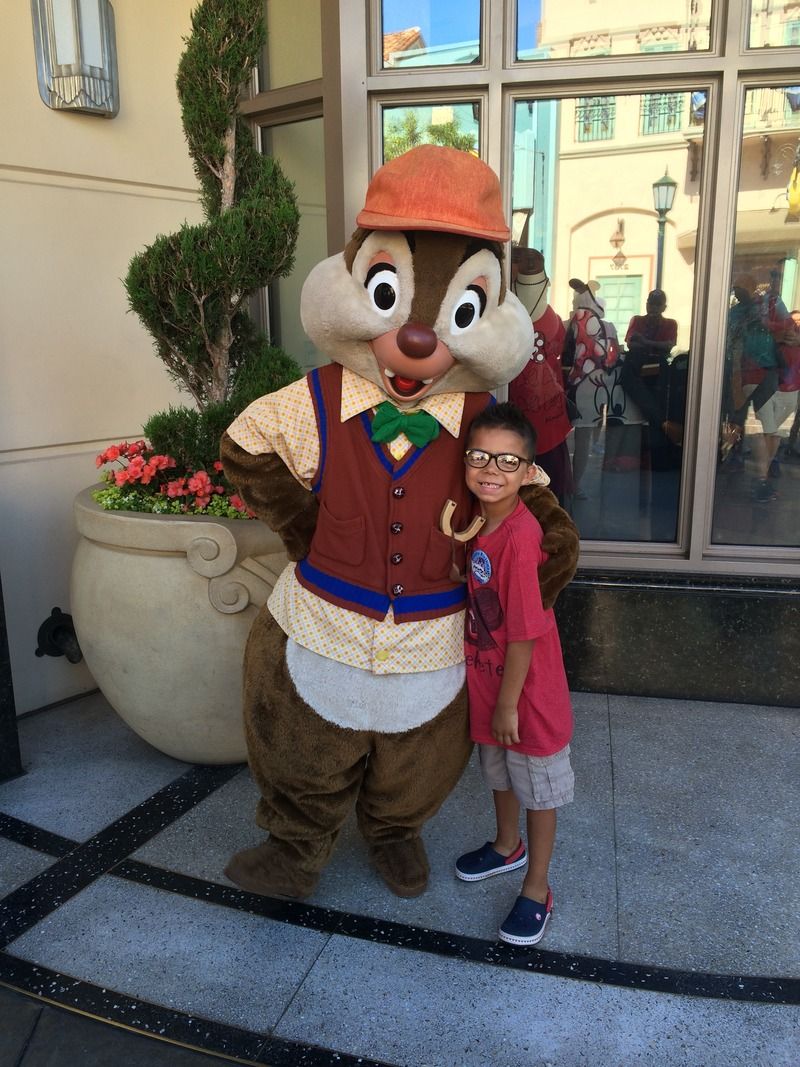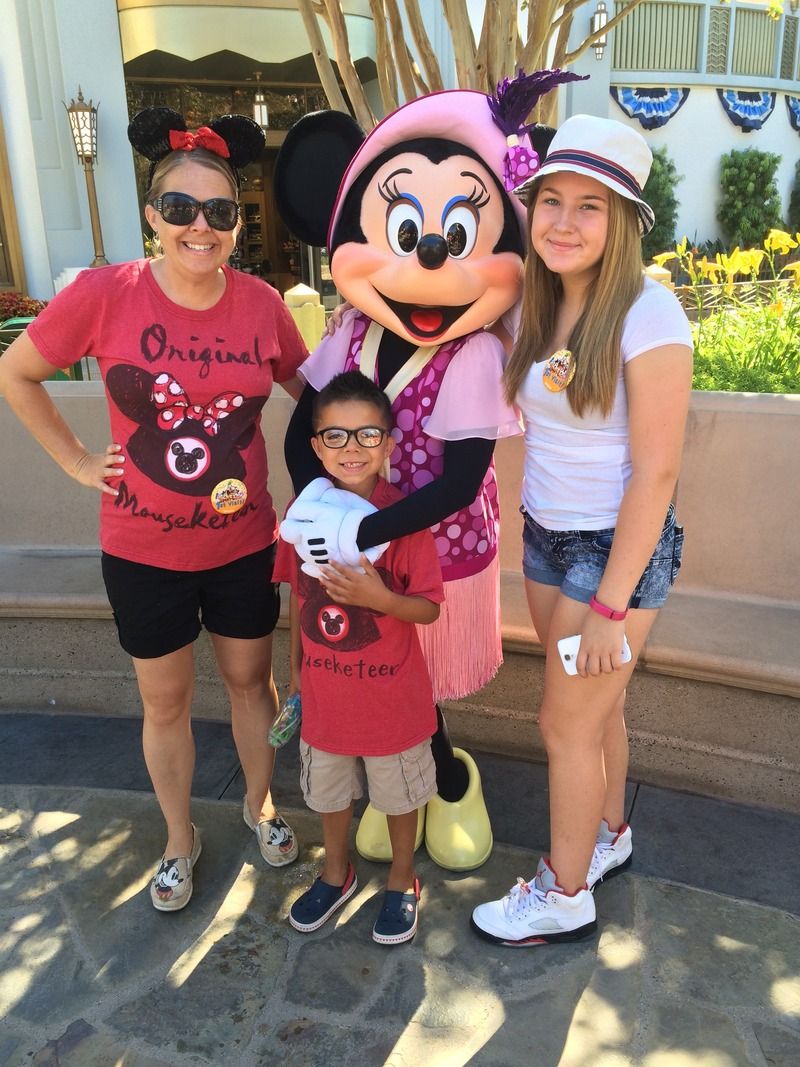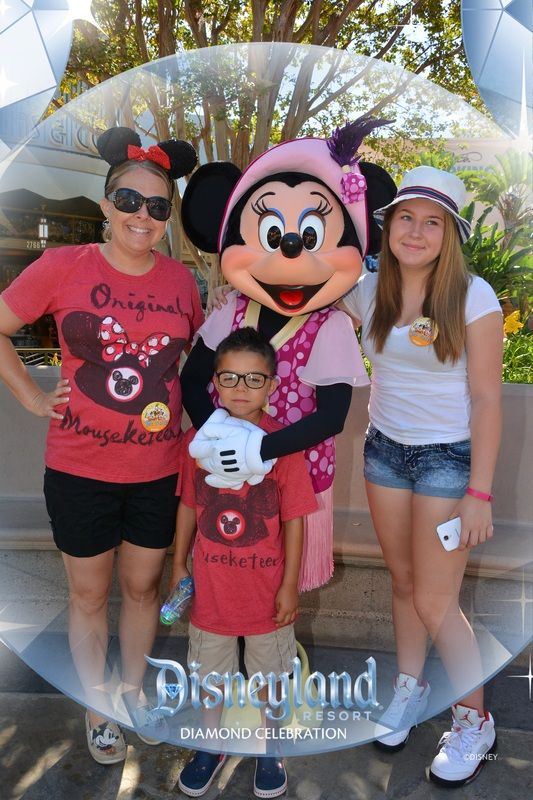 Then we went to get fastpasses for Radiator Springs. It wasn't even 10 am, and the passes were for after 4 pm. Quentin caught up with us there. He hadn't gotten his Starbucks because they were too slow and he got frustrated with them. I sent him and Halie to ride Tower of Terror while Antonio and I rode some kiddie rides.
First we rode Junkyard Jamboree. He whined so much in line, we nearly left the park. Quentin had a big talk with him this morning about his behavior the night before and about how the two of them could hang out in the hotel all day, while Halie and I have fun at the park. Part of the problem was the line said 10 minutes, but suddenly they started only running one side of the ride which made the wait double. When we got to the front, they finally opened the other side and we both loved the ride!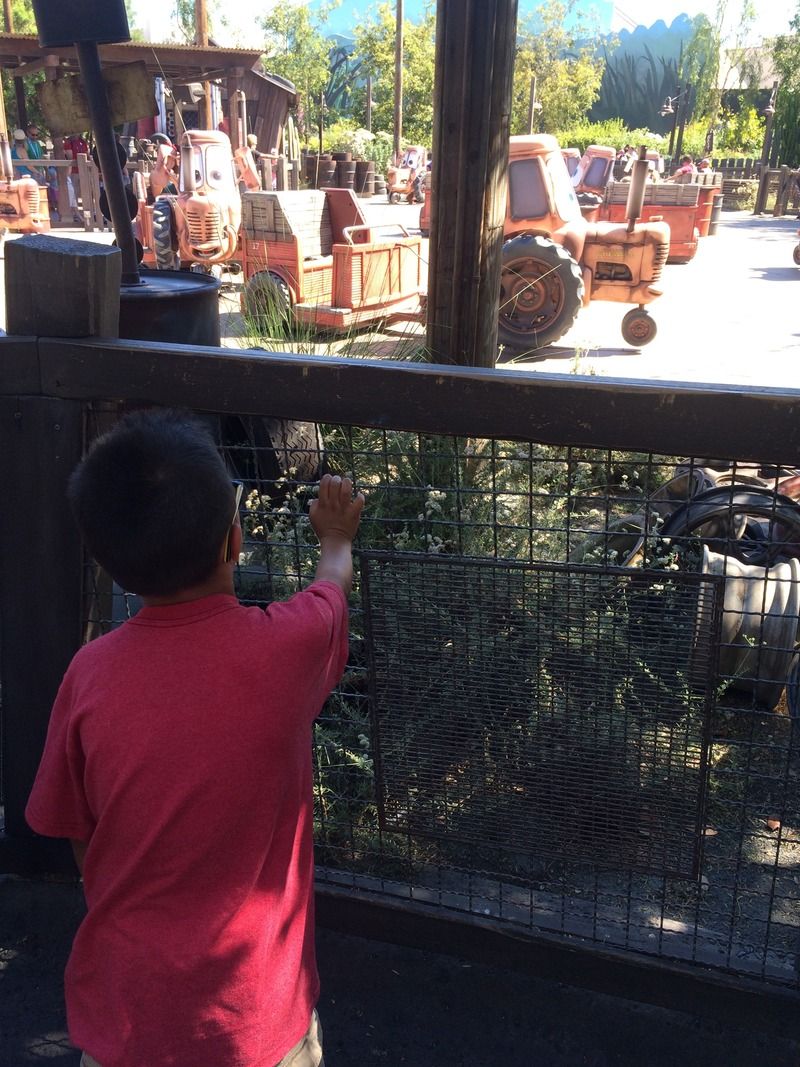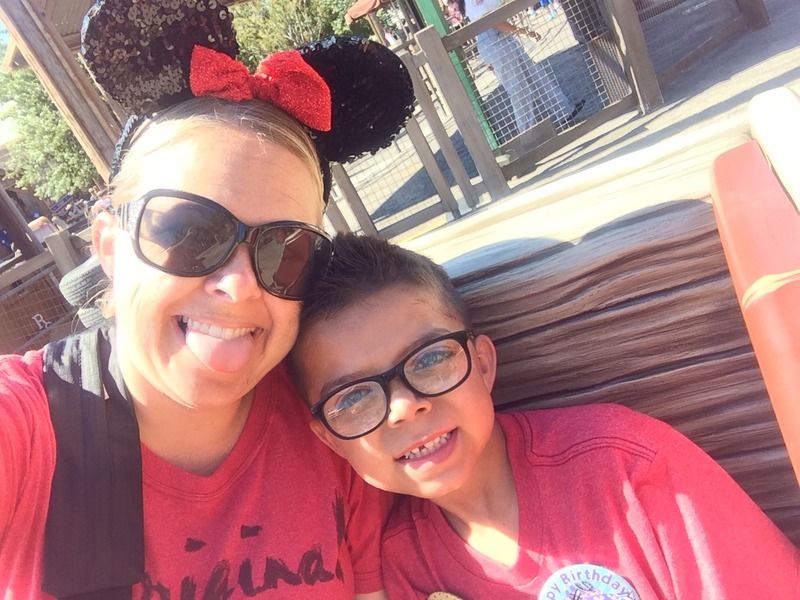 After the ride, Antonio wanted a snack. I told him I wanted to get a quick picture by the Radiator Springs sign first. He refused to get in the photopass picture, then when he did get up, he refused to smile. I was so annoyed.
We went and sat on a bench and I told him he was in timeout. He was very upset because he wanted to go to the Bug's Life area. While we sat there, I peeled one of the oranges we had gotten off the ground from Somis. It was so deliciously juicy and made me a huge mess! Luckily I had a bottle of water to clean my hands. After some orange, Antonio was in better spirits and we headed to Bug's Life.
First we rode the Dumbo style ride. It was really cute and a short wait.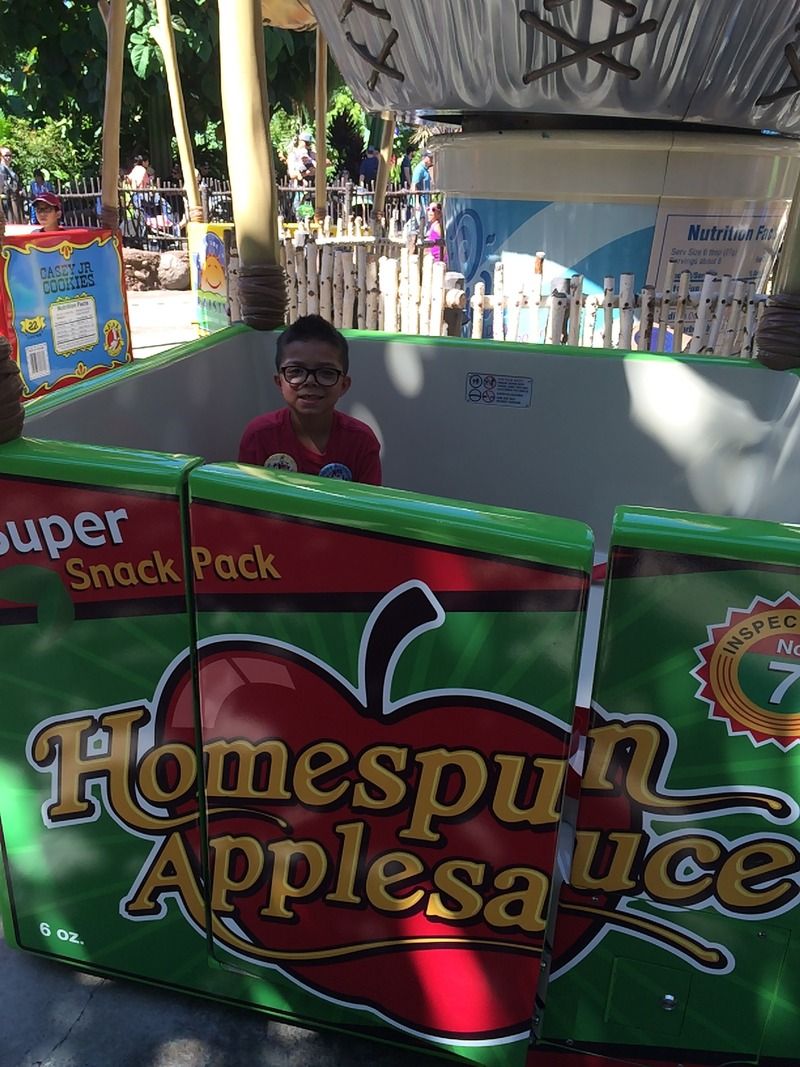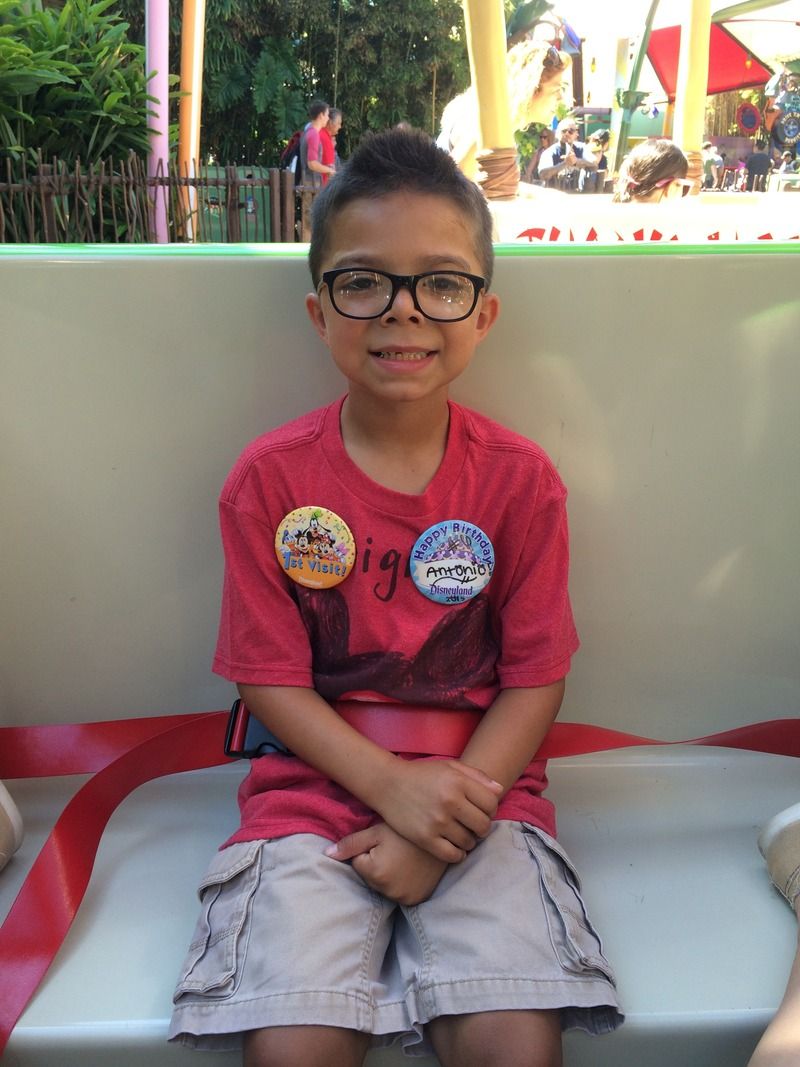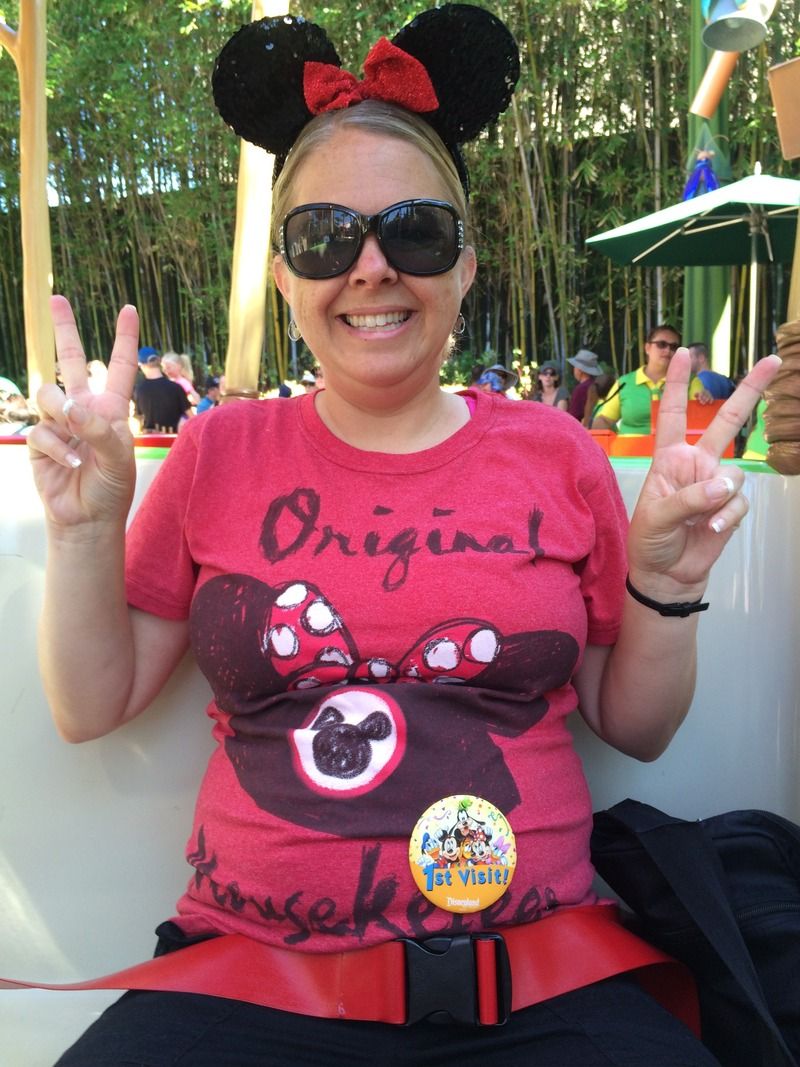 Quentin and Halie found us after that ride. Quentin loves Tower of Terror, Halie thought it was fun but made her heart and stomach drop.
We all rode the Ladybug ride together. Then I sent them to do California Screamin' in the single rider line.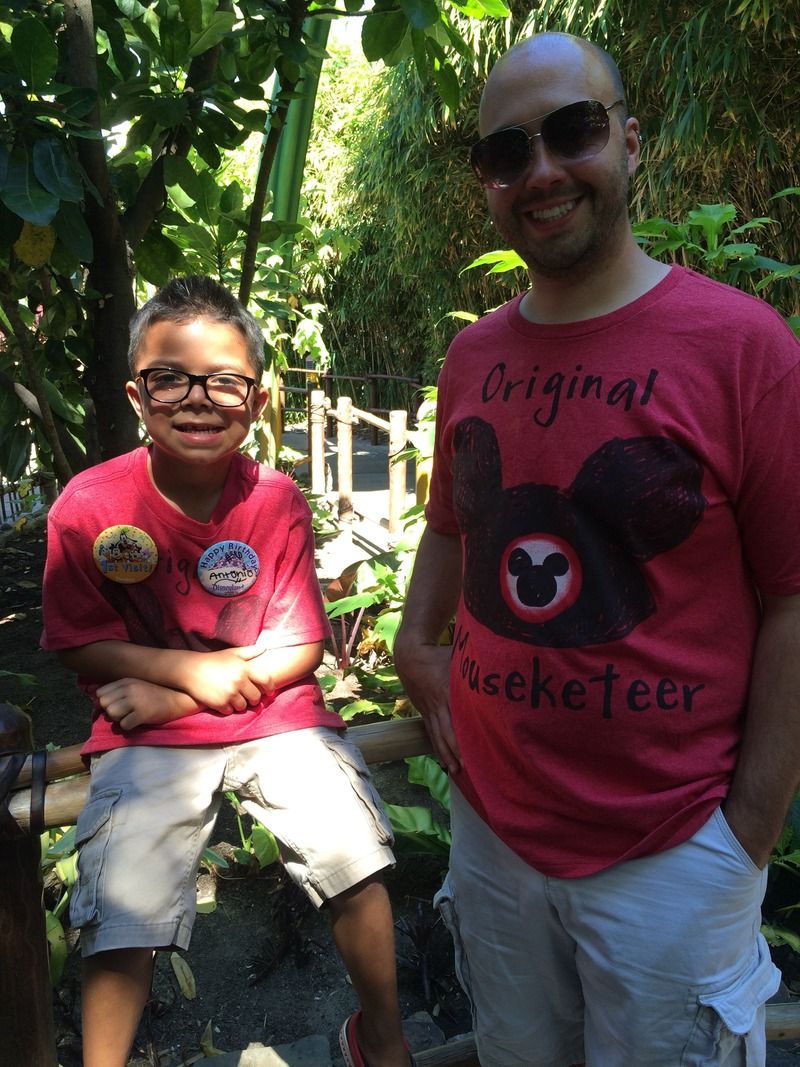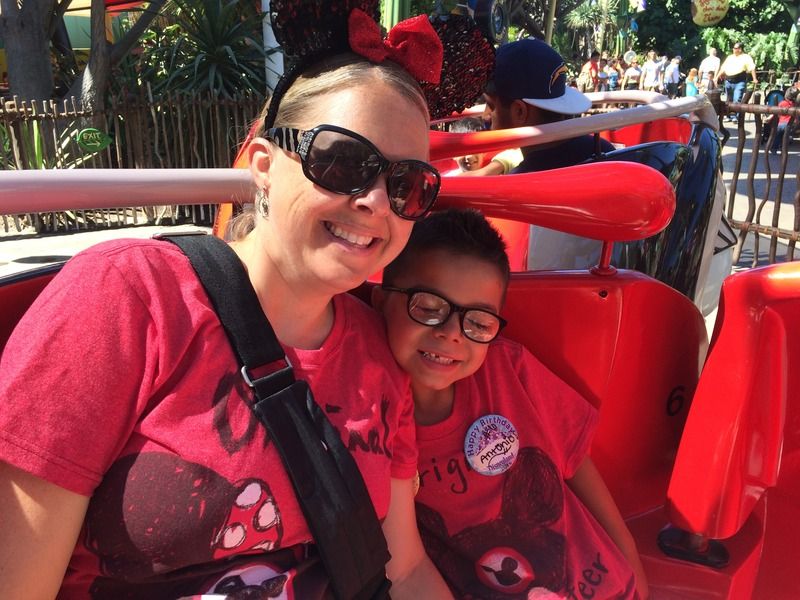 Antonio and I rode the crazy slow bumper cars next.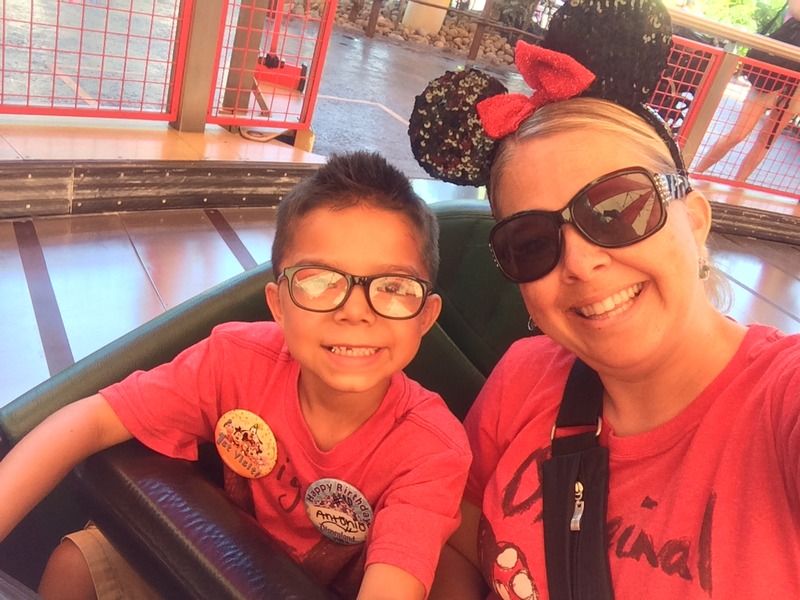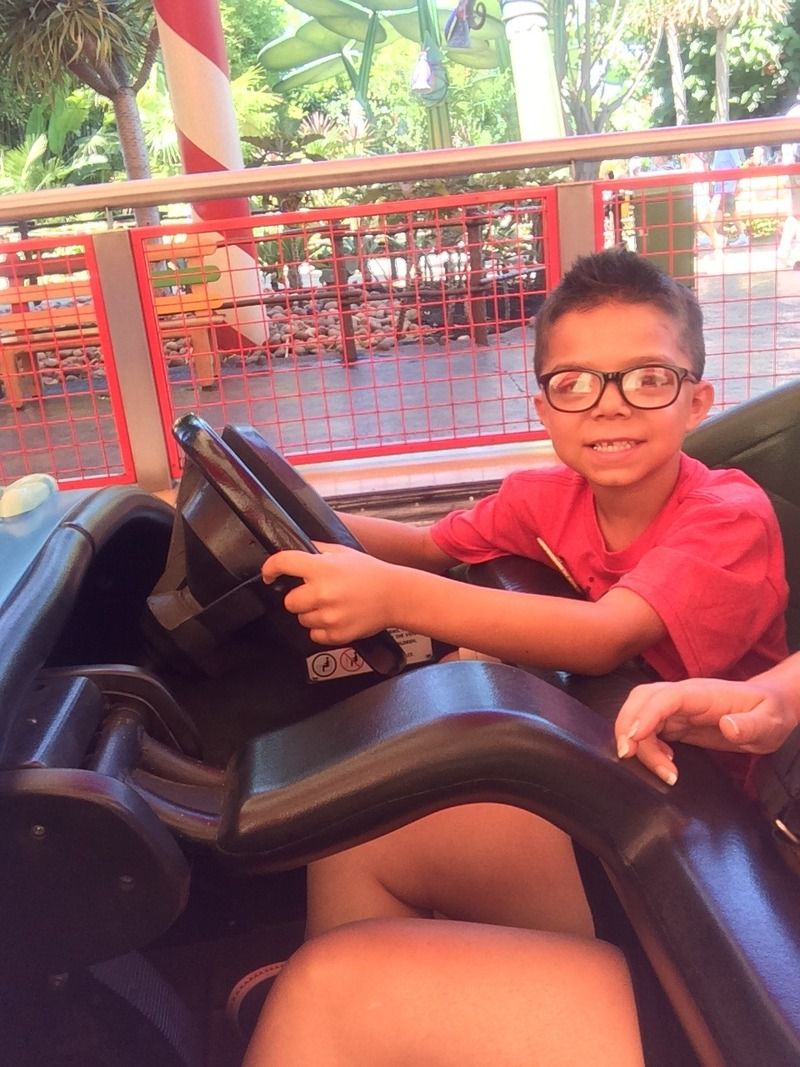 We grabbed a bottle of water from the stroller and he played in the water for a minute. Then we went to ride the Chew Chew train. It was really cute.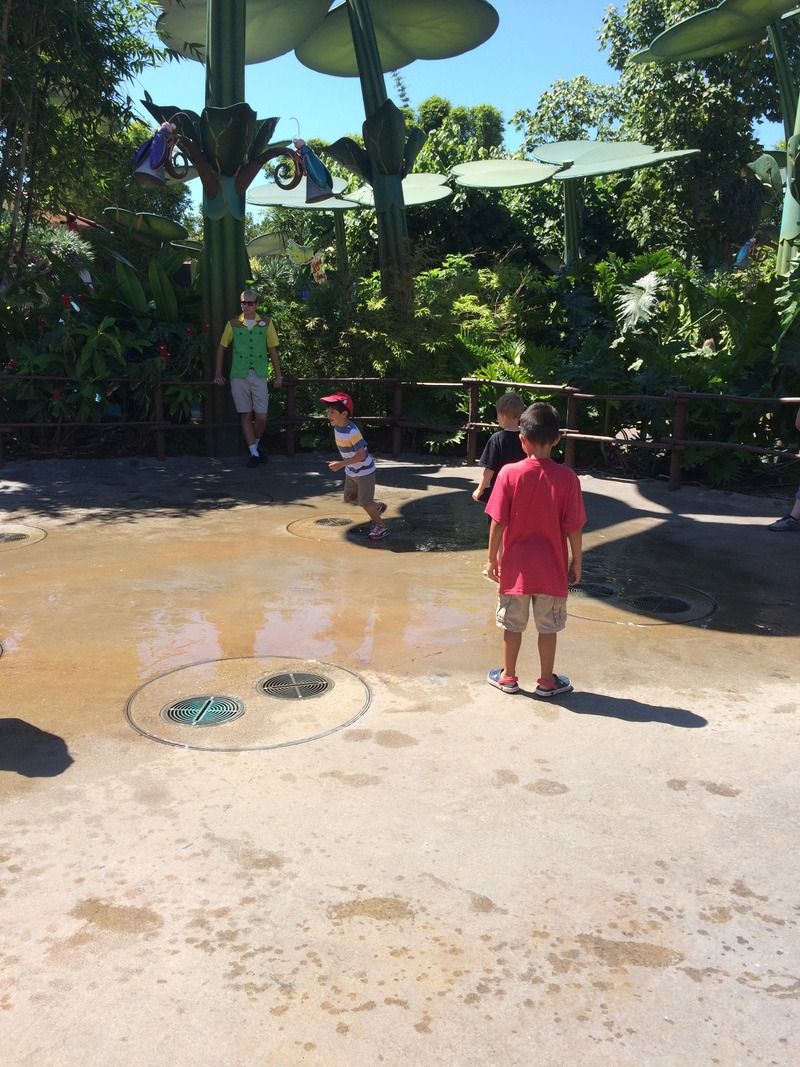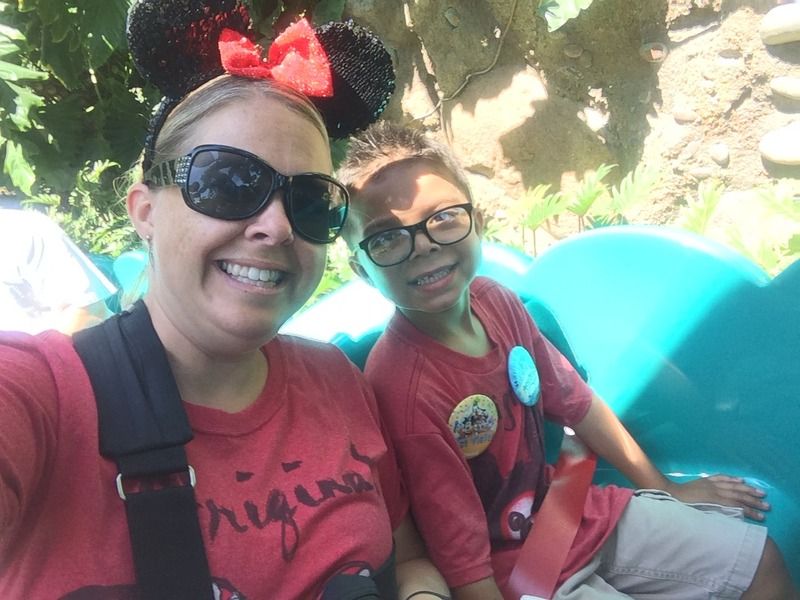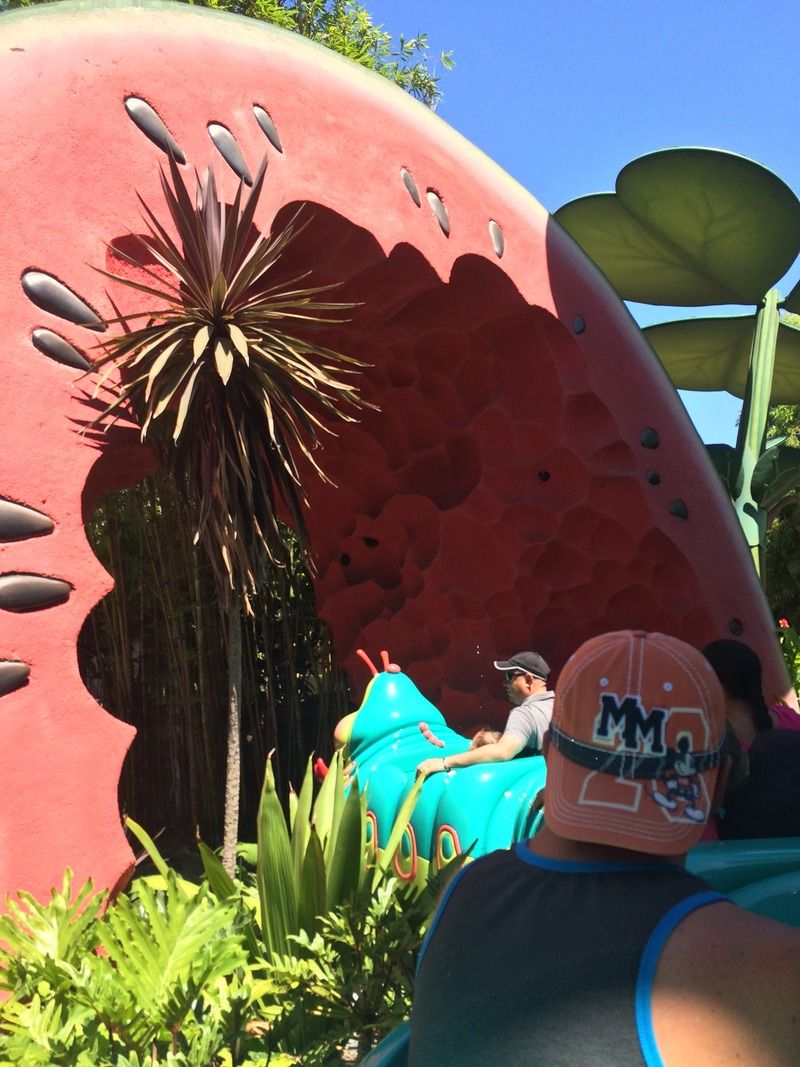 Antonio found a huge leaf. I love that he notices the little things.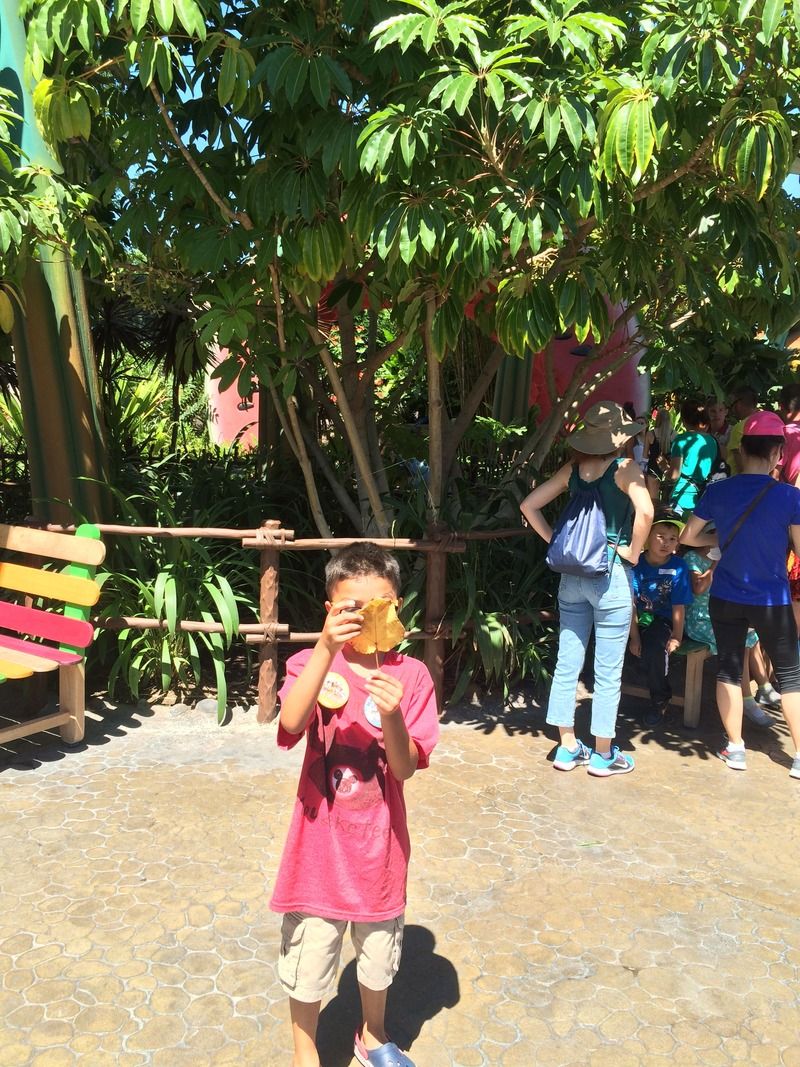 It was almost time for our Anna and Elsa fastpass, so we made our way to the front of the park. We sat down in the Animation Building to wait for Halie and Quentin. I was worried they weren't going to make it. I checked the fastpasses again and that's when I realized that although they started at 10:30, the expiration was only 20 minutes later. Not an hour! Whoops! I went and asked the guy at the line if we could please still go and he let us. We were almost to the front when Halie and Quentin arrived. This line was so much more manageable then the line for the Frozen sisters at Disney World. Plus, there are cartoons for the kids to watch while you wait.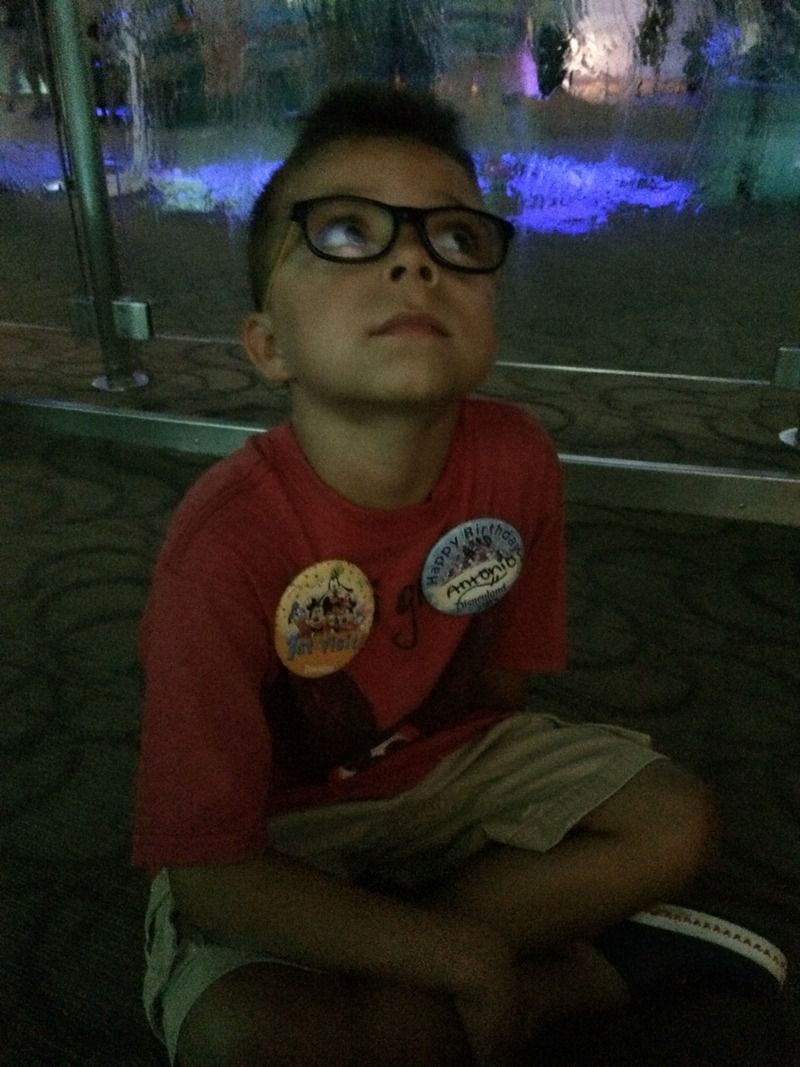 For some weird reason, Antonio wouldn't get up to meet Anna and Elsa. He loves Elsa. I don't know what his deal was.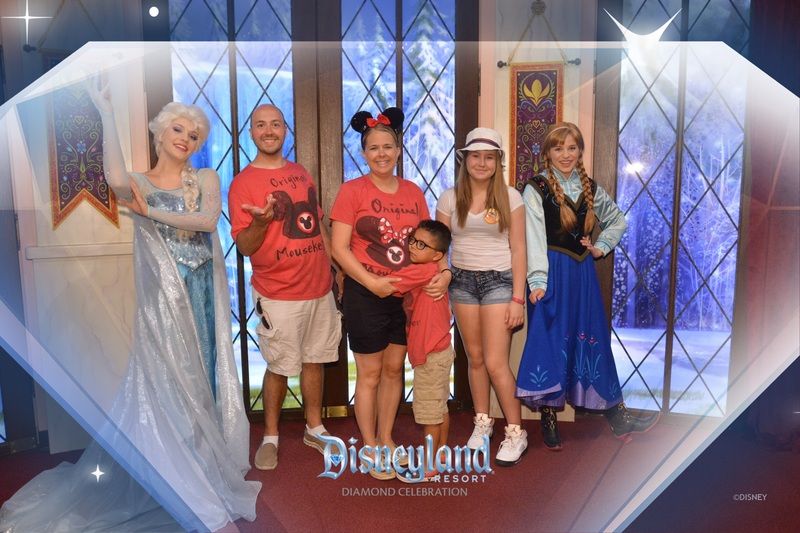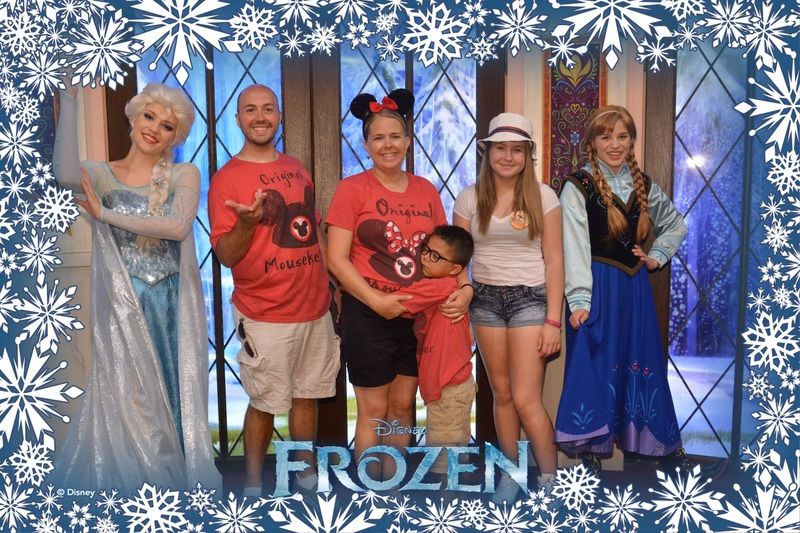 I love my Prince Charming!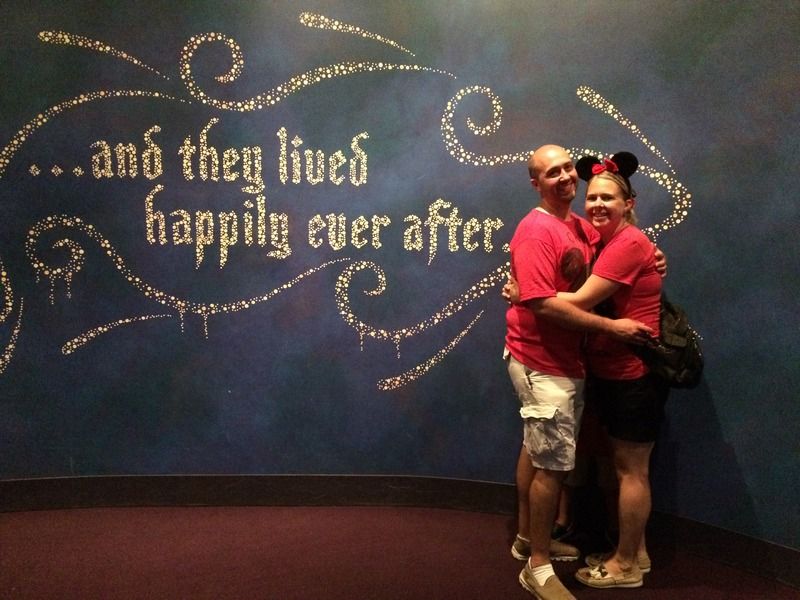 After the ice sisters, we went to the Monster's Inc. ride. The line was really long. I'd never had to wait outside before. I thought we would only be waiting inside where there was cool stuff to look at.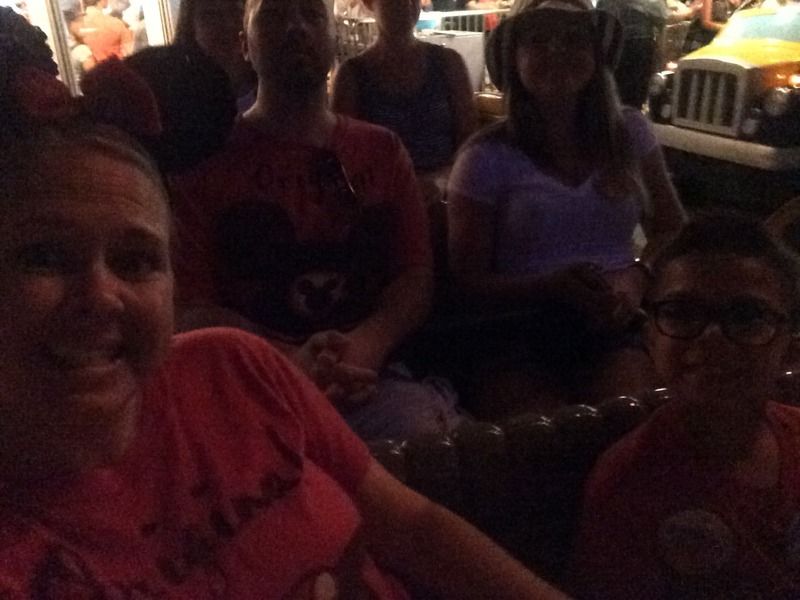 After the ride, the Princess was really hungry and grouchy. We wanted to stay in that area so we could catch the next Frozen Sing a Long, so we just got some hot dogs. Halie got a chili cheese dog, and Quentin and I got some type of sausage with marinara and mozarella. It was all very yummy. Halie didn't want to go to the show. She wanted to sit out and look at her phone. She said she was too hot. I told her it would be cooler in the show, and she could look at her phone in there. Antonio refused to eat and also didn't want to go to the show. Halie and I went in and Quentin was staying out with him and Antonio decided to go in. Of course he loved it. Boy, this kid needs a nap.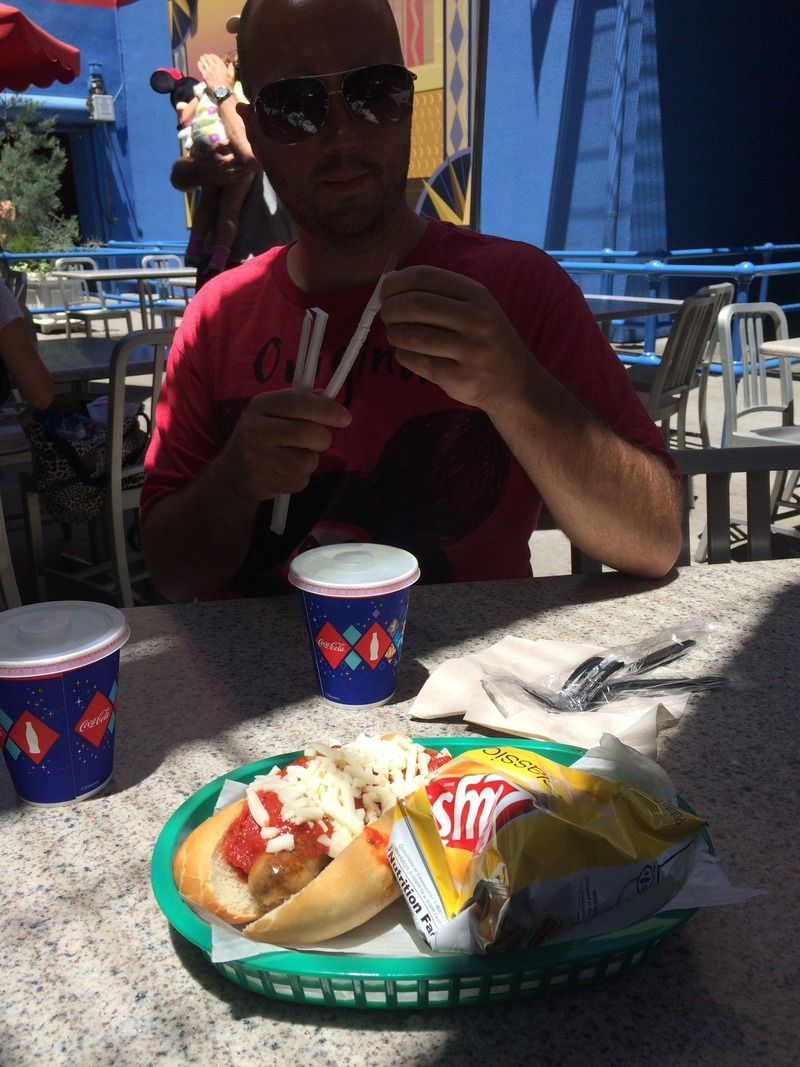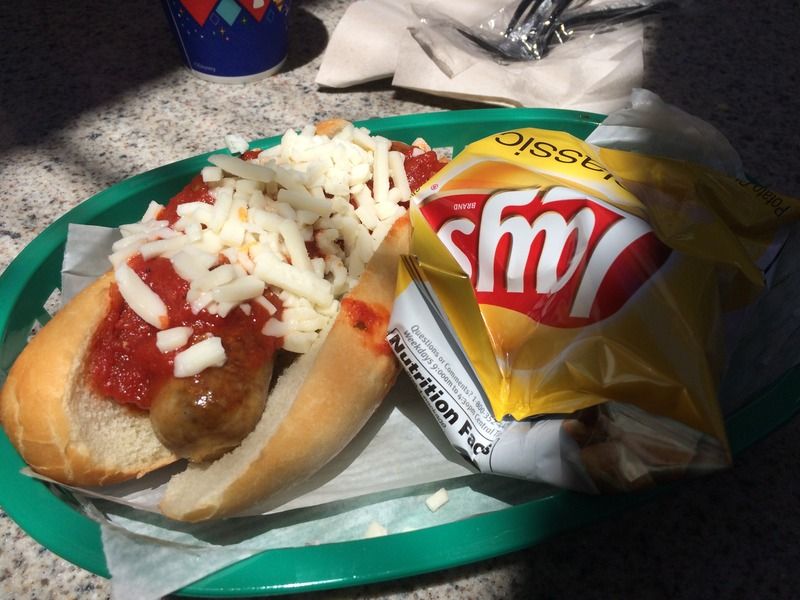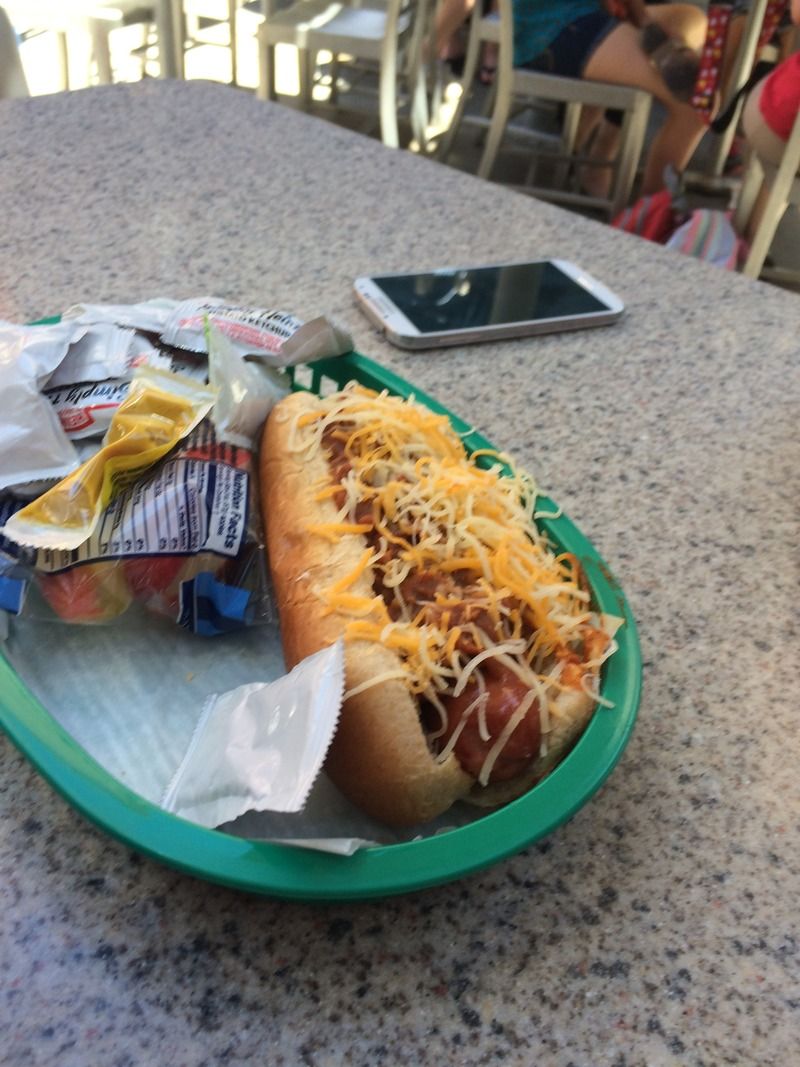 Sometime we got a pic with the Roy statue.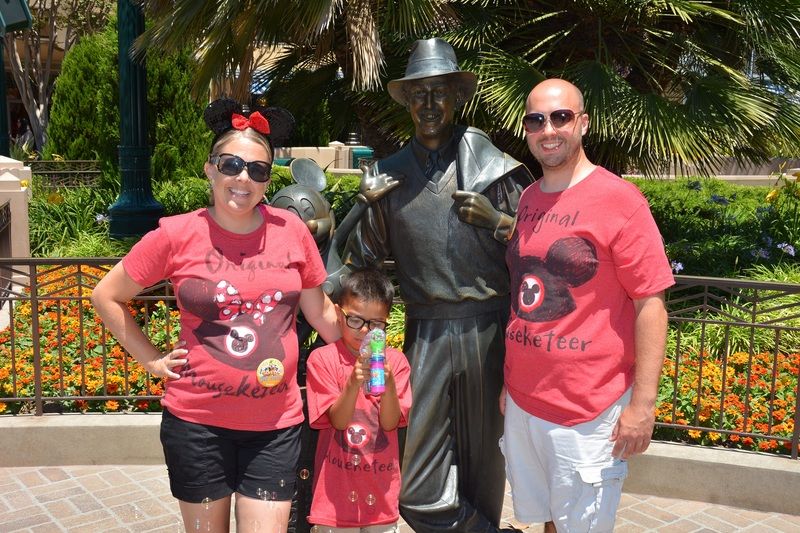 We decided to head out of California Adventure after that. Not before meeting Oswald though!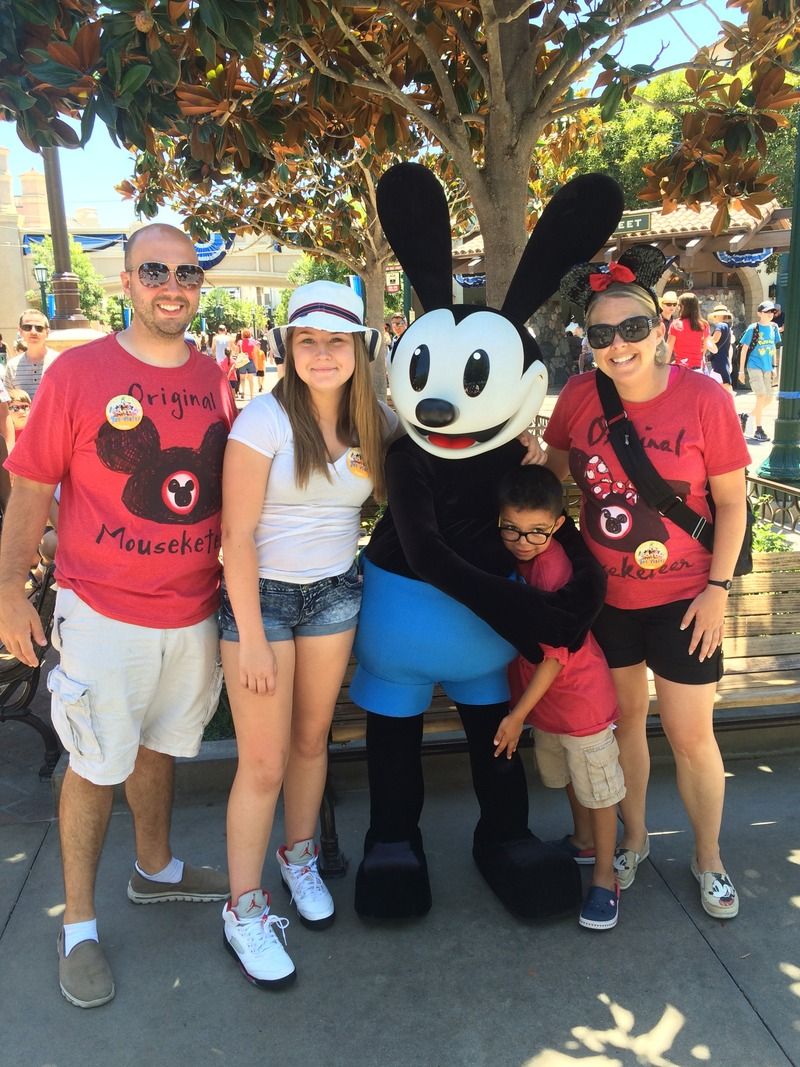 Antonio was wanting to go to the Lego Store again and spend some of his own money. I wanted to go to Disneyland and grab Indiana Jones fastpasses for later. We split up and the boys went to Legos, and the girls went to Disneyland.
Halie and I walked in and saw one of the cool double decker trollies waiting up front. We decided to ride it down Main Street.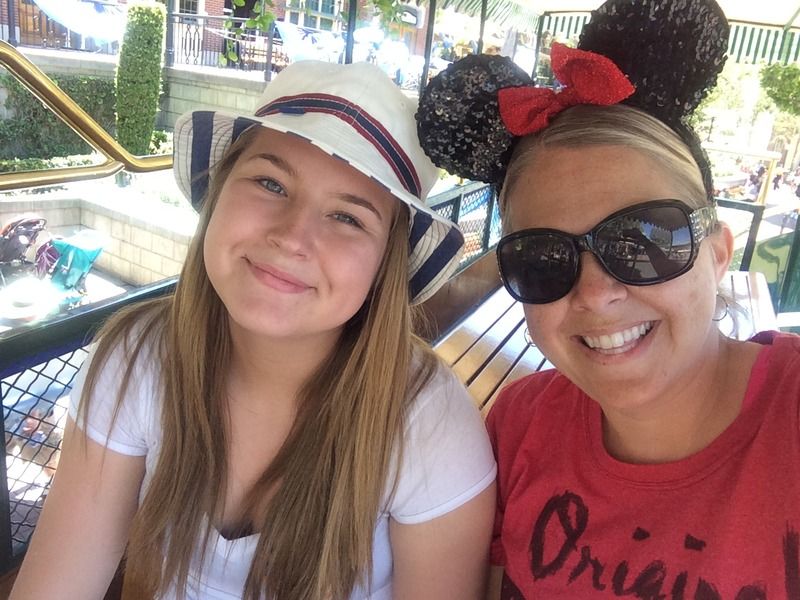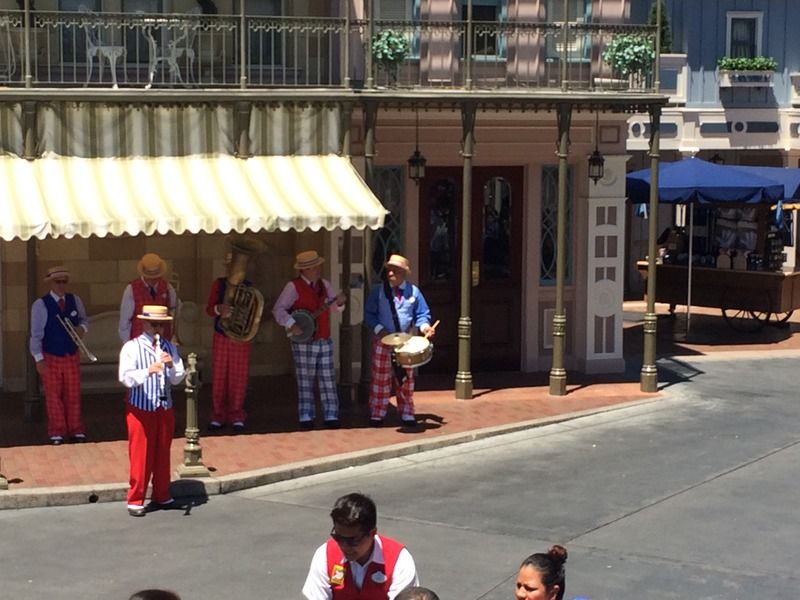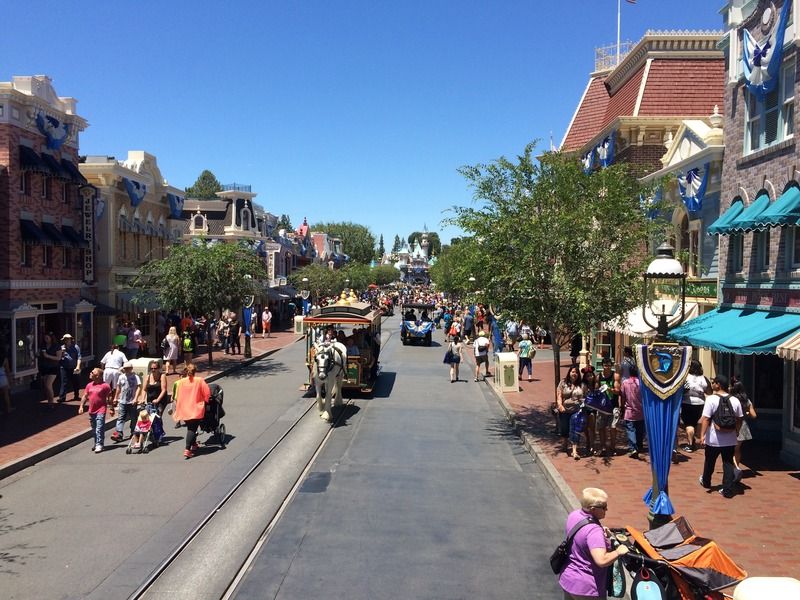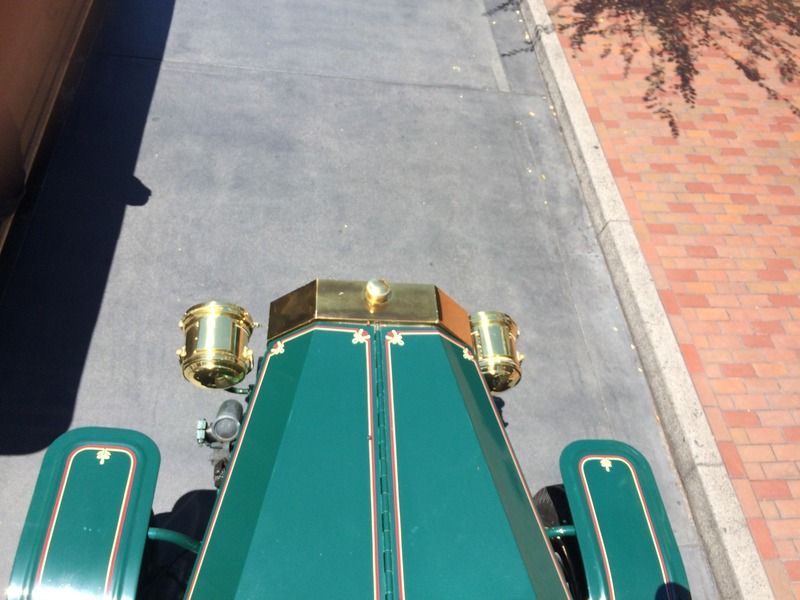 We got a few photopass pics by the castle. Then headed over to get the fastpasses for Indiana Jones.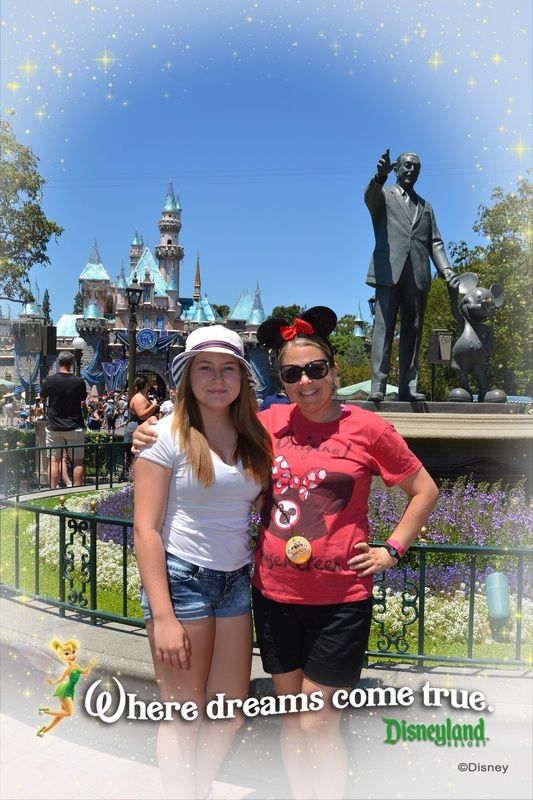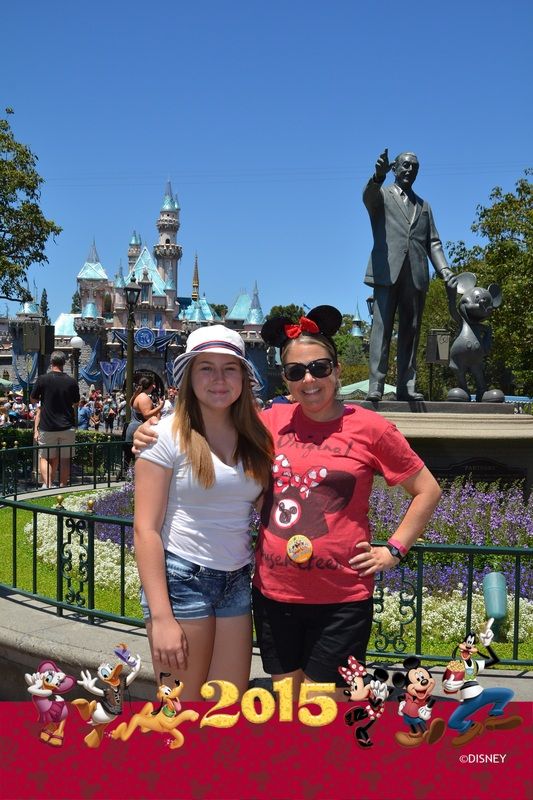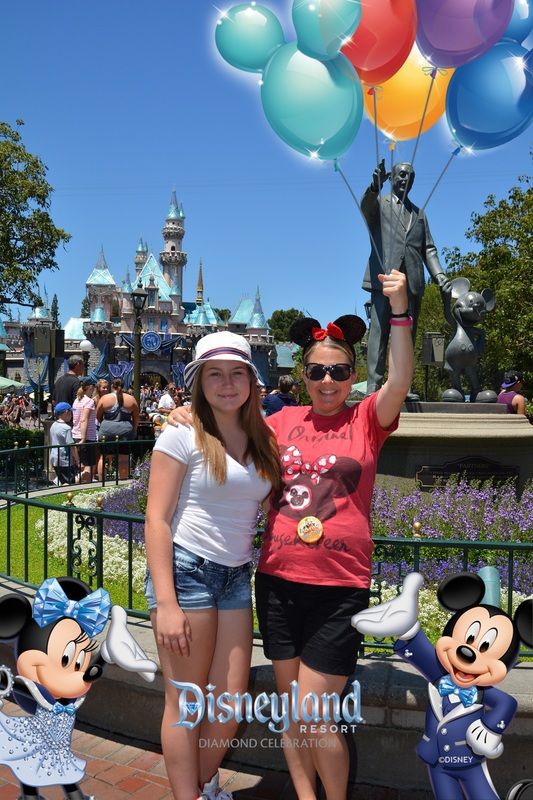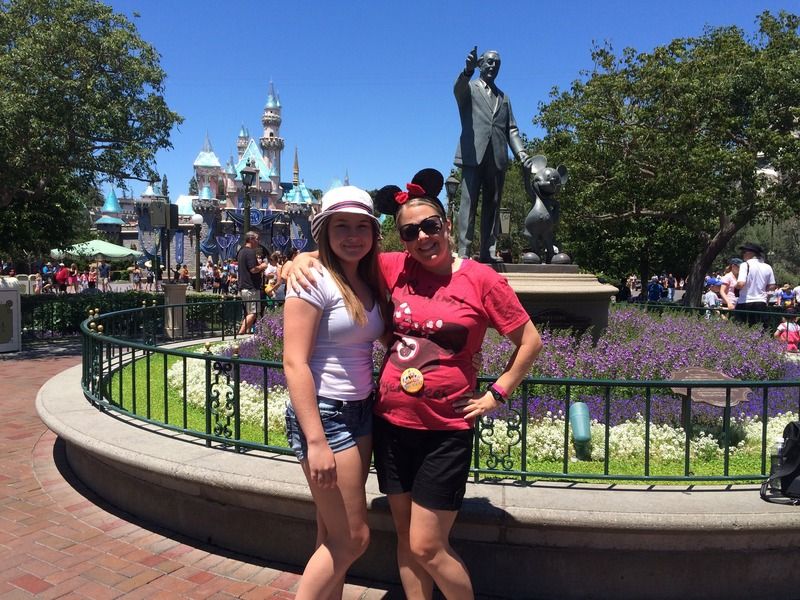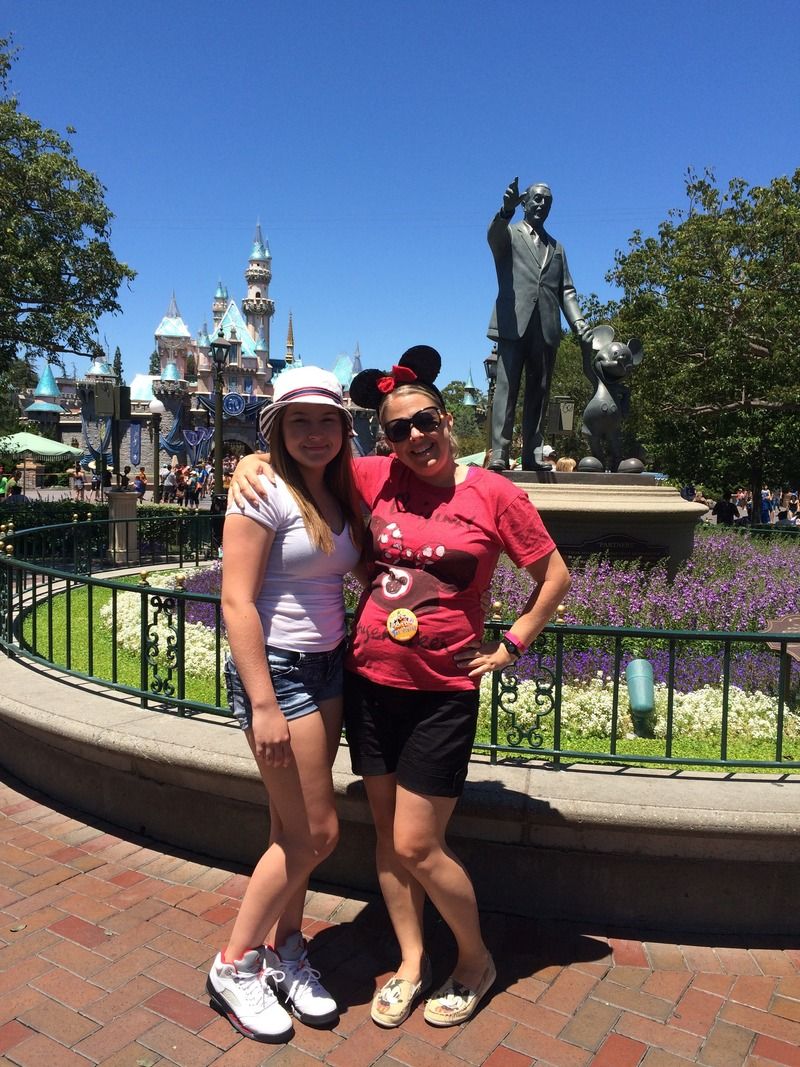 We thought we would ride the train back to the front. Well it was right by Pooh and it had a short line so we rode that. I bought the baby a bib from the gift store. I almost bought this Minnie and I'm glad I didn't because Emily Mitsch sent me one!
Then we went to New Orleans square to take the train and waited forever!!!! I mean, literally, we waited like 5 rounds before we got on the train. Thank goodness we had gotten some frozen lemonades or this pregnant lady would have melted while waiting.
We met the boys in Downtown Disney. I still wanted to go to Build a Bear with Antonio. Halie found our old seat by the Mexican restaurant with the charger access and sat up shop. Quentin and her split a po boy sandwich while we went to Build a Bear. (Sidenote, they went to the New Orleans style restaurant to order to go, rather than the quick service side, so it was definitely more expensive. They didn't notice there were two sides.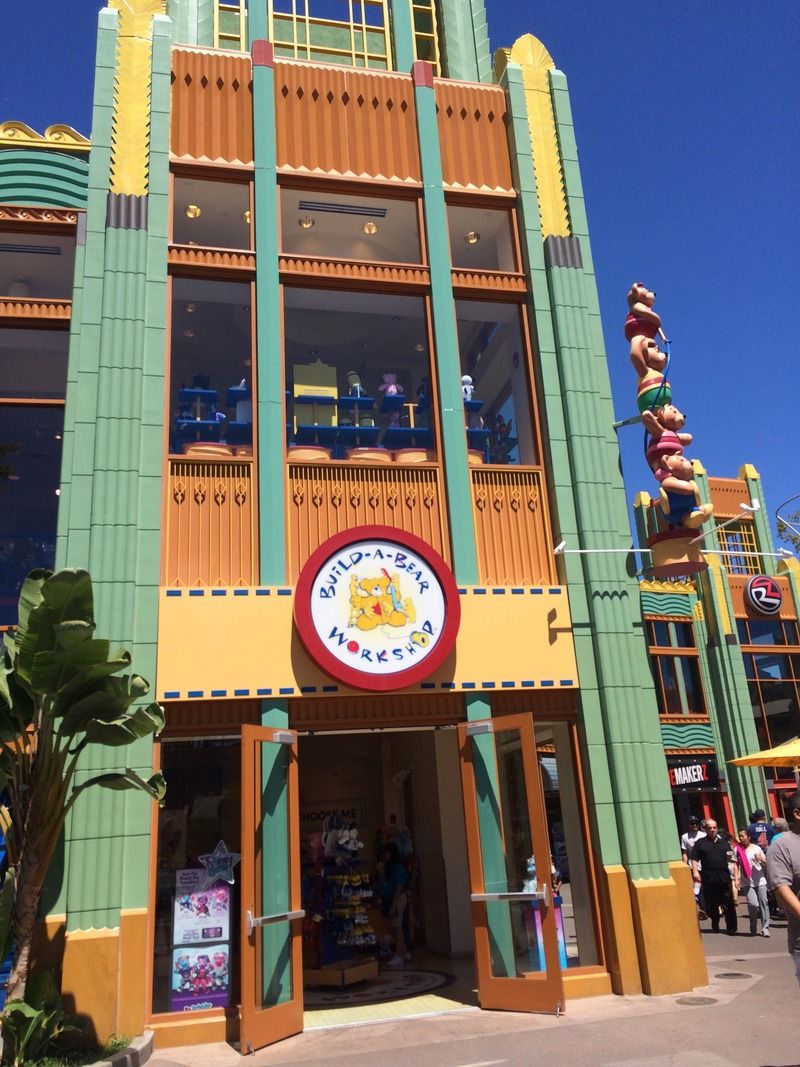 I got the 60th Anniversary Disneyland bear. Antonio wanted a dragon. I told him no, that we were getting Disney stuff to commemorate our trip. I asked the workers which animal was cheapest and they said upstairs you can ask for the $12 bear. They just don't have them out on display.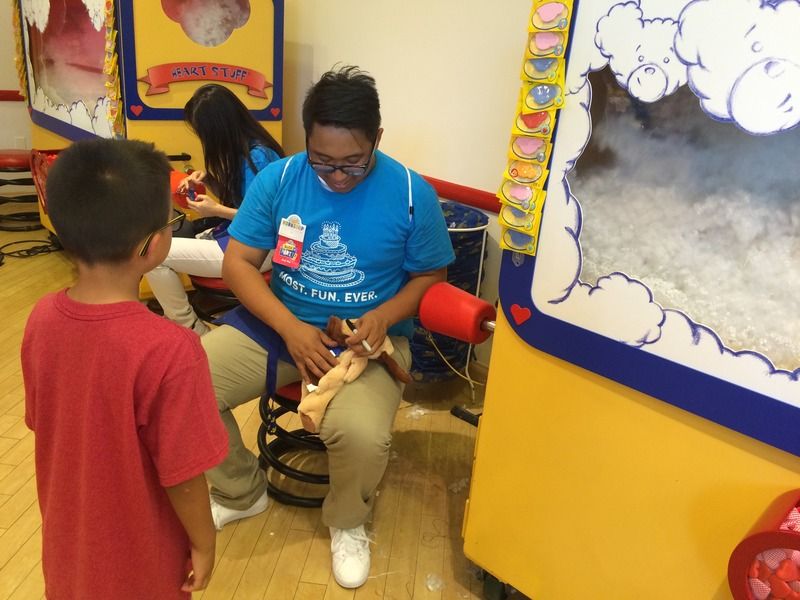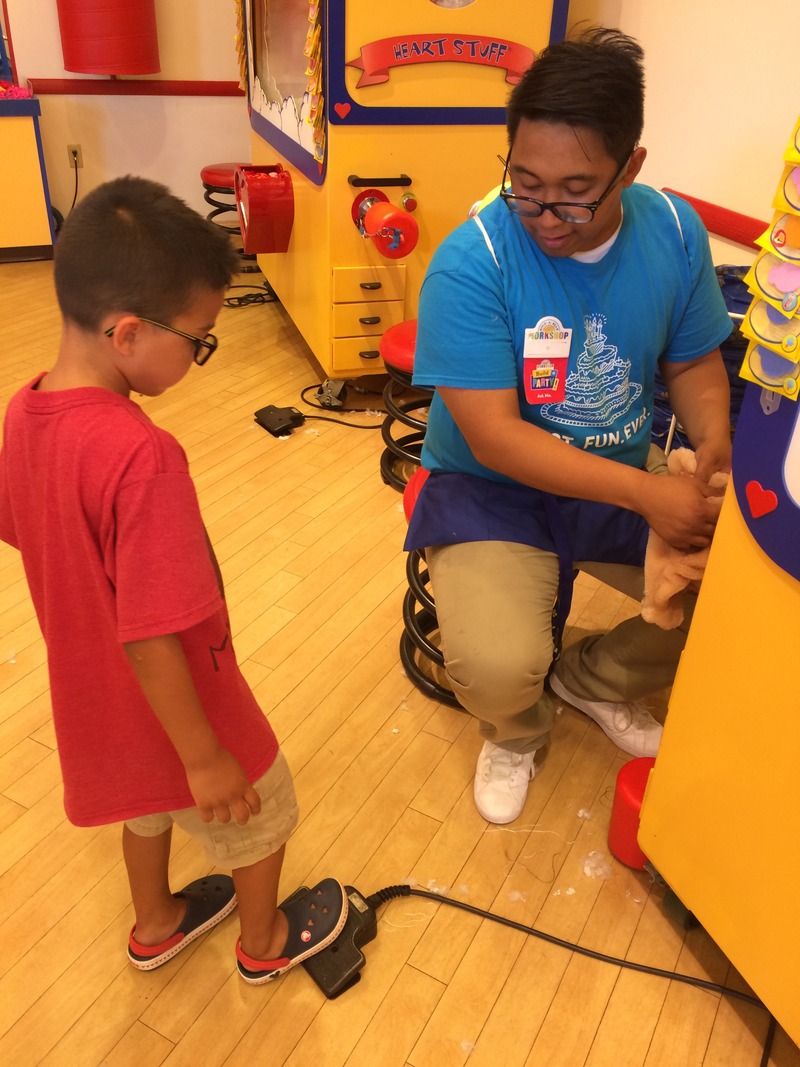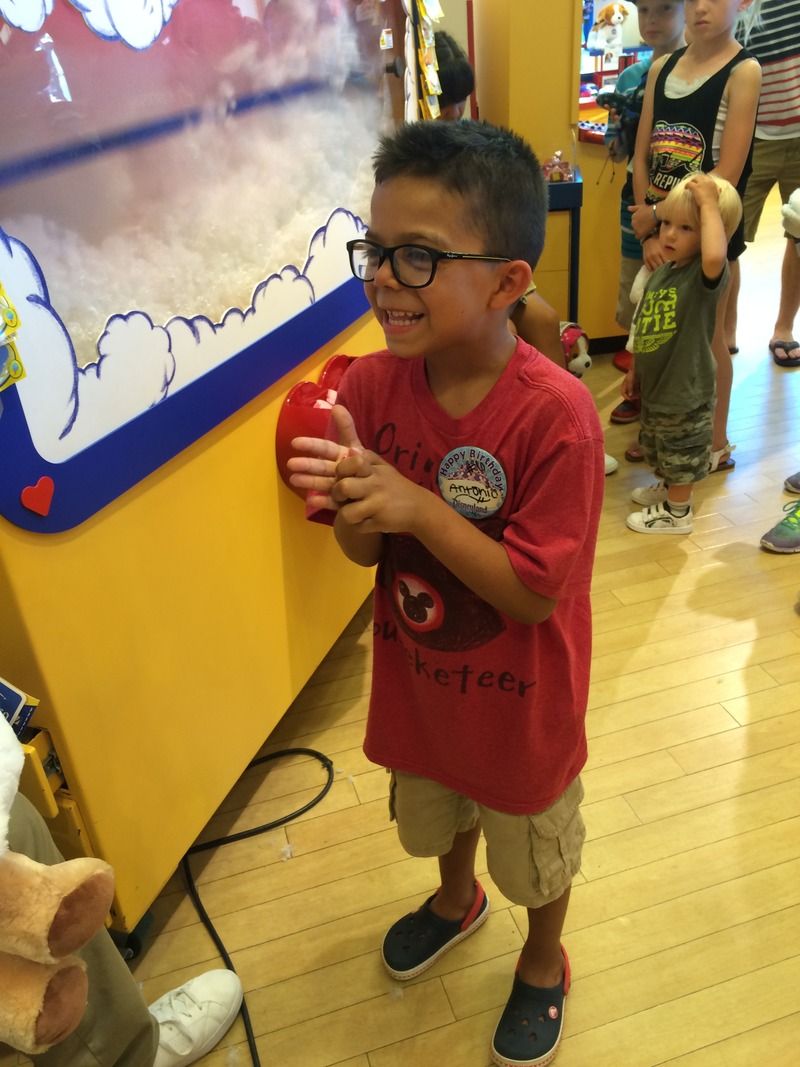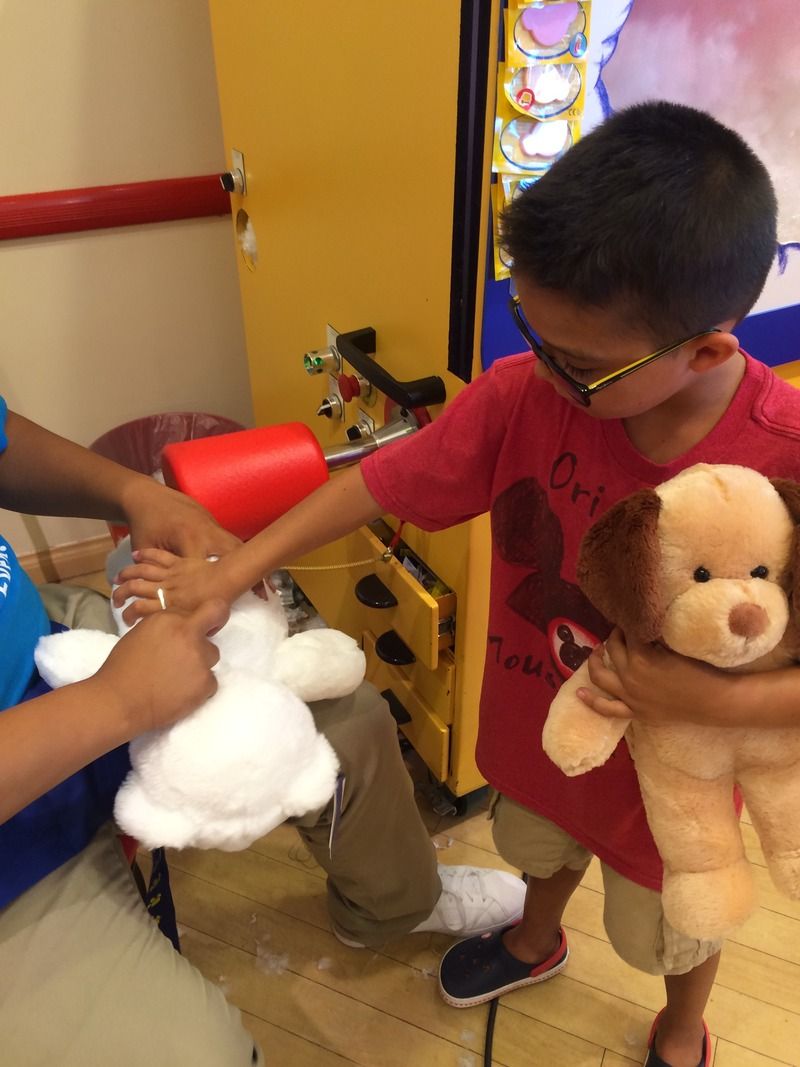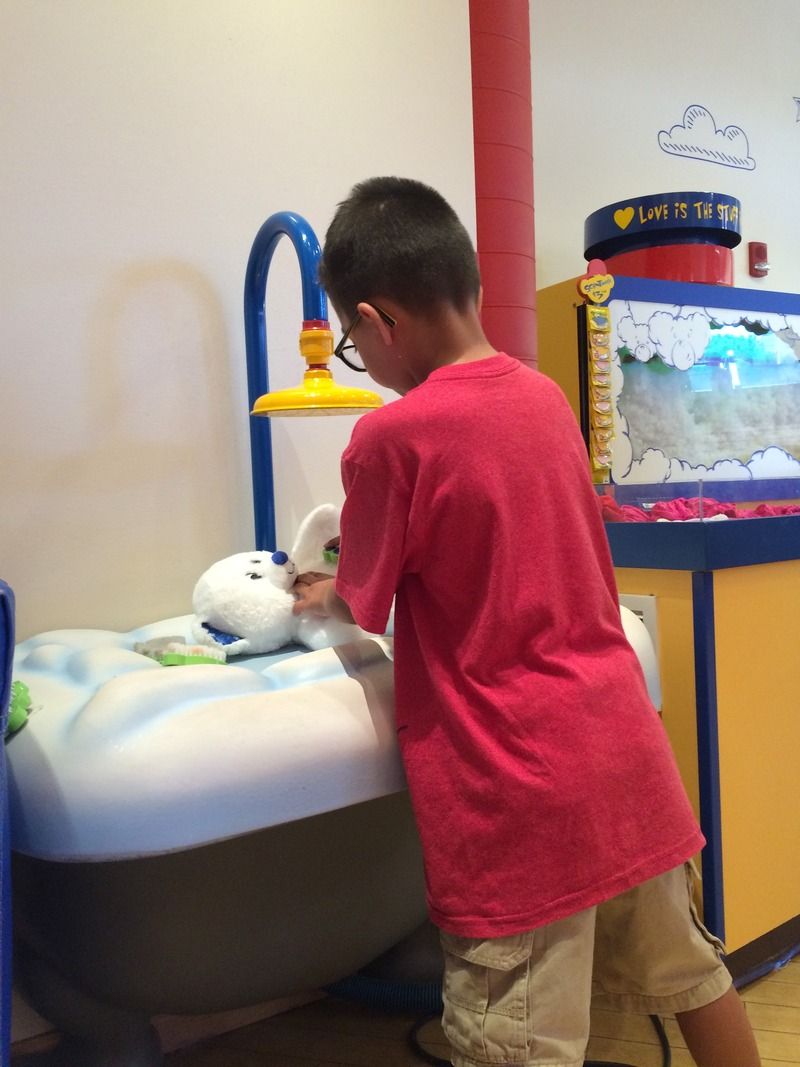 Antonio named his bear Rocky short for Rocket. I named mine Baby for the baby!
We both got the anniversary outfits. I'm ashamed to say how much money I spent in that store, but I definitely have a build a bear gift certificate coming my way due to our spending. Antonio also got glasses for his bear that match his own. I also got him a backpack that he could carry the bear with that he promptly took off within half an hour and made Quentin wear. I figure he will have fun with the carrier when the baby is born and I'm carrying our baby in a carrier.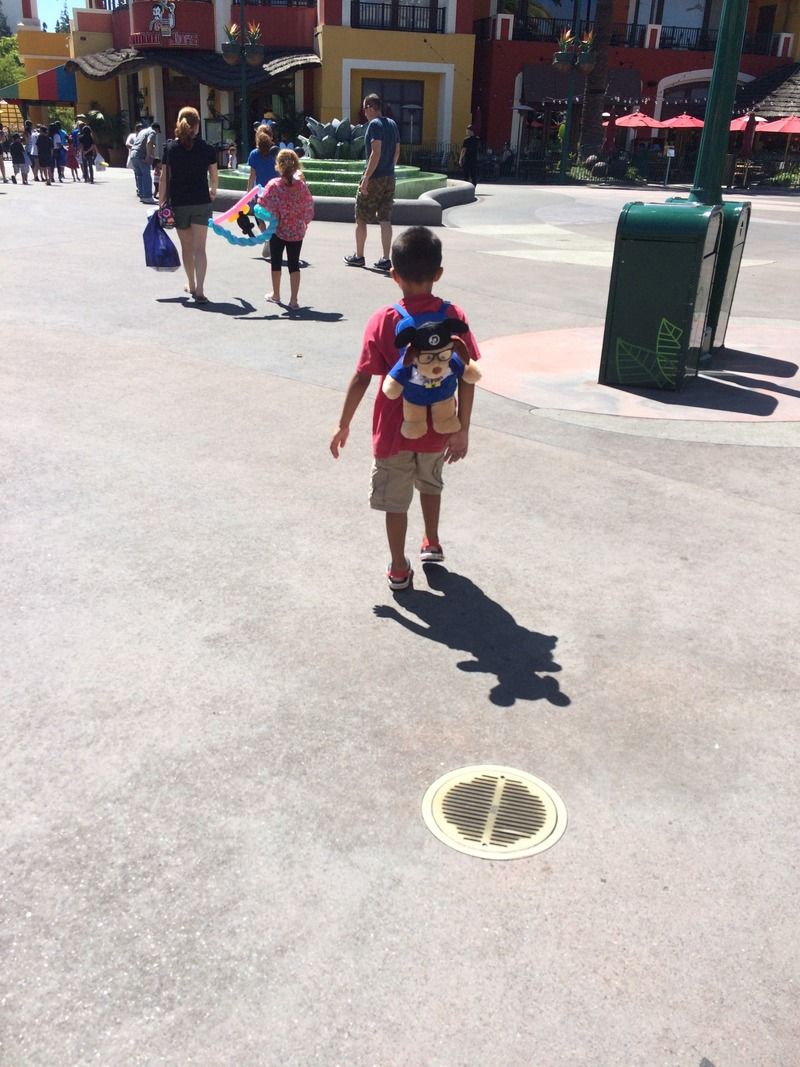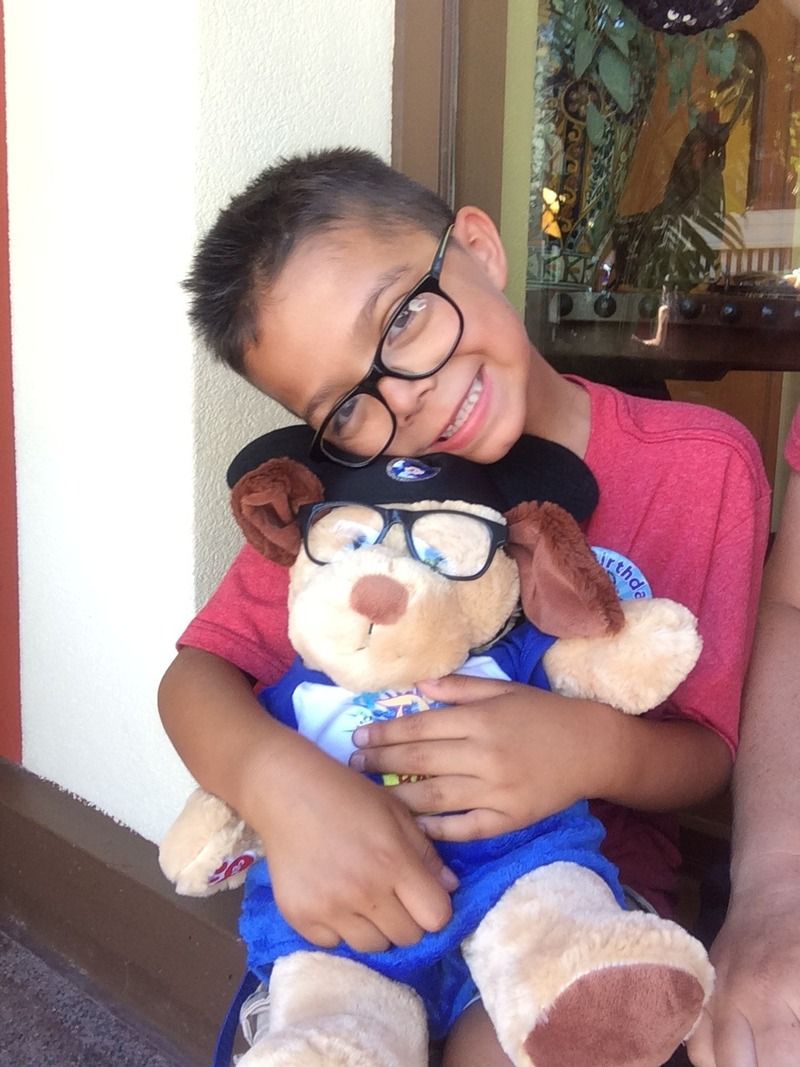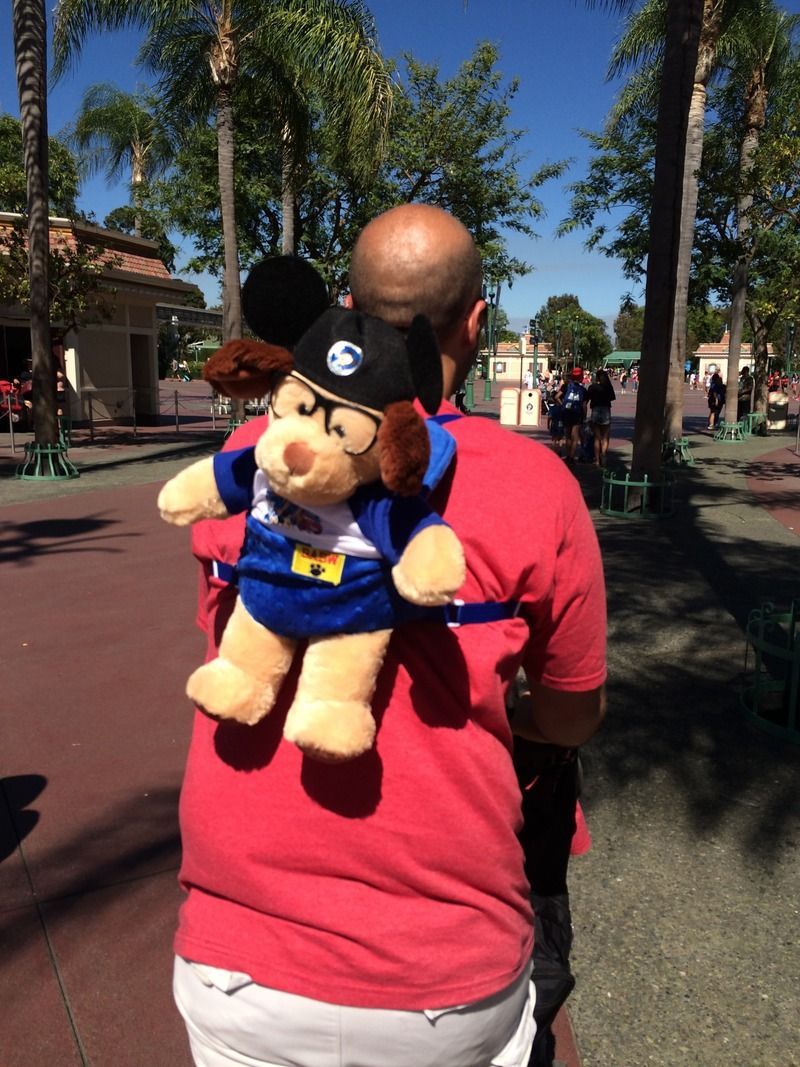 After Build a Bear, it was time for our Radiator Springs fastpass. On our way in, Antonio spotted some cotton candy and had to have some. The rest of us split some Minute Maid Frozen Lemonades.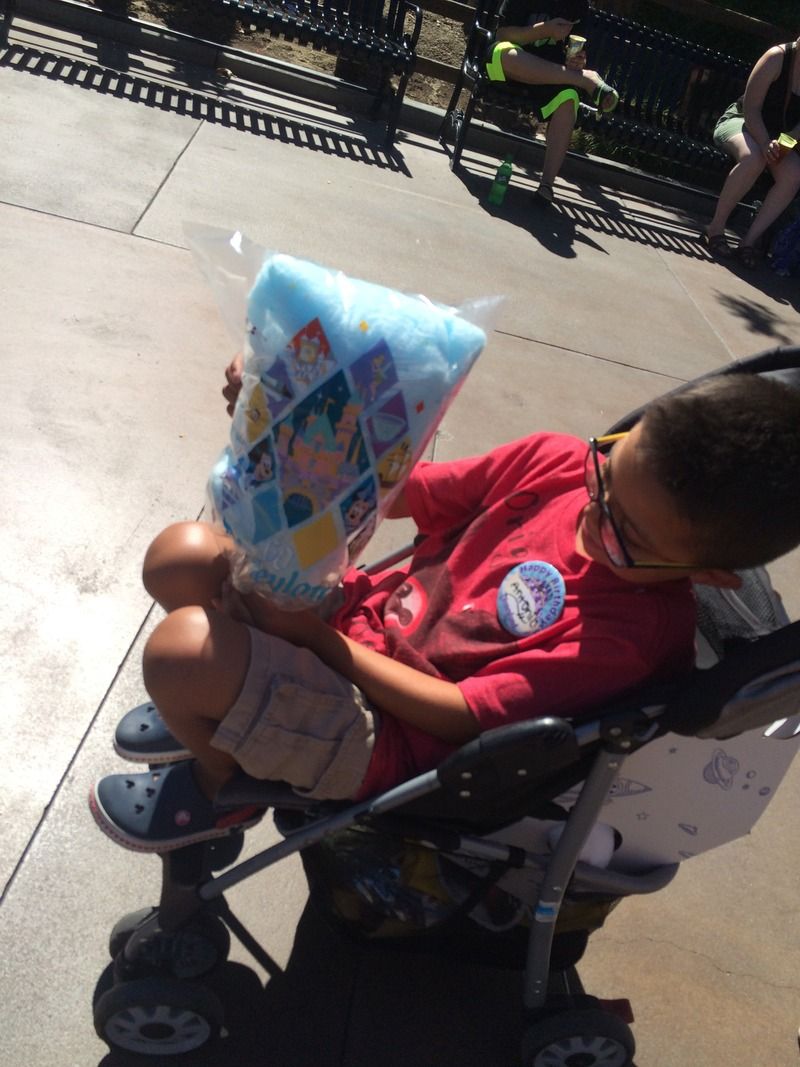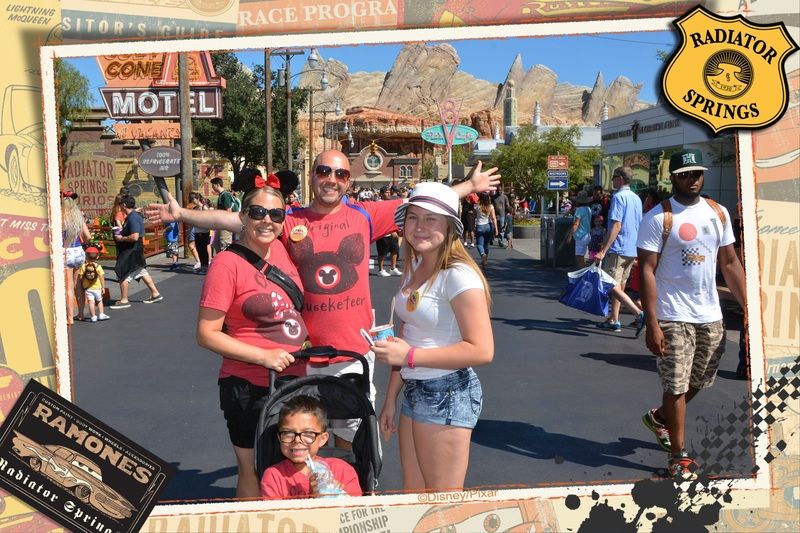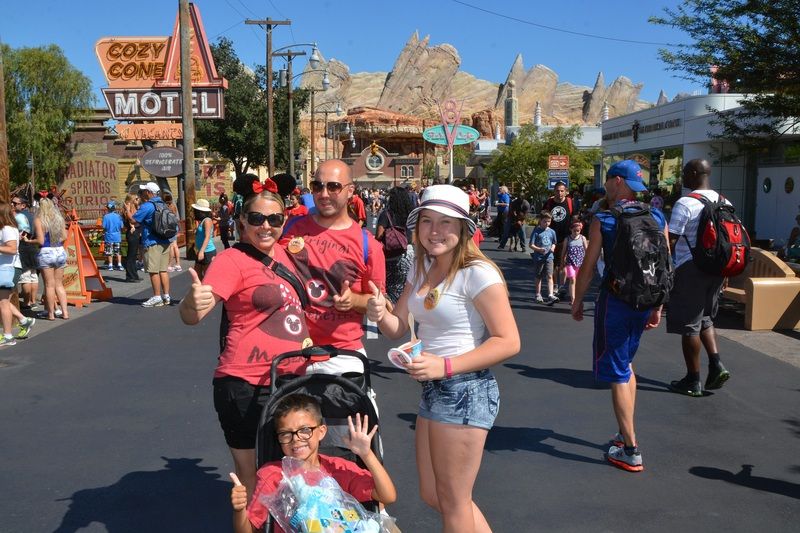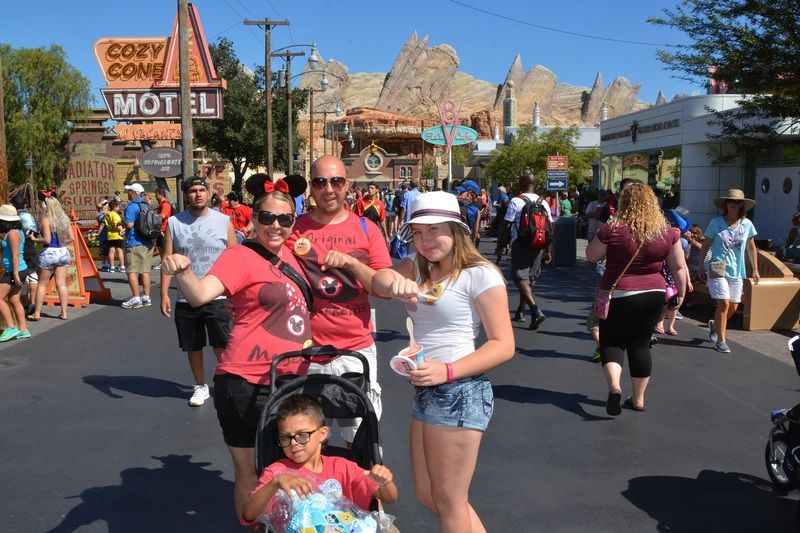 Fastpass rocks and the racers were awesome!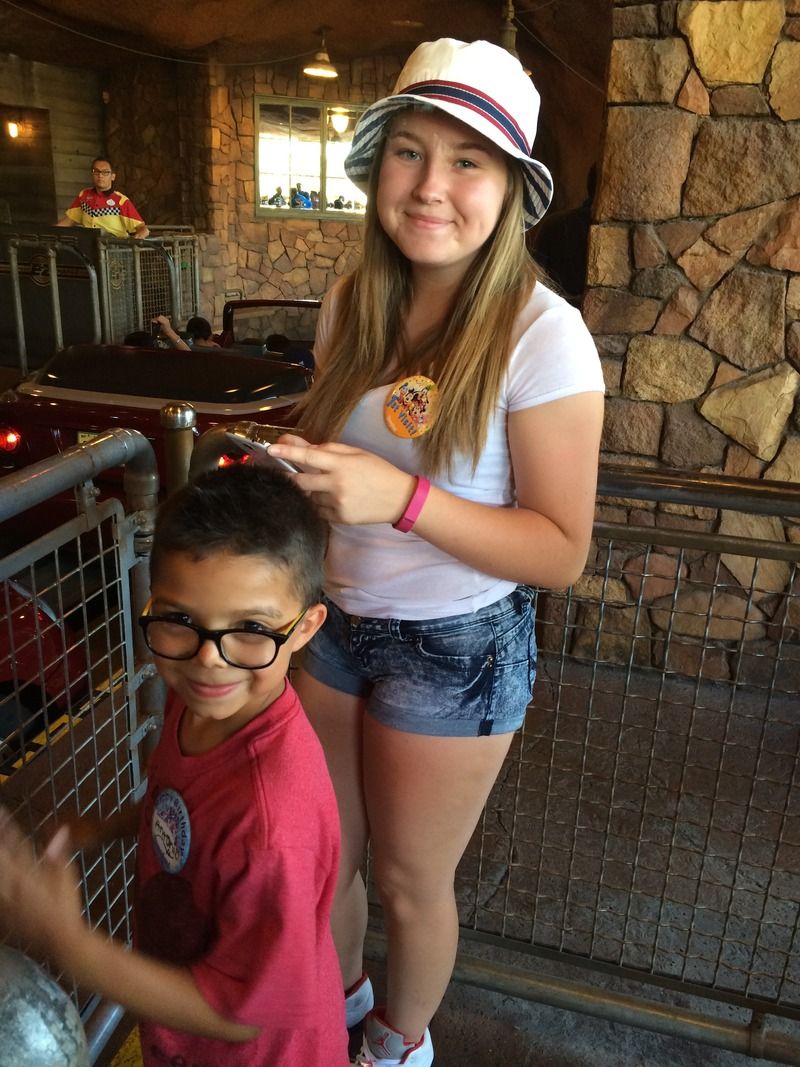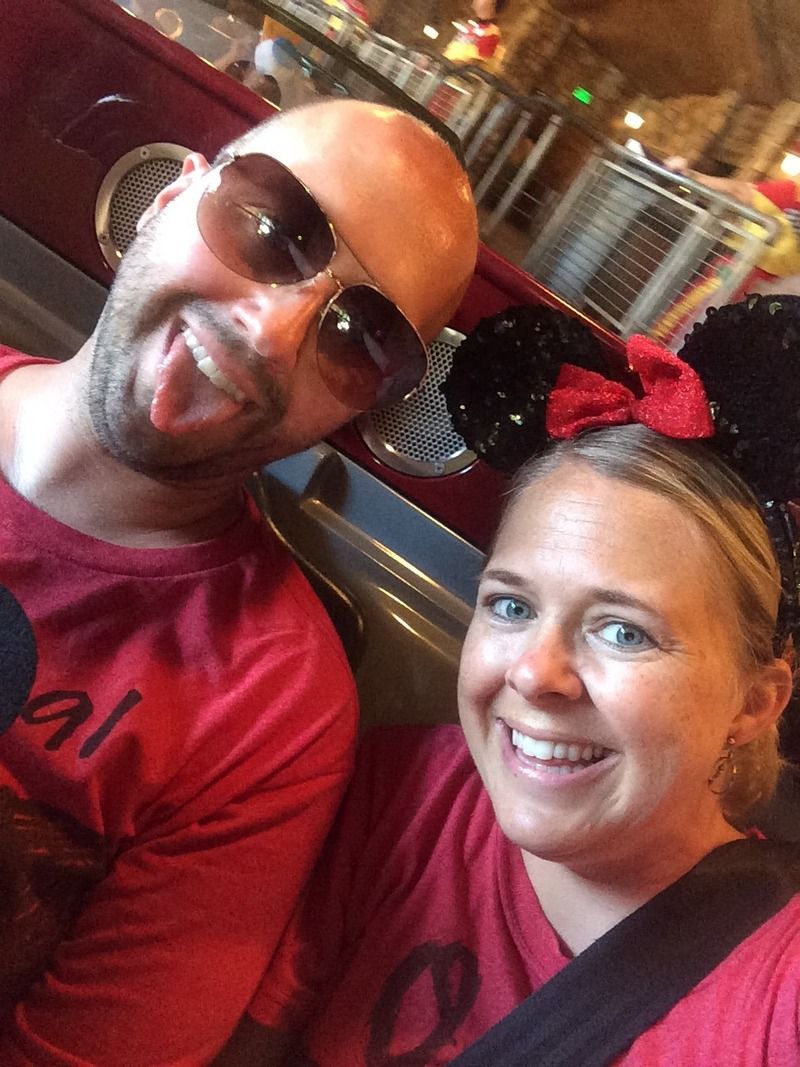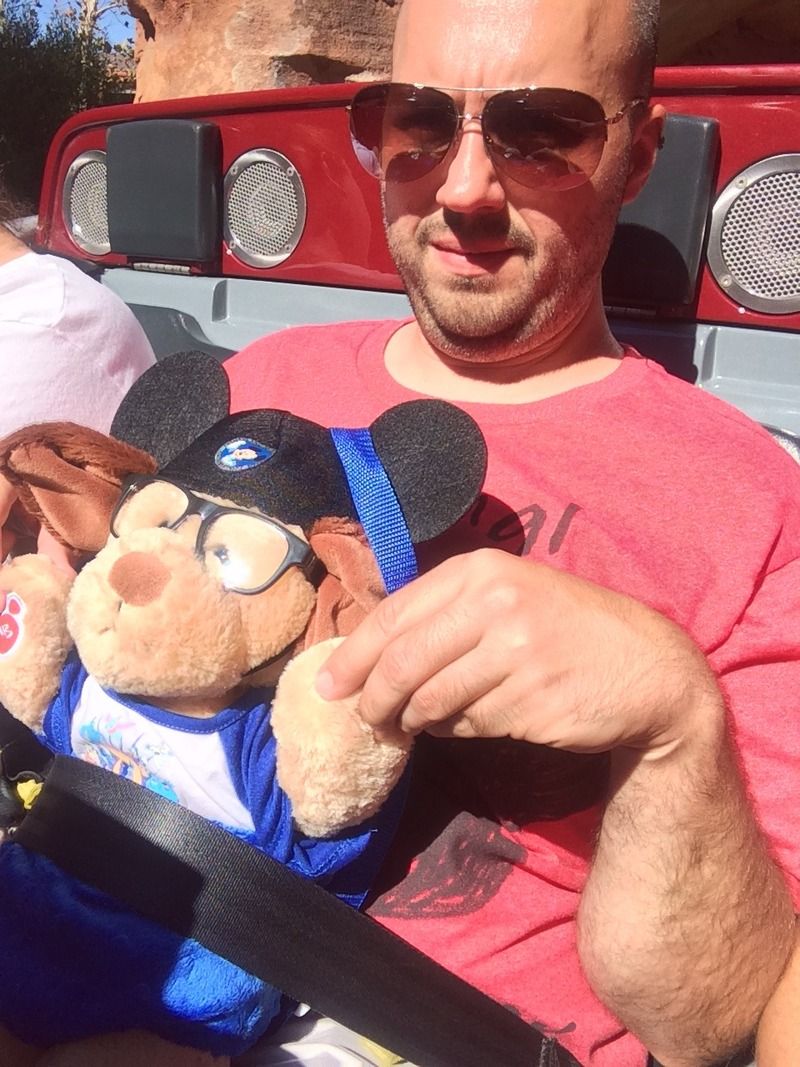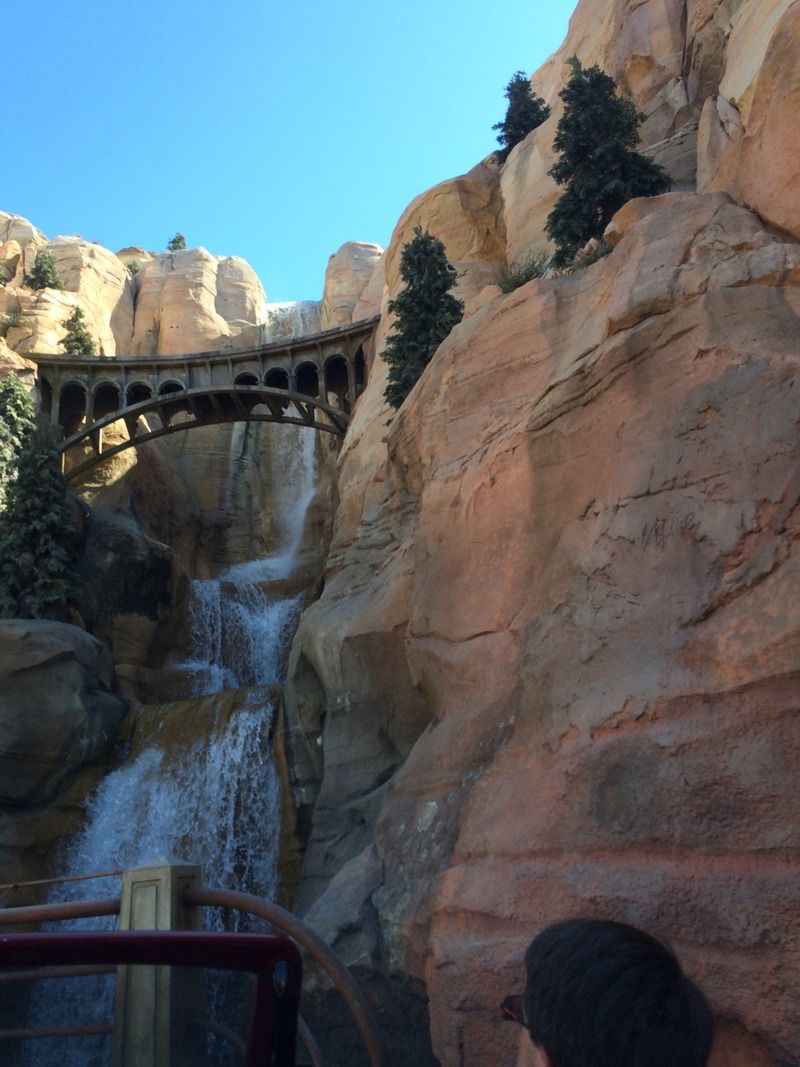 Cotton candy break after the ride.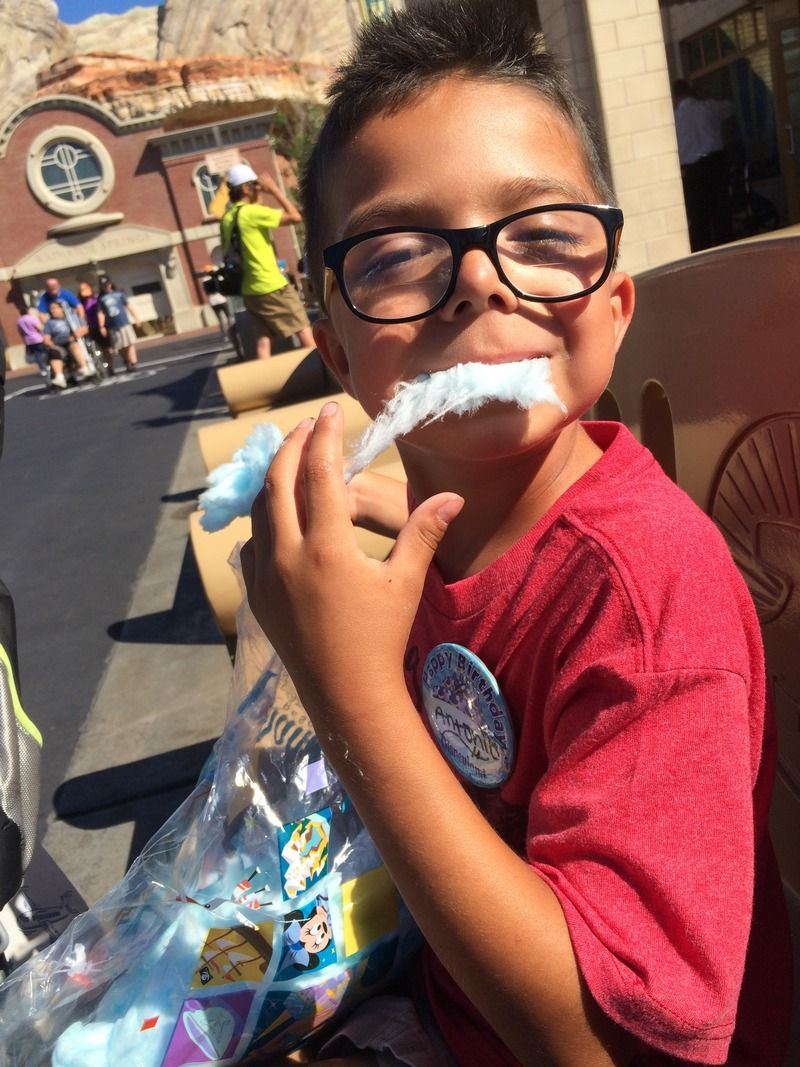 After the ride we went back to the room to take a nice long nap. Halie and I caught an Uber. Quentin hates Uber and walked back with Antonio and the stroller. Halie was so sweet at naptime and would rub Antonio's back till he fell asleep.
We got back to Disneyland a little before 8 and used our Indiana Jones fastpass. What a great ride! Antonio and Halie were being complete goofballs in line and she kept scaring him.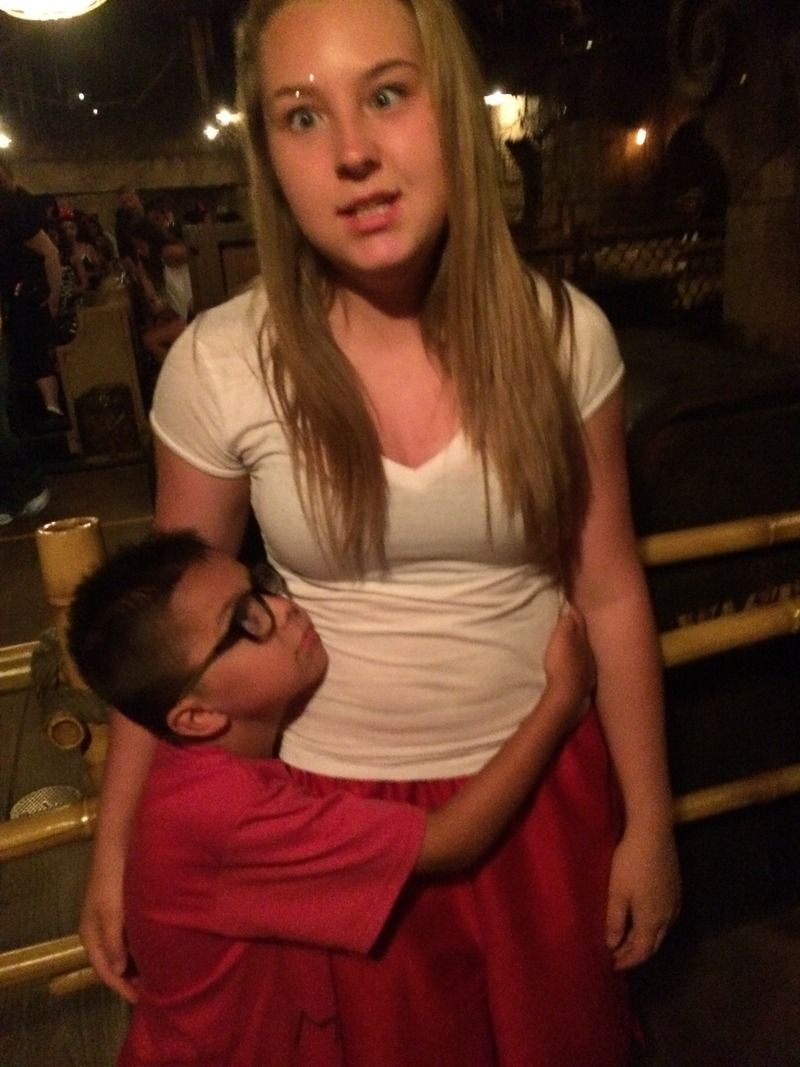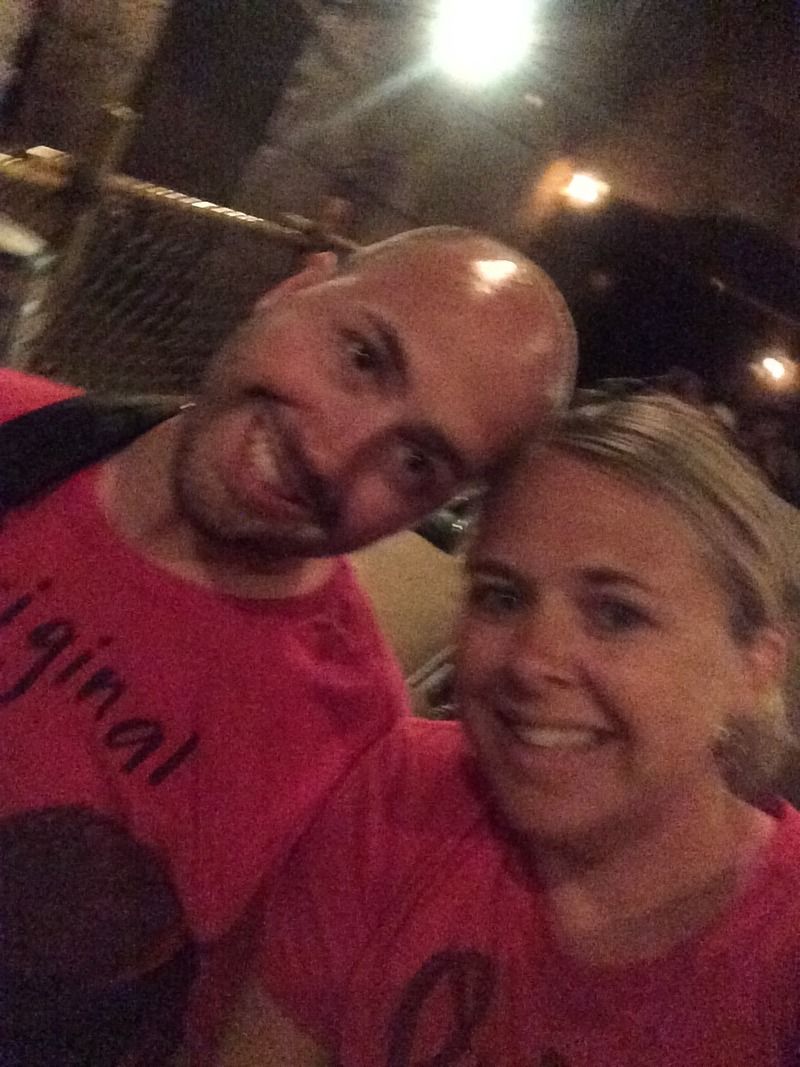 Halie and Antonio went up Tarzan's treehouse next. Quentin and I got a few minutes to ourselves. It was like heaven. Then the kids came back complaining about their legs.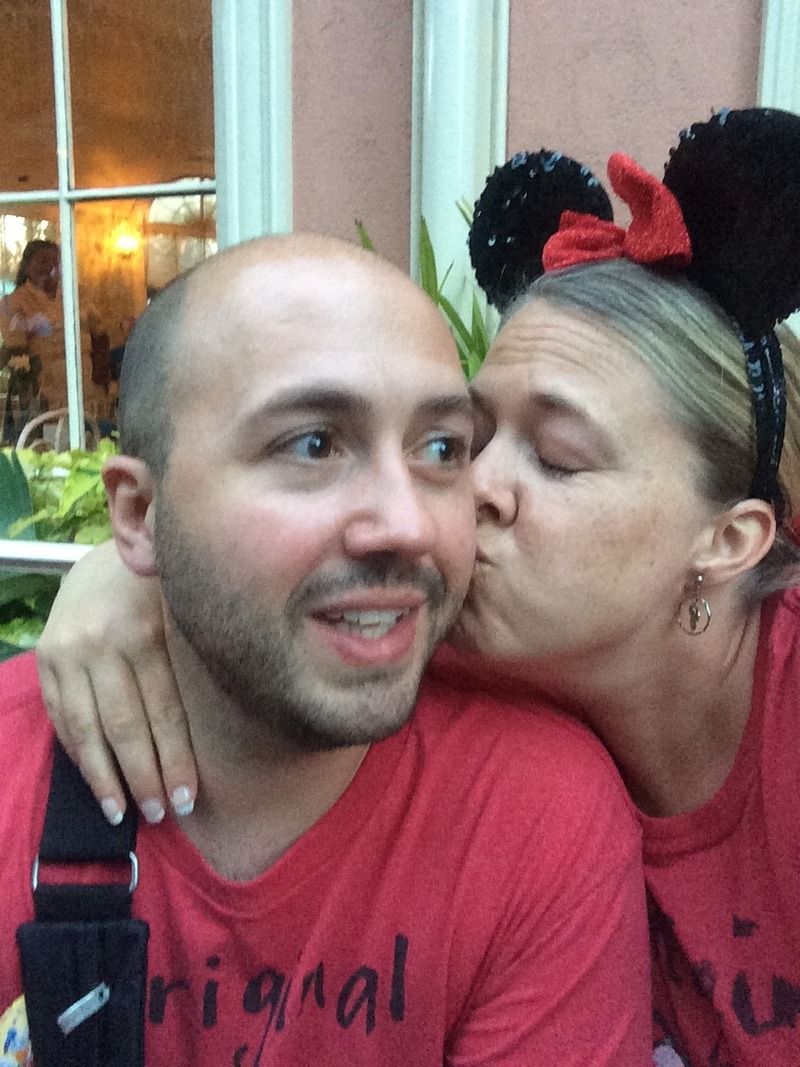 Haunted Mansion had a decently short wait, so we went on that next.
After the ride, Antonio had to buy himself a light up Mickey light saber type toy. Then we fought through the insane crowd to get to Pirates of the Caribbean. The way they have traffic go through around Fantasmic is crazy. Disneyland is just so much smaller than Disney World and you can really tell when it's crowded.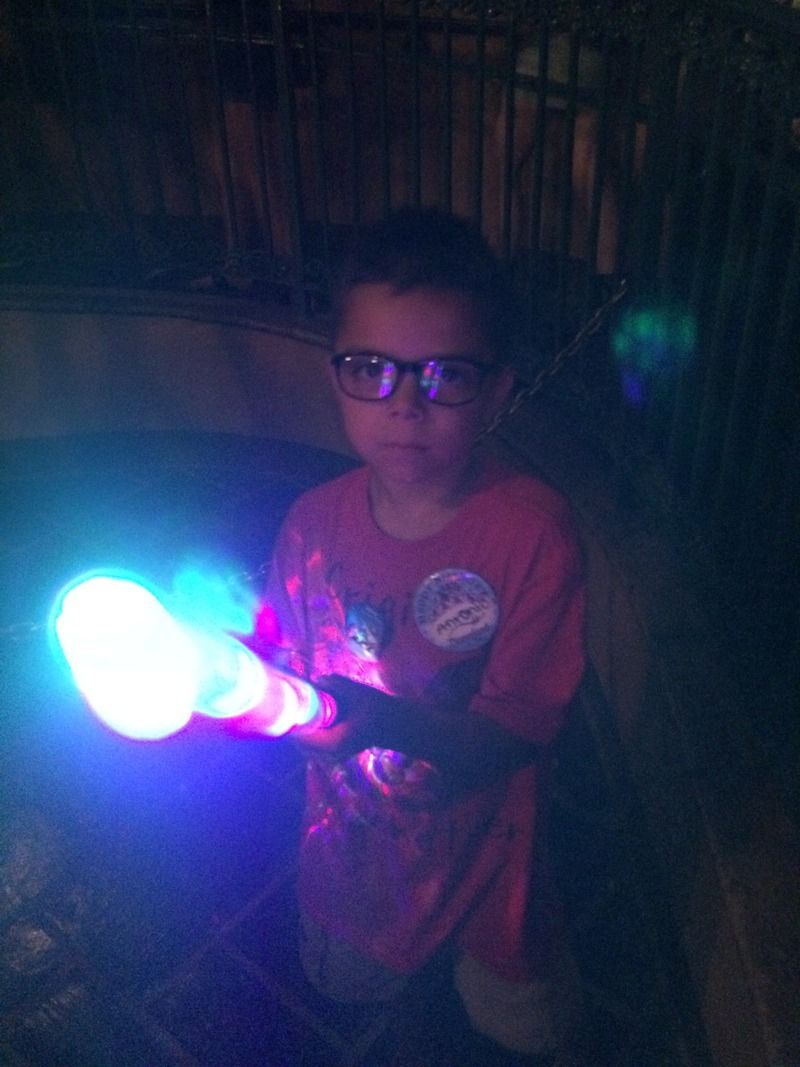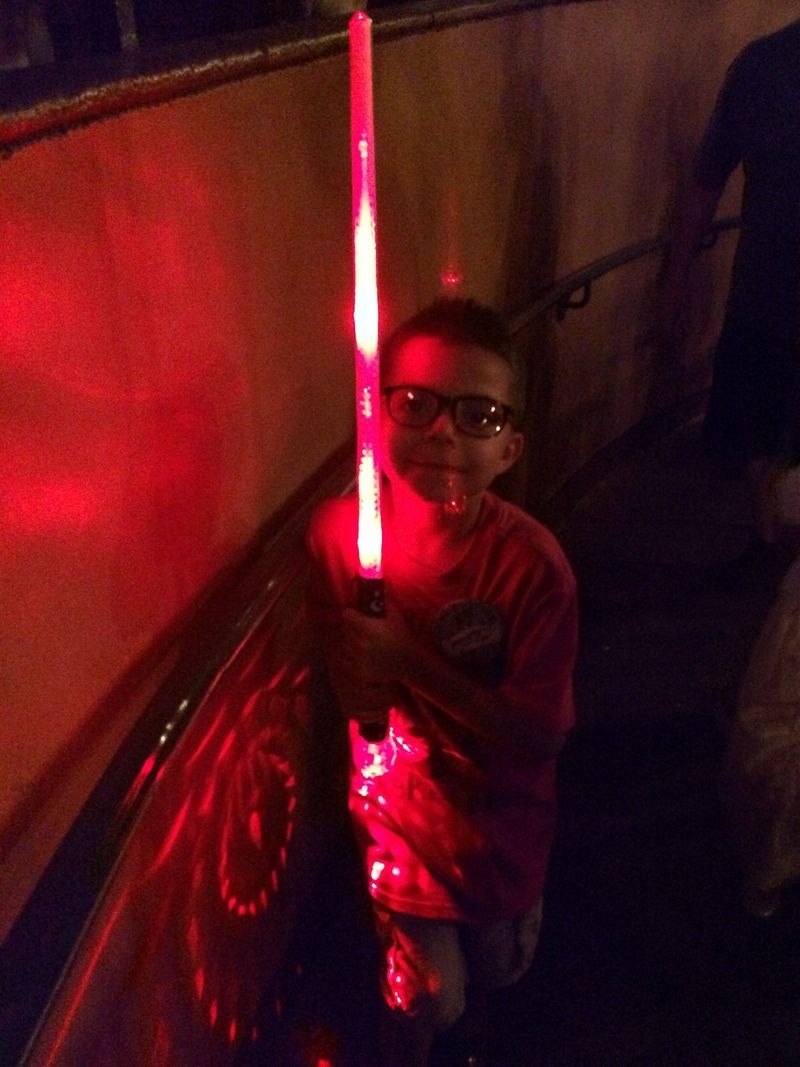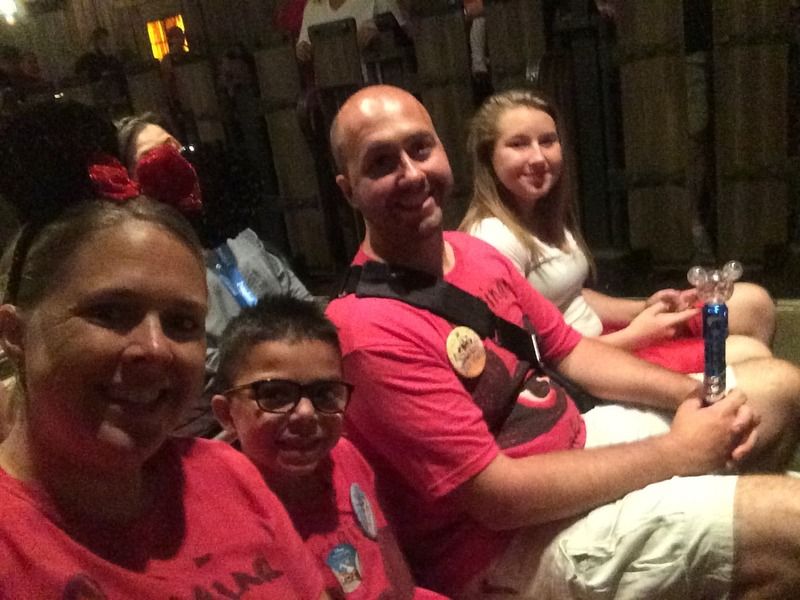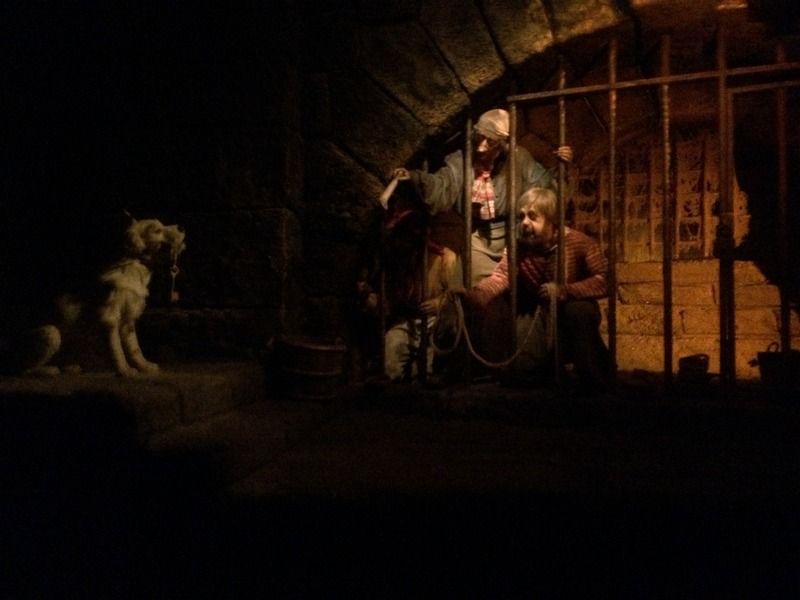 Halie had been talking about eating at Rainforest Cafe since we got on vacation, so we decided to go there for dinner. We waited about 20 minutes for a table and then were sat in a little downstairs room where there were only about 6 tables. Luckily there was a fish tank to look at since we were separated from all of the other cool stuff.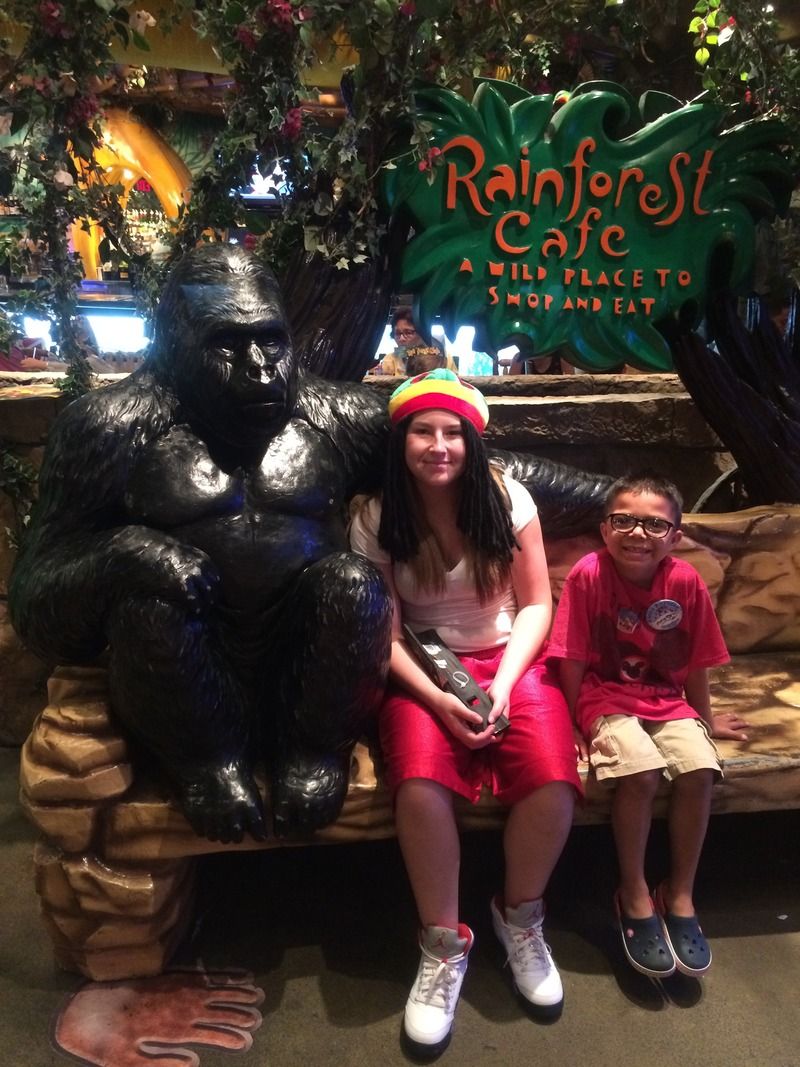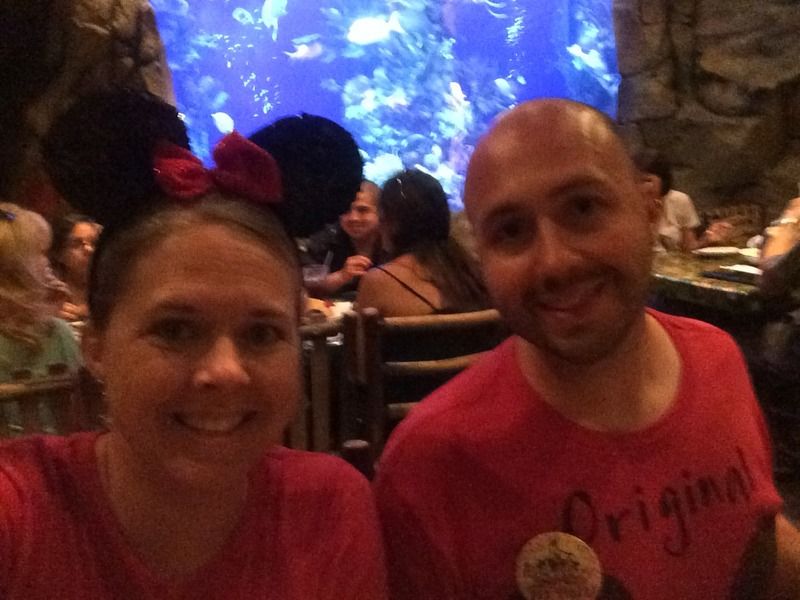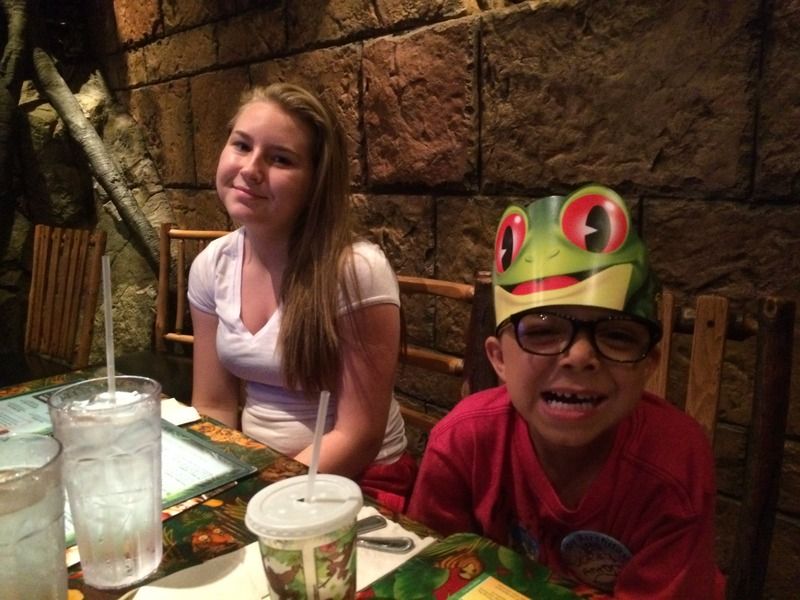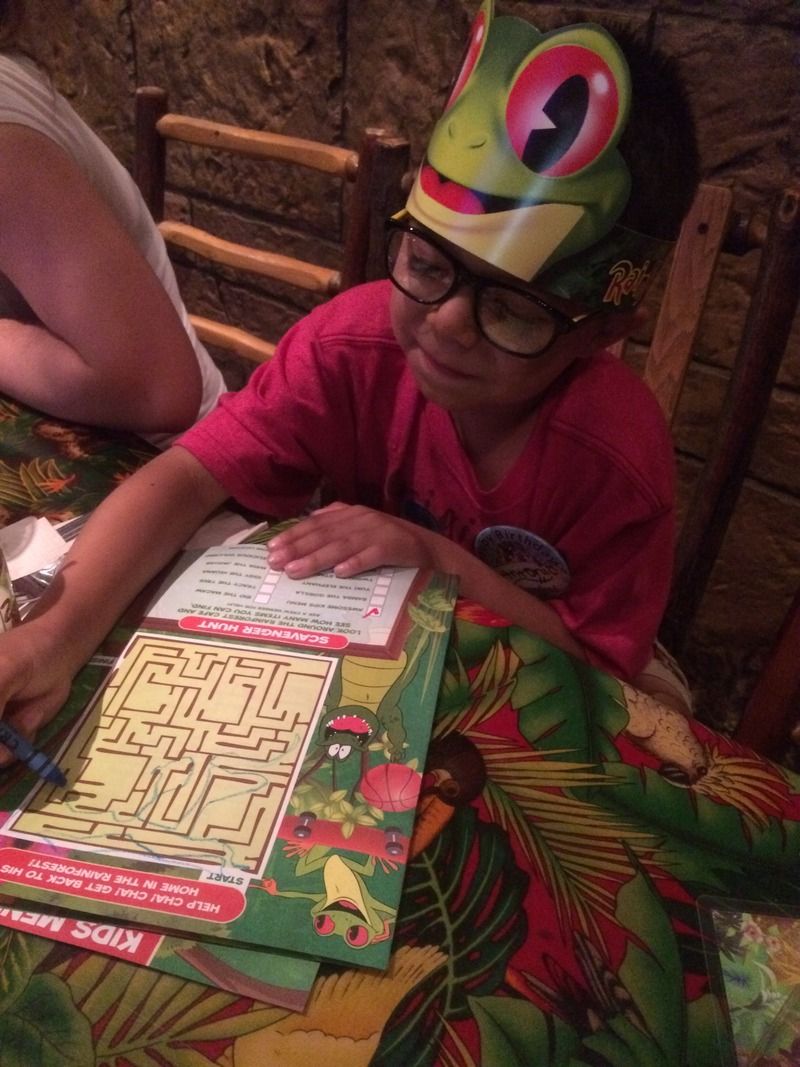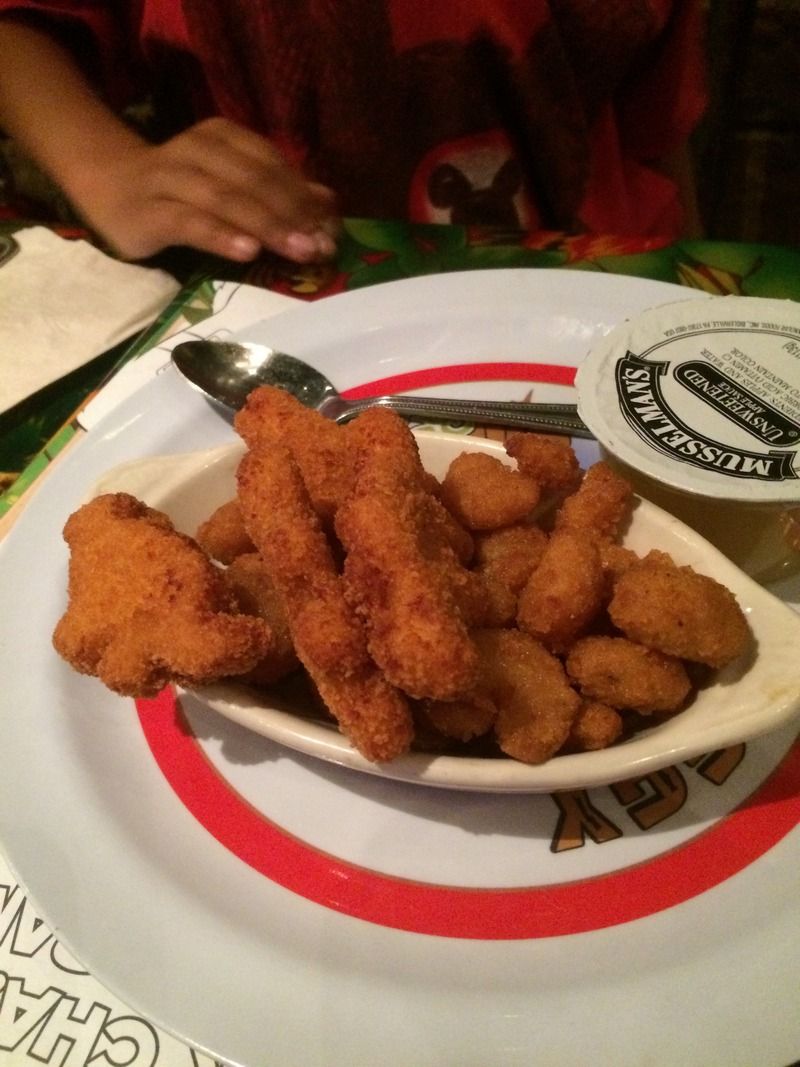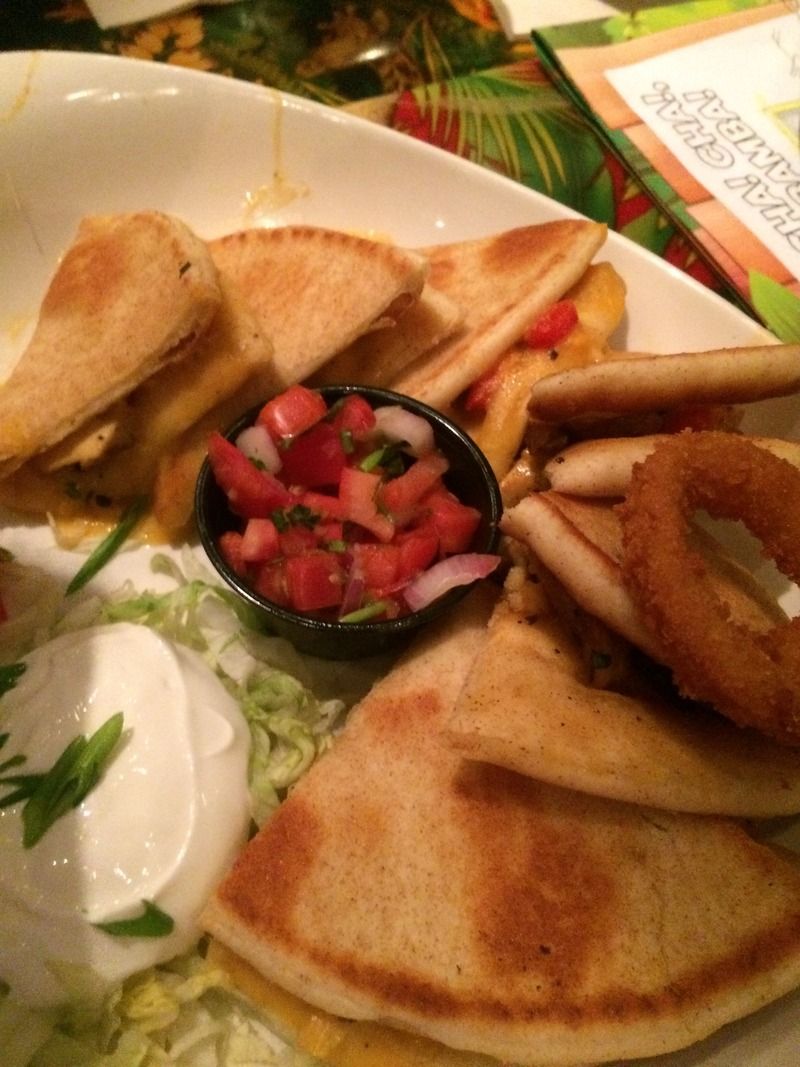 Rainforest Cafe was as expected...overpriced mediocre food. On top of that we had pretty terrible slow service. Antonio was falling asleep at the table by the end and only woke up when the waitress brought him a birthday cupcake.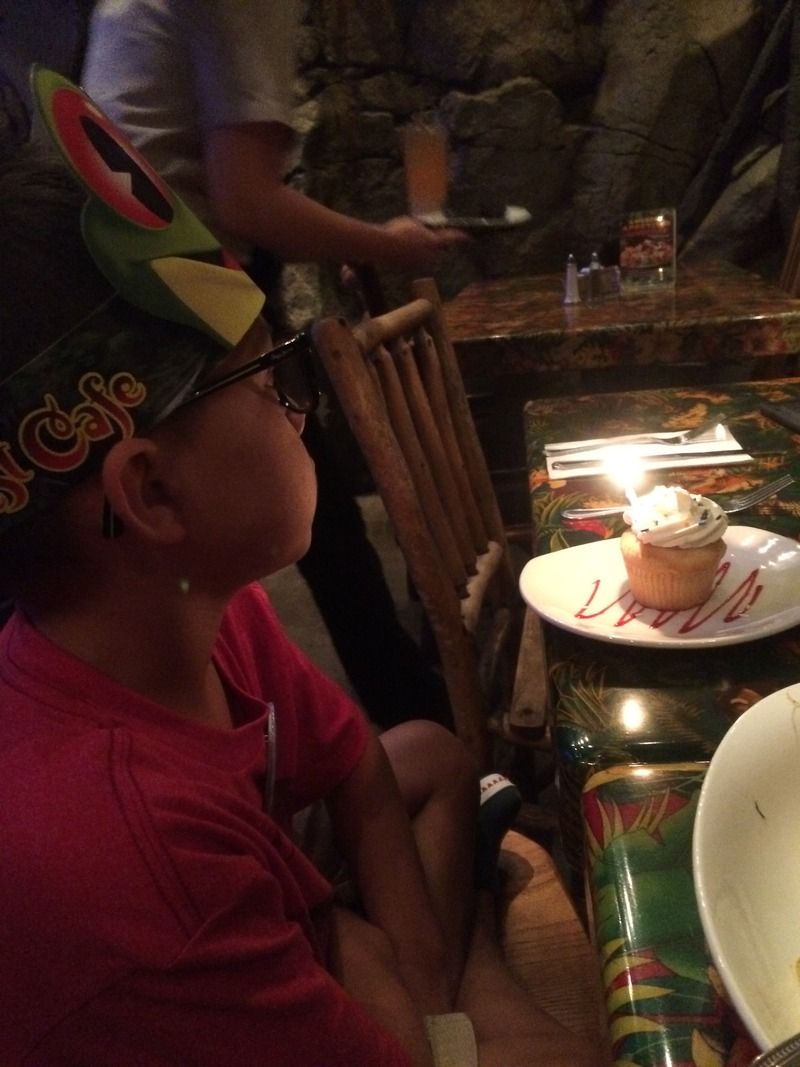 We collect these dog tags from trips whenever we can find them. They are hanging from my rearview mirror in my car. I love looking at them.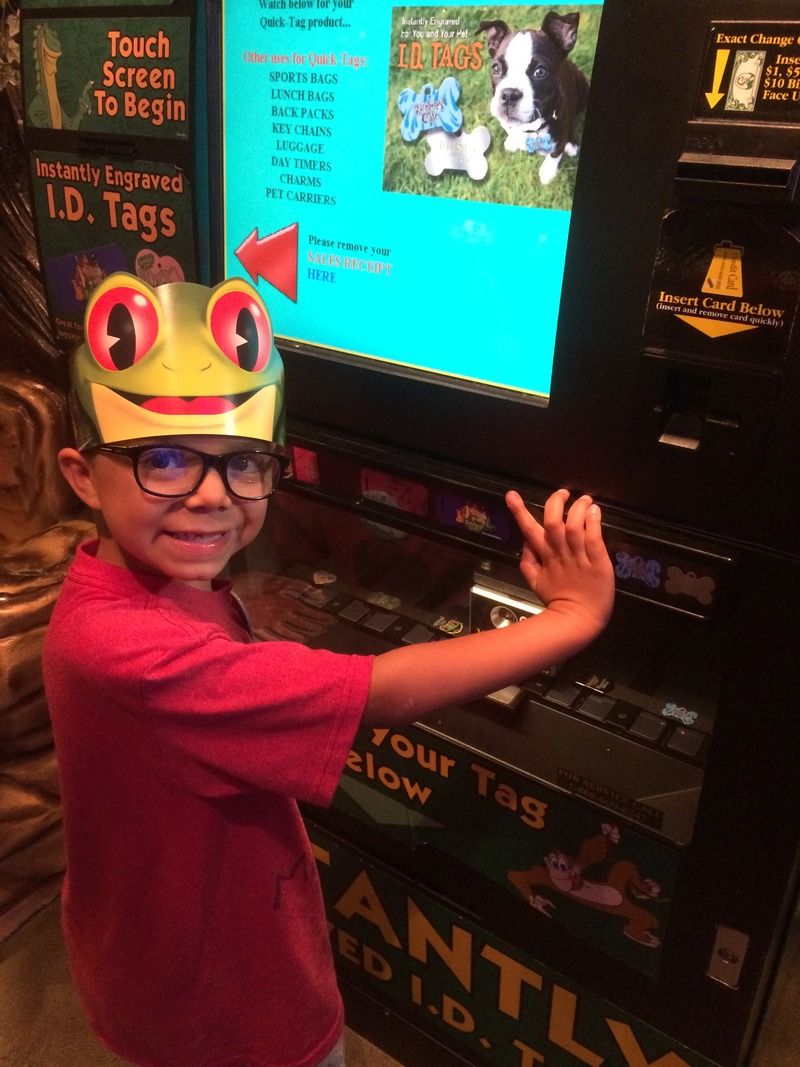 Halie bought herself this goofy frog Jamaican hat. It matched her Jamaican swimsuit I forgot to mention that she bought in Vegas. That swimsuit had the tiniest bottoms that were so inappropriate. She will have to buy some at Wal-Mart to go with the top.
We walked to the Disneyland hotel to call an Uber from there since it would be a much shorter walk then going to our usual spot on Harbor Blvd. The problem was, it was the driver's first day, and he couldn't figure out how to get there. Luckily the valet saw him and said, are you waiting for an Uber, they have problems getting in here. We walked over to meet him. The drive home took longer than usual as the nighttime shows were getting out and traffic was really heavy.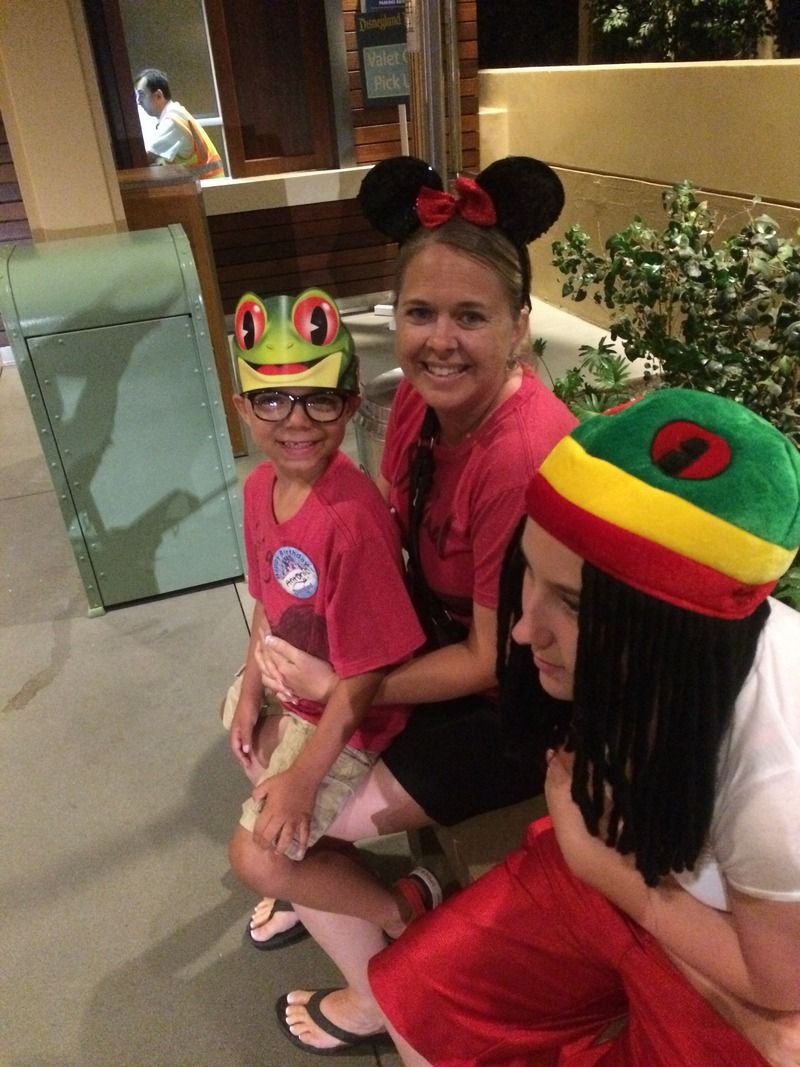 We got back to the room and passed out!
Posted by MarathonMama629 19:19 Archived in USA