Day 7
7/12/15 - 7/12/15
Day Seven July 12
We slept in a bit the next morning. I was shocked when Halie came in to our room fully dressed. The princess is usually a grumpy gus in the morning and we have to fight her to get out of bed. Bethany took some family pictures for us. Did I mention she's also an amazing photographer?
She also made us the best toast ever. Some type of special bread, I don't know what it was, but yummmmmo.
I walked around and took pictures of their gorgeous house. It's like it is straight out of the pages of a magazine or a pinterest board. These are some paintings that she has done.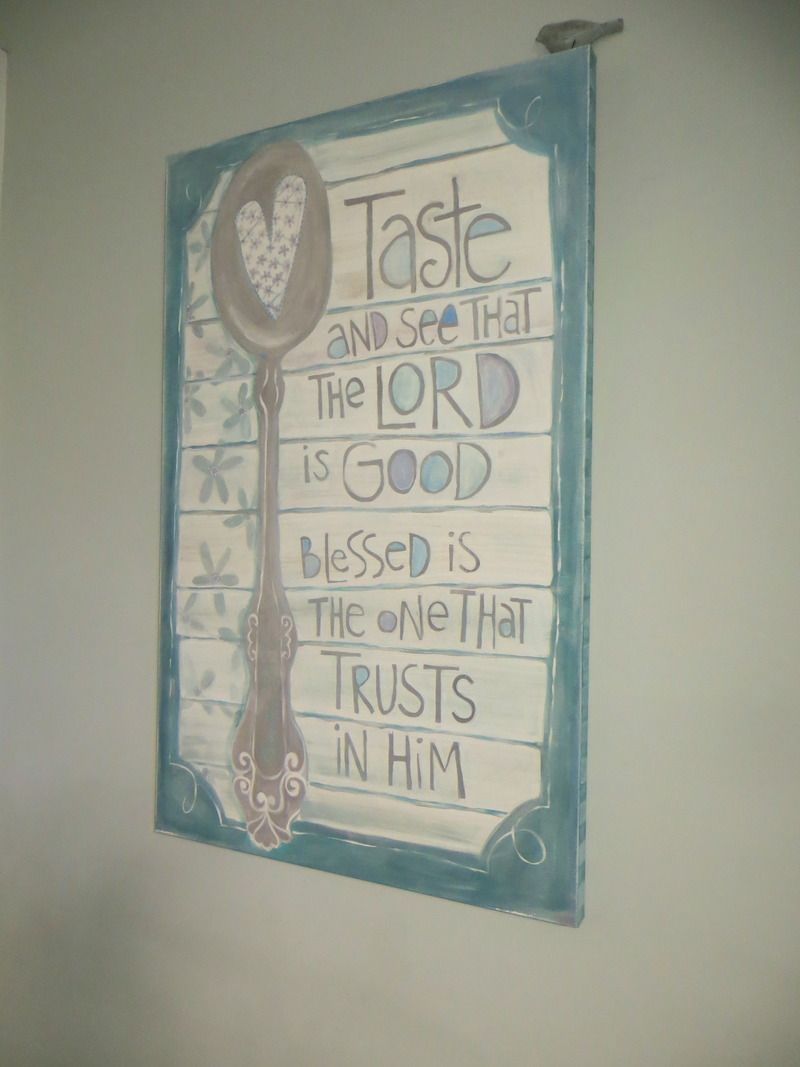 When we finally pulled ourselves away from their beautiful house, we went outside and the car wouldn't start! It just clicked. Rick helped us get it charged back up and we were on our way to Disneyland!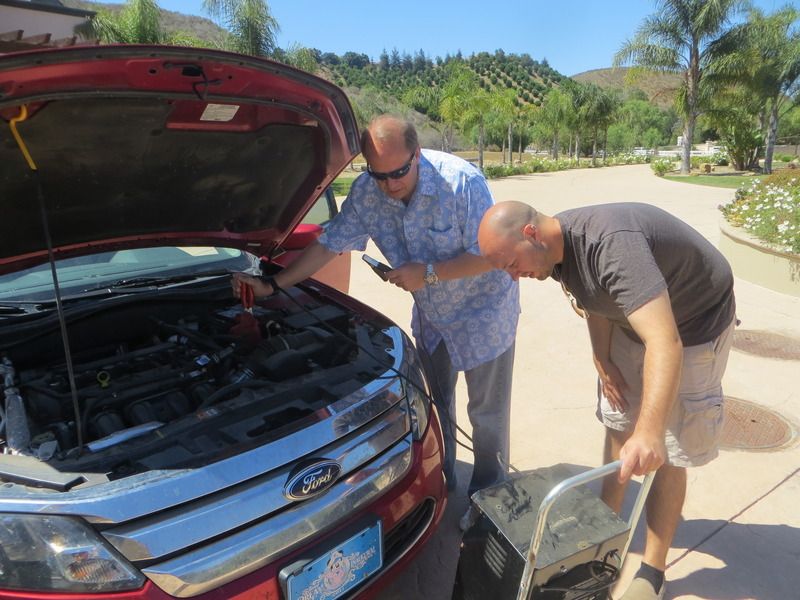 As we were leaving, Quentin suddenly pulled over to the side of the road. He had spotted some oranges that fell to the ground. I jumped out and grabbed a couple for us to snack on later.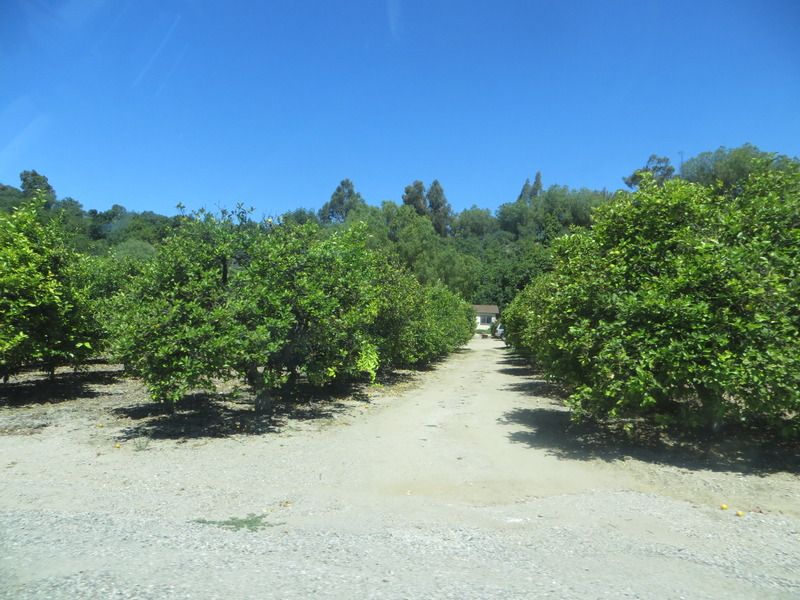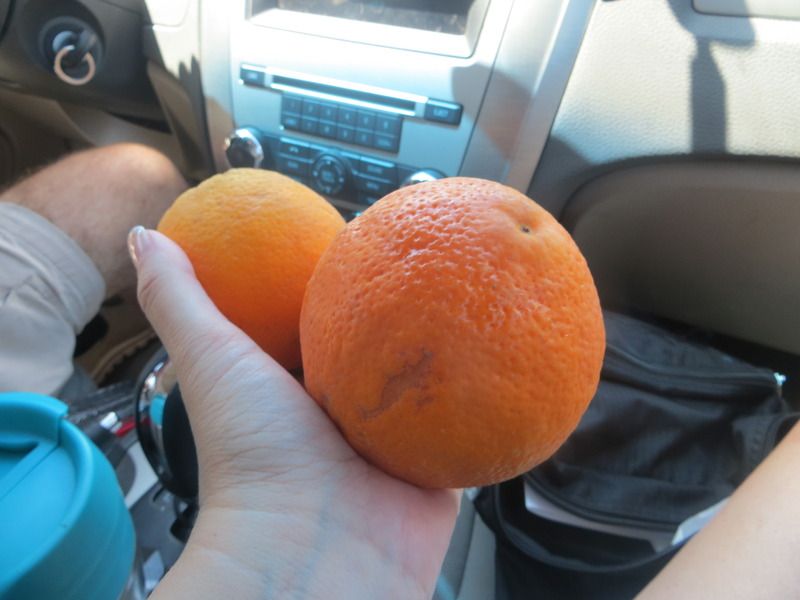 Officially on our way!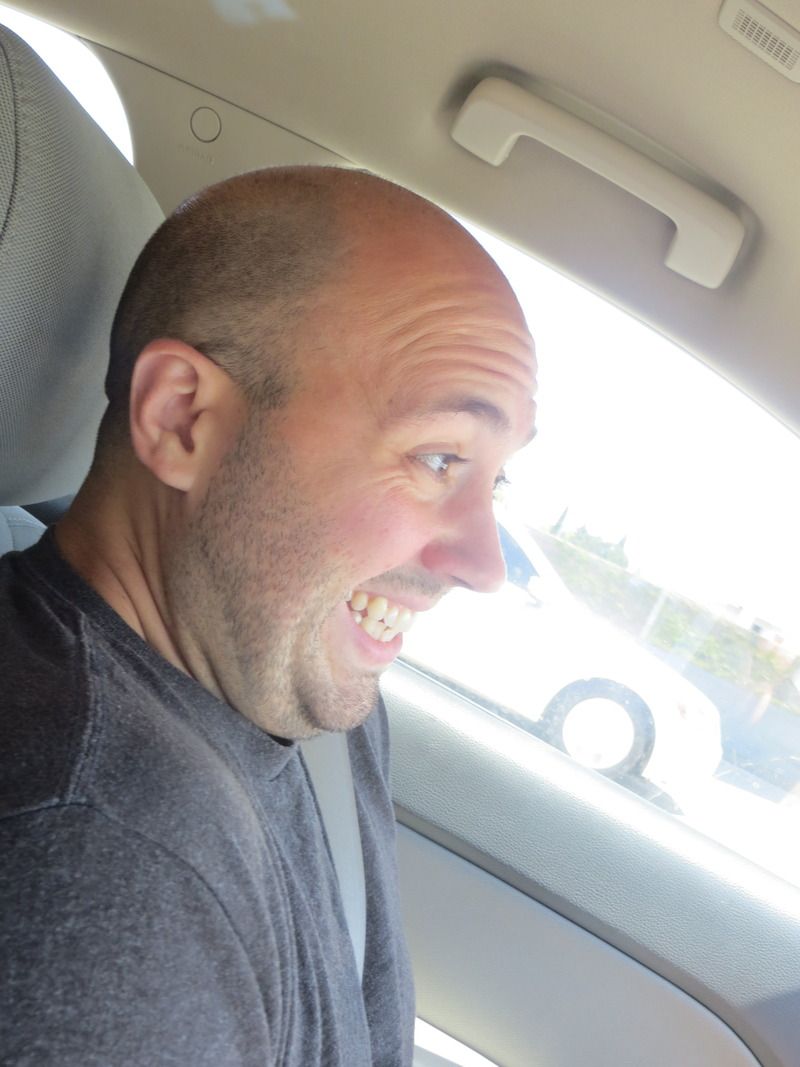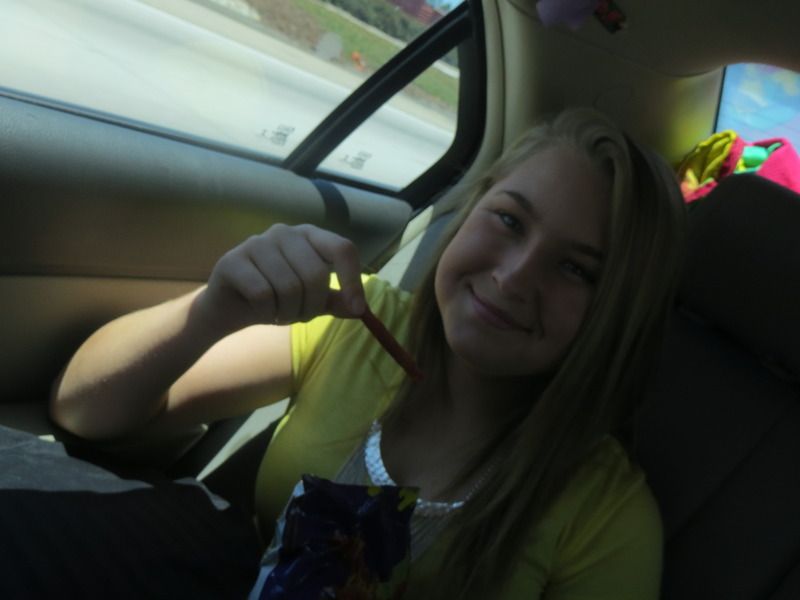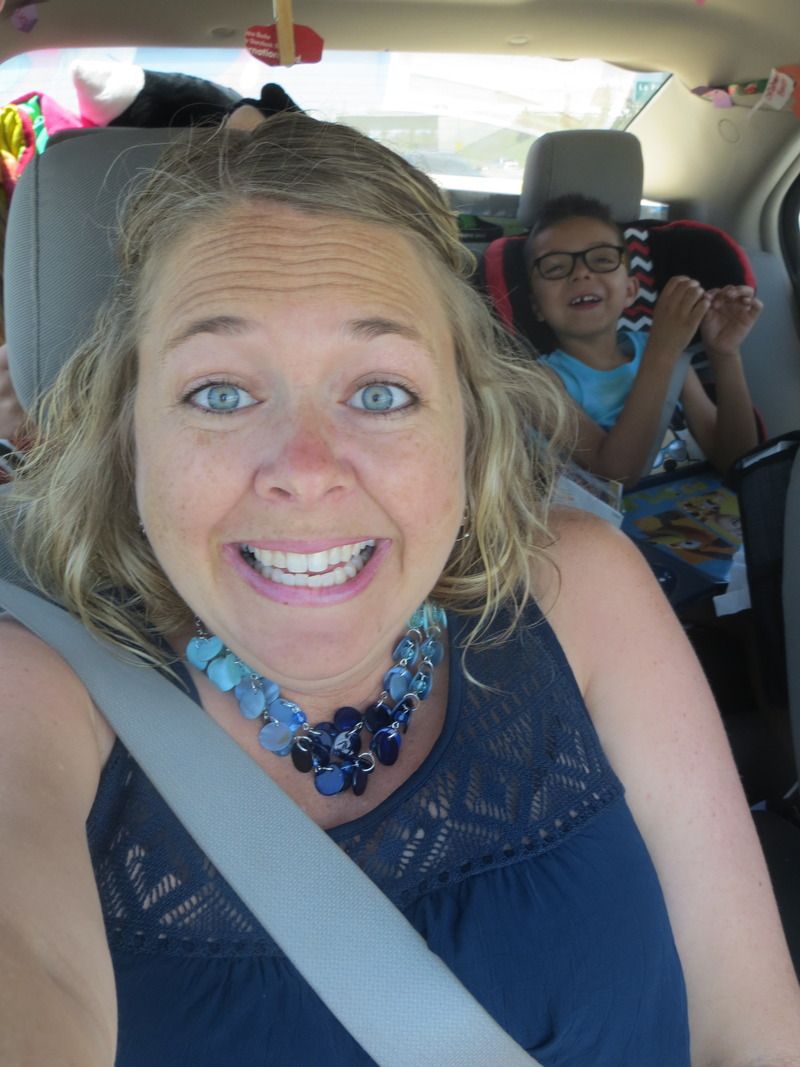 The drive to Disneyland was very busy. The roads were like 10 lanes on each side and all full. When we could catch a carpool lane it helped. We did get to see the Hollywood sign from a distance which was cool.
After the grueling traffic, we arrived at the not so luxurious Motel 6 Anaheim Maingate. We booked this trip so late, it was the only thing I could find within walking distance to Disneyland that was in our price range. I checked us in, but the rooms weren't going to be ready till after 3. We parked the car, sunscreened up, and started our walk to Disneyland.
We were almost to the gates and the Princess needed a restroom. We stopped at a Denny's and saw this guy making awesome balloon animals. I had to get Antonio a Mickey one.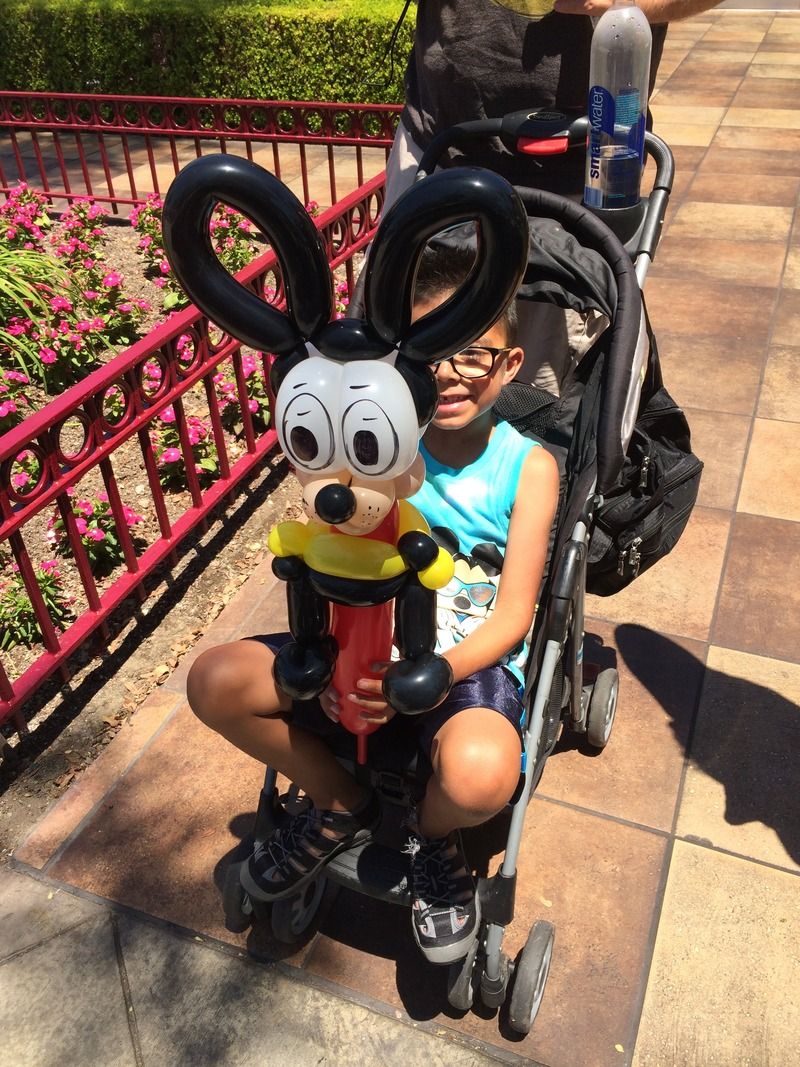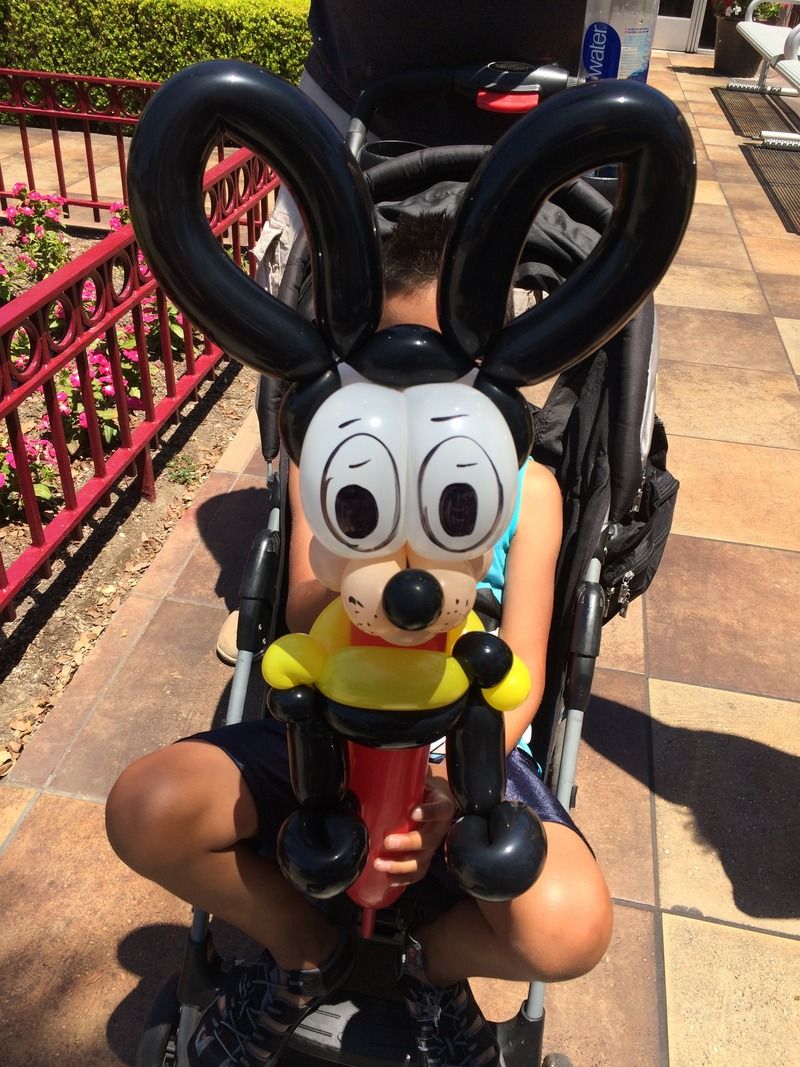 This is when I realized my camera was no longer functioning. Thank goodness for iPhones.
We're here!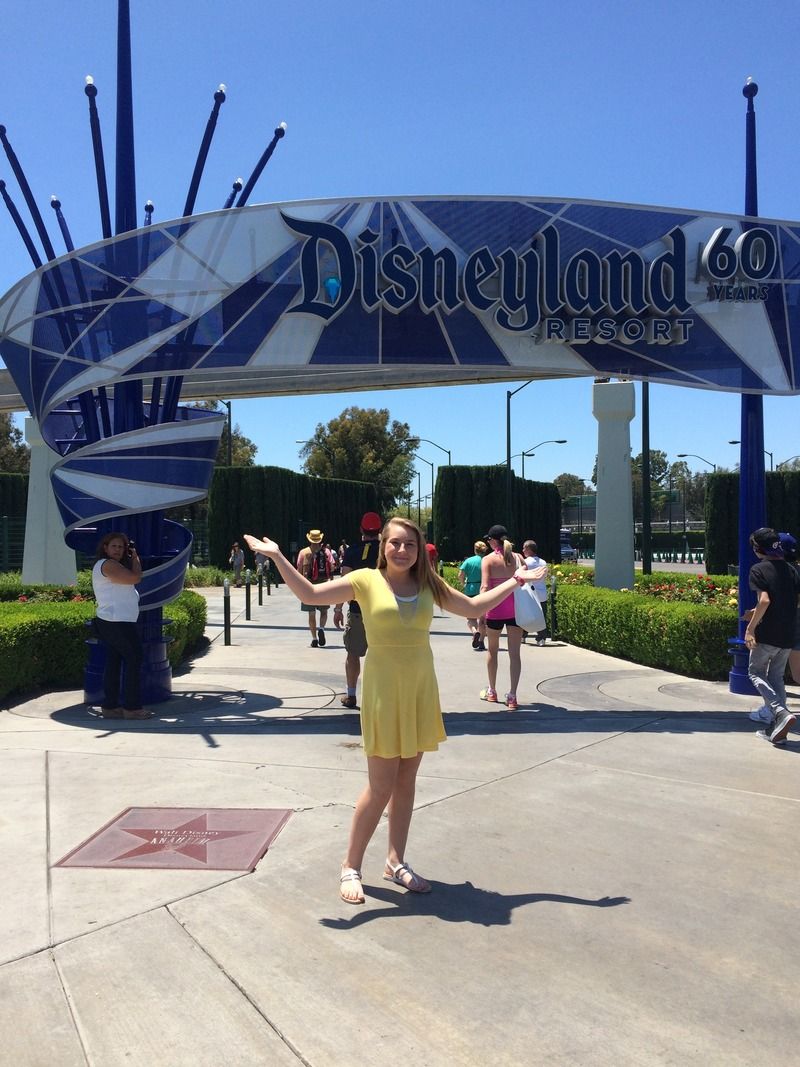 We got to the turnstiles at Disneyland and the scanner here wouldn't read our red ink ticket either. They typed it in, no problem. (Legoland...take note) They gave us regular park hoppers to use for the rest of our days and took our pictures.
Officially in the park and being a bad TGMer and stopping for characters!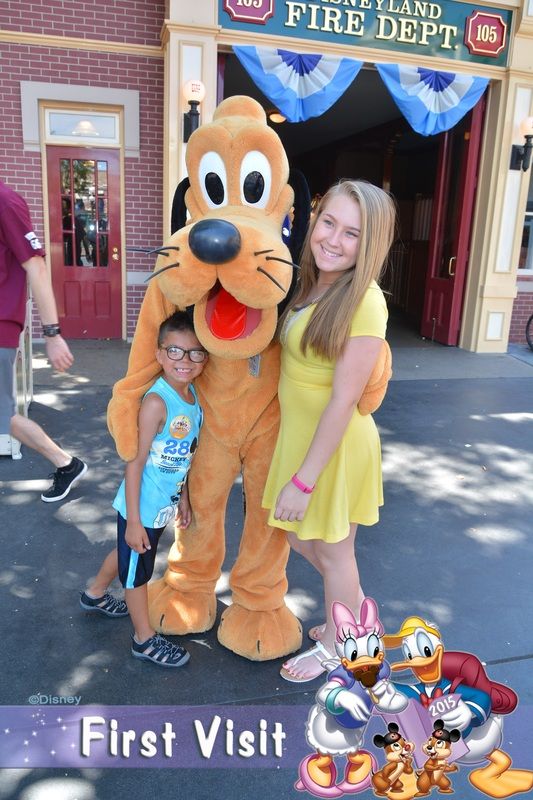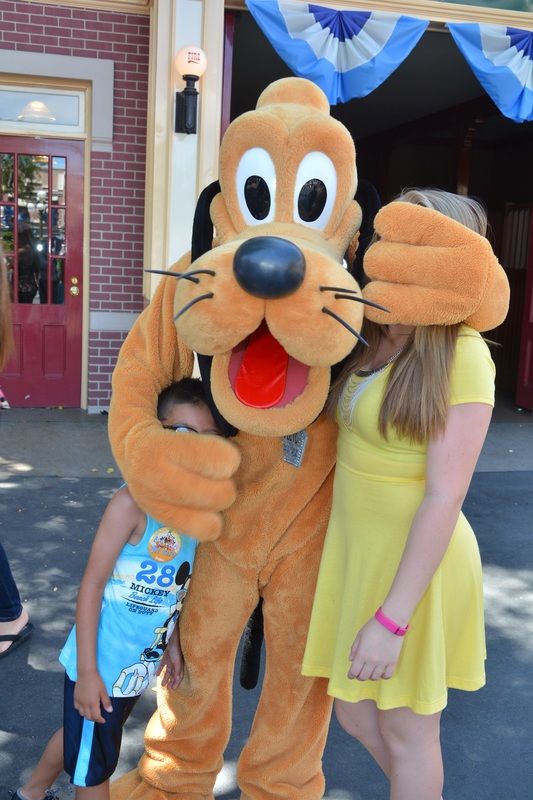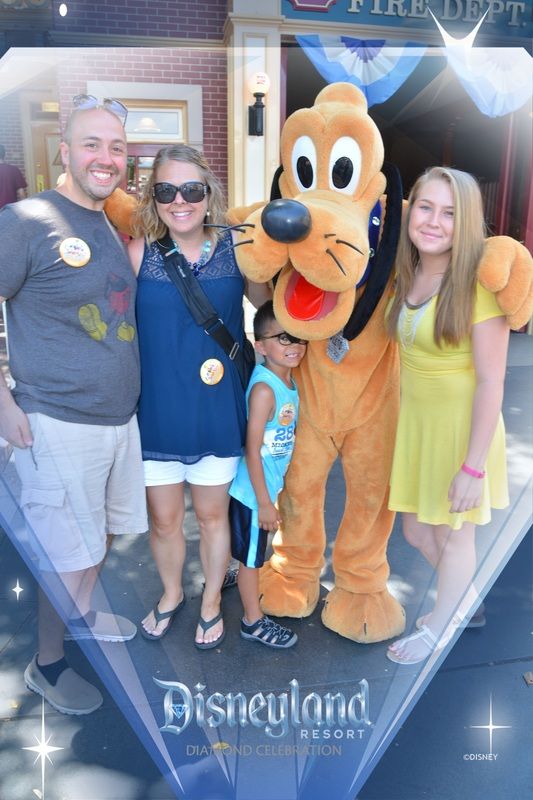 First thing we did was grab a fastpass for Star Tours then ride Autotopia. The line was long, hot, and slow. Though not as slow as Tomorrowland Speedway at Disney World. I rode with Antonio the crazy driver!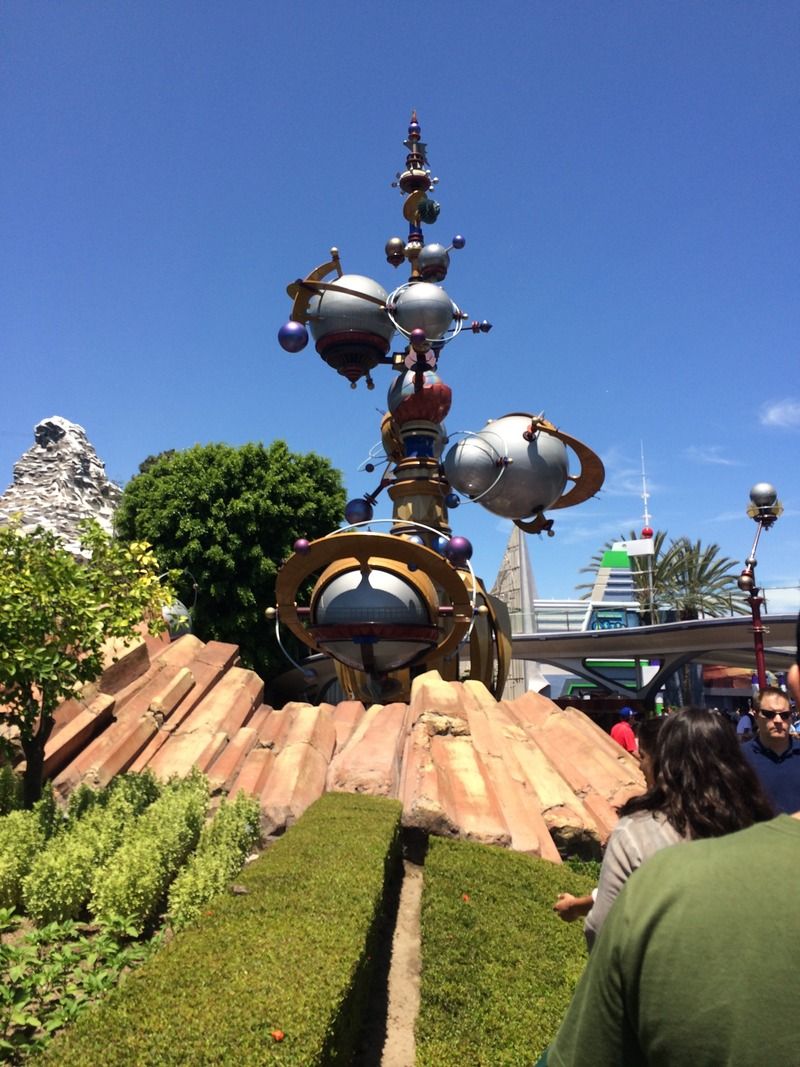 Antonio was so excited to get a golden car. Golden is his favorite color.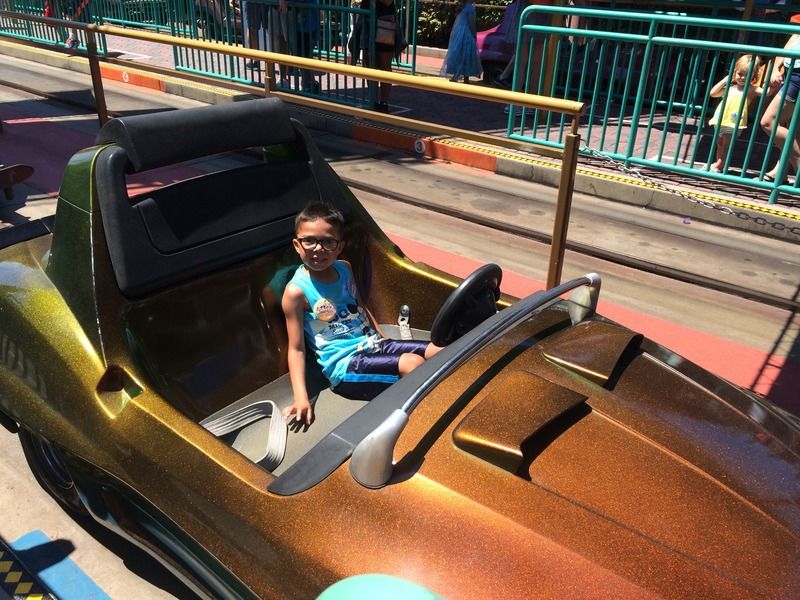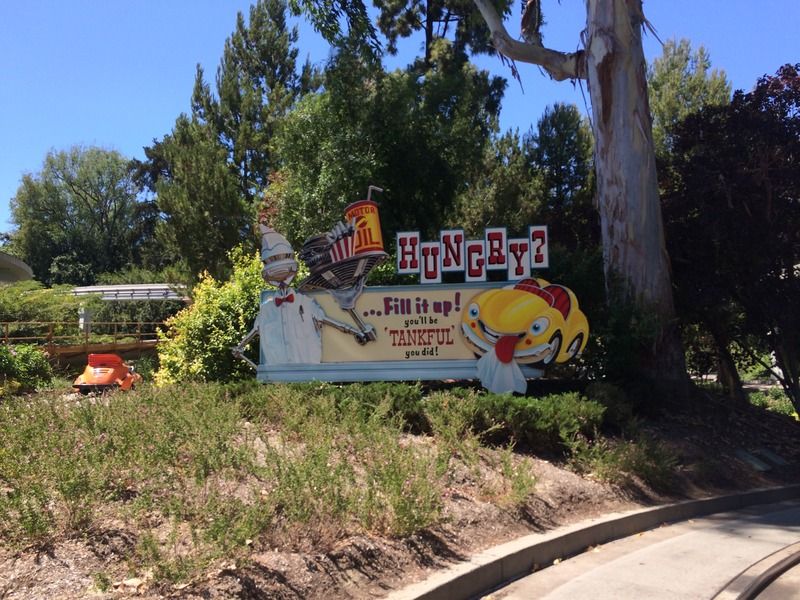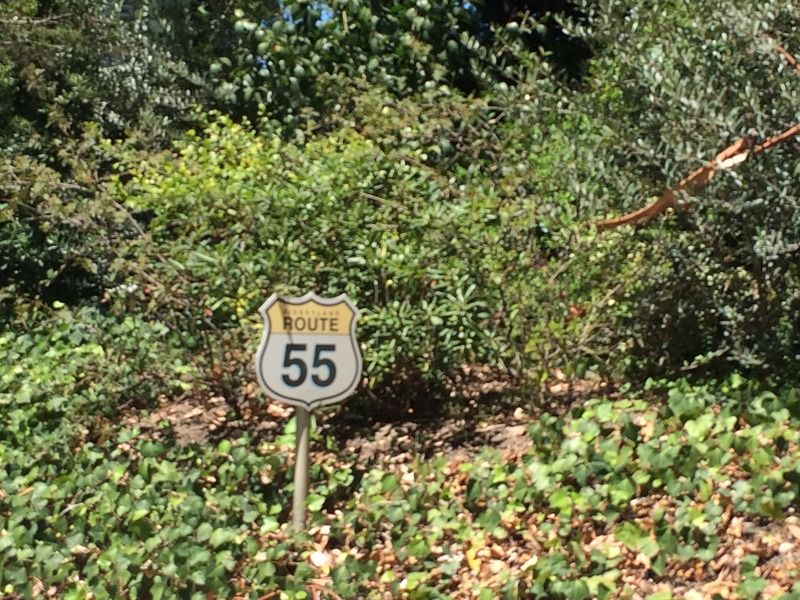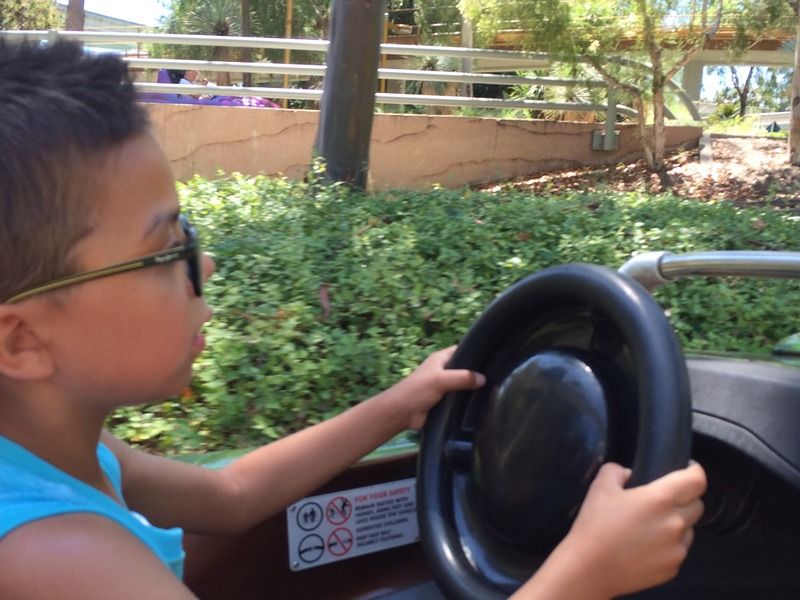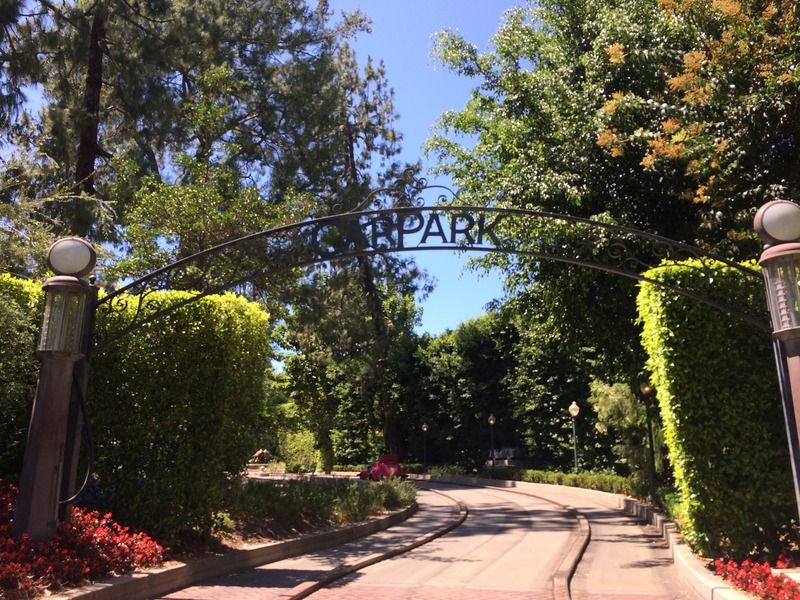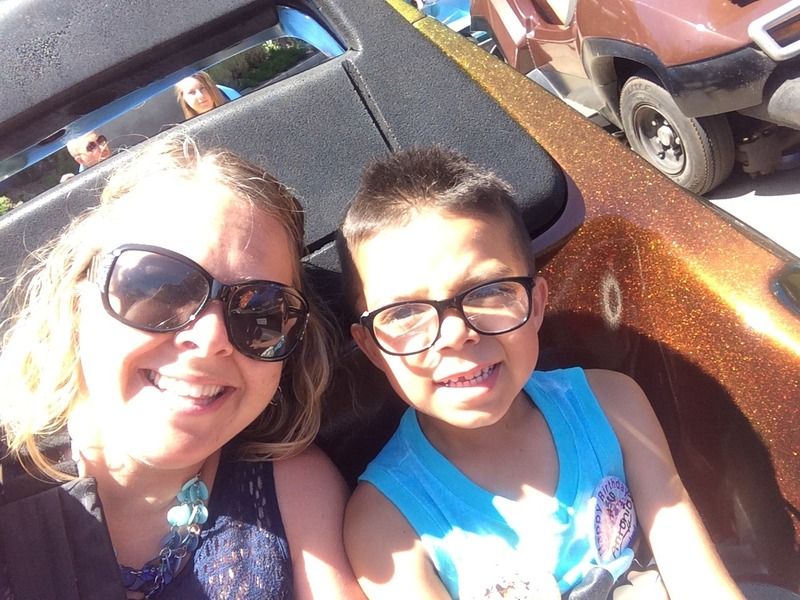 When we got back to the beginning, Halie and Quentin kept ramming their car into the back of ours. Not like I'm pregnant and my back hurts or anything. I wanted to kill them.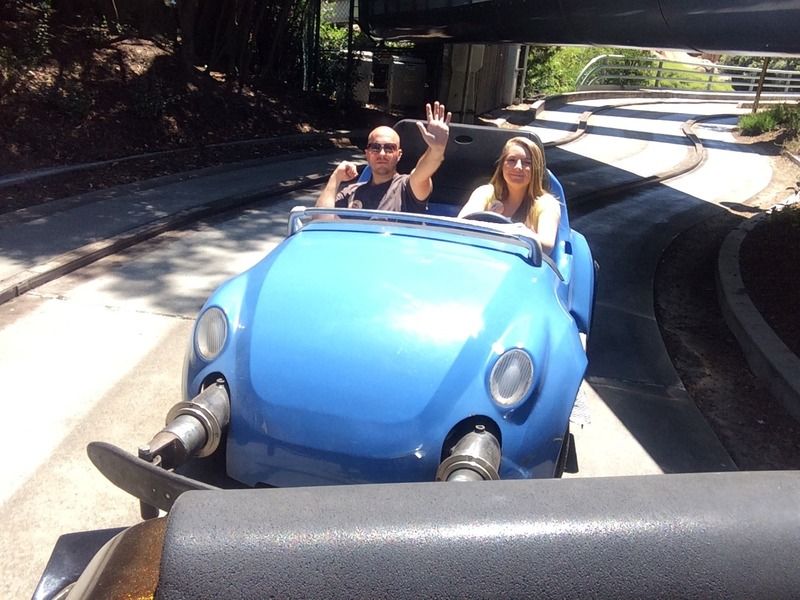 After that, we headed past the Matterhorn and took a cute photopass picture of us climbing it.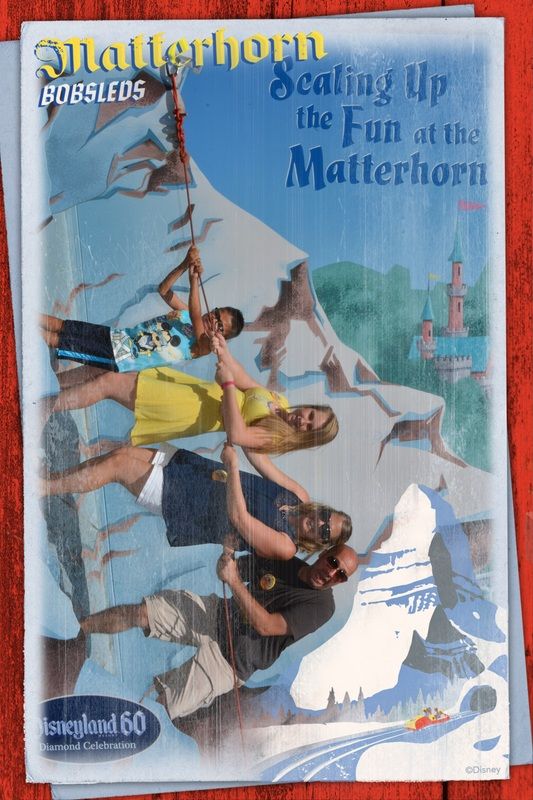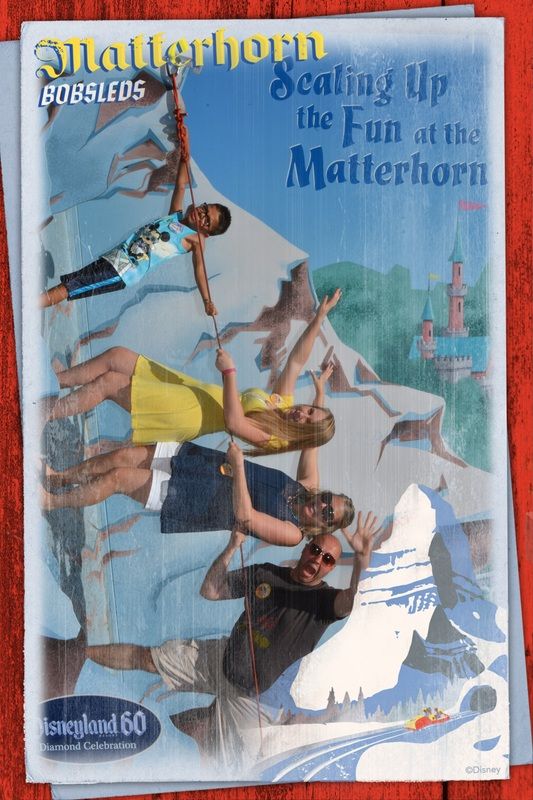 We were all hungry by then, so we got a turkey leg to split and 4 cups of ice. They didn't have tap water at the turkey leg stand. For some reason, we forgot to bring in water bottles today. We were so thirsty. Antonio chased some ducks and tried to make his ice melt in the hot sun.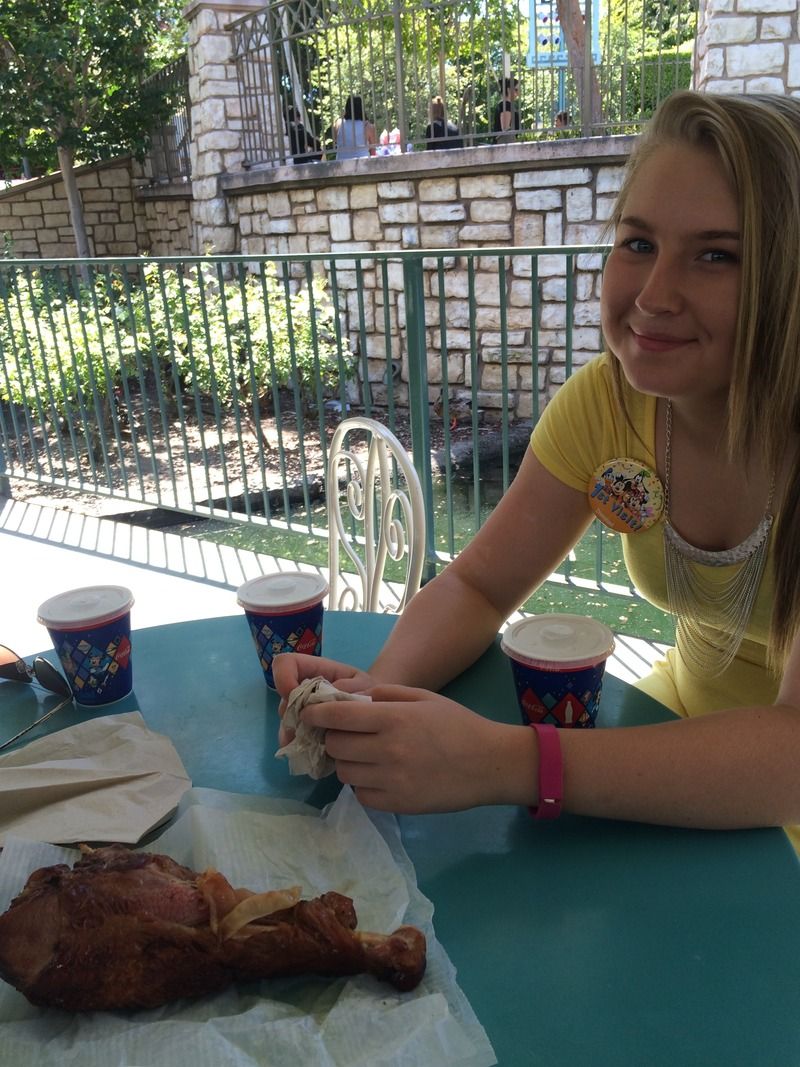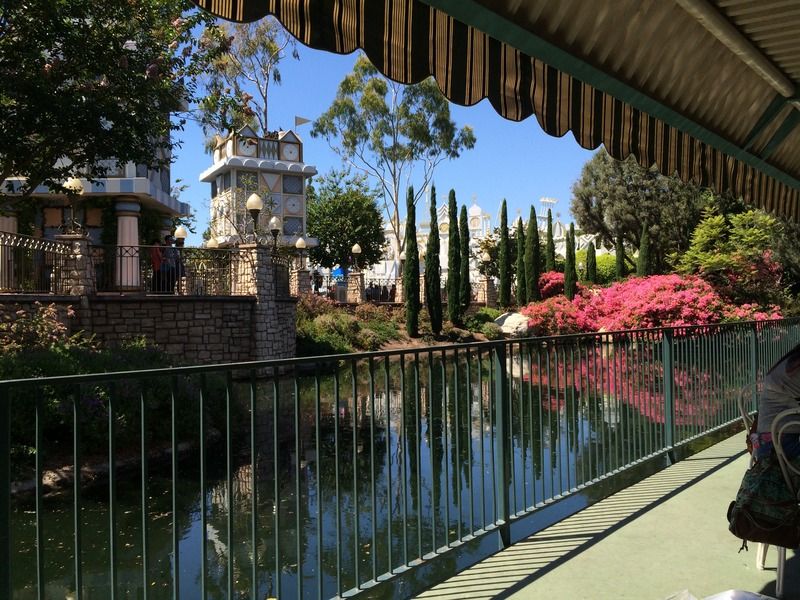 Next up was It's a Small World. So much cuter than Disney Worlds!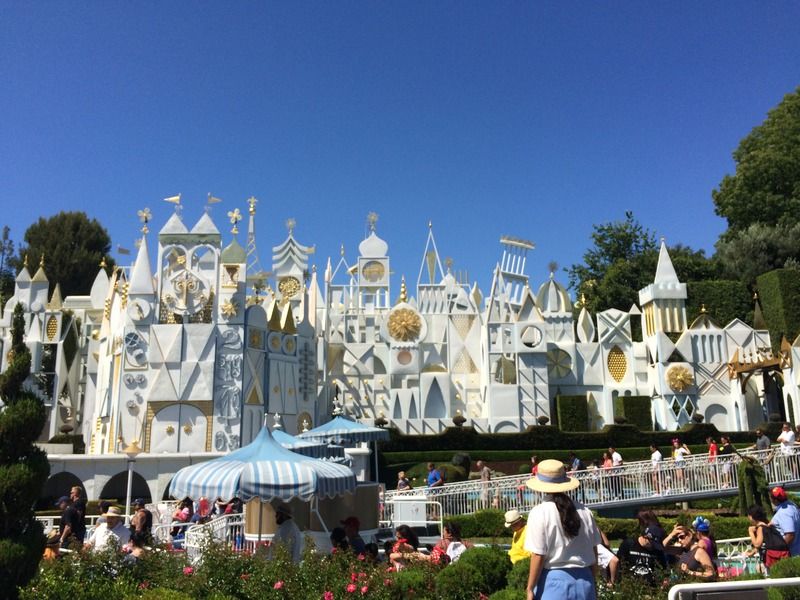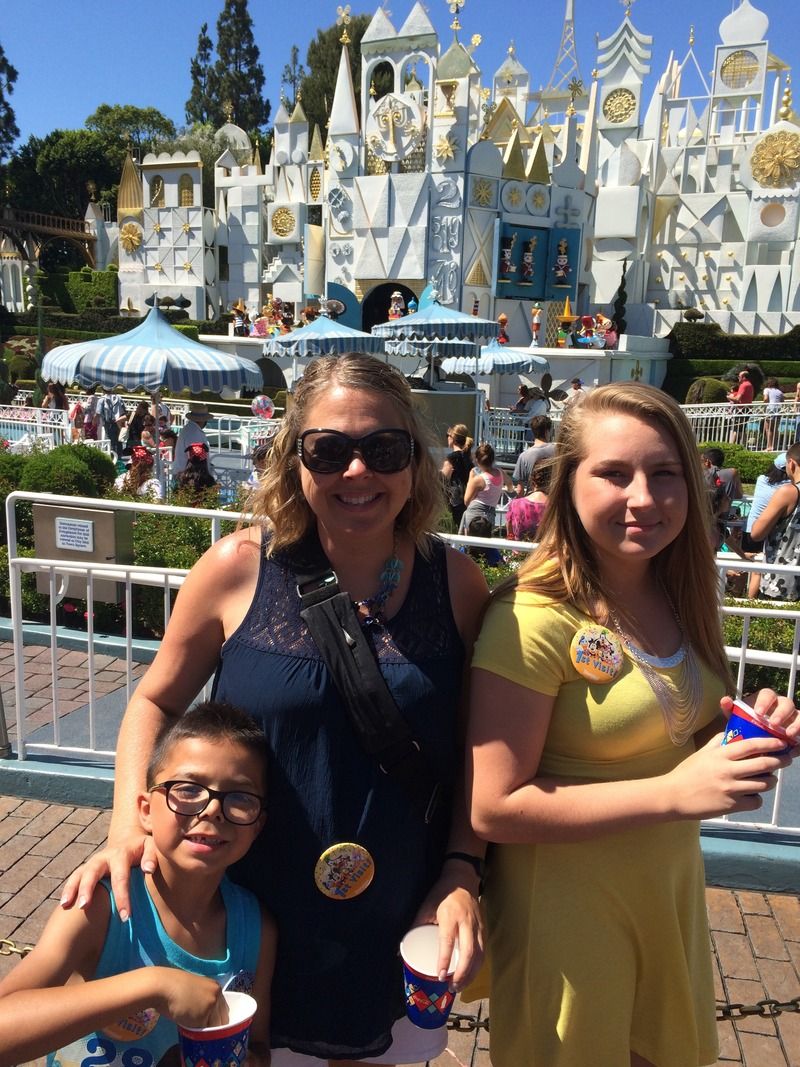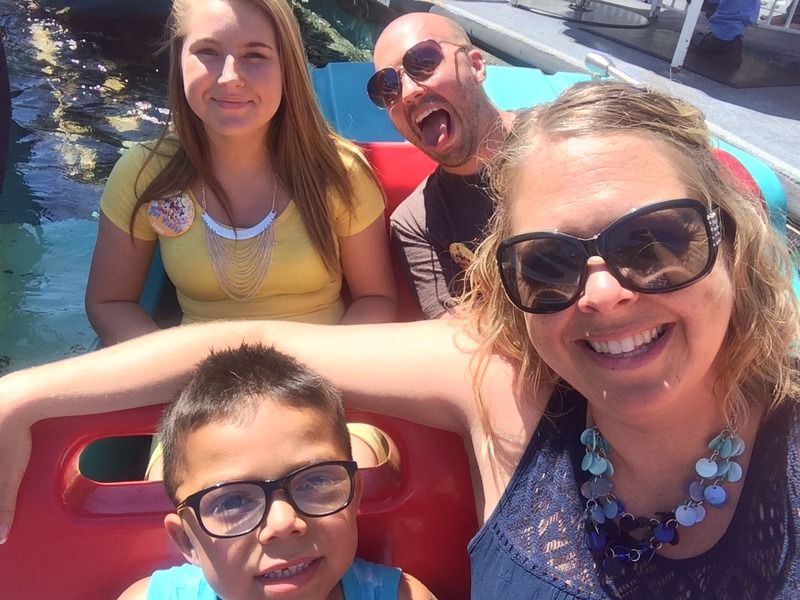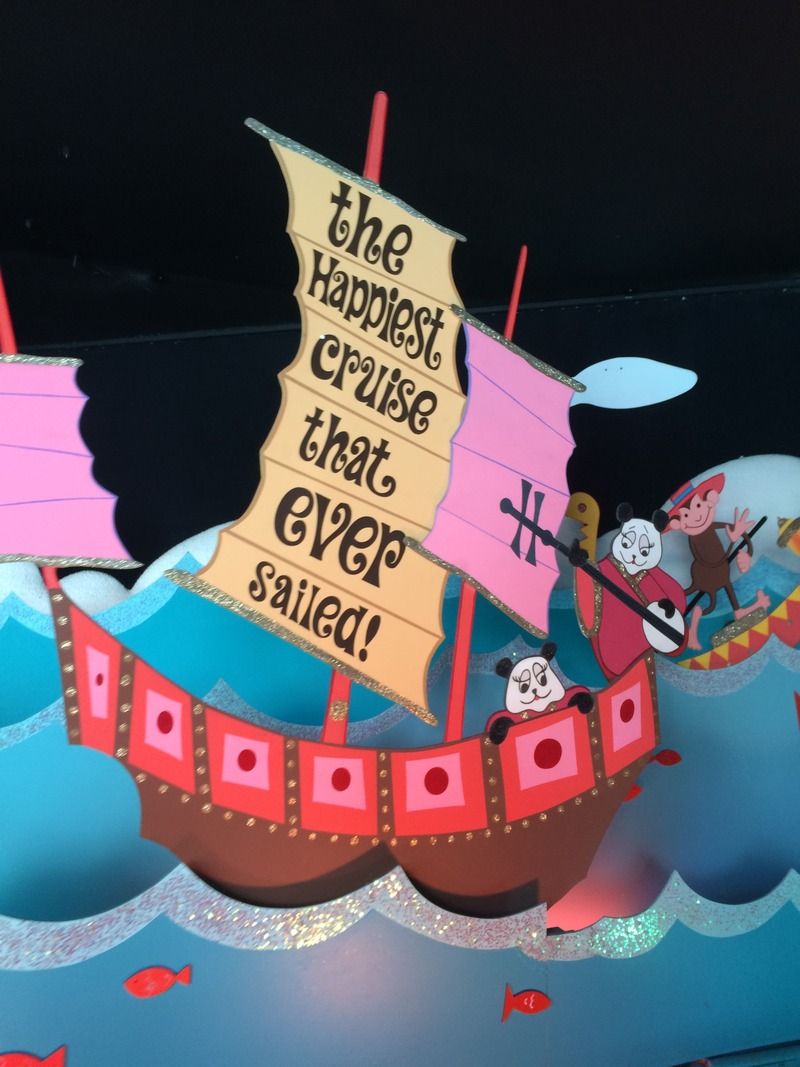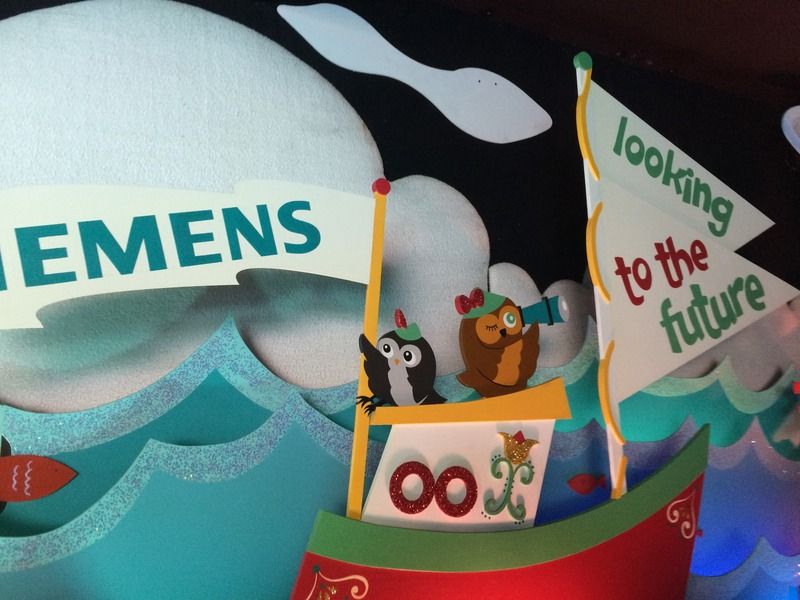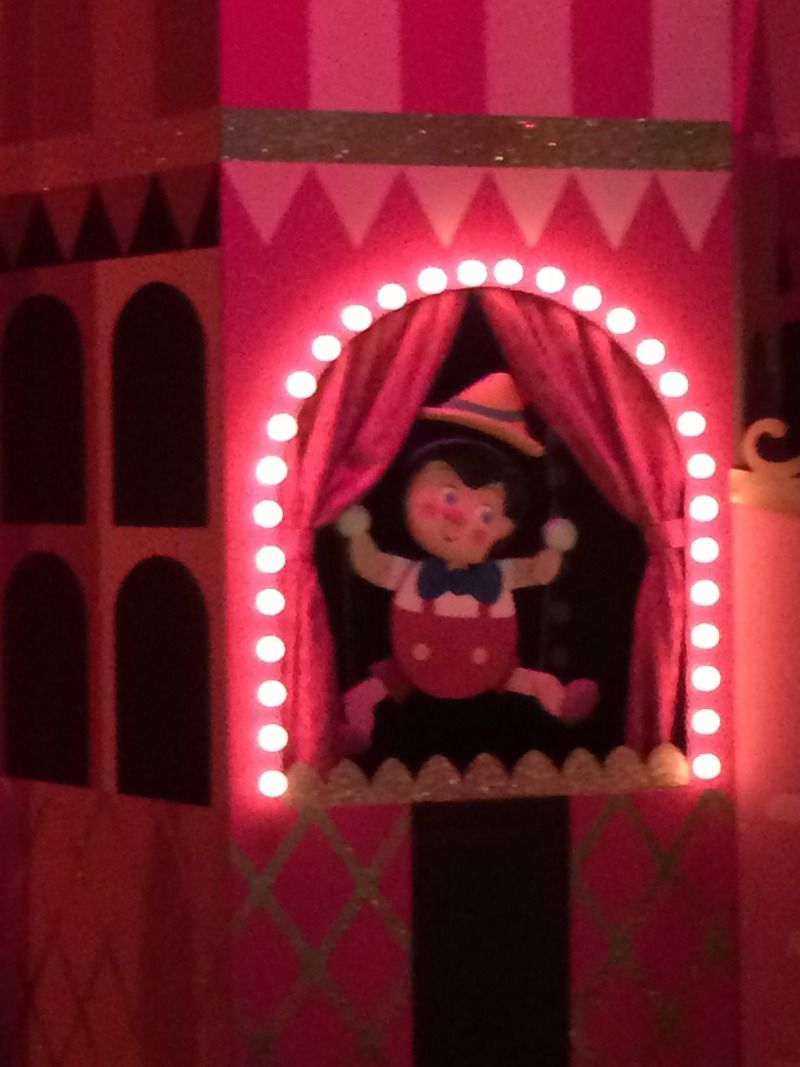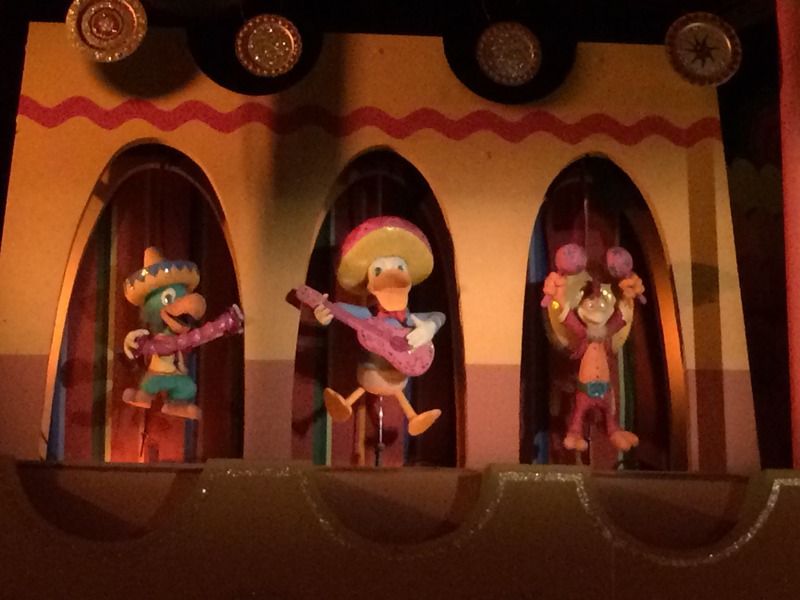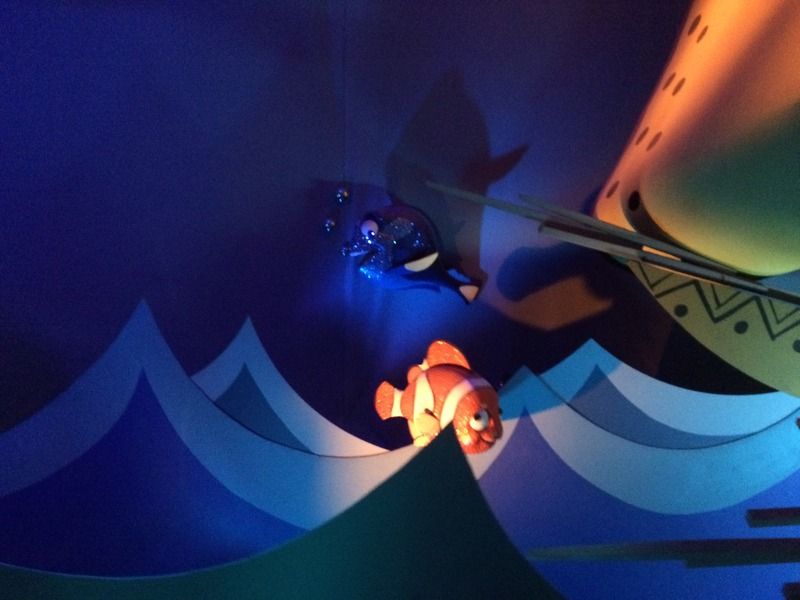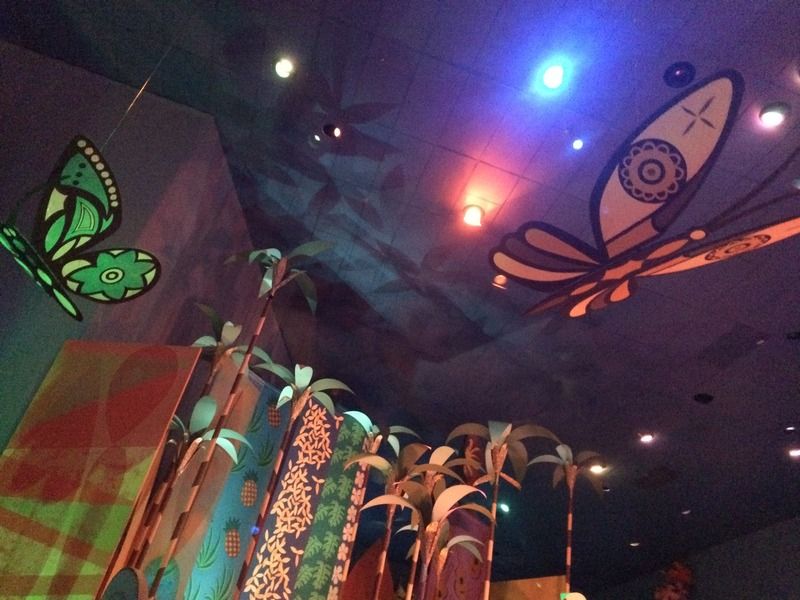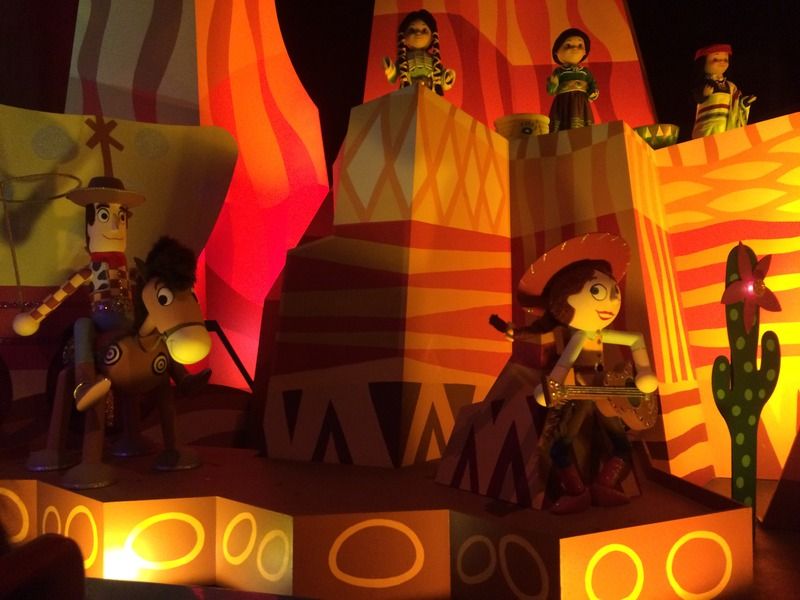 I loved the 60th Anniversary stuff!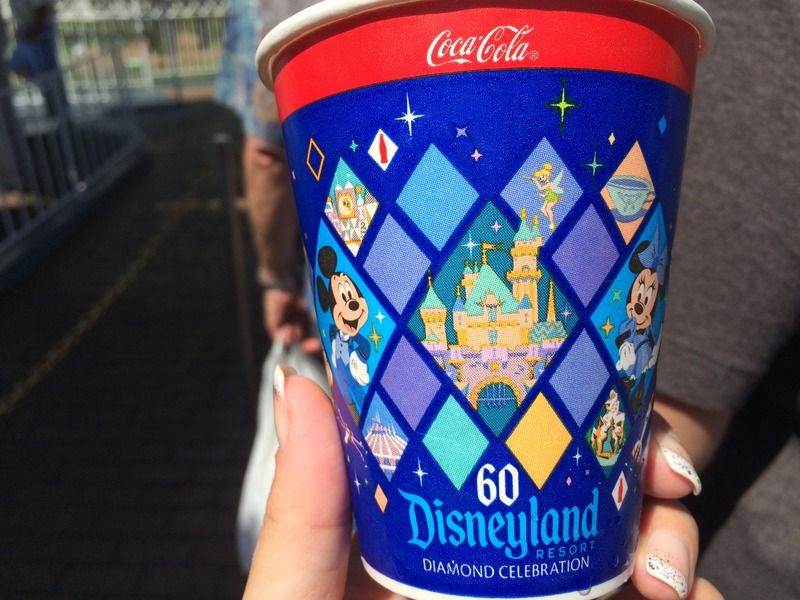 After that we went to Mickey's Toontown. I love the Toontown here. I don't know why they got rid of Disney World's instead of just making it better. So frustrating. Now I hear they are getting rid of Disneyland's for Star Wars. NOOOOOOOOOO! I mean, I'm all for Star Wars, but don't get rid of Toon Town! Antonio, Halie, and I did some exploring while Quentin sat in the shade.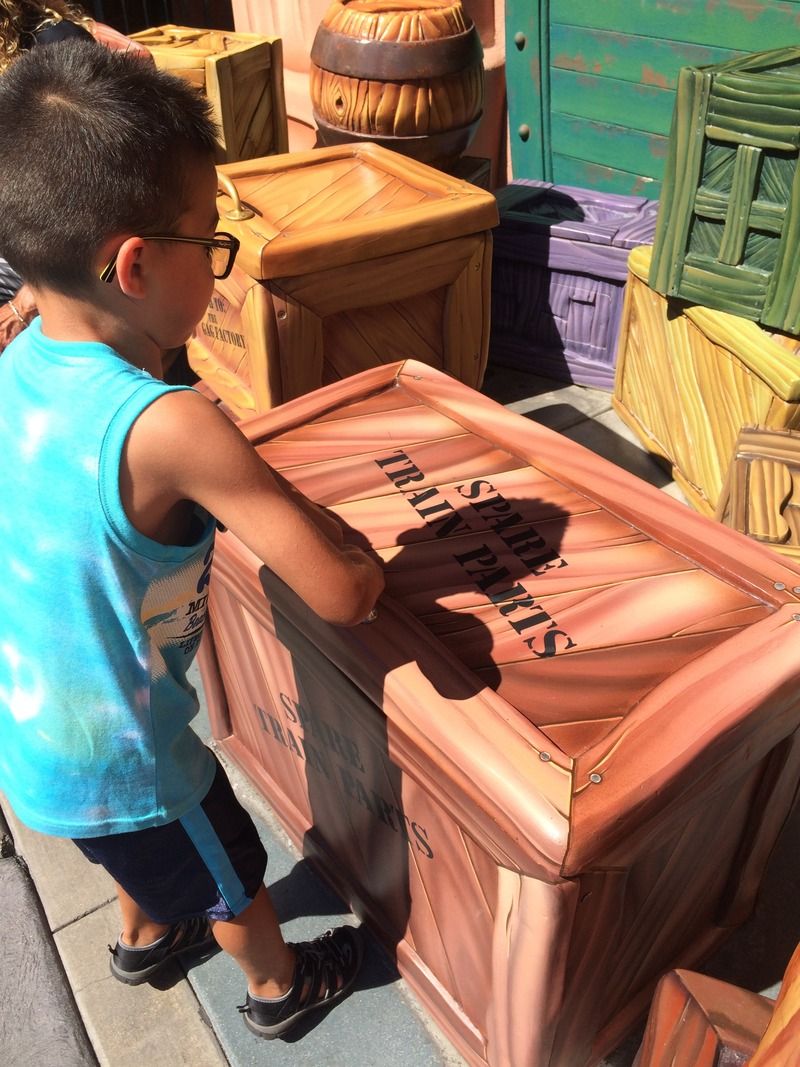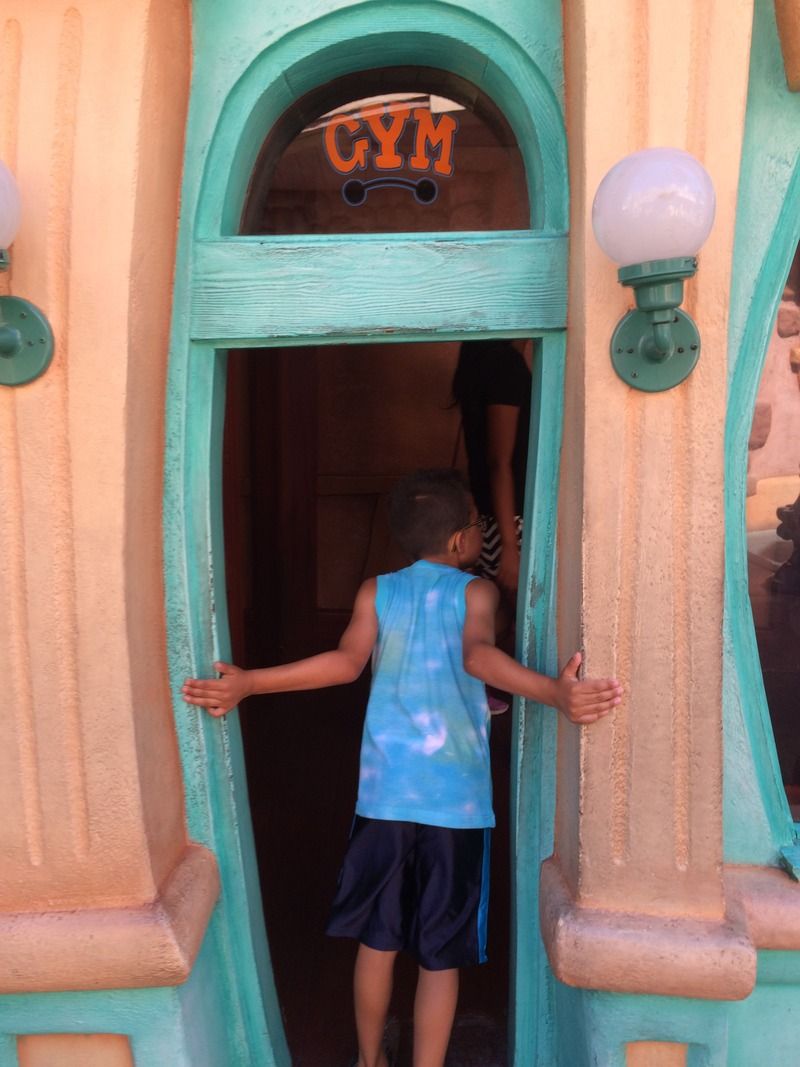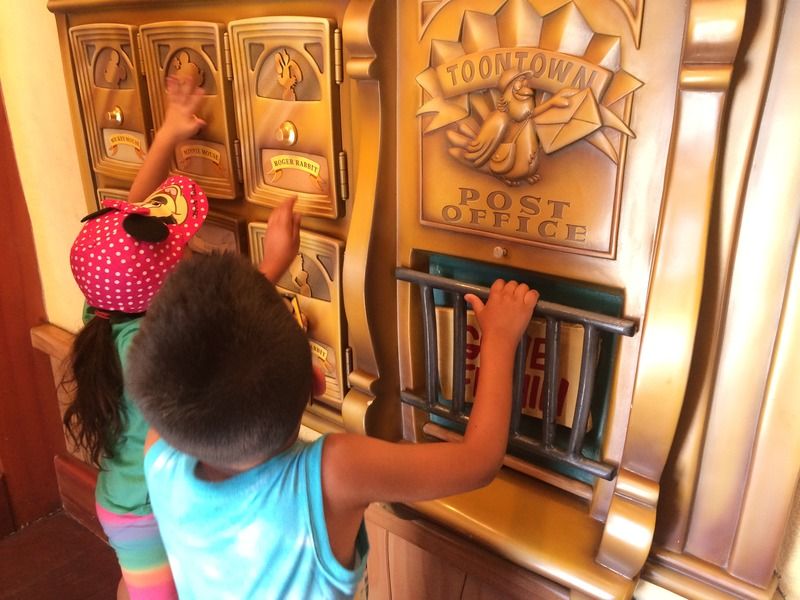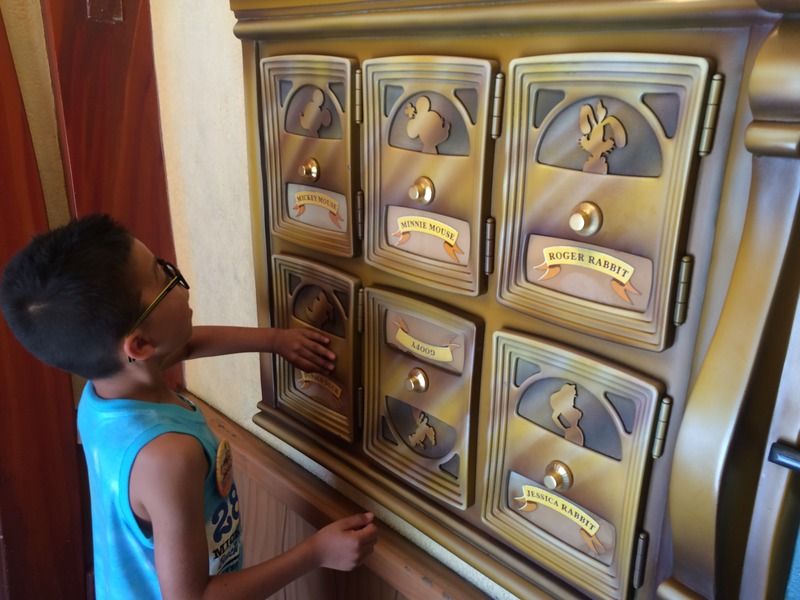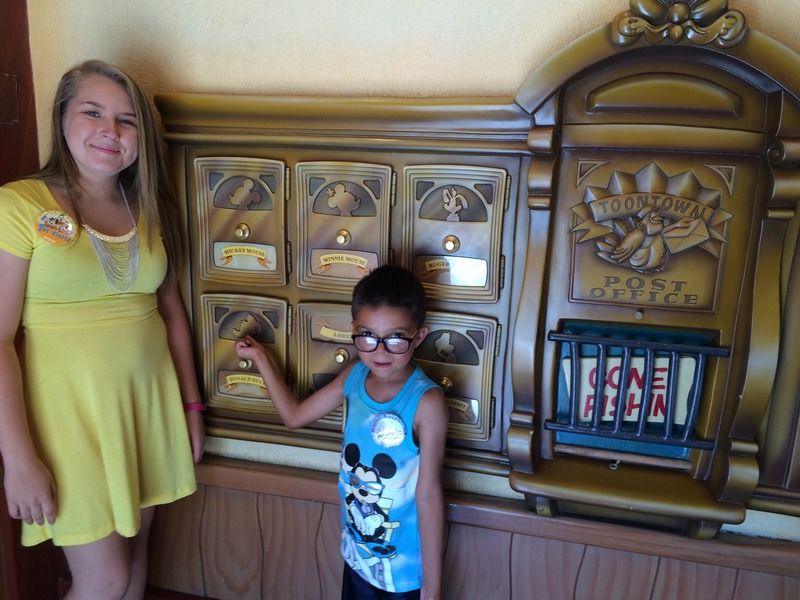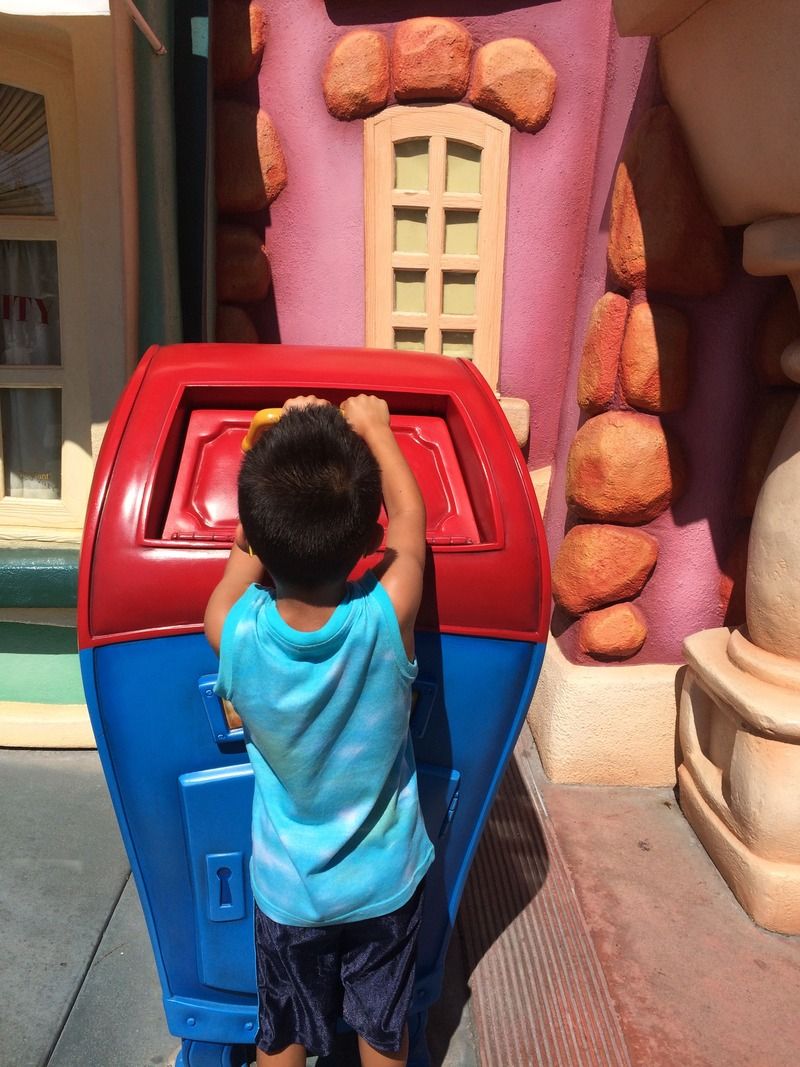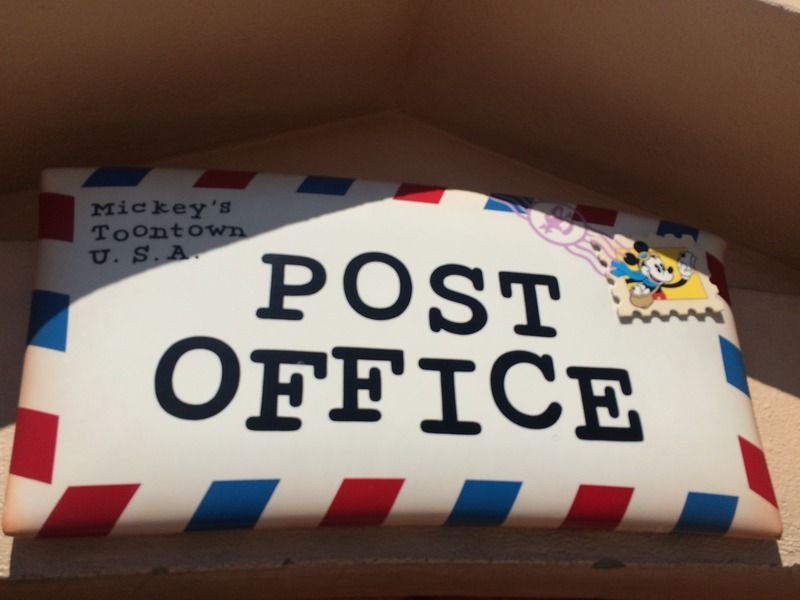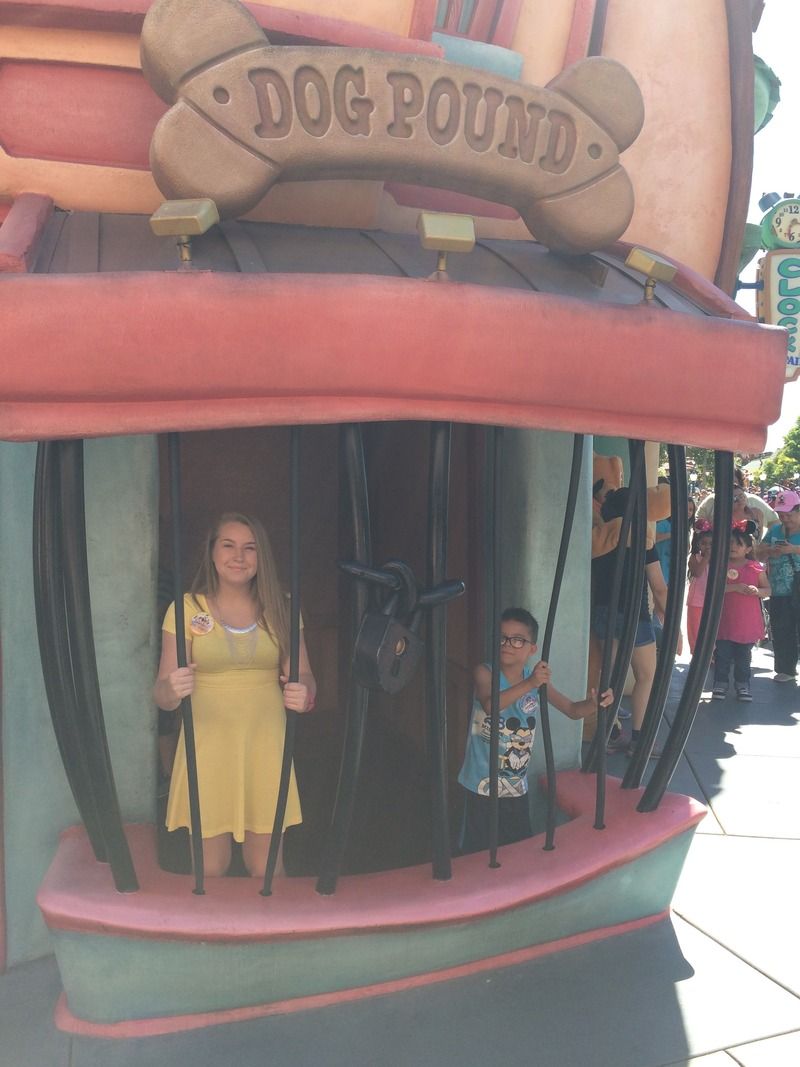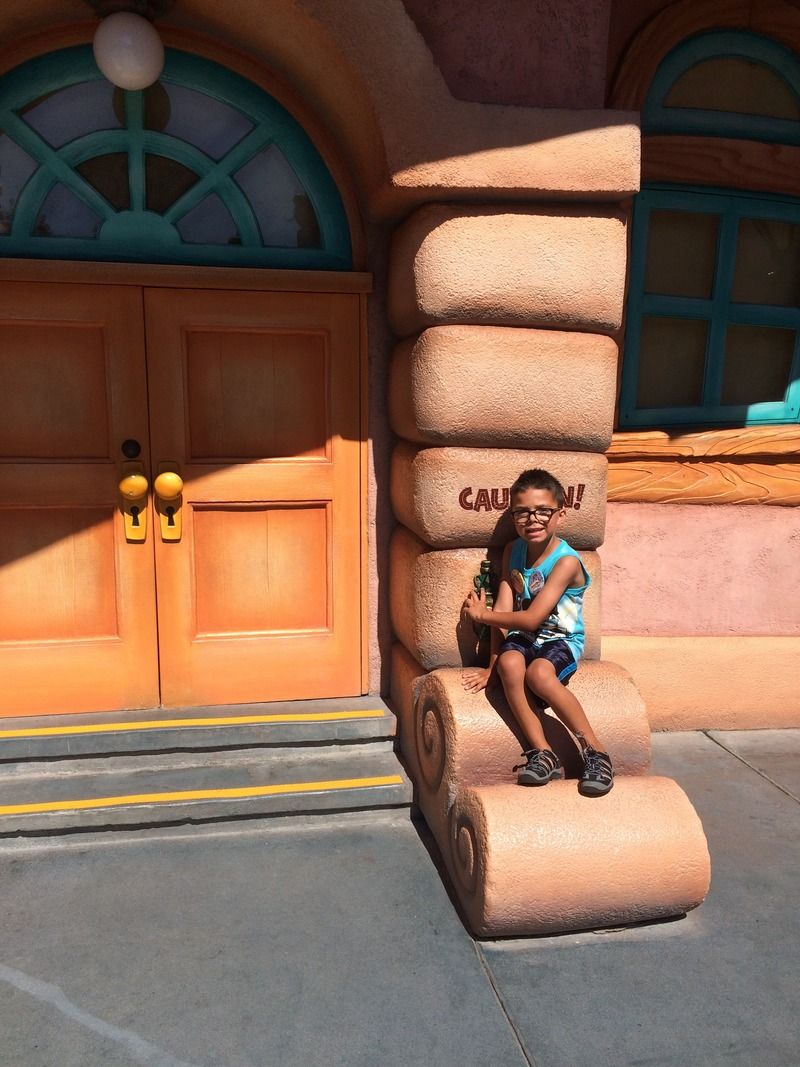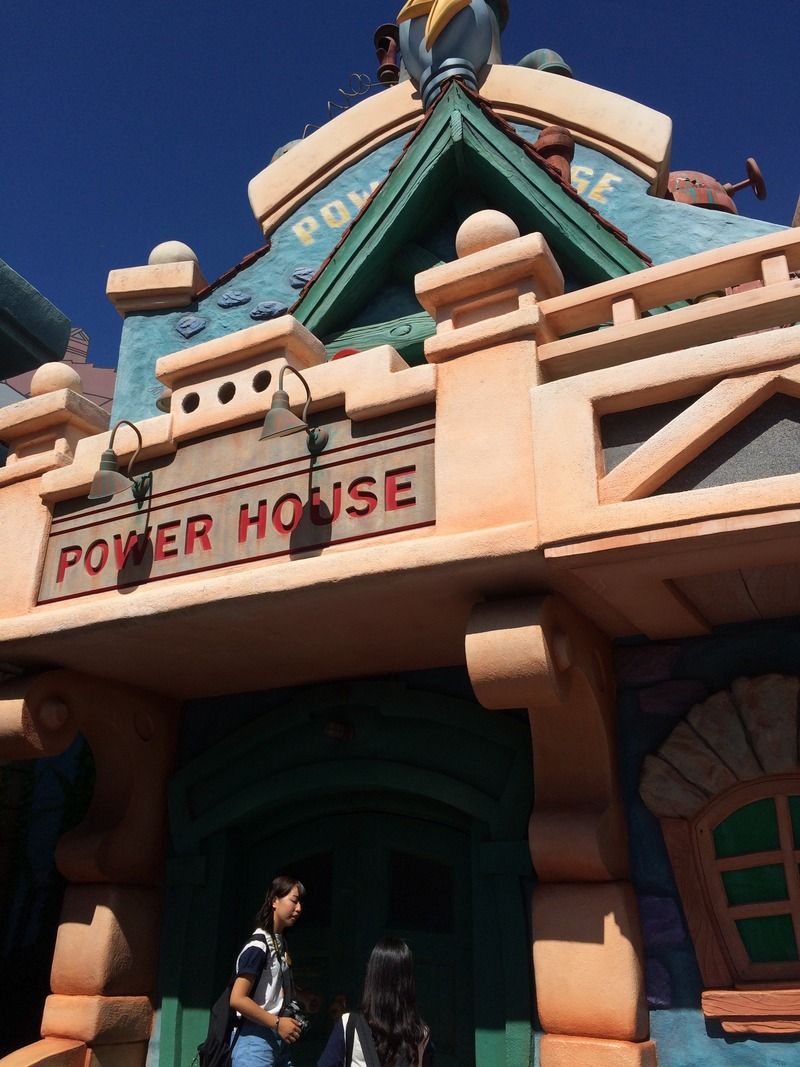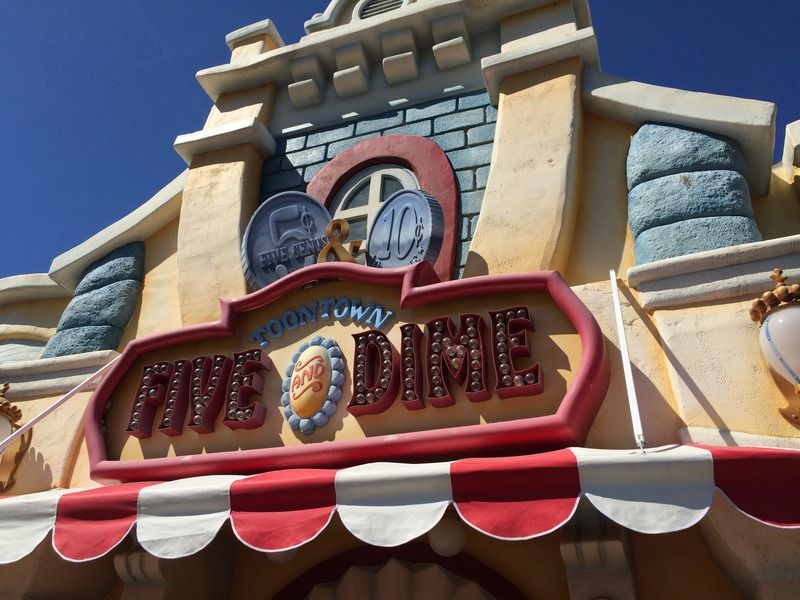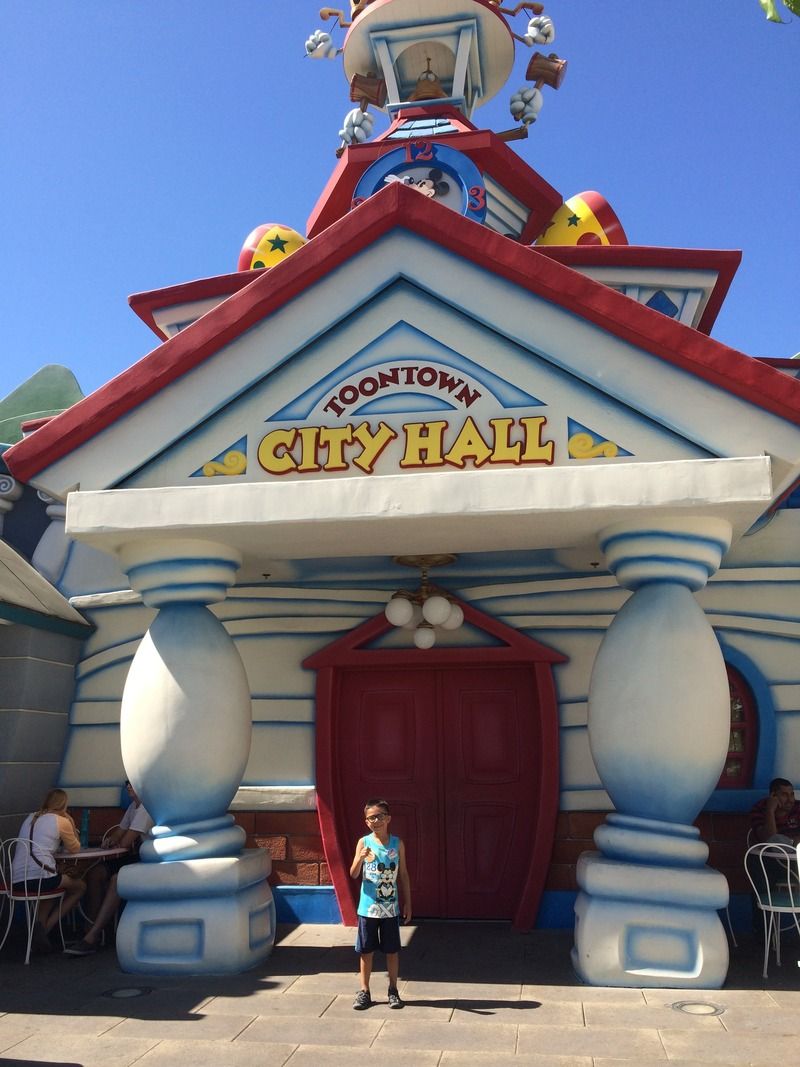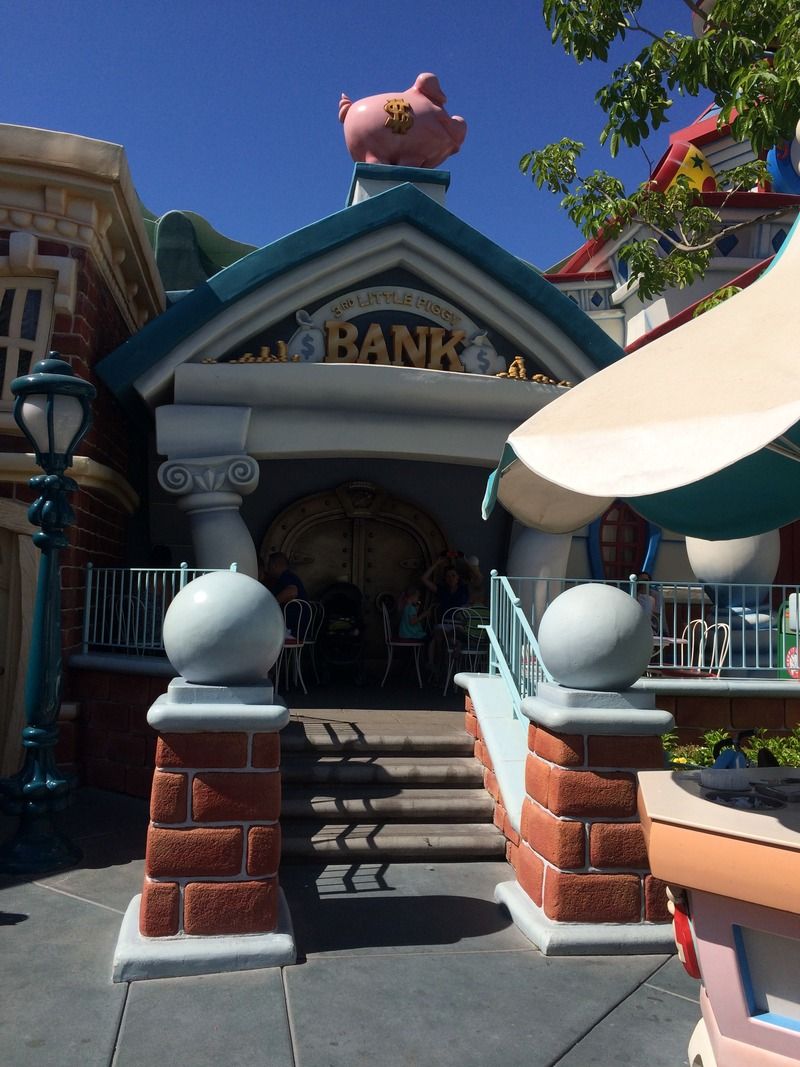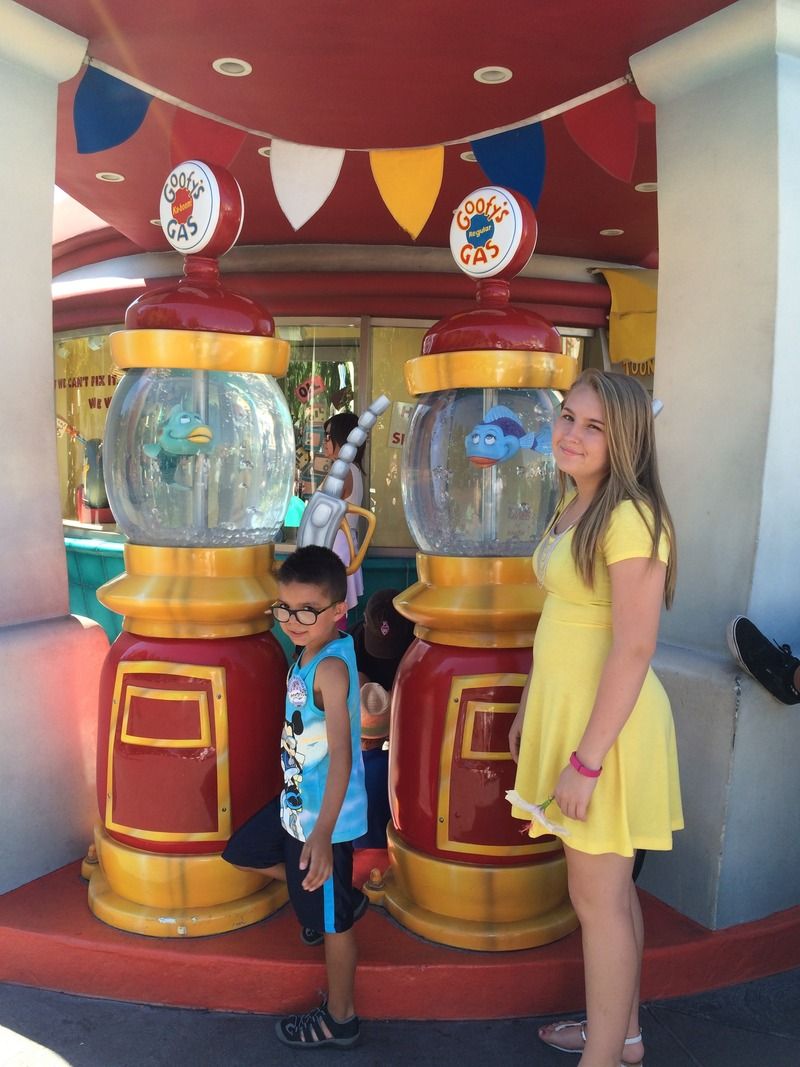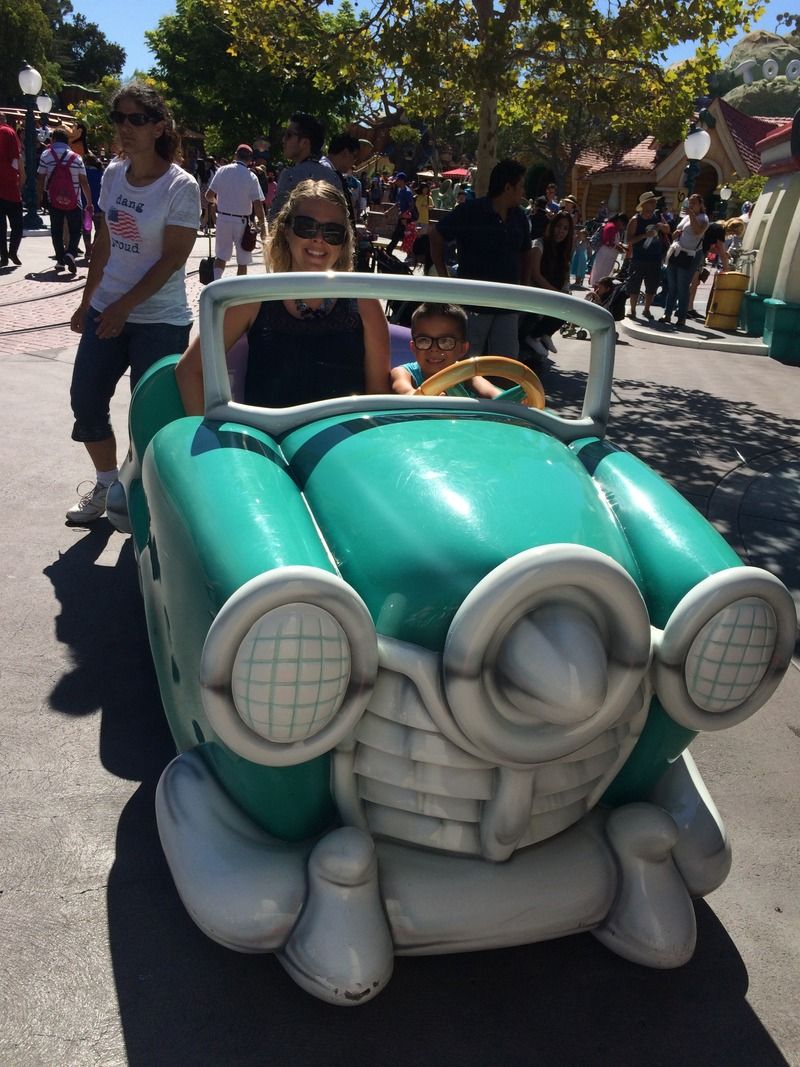 Antonio saw the Gadget Go Coaster and wanted to ride. I told him the line was long, but he insisted. We practically melted while we waited in that long line. Then we rode the 20 second roller coaster. So not worth it. While in line, I told Quentin to grab fastpasses for Roger Rabbit.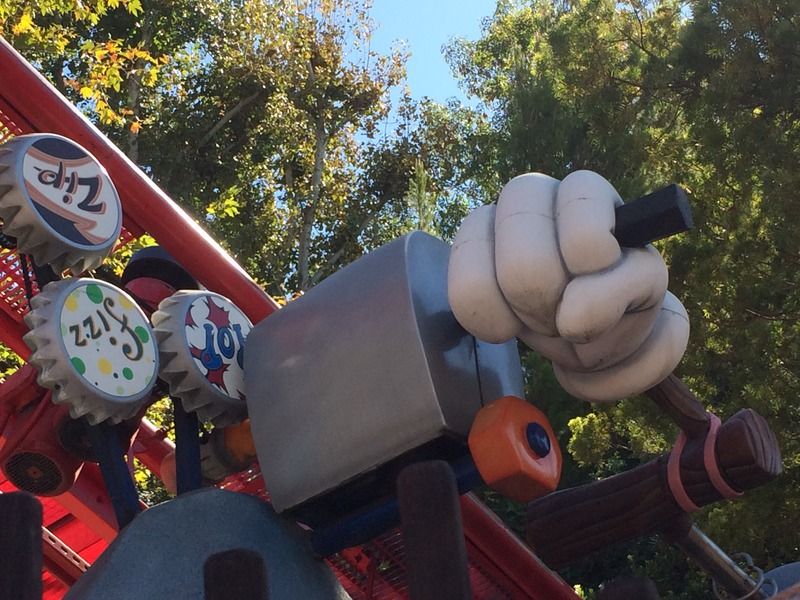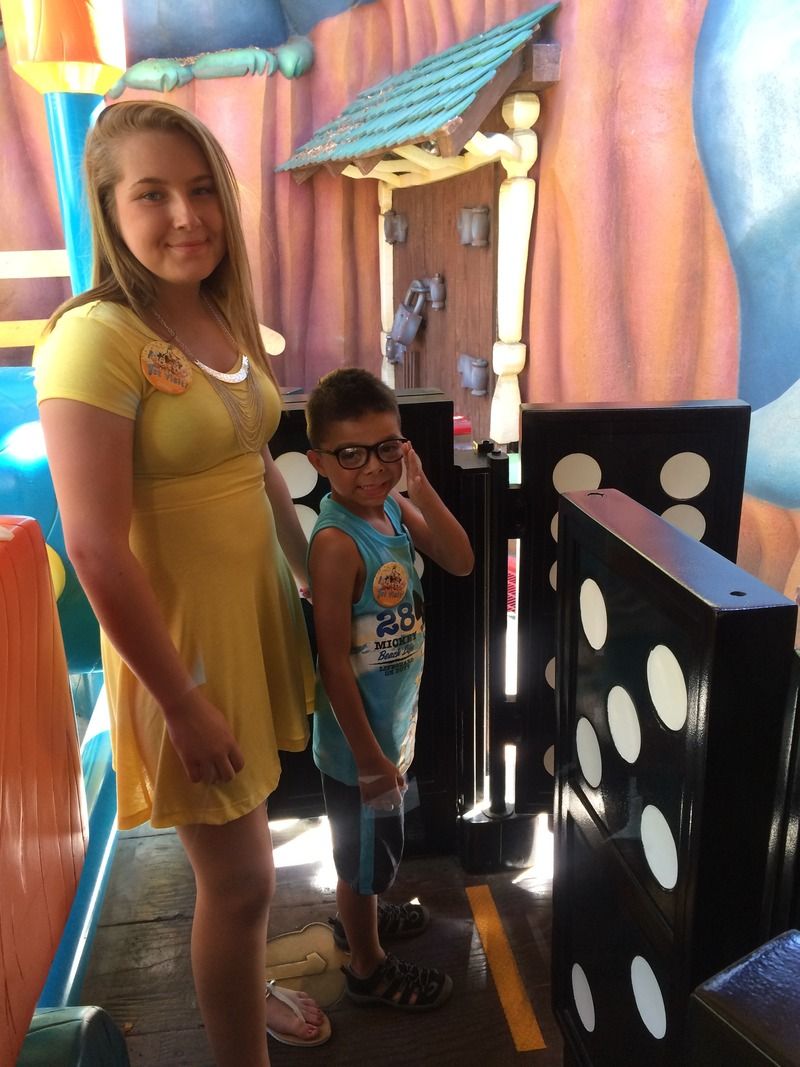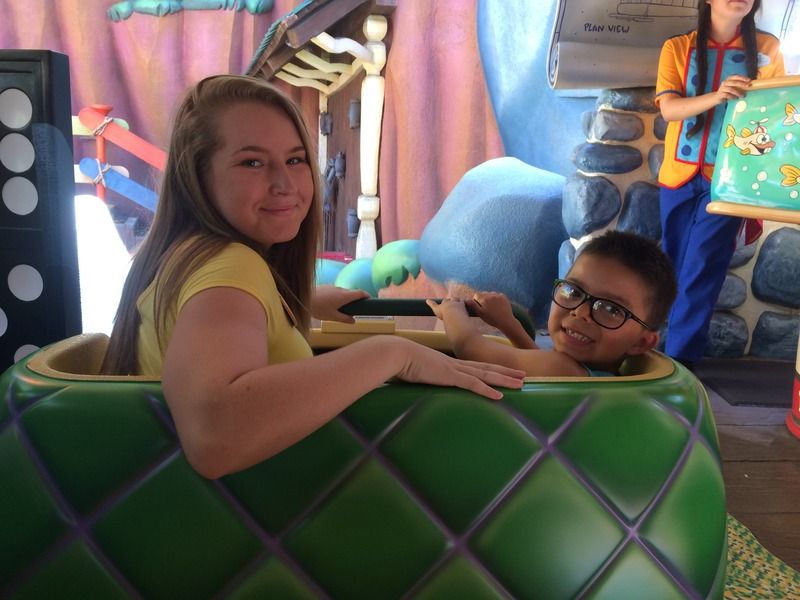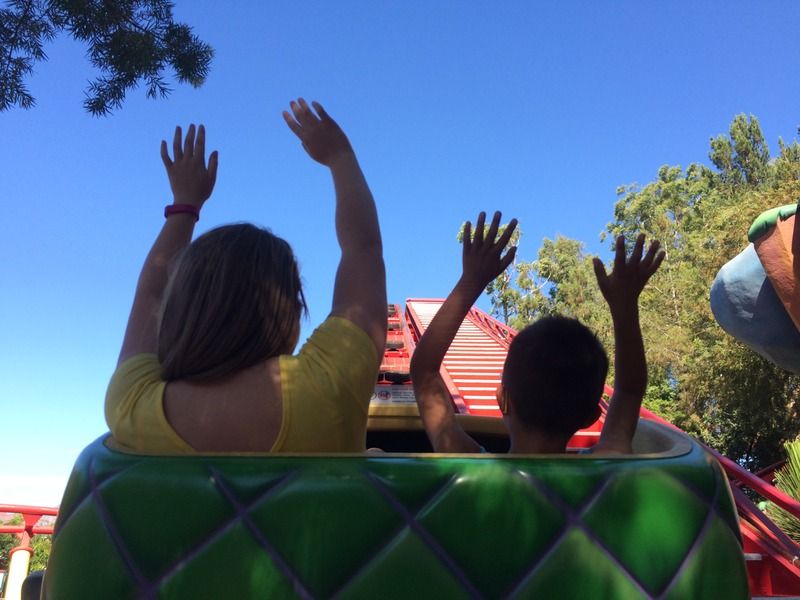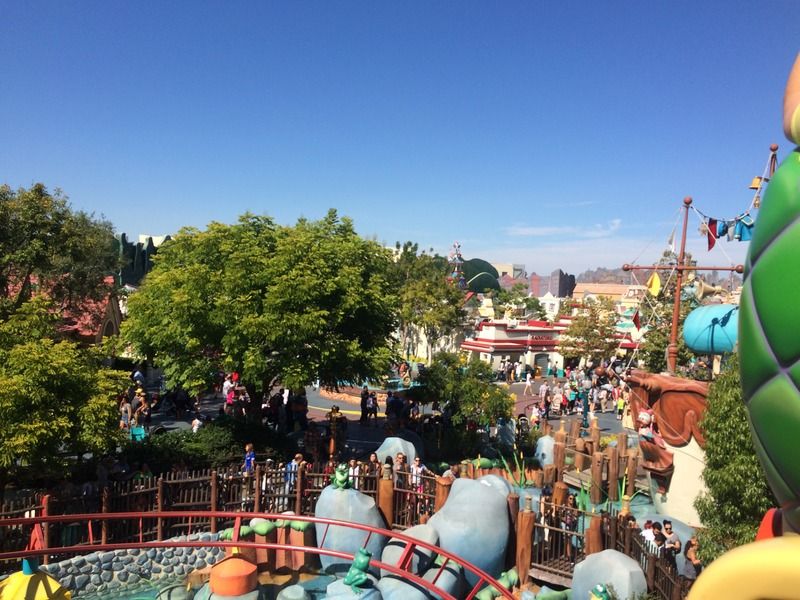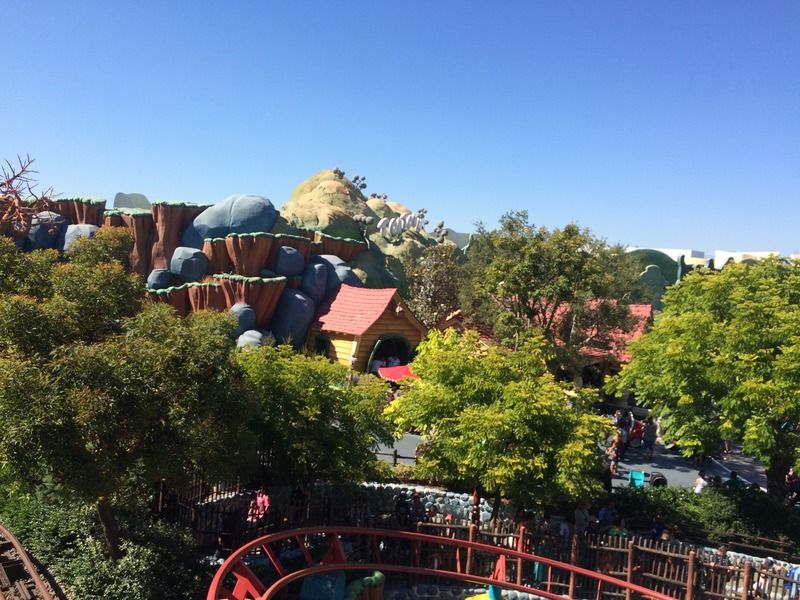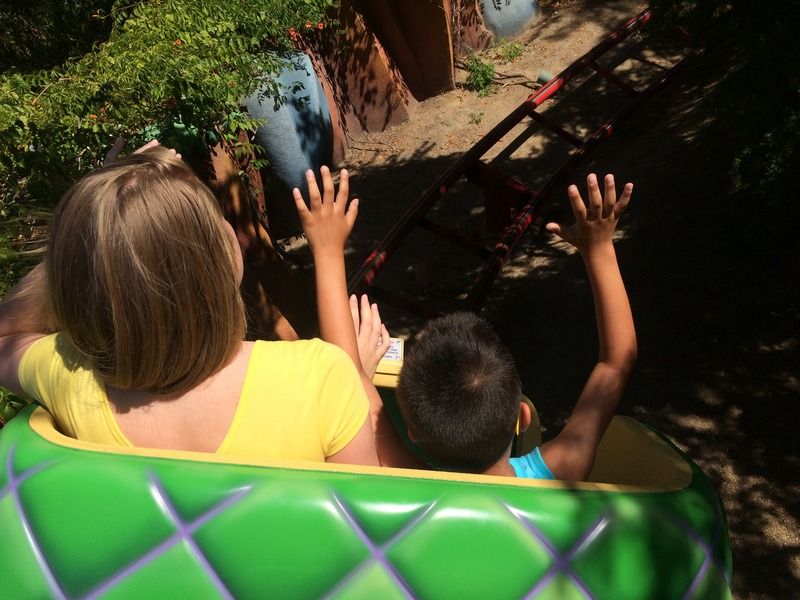 Naughty Halie picked a flower. Isn't she so pretty?
After the ride, I wanted to go to Chip and Dale's Treehouse. Chip and Dale Rescue Rangers was one of my favorite shows growing up. Antonio had a meltdown that he needed a drink. We finally got him to go up the treehouse and back down. It took all of three minutes. Then we found a water fountain.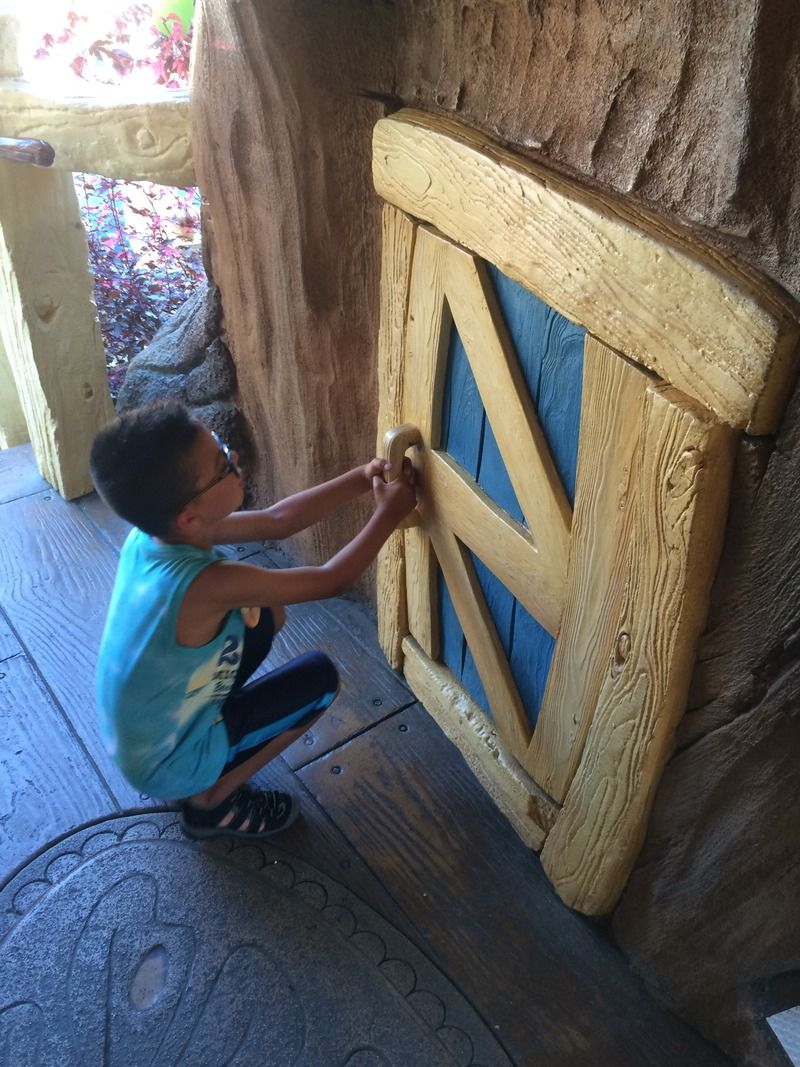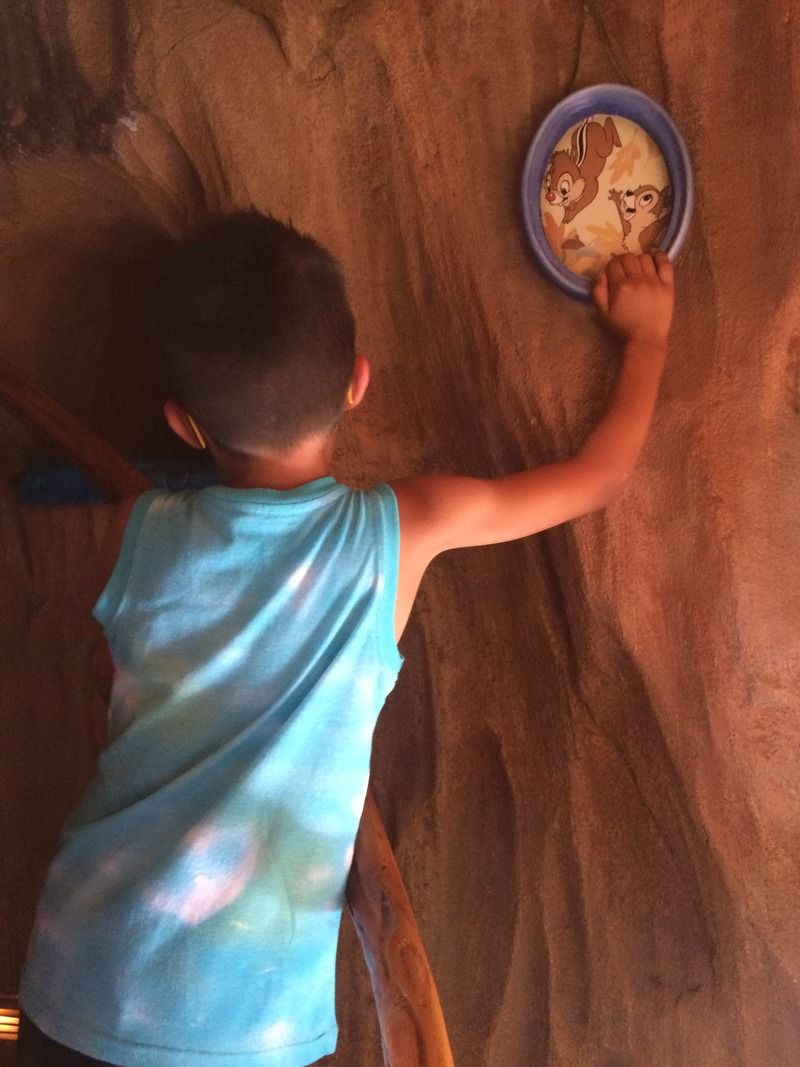 Halie loves Peanut Butter so we had to get this picture.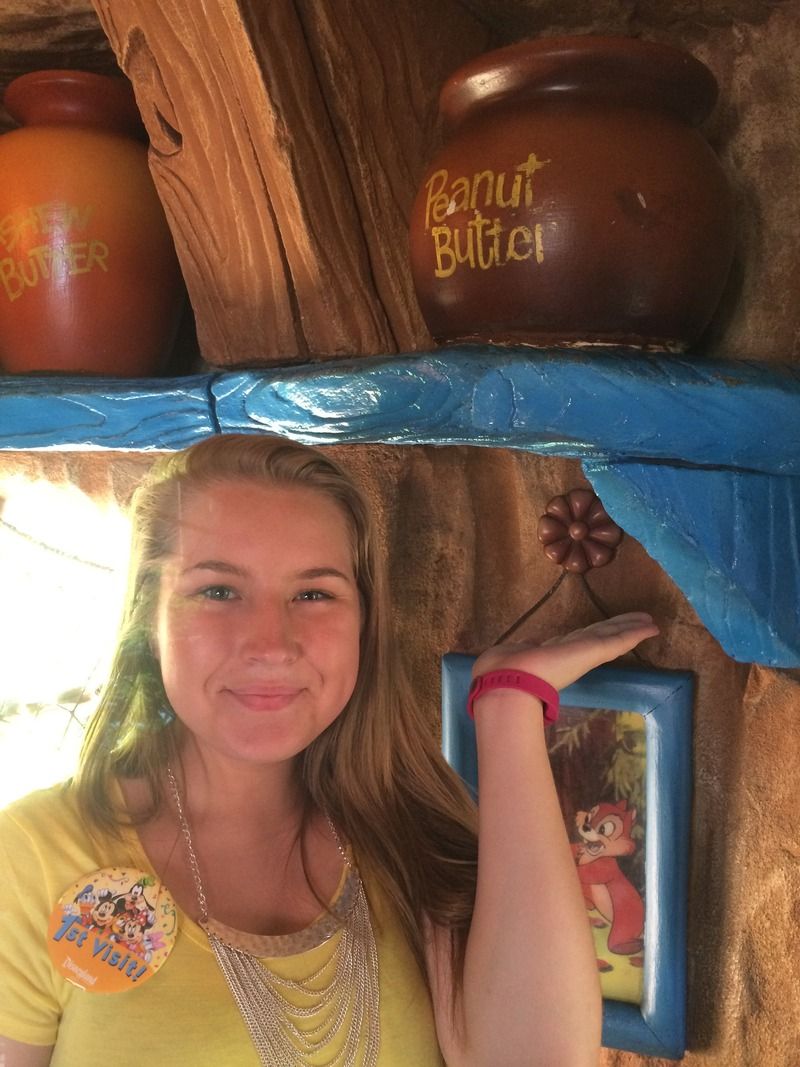 Meltdown in action.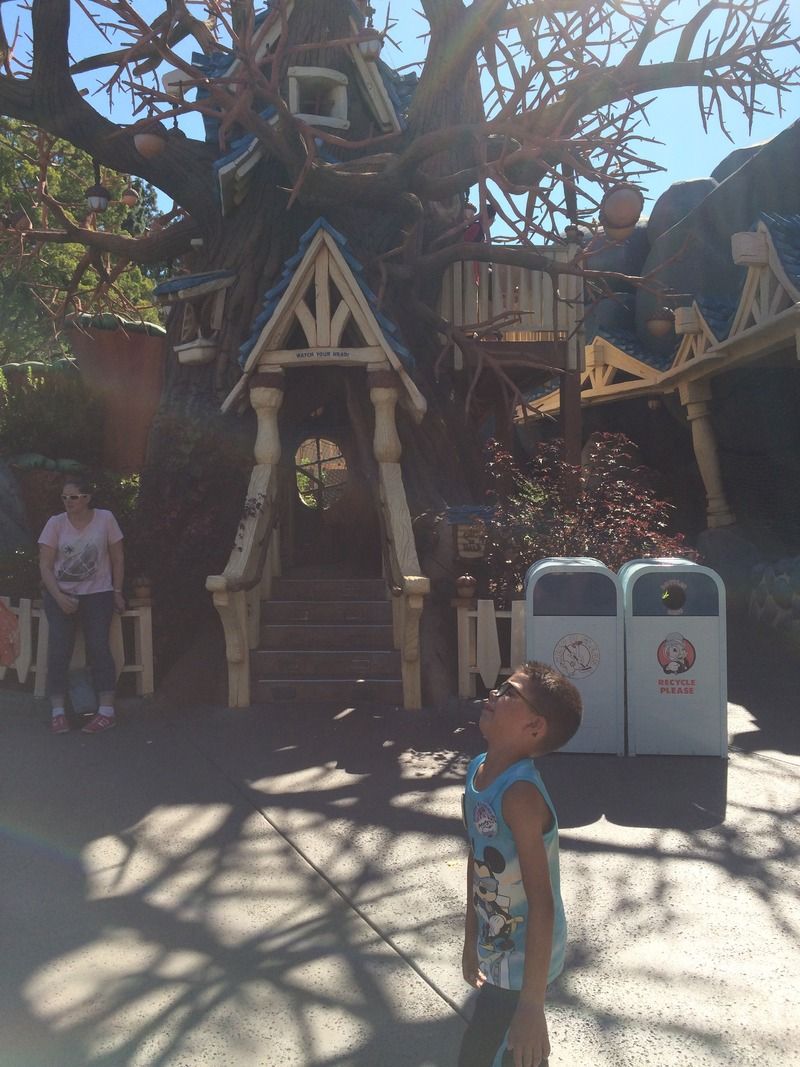 We found Quentin and grabbed some money to buy something to drink. Quentin bought some slushies, but Halie really wanted a Minute Maid Frozen Lemonade. I asked a Cast Member and they don't sell them in Toontown so we headed out to find one.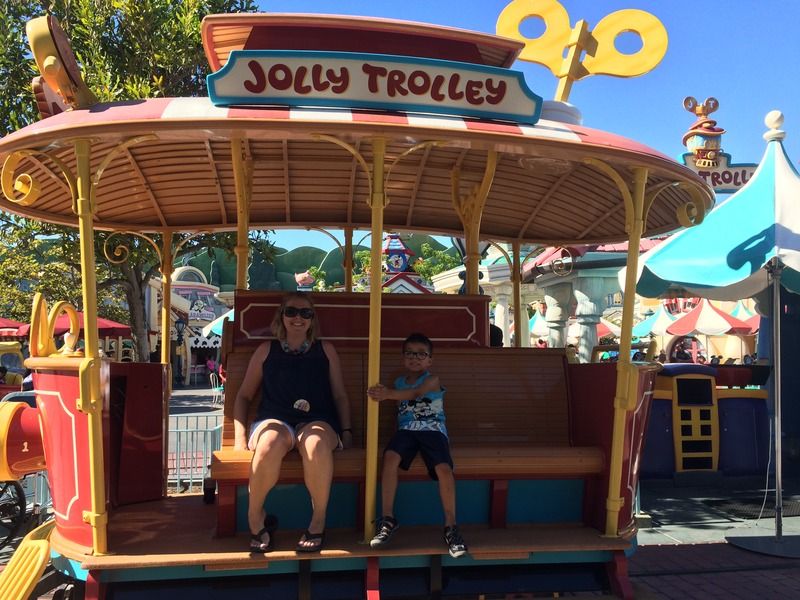 When we left Toontown, I noticed people were lining up and asked around. There would be a parade coming soon. There were a ton of people lined up and nowhere for us to go. I was looking around and saw an empty area across from It's a Small World. I asked a Cast Member if we could sit there and he said we could. Front row seats! Antonio and I saw on the burning hot ground. Halie wandered off to find shade. Quentin stood back thinking I was ridiculous for stopping in the burning heat to sit on hot pavement.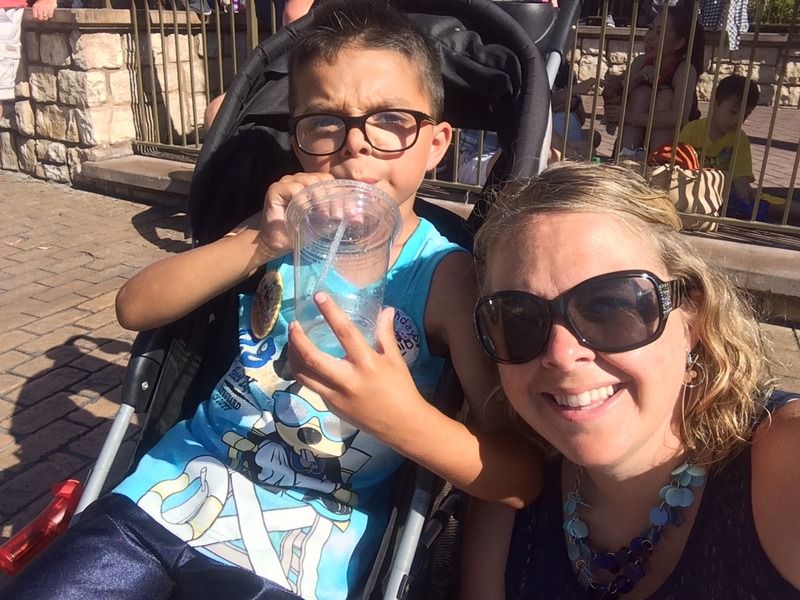 The slushes were gone way too fast and we were hot and thirsty. Antonio actually drank some water from his spray bottle from Vegas he was so thirsty. Finally, the parade came. It was cute and I'm glad we stopped to watch.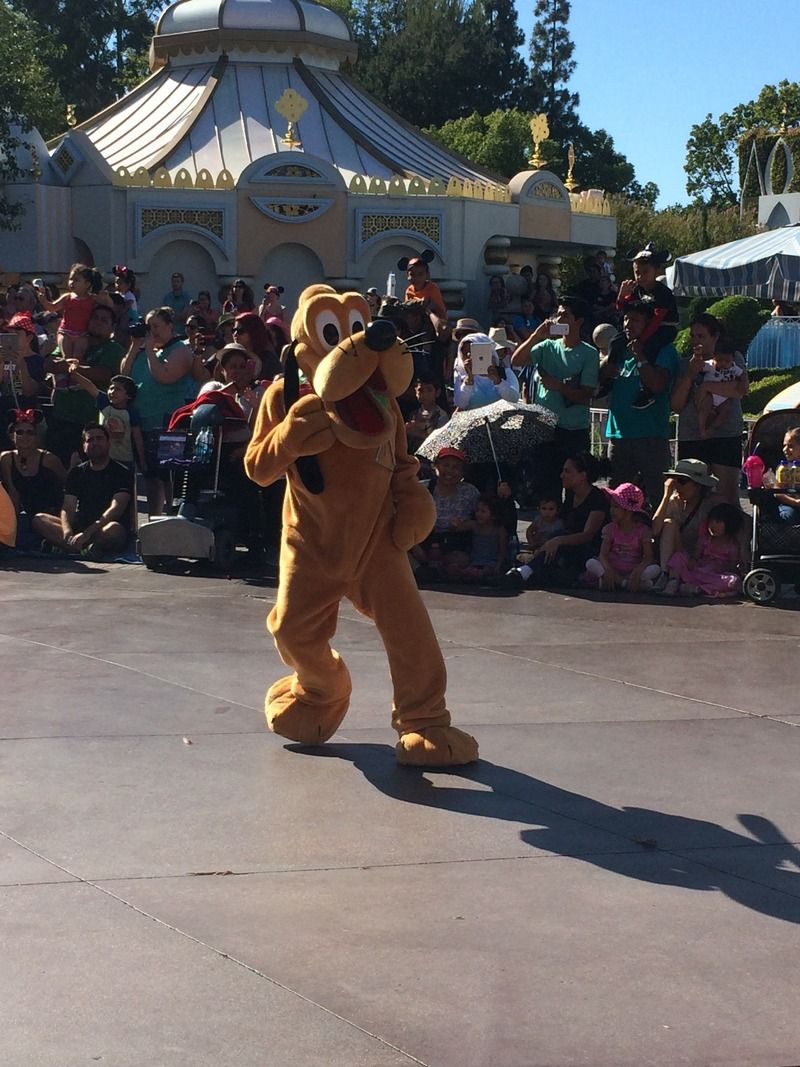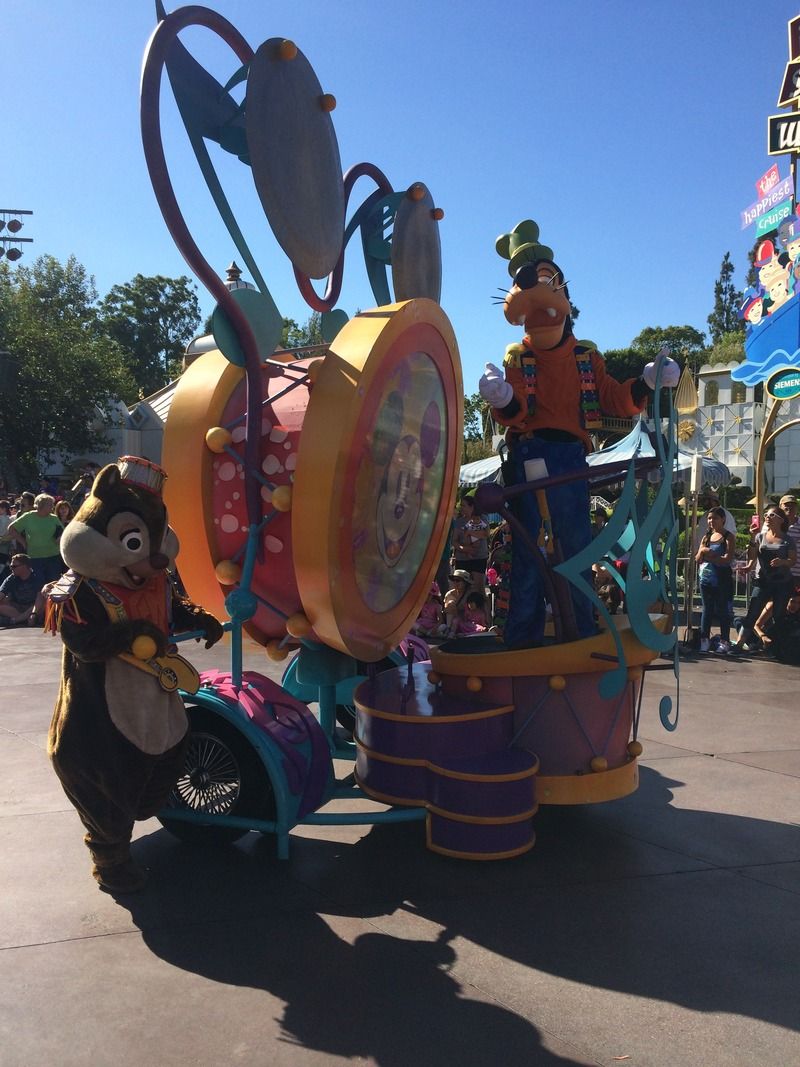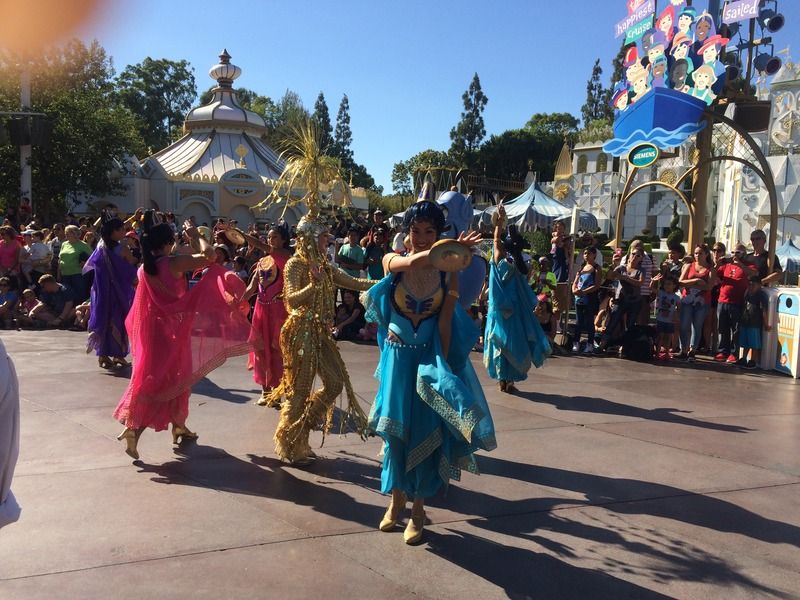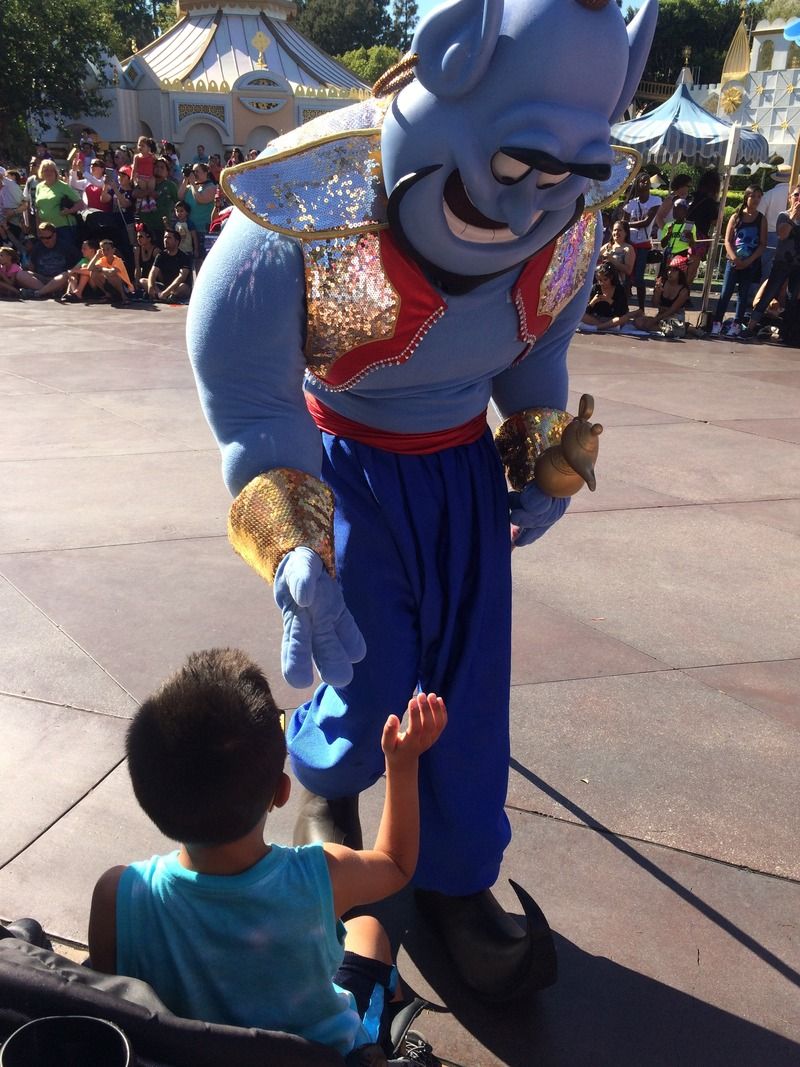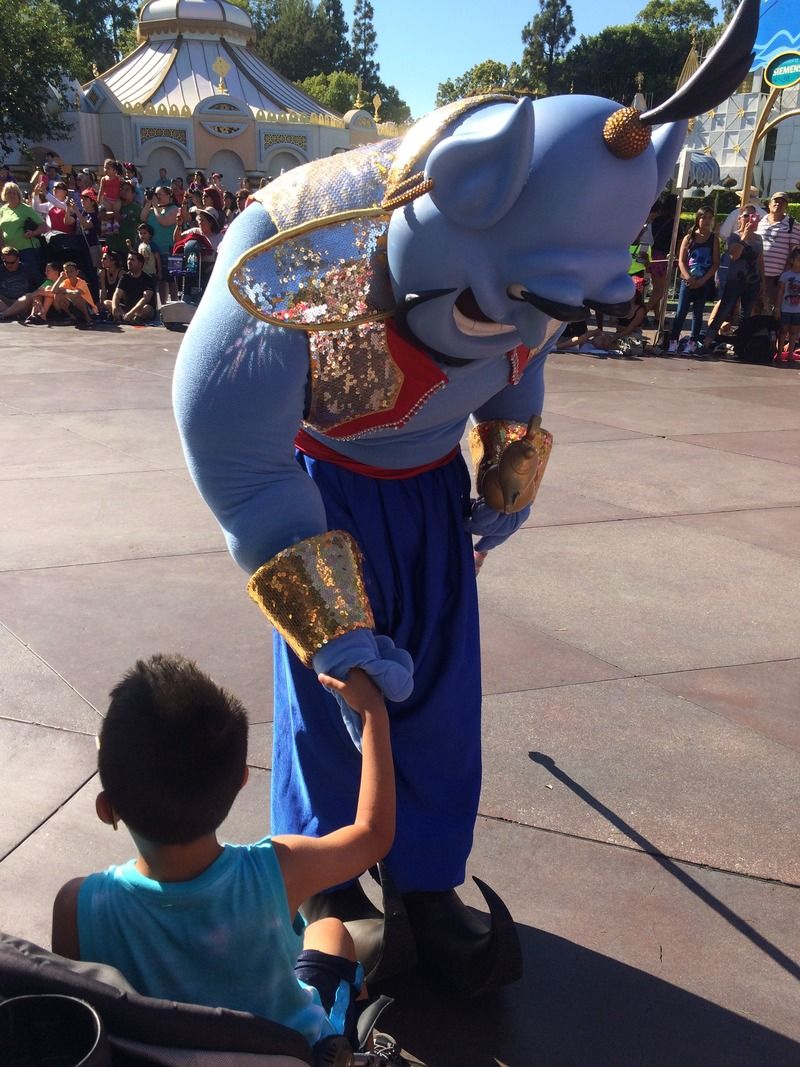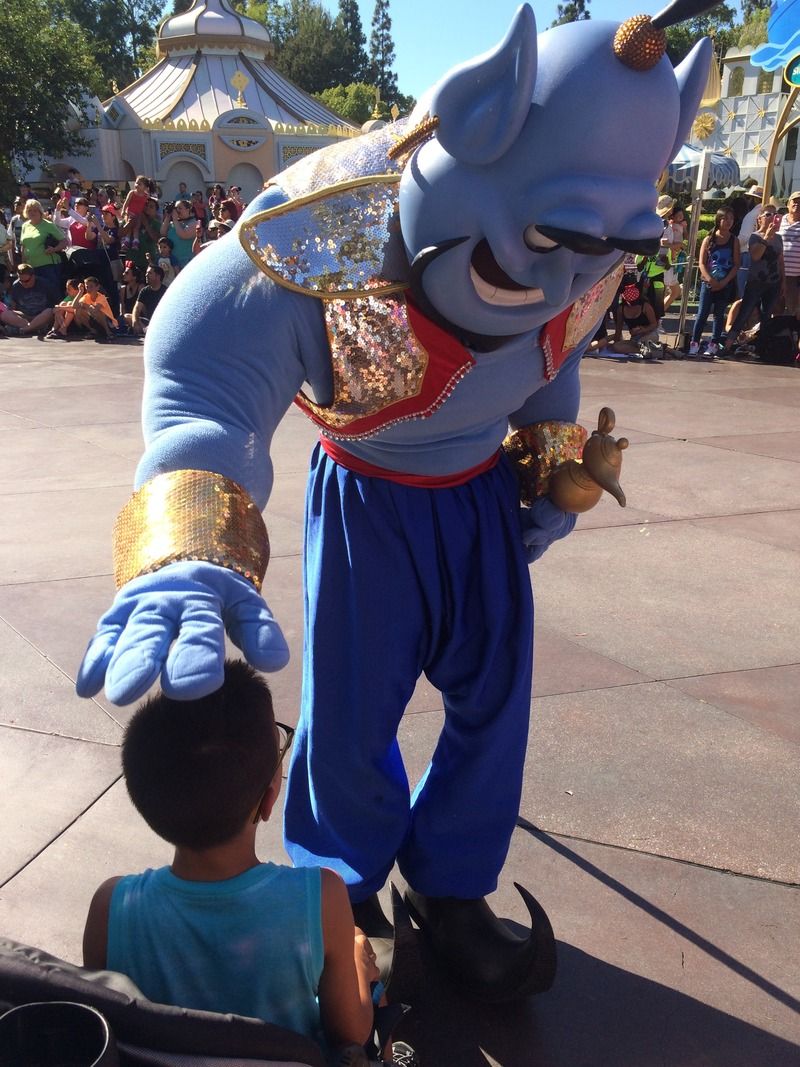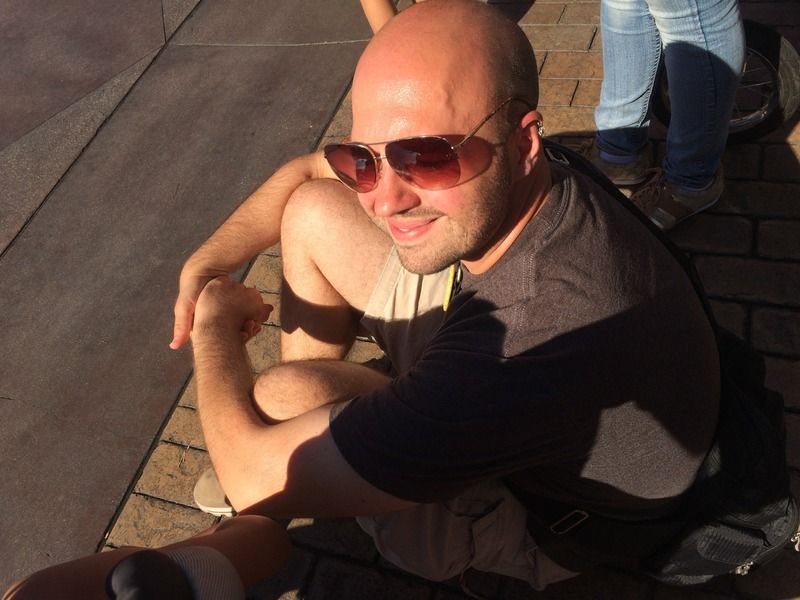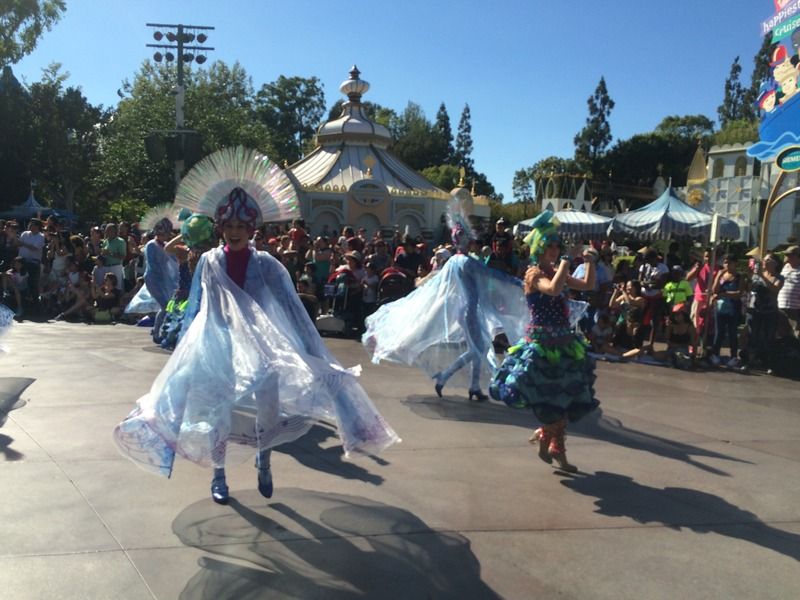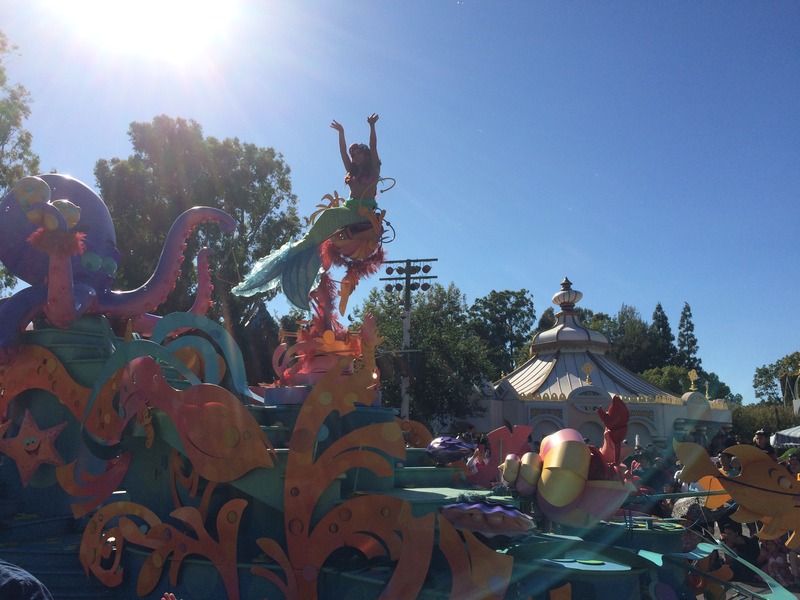 Doesn't the princess look happy?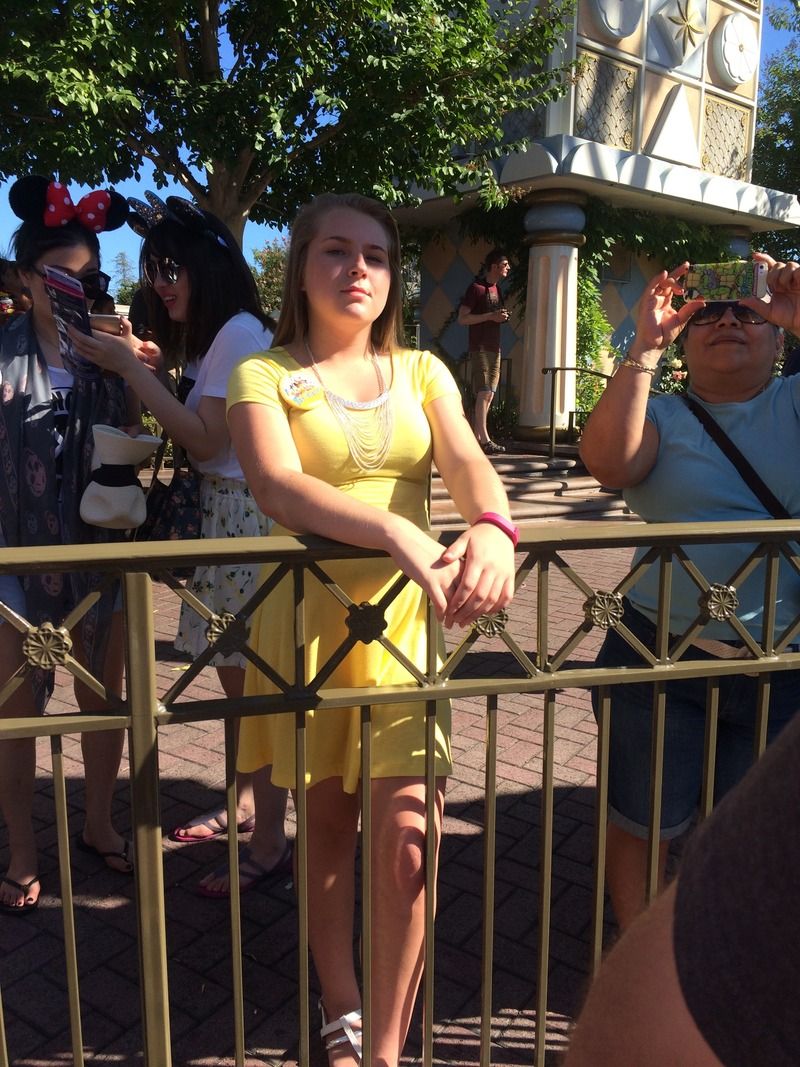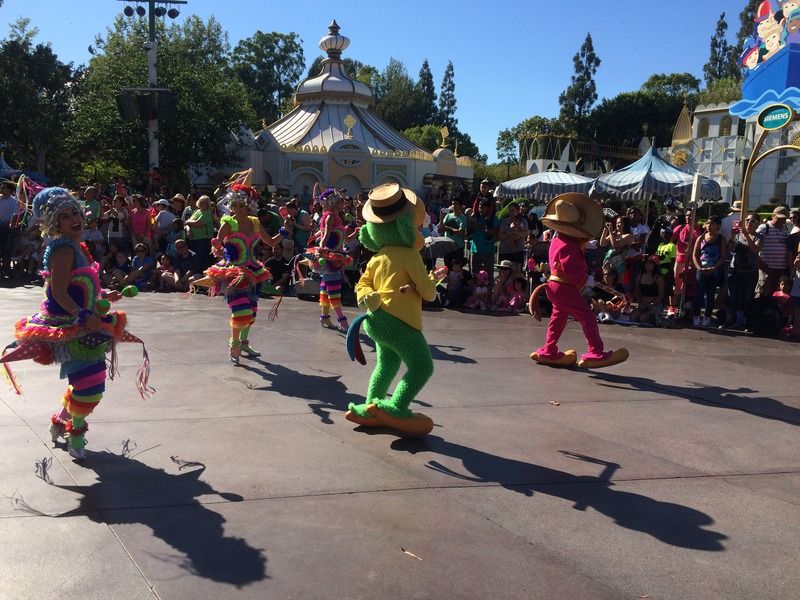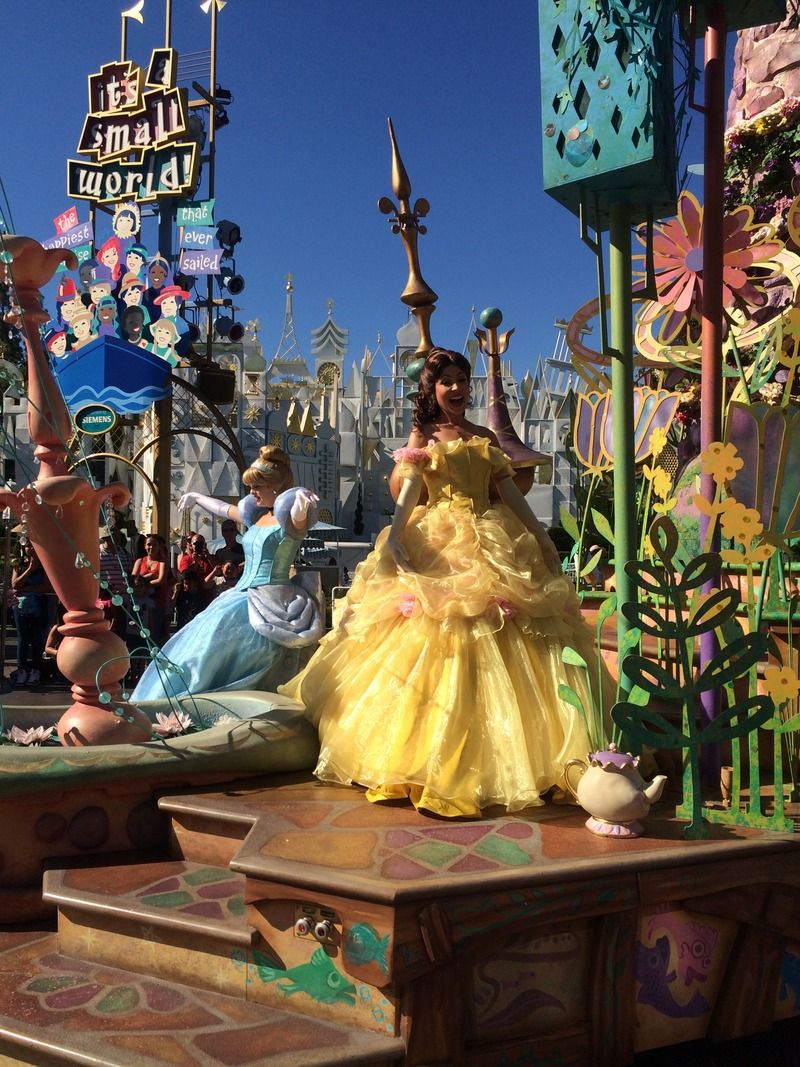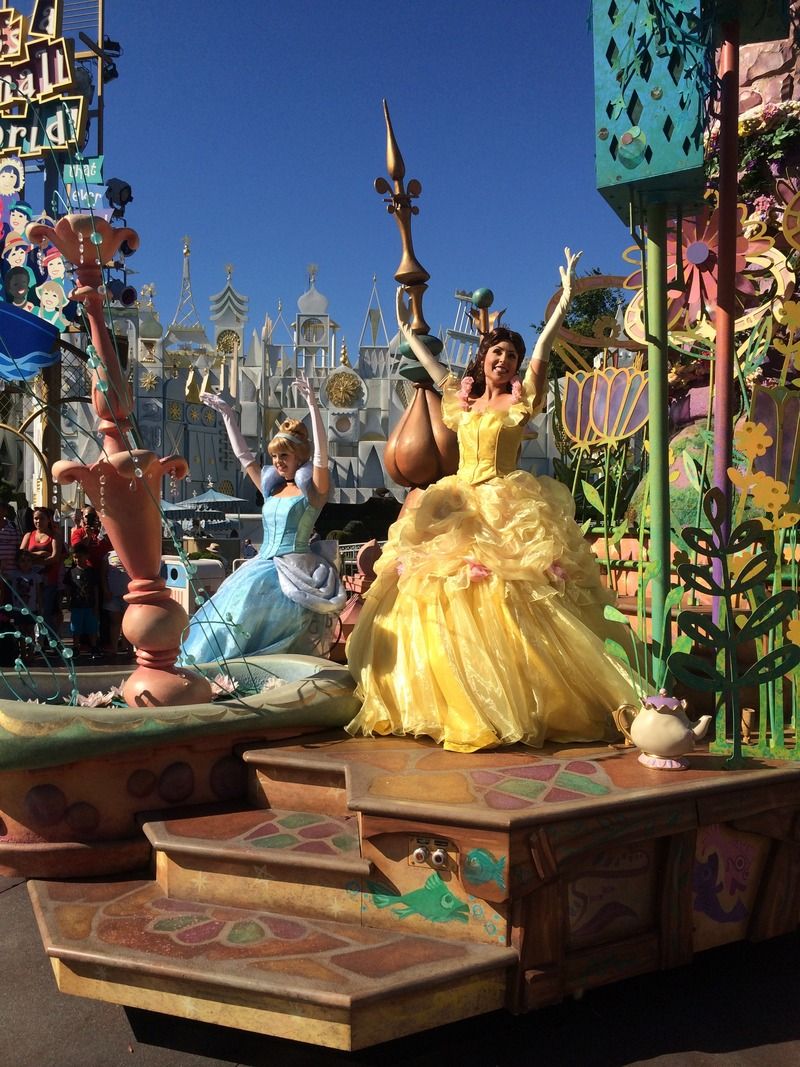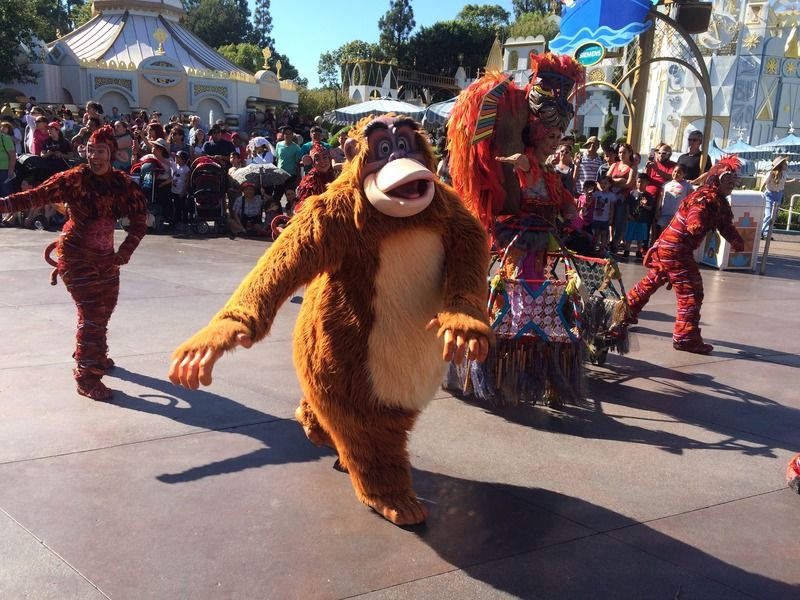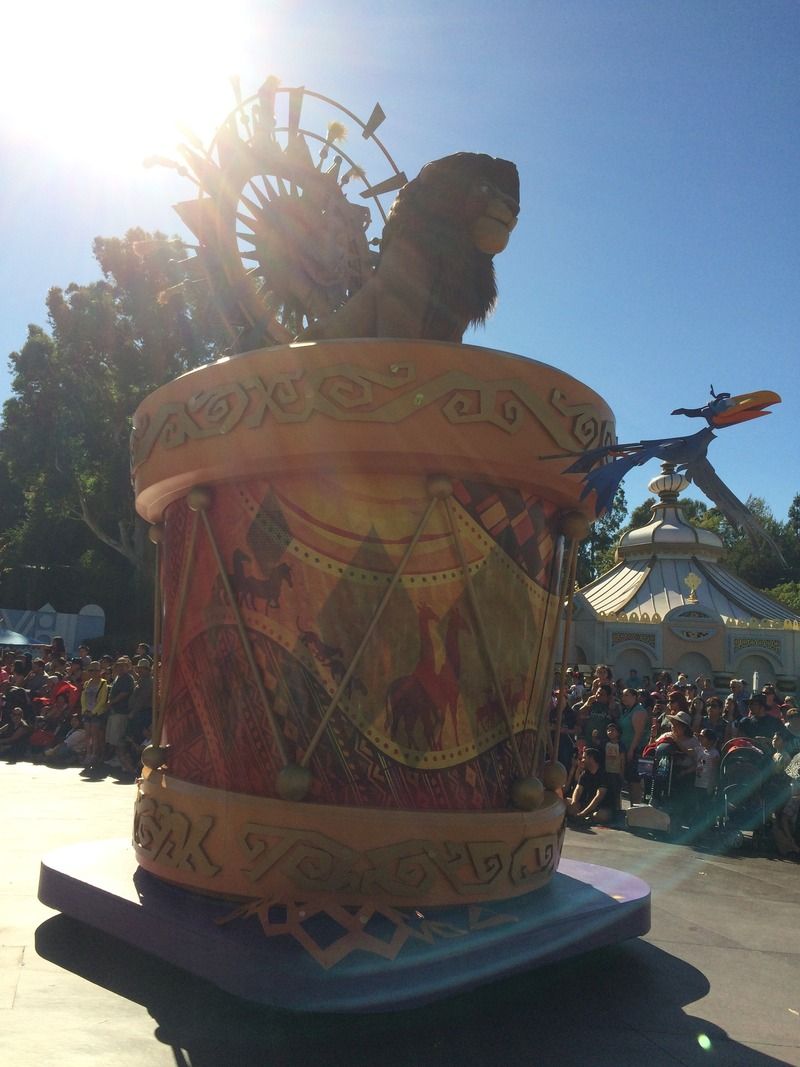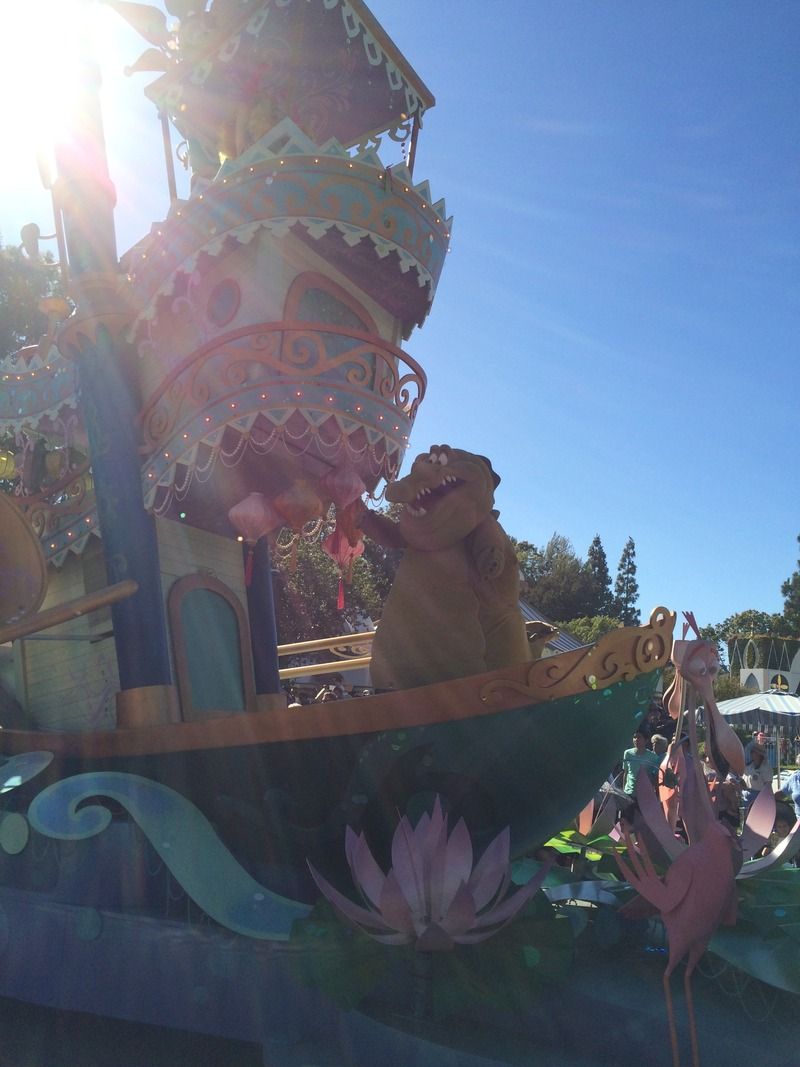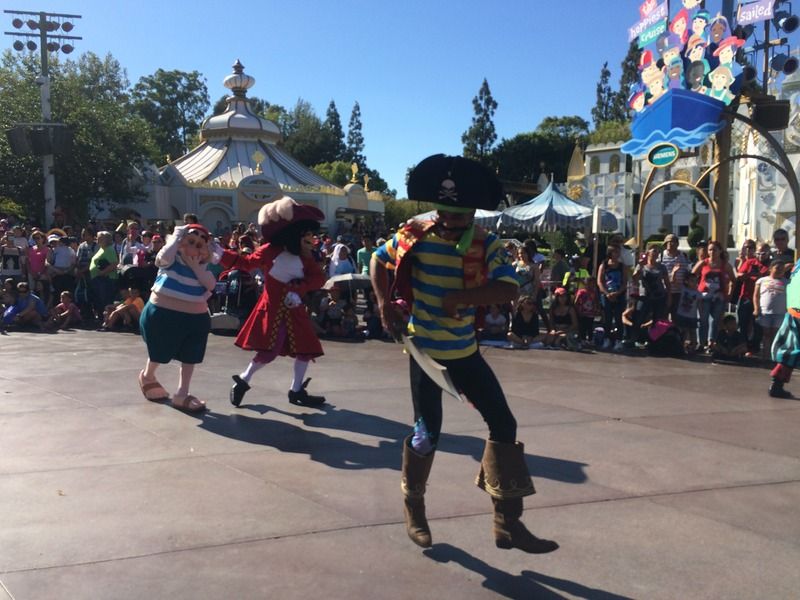 This is me thinking it's too hot to be pregnant sitting in the sun watching this parade.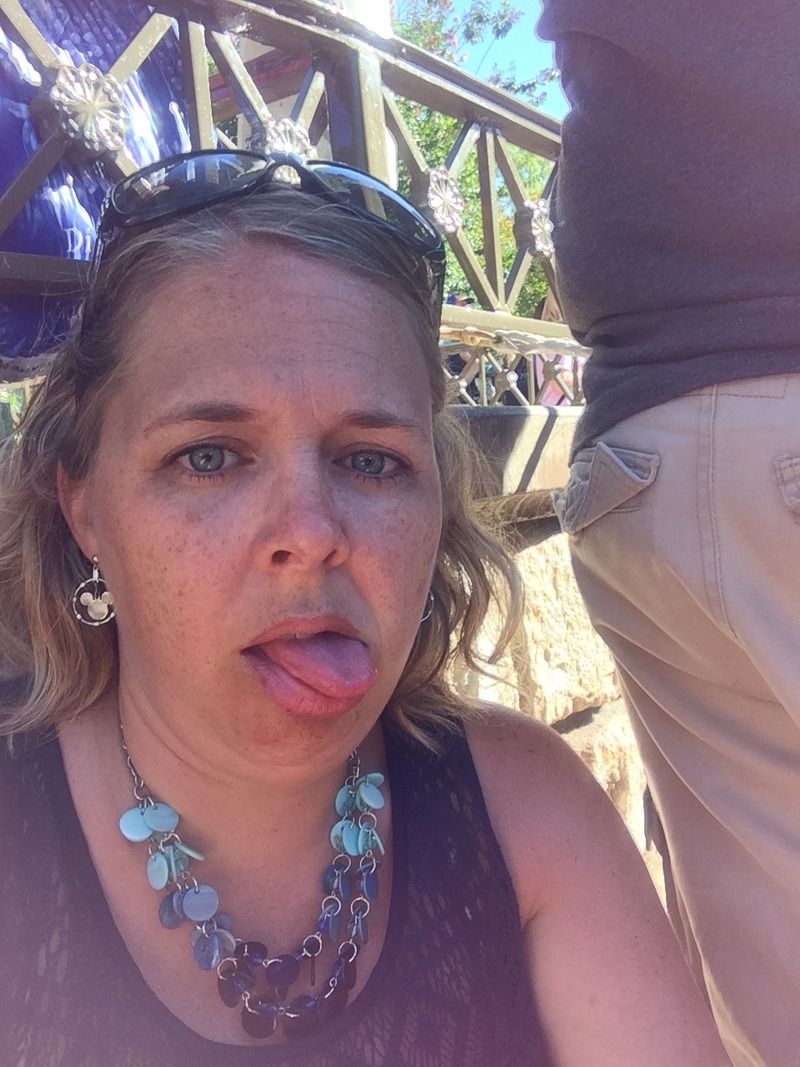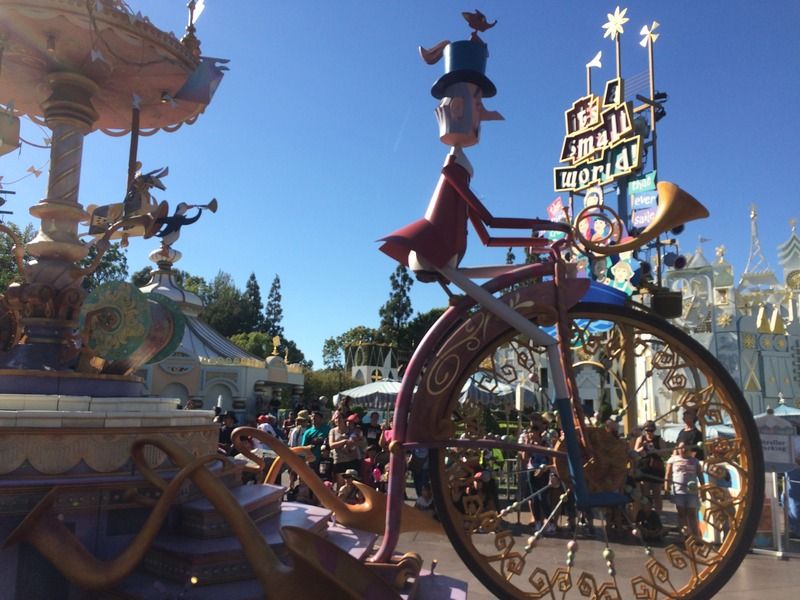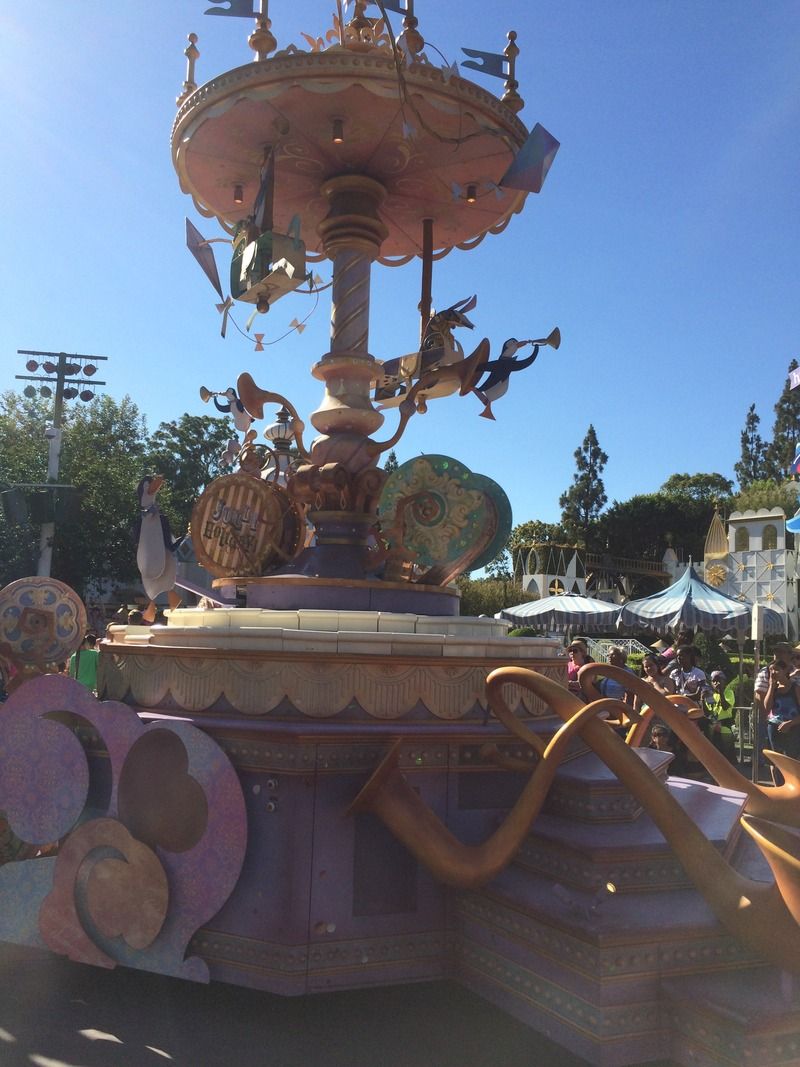 After the parade we went back to Toontown and used our Roger Rabbit fastpass. Then we rushed to Tomorrowland to use our Star Tours fastpass. It's Quentin's favorite ride. They didn't pick a rebel spy from the audience. It must be a Disney World thing only.
When we got done, we were all still dying of thirst. We went to the pizza place in Tomorrowland and grabbed four large ice waters. It was the best thing I'd ever tasted. We even did a cheers to each other. We went outside to sit down and Antonio saw a bee and freaked out causing Halie to scream at him, me to scream at her, and all of us to look like the weirdos of Disneyland.
We were checking Quentin's wait time app and it appeared that Jungle Cruise would be our best bet, so we headed that way. It appeared very short. Then, you turned a corner and thought you were at the front, but no, you go upstairs. Upstairs, you loop back and forth several times, then back down and get on the ride. The ride was cute as usual.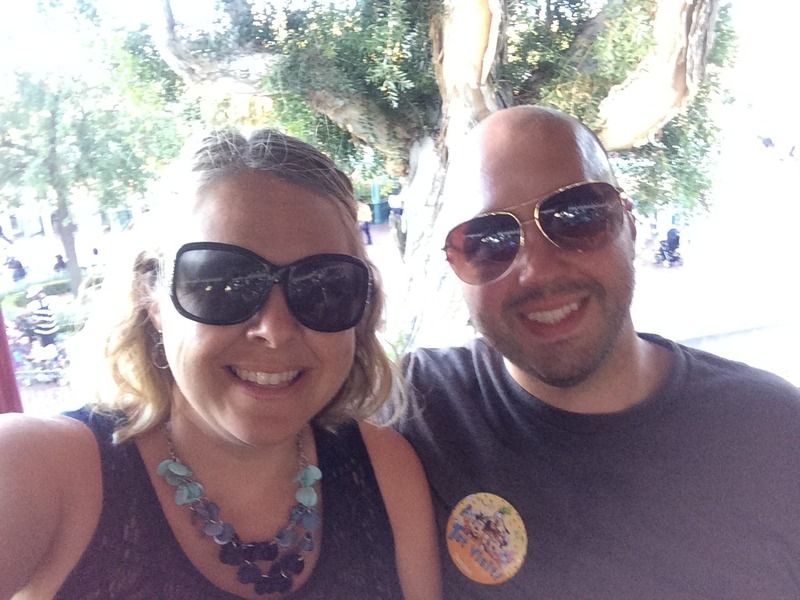 Afterwards, we walked to the front of the park intending to leave, but decided to go on the train for a full loop. Antonio was freaking out that he wanted a bubble gun. Halie promised him that we could get one as we left the park. I really like the train at Disneyland. So many neat things to see.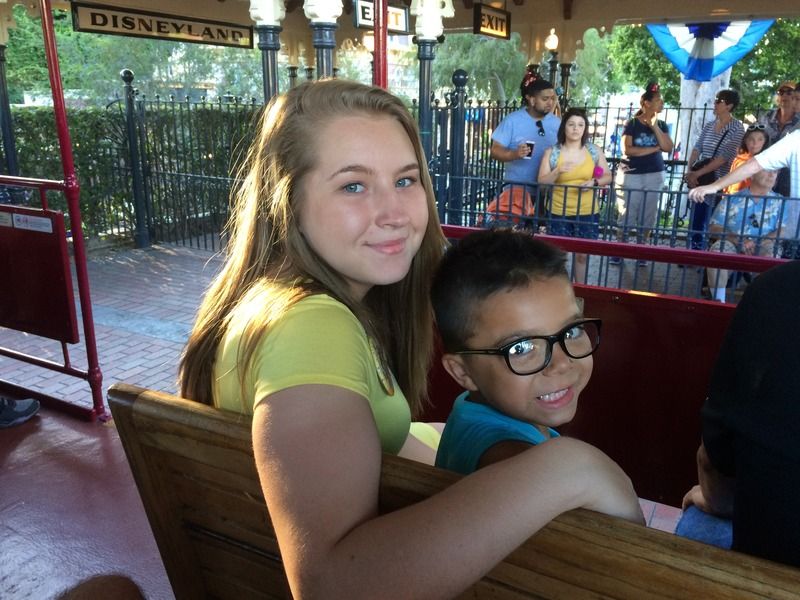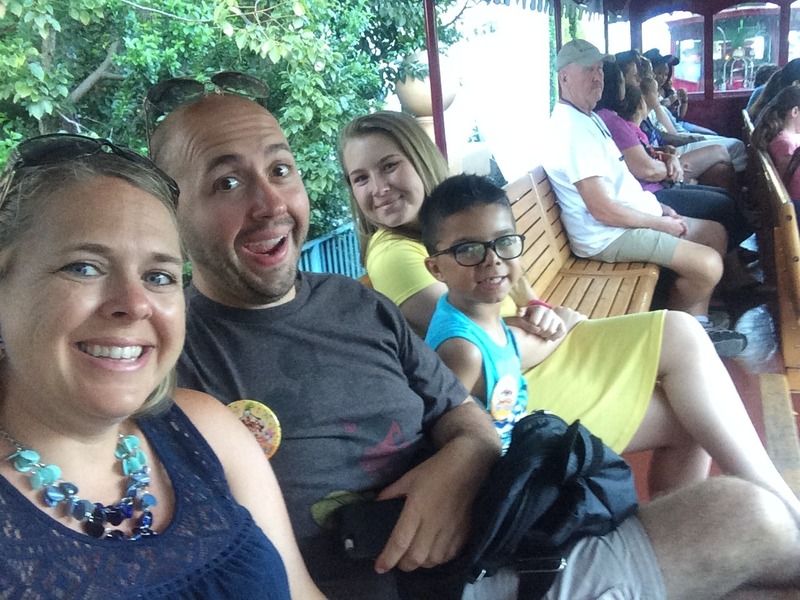 Do you see his little dinosaur from his sucker at Universal?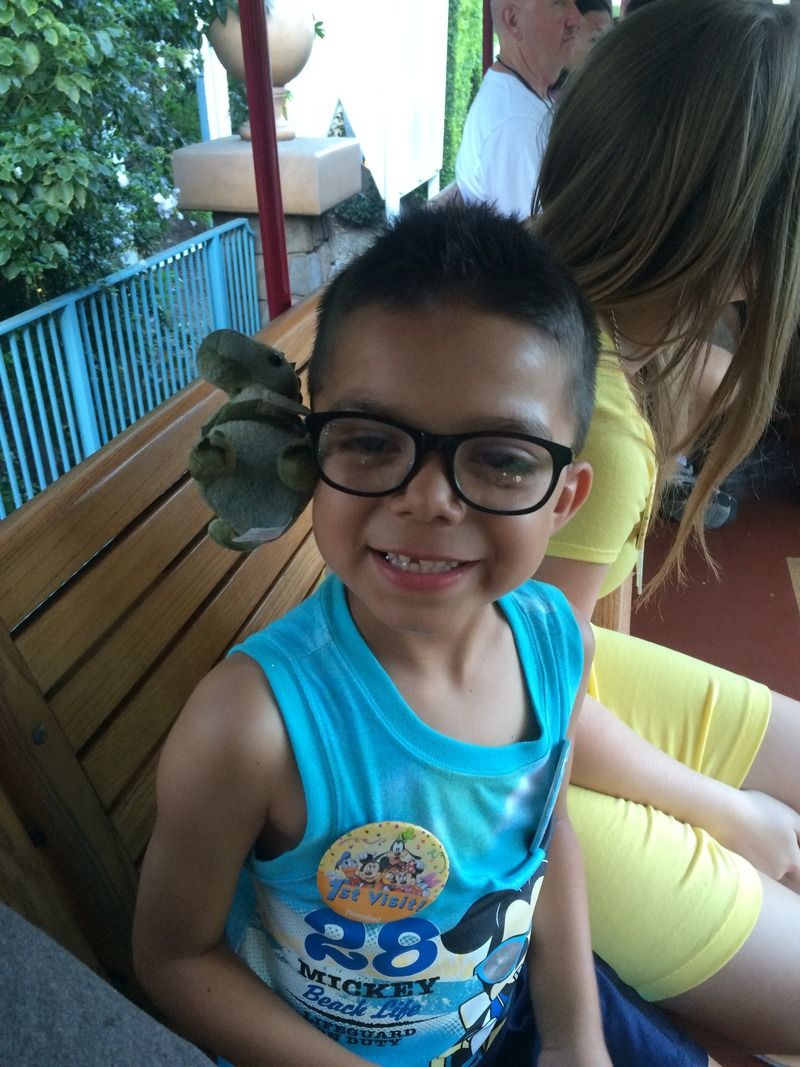 After the train, we got the stinking bubble gun (which got lost by the last day), and Antonio loved shooting bubbles for kids to pop.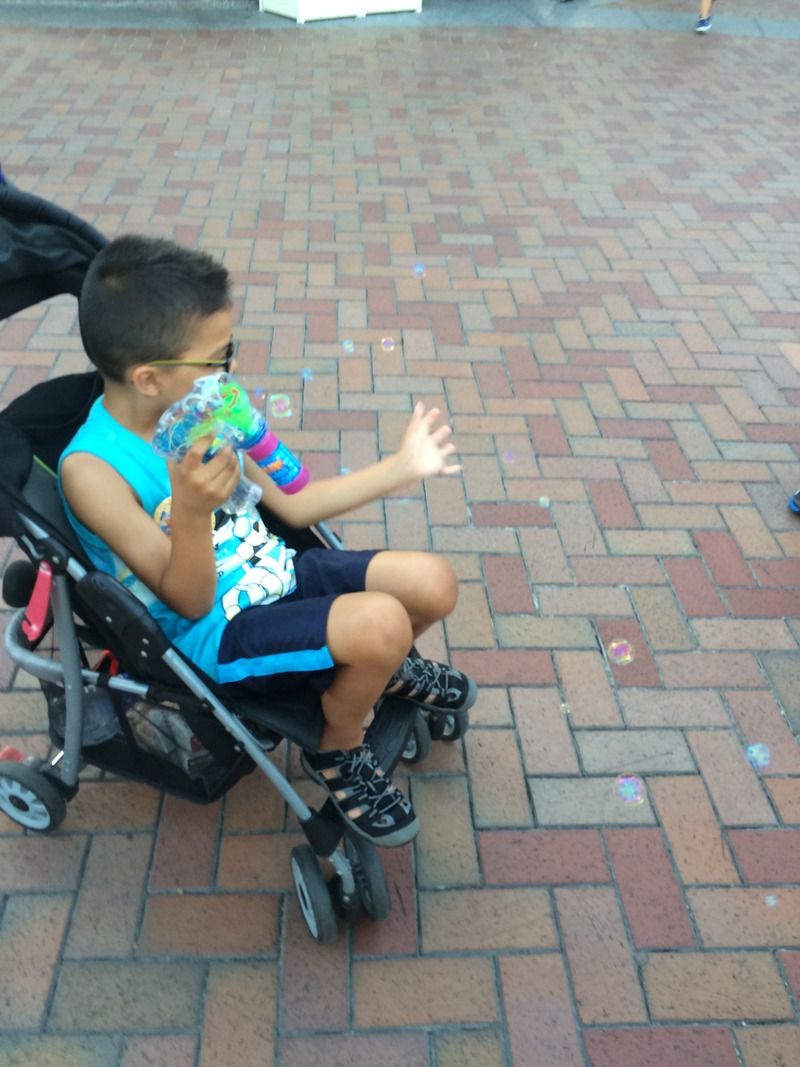 We noticed that people were lining up for the nighttime parade ridiculously early and I made a mental note to check online about this. We left the park before we had any more meltdowns.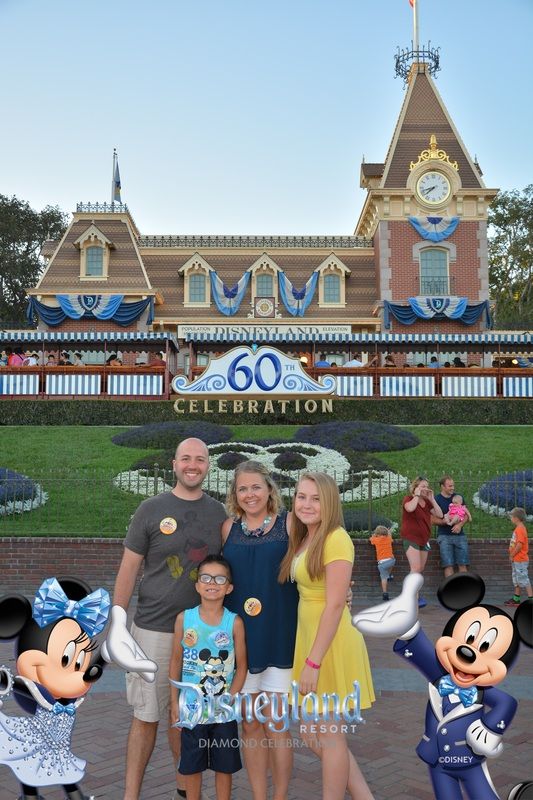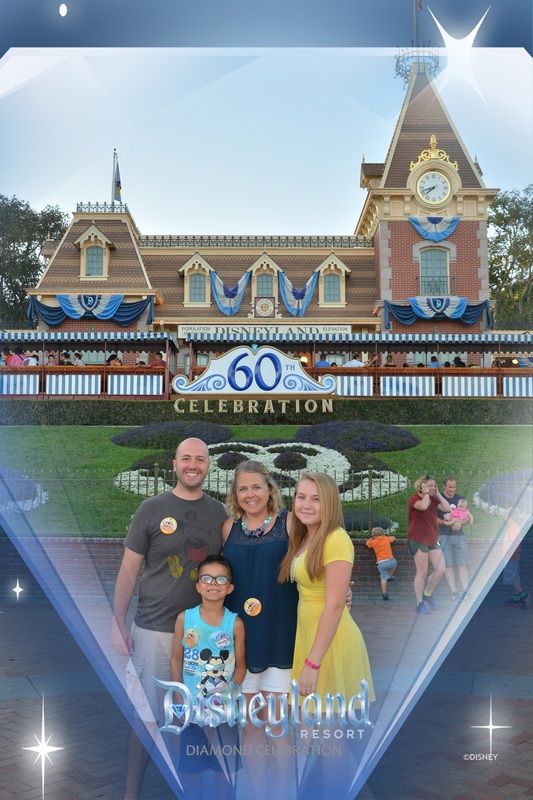 We headed to Downtown Disney to eat at Tortilla Jo's which I had been to several times before. I knew it would be better than the nasty Mexican food we had at Universal CItywalk. I love how convenient Downtown Disney is to the parks at Disneyland. So much easier than Disney World and you don't have to deal with the parking disaster like Disney World.
We checked in and they said it would be about 20-30 minutes. I found a a concrete wall to sit on with an outlet by a planter nearby. We sat down to charge our phones and Quentin and Antonio headed over to the Lego Store across the way. As soon as they turned to walk over to the Lego Store Quentin's phone went off indicating that our table was ready. Antonio didn't like that too much since he was going to the Lego Store and it just got yanked out from under him. Oh well, 2 minute wait is good to me. We were hungry.
Luckily the Princess decided to be nice to her little cousin so he was very good at the restaurant. I had told him if he was good, we would make a Build a Bear afterwards. He said, if I'm really good, can I get a bear and some legos. I told him I would think about it.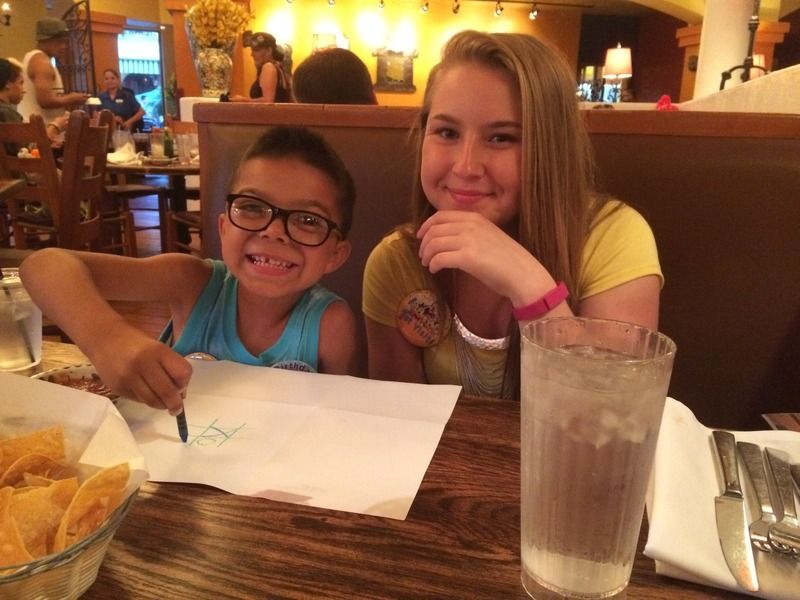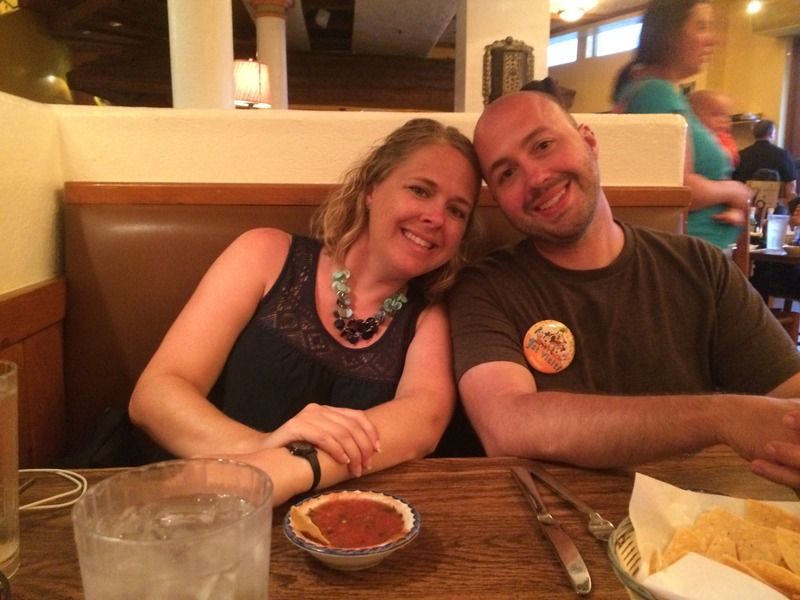 Our food was delicious! We loved the fajitas. Quentin enjoyed his margarita. The kids were disappointed because there was no queso dip. There wasn't queso at the Universal Mexican place either. Do Californians not believe in queso?? Halie wanted queso so bad, she asked the waitress what the cheesiest thing on the menu was. She said nachos, so Halie ordered that. She didn't bother to read the description and must have been thinking it would come out like movie theatre nachos. She freaked out when it came out with sour cream, guacamole, and black beans all over it. She even started crying. Quentin said these nachos were one of the most delicious things he had the entire trip and pretty much ate the whole giant platter himself. I tried to get Halie to eat fajitas, but she was mad there was no cheese. After we got some shredded cheese from the waitress she did a bit better. Teenagers are weird.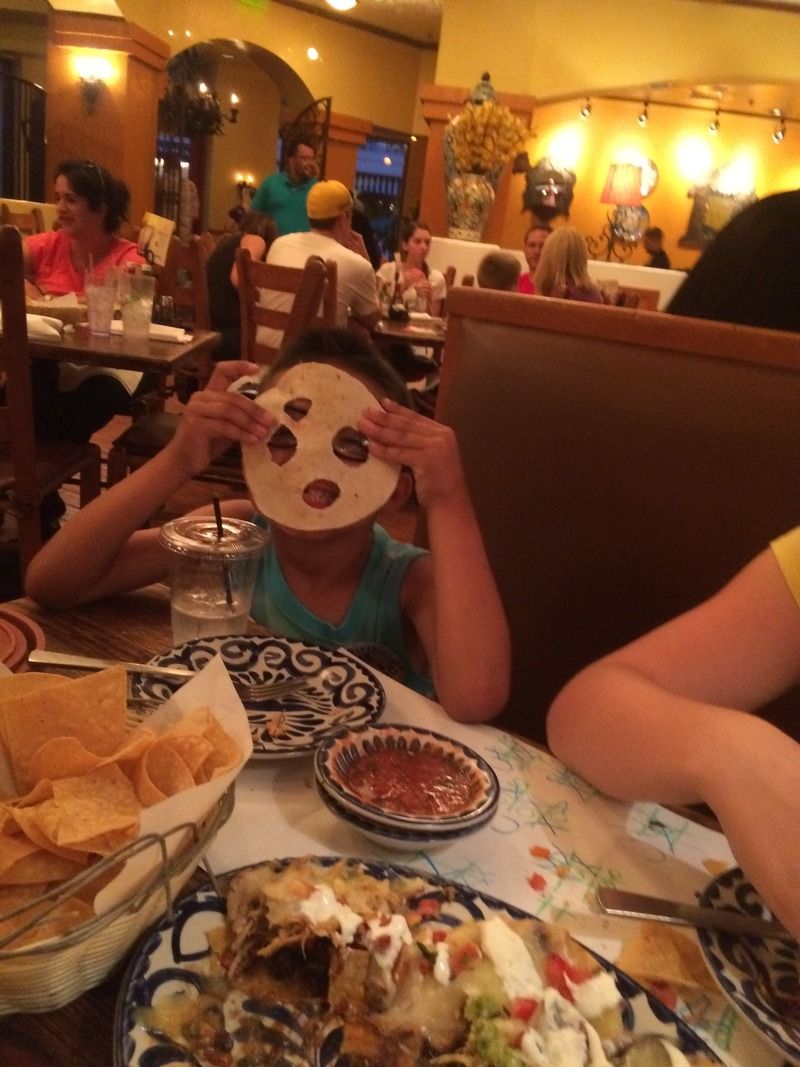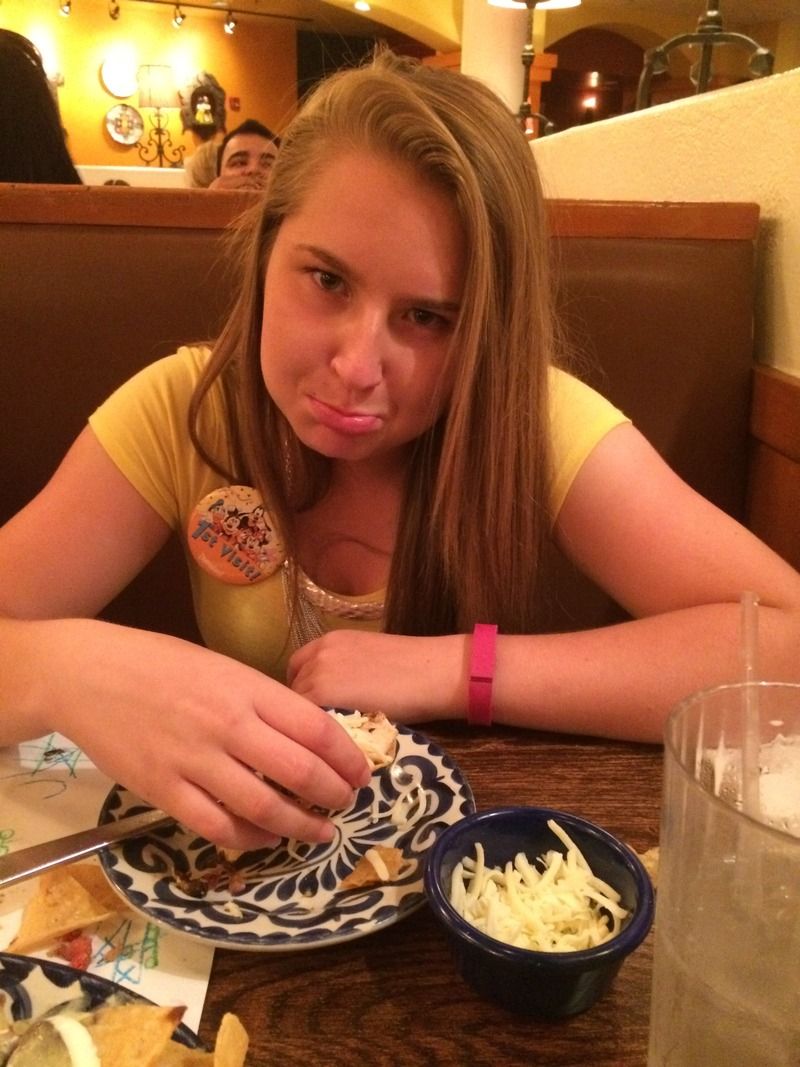 Halie and Antonio were getting along so well at this restaurant. It was great. A balloon guy came by and Halie got a crown. Antonio whispered in mine and Quentin's ear that he was going to use his balloon to get a flower for Halie. It was so sweet. The balloon guy tried to talk him out of it and tried to have him get a Spiderman or a Minion. Antonio almost wavered and got a sword, but he stuck with the flower for sissy.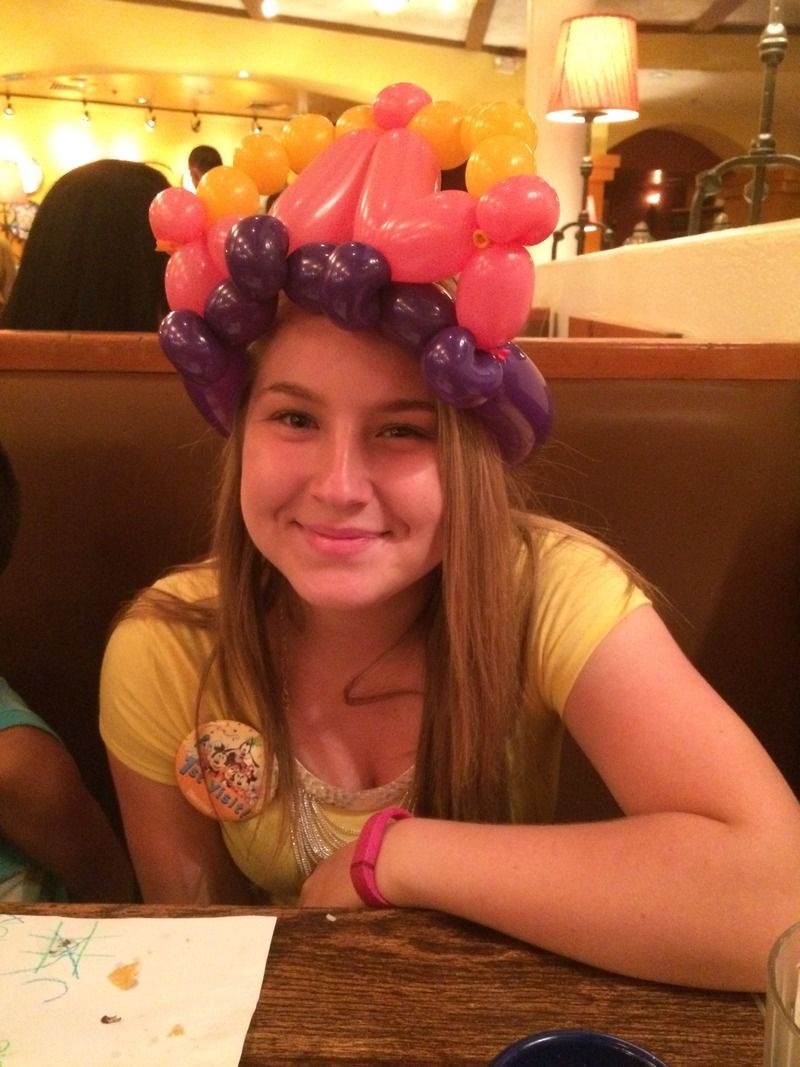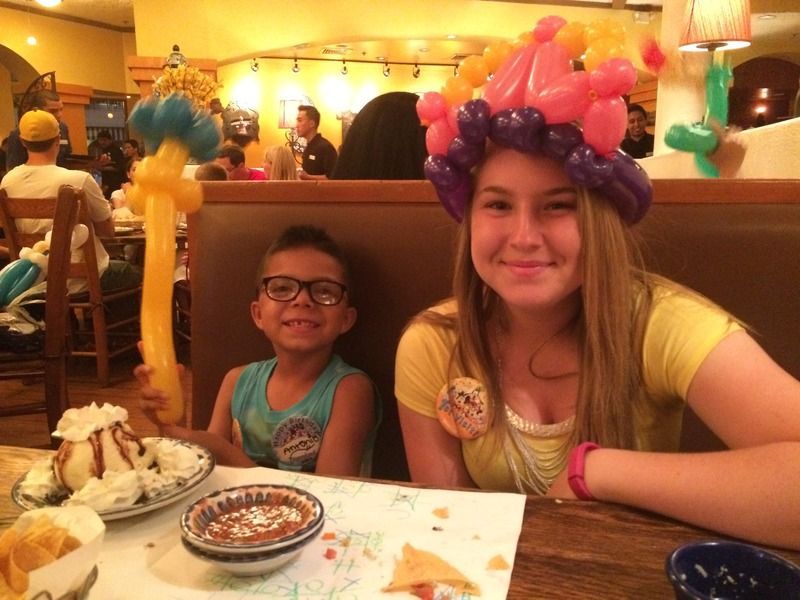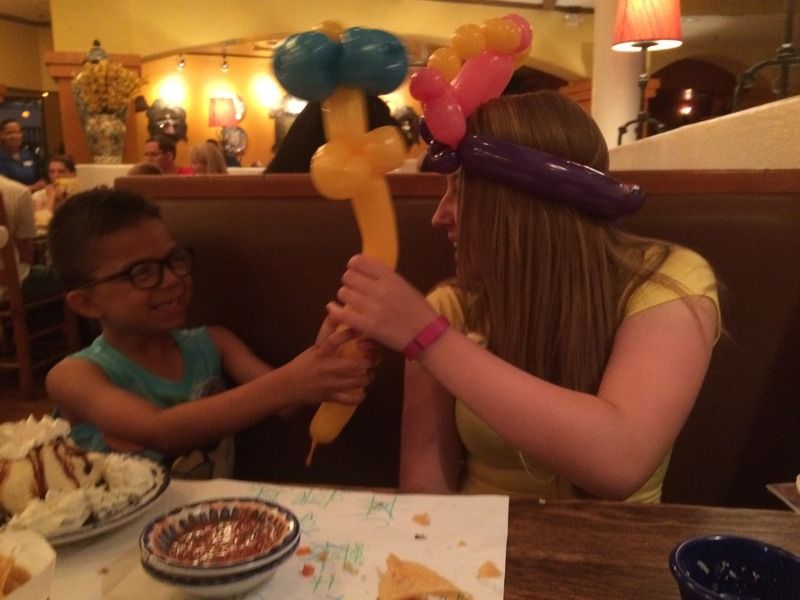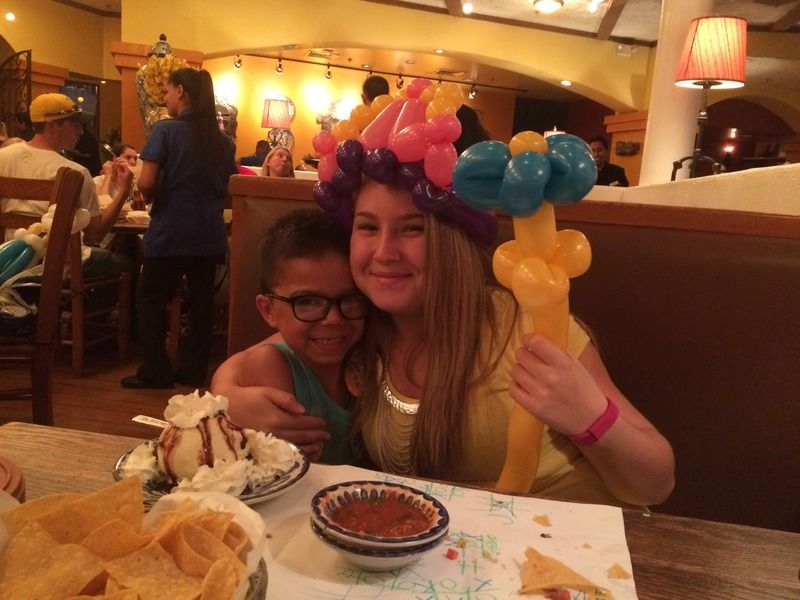 They brought Antonio out a dessert and sang to him for his birthday which he loved. After that, he started being a little wacky and kept dropping stuff and getting out of his seat. Halie volunteered to take him to the Lego Store while we settled the check.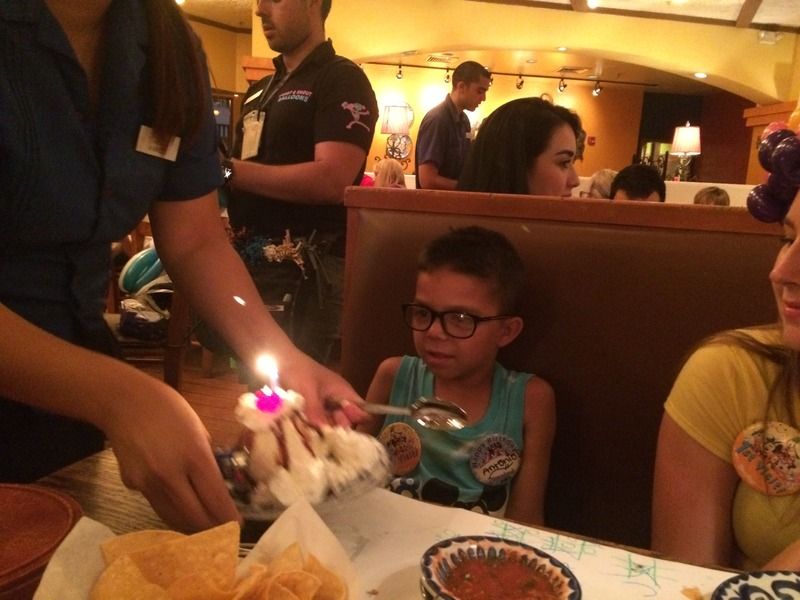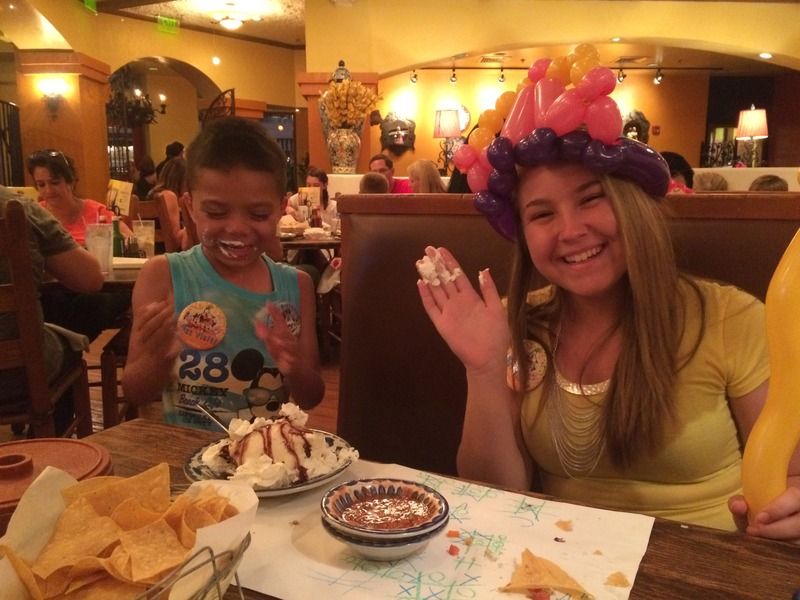 When we got over there, I told him, let's go get your Build a Bear, you did so good at dinner. He jumped right in the stroller and we headed out. On the way out, he said then we will come get Legos. I told him he was only getting a Build a Bear because he was a little crazy at the end of dinner. (The truth is I didn't want to buy any Legos because we were going to be going to Legoland and I figured they would have better stuff. Turns out they didn't!)
This was the beginning of the end. He went CRAZY. I needed Harry Potter's invisibility cloak to hide us. There was crying, screaming, etc . We pulled over several times and threatened him. We got past the World of Disney store and pulled to a corner and spanked him. At this point Halie told Quentin she was going to look around the store while we dealt with him.
After we got him back in the stroller we decided to just get out of there screaming and crying and all. Quentin said Halie was following us. We kept walking, Antonio kept screaming "I want Legos," we kept walking, Antonio would bounce in his stroller and nearly break the wheels off, we kept walking, we wanted to hide, people were staring. It was awful. We were trapped in Downtown Disney with nowhere to escape with an overtired child and at least 10 more minutes of walking to get out of there.
As we left Downtown Disney, I kept turning and looking for Halie. I couldn't see her. I was growing more concerned. Quentin said he had texted her and it would be fine. I said to call her. He called and it went to voicemail. Turns out her phone was dead and in my baggalini. (Sidenote: Baggalinis rock) I told him to go back and look for her and Antonio and I would continue walking. We stopped outside of the park by the taxi pickup on a bench because he was still going nuts. Once he calmed down a bit, we continued walking towards the hotel. I would look over my shoulder every few minutes hoping to see Quentin and Halie coming. My phone was dead, so I had no way of knowing if he found her.
Antonio and I pressed on until we got to our hotel. I went to the front desk and asked for our room assignment and key. We rushed to the room and I plugged in my phone. As soon as it turned on, I called Quentin and he said Halie was at the store where she had said she would be. Apparently some mom was following her around concerned trying to get her to call us. Halie didn't know our numbers. She kept telling the lady she was fine and that we were dealing with her cousin and would be back for her. Halie is pretty street savvy so she was annoyed with the lady.
Quentin and Halie got back to the room and we all passed out. I didn't set an alarm, knowing we had a rough end to the day and trying to make rope drop would be a disaster.
Posted by MarathonMama629 21:20 Archived in USA Tagged california theme_parks disneyland