Day 2
7/8/15 - 7/8/15
100 °F
Day Three July 8
Antonio was up bright and early like usual. We had a hard time waking Princess Halie and getting her to get ready for the day. My main goal was to eat at Le Village buffet at the Paris hotel. I had been several times before and it was so good.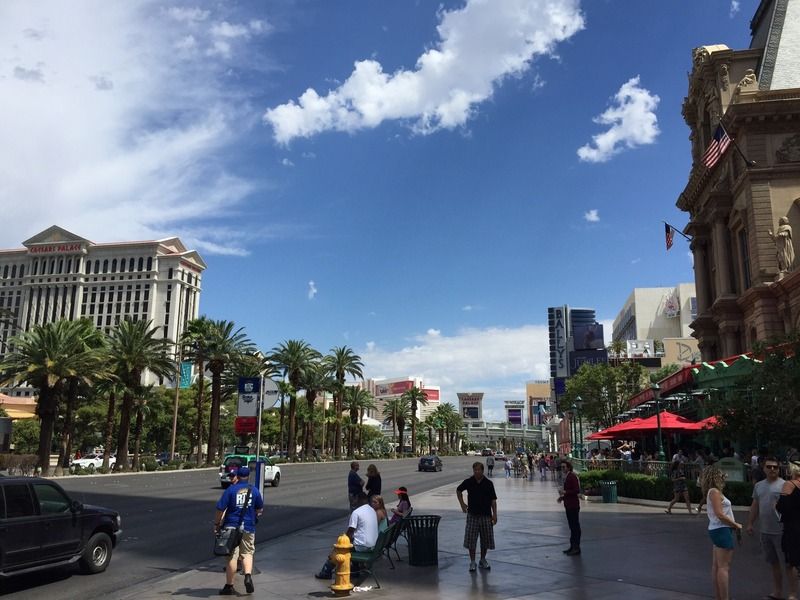 We decided to take the monorail.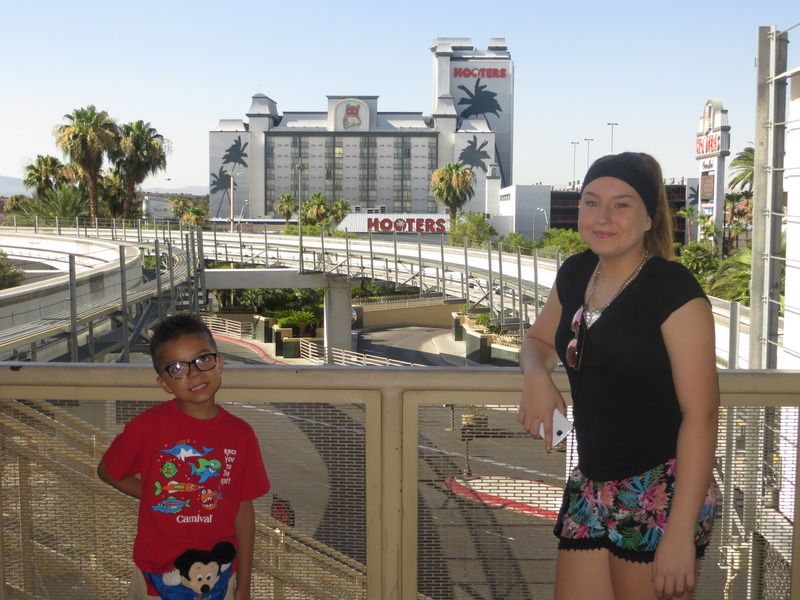 We bought 24 hour passes and headed to Paris.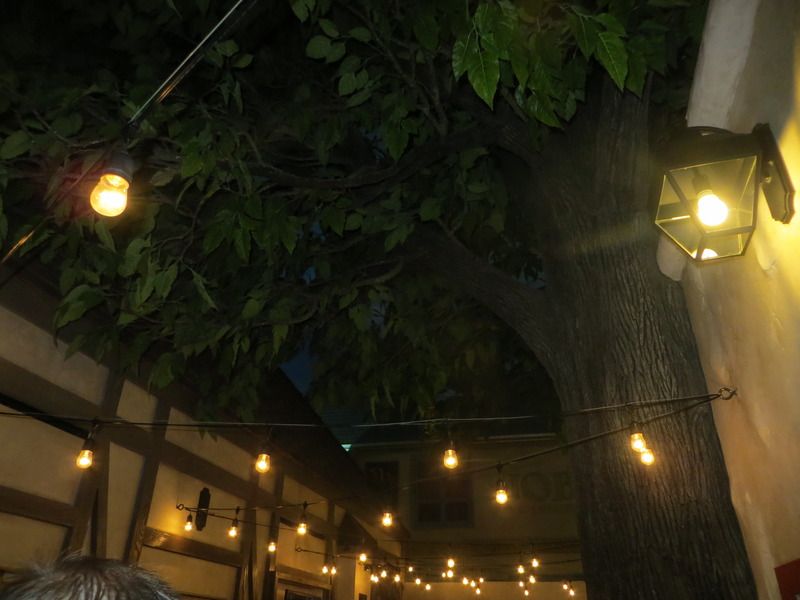 The buffet line was long. The kids looked at stores while we waited.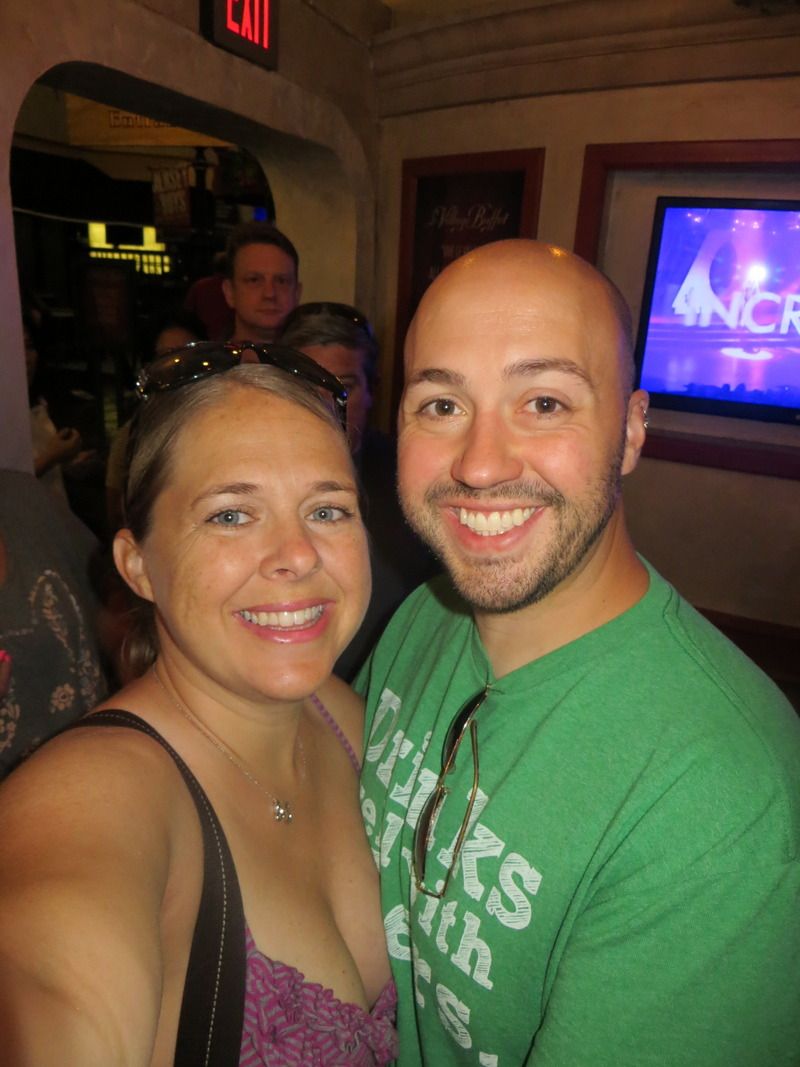 We were seated in a little room off to the side. Halie and I were disappointed to not be able to see all the prettiness of the restaurant. The food was definitely not as good as last time I was there. The best thing were the crepes. I had banana and caramel. Quentin and Halie both had nutella and banana. Antonio mostly enjoyed strawberries dipped in sugar.
Antonio had to spin on every single lamppost on the way out.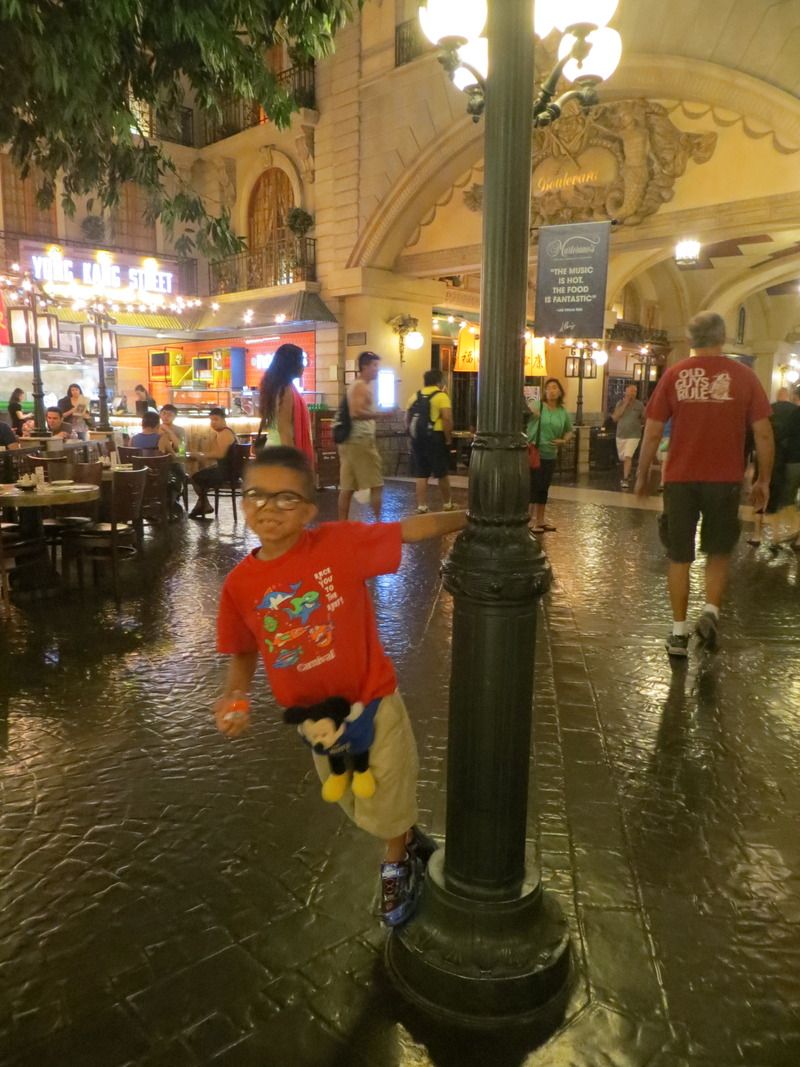 After breakfast, we walked over to the Bellagio to see the botanical gardens. It was beautiful! I had never been there, but Quentin had. He said they change it each season. It had a really cool mermaid/underwater theme for the summer.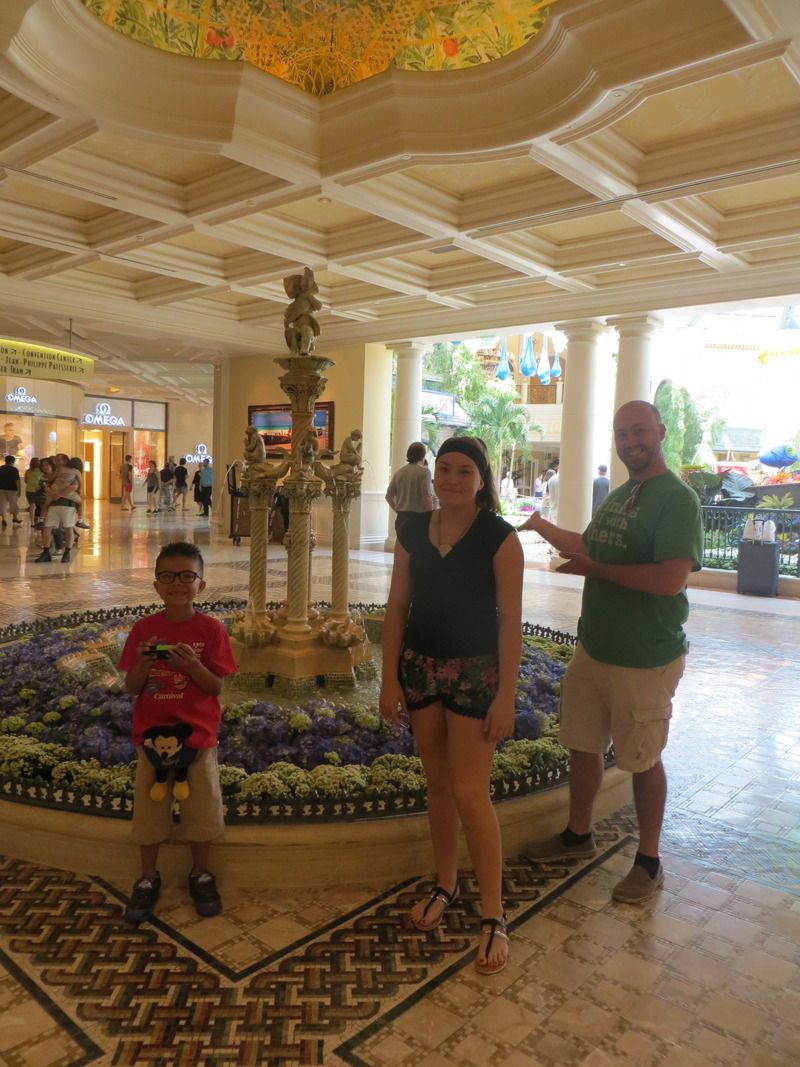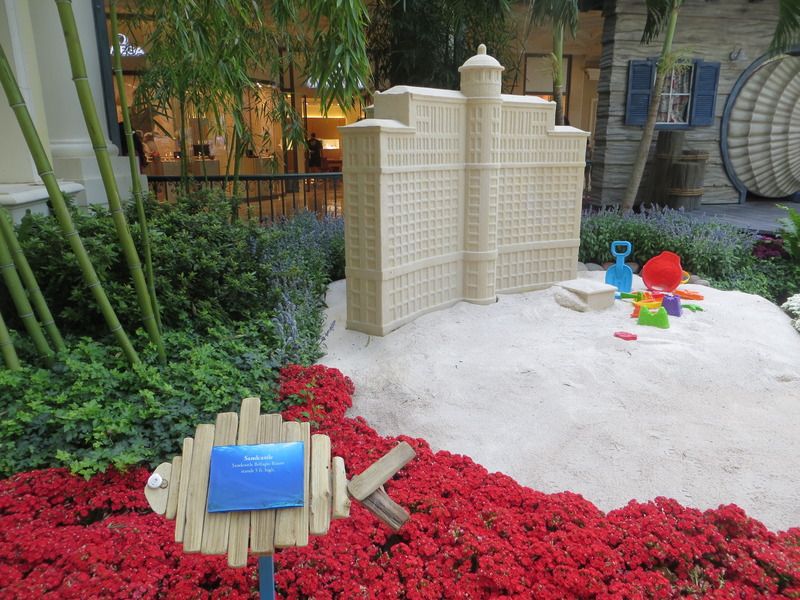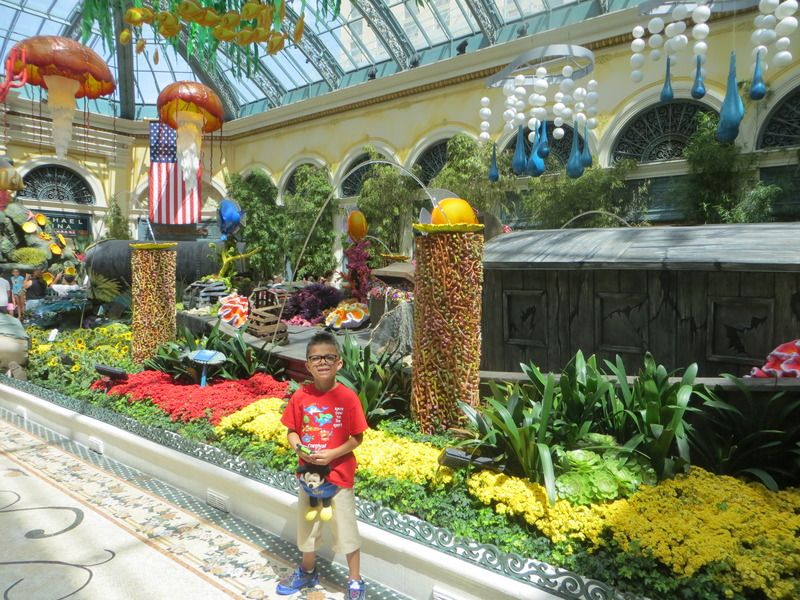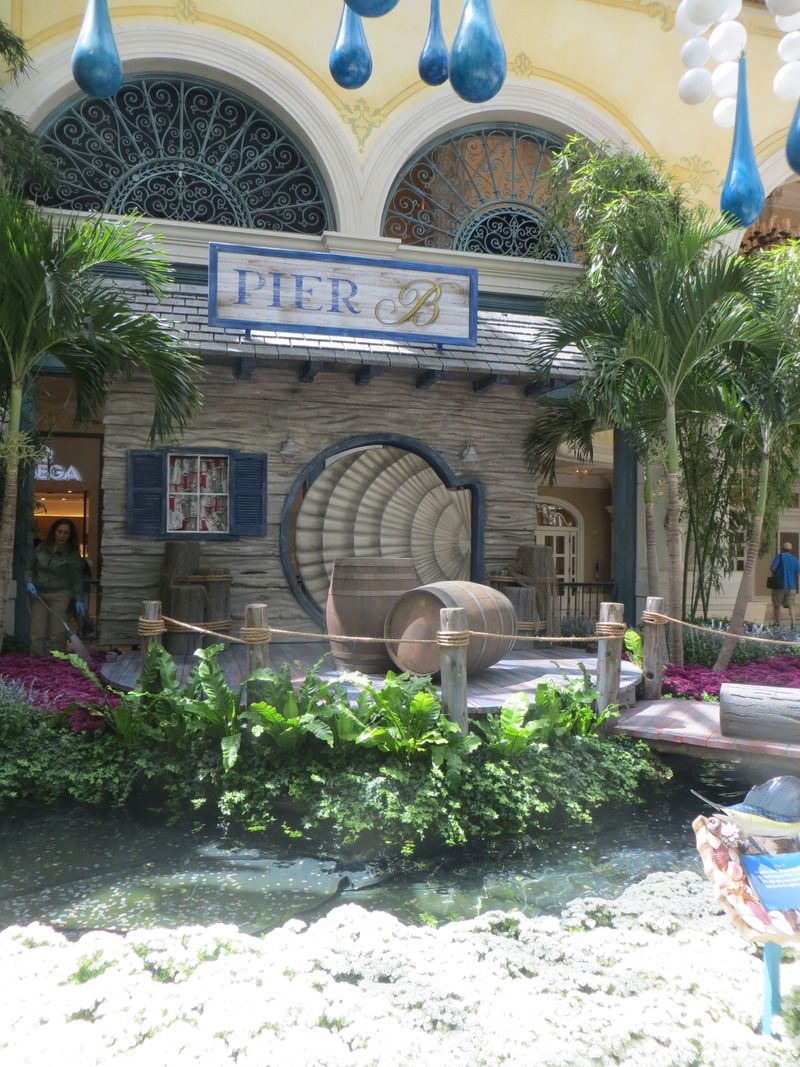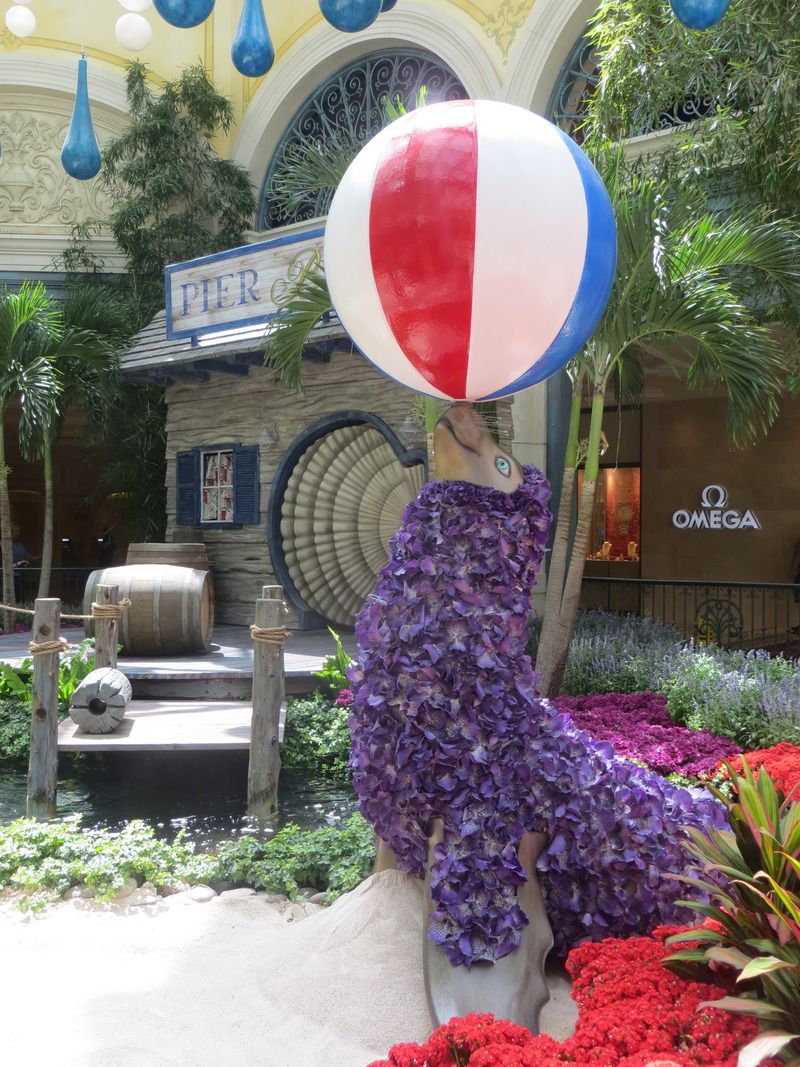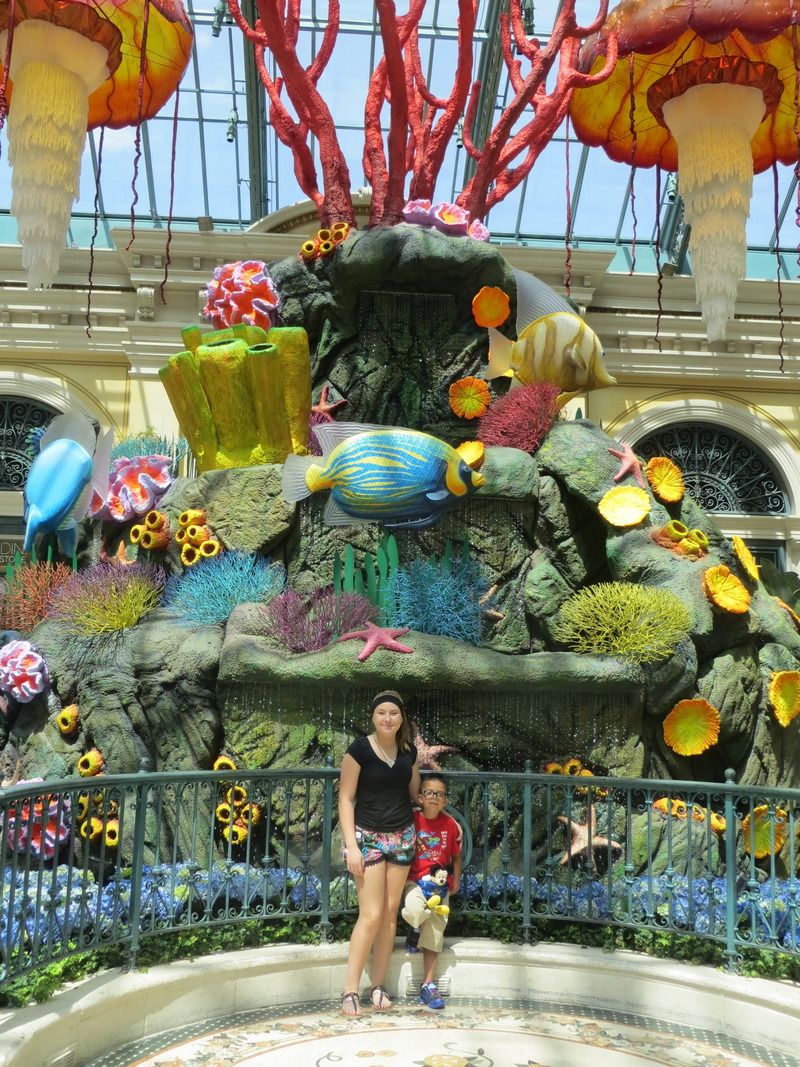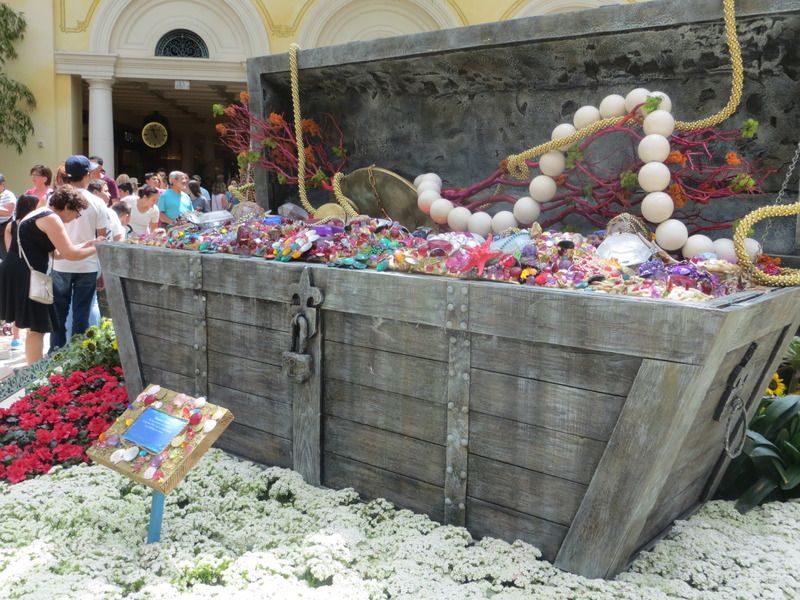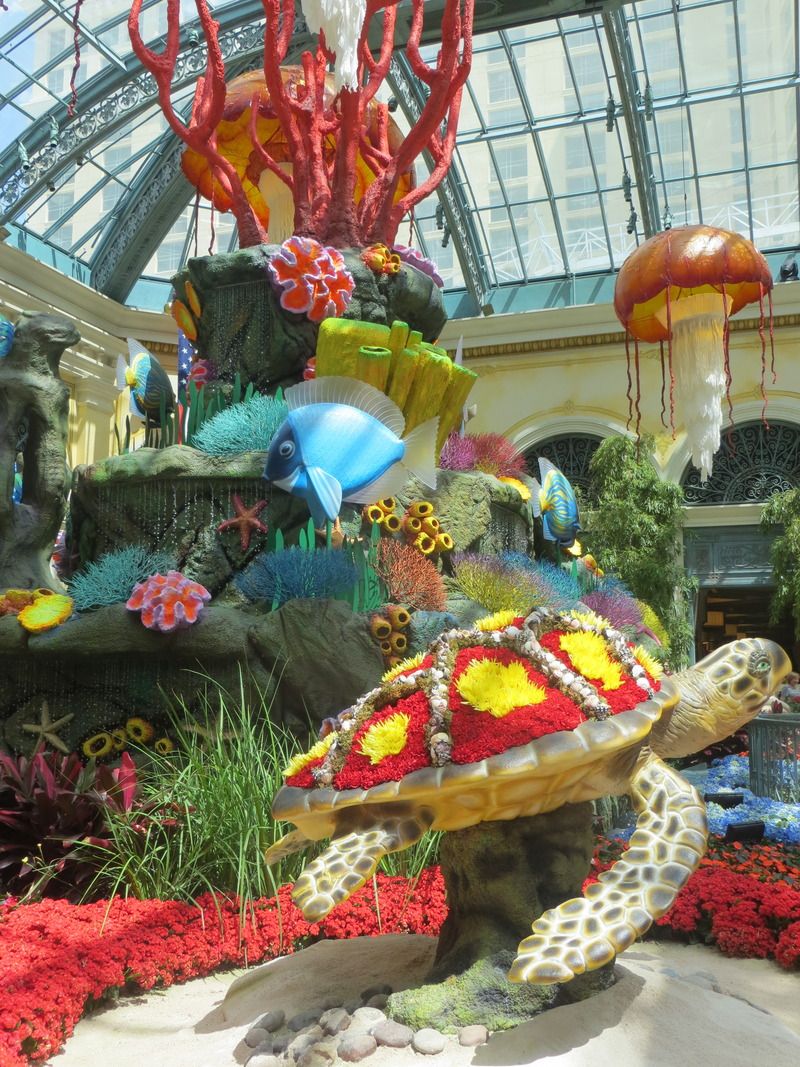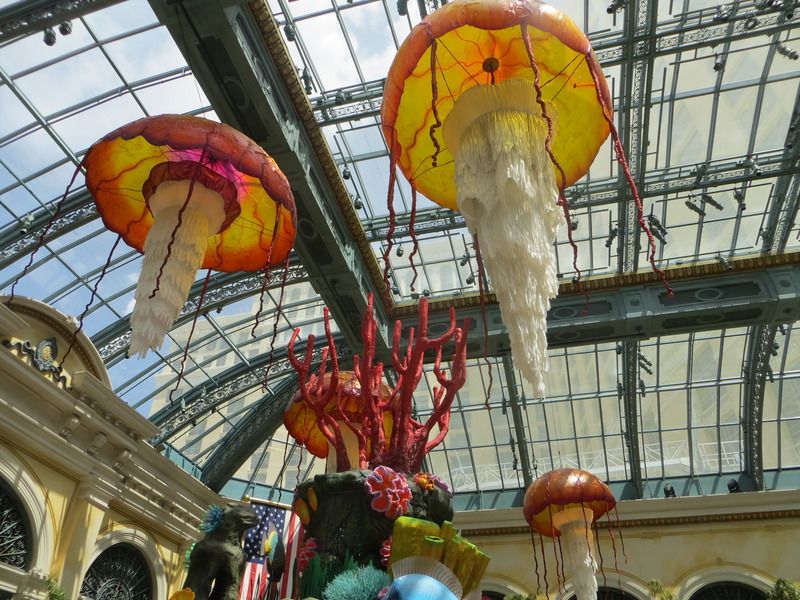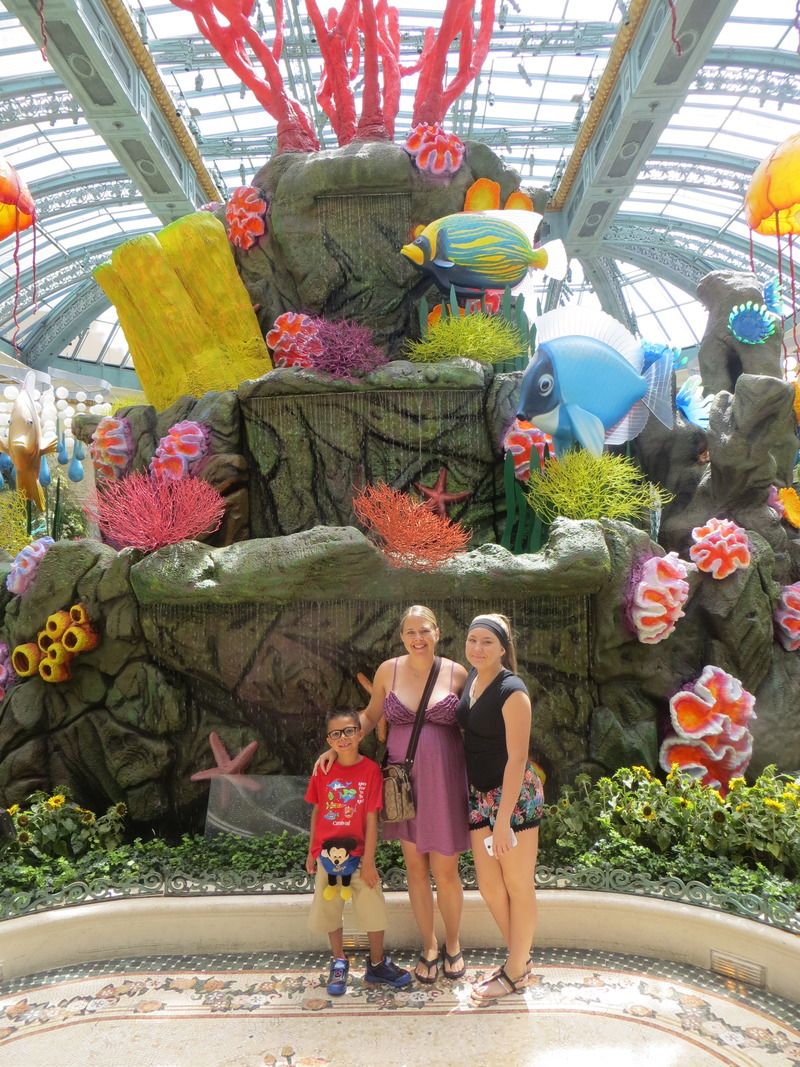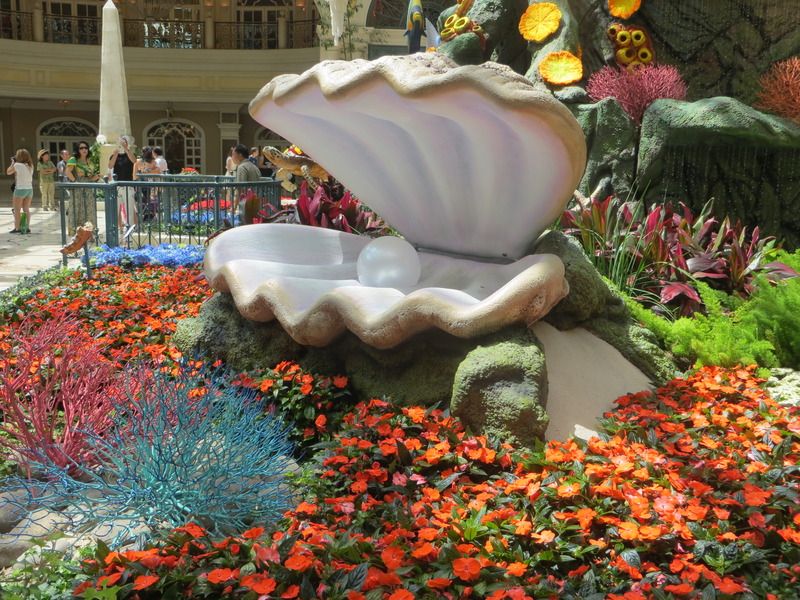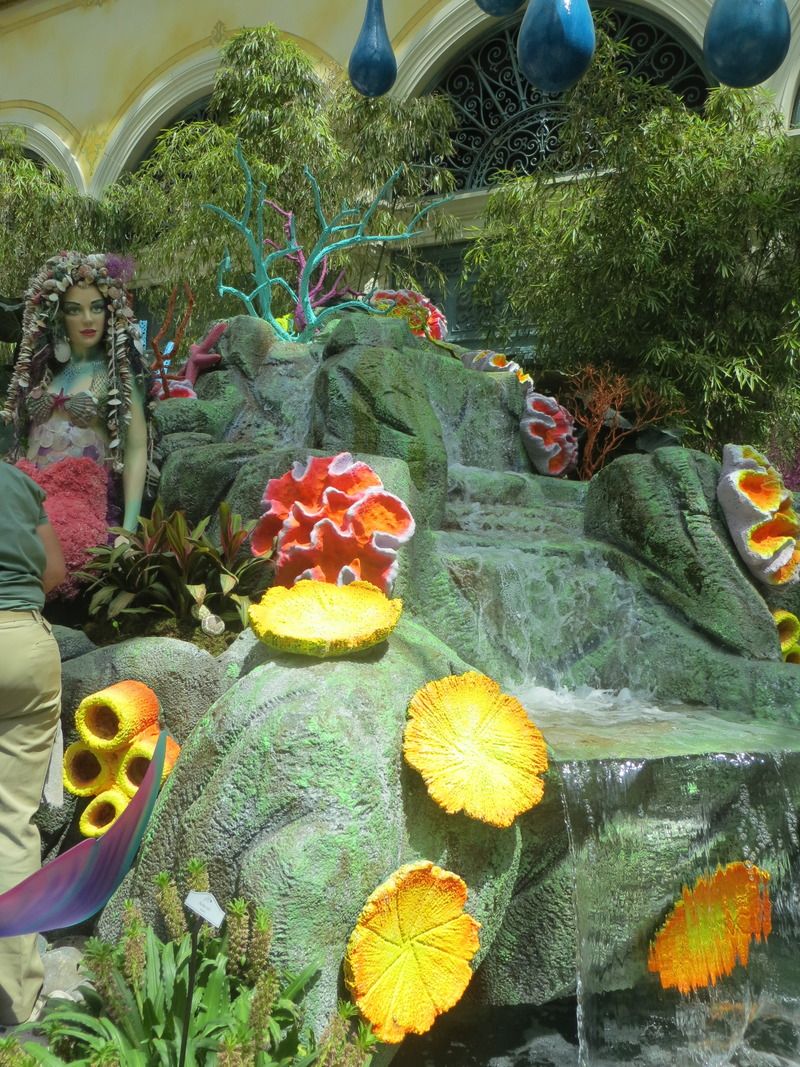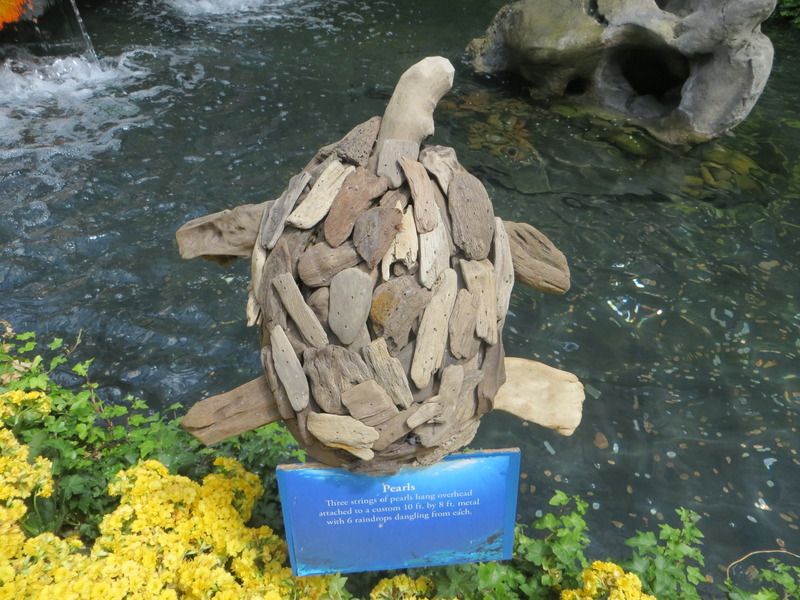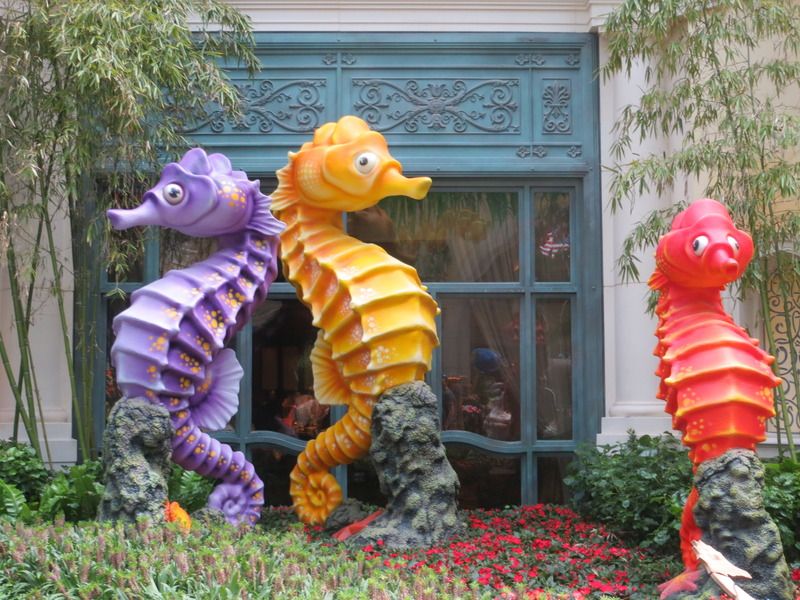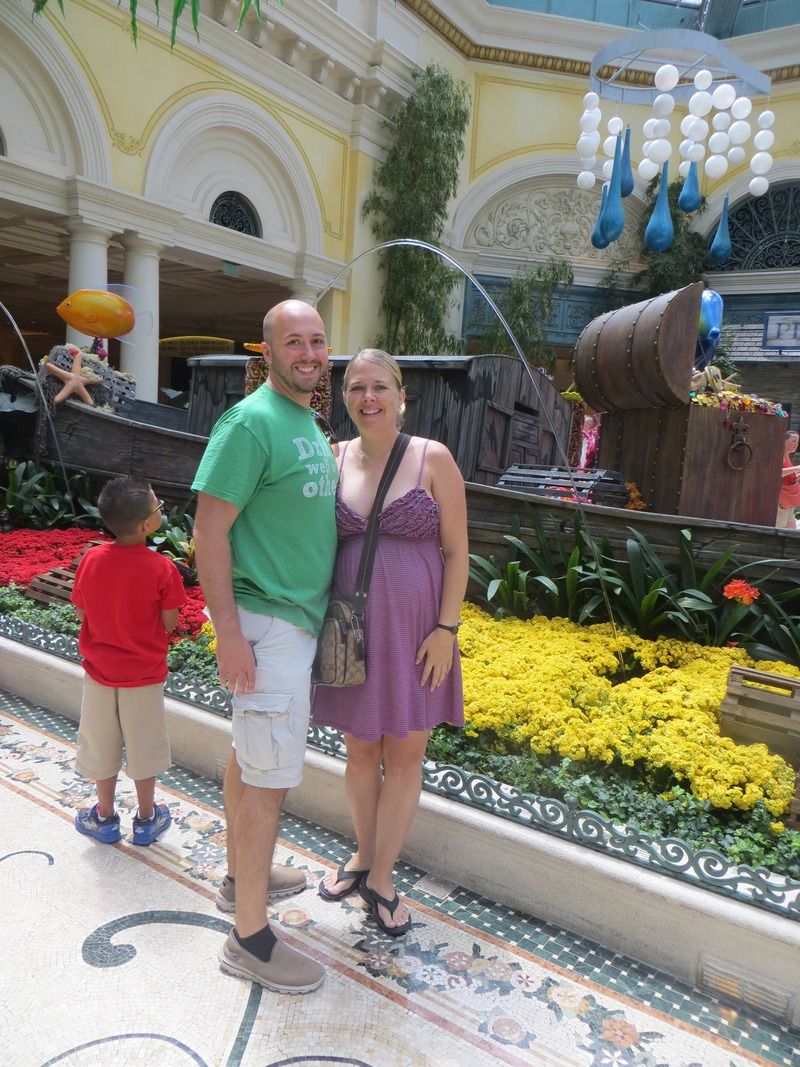 The boys walk so fast they had time to sit down and play on their phones while Halie and I meandered along. Halie wore really uncomfortable sandals that day. Silly girl. My feet were just always tired.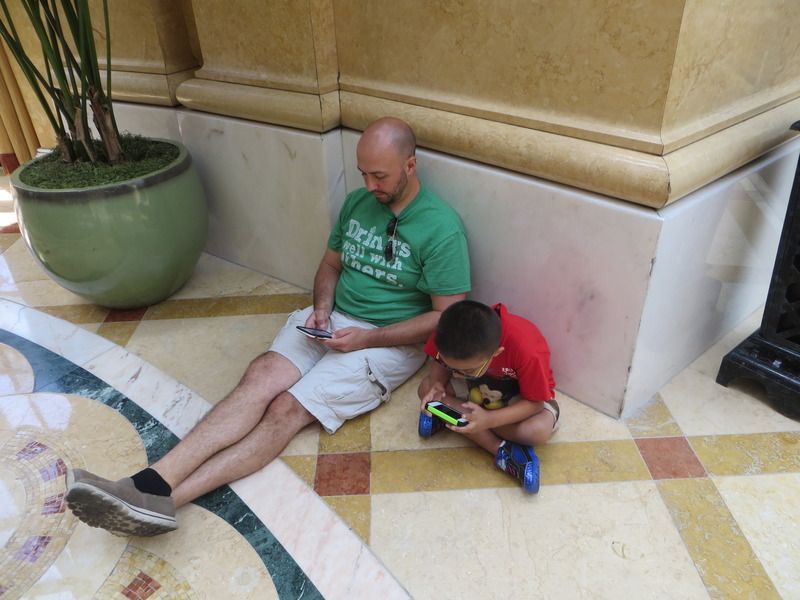 We walked from the Bellagio to Ceasar's Palace. This was when we remembered how very far it is to walk from place to place in Vegas. There was a lot of complaining from the kids.
The kids resting while Q took a potty break.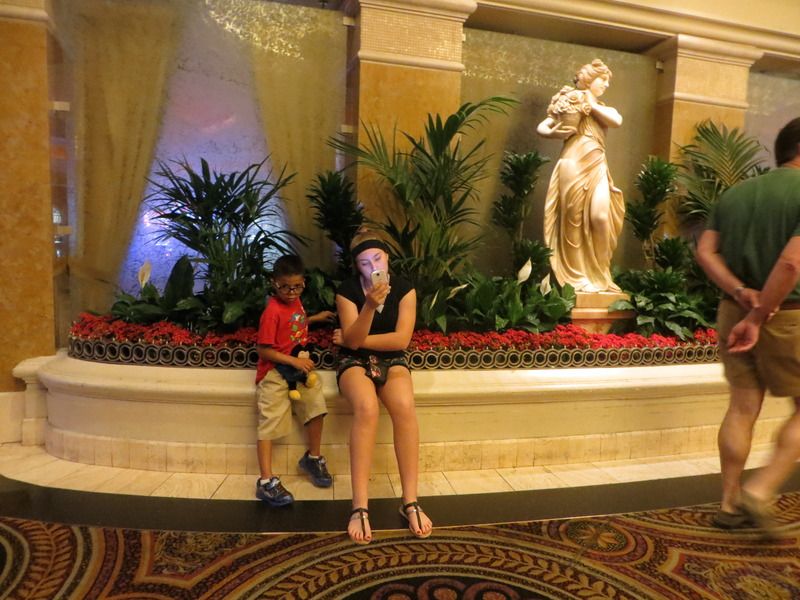 Halie found a store she wanted to shop in so Antonio and I sat down to wait. One thing I noticed is there are NO benches in Vegas. The only place to sit in Vegas is at the slot machines or in bars. Neither of those places allowed the kids. There was a lot of sitting on the ground today.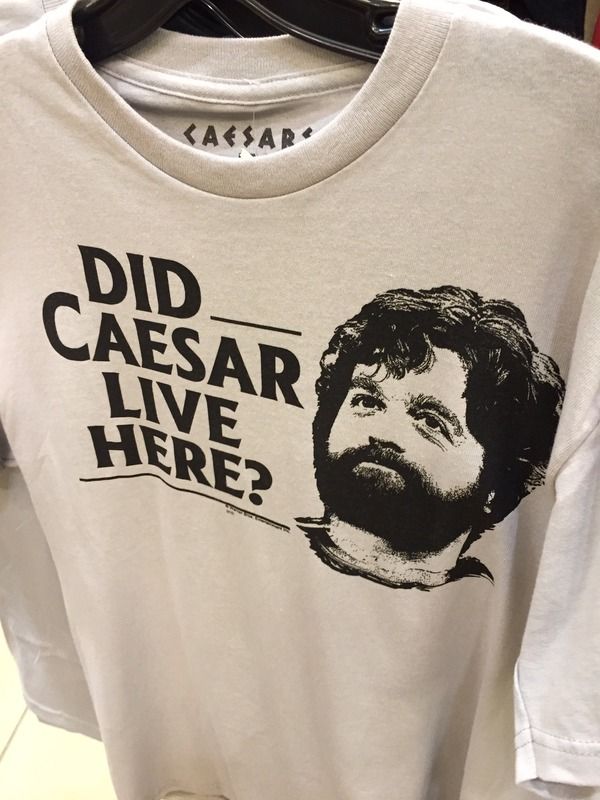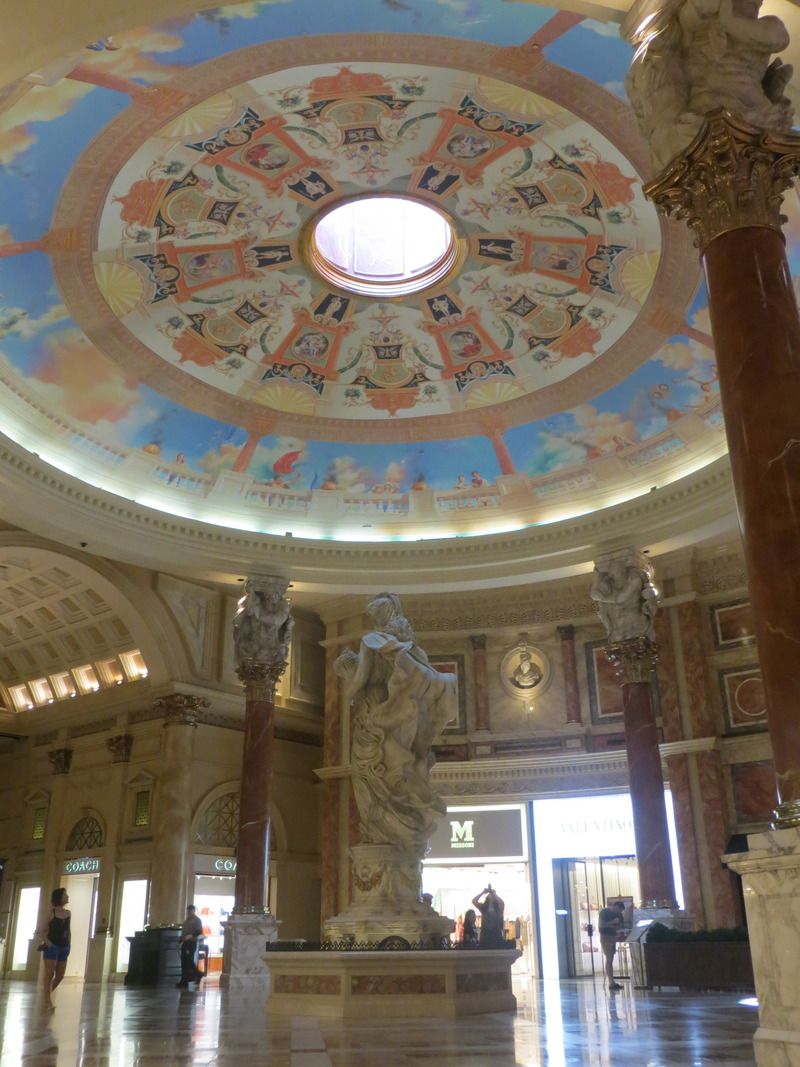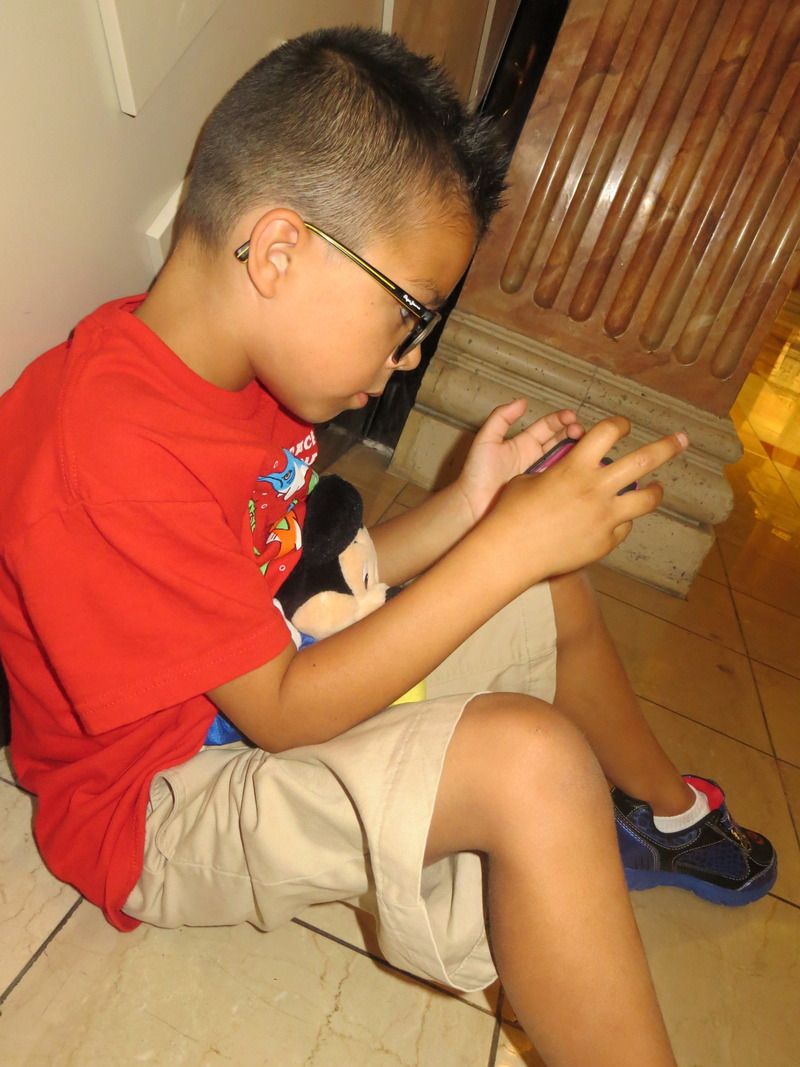 Finally the Princess was done shopping without even buying anything.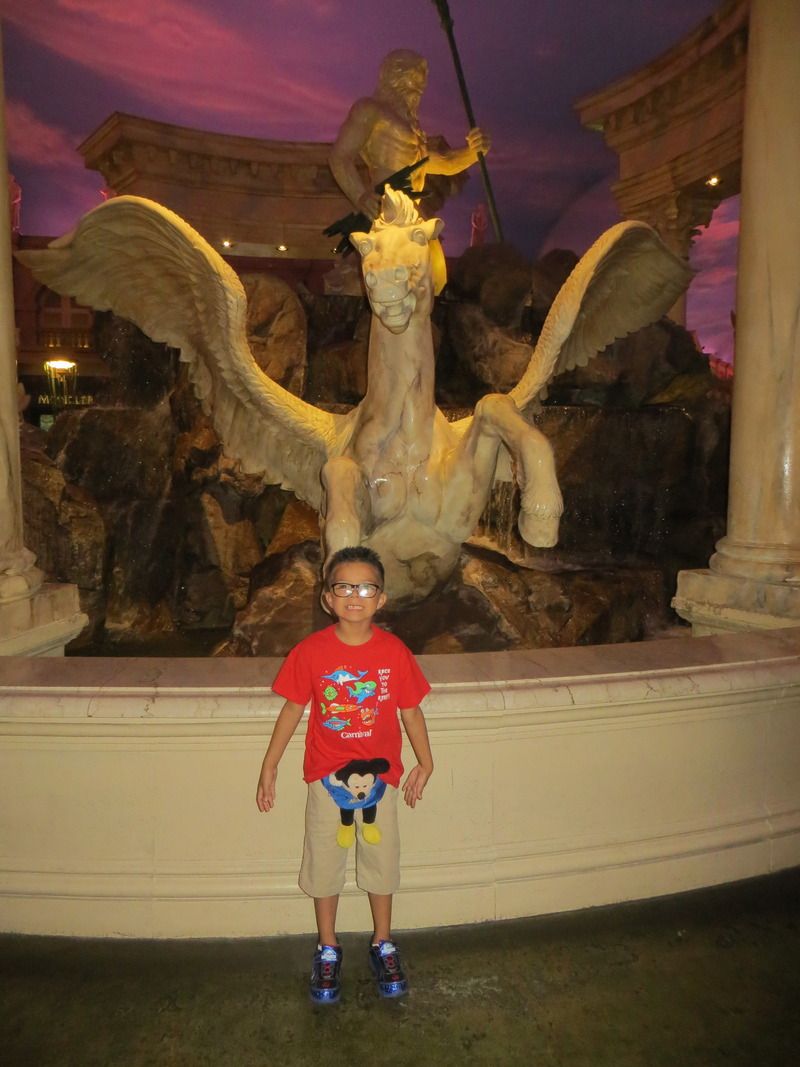 Halie went shopping at the Nike store while Antonio enjoyed the aquarium. We all watched the Posiedon show.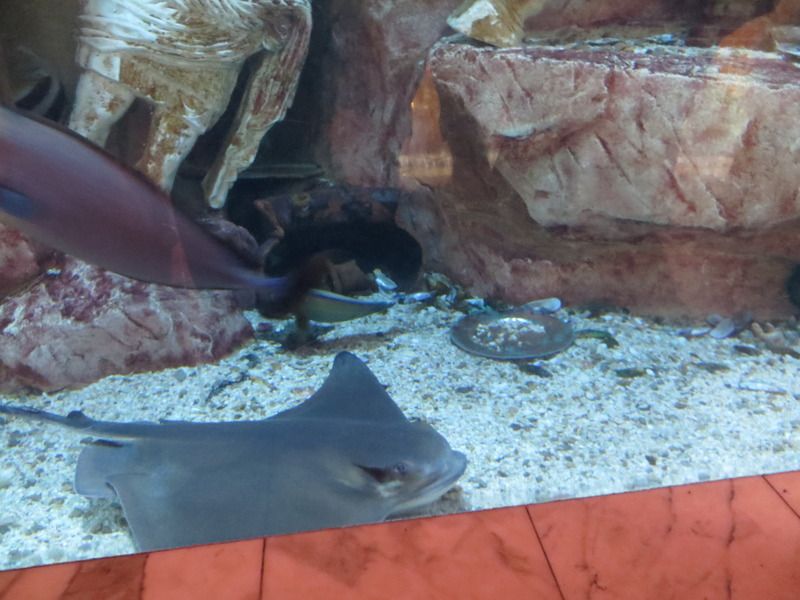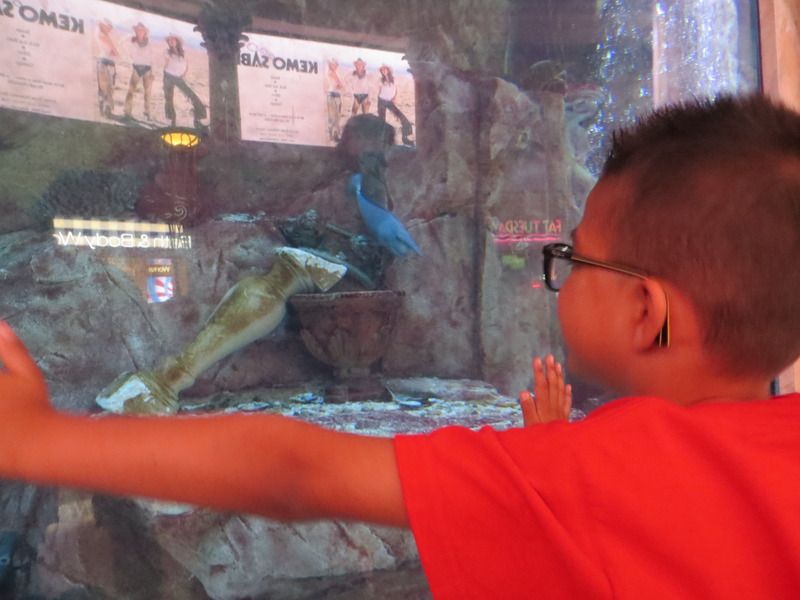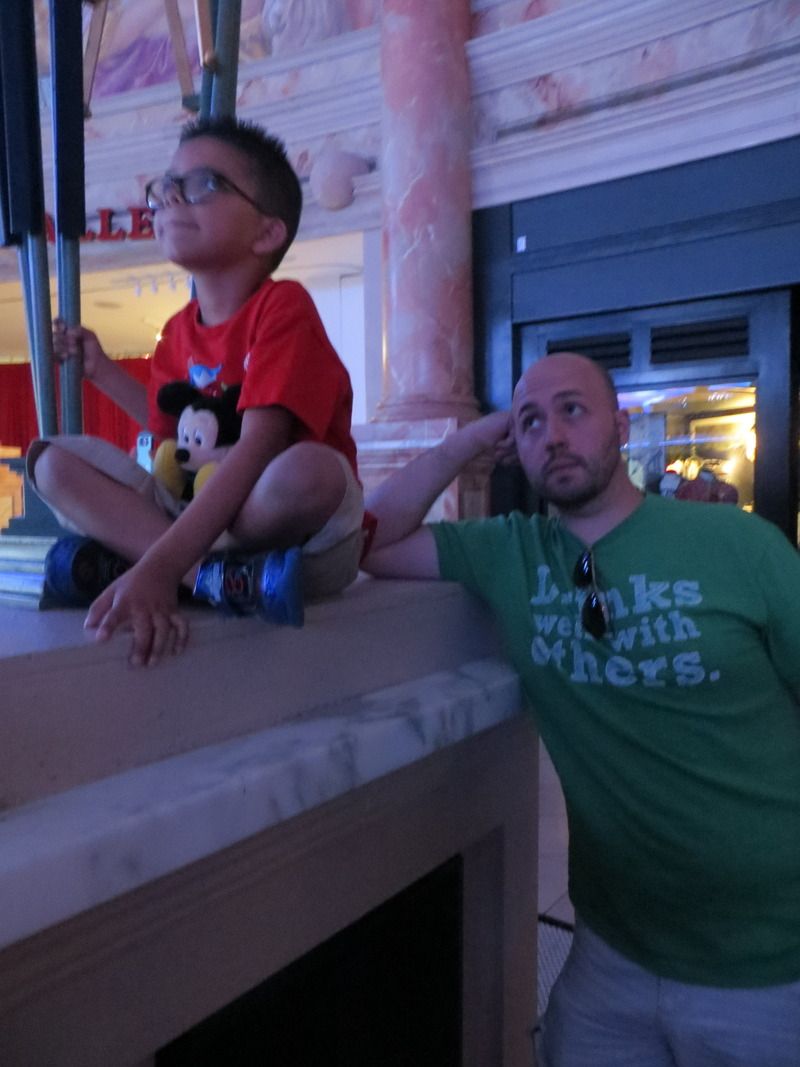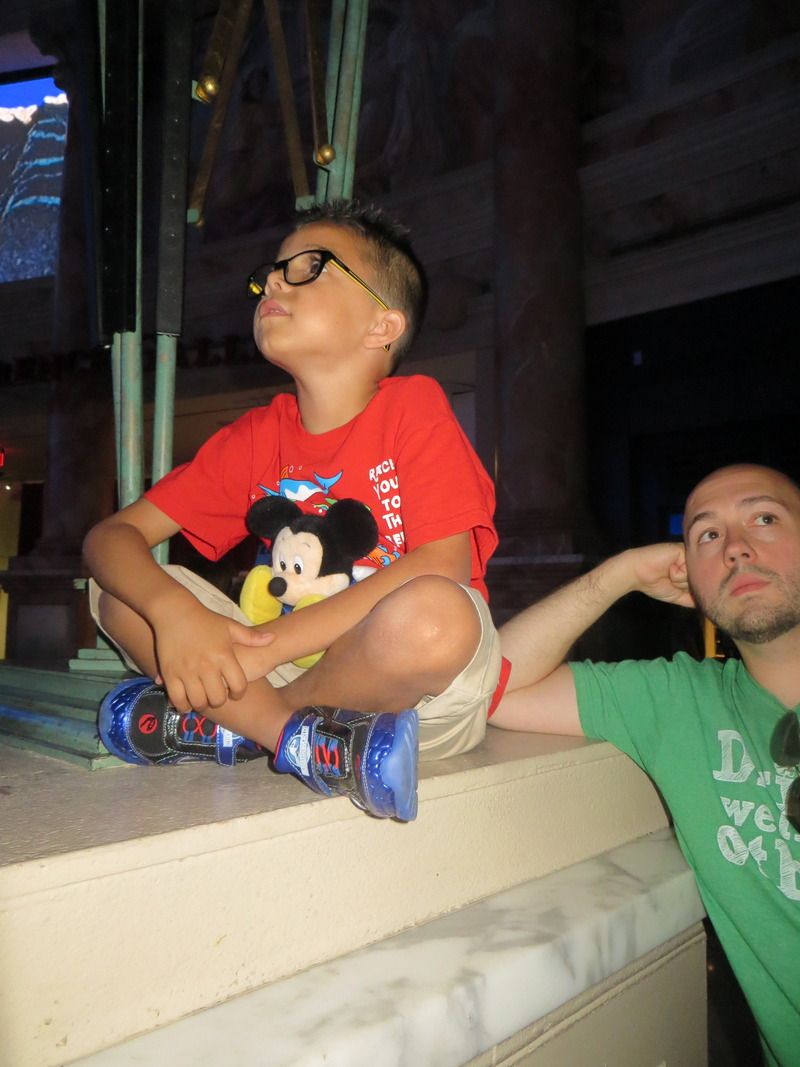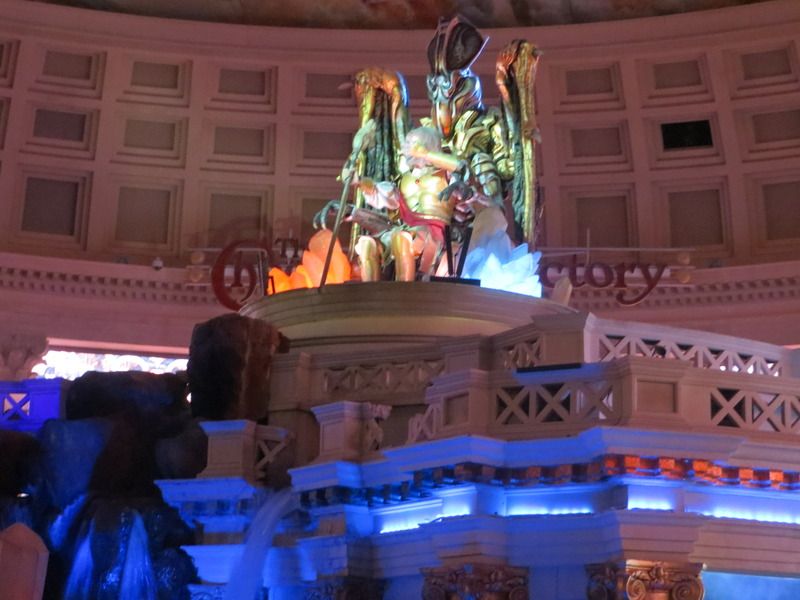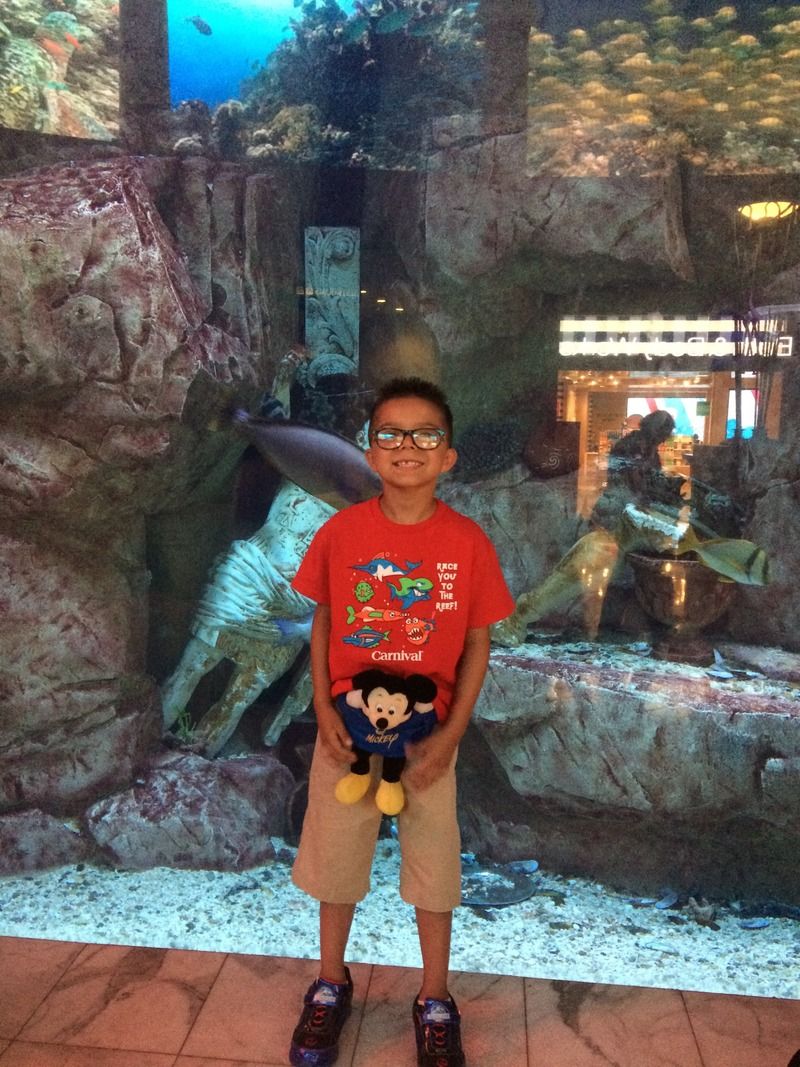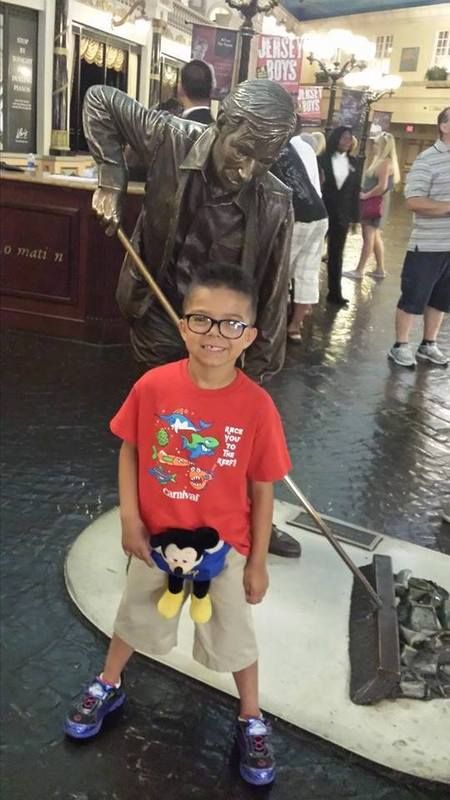 On the way out of the Bellagio, Halie went back to the store from earlier to shop some more. That girl loved shopping in Vegas.
Because we are a glutton for punishment and wanted to hear the kids complain even more, we walked over to the Flamingo to see the flamingos. The kids got to hold some macaws while we were there. You were supposed to buy the picture and no personal photography. I sent Quentin across the way, and he took some pictures on the sly. We are very sneaky!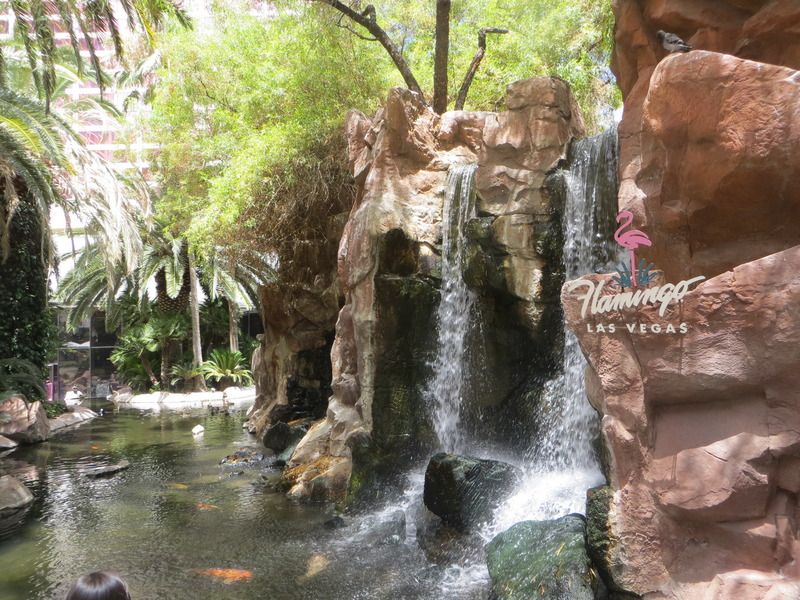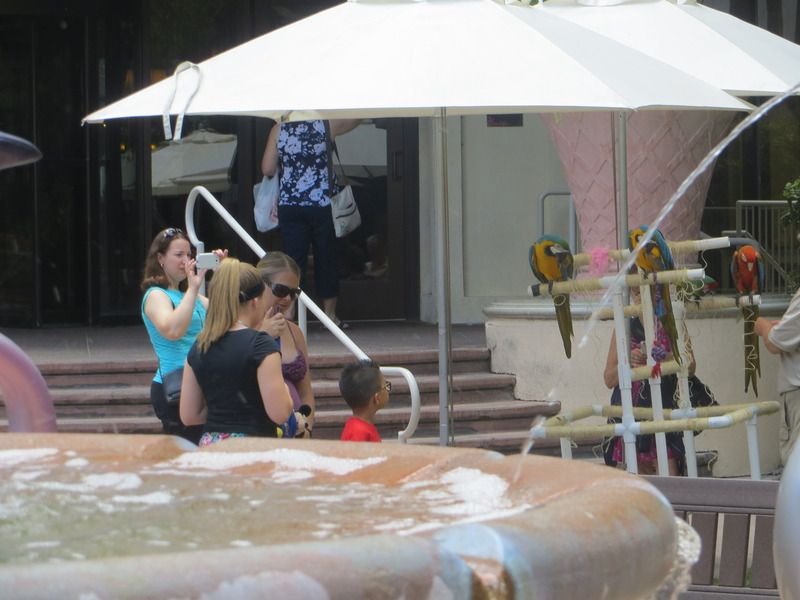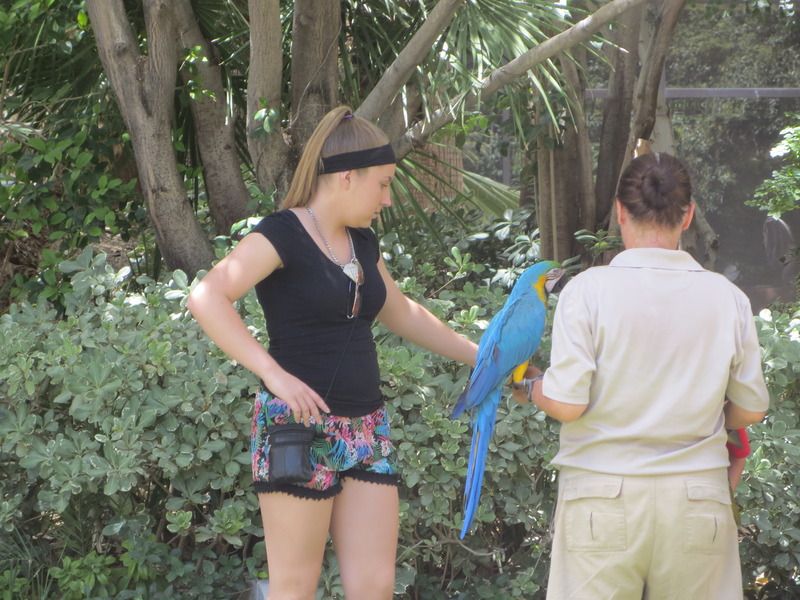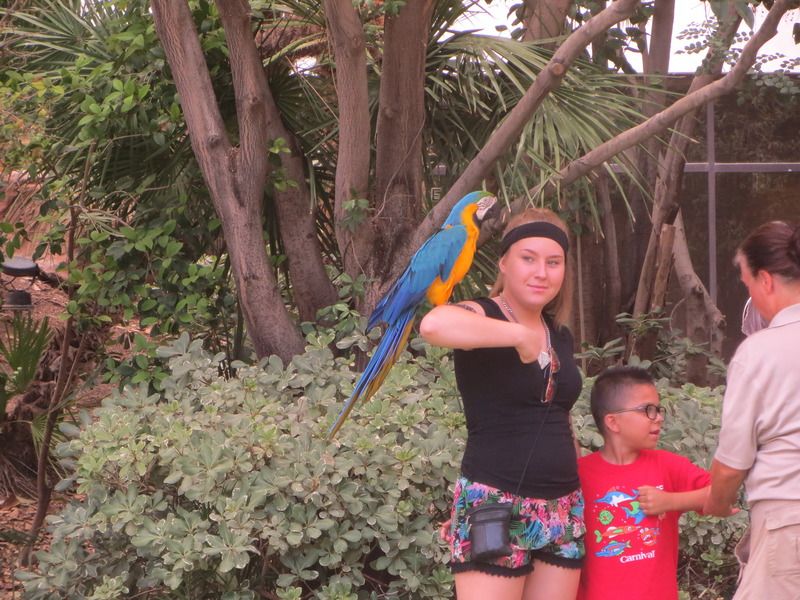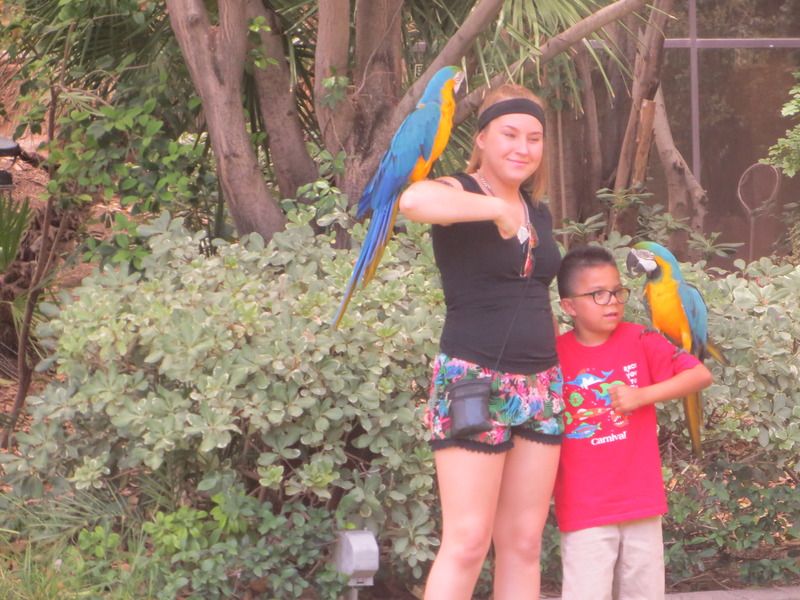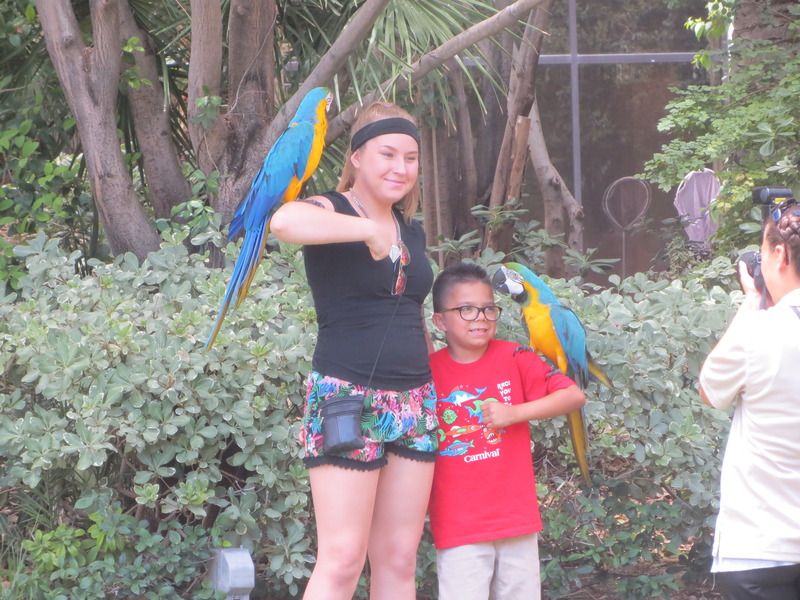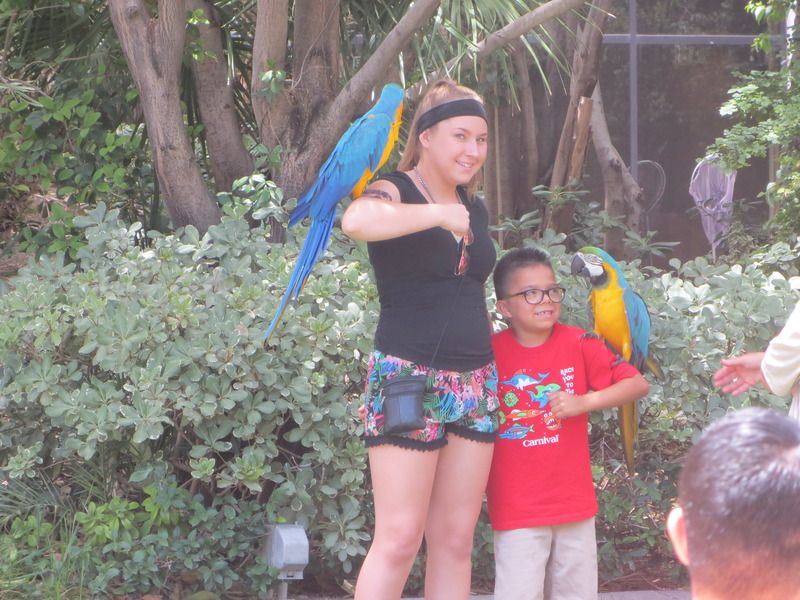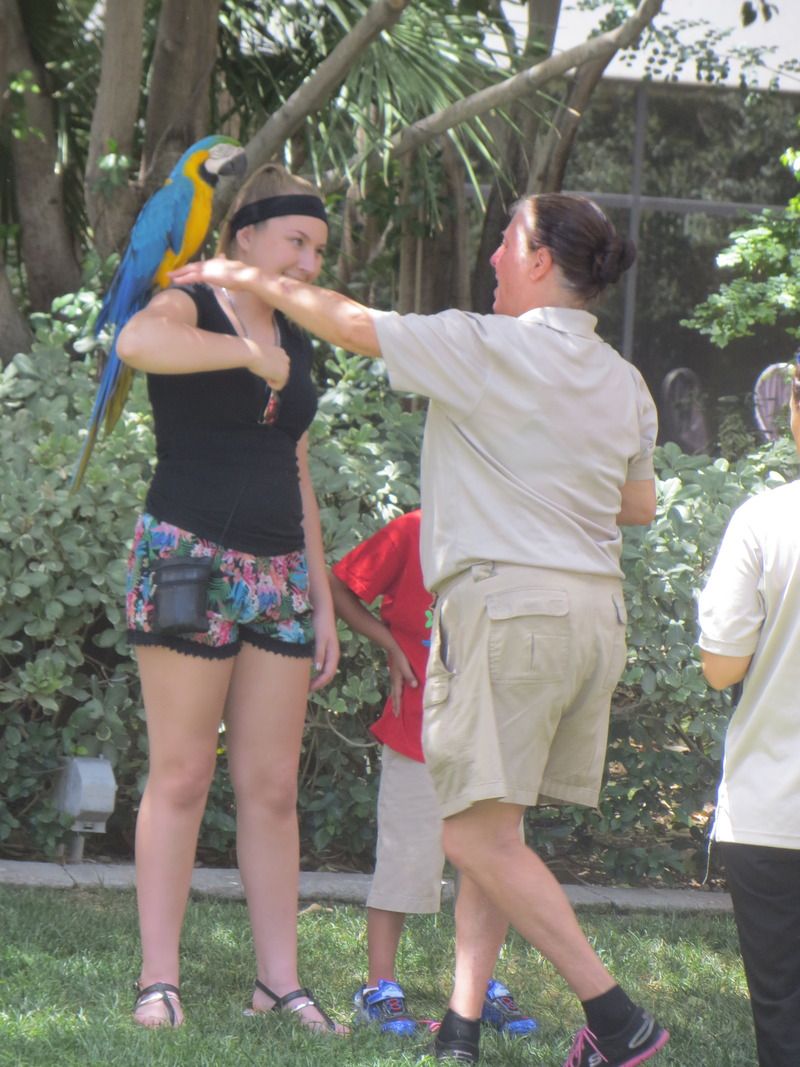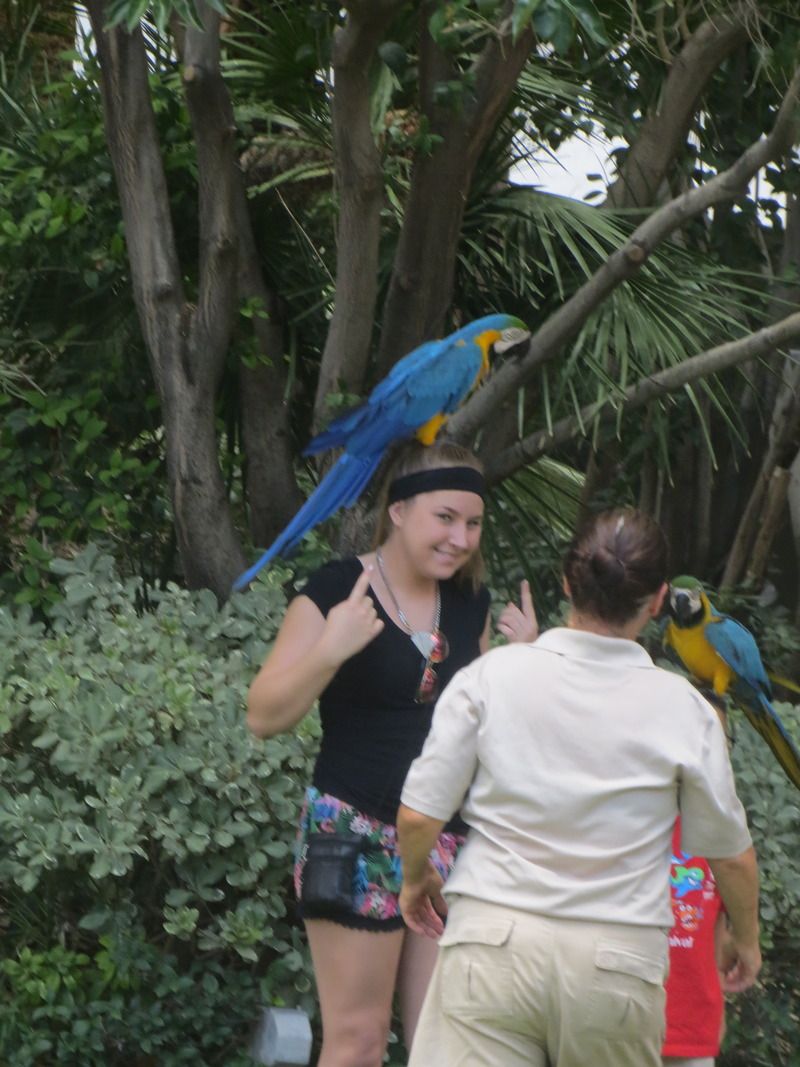 Antonio and I were looking at the ducks and fish when a worker came up to feed them. She let Antonio throw some food in and he thought that was really cool.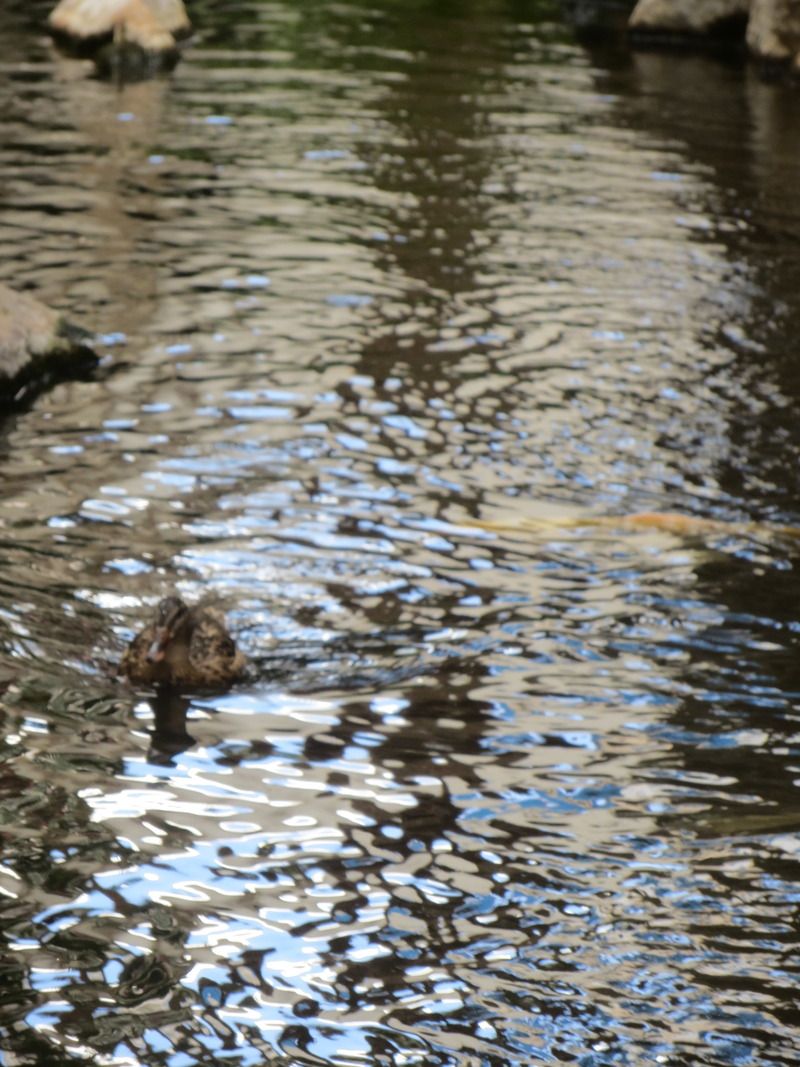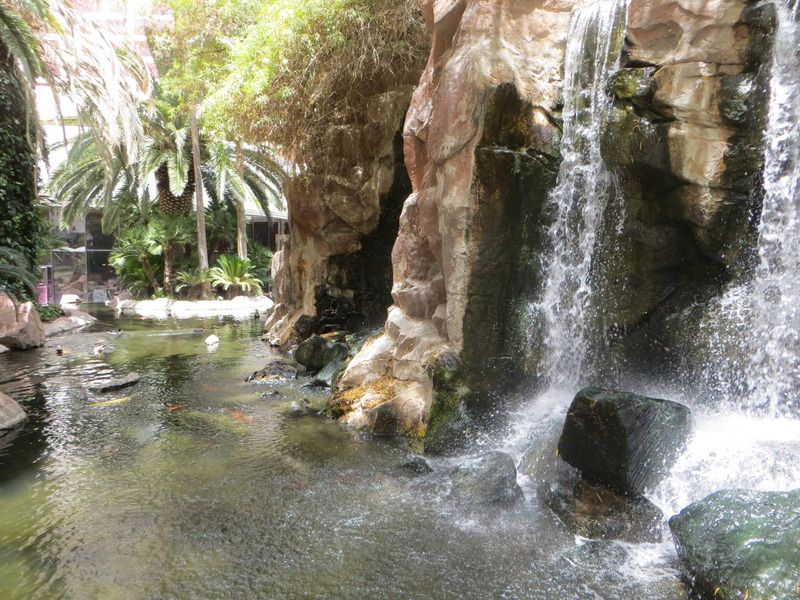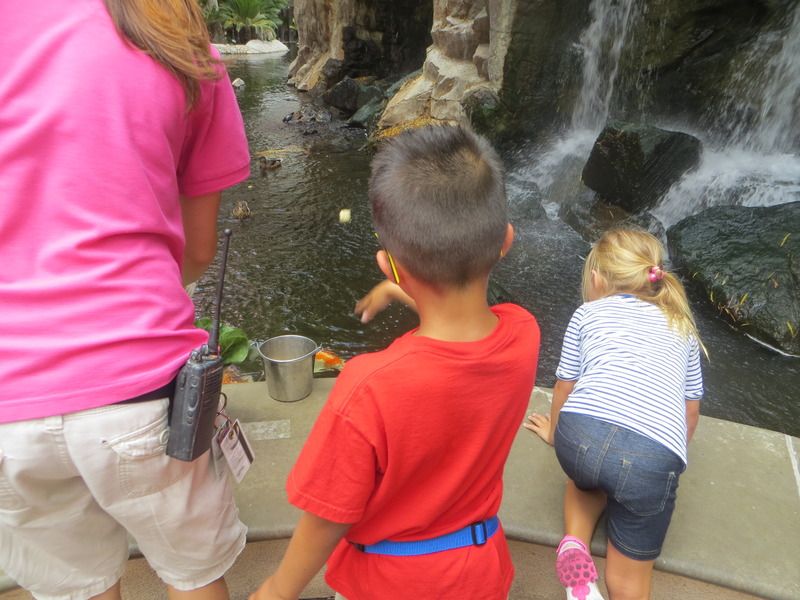 Nice picture of both of them with their eyes closed!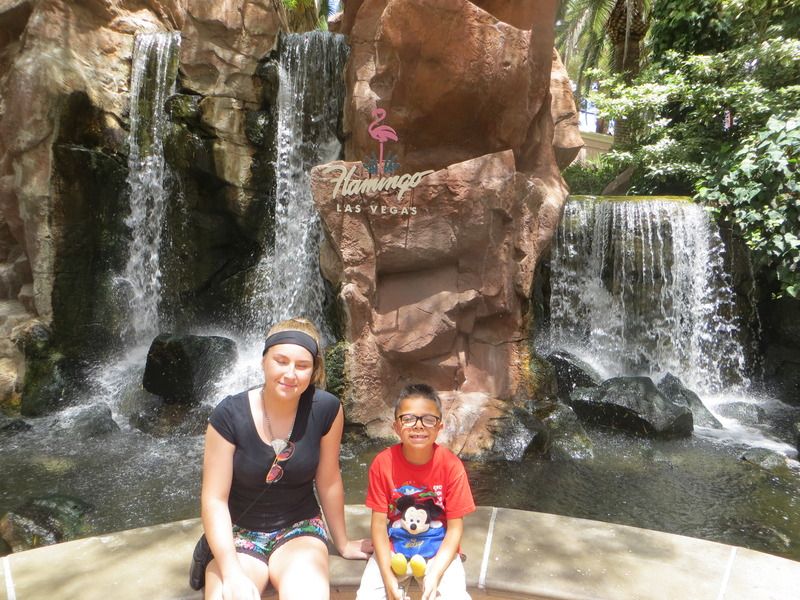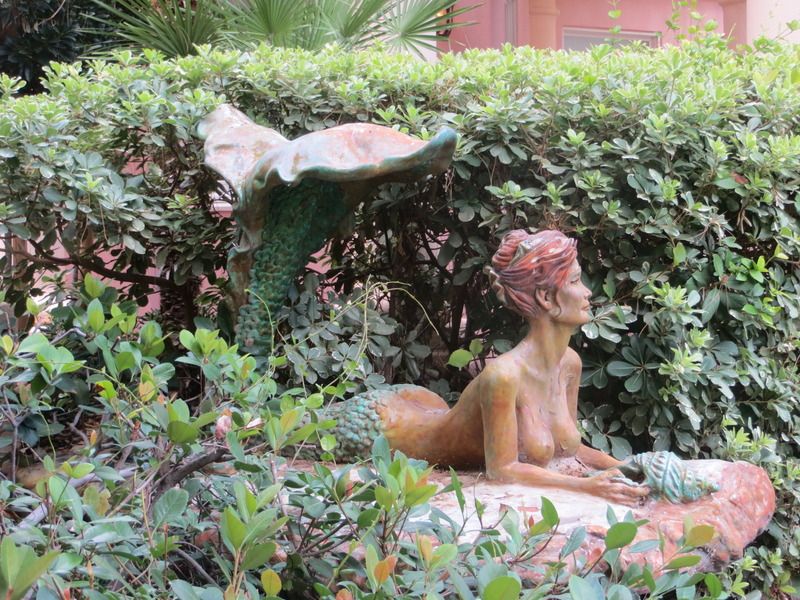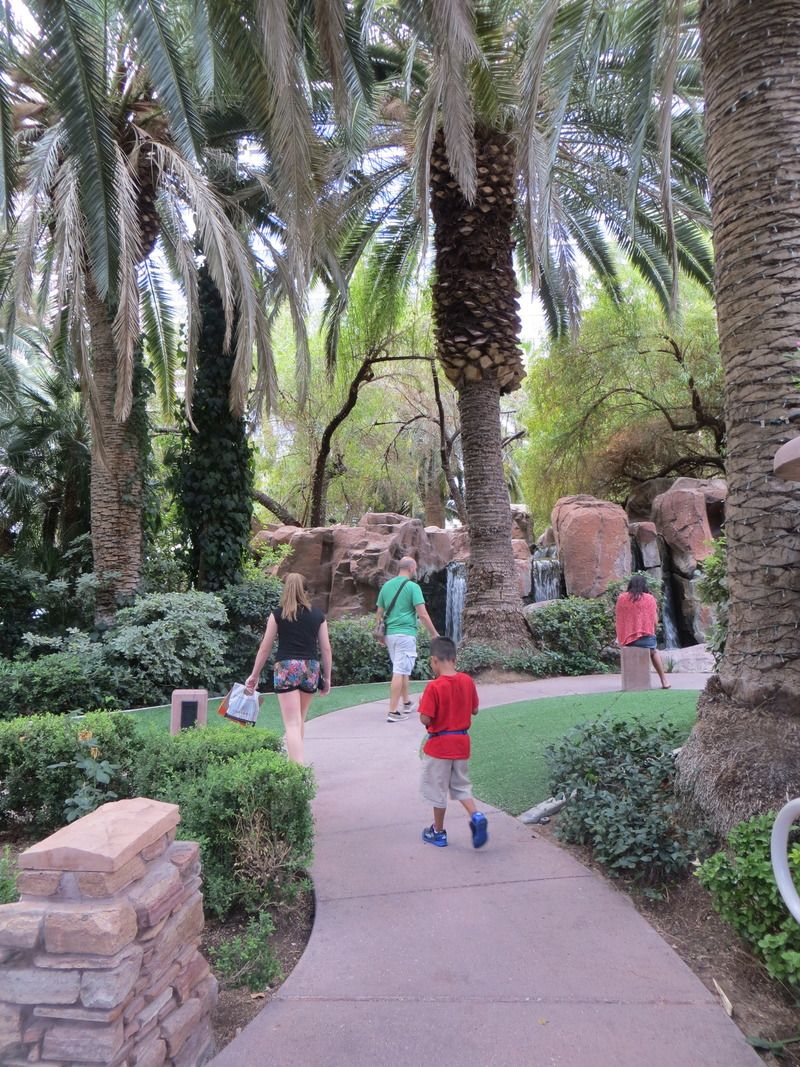 Finally, we found some actual flamingos!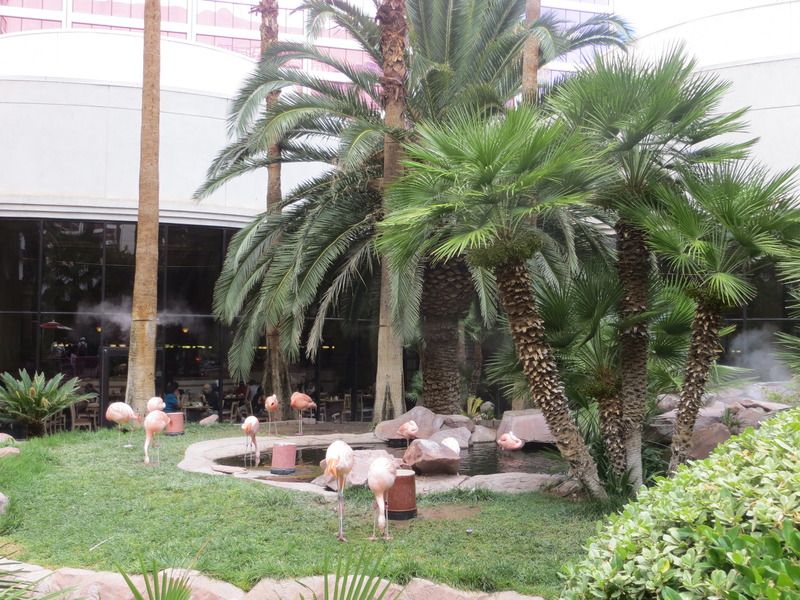 And some turtles!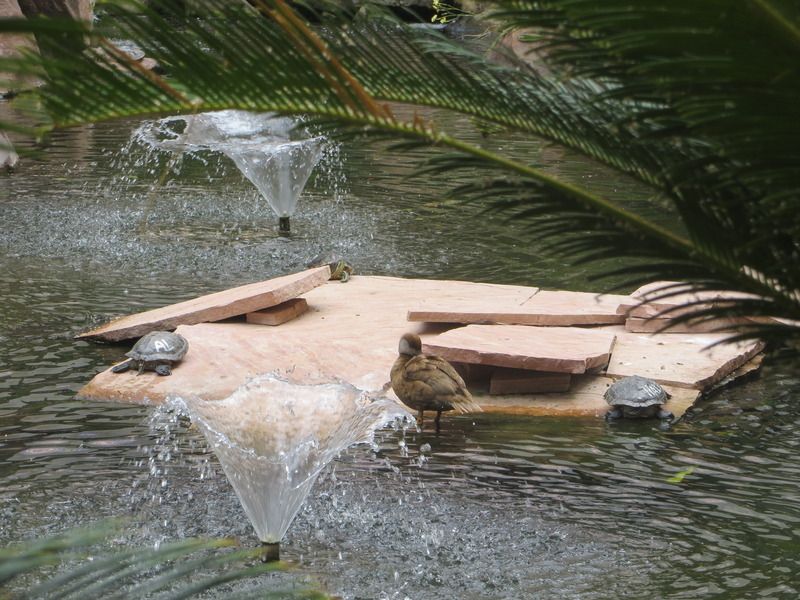 It was so hot outside at the Flamingo, the big pregnant mommy needed a break. Quentin sat with the kids while I played some slots for about 10 minutes. Antonio hanging on me, starts to wear me out after a while. Hanging on me in the 100 degree heat, wears on me even faster.
We walked through Margaritaville which always makes Quentin and I laugh because my parents always call it by its full name "Jimmy Buffet's Margaritaville."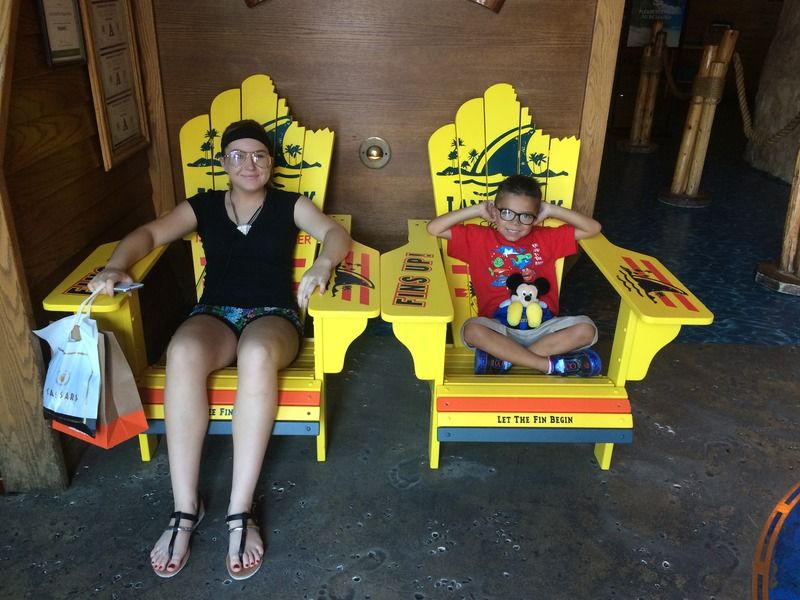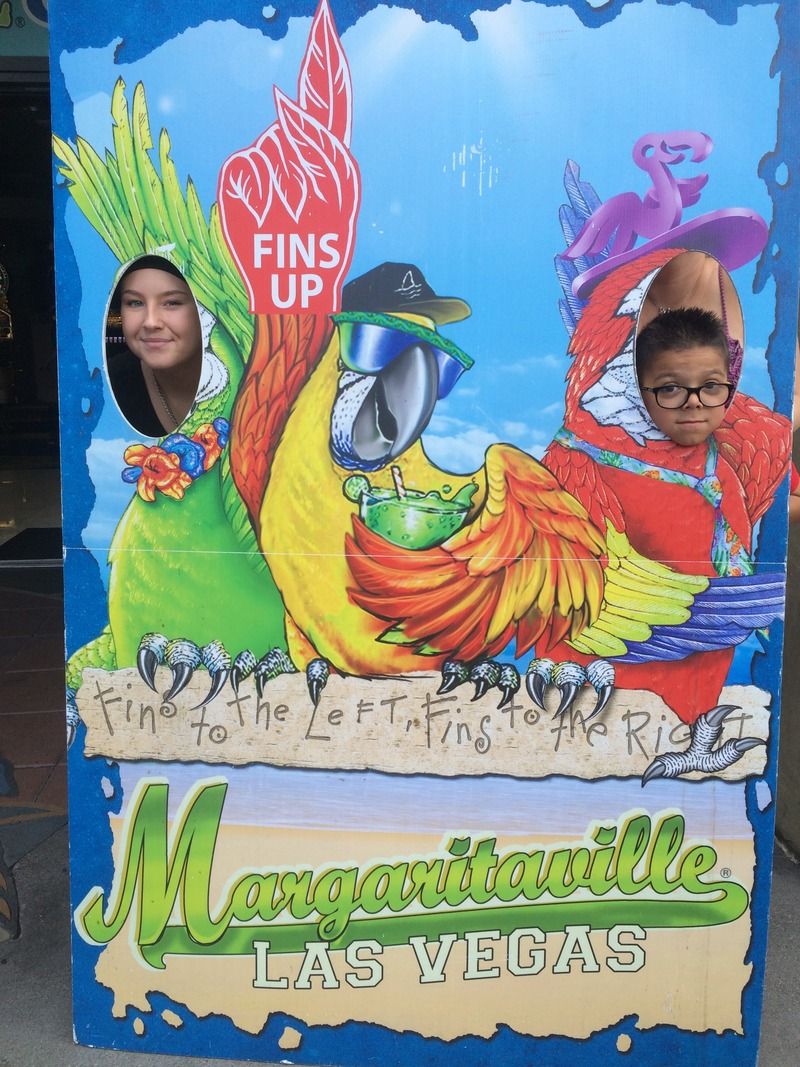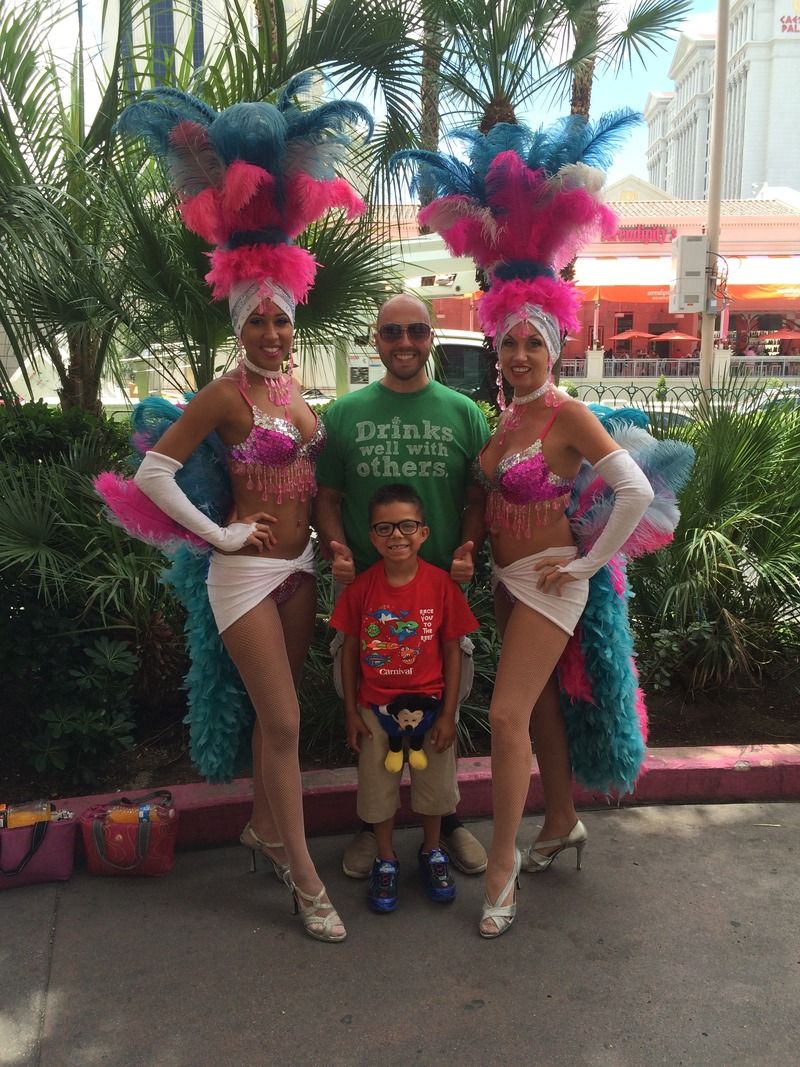 Next up was M&Ms World! I love this place and so did Antonio! Halie hated it. Quentin tolerated it. Halie really hated anything except when she was shopping for herself. However she still says Vegas was her favorite part of the whole trip.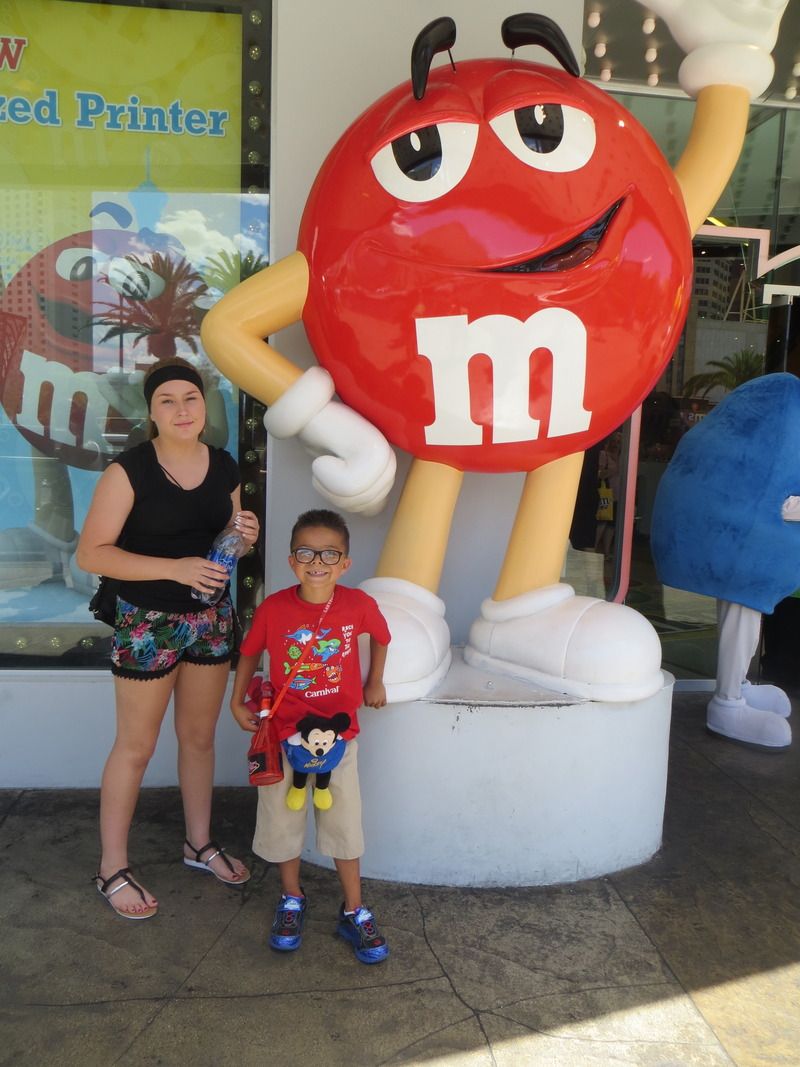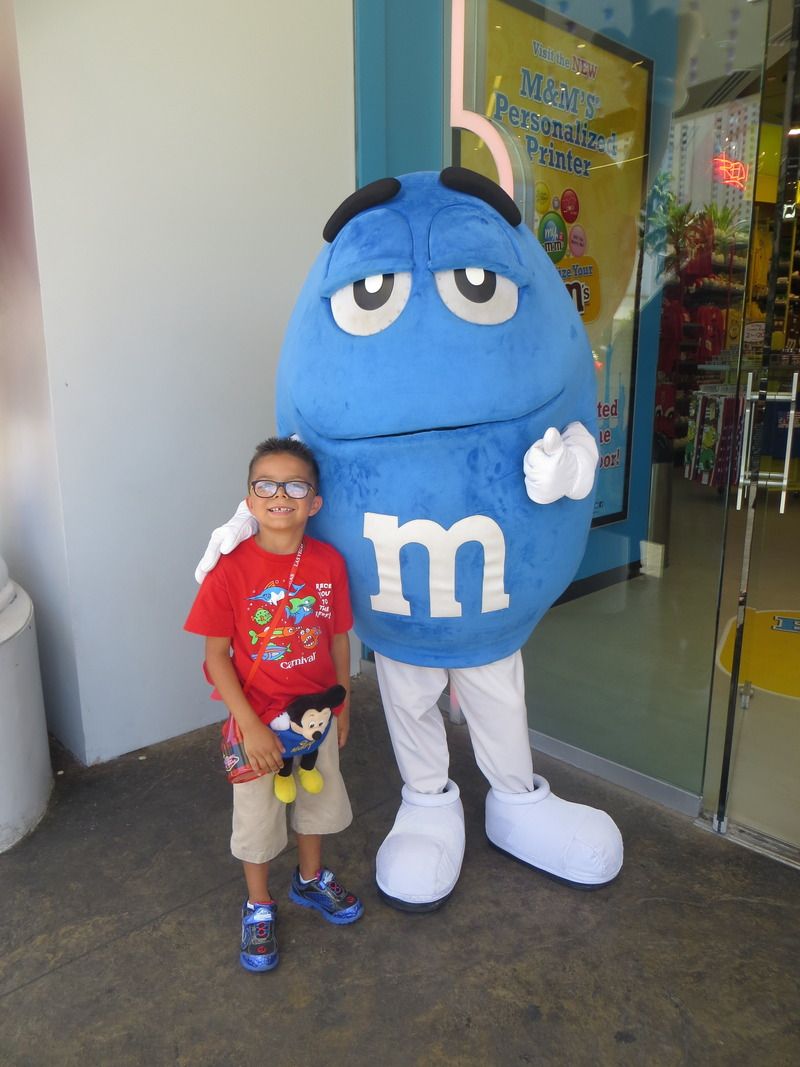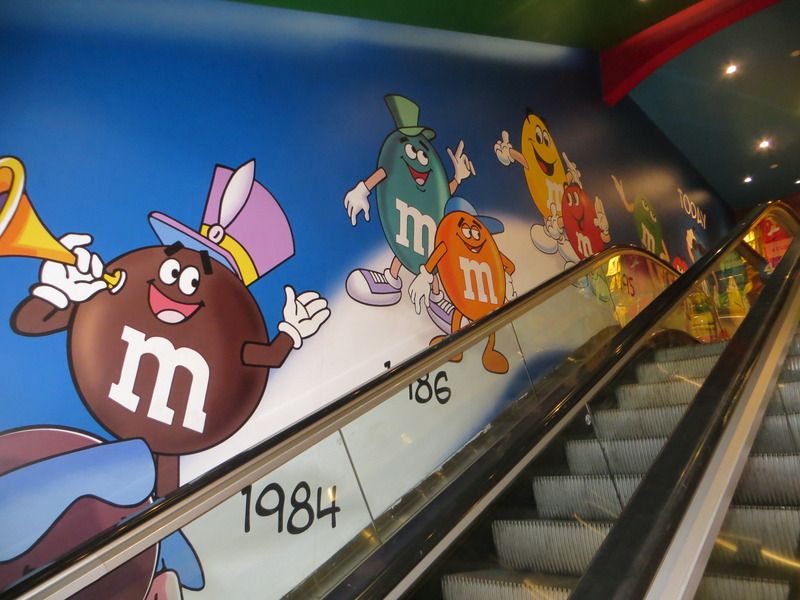 We did some shopping and Antonio bought some M&Ms from the colorful display.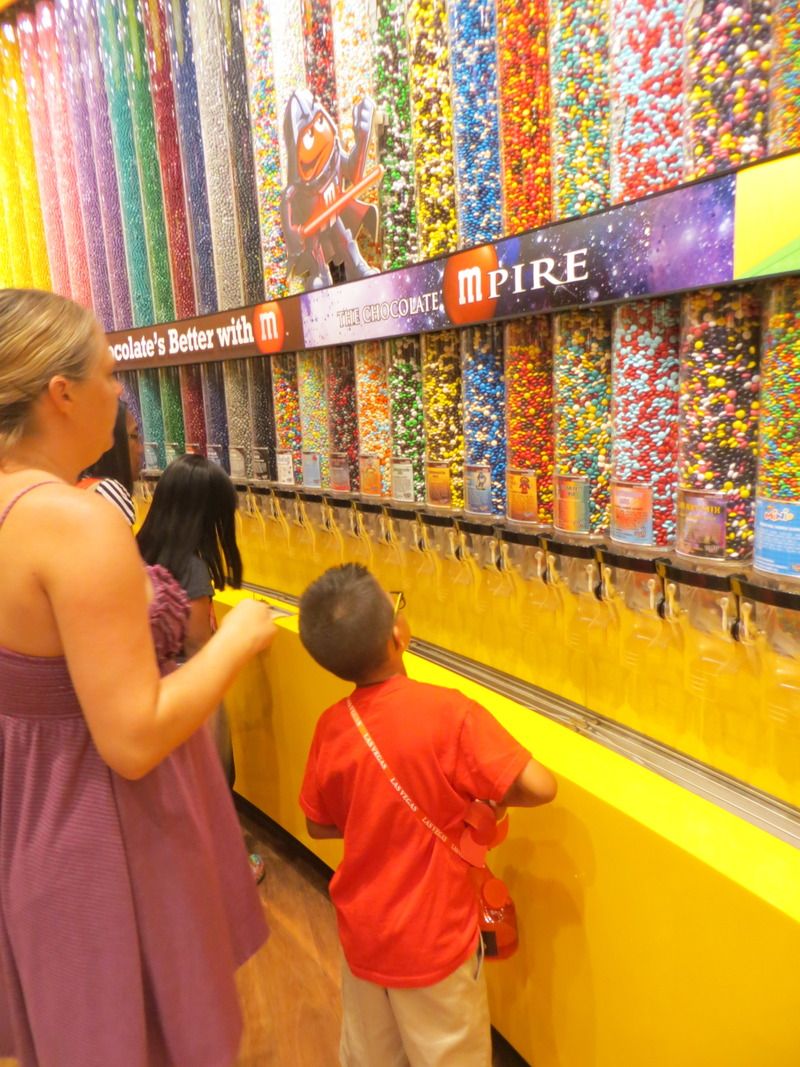 Then we all watched the 3-D movie. It was cute as always. I remember there used to be a walkthrough area where it had buffing things like you were an M&M. That wasn't there anymore.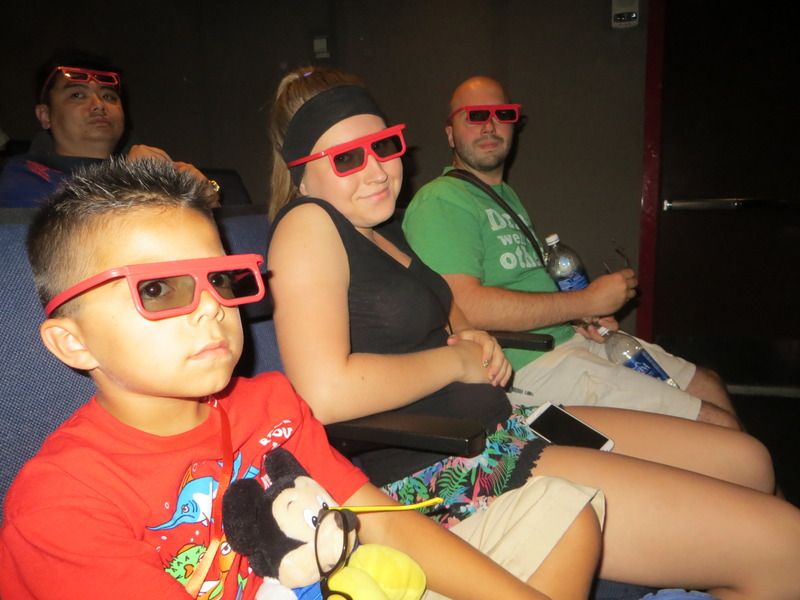 Nice view of New York New York from M&M World.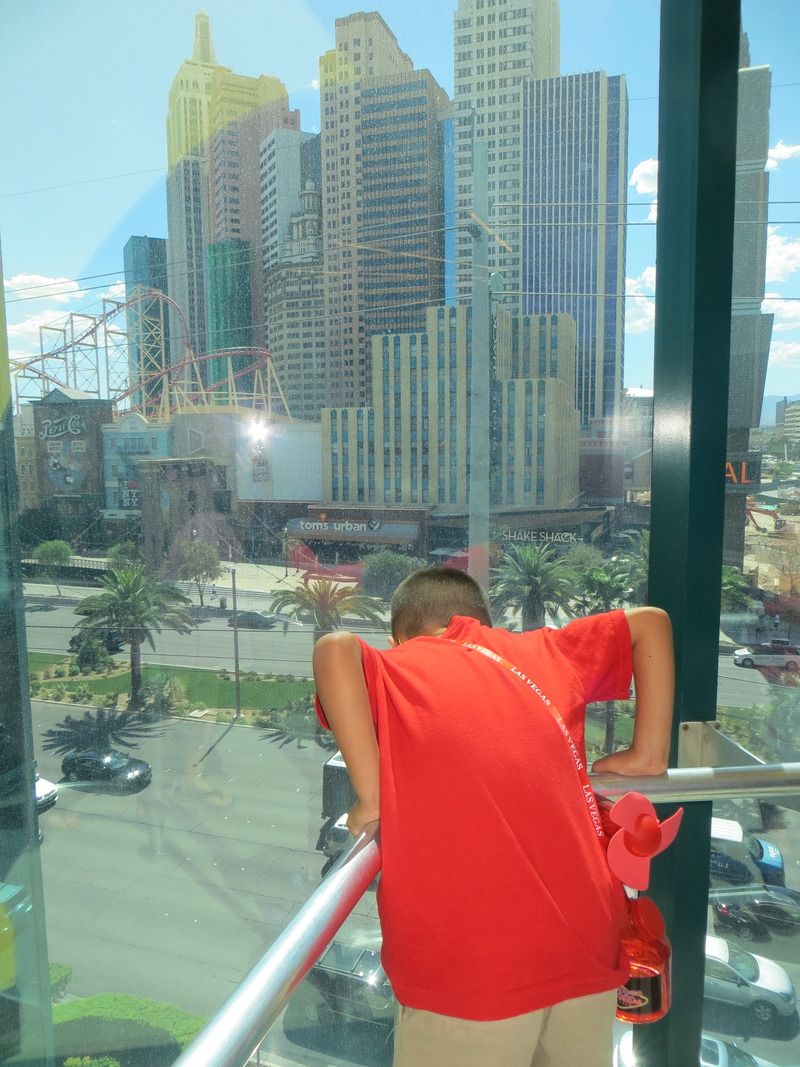 I thought we were leaving after that, then Antonio kept saying there was something on the 3rd floor he really wanted to do. Turns out it was the personalized M&M maker. We had to wait in a line for about 15 minutes for a computer. Then you got to make 4 different designs. He did an Antonio, Vacation 2015, Darth Vader icon, and a Las Vegas icon. I paid for all our goodies and Halie a popsicle she really wanted (and took one bite and said she hated) then realized I hadn't used the 15% off coupon I was handed while out on the strip. The lady rerang things and gave me the 15% off, but I'm pretty sure she did it wrong because I should have saved more. We gave another coupon to the nice couple behind us who were debating getting their kids the adorable yet expensive M&M pajamas.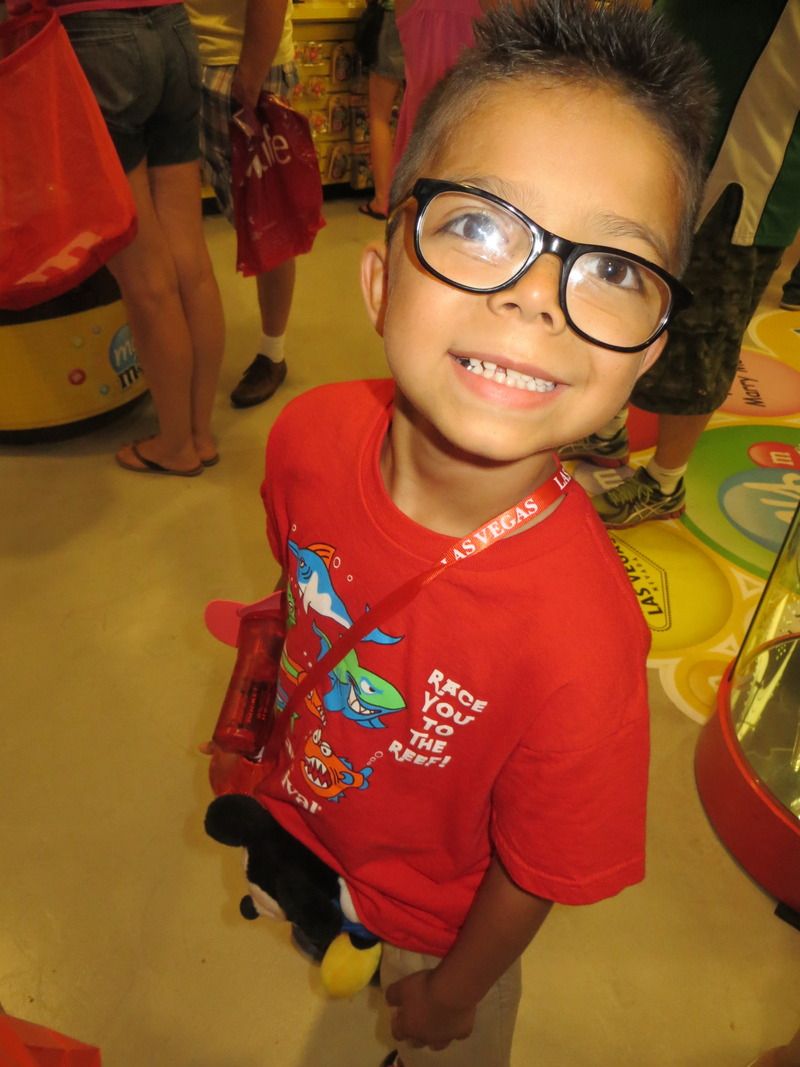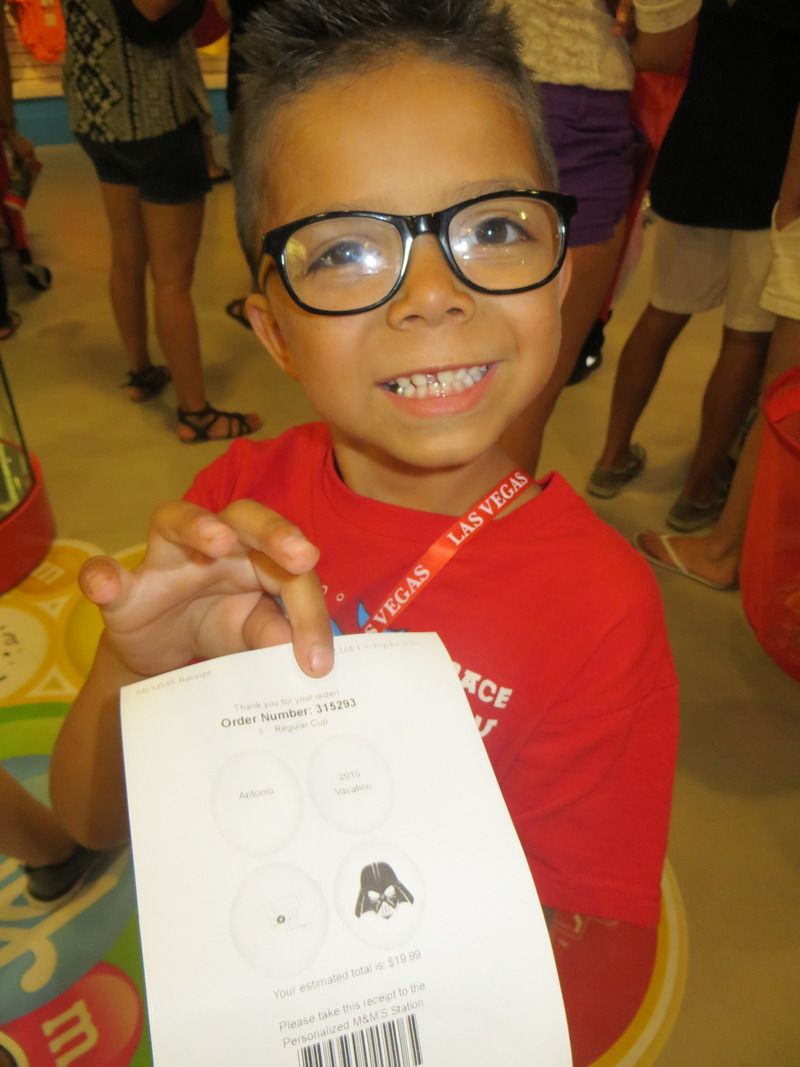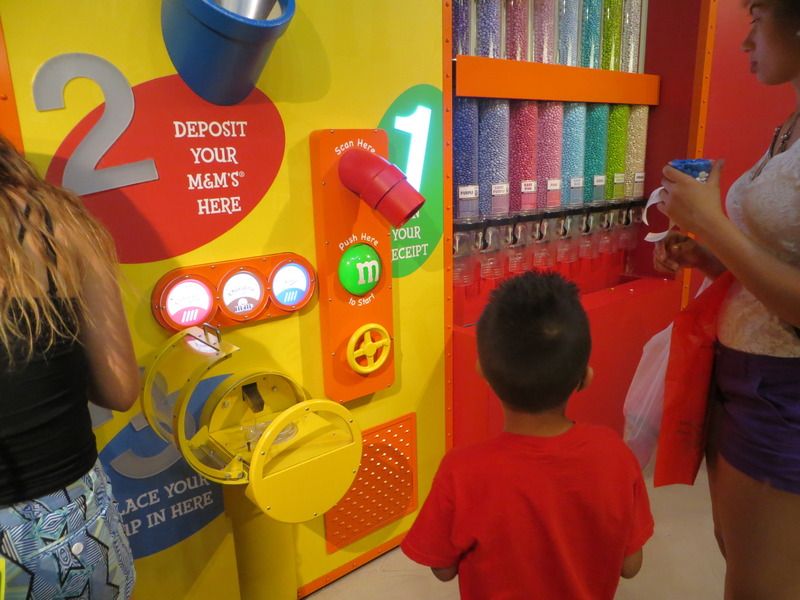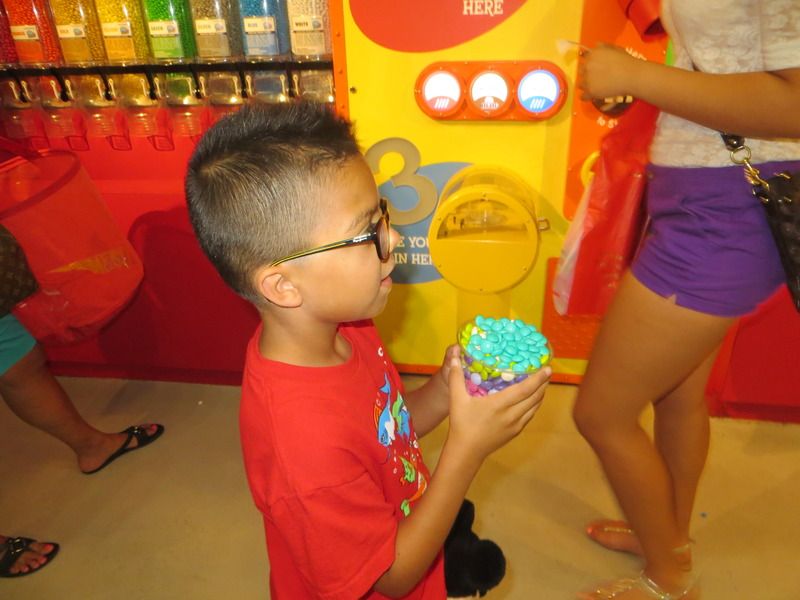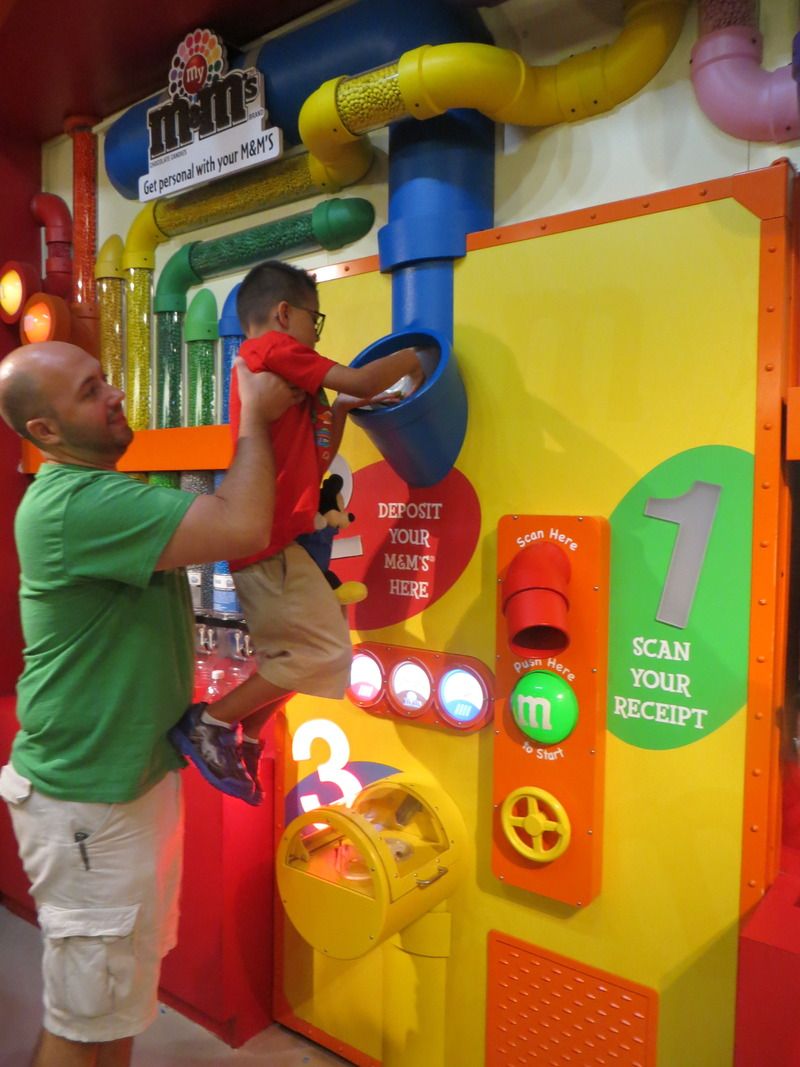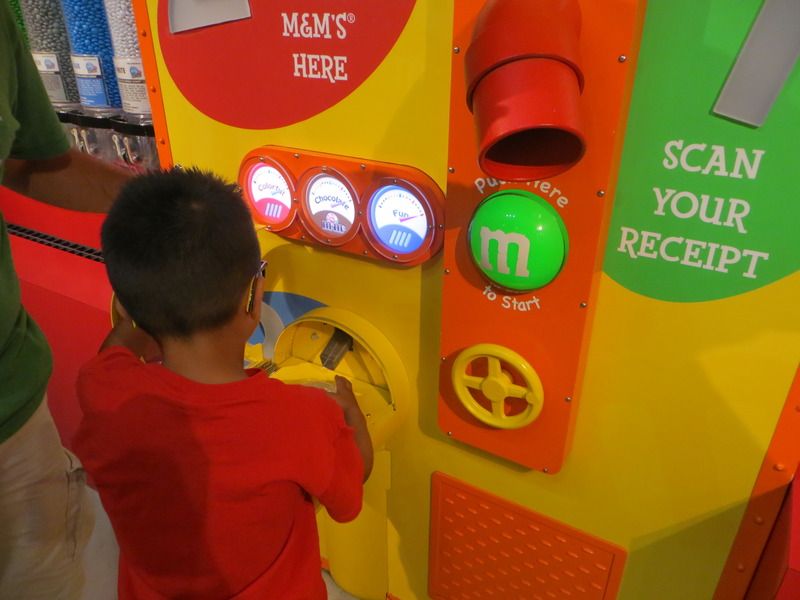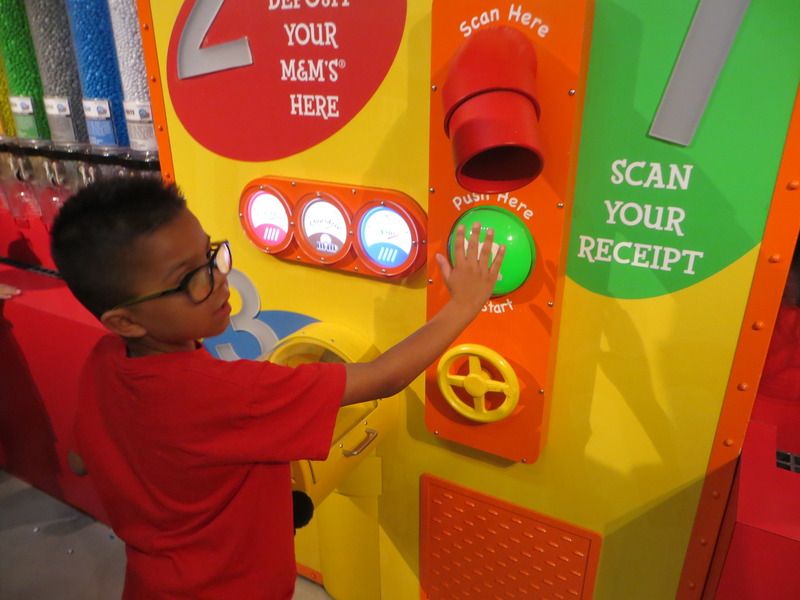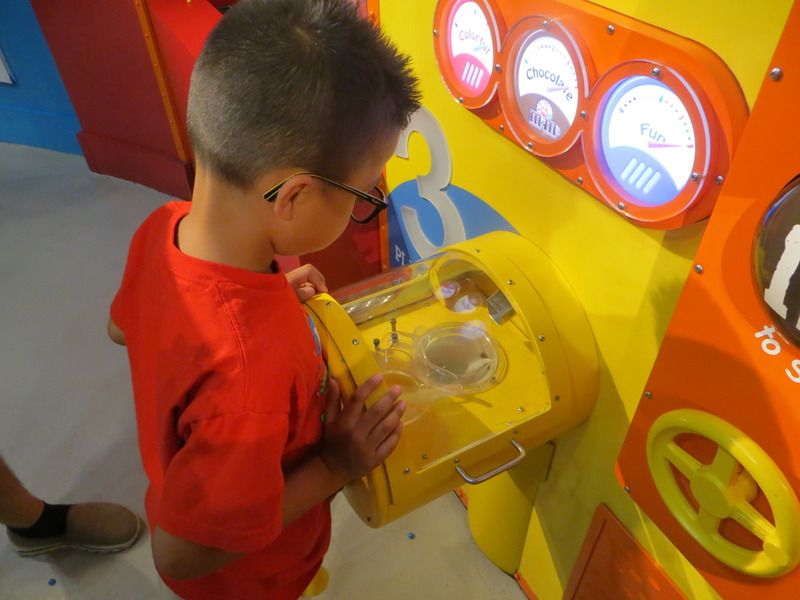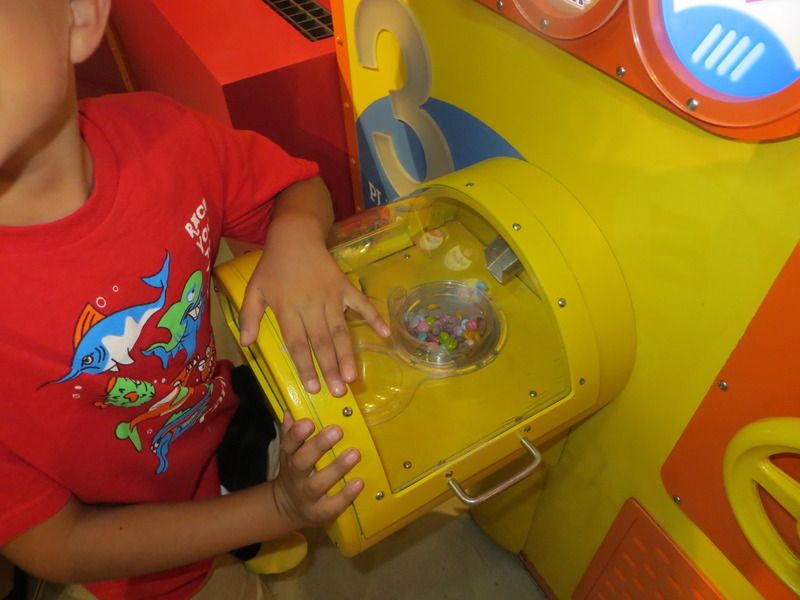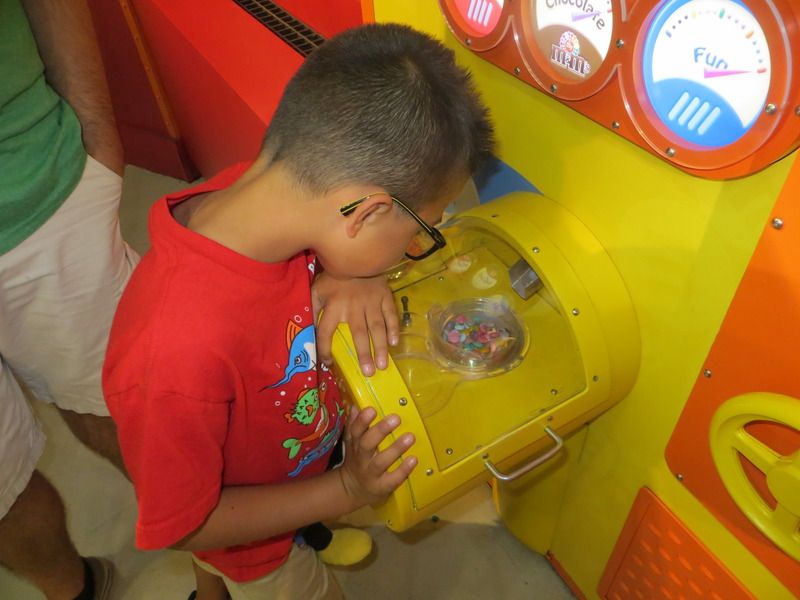 More fun M&M pics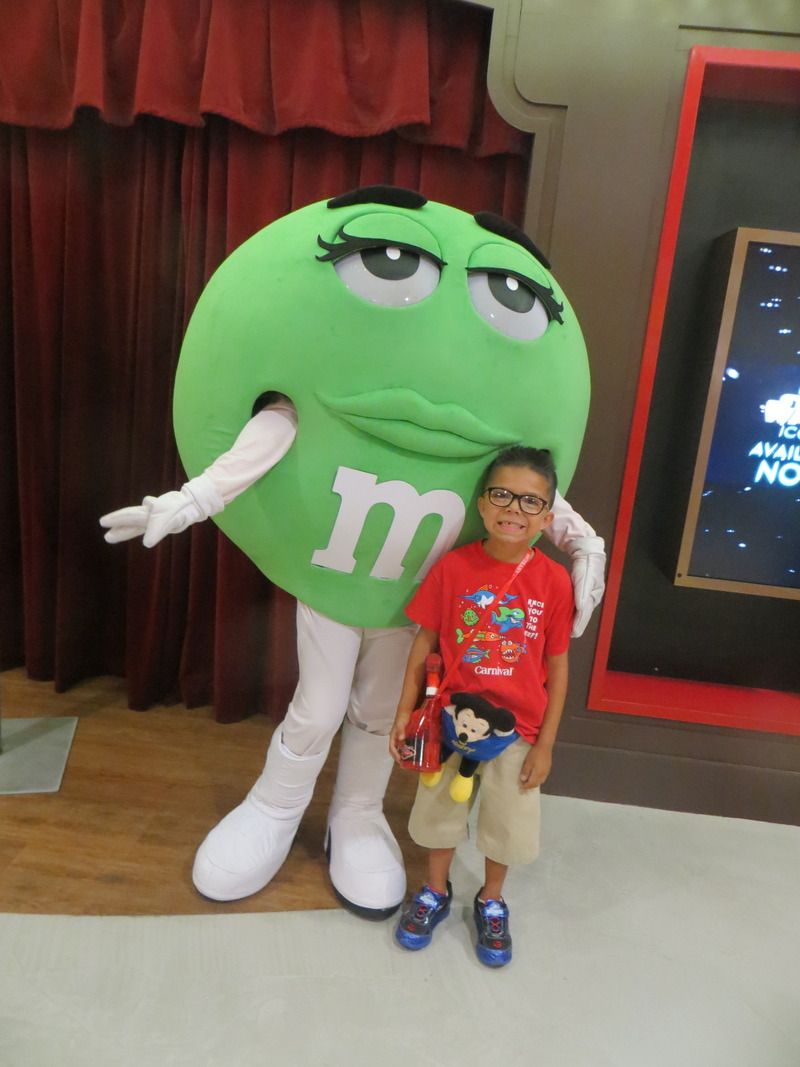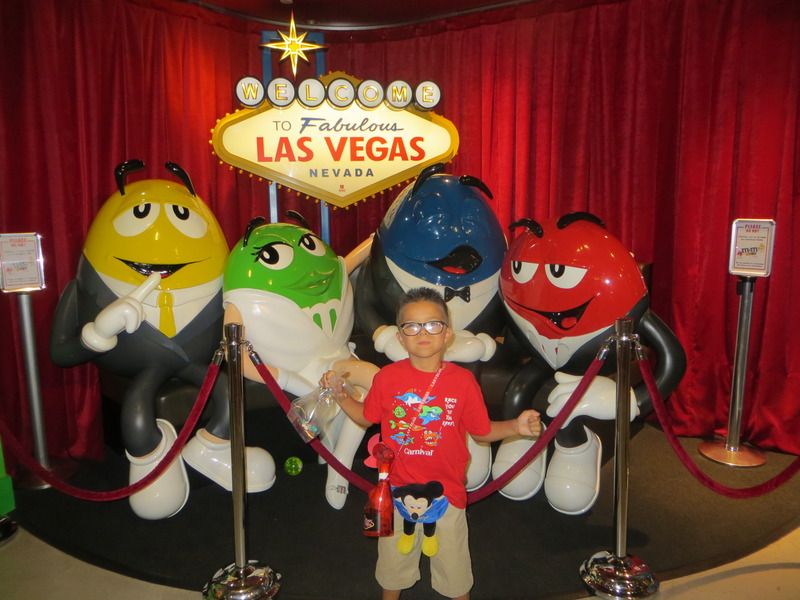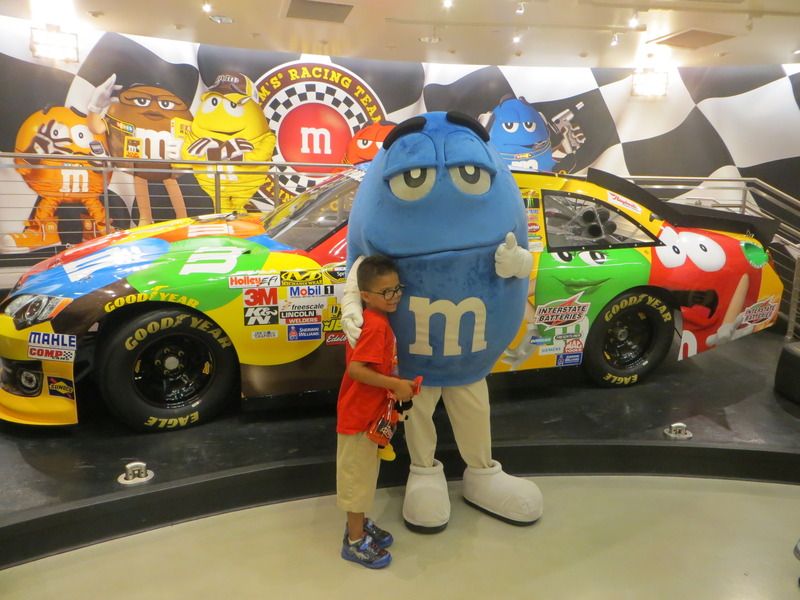 After M&Ms World, I was so done and ready to go to the hotel and nap or swim. On our way, Halie saw a souvenir shop and needed to do some shopping. Antonio got a fan sprayer which came in very handy when it worked. We decided at this point to split up and Quentin and Halie would go to New York New York and ride the roller coaster while Antonio and I went to Excalibur to play the carnival games that he wouldn't stop talking about all day. Why I told him about this in advance, I have no idea. Big mistake.
We saw these hot cops after M&M World.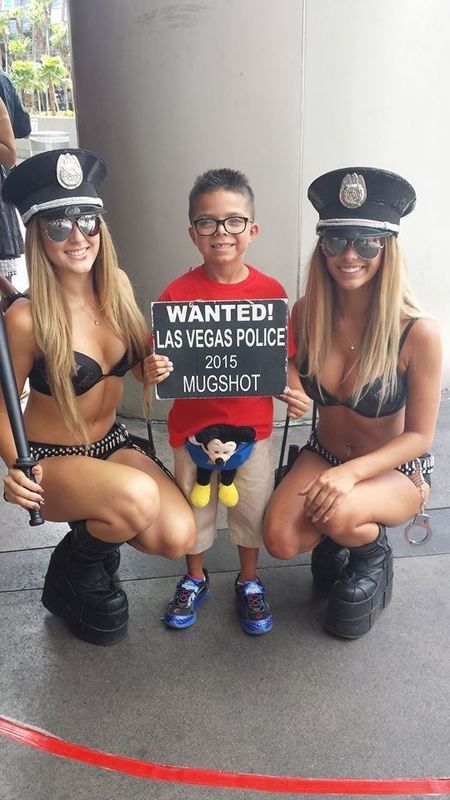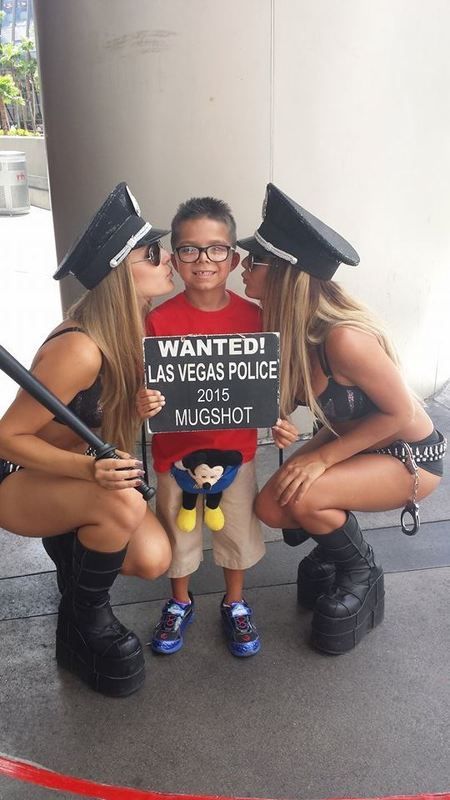 On our way to Excalibur, Antonio and I went through the Hershey's store in New York New York, which was pathetic compared to M&M World.
Statue of Liberty made from Twizzlers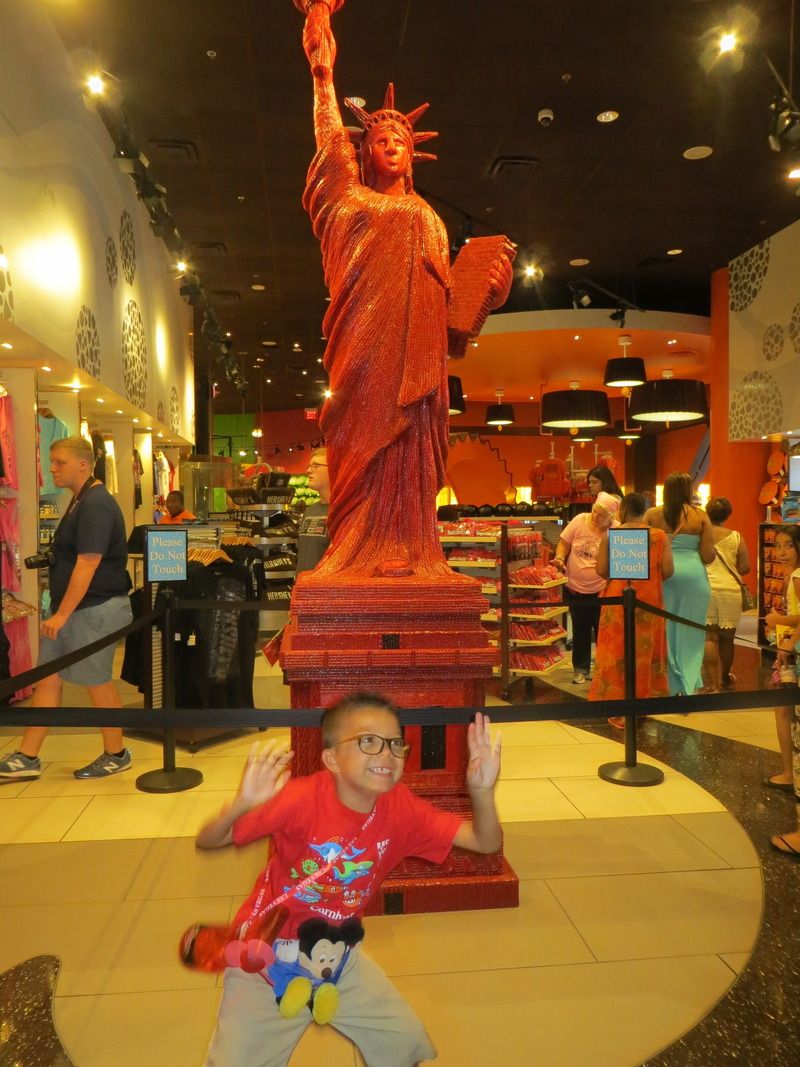 Finally, Antonio was on his way to the big castle to play games! One of his favorite parts of the whole trip, was the moving walkway that led in to the hotel. He talked about it the rest of the trip.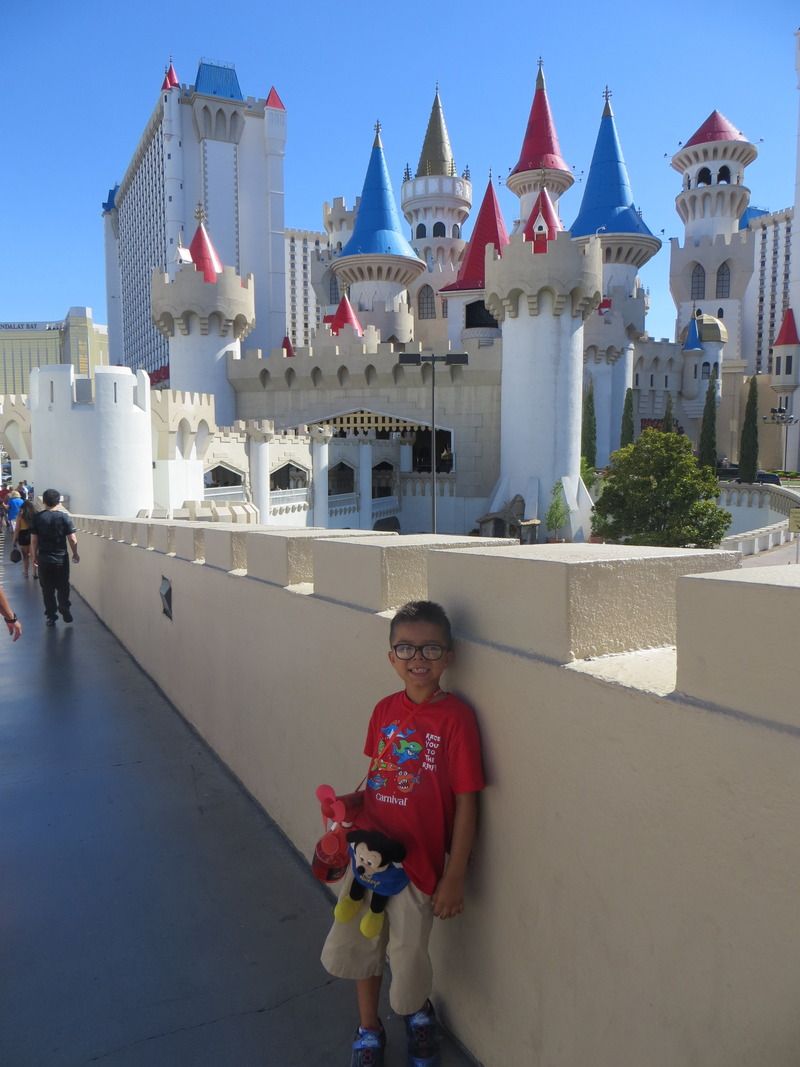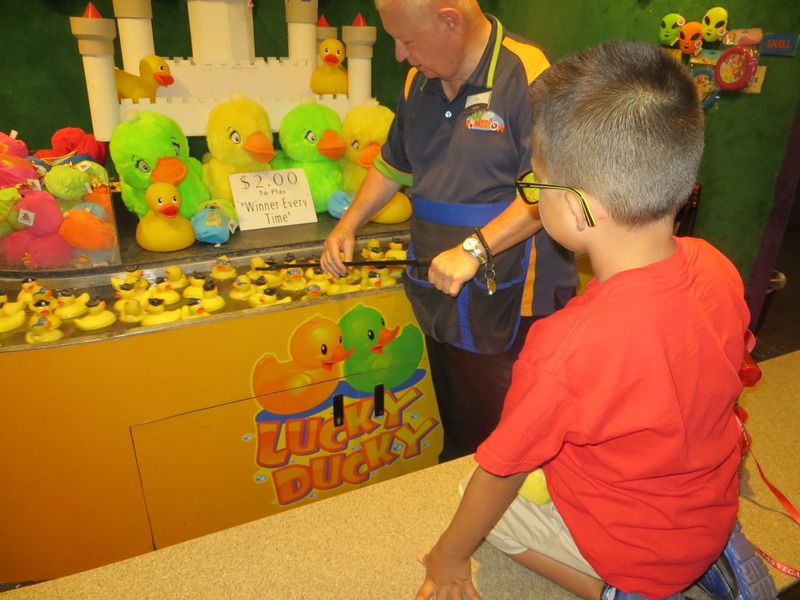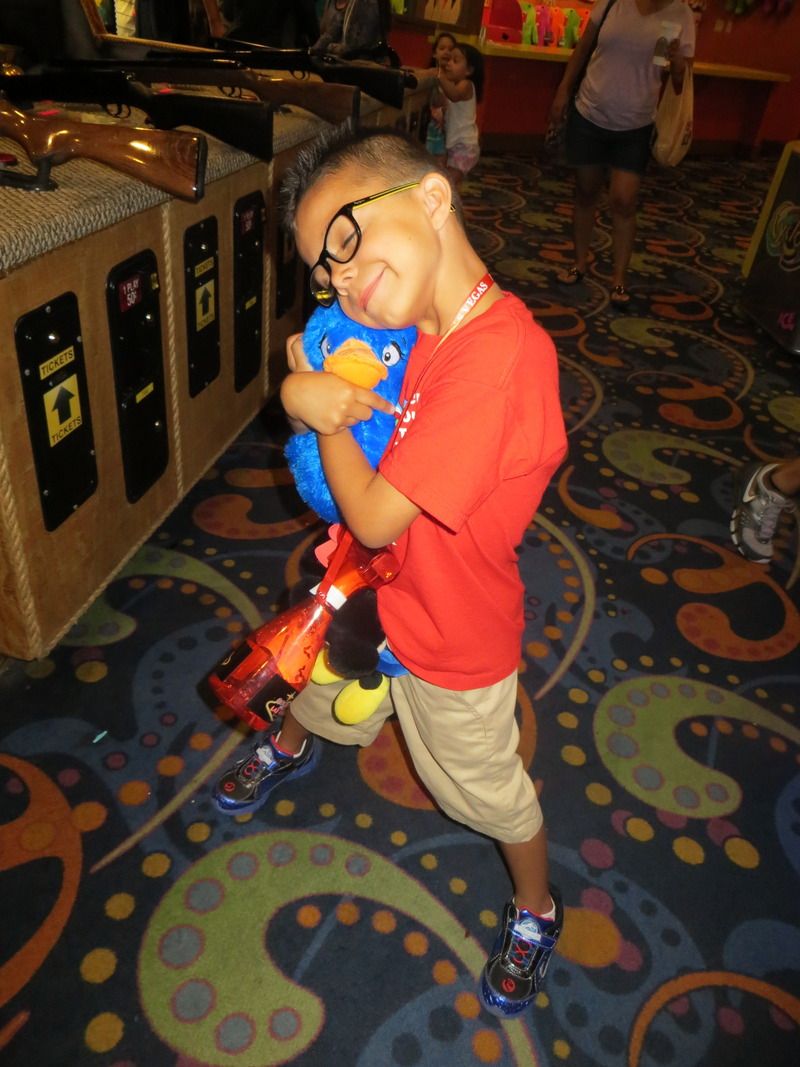 Antonio and I got back to the room first and rested for a bit. I was so tired, hot, and my feet were killing me. When Quentin and Halie arrived, we decided to go swimming. Well, the kids and I did. Quentin went gambling. Unfortunately, the sun was behind the hotel at this point so Halie and I didn't really want to swim. Antonio had a great time and made friends. It helped that he had a ball that he won at the Excalibur midway.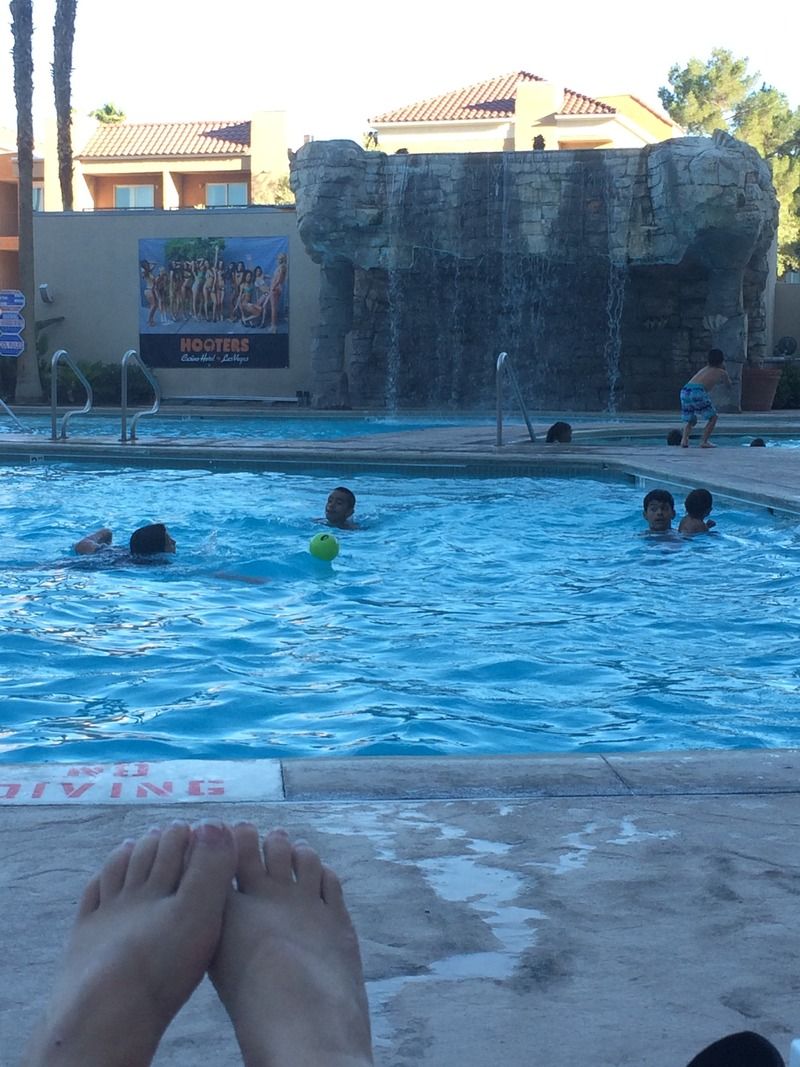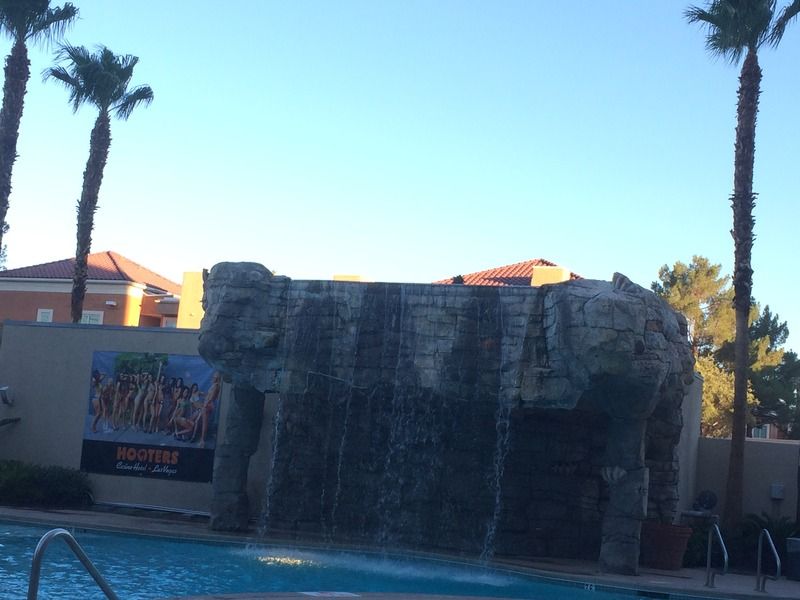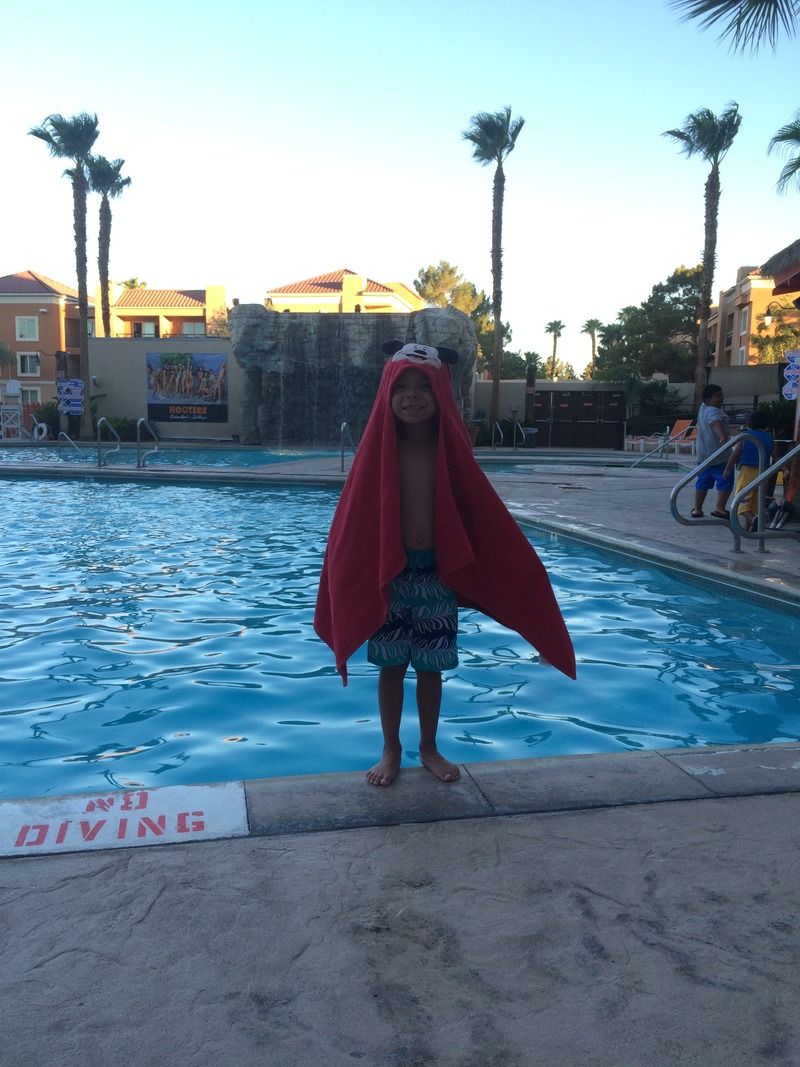 Somewhere in this picture is Quentin waving out of our hotel room window to us down at the pool.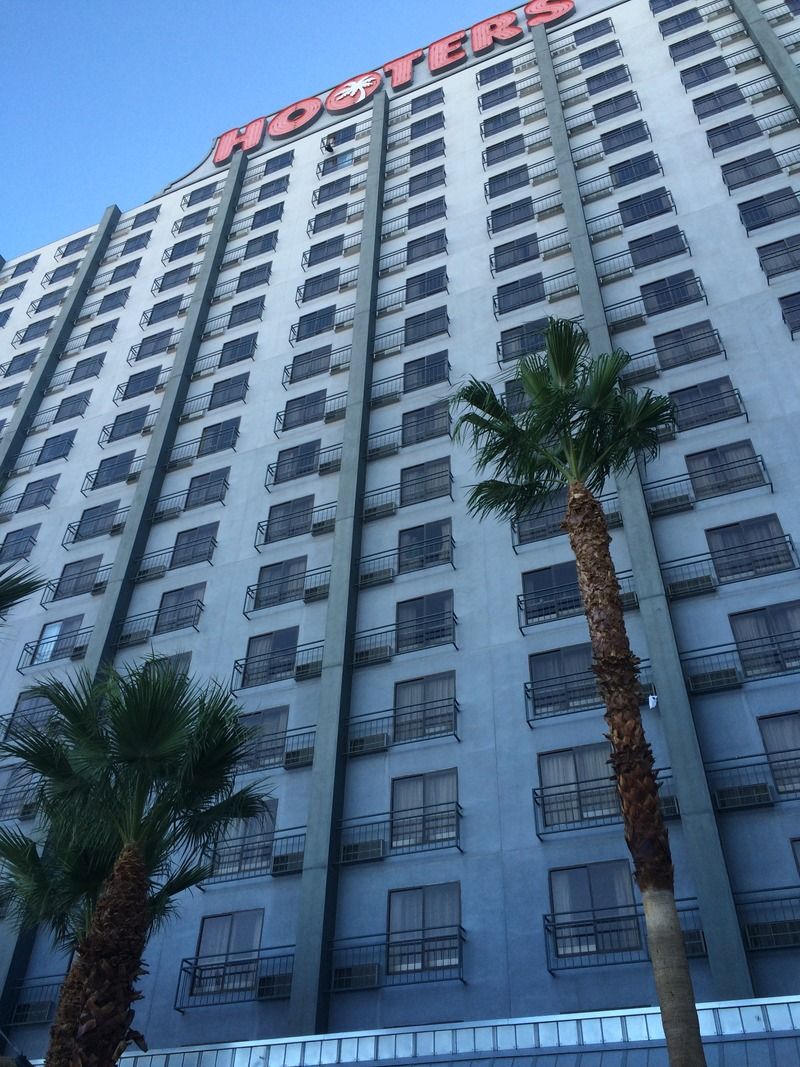 Back to the room.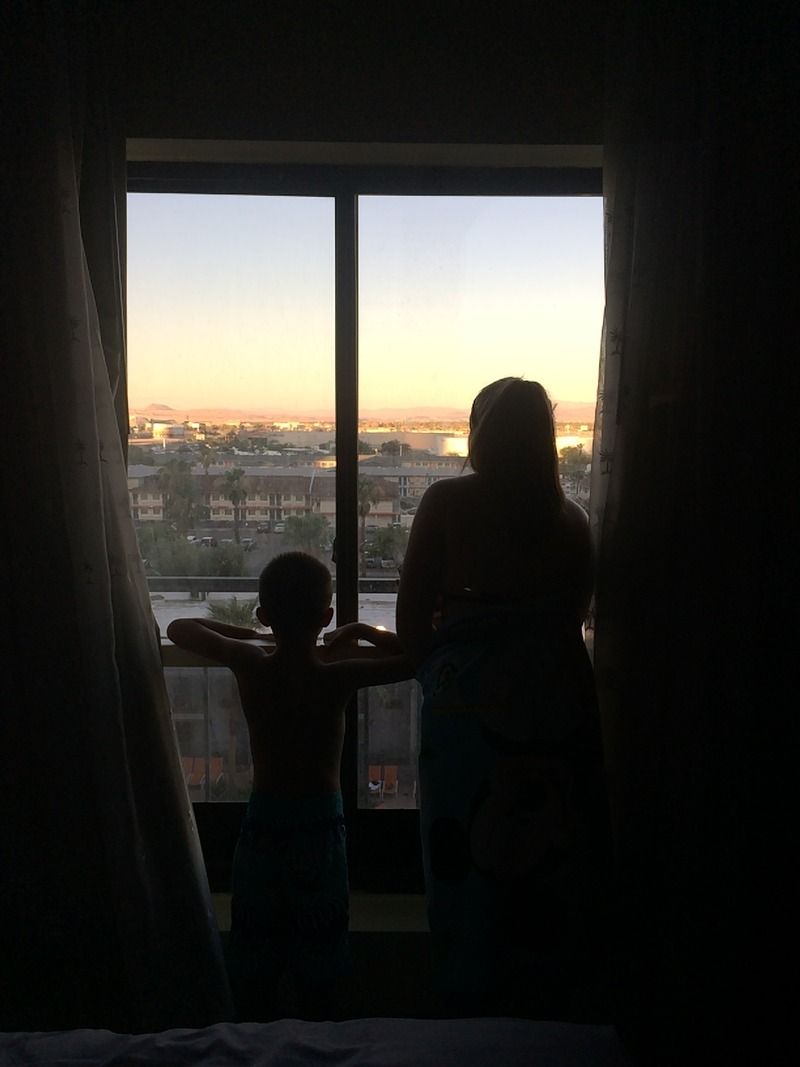 After swimming the kids had to spend quality time on with their phones.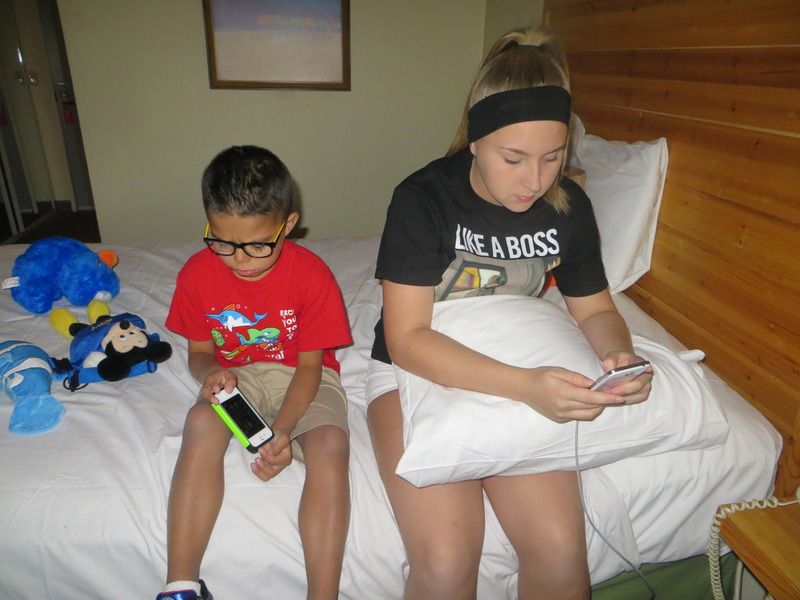 After swimming for about an hour, we went back to the room to change and head out to dinner.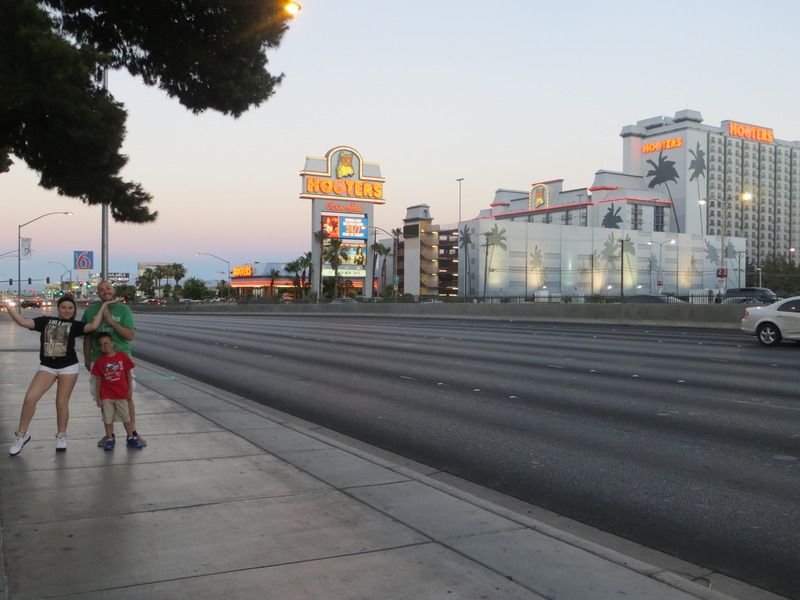 I had this grand idea that we should eat on Fremont Street at the Heart Attack Grill. We took the monorail to Harrahs and walked over to the Venetian to see the gondolas. I wanted to take Antonio on them, but nobody else was interested.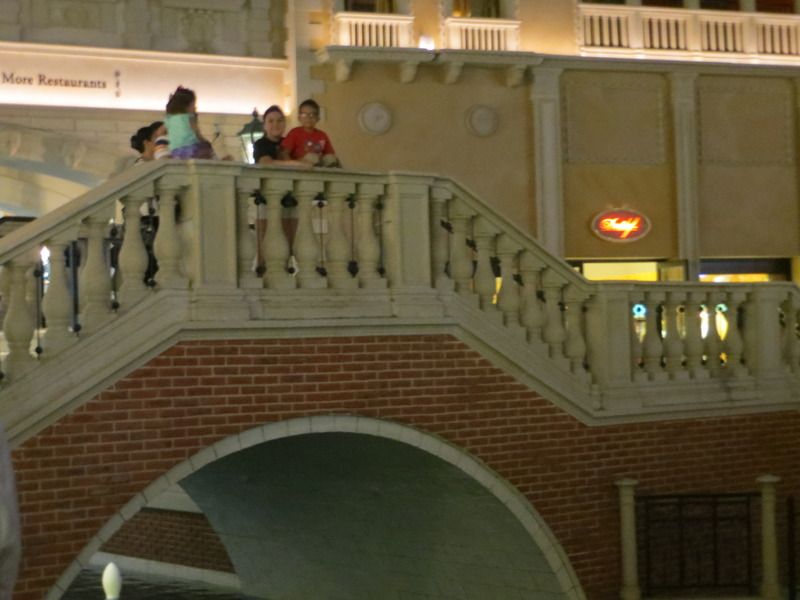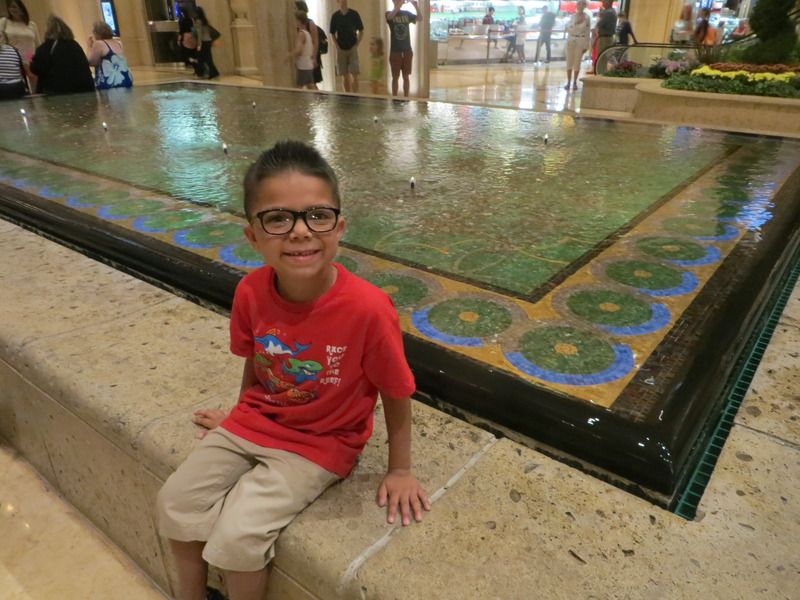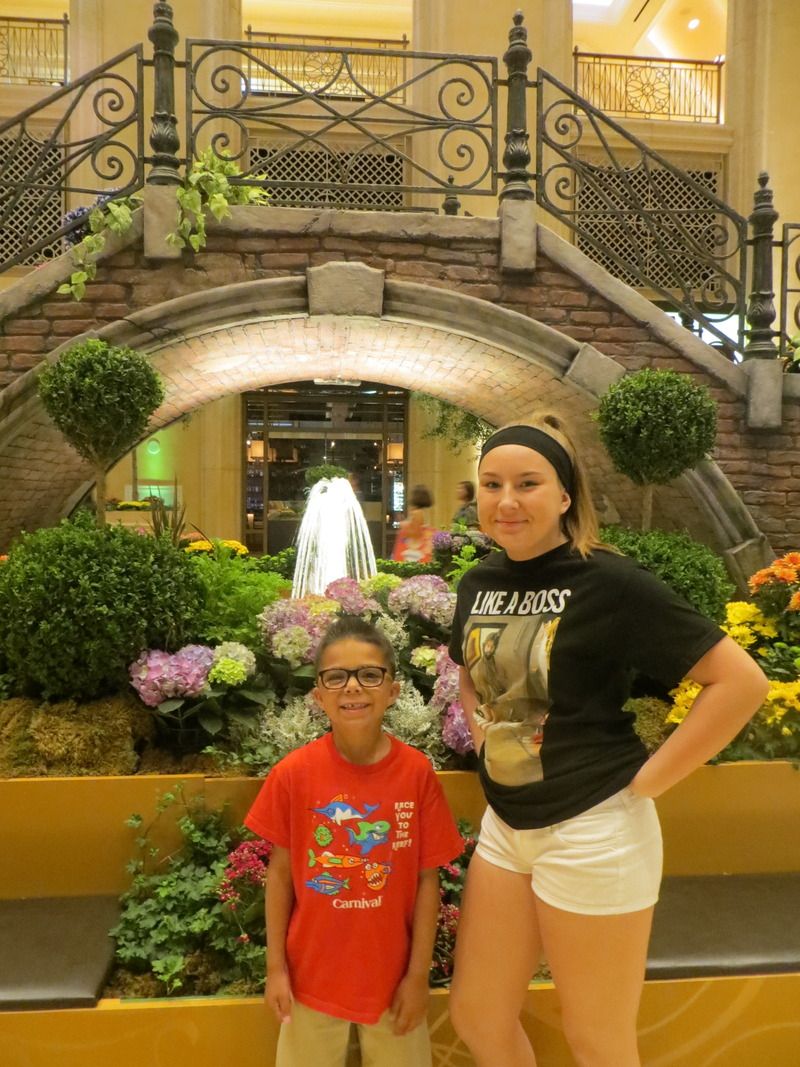 Then we walked over to Treasure Island to see the pirate ship.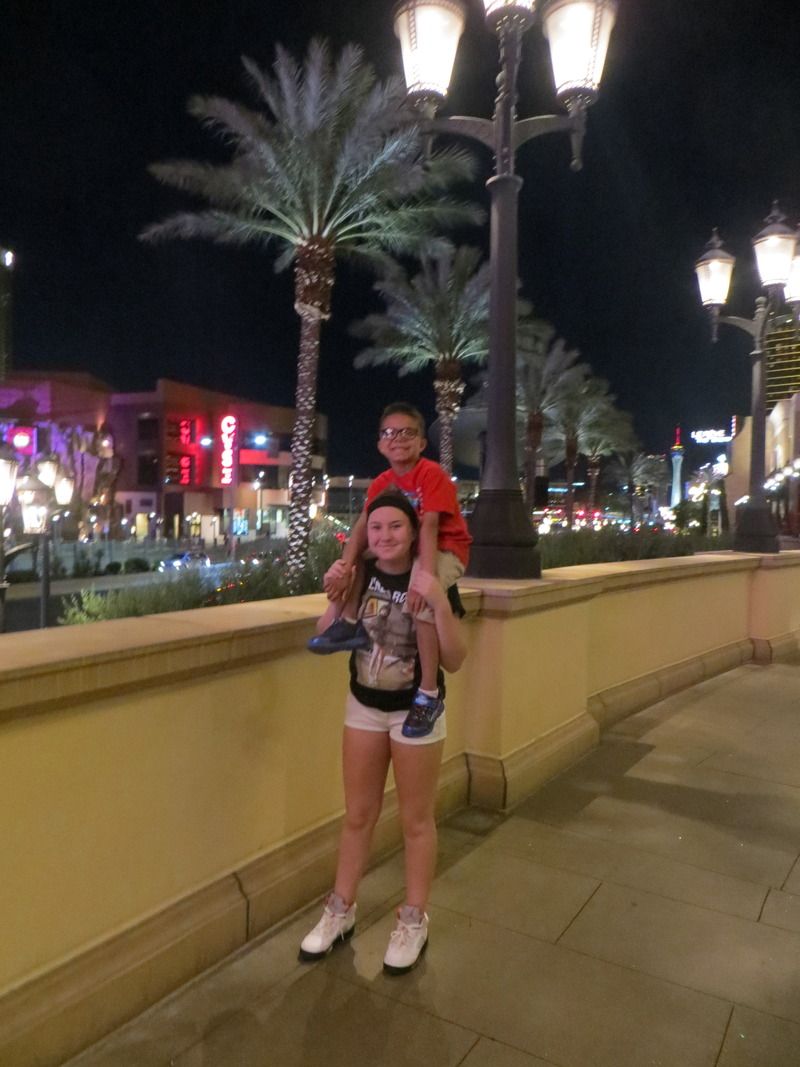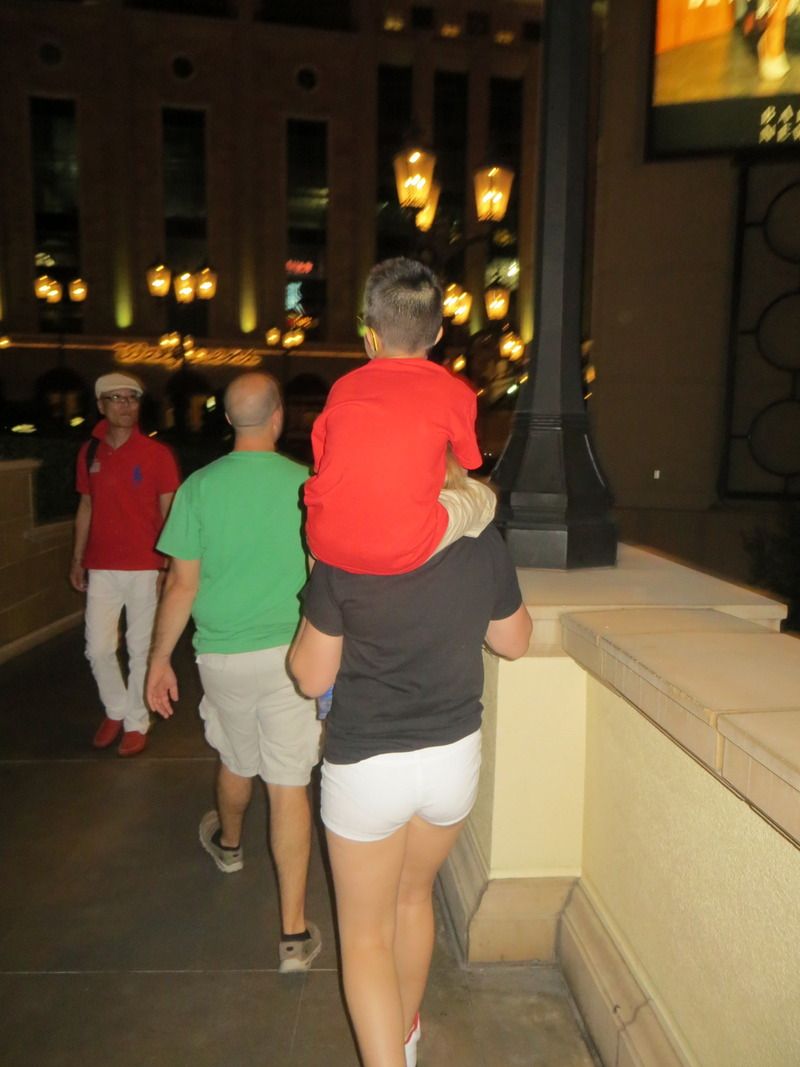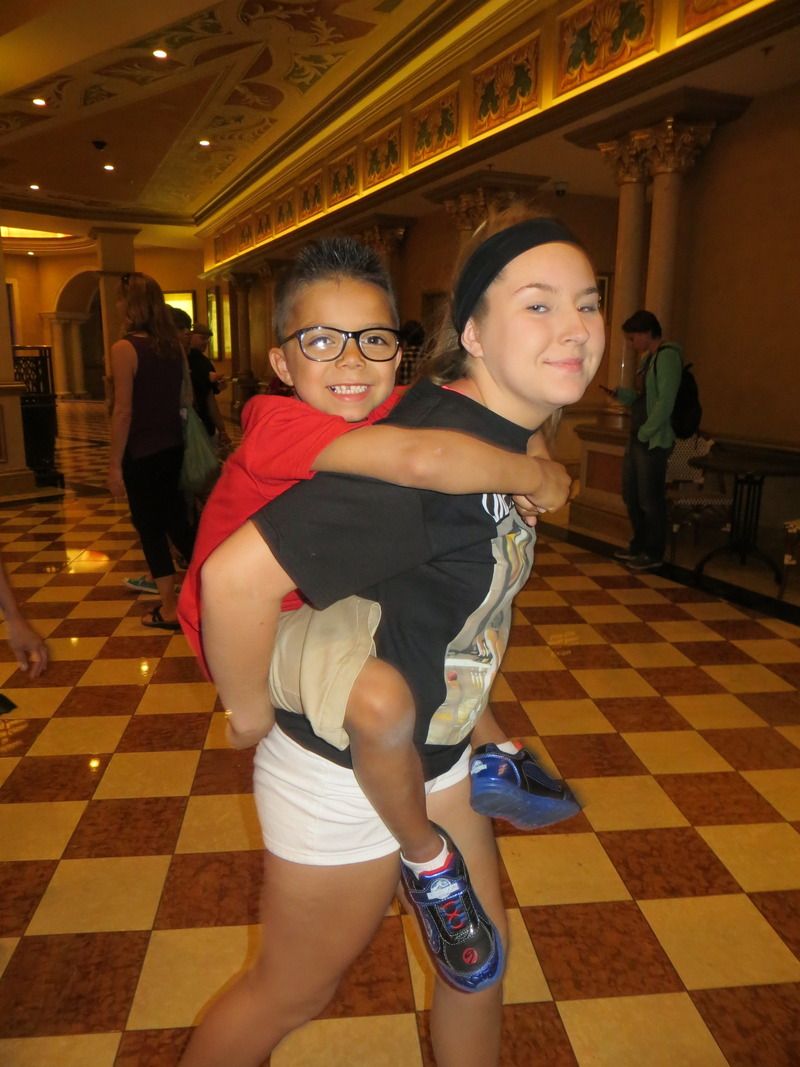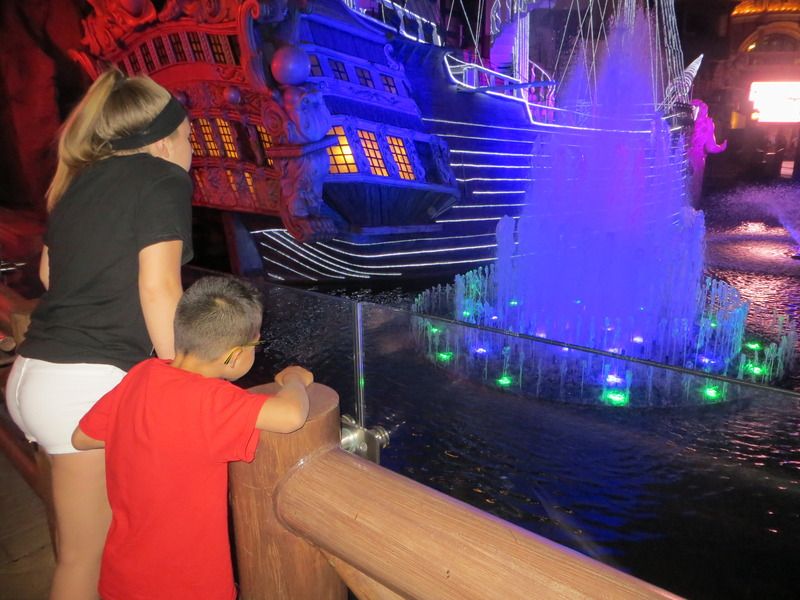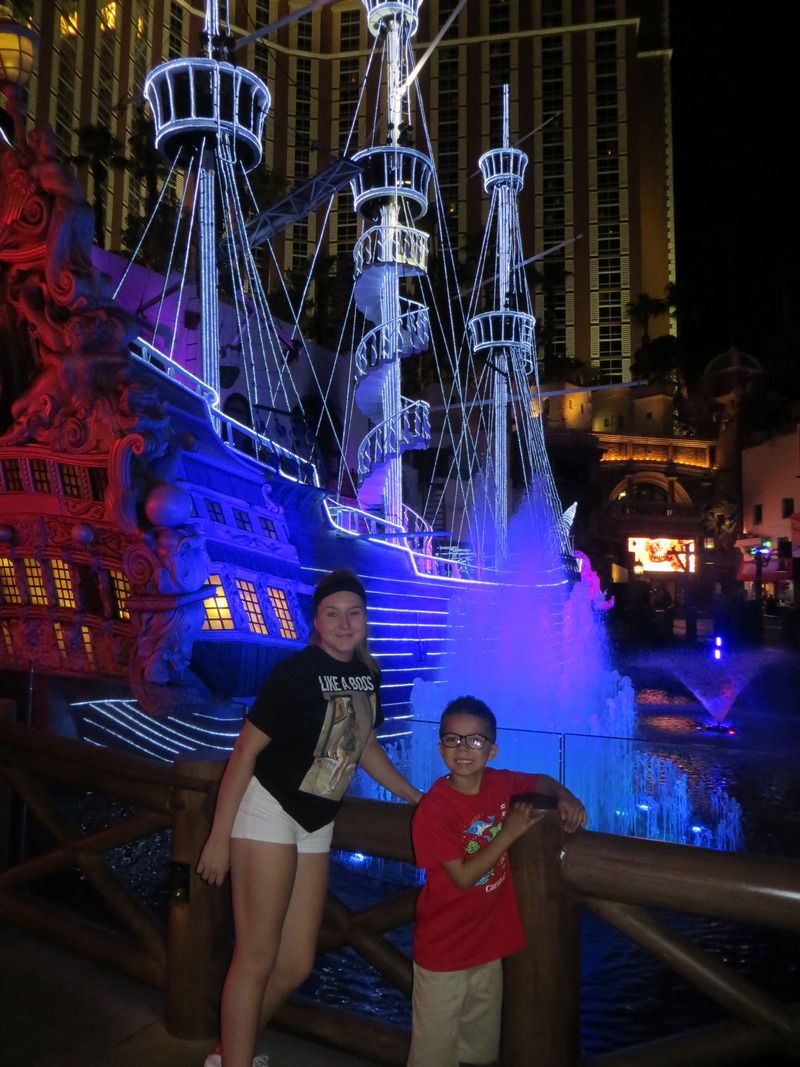 Our feet were killing us (not Quentin and his marshmallow shoes), so after that we got a taxi to take us to the restaurant. Getting to a taxi was a pain in the butt. We had to walk over to a mall, then there were no taxis. Just when Mommy meltdown was starting, a taxi drove up. Thank God!
He dropped us off right across from the restaurant. As we walked over there, we saw showgirls wearing nothing but pasties. That was new to Quentin and I! We had seen showgirls out before to take pictures, but not practically naked ones. Oh well, Vegas is crazy. Fremont Street is definitely a lot crazier than it used to be.
We went to the Heart Attack Grill and put on our hospital gowns. The kids were really tired by this point and we probably shouldn't have gone here. We got them both a slushie hoping to wake them up. Halie didn't like it because it was not like a Sonic slush. Antonio was practically falling asleep and didn't eat or drink much. They did enjoy watching people get spanked by the nurses.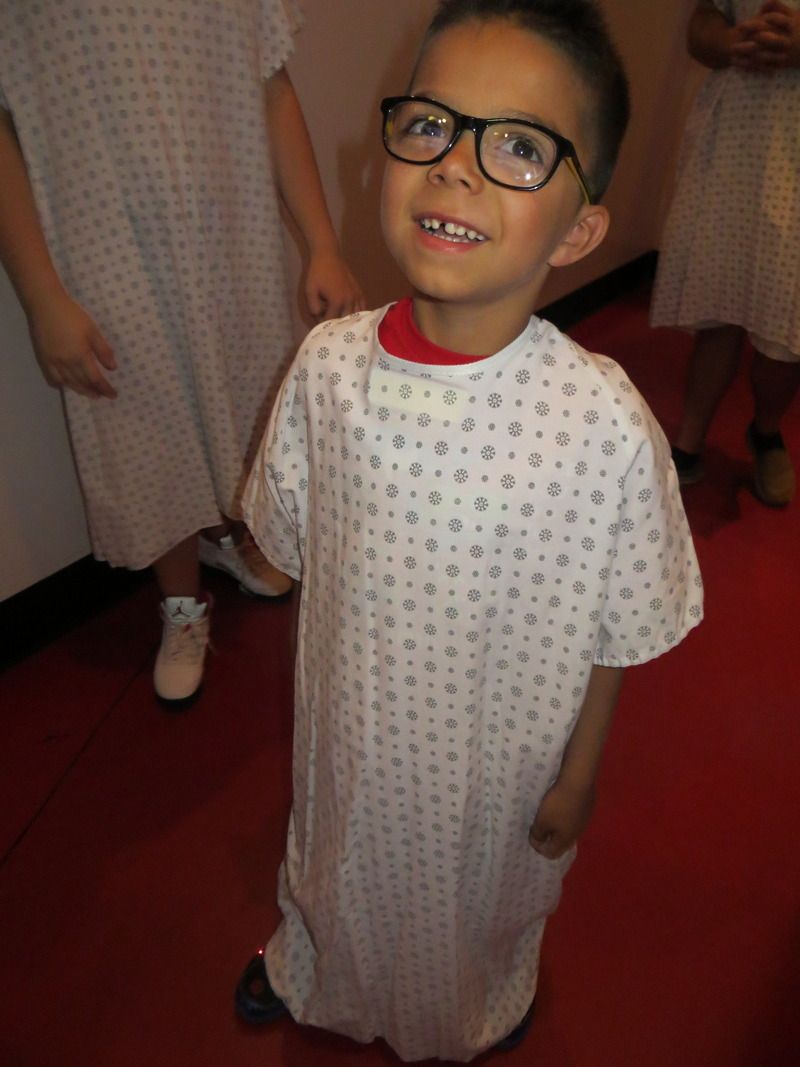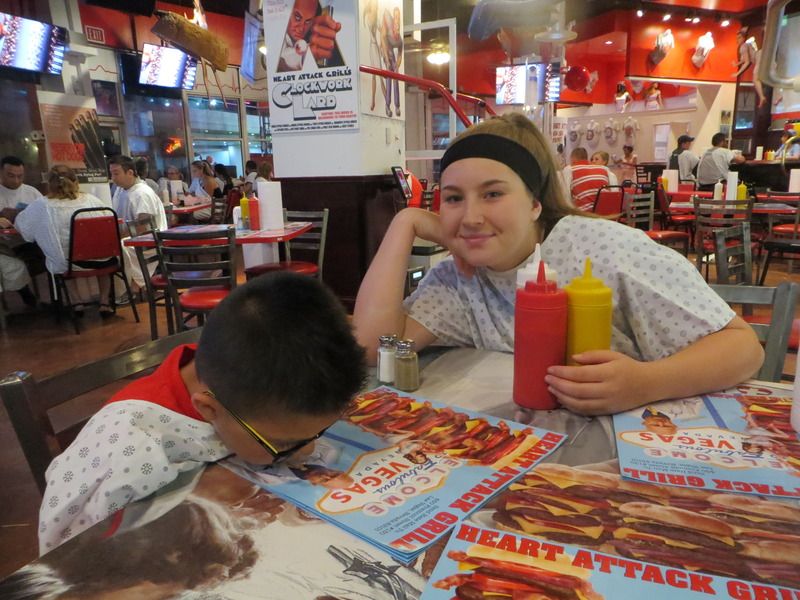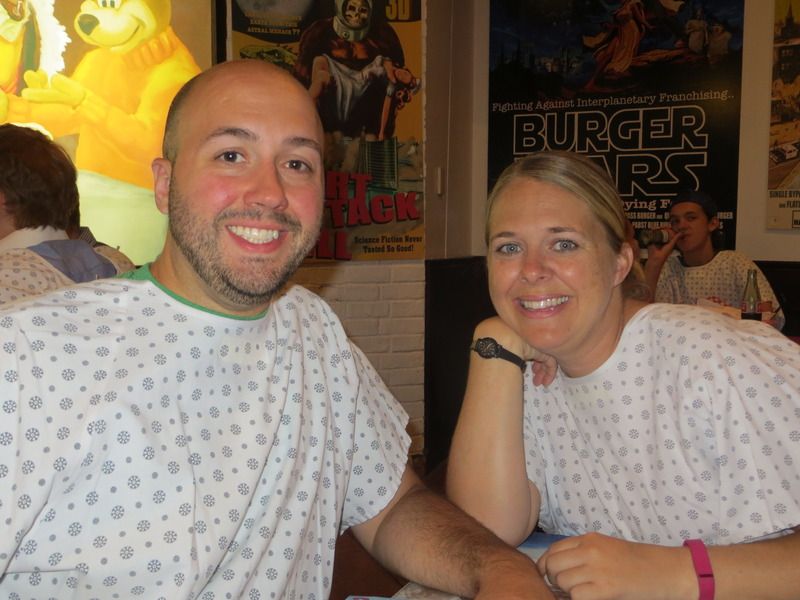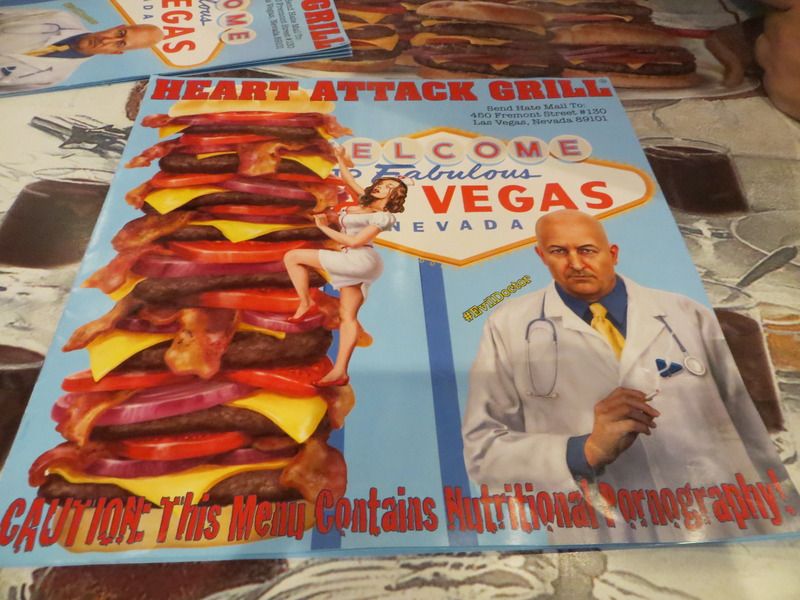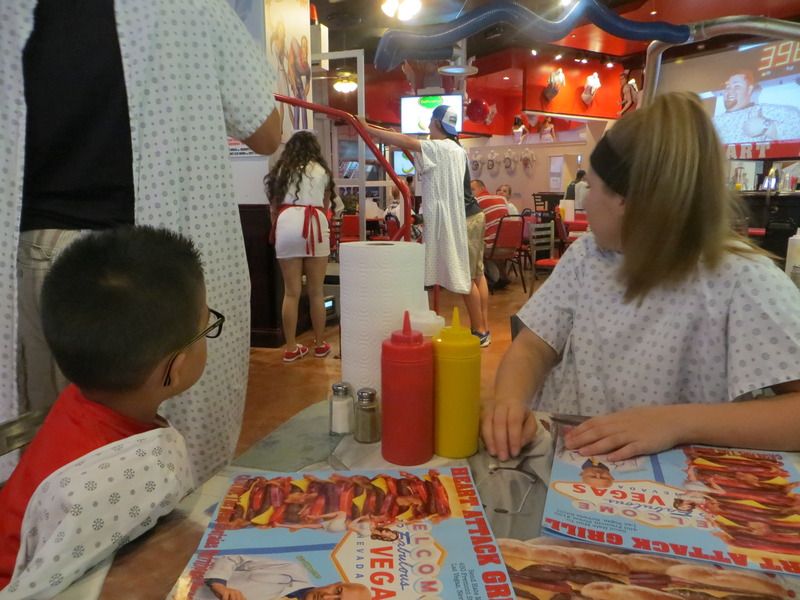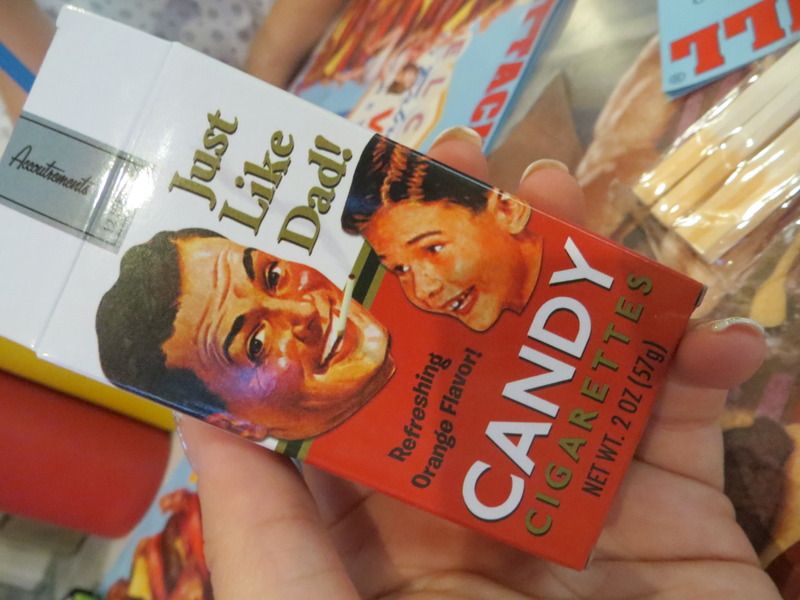 If you weigh over 350 lbs, you get to eat for free. Antonio was a bit short.
We also bought the kids some candy cigarettes like we used to have when we were kids. Yeah, we are bad influences sometimes. Halie looks like a pothead with hers.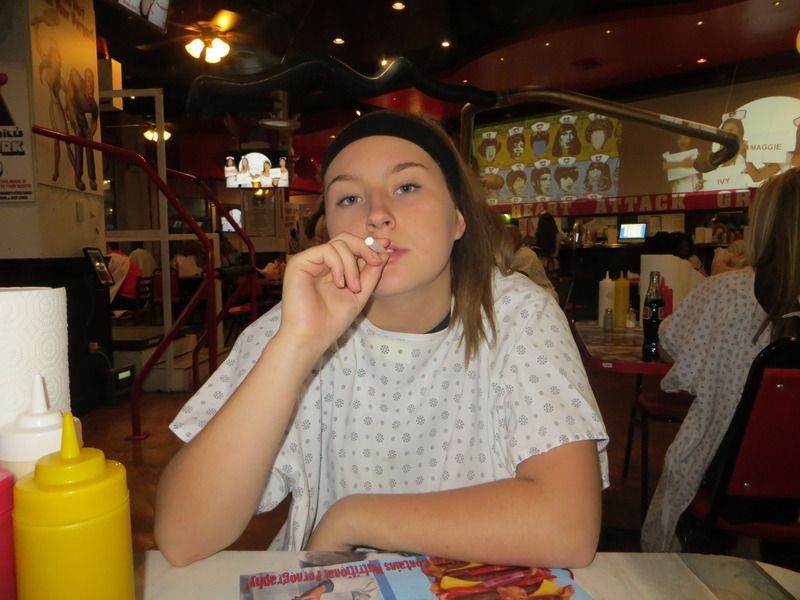 Halie wanted a slushie, but then hated it because it didn't taste like Sonic. Our little Princess.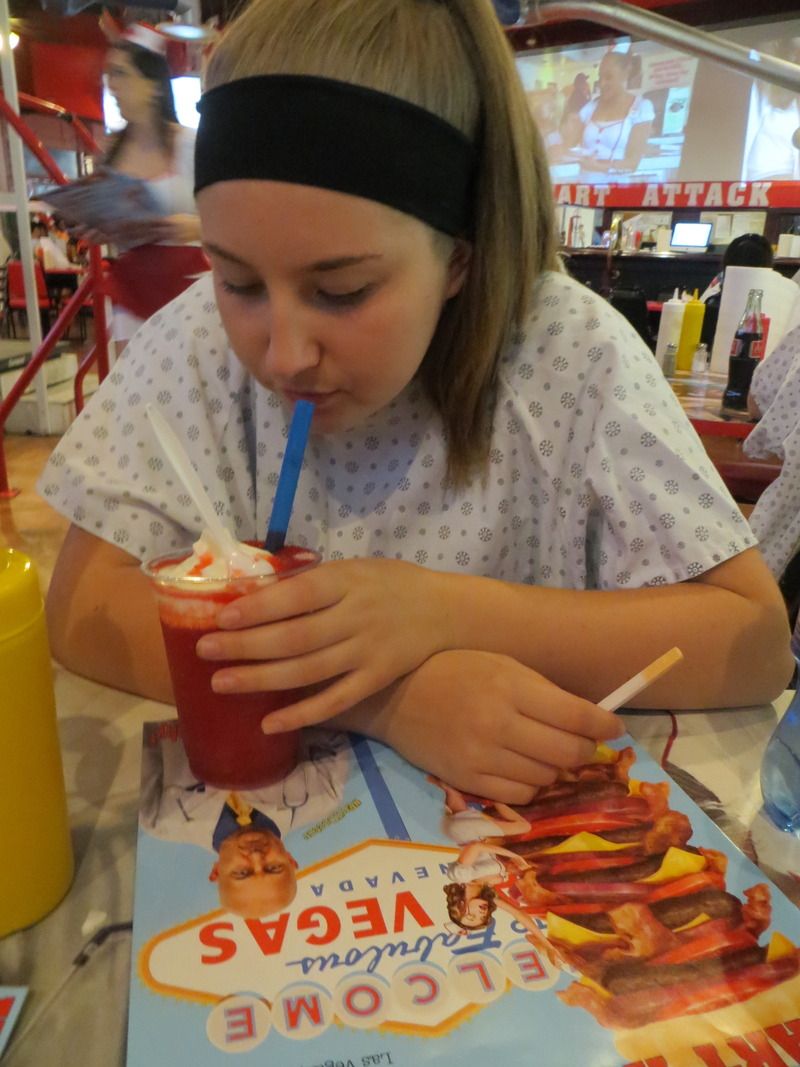 They also don't provide ice water. You have to buy a bottle. Then you can get a cup of ice to pour your bottle in. Dumb.
We had onion rings- delicious, fries- okay, burgers- yummy! The restaurant is a really clever theme, we had just shoved too much in to one day and weren't in the right mindset to really enjoy it. Antonio had a freakout at the end because he wanted Quentin to be spanked and then he would do it. He wanted Q to go first though. Quentin had no interest. I had to drag the poor kid out of there crying. He was worried that they would spank hard which is why he wanted Q to try it out. There was one nurse who would spank so hard it would make the whole restaurant cringe.
When we left Fremont Street was an absolute freak show and crazy loud due to a band playing right across the way. Halie and Antonio liked the street performers, but we were all tired and ready to go. We walked through a hotel to find a taxi. When we asked the valet, they directed us to a car service. That made Quentin happy. I screwed it up though by telling them that Q owns a limo company. He told me later that he doesn't want to tell people that because he wants to ask them questions about their company, and once he tells them he owns a company, they bombard him with questions.
The car was very nice and Antonio passed out immediately. Halie was super sweet and held his head while he slept.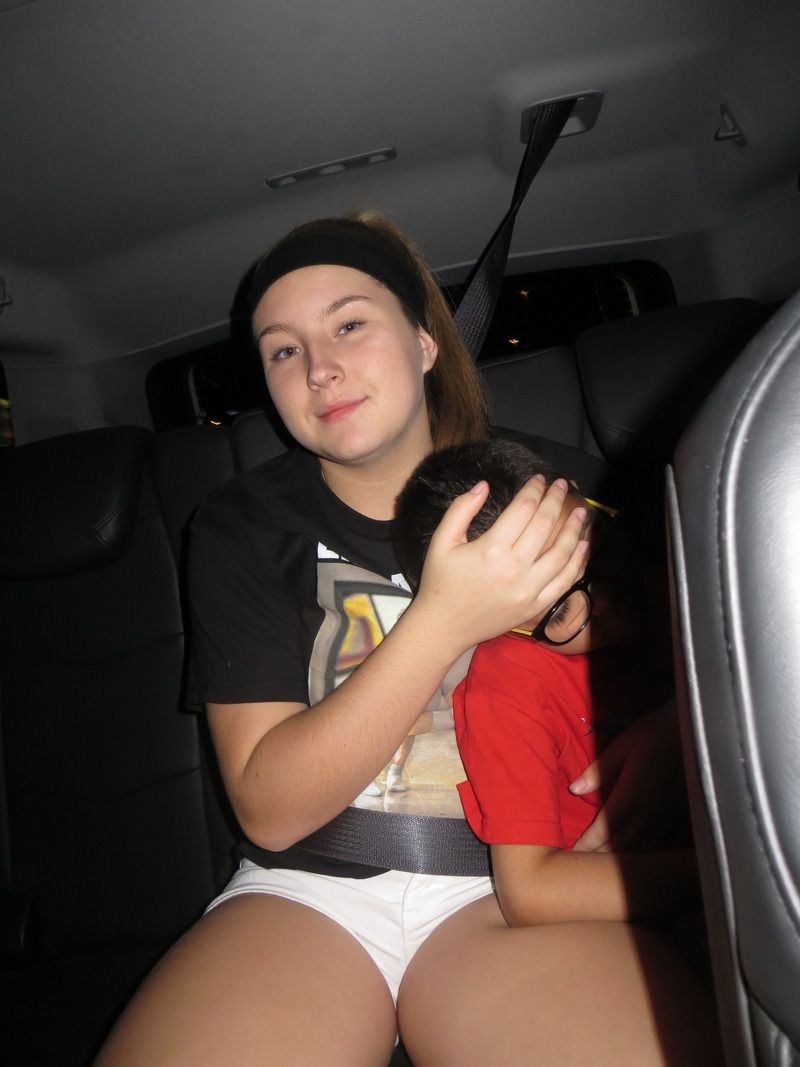 We got back our hotel and passed out!
Posted by MarathonMama629 13:52 Archived in USA Tagged road_trip las_vegas kids vegas m&m fremont_street