Nassau
6/1/14 - 6/1/14
I forgot to post our Embarkation photo from the first day!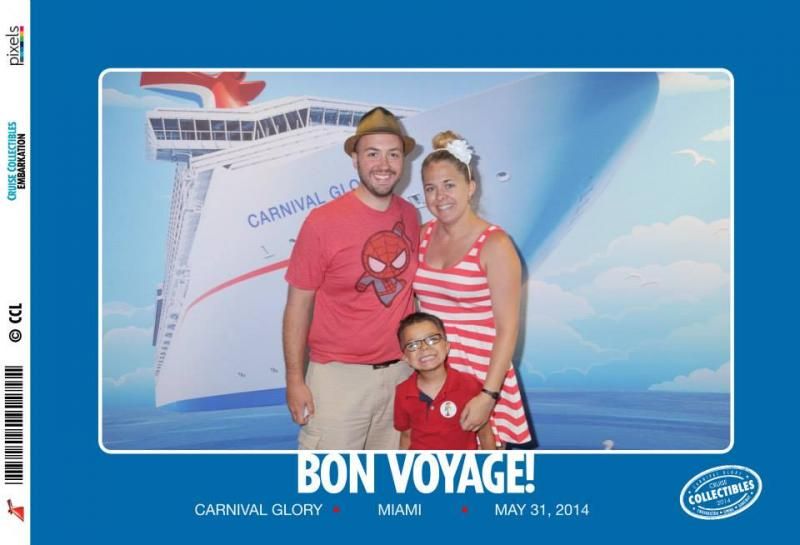 Today would be our first port day! We were pulling to Nassau when I woke up. I went out to the balcony to see the view as we pulled in. Unfortunately, my pictures aren't great because my camera would fog up because of the temperature change when I would go outside.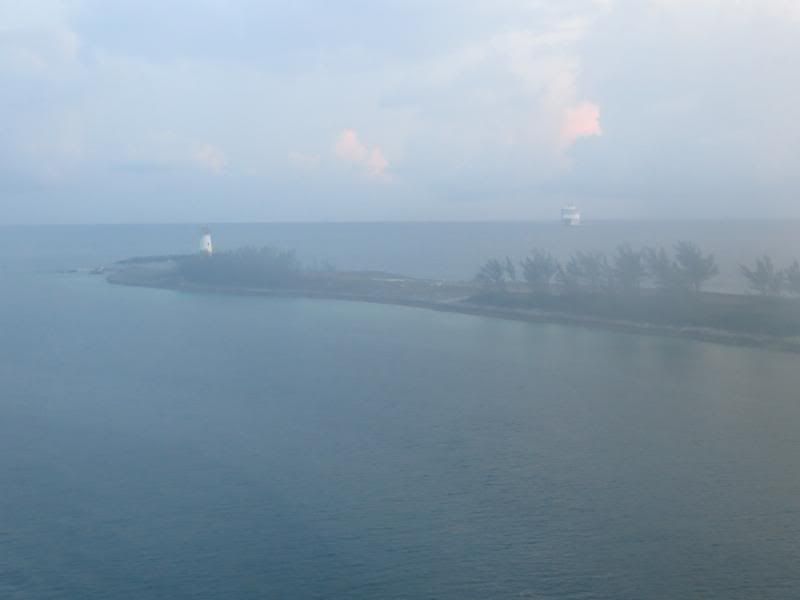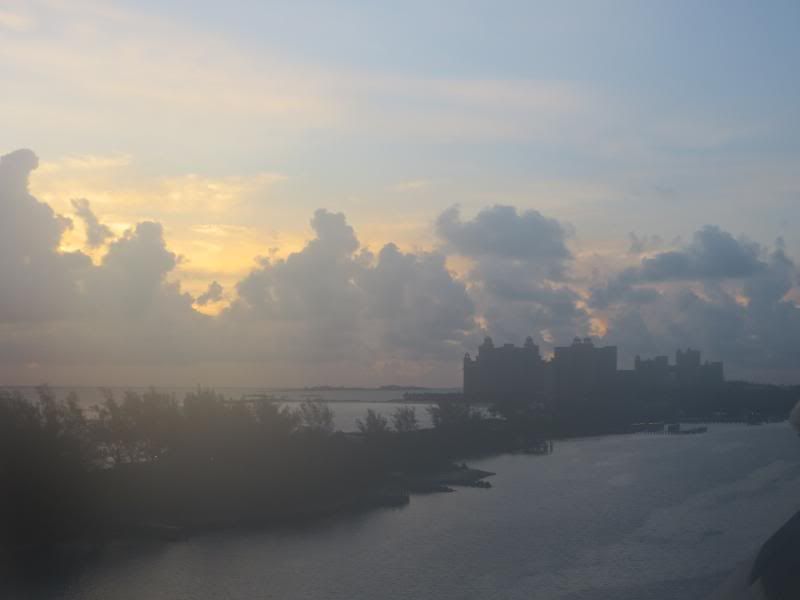 Backing in to our spot!
Pulling in next to the Ecstasy.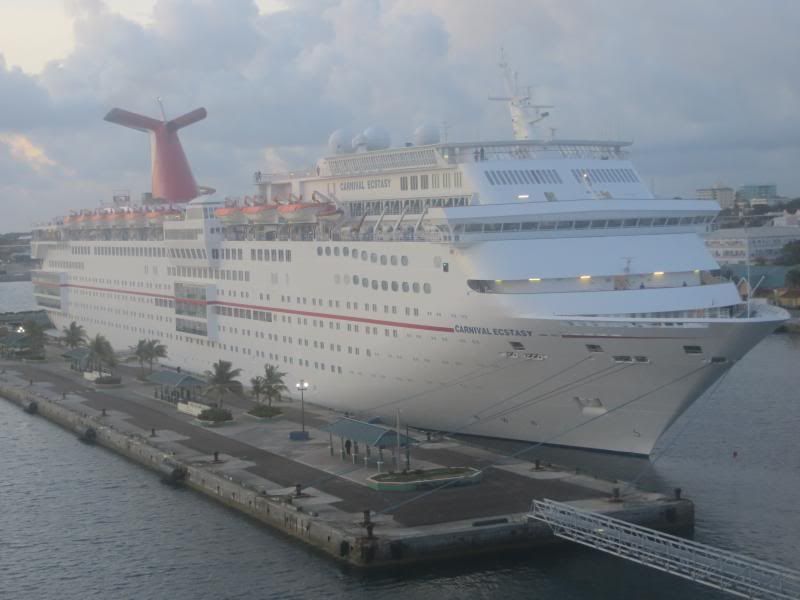 Somebody woke up.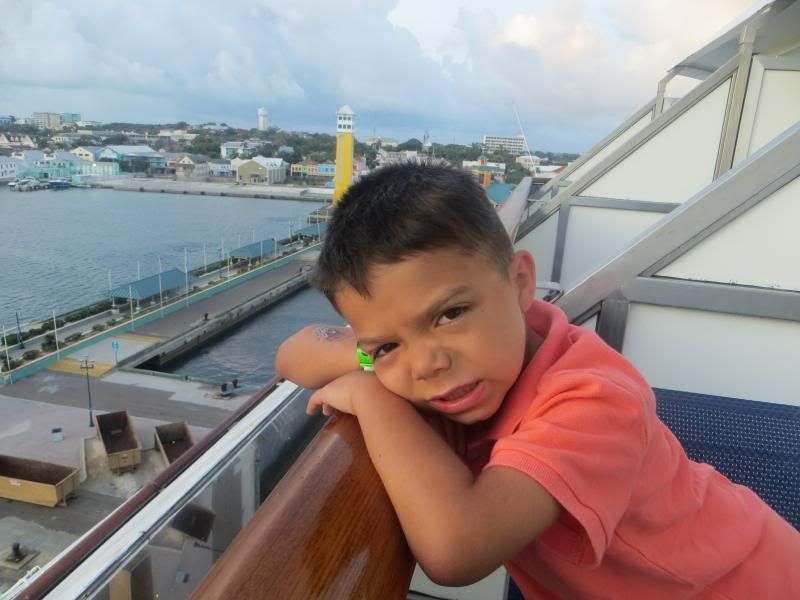 View from the balcony to the room in case anyone is interested in that.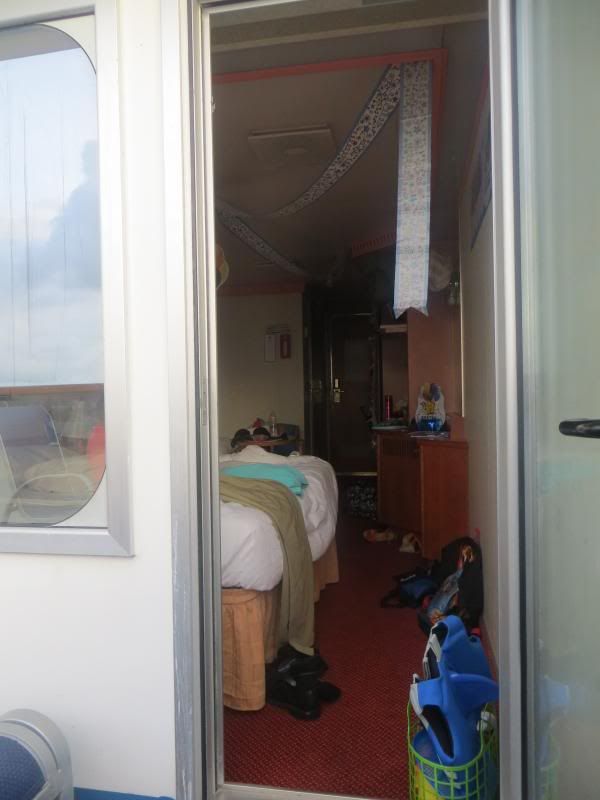 Every day either Quentin or I would go get breakfast for everyone and eat on the balcony. Omelettes everyday is another reason I love cruising! We took our time getting ready and headed out after the rush of people were already off the ship.
I'm a sucker for crazy expensive cruise ship photos. I wish they had a CD option like Disney Cruise Line!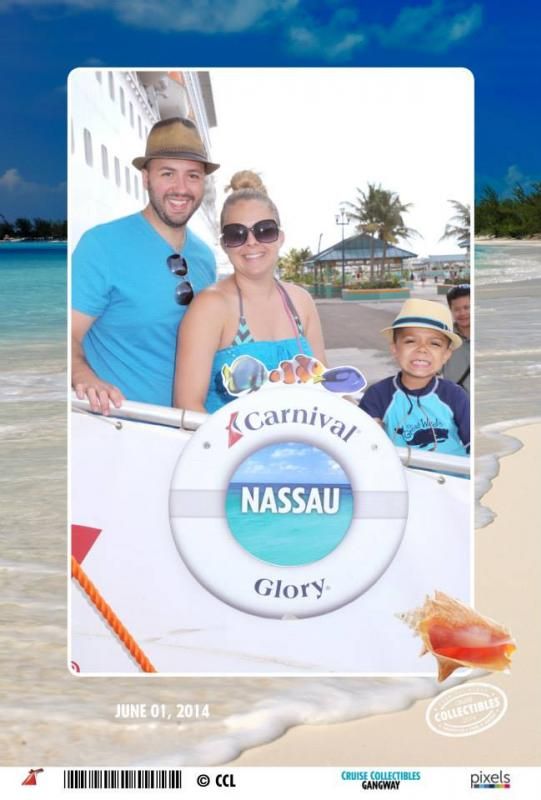 Speaking of Disney Cruise Line!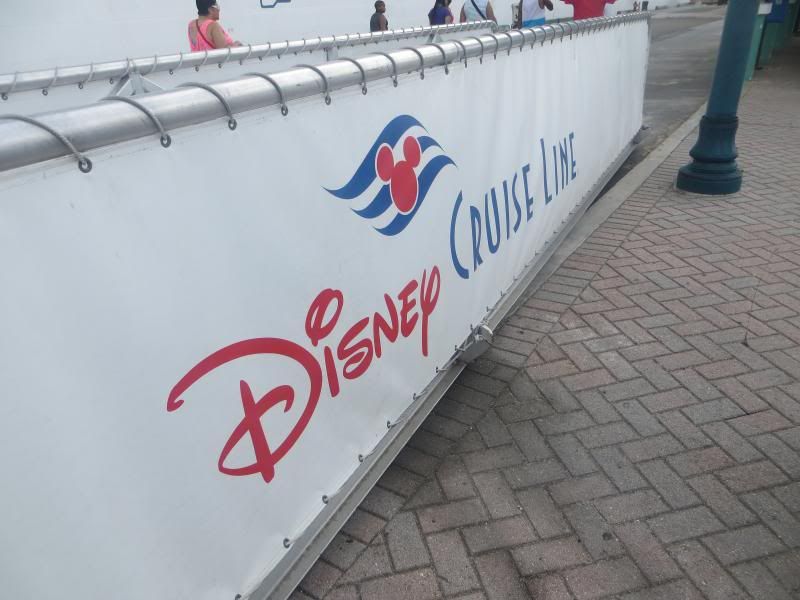 I pretended I was getting off the Disney Dream!
Ready for a fun day!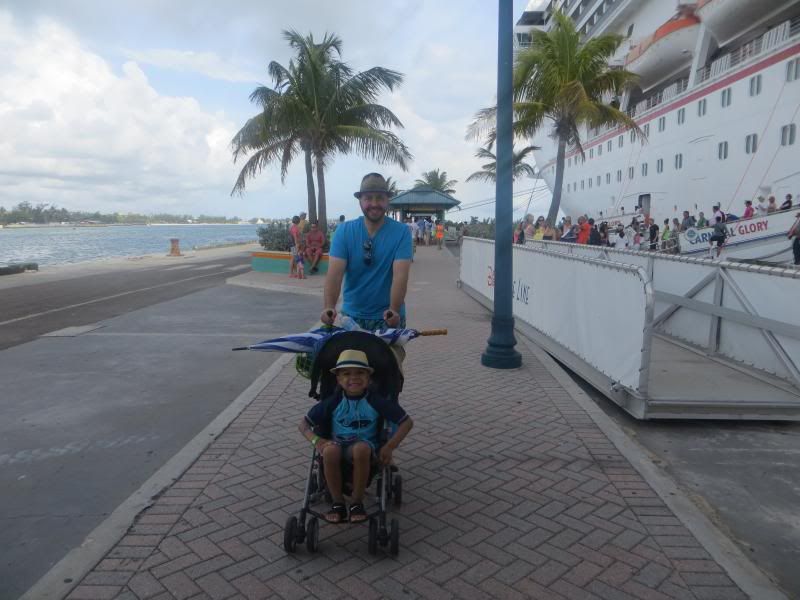 Can you see how loaded down we would get that stroller! We brought a cooler with waters, a beach umbrella, sand toys, snorkel, life jacket, etc. We learned last cruise what we wished we would have had and fixed the mistakes!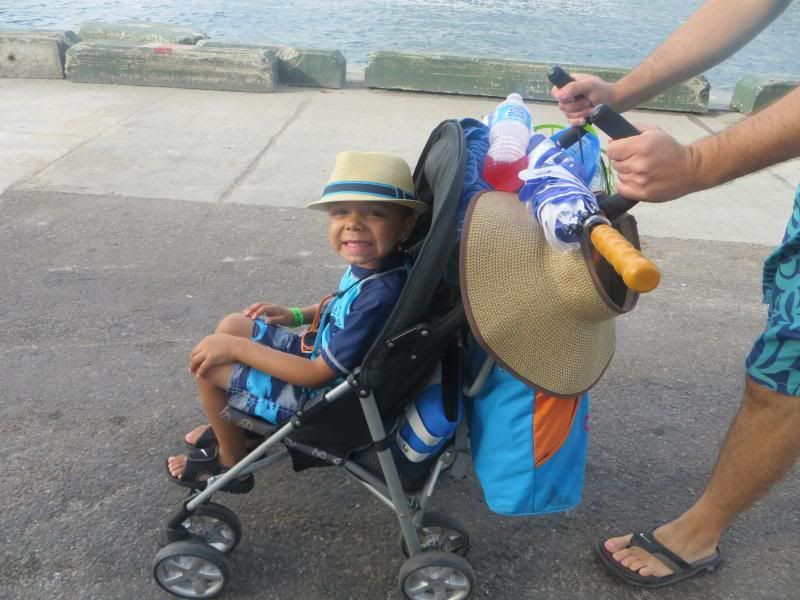 See you later Glory!
I remembered the decorations in the port area from being here with my mom and Antonio our Disney cruise in 2011.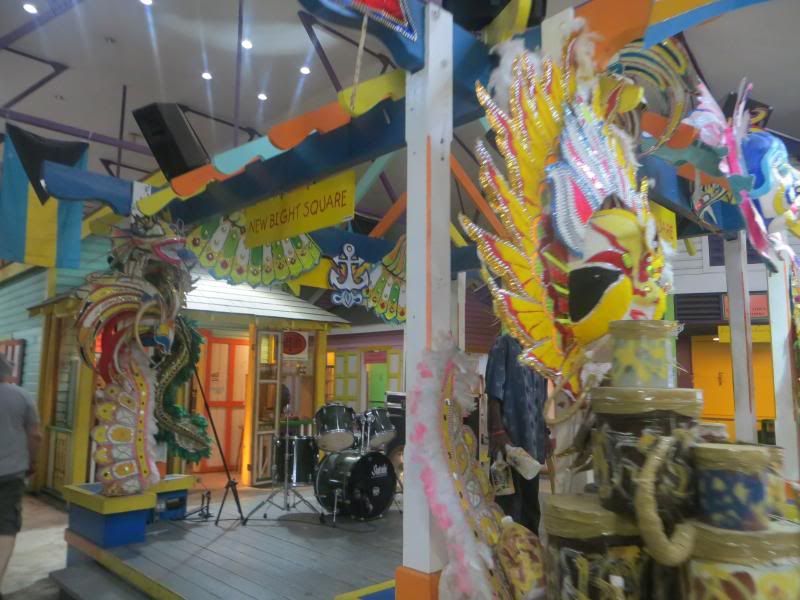 Pigeons!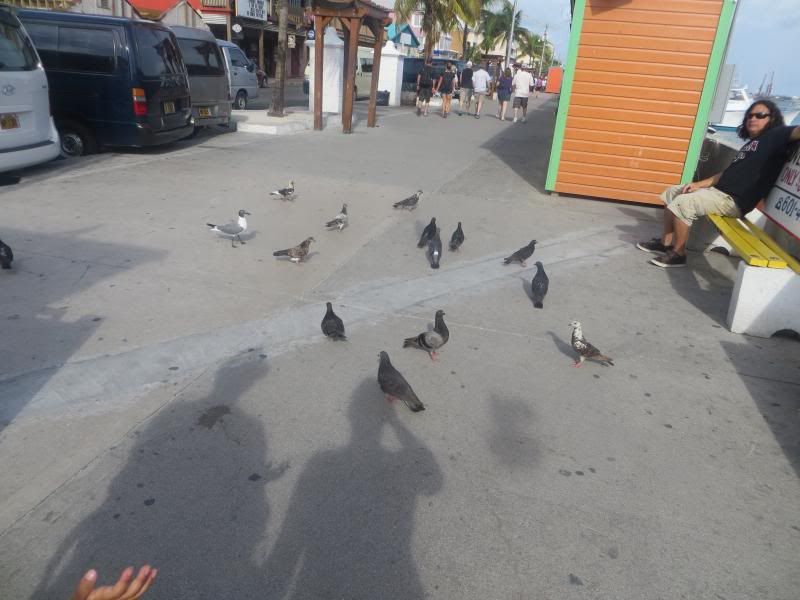 No sure what loafing is!
The Straw Market wasn't completely open when we got there, so we just looked around the perimeter a bit. I spotted this Mickey straw hat and had to get it for Antonio! She sewed his name on to it.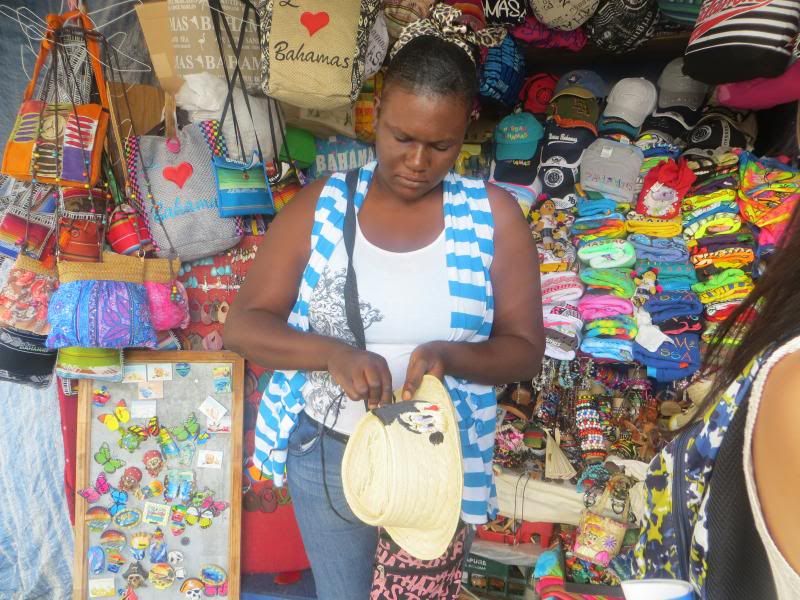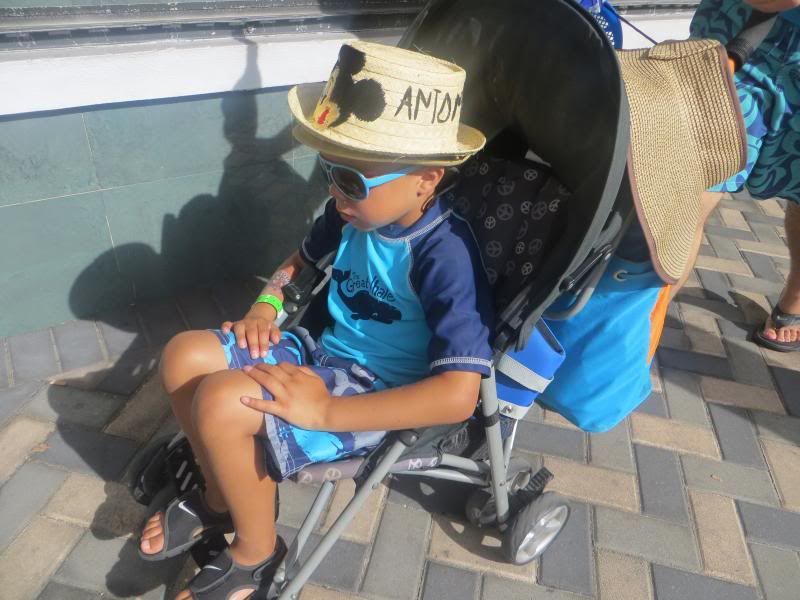 I had mentioned the Pirate Museum to Quentin before the trip and he really wanted to go there, so off we went!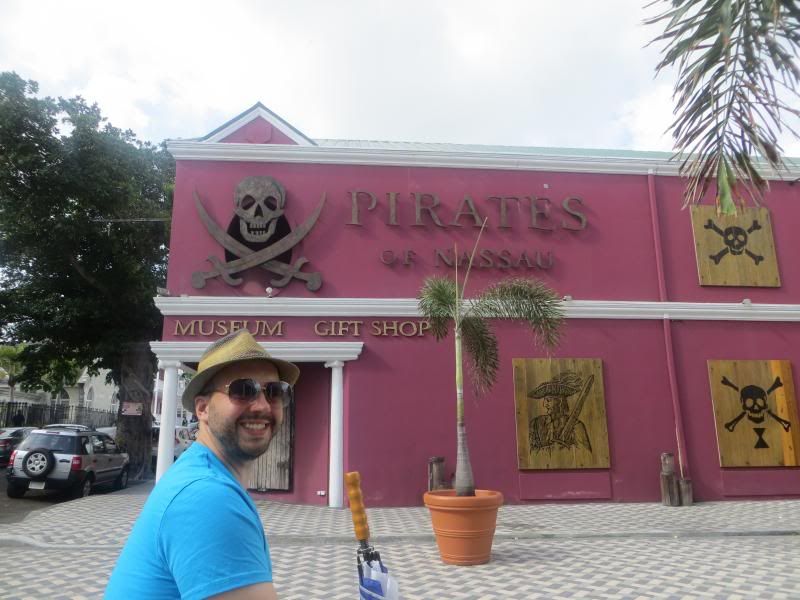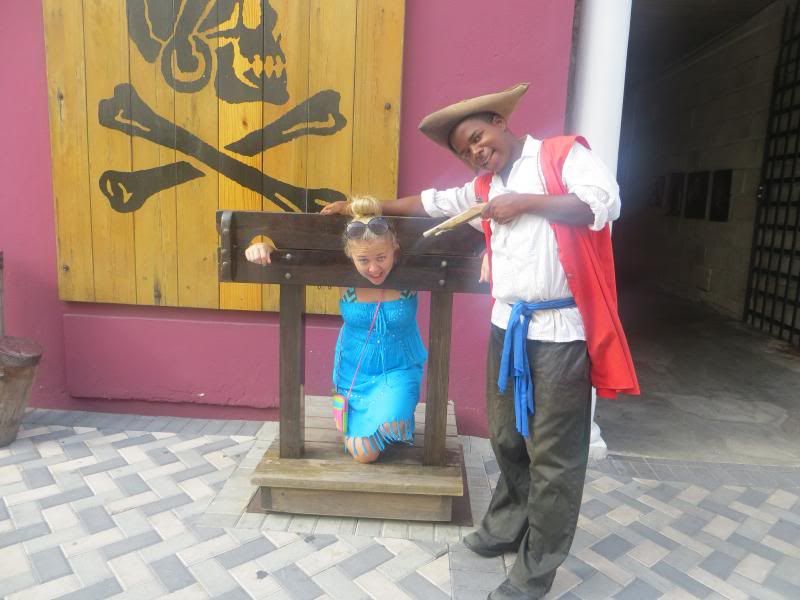 The museum was a neat collection of artifacts with lots of signs that you could read to learn more. It would be better with a kid who is a bit older and really in to pirate stuff. Antonio didn't want to wait around for us to read the signs, so we didn't get to see everything.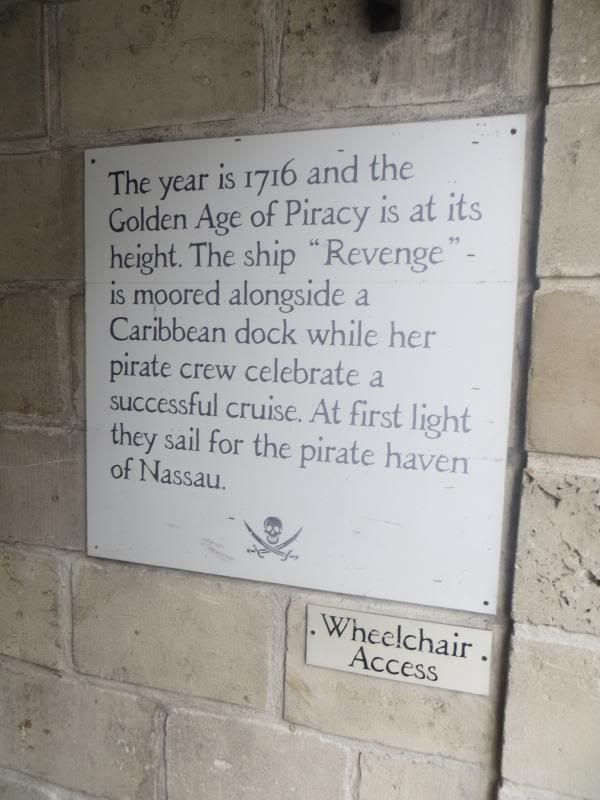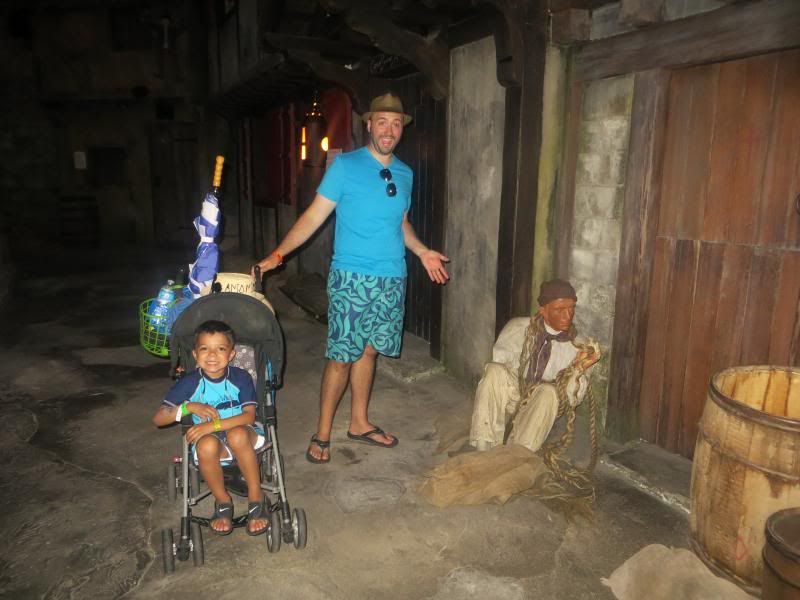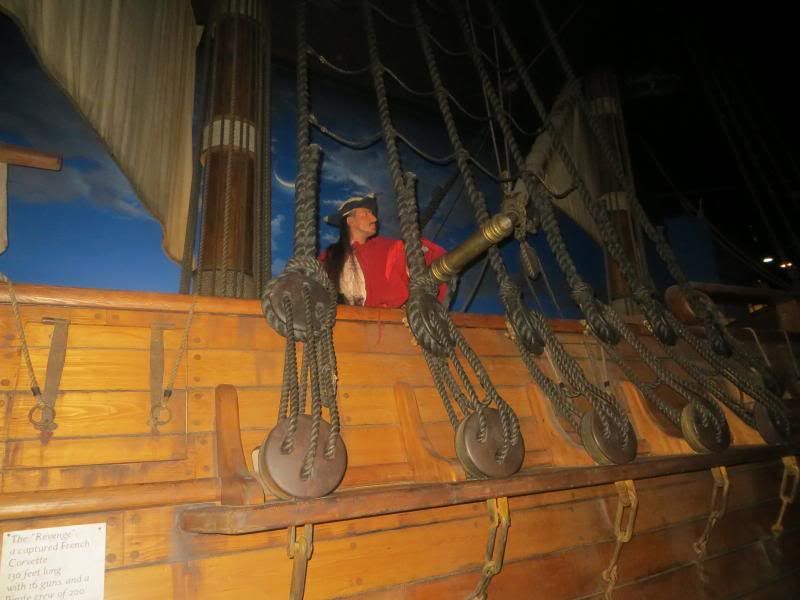 There were true and false questions throughout that were kind of fun.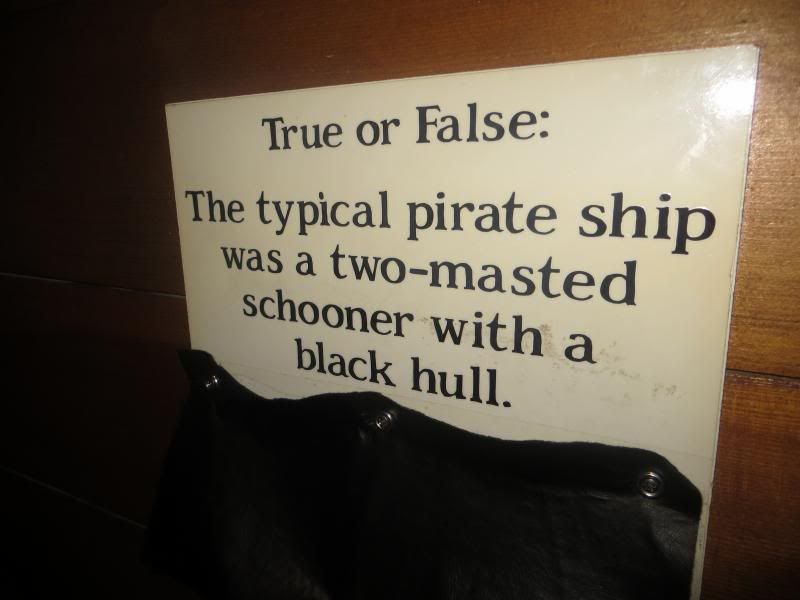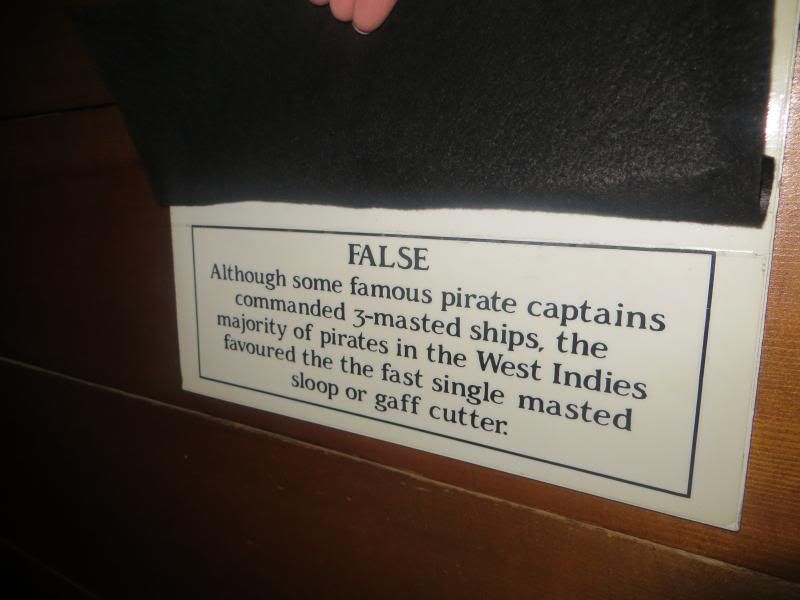 I wouldn't want to have a pirate surgery.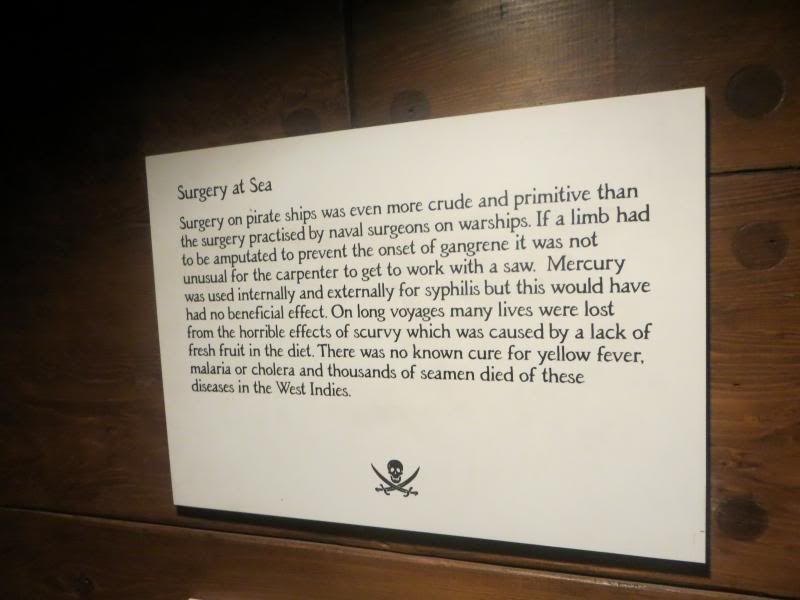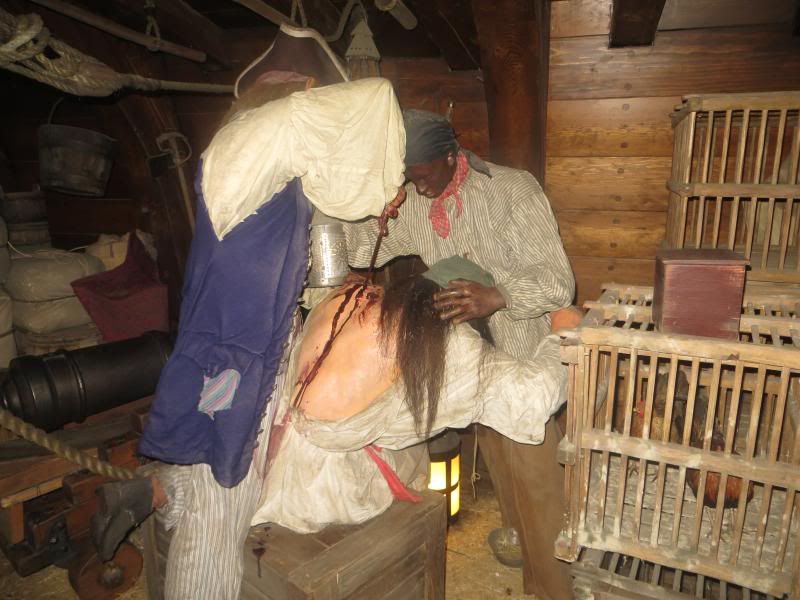 This was the elevator.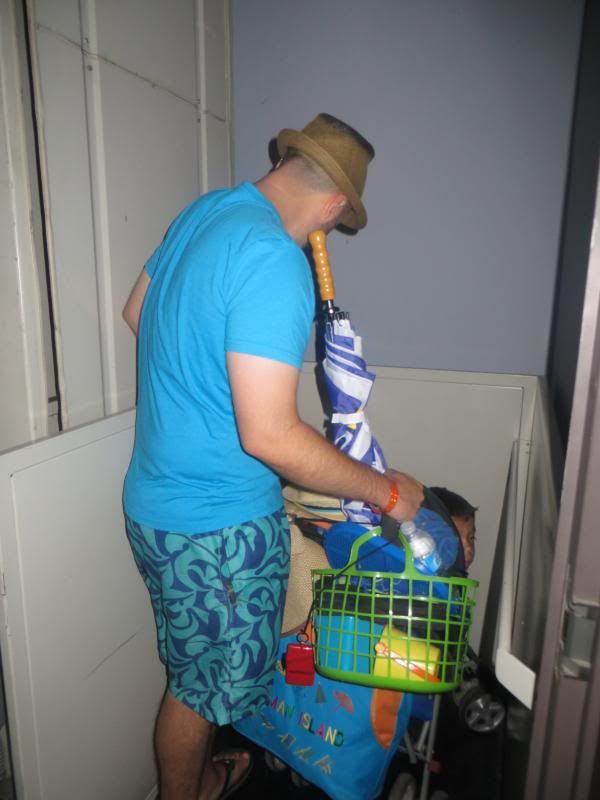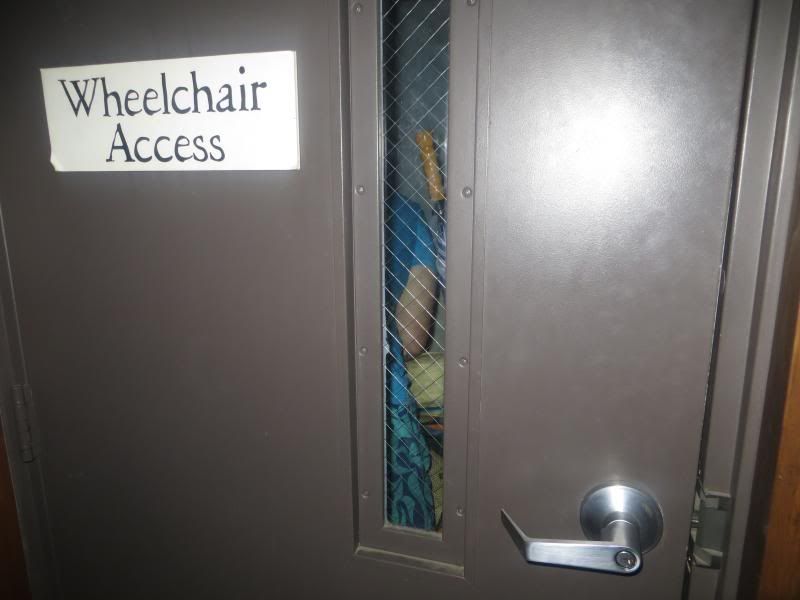 It didn't work. We had to carry the stroller up the stairs. Good thing we didn't have somebody in a wheelchair.
Having fun!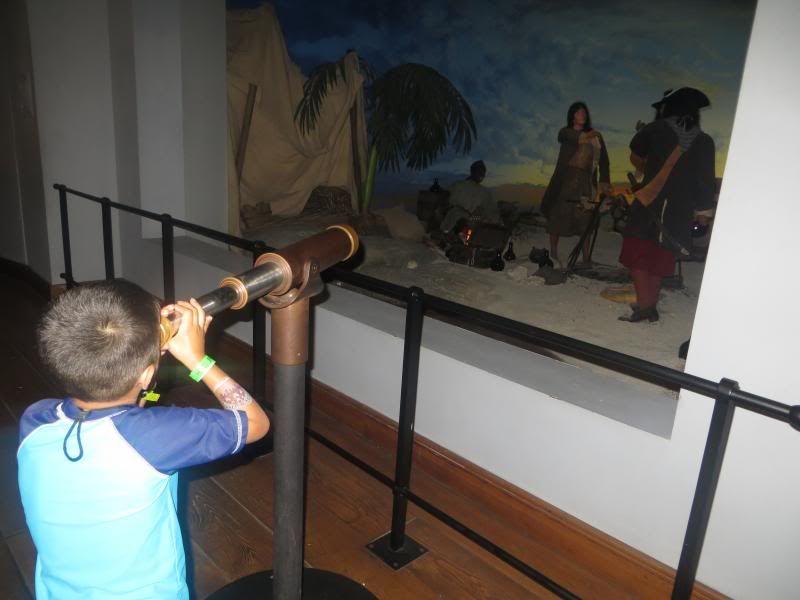 There were parts of the museum that were pitch black and you couldn't see where you were going. It was very strange. If you were going with an elderly person I would be concerned about that.
Antonio and I got a little ahead of Quentin and went outside. The door locked behind us and we couldn't get back in! Luckily there was some stuff out there to entertain us while we waited.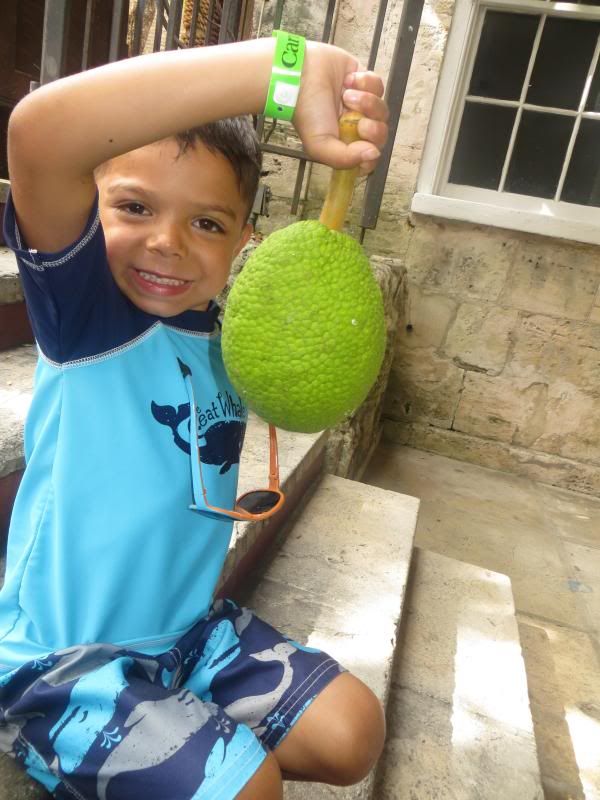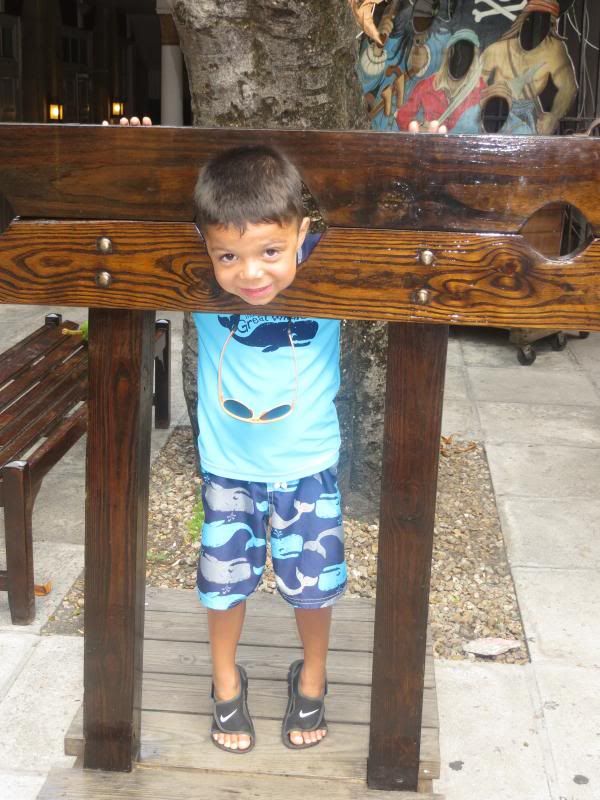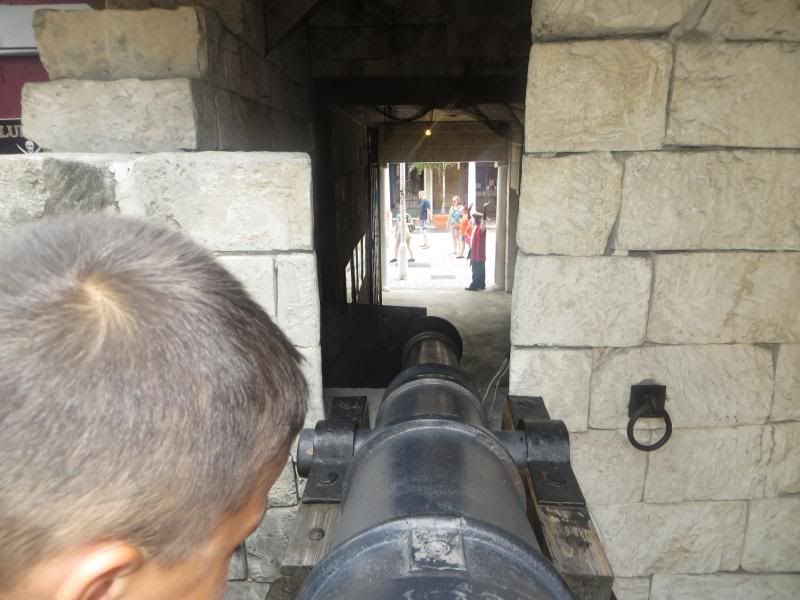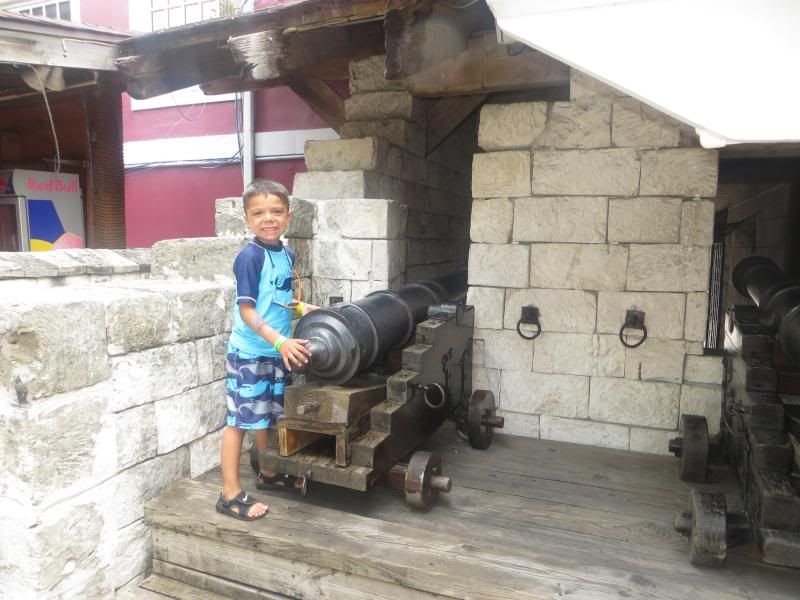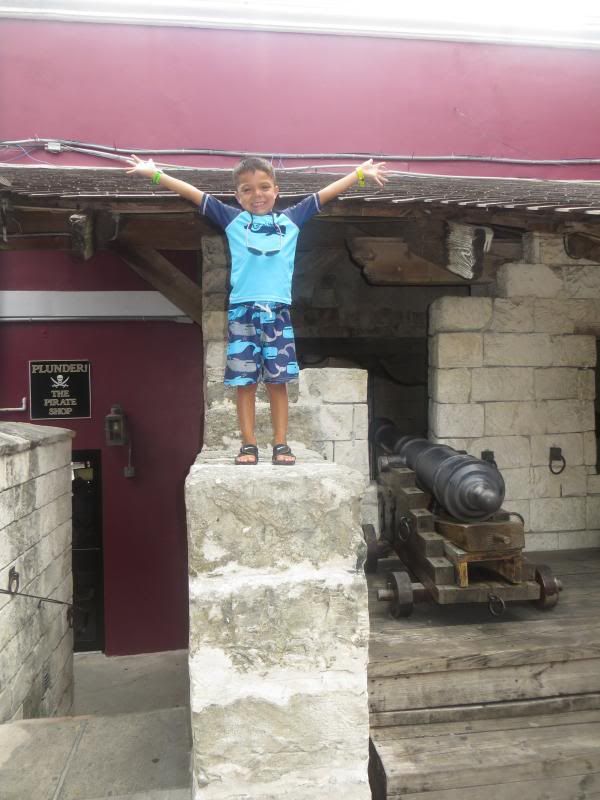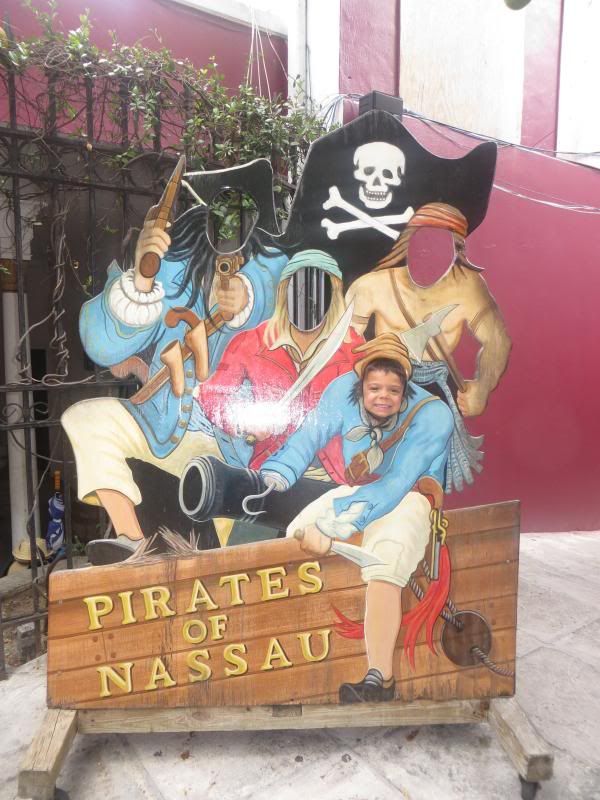 Finally, Quentin came out! He took forever! Apparently he was actually reading the signs. What a novel idea!
As we left the museum, it started to rain. We made it to a Dunkin Donuts right before a downpour started! We lucked out that the Dunkin Donuts had free wifi! The bad thing was, Quentin's phone wouldn't work with the wifi, he had this problem the whole trip. My phone worked and I was able to check facebook a little bit and text Antonio's dad. We hung out here and used wifi throughout the whole rainstorm. Suprisingly, the prices were about the same as a Dunkin Donuts in the USA.
Being silly!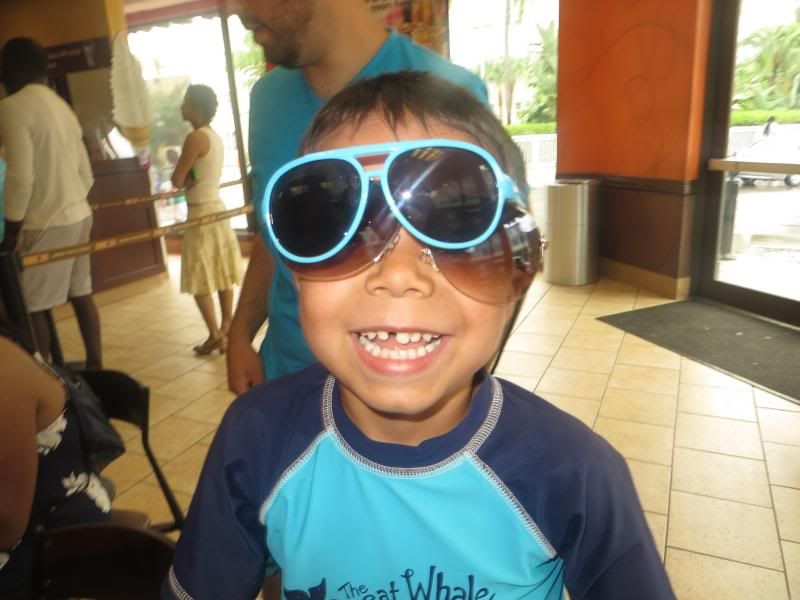 When it finally stopped raining, we went to find a beach. We didn't have an exact plan. Just to walk towards Junkanoo Beach. We saw some signs and headed that way. I know now why they call in Junkanoo. It was pretty Junky. There was a row of trash and stuff at the back of the beach, but if you went close to the water, it was nice. We were right by Fat Tuesdays. You can see we aren't far from the ships at all.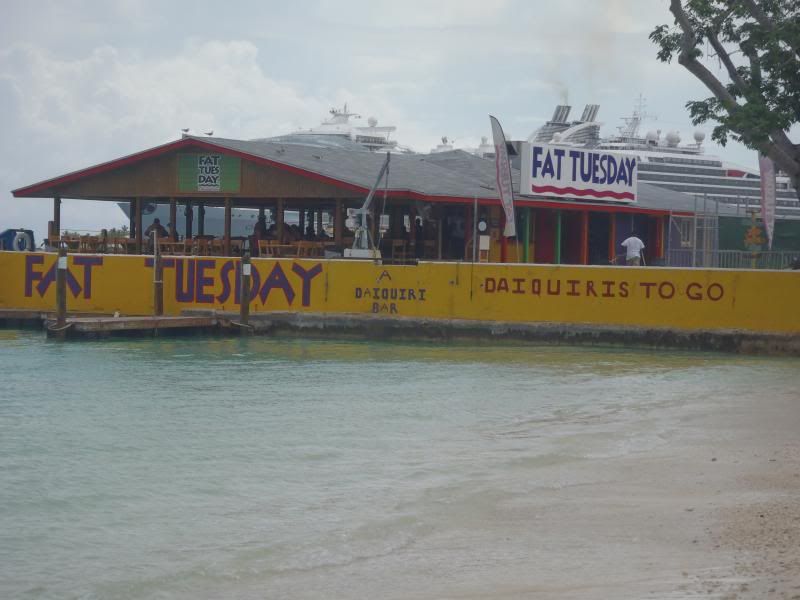 It was pretty cloudy and not very hot, so we didn't do much swimming at first. Antonio wanted to go in the water, but didn't stay in long because it was too cold. We had several locals come by and try to sell us an all day pass to a place on down the beach where we could use water toys, but we told them the weather wasn't really conducive to playing in the water.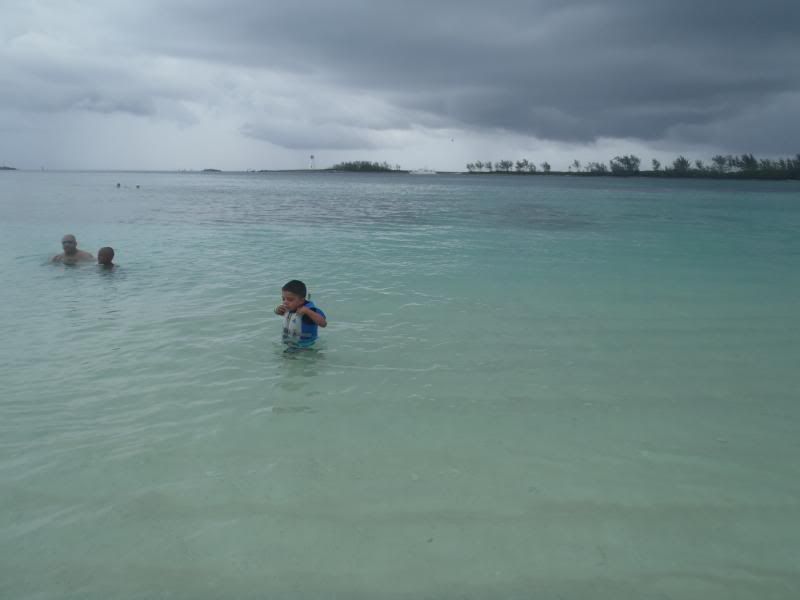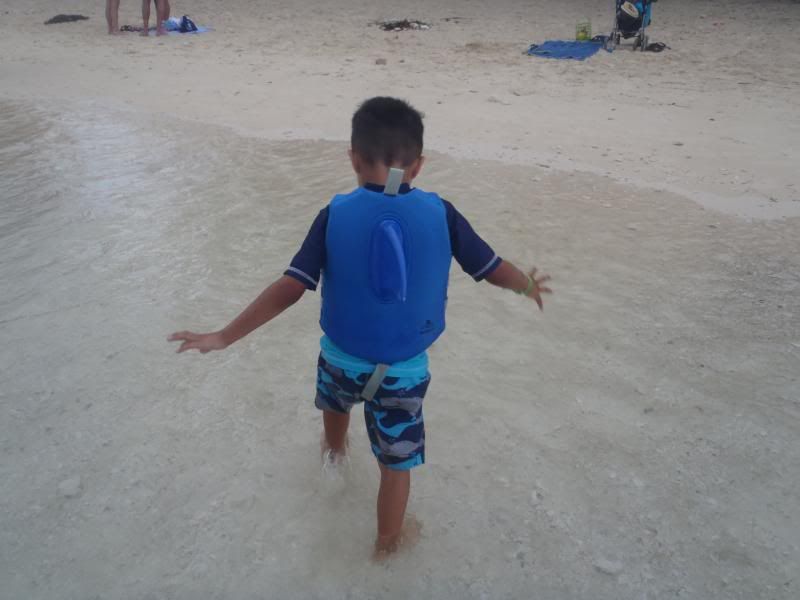 We spent some time building sand castles instead! I was really glad I had brought sand toys. We had a great time playing with them.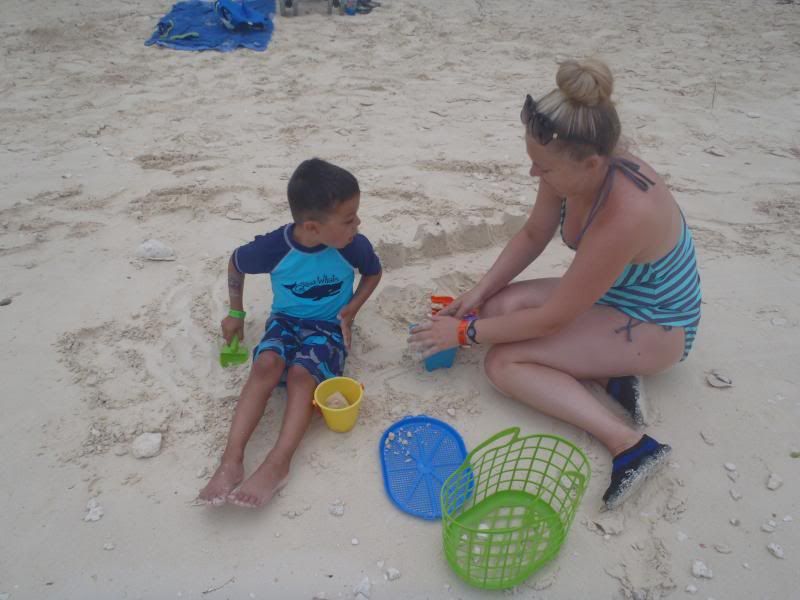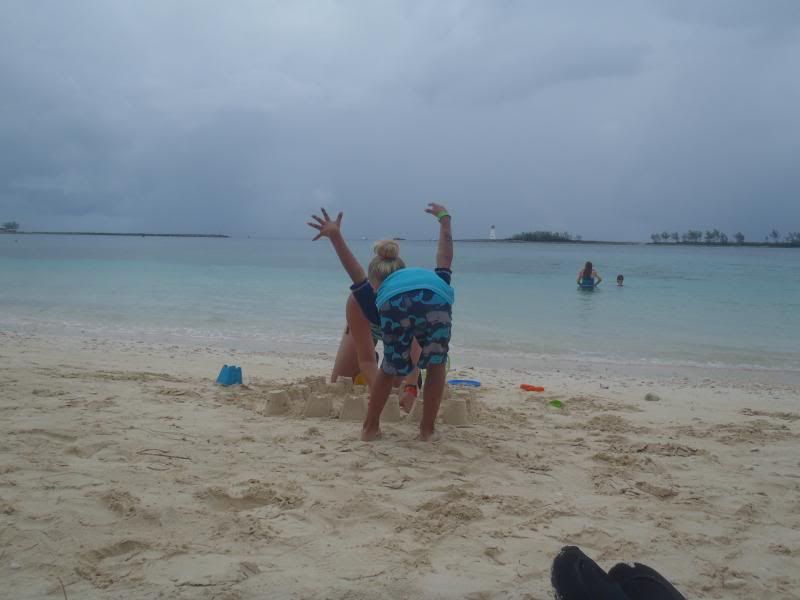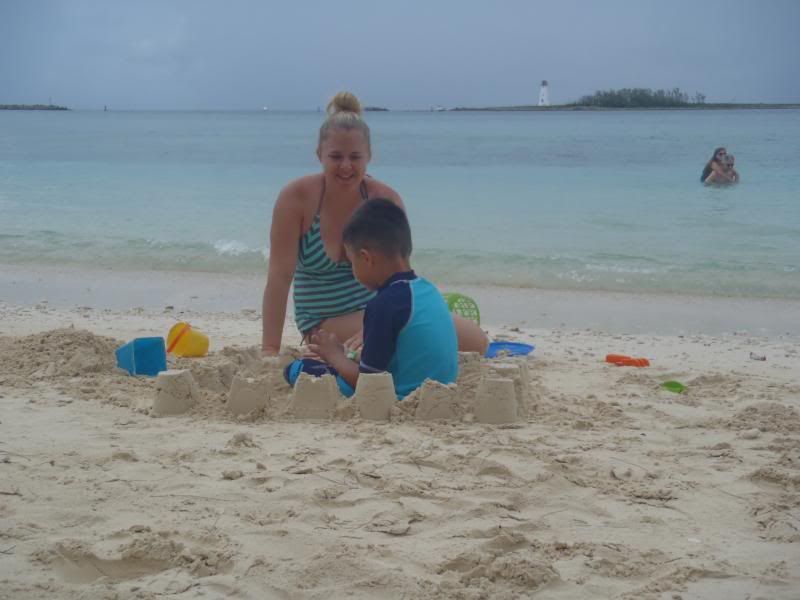 Turns out I couldn't think of how to make a 5 out of shells and rocks! It was backwards at first!
Fixed it!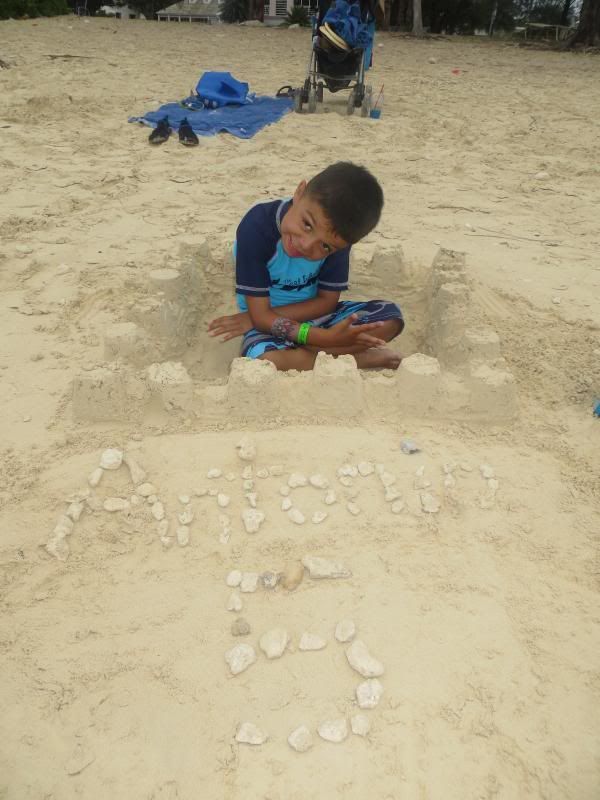 See our turtle!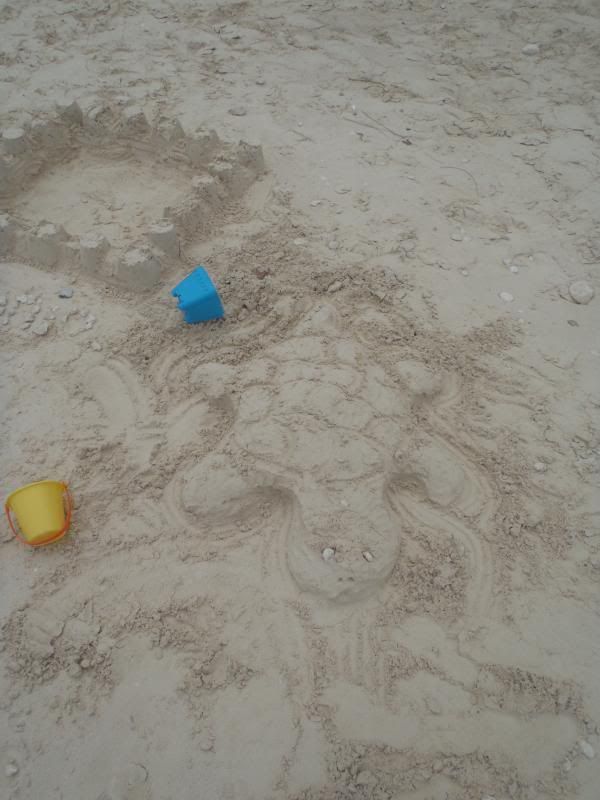 Our castle.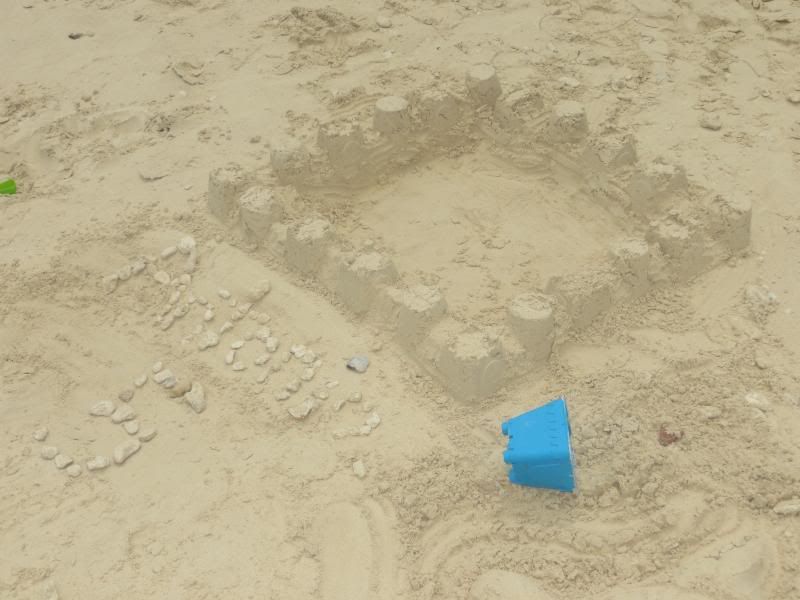 Antonio finally talked me in to playing in the water.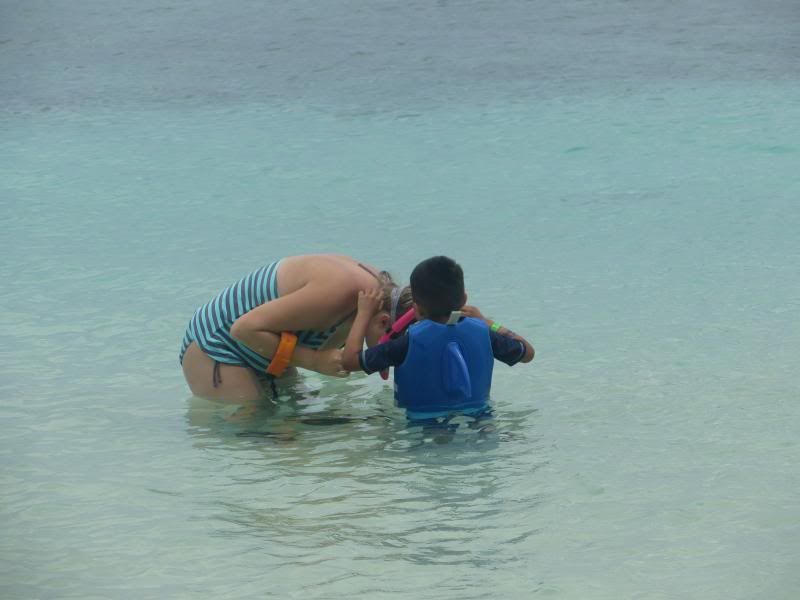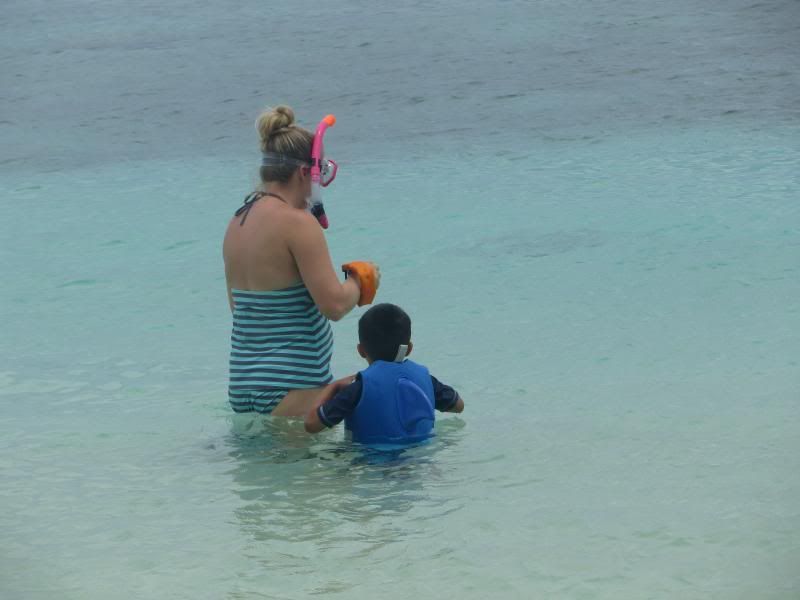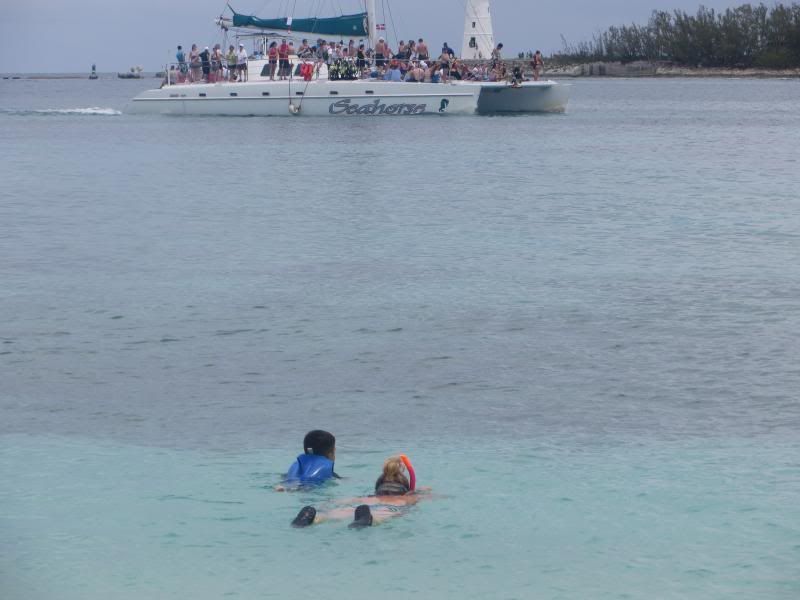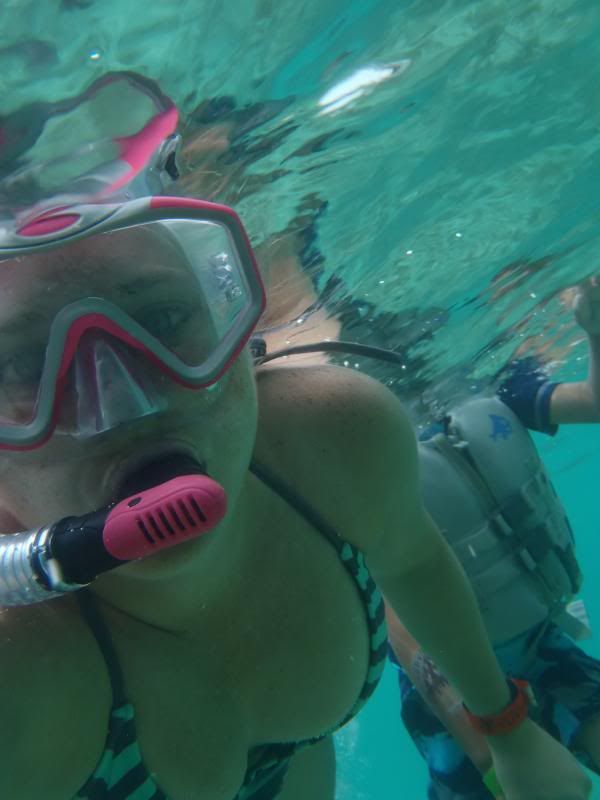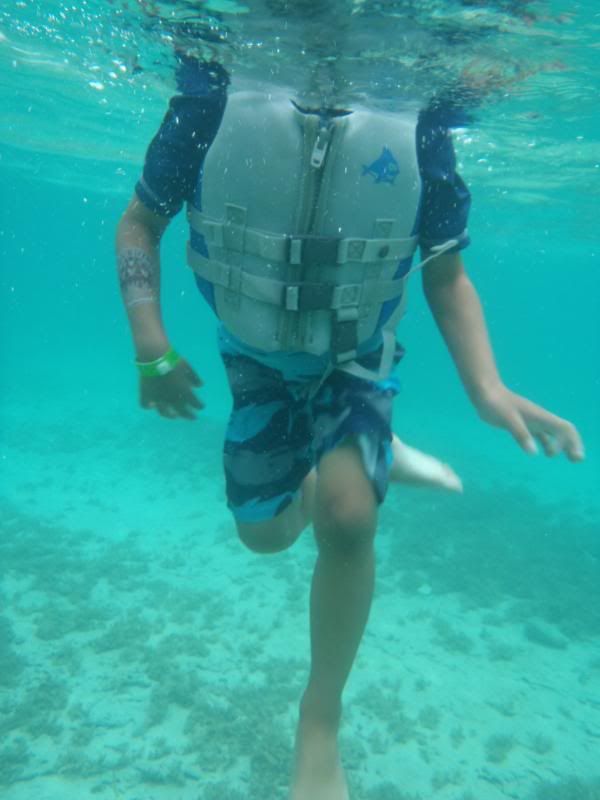 Shark!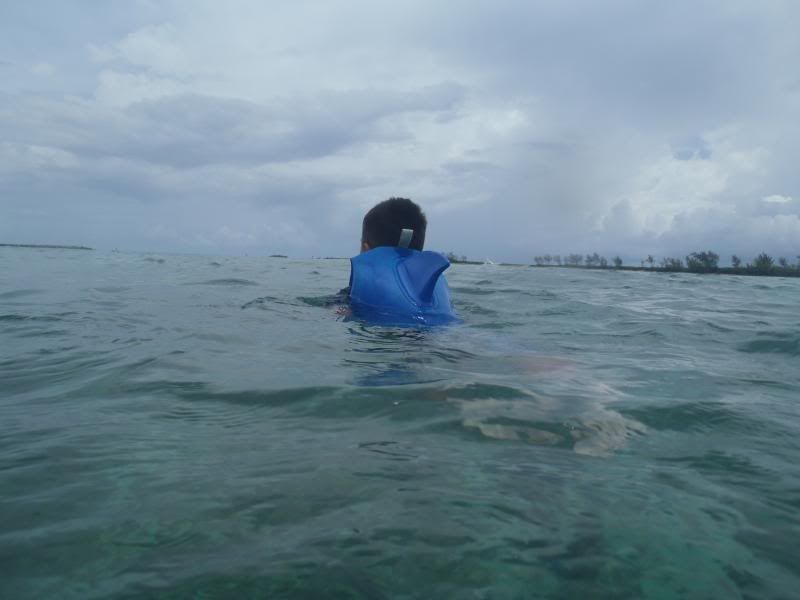 Time to dry off!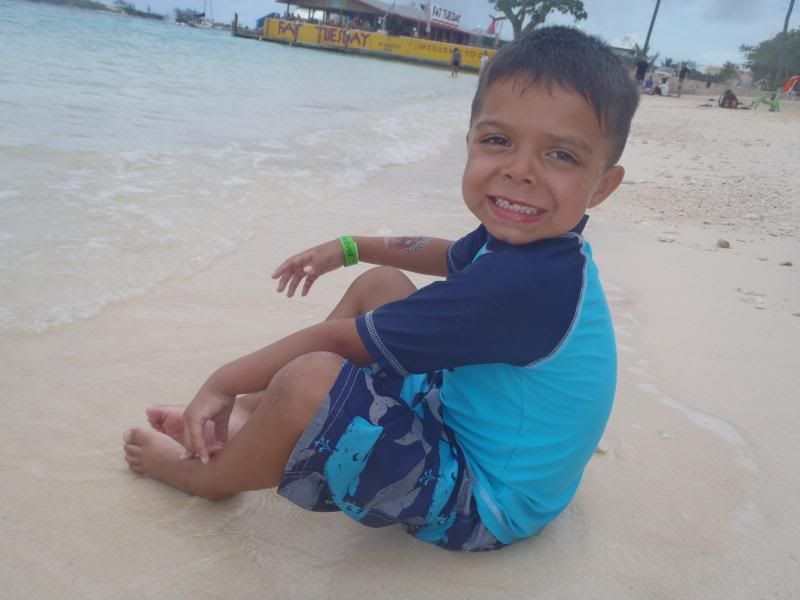 We loved our beach umbrella that I won from Deanna Polly-Faulkner, my Shelter Insurance Agent!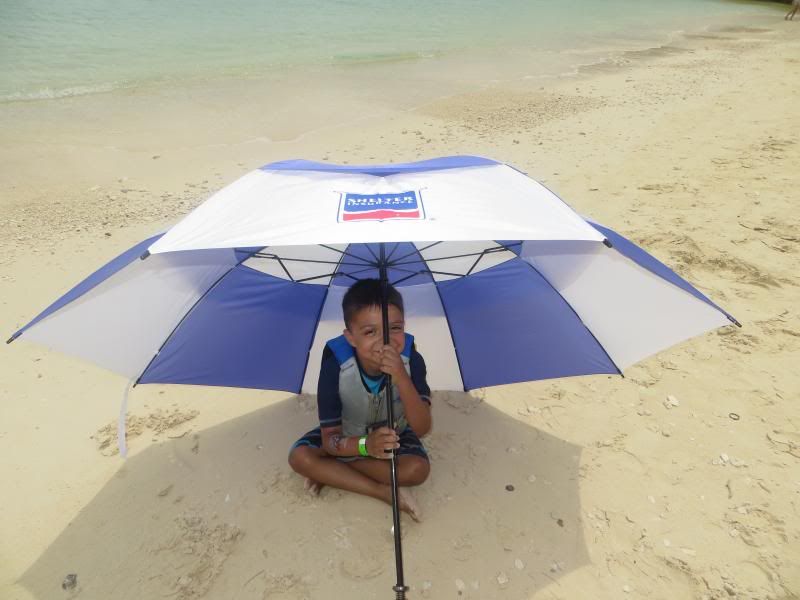 Overall, we had a great day in Nassau! Are there nicer beaches there? Yes of course. Are those beaches free and within walking distance? No!
We started to get hungry after a while and headed back to the ship. On the way I saw Conch Fritters which I read about several times on Cruise Critic before our trip.
And the Baskin Robbins/Dunkin Donuts where we hung out during the storm.
We were pretty sandy so we stopped off at this fountain to clean our shoes. Antonio can't stand being sandy! These were pop jet fountains and when I was trying to clean off Antonio's sandals a jet squirted me and soaked me!
We also took a detour at Senor Frogs to take a few pictures.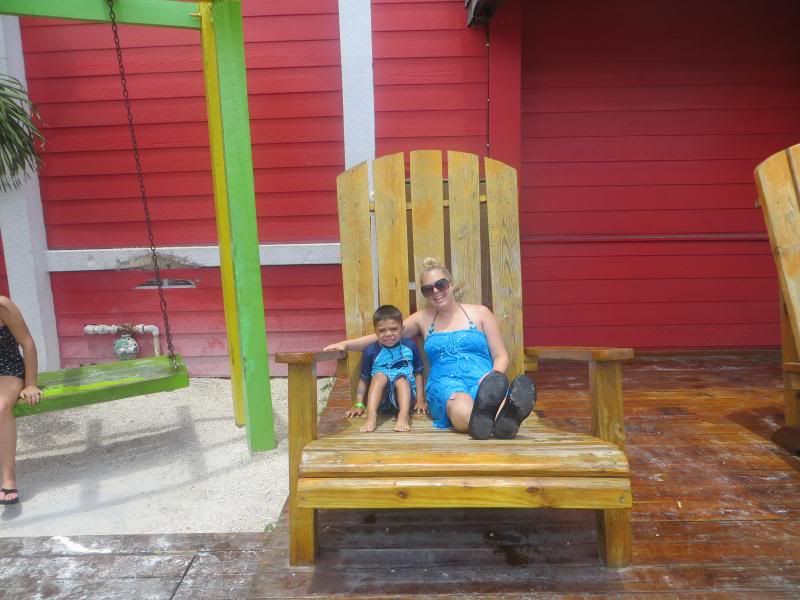 A couple other ships had joined us in port.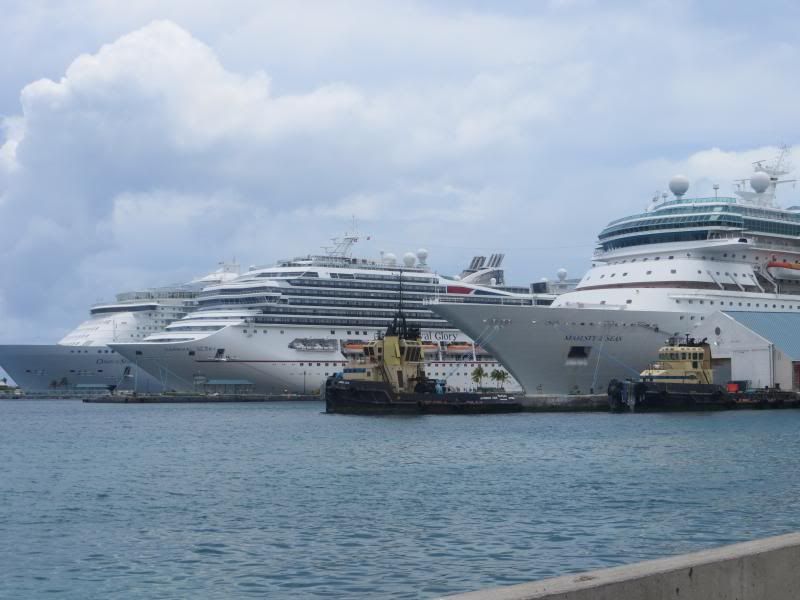 Back to the ship.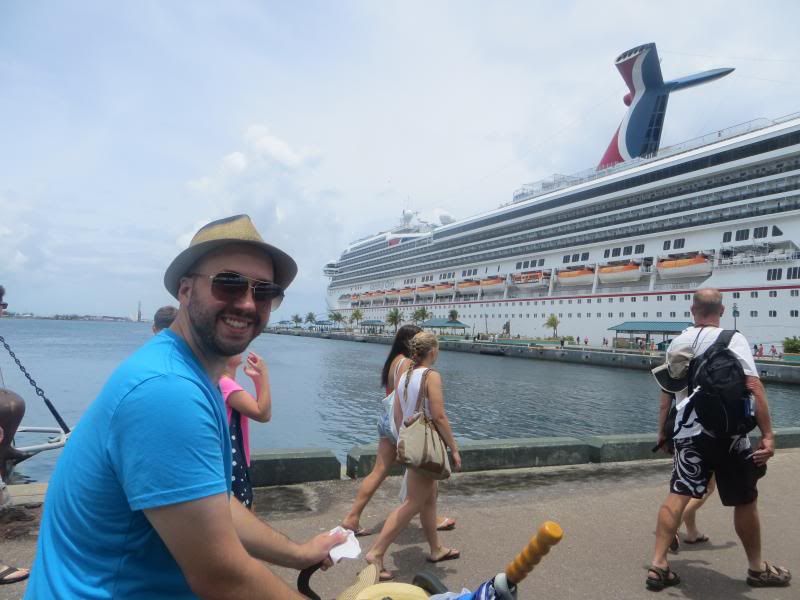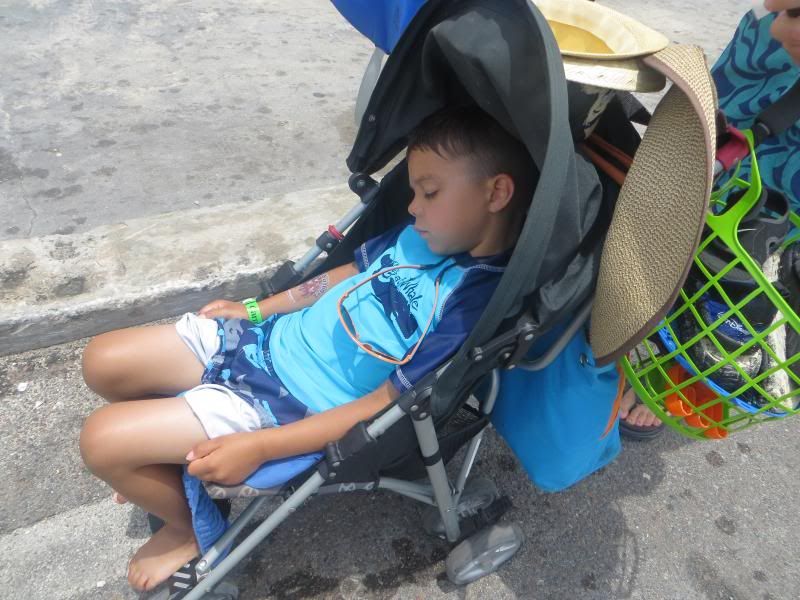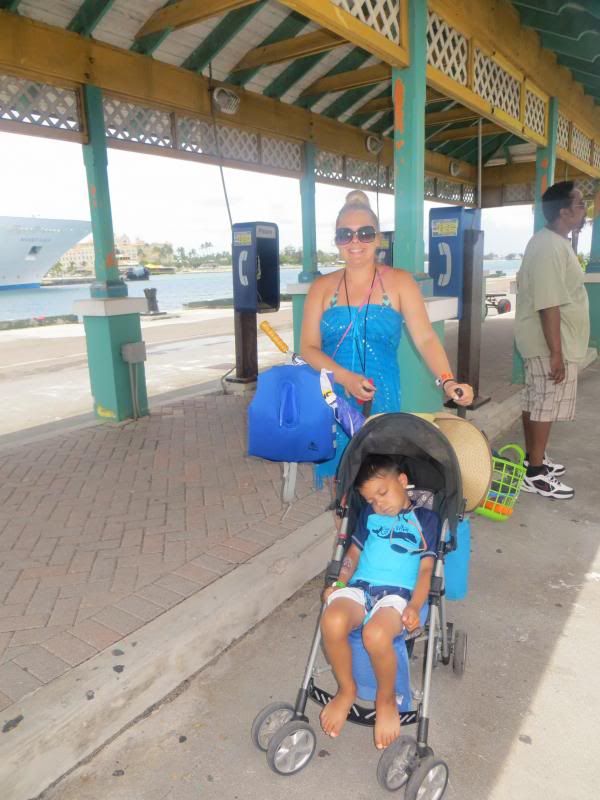 We got the sleepy boy through security and went up to our room to hang out on the balcony and eat lunch. We had a great view.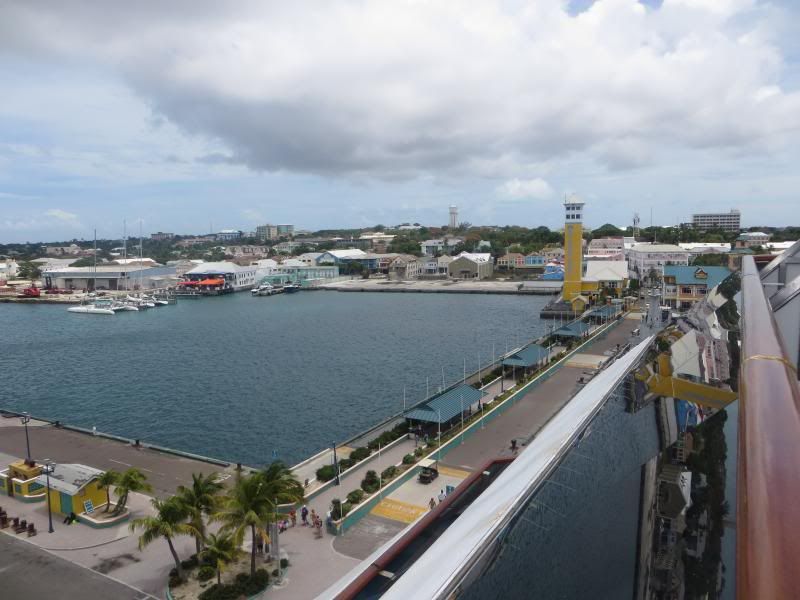 One of the Royal Caribbean ships was blowing it's horn to leave and we got to witness "the running of the late people!"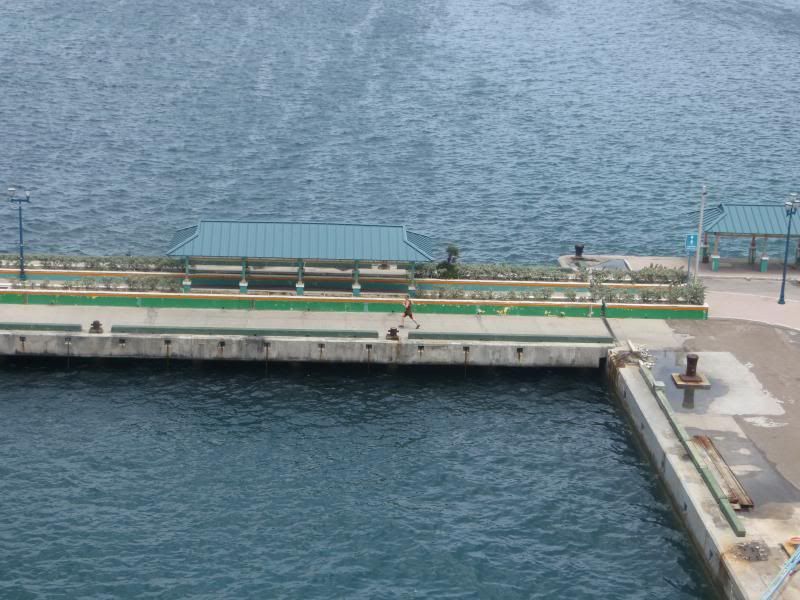 I wish I could afford to stay at Atlantis someday!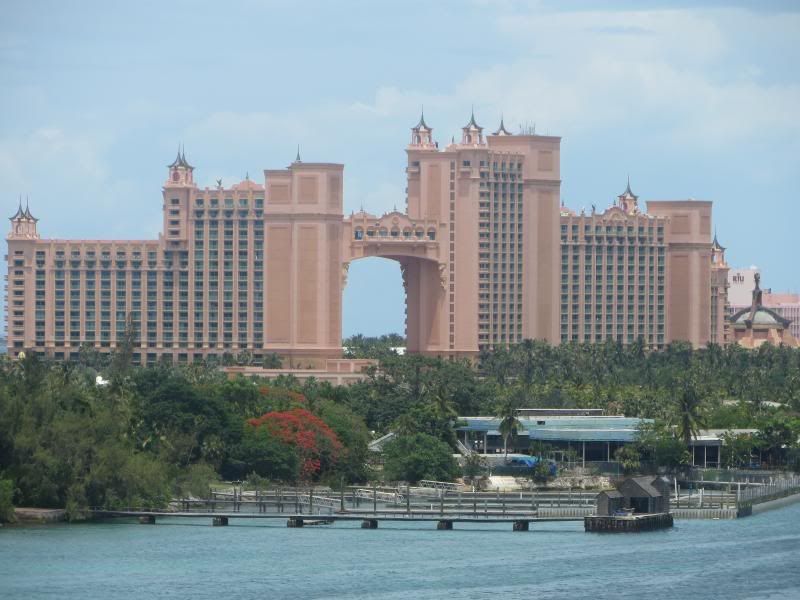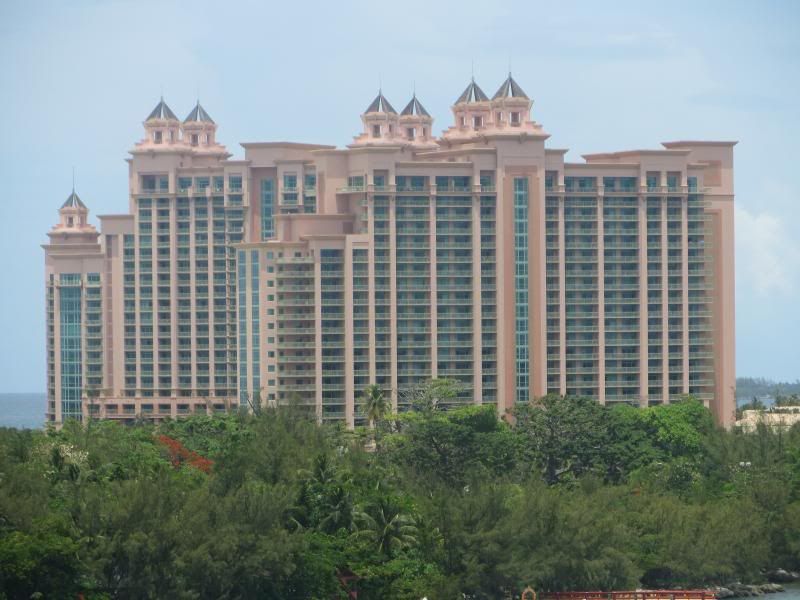 A little room service for lunch.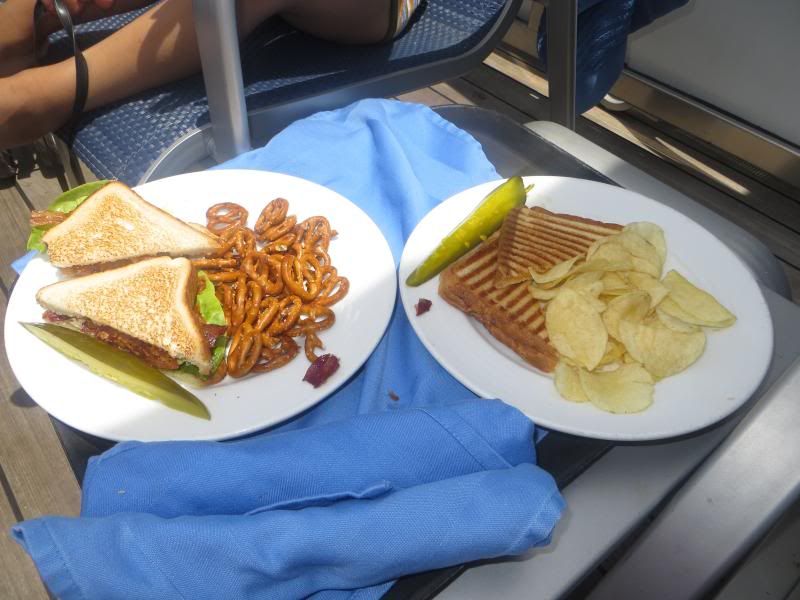 Time for us to push off.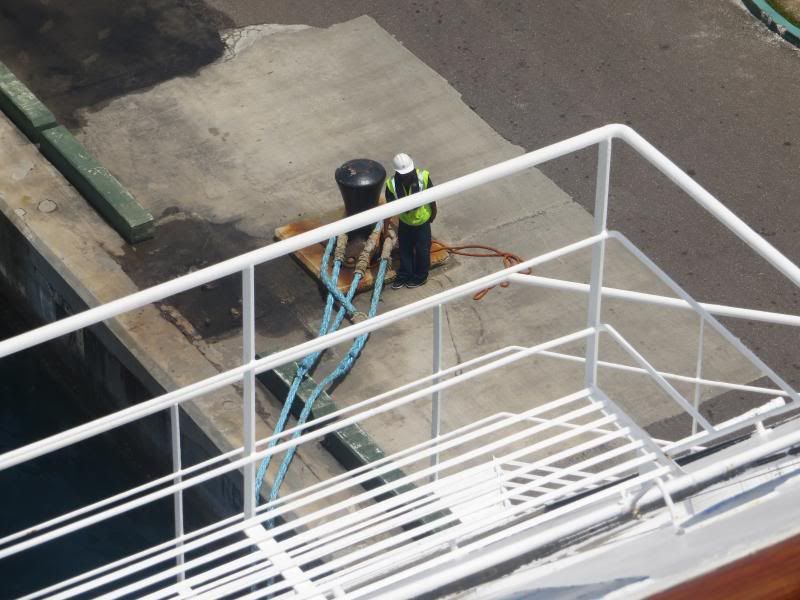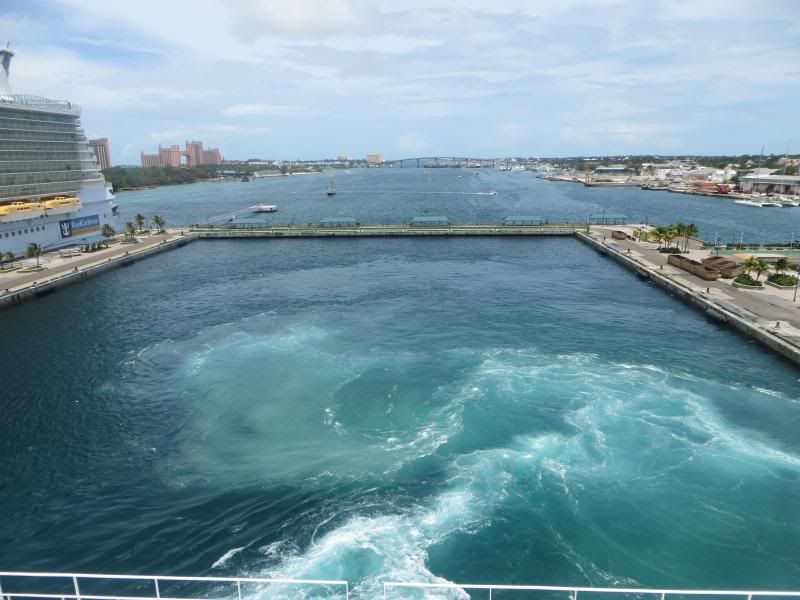 Now I know Carnival ships aren't as beautiful as Disney ships. But at least they aren't as ugly as Royal Caribbean ships!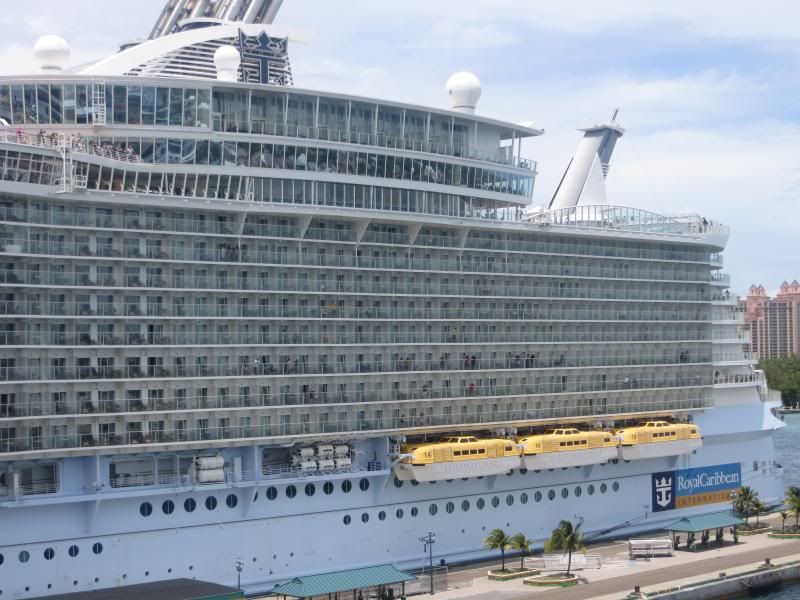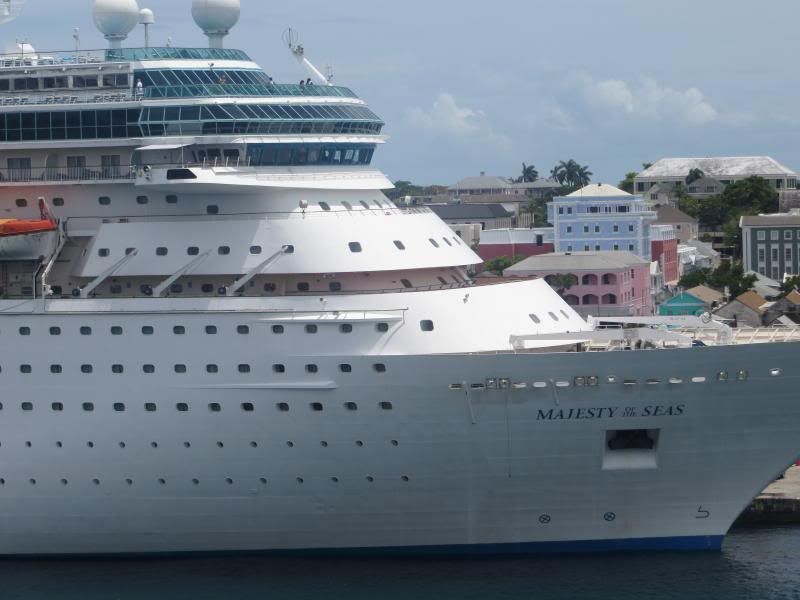 Antonio loved the birds that were circling us as we left.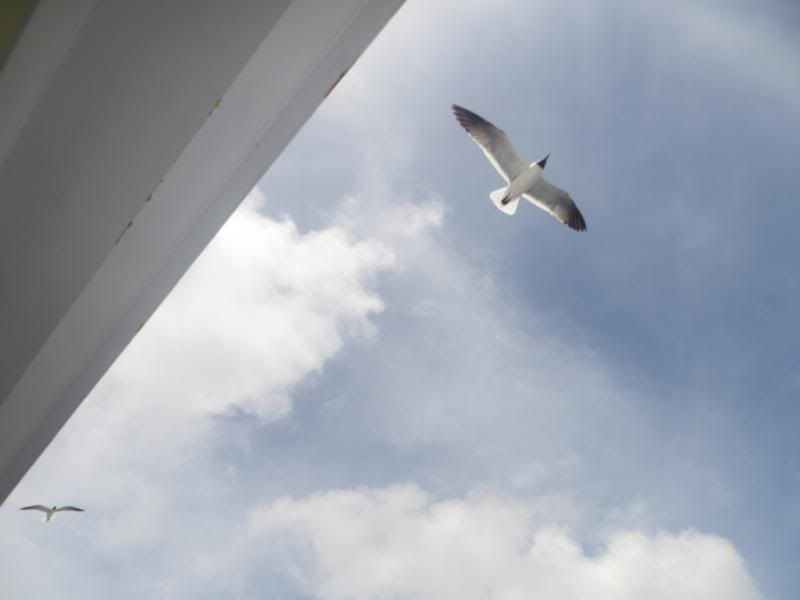 Bye bye Nassau!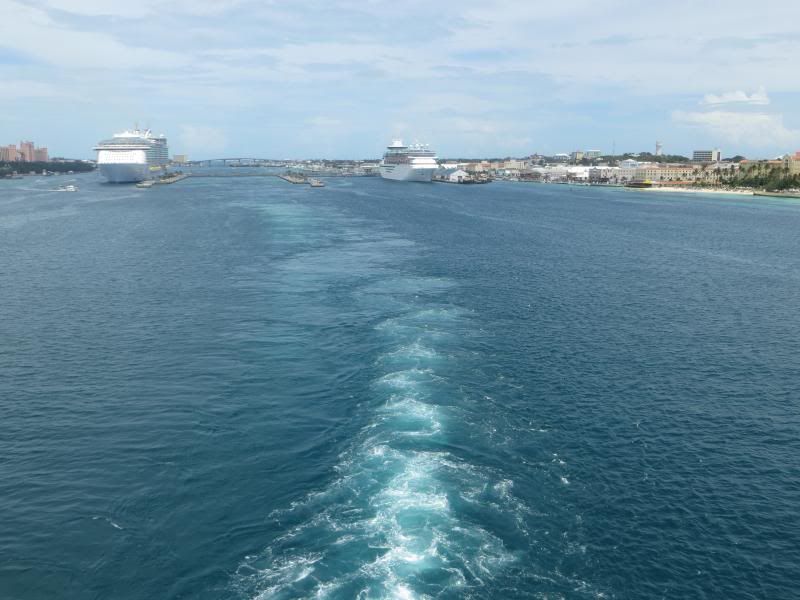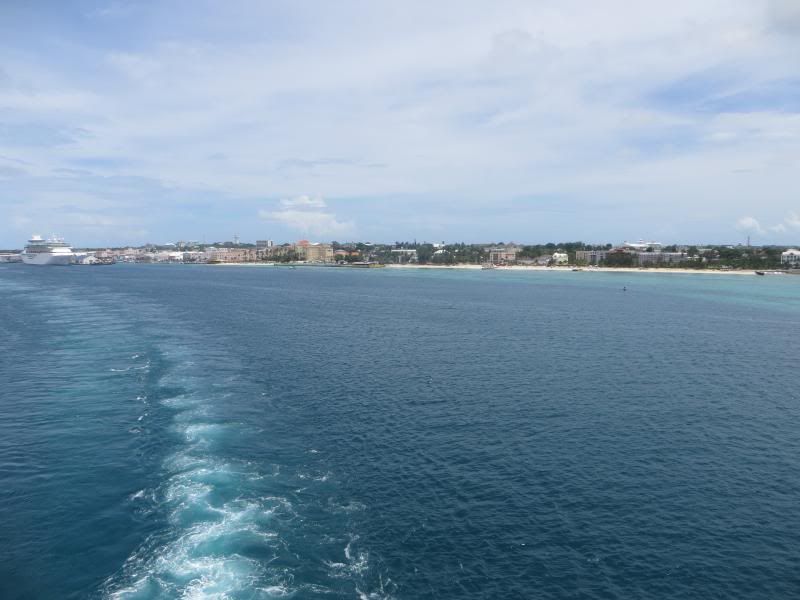 This is the beach we were at!
The aft balcony had so much space, we could even keep the stroller out there to let it dry off from being at the beach.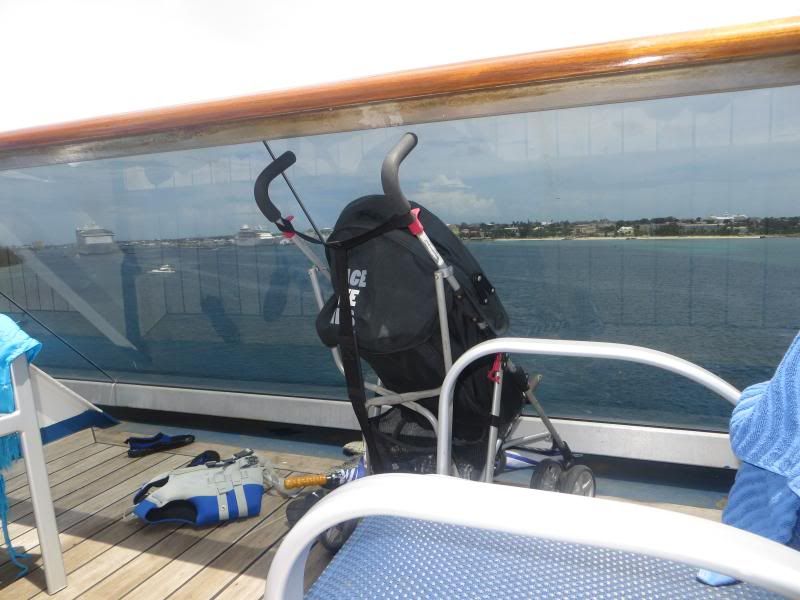 Bad thing about the aft…no shade. That's where the umbrella came in handy!
This boy passed out as soon as we ate the room service food.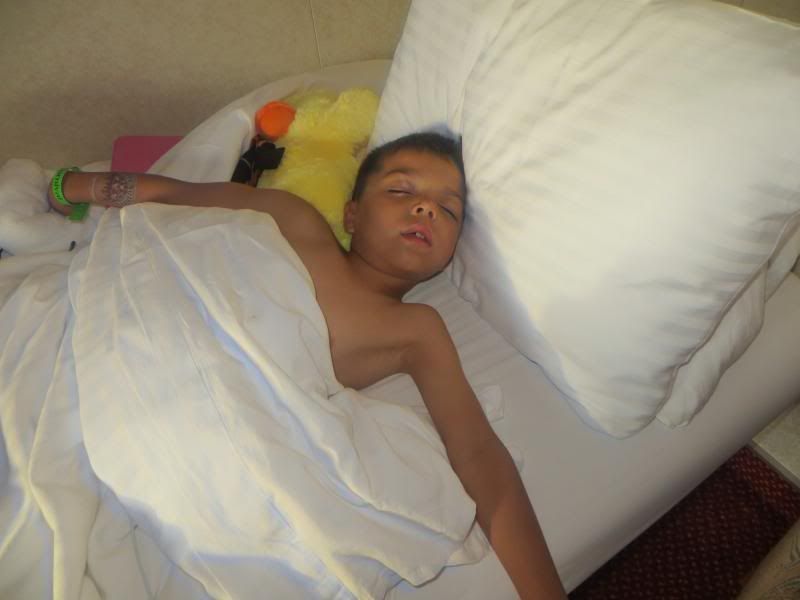 Posted by MarathonMama629 14:10 Archived in Bahamas Tagged beach cruise pirates nassau